What Causes Low Water Pressure in Home and How to Fix It
Low water pressure is a common problem that affects commercial and residential plumbing. While the issue usually starts small, delaying repairs can affect sinks, faucets, showerheads, toilets, dishwashers, and other plumbing fixtures. Luckily, most causes of low water pressure can be prevented by scheduling routine inspections with a professional plumber in Rancho Santa Margarita. At Rooter Hero Plumbing & Air, we leverage extensive industry knowledge and expertise to inspect, detect, and address the problem before wreaking havoc in your home. If you suspect low water pressure in your plumbing fixtures, here are common causes and practical solutions.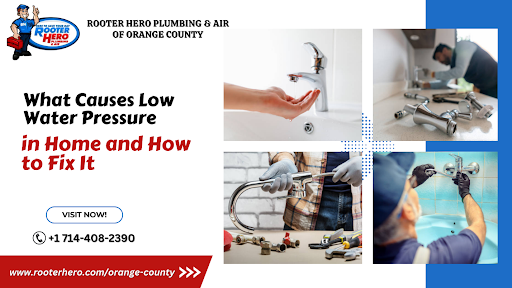 Debris Buildup in Pipes
Buildup in the pipes is a common cause of water pressure problems. Whether dirt, solidified grease and oil, food particles, mineral deposits, or other forms of debris, these substances reduce water pressure by limiting space in the pipes. The safest and most effective solution to restore optimum flow is to schedule hydro-jetting services to clear buildup. We use state-of-the-art equipment to enhance the quality of service and ensure your plumbing is running at high performance throughout the year.
Corrosion
Interior pipe walls are more susceptible to corrosion because oxidation builds up and restricts water flow. Like mineral deposits, it usually affects older galvanized steel pipes. Regular maintenance inspections are critical to prevent scaling and subsequent damages like holes and complete failure if you live in an old home. Routine checks also allow us to determine the severity of damages and recommend lasting solutions to mitigate further deterioration.
Water Meter Valve
A partially or entirely closed water meter valve can reduce water pressure in your fixtures. If you recently completed a plumbing repair job, check whether the water valve is fully open. Two main shutoff valves control your home's water supply, and the water supplier owns one. You can rectify the problem by hiring a trusted plumber in Rancho Santa Margarita to determine which valve needs regulation.
Water Shutoff Valve
Every residential and commercial plumbing system has a water shutoff valve that controls the water flow. If the shutoff valve is not fully open, it can cause low water pressure, affecting plumbing efficiency and function. There are several types of water shutoff valves: level or wheel-type valves. Each valve has specific ways of opening to prevent it from springing a leak or getting stuck. Whether you have a lever or wheel shutoff valve,
Broken Pressure Regulator
Pressure regulators maintain constant water pressure to sustain your plumbing system and appliances. Most systems support water pressure around 45-60 psi, but if you experience low water pressure, a slight change can restore pressure levels. In case of a broken pressure regulator, call a plumber to fix or replace it.
When you have low water pressure in your plumbing fixtures, we recommend hiring a plumber in Rancho Santa Margarita to assess, detect, and address the problem. Contact us at Rooter Hero Plumbing & Air to schedule a consultation with our team of experts. We provide a wide range of plumbing services at competitive rates.