Curtain Safety: Childproofing Your Window Treatments for Family Homes
Your house is the setting for precious family moments, and the safety and well-being of your loved ones should always be a primary priority. When you have children, it is critical to provide a safe atmosphere, and one area that is sometimes forgotten is childproofing your window coverings. Window curtains and blinds can be dangerous to children, but with the correct precautions, you can provide a beautiful, pleasant, and safe living area for the entire family.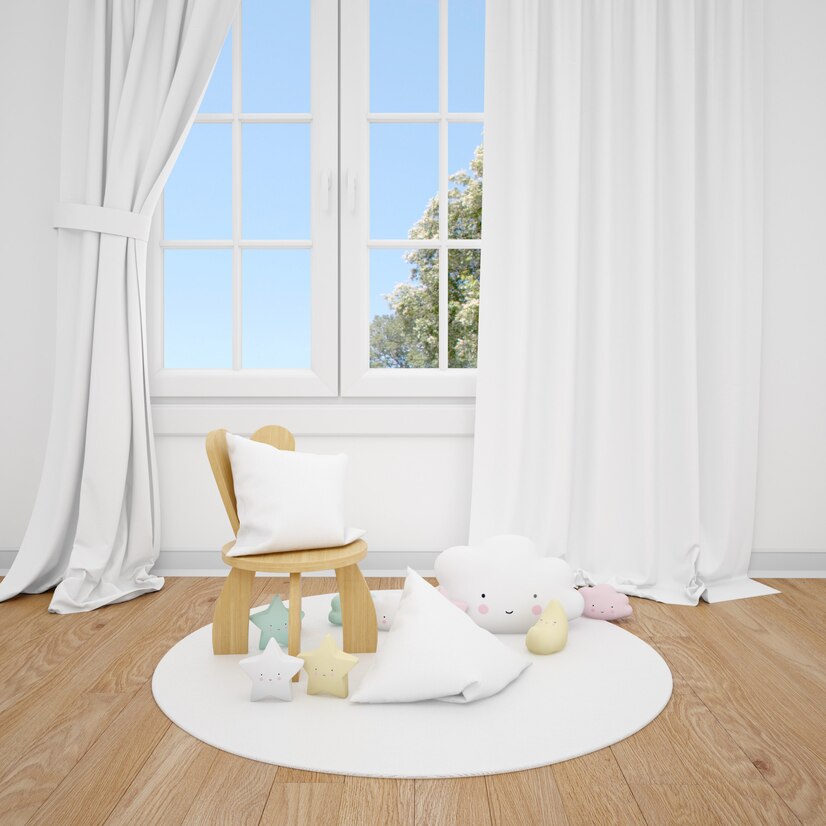 Understanding the Risks
Window coverings such as curtains, drapes, and blinds may appear to be harmless, but they can pose a number of hazards to curious youngsters. In terms of cord strangulation, most blinds and certain curtain types use cords or chains. These lengthy cables are appealing to youngsters, but they also represent a serious strangling threat.
Climbing and pulling are activities that youngsters like. They may use curtains or blinds to climb up, which might result in falls and injuries. Small portions of curtains, such as ornamental decorations, can be consumed and represent a choking danger, and youngsters can get their fingers stuck in the folds or hardware of curtains or blinds, resulting in injury.
Childproofing Your Window Treatments
The good news is that childproofing your window treatments is relatively simple, and it allows you to maintain a safe yet stylish living space. Here are some steps to ensure your window treatments are child-friendly:
Choose the Right Window Treatments
Begin by picking window coverings that are naturally child-safe. Consider cordless blinds or drapes with no cables or attachments that may be quickly removed. Some living room curtains might have cordless mechanisms built in, making them a great alternative.
Cord Shortening and Securing
If you already have corded blinds or curtains, make sure they are safely out of your child's reach. Cord shorteners or cord studs can be used to attach cords high above the floor and make them inaccessible to little hands. For optimal safety, ensure that these devices are properly installed. 
Cord-Free Blinds
Cordless blinds are an excellent option for childproofing windows. They have no cables and may be lifted and lowered with a simple push or pull. They are available in a variety of styles and materials, allowing you to pick cordless blinds that complement your décor.
Window Safety Locks
Install window safety locks or window guards to prevent your child from opening the window wide enough to climb through or fall out. These devices are discreet and provide added security.
Remove Long Cords
It's essential to replace drapes with lengthy cords or tassels with safer alternatives. Consider curtains with shorter ropes or those that have been developed with safety in mind. This reduces the possibility of youngsters being entangled in the cables.
Holdbacks
Use holdbacks to keep curtains away from your child's reach. These decorative accessories not only add style to your window treatments but also keep the fabric secure and out of the way.
Wall Anchors
For curtains that can be easily pulled down, consider using wall anchors. Wall anchors help keep curtain rods securely in place, preventing accidents caused by pulling on the curtains.
Regular Inspections
Check your window coverings on a regular basis to verify they are still safe for your youngster. Check that all cords are securely fastened and that there are no loose or tiny items that might cause a choking danger. If you discover any problems, address them as soon as possible.
Educate Your Child
As an essential part of childproofing, educate your child about the potential dangers of window treatments. Teach them not to play with cords, climb curtains, or pull on blinds. Communication is key to ensuring their safety.
Professional Installation
If you're uncertain about childproofing your window treatments, consider seeking professional help. Professional installers can ensure that your blinds, curtains, and related safety devices are correctly and securely in place. 
Creating a Stylish and Safe Environment
Window treatment childproofing does not have to mean losing aesthetics. There are several child-friendly window treatment alternatives that are both attractive and safe. Choose curtains and blinds that complement your design while also providing peace of mind that they will not endanger your children.
You can guarantee that your living space is both fashionable and safe for your family by implementing these childproofing steps and selecting the appropriate window coverings. You may have peace of mind knowing that your children are safe from potential window treatment risks with childproofed curtains and blinds.
Conclusion
Childproofing your window treatments is a crucial aspect of creating a safe environment for your family. By choosing the right window treatments and implementing safety measures, you can maintain a stylish and secure living space. Childproofing doesn't mean sacrificing style; you can find a wide range of fashionable and safe options to enhance your decor while keeping your loved ones out of harm's way.