11 Crowd-Pulling Christmas Potluck Ideas To Try This Year
Try to keep things casual yet festive-appropriate for this year's Christmas potluck ideas. You can do so by asking your guests to bring food and drinks for sharing. This way, it is convenient for all to enjoy, relax, eat, and celebrate. It's because everyone is serving themselves, not depending on anyone to prepare meals for them.
But even when guests bring one, two, or more foods or drinks for a potluck, you still got to prepare something for them. After all, they are visiting your house. So, you got to treat them to something special. Isn't it?
If you are seeking delicious Christmas potluck ideas for celebrating at your home, you're on the right page. Here, we have shared a few amazing recipe ideas for you to enjoy on the special holiday. But before that let's discuss ways to set up a Christmas potluck.
How to Set Up Convenient Christmas Potluck
You may set up a specific area for your food and separate one for beverages. If you want, put them in opposite areas to avoid traffic jams.
Also, have a separate section for non-alcoholic beverages, like hot apple cider or cranberry punch.
There's no need to be crazy with decorations. You can easily add holiday vibes in the dining area with some candles, music, and Christmas lights.
These are a few simple ways to set up a Christmas potluck in your house.
11 Christmas Potluck Ideas To Try in 2021
We have browsed the internet for amazing Christmas food ideas that are easy to whip up in a few minutes. And, that too without breaking the bank. If you want the best seasonal but quick recipe ideas for a potluck, you need to follow the food ideas given below.
Chocolate Covered Pretzels – Christmas Potluck Ideas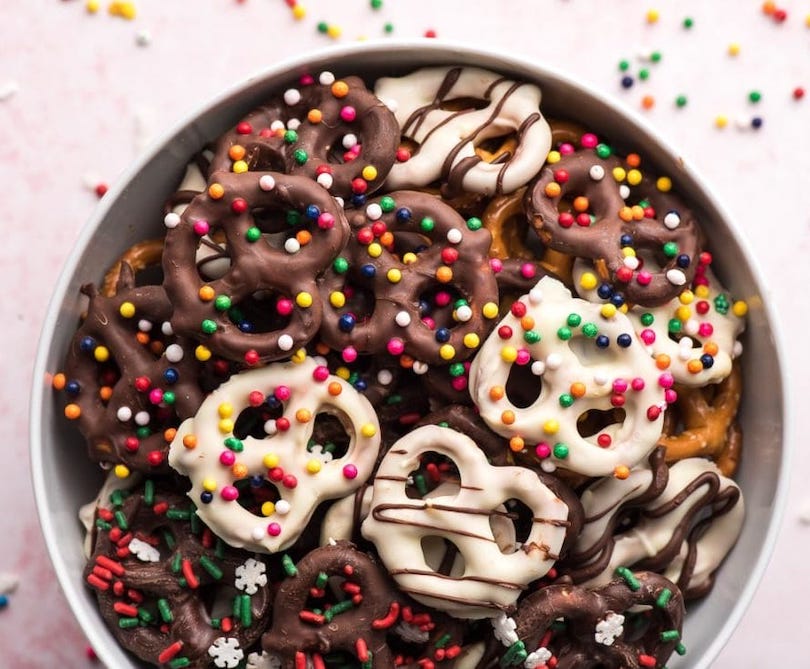 Chocolate-covered pretzels are a hit among people. Therefore, you need to consider them for Christmas potluck ideas. You can choose them in form of pretzel sticks or round pretzels, as shown in the image above. Along with some sprinkles and chocolate, you're good to go.
Just melt the chocolate in a few seconds, dip pretzels in the melted chocolate. After that, add sprinkles on the top. And, your wonderful holiday treat is ready.
Green and Red Pasta Salad – Christmas Potluck Ideas
A pasta salad is a great idea for a potluck. It's because everyone loves it. Moreover, it's very easy to prepare without much effort. After preparing it, put pasta salad in a big container in your refrigerator. And, pull out when you want to serve it. That's easy!
Christmas Veggie Kabobs – Potluck Ideas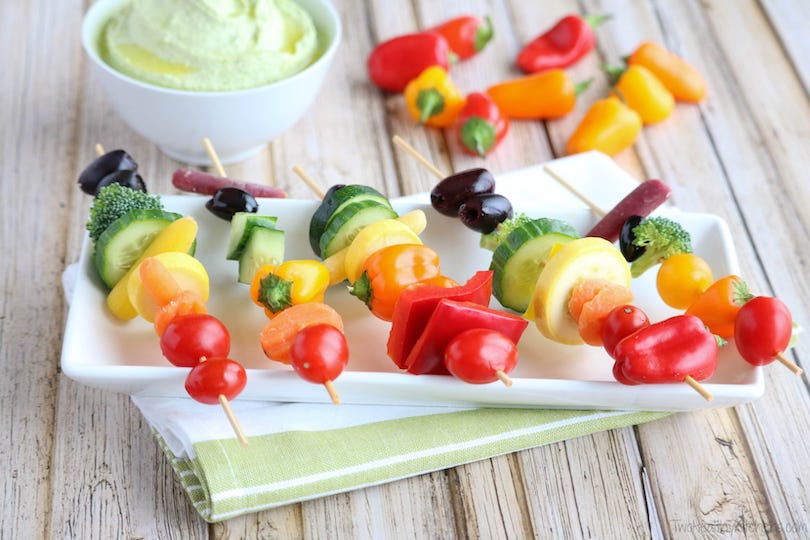 It is a healthy and very delicious appetizer that needs only 5 minutes to prepare. You just need a few green peppers, cherry tomatoes, Greek yogurt dip, broccoli, cherry tomatoes, and skewers. Chop the veggies and cheese, and alternate each on the skewers. And, your holiday-inspired appetizer is ready. And, everyone will love it for sure.
Christmas Goat Cheese Toast Bites For Potluck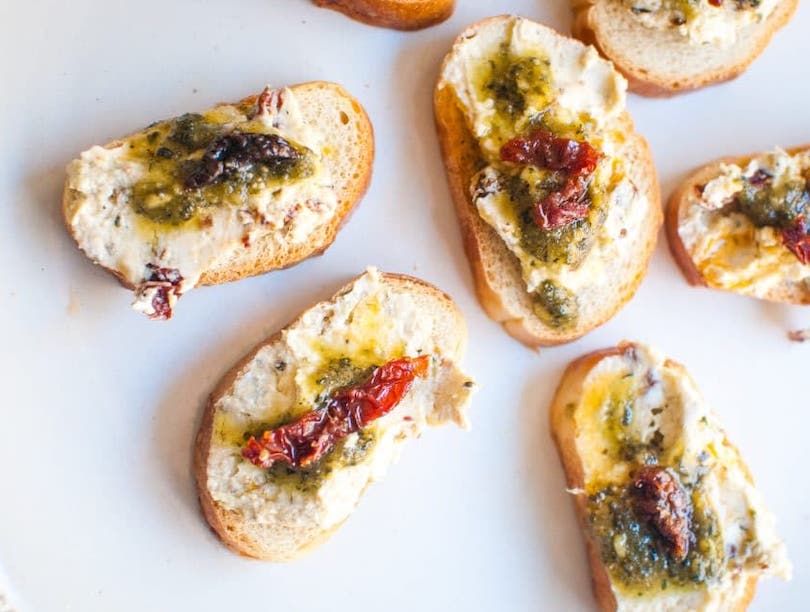 One of the simplest Christmas potluck ideas to try this holiday is goat cheese toast bites. These tiny appetizers appear fancy and palatable. While everyone will think you have taken out so much time of yours in their preparation, it takes only a few minutes to prepare these.
All you require is to purchase a pack of garlic melba toast crackers, sundried tomatoes, a brick of goat cheese, and balsamic reduction. You have to place these toasts on a sheet for toasting. Once its' toasted, you can serve the theme as it is or serve them warm. It depends on you and your guests how they like them.
Turkey Veggie Tray – Christmas Potluck Ideas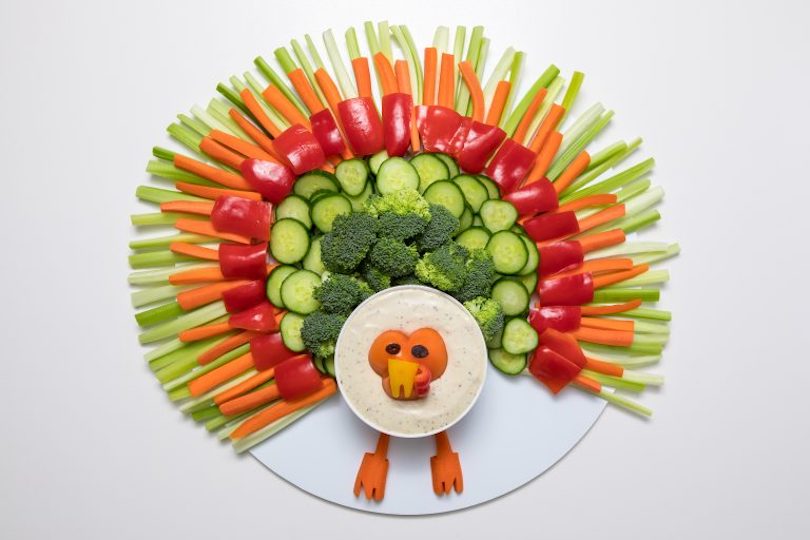 This is another potluck recipe that's loved by everyone. Why? It's because this recipe includes loads of vegetables. Well, veggies are a must-have at any potluck or get-together. Since it's a festive season, there are so many amazing ways to add vegetables to different recipes.
When it comes to preparing this Turkey veggie tray, you have to place vegetables on the tray as you can see in the picture above. If you have a festive bowl, you can put the dip in it. This way, it will add some extra touch of Christmas to this easy-to-make recipe.
Mini Christmas Pita Pizzas For Potluck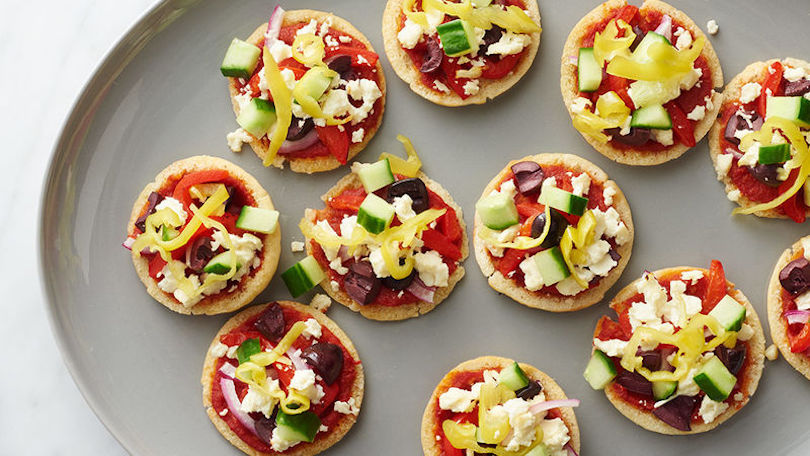 These are very easy to make and very delicious too. You can make them in a toaster oven conveniently, following any simple pizza recipe. Both kids and grownups will love the deliciousness of these mini pita pizzas.
You may even dress them up with any desired vegetables you desire. It's best if you add more red and green veggies for the perfect Christmas theme.
Nacho Cups For Potluck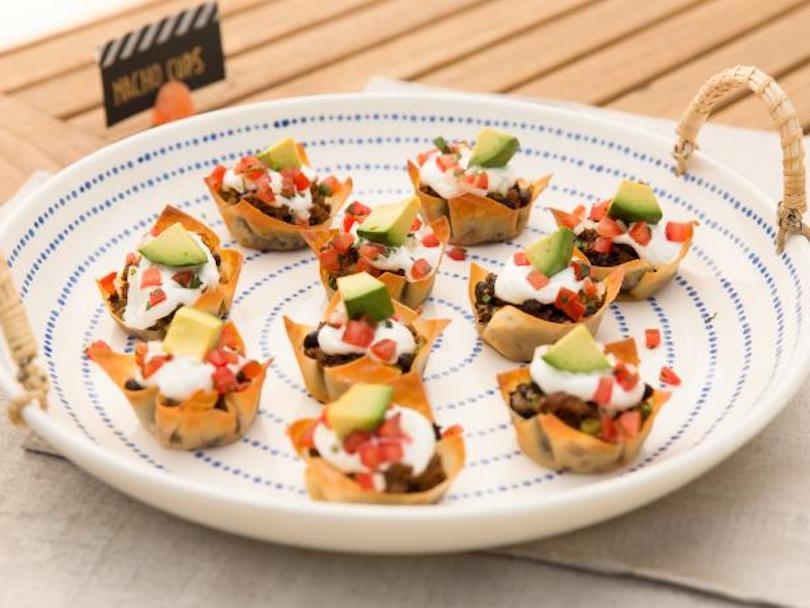 This is one of the fun and easy Christmas potluck ideas to try this holiday. It offers you a great way to contribute to the holiday potluck party.
You simply have to add cheese, guacamole, and cherry tomatoes with cilantro. These are perfect bite-sized snacks to enjoy while chit-chatting. If you like some spice in nachos, you can add a tiny piece of jalapeno pepper to every cup.
Cranberry Almond Spinach Salad – Christmas Potluck Ideas
Salads are perfect Christmas potluck ideas to add to your festive occasions. You can make any potluck fun and healthy with a nice salad recipe. Here, we are talking about cranberry almond spinach salad.
It's a great way to make sure your family and friends enjoy the necessary greens in their bodies. And, you also need a fresh salad to even out the heavy pasta dishes.
If you have sliced almonds, spinach, dried cranberries, and sesame seeds, this salad is a great option to prepare in just a few minutes.
Cranberry and White Chocolate Mini Cheesecakes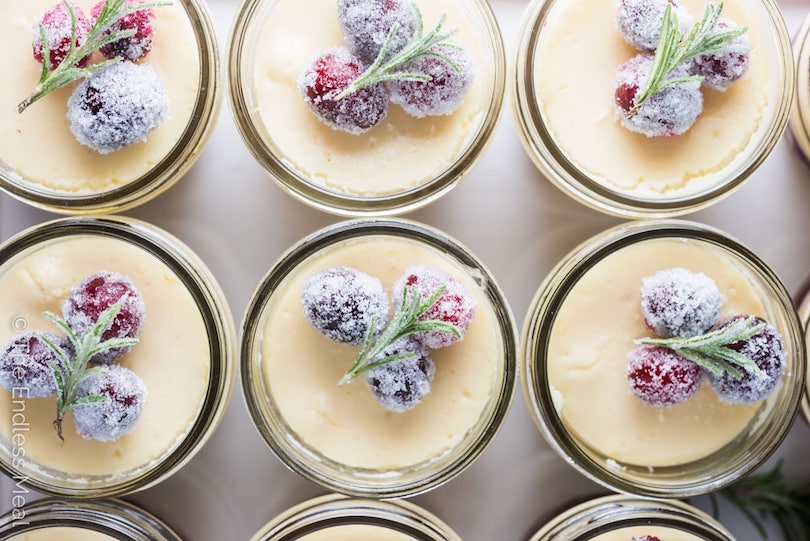 After your meal, you surely want to immerse yourself in sugary goodness. For that, cranberry and white chocolate mini cheesecakes are perfect Christmas potluck ideas.
The best part about this treat is that you can make it with one mixture. Later, divide it up in mini mason jars. Further, top it with sugared berries and a sprig of rosemary. and, your snow-covered treat is ready for the guests.
Vegan Blinis with Red Pepper Relish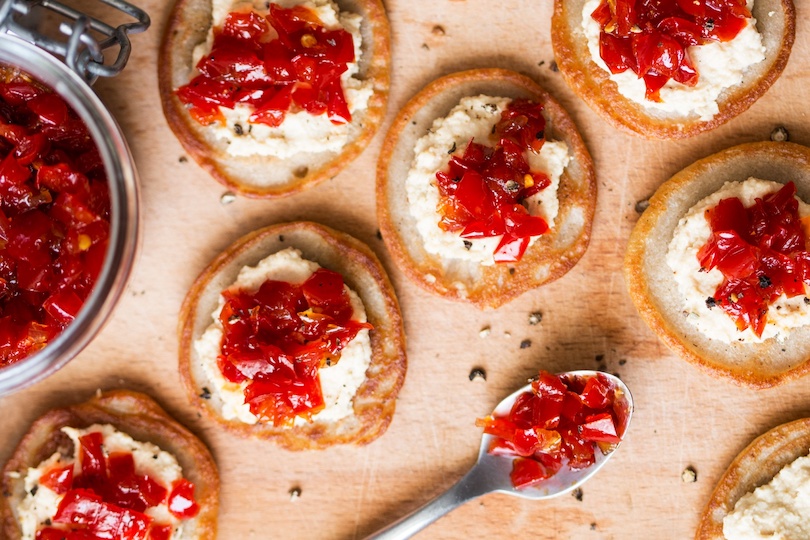 These are tiny crostinis that are a great alternative for someone on a vegan diet. If you are looking for the right Christmas potluck ideas for vegans, this one is perfect.
With bright red and spicy pepper relish, you will find yourself singing Christmas carols while making all the arrangements.
Chocolate Pretzel Christmas Tree Brownies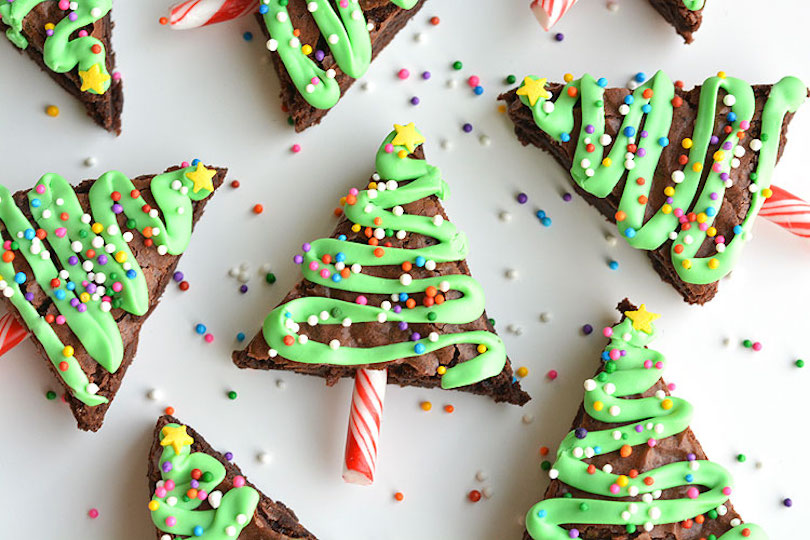 Potlucks are amazing but often limited with time. So, you need to prepare something easy but impactful. If you are looking for some easy yet fun Christmas potluck ideas, chocolate pretzel tree brownies are something you need to consider. This recipe simply screams Christmas and it's a delicious dessert to prepare in no time.
You simply need a few store-bought brownies and cut them in shape of Christmas trees. Now, add some sprinkles and sugary ingredients for decoration. Viola!