10 Halloween Potluck Ideas To Feed Your Guests
Halloween potluck party isn't complete without the scary factor. If you are planning to host a potluck party for your family and friends, you must be looking for Halloween Potluck ideas to feed them right. One of the best things about the fun potluck party is that it's all about collaboration. The host has to share their culinary creation with other guests. Sometimes even guests may bring some Halloween-inspired food items to your party.
The more your guests your willing to bring some food and help you with setup or cleaning duties, the less is your work. Hence, you also get more time to enjoy all the festivities. Whether you are hosting a potluck party or sending your kids to a school potluck, you have to contribute to one or more of the Halloween potluck ideas given below.
Each recipe given here is specially themed for Halloween. While you need to keep the adorable scary ones for kids, the other more spooky ones are for older people attending your Halloween potluck.
10 Halloween Potluck Ideas To Feed Your Guests
Here are our amazing Halloween potluck ideas that your guests will love. Meanwhile, these dishes are likely to send jitters down your spine.
1. Halloween Monster Donuts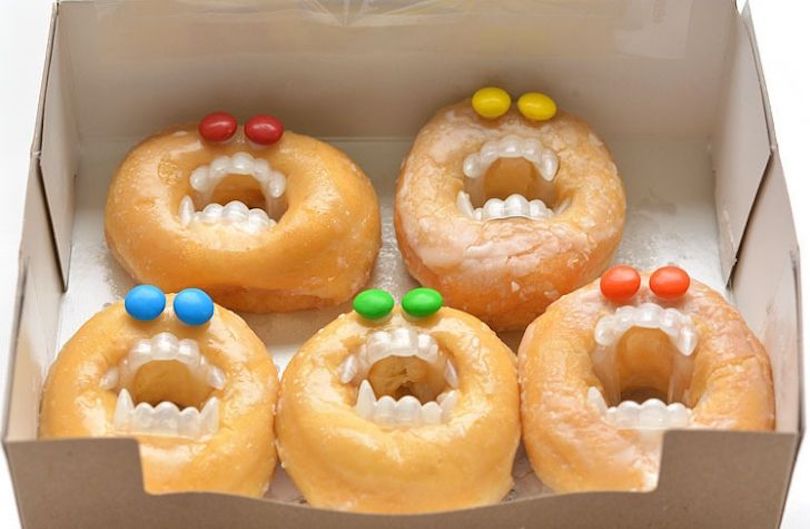 You don't require expert baking skills for preparing this easy-to-make Halloween to treat. Such Halloween potluck ideas are perfect to turn store-bought donuts into a scary monstrous treat. And, you just need a few items to prepare these donuts. This is also a great idea if you want to prepare a quick potluck dish but don't have much time to make it.
Just head to your local store and get some plastic vampire teeth, a pack of M&Ms, and white icing. After collecting all the items, you are good to prepare these spooky donuts.
2. Mummy Stuffed Peppers – Halloween Potluck Ideas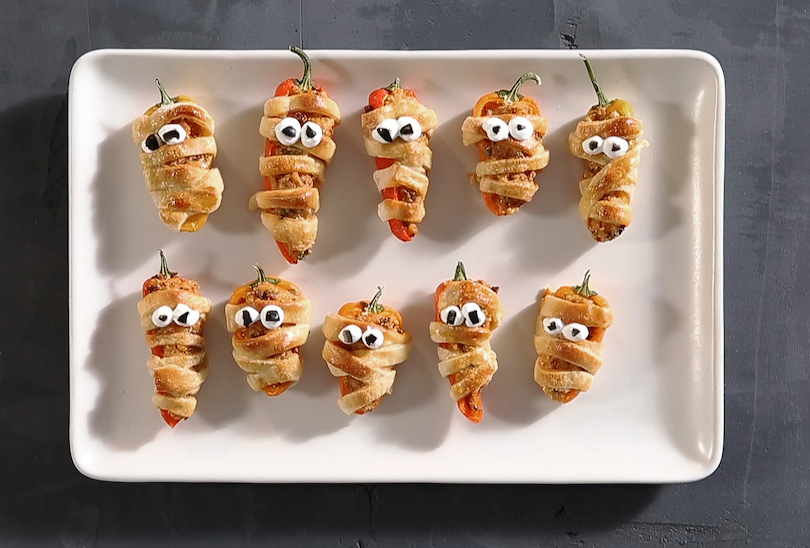 These cheese-stuffed bell peppers come wrapped in puff pastry or crescent dough. You can even double or triple the wrapping for a big Halloween potluck meal. You may use capers for the eyes or black olives sliced in half. The recipe is super fun and easy to make. And, very delicious too!
3. Creepy Halloween Eyeballs – Halloween Potluck Ideas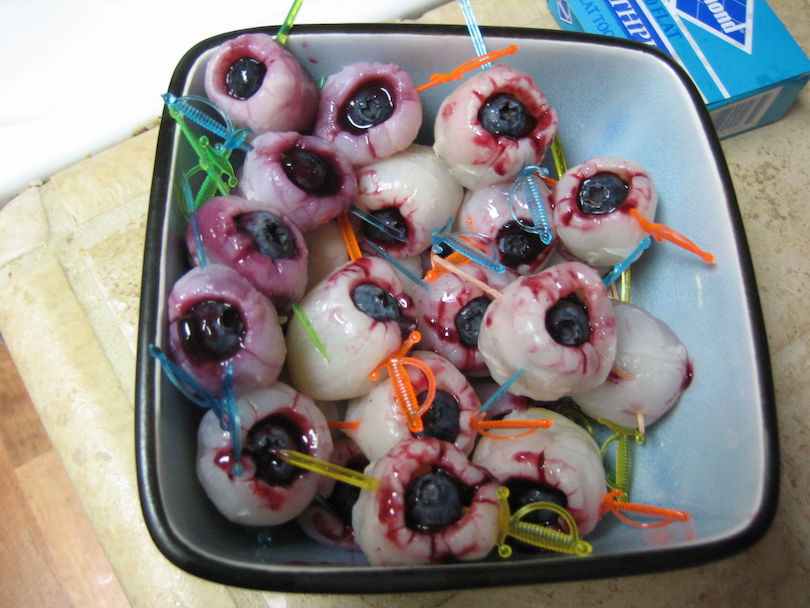 It is one of the eerie Halloween potluck ideas to make your entire platter ghoulish. For the eyeballs, you can use lychee fruit. This fruity treat is very creepy but you cannot deny its amazing taste. You can even put these in cocktails as garnish. Just try it! We are sure it will be a conversation starter at your Halloween party.
4. Cheese And Pretzel Broomsticks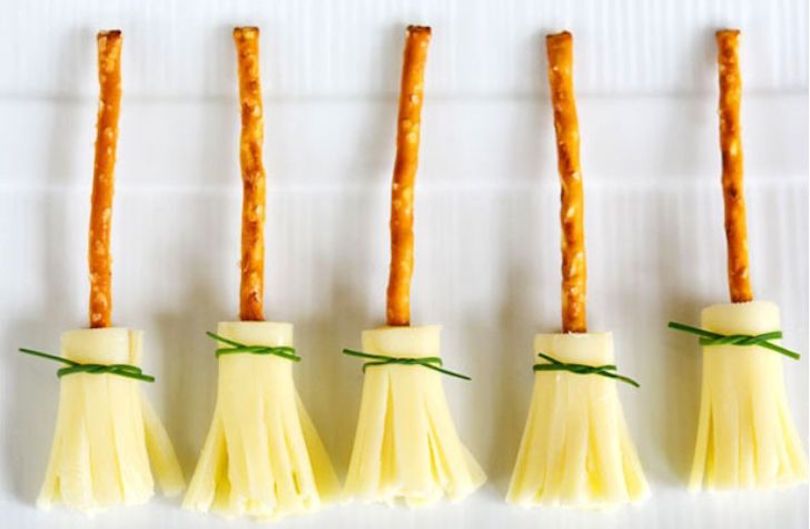 How about some edible broomsticks? These cheese and pretzel broomsticks are adorable and everyone at your party will love to gobble these up in no time. The best thing about such Halloween potluck ideas is that they are easy to prepare. Plus, you can make them in abundance in less time.
You can send this fun Halloween snack with your children to their school potluck. Or simply serve at an adult spooky party, they will also love them.
5. Grave Yard Taco Cups – Halloween Potluck Ideas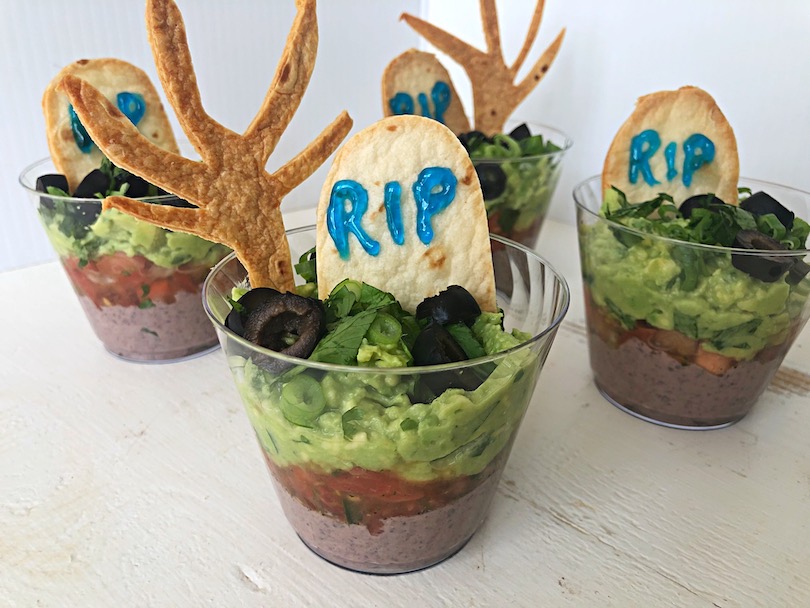 Want Halloween Potluck ideas for dippers? There are various ways to make taco chips and dip. You can consider making single-sized portions for parties. So, you don't have to worry about double dippers.
This dish is easy to make and also thriving with delicious, fresh ingredients. Don't forget to put RIP tap on the top to make them Halloween appropriate.
6. Harvest Hash Trail Mix – Halloween Potluck Ideas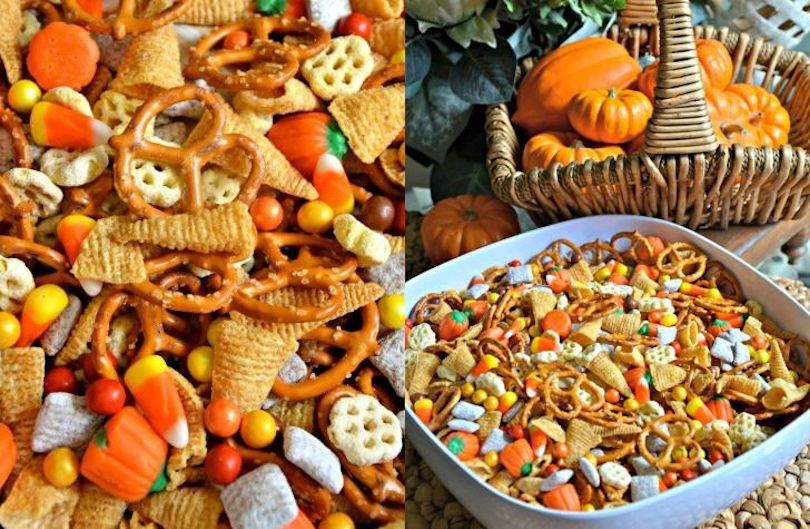 Crackers, chips, and other snacks are some of the great Halloween potluck ideas for parties. But if you want your snacks to stand out, you may consider making a big bowl of harvest hash trail mix. The bowl is full of salty and sweet flavors with crunchy textures.
This snack also includes some popular Halloween candies, like candy corn, and pumpkins with different snacks, like Bugles and pretzels. Simply put all ingredients in a bowl and mix them well. And, without baking!
7. Spider Eggs – Halloween Potluck Ideas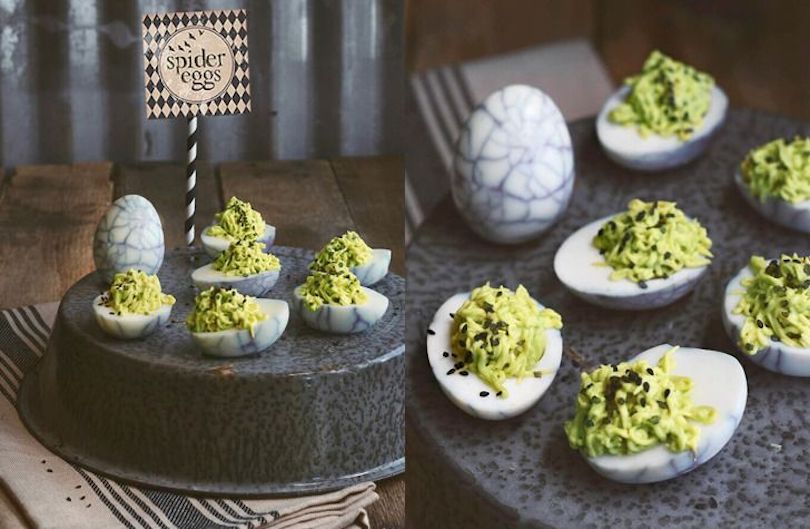 These deviled eggs are also one of the famous Halloween potluck ideas for feeding your guests. The eggs are a crowd-pleaser and very easy to prepare. That's why perfect to serve at potlucks.
Nonetheless, you can be more creative during Halloween and dye these eggs in a spider web pattern. These are naturally dyed using blueberries and water. Unlike the conventional recipe, the middle portion of the eggs is green-colored due to the use of wasabi and avocados.
8. Pumpkin Patch Dirt Cups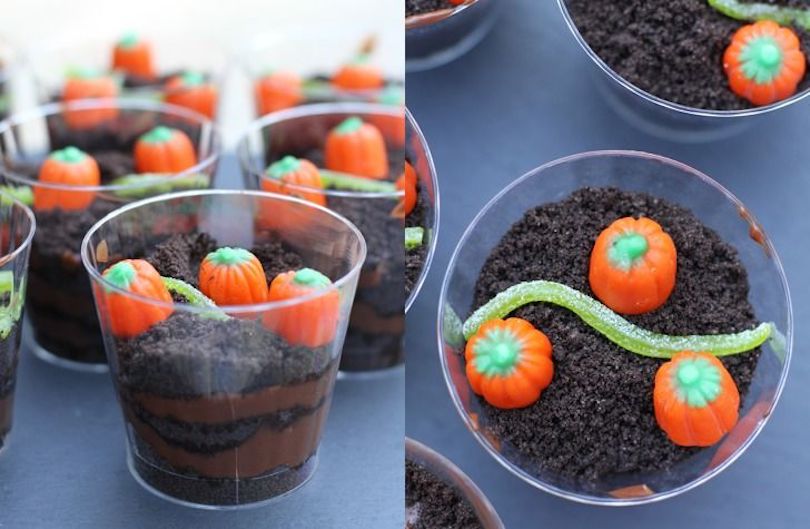 This dirt pudding seems to be a fun dessert for a potluck. The scary gummy worms' stuffing is present in the centre. But how about the pumpkin patch dirt cup? This is the same idea but with a different Halloween twist.
These cups are perfectly filled with various layers of chocolate cookie crumbles or chocolate pudding. This dessert is further topped with vines and candy pumpkins that form an edible patch.
9. Ghost Pizza – Halloween Potluck Ideas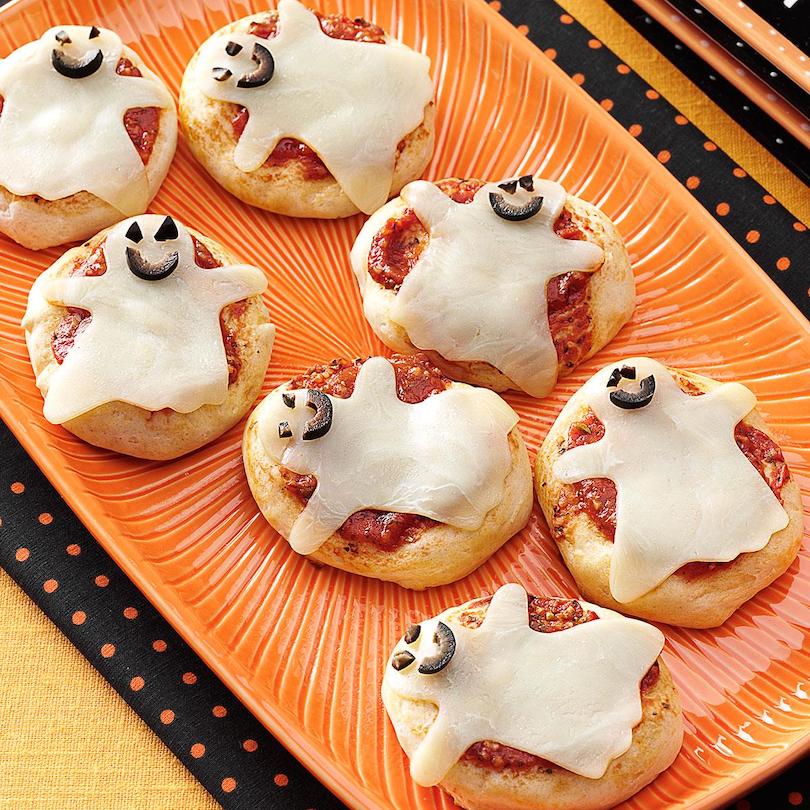 Pizza is the crowd's favorite all the time. Due to this reason, serving pizza at a potluck is a great choice. These mini pizzas are perfect for Halloween, as you cut the cheese in shape of ghosts. After that, put the cheesy ghosts on on the top. For doing so, you need a cookie-cutter.
You even need olives for creating its face. Finally, we have to include ghost cookies to help you make these pizzas seamlessly.
10. Halloween Feet Loaf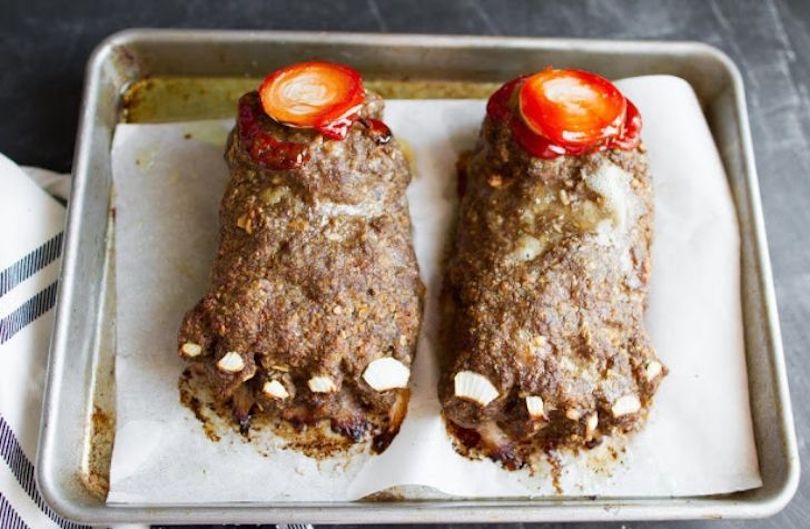 Want your Halloween potluck meal to another spooky level? If so, you need to consider this scary Halloween feet loaf. However, keep this one just for the party for adults – without any kids.
This recipe is quite easy to prepare, as it needs only a few ingredients. The meatloaf is perfectly shaped like feet. It is further topped with some blood (ketchup), severed bone (onion slice), and onion toenails.
Since potlucks are the crowdpleaser, you must arrange for it around Halloween. If you have already decided to host a potluck for All Hallows Eve, you may consider the mentioned recipes. If your family and friends are also helping you with a potluck meal, you can even assign any of the given dishes to everyone to bring for the festive occasion.