Bike Storage Ideas For The Garage To Free Up Space
Bicycle is one of the amazing inventions that not just allows you to commute from one place to another while exploring the surrounding nature, it also keeps you healthy. Cycling is the simplest and effective type of exercise to strengthen your lower body while improving your cardiovascular health. That's why so many people across the globe love to travel through two-wheeled bikes.
However, some cycling lovers don't have apt storage space for their beloved two-wheel machines. So, they end up wither putting their bike in a bike shed or try to look for some space-storage tools for installing the bicycle in their house. This way they safeguard their cycle through environmental factors.
But have you ever realized that storing it just anywhere in your home can hamper the overall interior and look of your abode? Why not look for a place where your bikes can appear for commute in the morning and hideaway in the evening once your home. One such place is your garage, where the bike storage will effortlessly blend with the rest of the interior theme.
If you're looking for bike storage inspiration in your garage, here are some cool bike storage ideas to consider:
Wall-mounted storage hooks for bike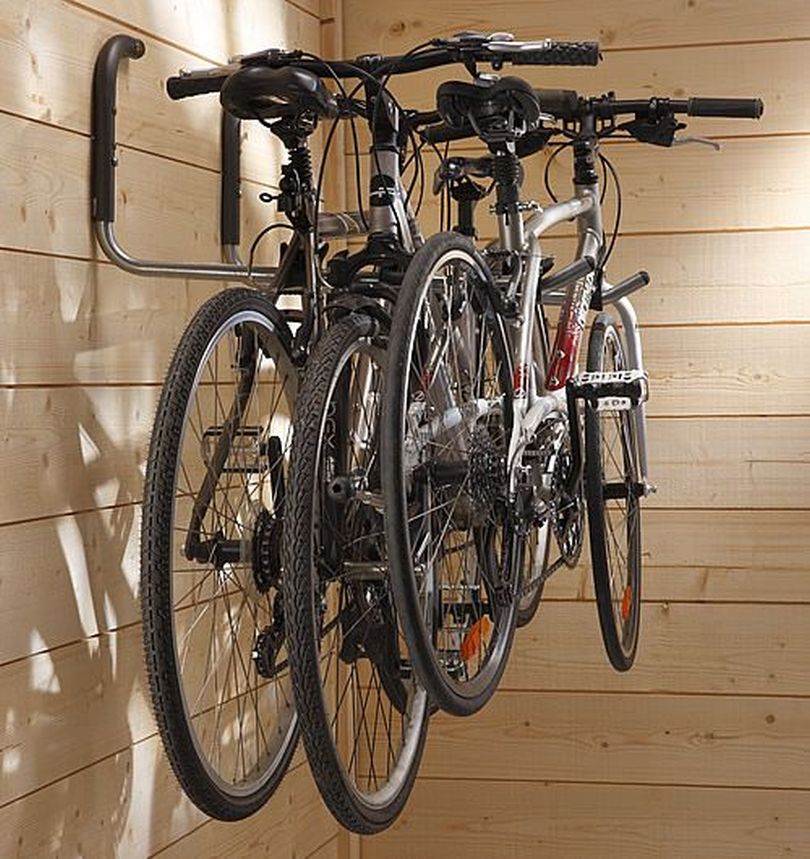 If you search online, you'll come across plenty of bike storage hooks that can easily be mounted on a wall in your garage, saving extra space in the area. Carefully, drill the walls and install the hooks for bike storage. What's good about this idea is that it enables you to hang your bike without disturbing the visual aesthetic of your garage. Your bike will seem like an artwork, hanging on a wall.
Quad bike rack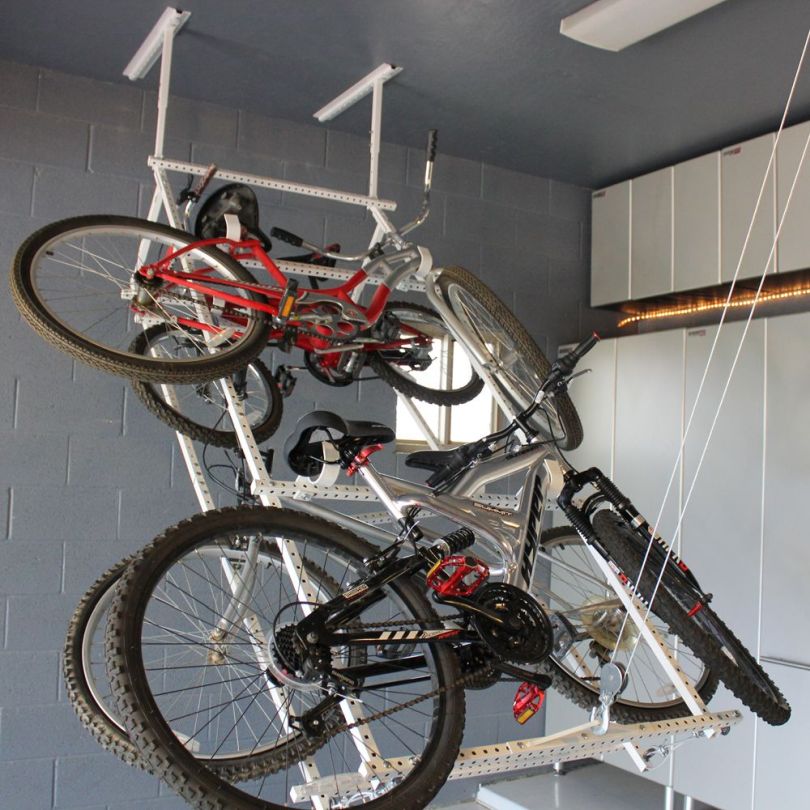 Another bike storage idea that's perfect for storing the bikes of your entire family is the installation of Quad Bike Rack. It comes with four available racks to accommodate four bikes. It will blend with the theme of your garage or bike shed. You may even install it within your house, depending on your preference and liking.
Gravity storage racks for bikes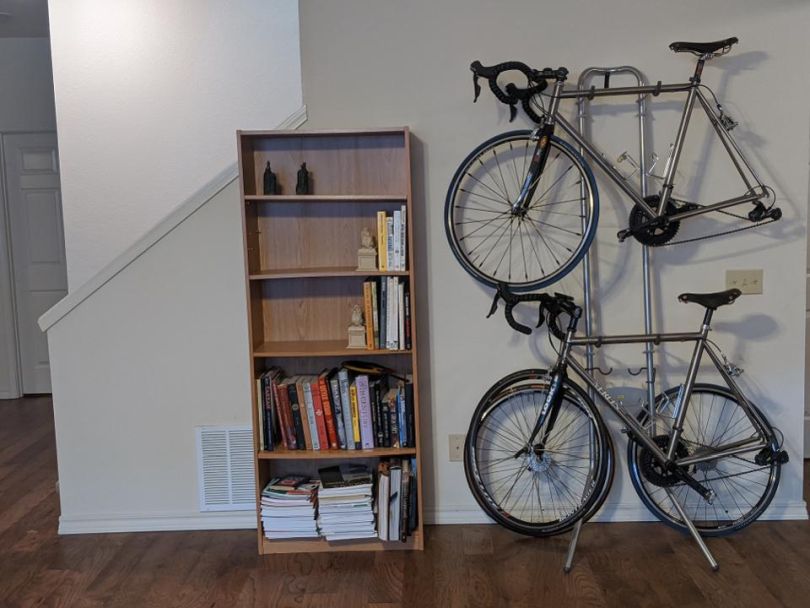 If you and your partner love to ride bicycles together in the morning or evening, you likely need two bike storage racks in your house. With gravity storage rack being mounted on your wall, you can easily install two bikes within your garage. It also enables you to hand on bikes safely while making them part of your interior.
Ceiling mounted bike storage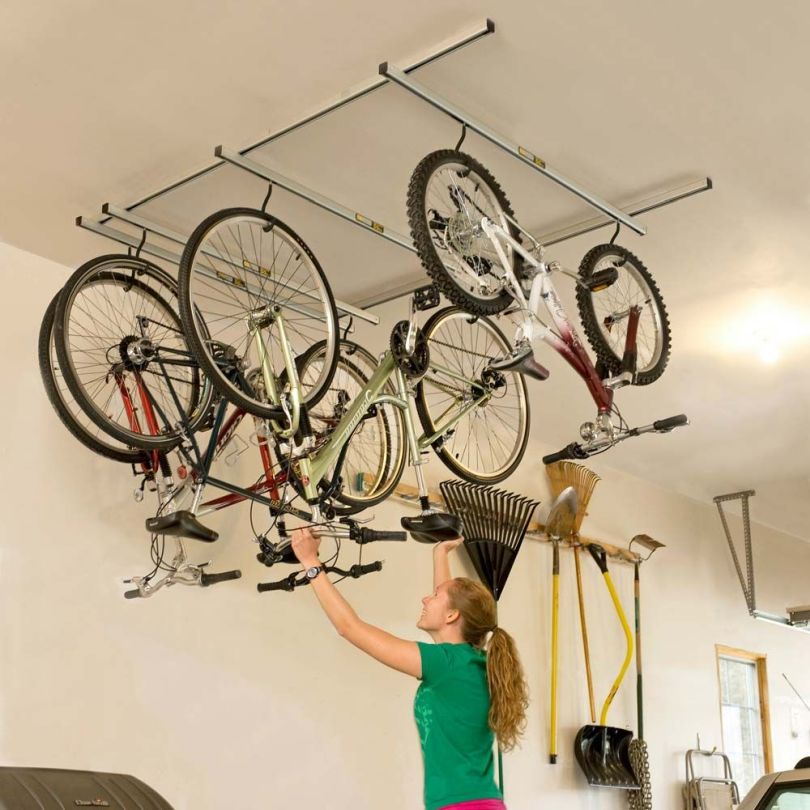 This is a cool idea for your garage space or specific bike storage shed. Ensure that your shed roof is very high and features some provisions of attaching a bike mount on the ceiling. If you don't want to hang your bike on a wall, getting it suspended in mid-air is a great alternative. But make sure that the ceiling mount is installed carefully and securely. Also, warn other family members about the mid-air bike storage mouth.
Dual touch bike pole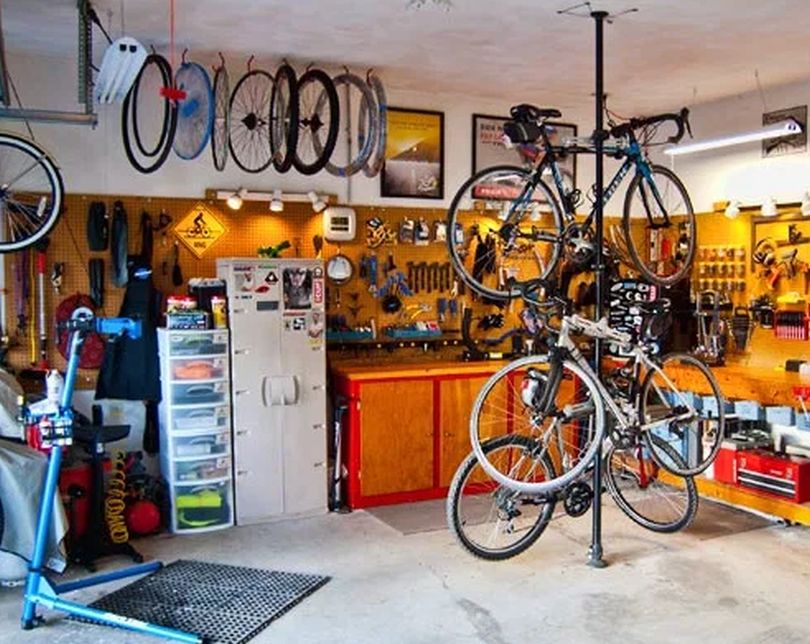 Unlike ceiling-mounted ideas, you may opt for the safe version of the bike mount. It is considered safer compared to the ceiling bike lift because this one remains mounted on a floor. The dual touch bike pole is a perfect addition for the backyard, however, ensure the bikes are safe from outdoor elements. It also looks beautiful in the garage or bike storage shed.
Desk with bike unusual storage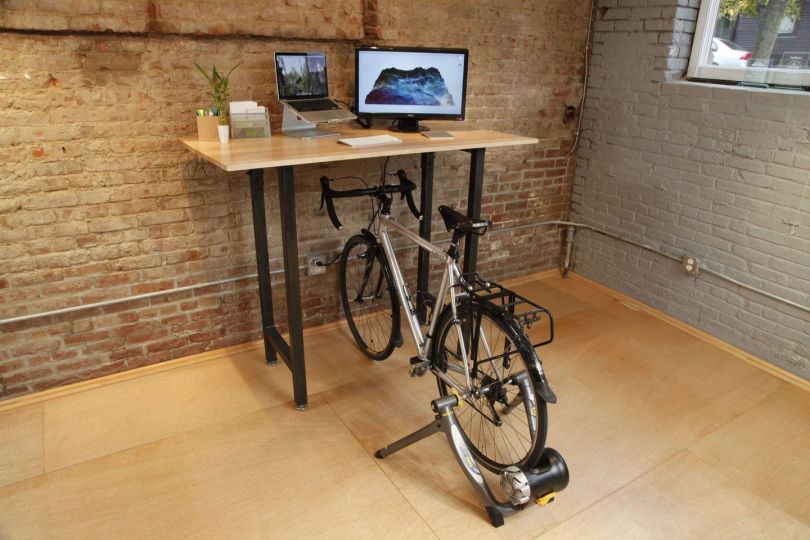 Would you like to combine your study table with a functional bike storage rack? If so, you may consider the desk rack bike storage, as shown in the picture above. It features a regular study table with a bike underneath for cycling while completing your work. If you don't like this idea, you may consider mounting the bike on the wall just above the study table to give unique industrial charm to your room. Meanwhile, your bike will get clever bike storage in your room. You may even consider a desk rack in your garage or bike storage shed if you sometimes like to work from there.
Timber bike hooks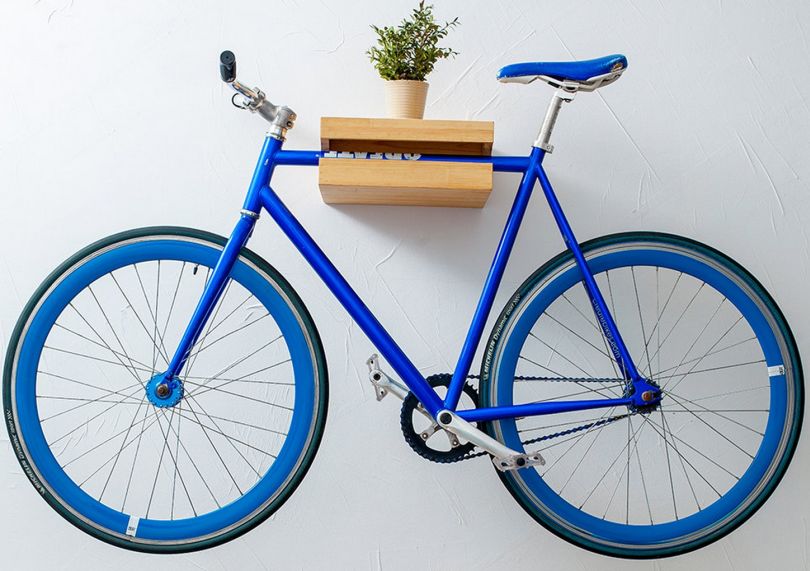 One minimalist yet clever bike storage idea is a subtle timber bike hook. You can get it installed within your home, garage, or bike storage shed for conveniently hanging your bike on a wall. Furthermore, you can add a small decor piece of a planter to a top of the wooden bike hook to enhance the elegance of the bike storage system.
Compartments on a wall for bike storage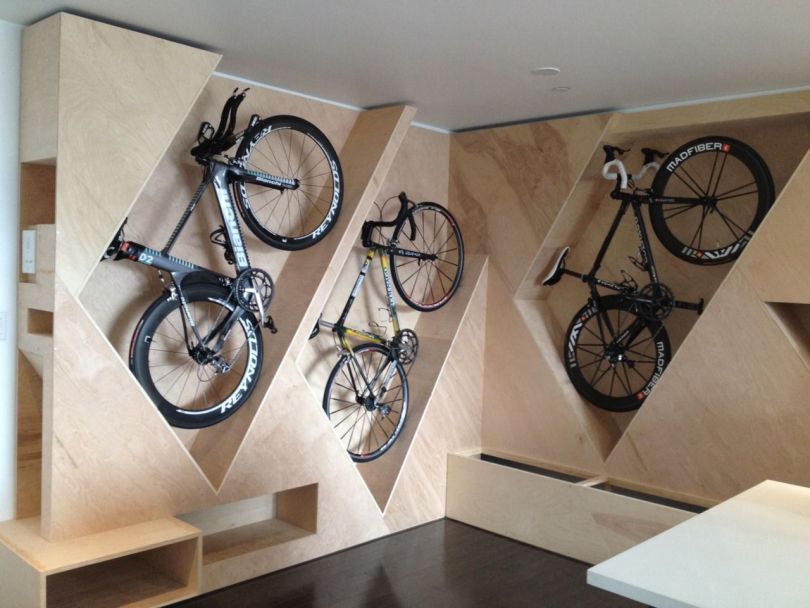 This unique idea is practical and decorative at the same time. It features different compartments for storing your bikes. And, it can further help you to make your bikes the part of your interior. It can even be installed within a garage for saving so much space.
The Kappo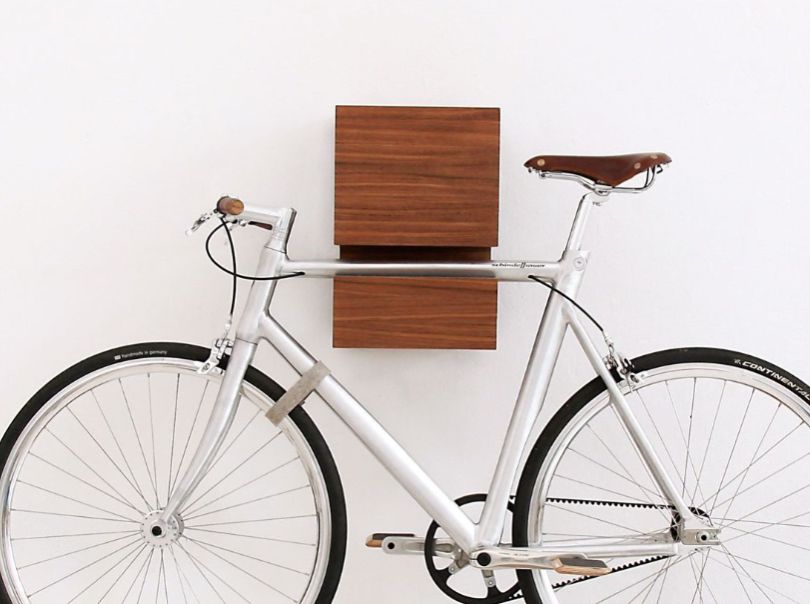 It might look absurd at first, it enables a lot of options for creativity. This rack can be made of wood and shaped like a number nine outline. It can be installed on a wall and also features a storage space for keeping your helmet, gloves, and other bike accessories. The hooked portion of the Kappo allows you to hand your bike on it. It will be a great bike storage option in your garage, home, or bike storage shed. On the hooked portion of the Kappo, you can hang the frame of your bike. It will look good in your home, garage, or bike storage shed.
Budget Bike Storage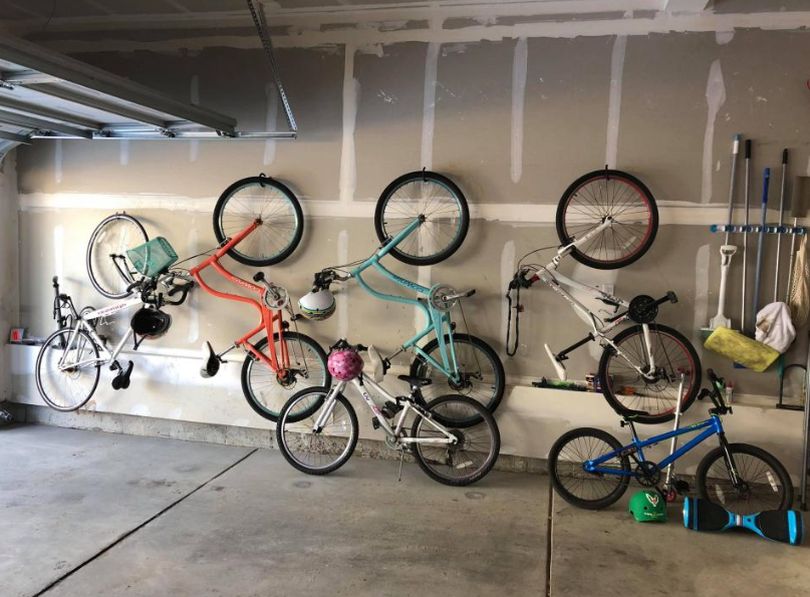 If you don't want anything fancy for bike storage and want to be somewhere off the garage floor, it's best to opt for heavy-duty bicycle hooks as shown in the picture. These are inexpensive, easy to install, and convenient to use. The biggest advantage is that it saves a lot of space in your garage.
Bike storage shed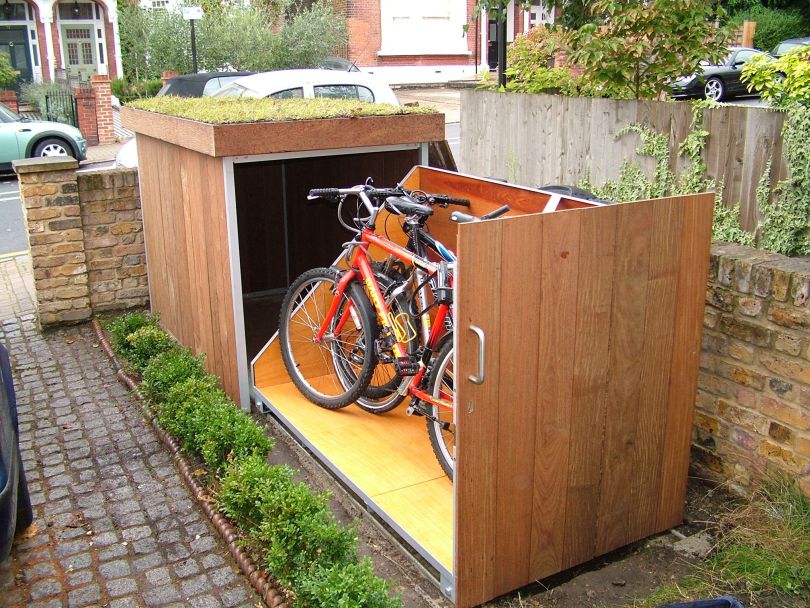 If there's no space in your garage for bikes, you can think of creating a DIY bike storage shed. Depending on your preference, you can go for a bigger shed to storage more bikes. Besides, you can store all your bike accessories and tools that are needed for repairs and maintenance of your well-loved bicycles. For an outdoor shed, you may even consider adding some grass or flowers atop the shed, as shown in the picture. This way you can make your bike storage shed seem part of the surrounding.
Shoes, books, and bike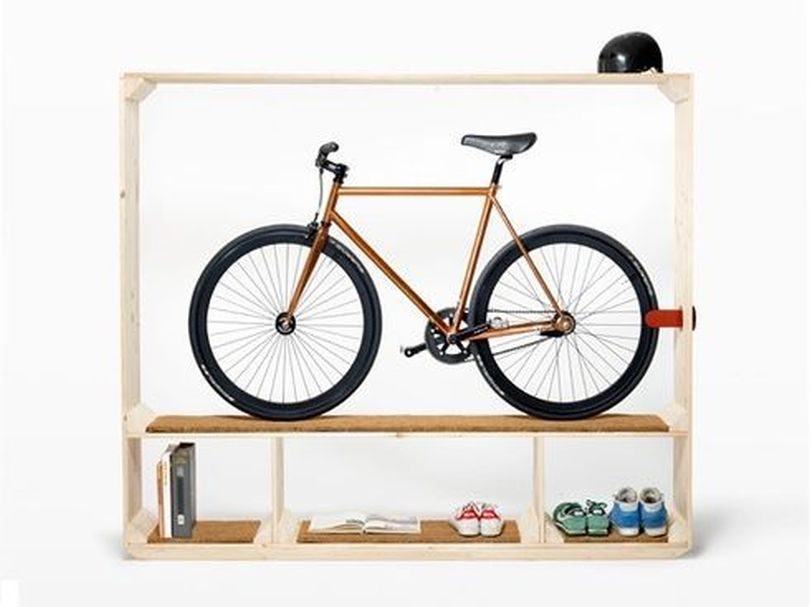 If you're looking for storage space for your extra shoes, books, and bike, why not make a combined space for all of them? You can create a DIY four-rack shelf with topmost space for holding the bike in position. On the other hand, the lower small shelves can be used for storing shoes and books that you don't use that often but like to store in your garage for later use. This bike storage rack will look good in the garage, living room, as well as bike storage shed.
For active bikers, bicycles are their priority. They not only want to keep them well-maintained but in good working condition too. Moreover, safety and proper storage of the bike are also important at the same time. If you're looking for space-saving ways to store your bike, you can choose any of the given bike storage ideas to keep your bike in a secure place without disturbing the rest of the room.