Clever Bike Storage Ideas for Your Home
In the wake of the novel Corona-virus pandemic, social distancing in public places, including gyms, is affecting the health of one and all. That's why cycling has seen quite a boom this year. Getting on a bicycle is a great way to commute, off road as well as burn some calories.
But as much as you like to ride your bike at all waking hours, you also need to think about a perfect place to give your two-wheeler some rest. This leads to a very common problem that all bikers face – where to keep our bike so that it's safe, secure, and also within reach whenever you want to hit the road again.
Don't worry, we have got you covered with the best bike storage ideas for 2021. No matter you have limited storage space, you certainly need to be creative in your approach. Whether you want to keep your bile within a small city apartment, in a backyard patio, or a crowded garage, here are some amazing storage solutions to protect your bicycle while keeping it easily accessible for everyday trips to the park, grocery store, or gym.
Without further ado, let's begin with some amazing bike storage ideas.
Store your bike on the balcony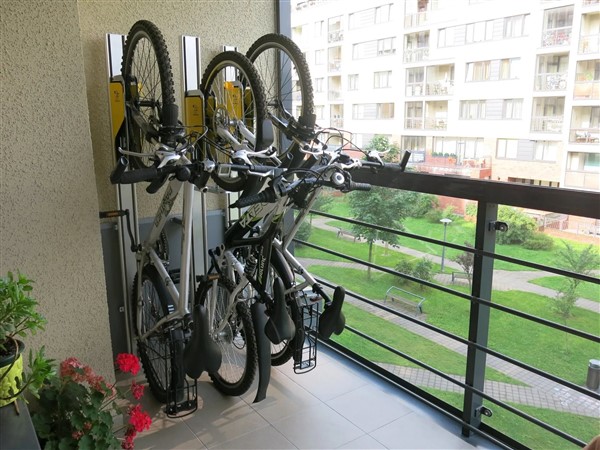 If you have a balcony, it's a perfect spot to store your bike – unless it is full with other stuff. If this area is cluttered with less important things, you need to clear it up to create space for your bike. Since your bike won't take much space, you can also use the balcony for other purposes such as seating, planting, etc.
You can choose a wall-mounted or floor bike stand to store your bike. You can look for the right bike rack at your nearest stores or try to make one yourself. If you want to purchase it from a bike store, you need to be sure it comes with appropriate fastening essentials. Moreover, you need to take proper measurements before you hang your rack. The rack also holds your gloves and keys.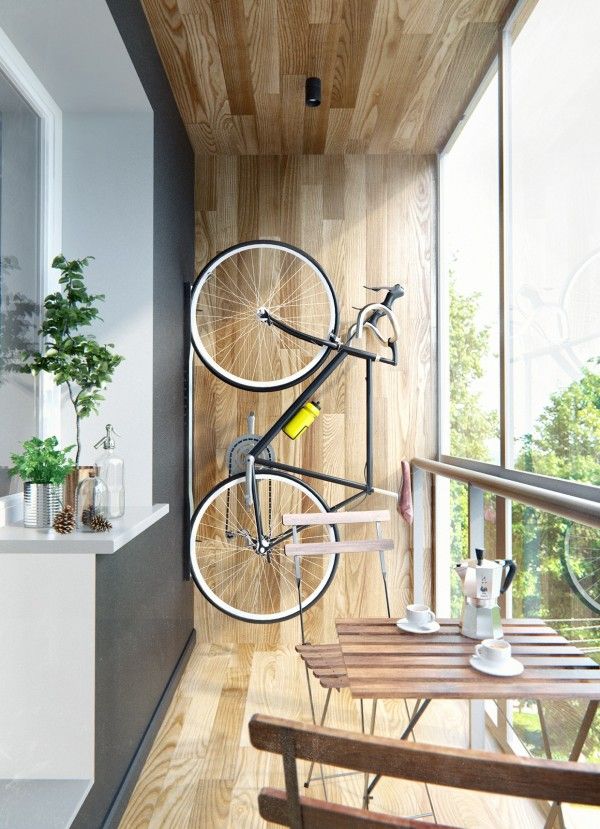 The higher you fix a bike rack, the more space you will have to move around. However, you need to ensure that you can easily reach for the bike every time you need it. Simply choose an optimal height to mount a rack. Just check out the images given below to see how beautifully you can wall-mount your bike on your balcony.
Ceiling is a great place to store your bike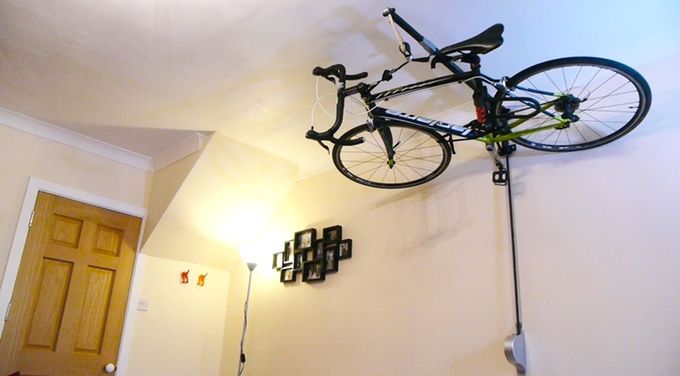 Ceiling is another great place to store your bike. Storing your bike in the ceiling is the ultimate space saver. You can literally hang your bike on a ceiling track, allowing bikes to fly above your head. Ceiling bike racks are integrated with a pulley system allowing you to hoist your bike up by the seat and handlebars. These bike racks can also hang your bike upside down.
Wondering how to access your bike? All you need to do is rotate the pulley to lift your bike for storage and lower it whenever you need it. Best part – it doesn't take up any space in your room. So, you can easily place your furniture and accessories anywhere on the flooring or mount them on the walls – without crowing the area with your bike.
Since ceiling racks won't take any floor or wall space, they are ideal for small apartments. Moreover, they do not require much physical effort to store your bike up there. These are often compatible with most bikes. So, you don't need to be very careful while selecting one.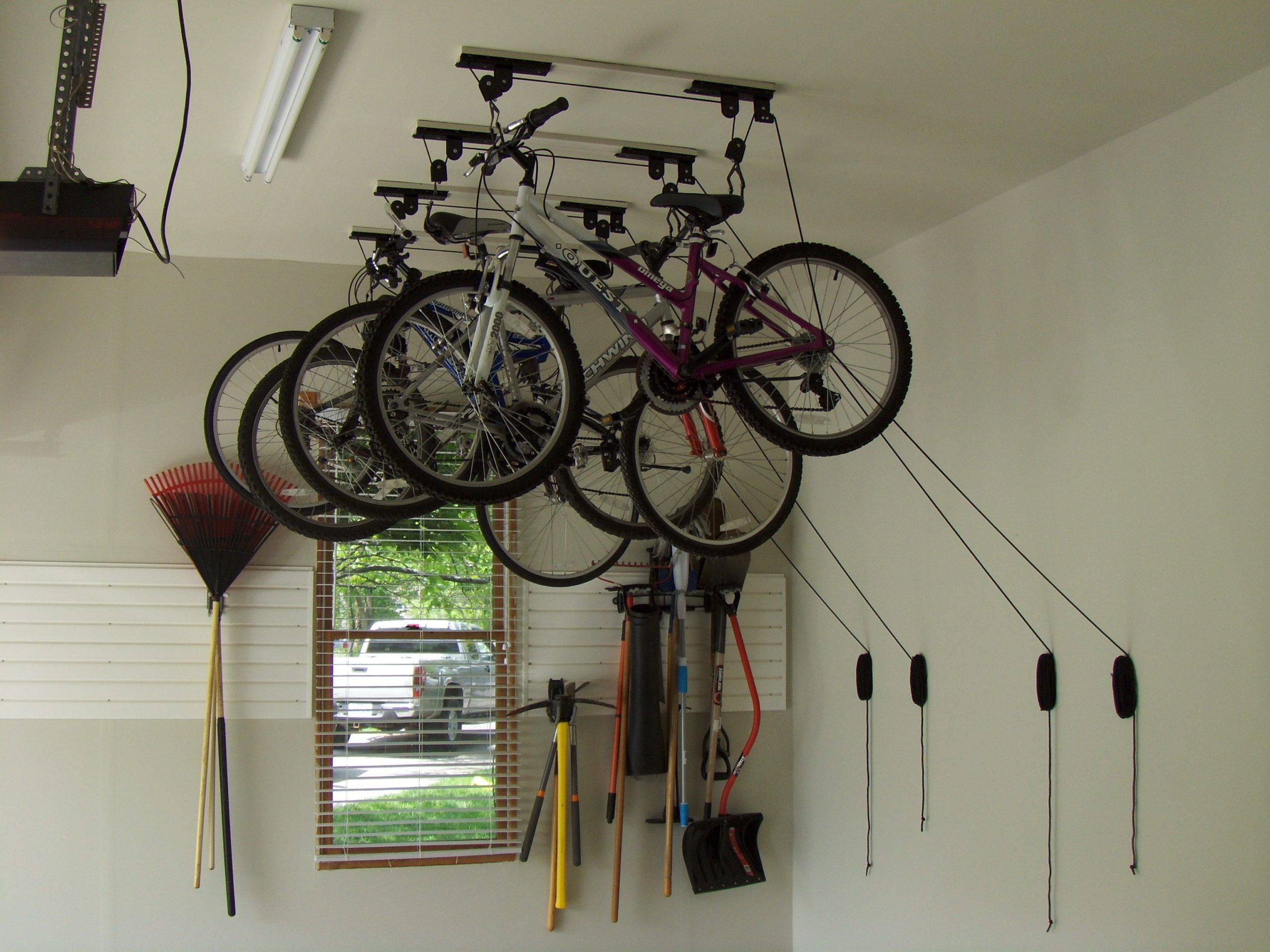 Other than space saving advantage, ceiling bike storage system has some disadvantages as well. The first drawback is that installing these racks on the ceiling is difficult than mounting one on the walls. Plus it takes longer to get your bikes up and down no matter it does not take much physical effort.
If you live in a small space with no other storage options, the ceiling bike storage is indeed the best choice for you.
Store your bike under the stairs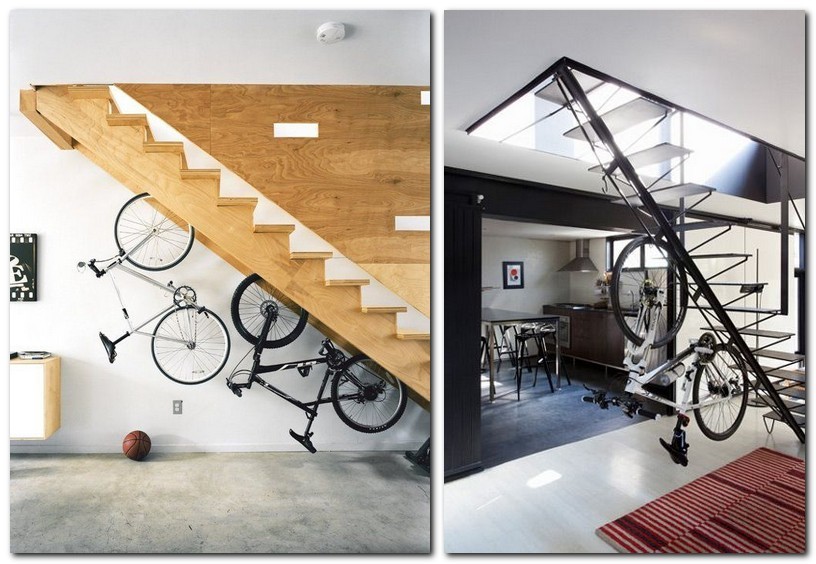 Another ingenious bike storage area in your house could be under the stairs. It has nothing to do with a small condo or apartment. But it's really a clever and space-saving idea for keeping your bike secure, safe and well within reach.
You can check out the images given below to see how you can make the most of area beneath the stairs. If there is enough space for adding a cabinet, you can go for it. Else, installing bike mount right under the stairs to hold your bike upside down is a great way.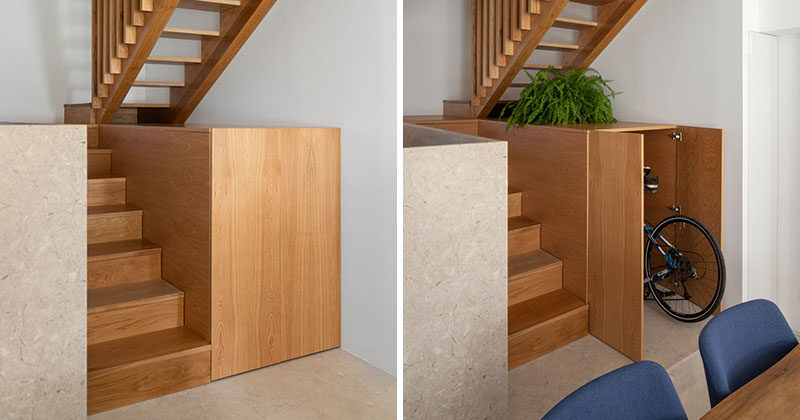 If you have enough space under the stairs but don't want to add a cabinet, you can simply install a bike mount to hang your bike upside down and showcase your valuable possession in style.
Park your ride on a chic bike stand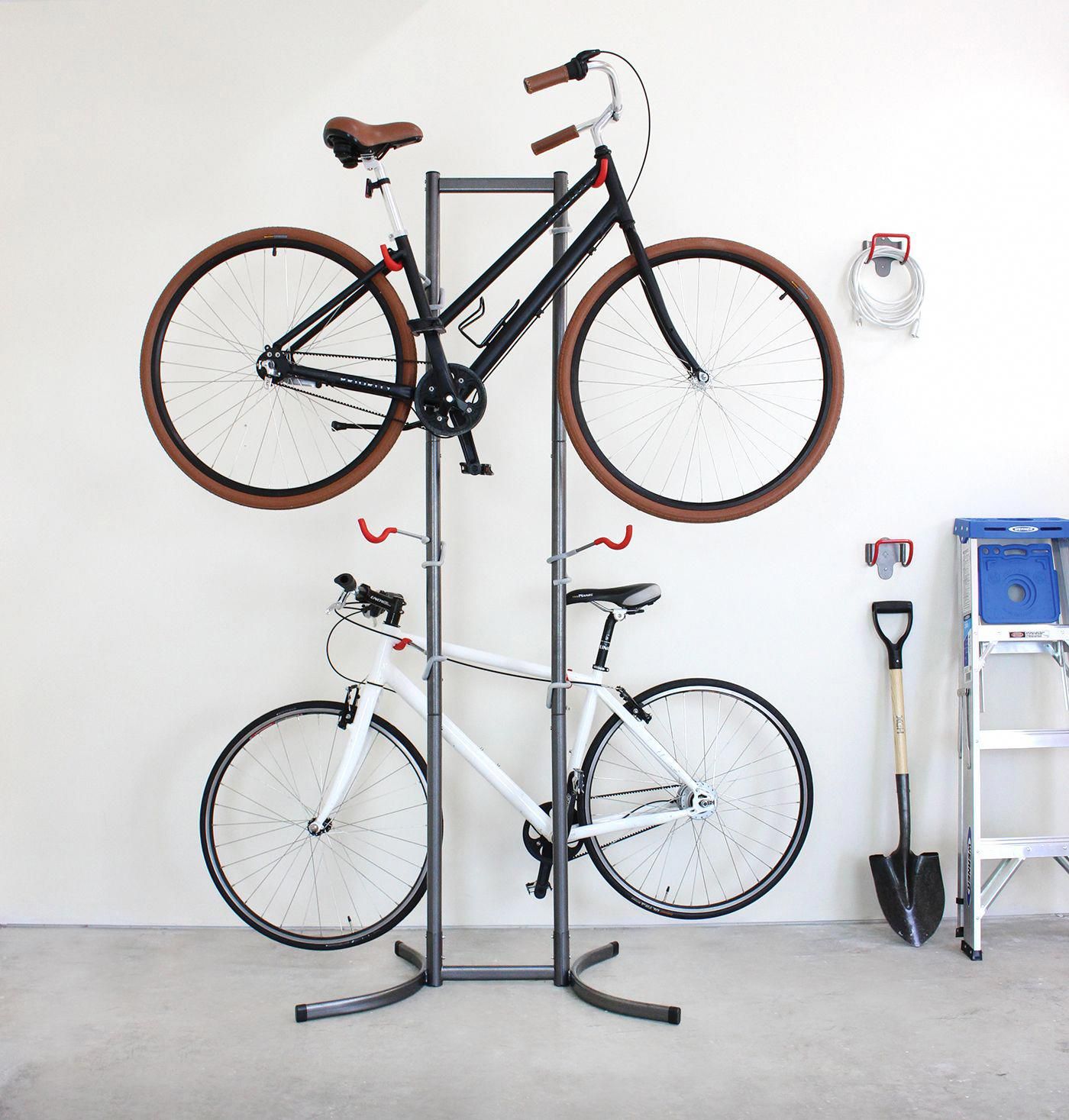 If you don't want to try any of the above-mentioned ideas, you can simply choose a bike storage solution that not only solves the storage issue but also appears chic. It's a bike stand! The concept of a bike stand is just similar to a bike rack.
The only difference is it won't be attached to a wall or floor. You can move a bike stand anywhere you like. Although it is intended to be on the floor and won't save you as much space as a wall-mounted bike rack or ceiling rack, it's a great solution for those who want to display their bike like a centerpiece. The best part about a bike stand is you won't have to reach for getting your bike every time.