Storage Ideas For Everyday Situations
Do you live in a small home but require designated storage space to clear the clutter? Well, storing things in a small space is a challenging task due to the lack of extra room for your belongings.
We often take storage for granted until we've to plan a home interior from scratch. That's the time when we actually realize that each room has its own kind of designated storage options. Plus, you can often come up with your own custom storage ideas for hiding certain things away from the sight.
With little creativity and some clever storage hacks, you can keep everything in the right place. But if you're looking for some creative storage ideas for everyday situations and different areas of your house, here are a few amazing tips:
1. Look for clever closed cabinets with in-built bookshelves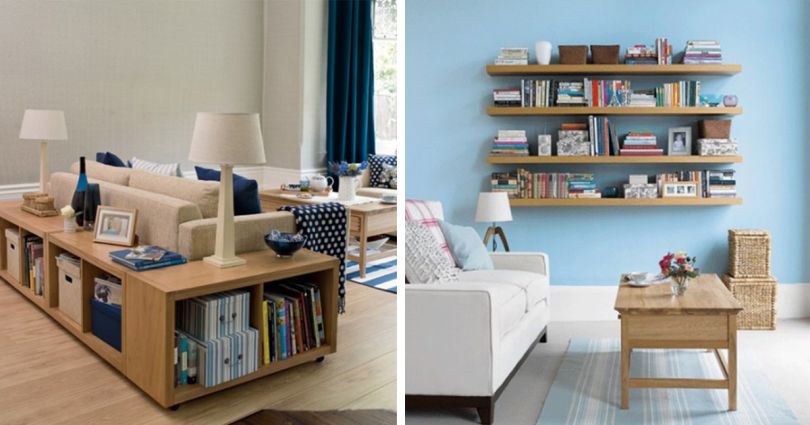 The living room is quite diversified for storage. You may look for combination furniture with close cabinet modules and bookshelves for storage. Such furniture pieces give you the possibility to organize certain items and keep them stored out of sight. Meanwhile, you also get ample space to display your books.
2. Shelving units as space dividers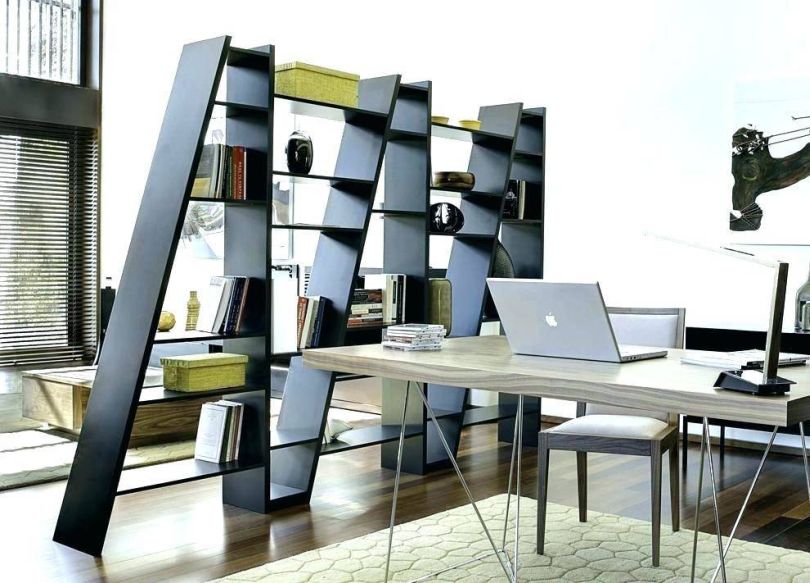 Eliminating the need for a full wall, you can choose shelving units that double up as space dividers. This gives you benefits in large or open-plan areas to divide a big room into two different sections. Likewise, the shelving unit can become a visual separator in your bedroom as well – by separating the sleeping area from study or en-suite tub.
3. Clothes storage in your corridor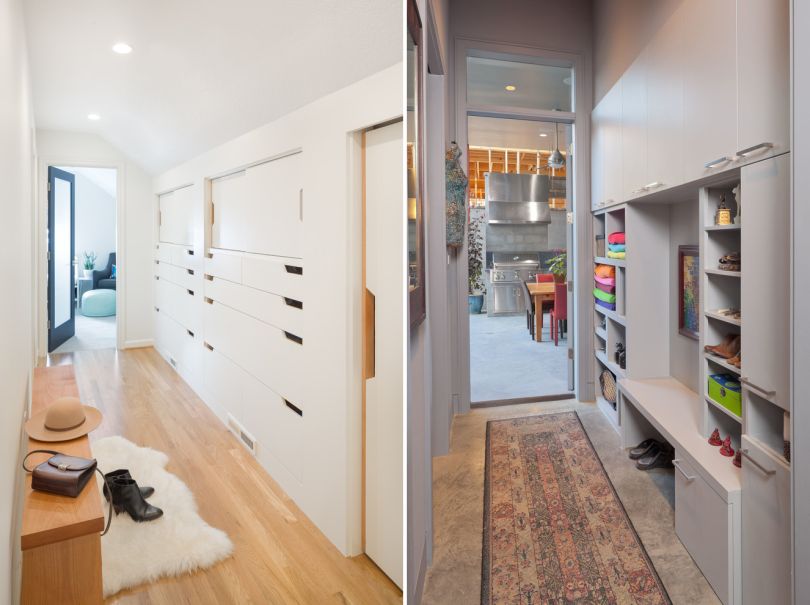 It's not important to store your clothes in a bedroom. If there is plenty of corridor space near your bedroom, you can utilize it as your wardrobe space. Just use the full corridor wall on one side or both sides as cupboards to store your clothes.
4. Behind-the-bed closet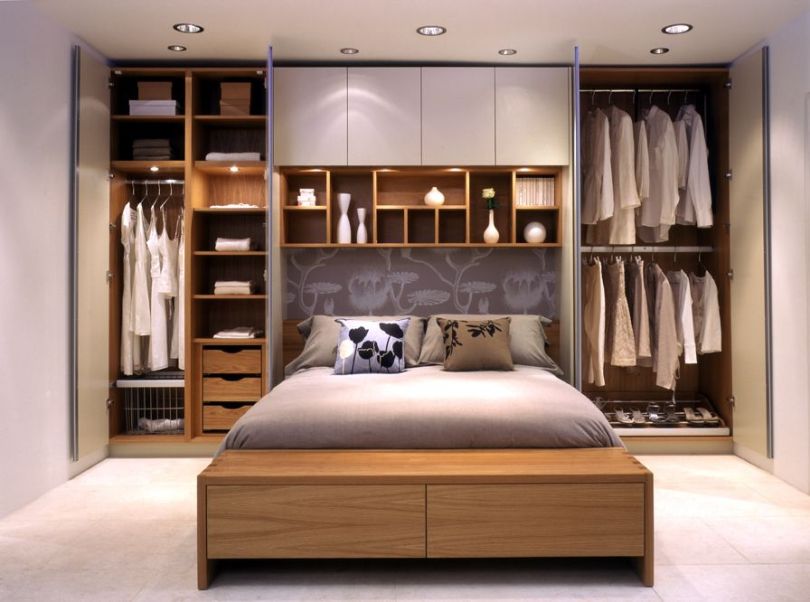 Another interesting way to store your clothes is by creating an unenclosed wardrobe behind your bed. Yes, behind the bed area is a great space for storage and hanging your clothes. There is also enough space to walk around. You may even use a retractable ladder to access top shelves. If you don't want to make cabinet doors, use a sheer fabric curtain to cover the shelves while making your room feel less cluttered and lighter.
5. Hooks for hanging small kitchen utensils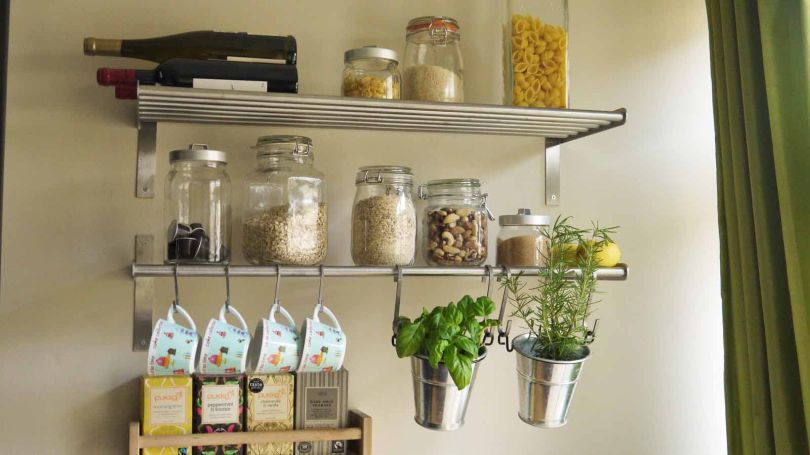 For daily used kitchen utensils, like mugs, cups, pans, etc., you may install hooks on the walls or cabinets. Hang your small utensils on these hooks with mixed shelves for decor, as well as clever storage space.
6. Bookshelves above the door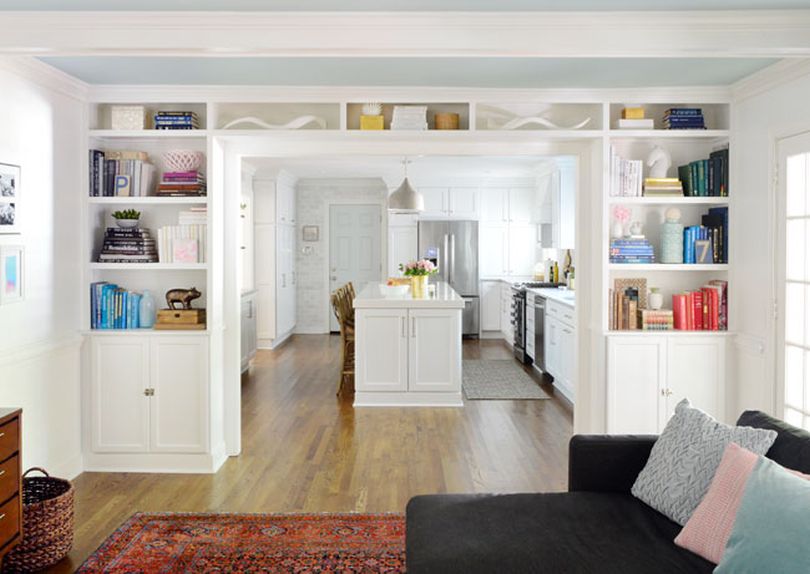 Book storage can also be made above the door to cleverly utilize this unused area in a room. You can also use this space to add some aesthetic decor pieces to spruce up the interior.
7. Small bathroom shelves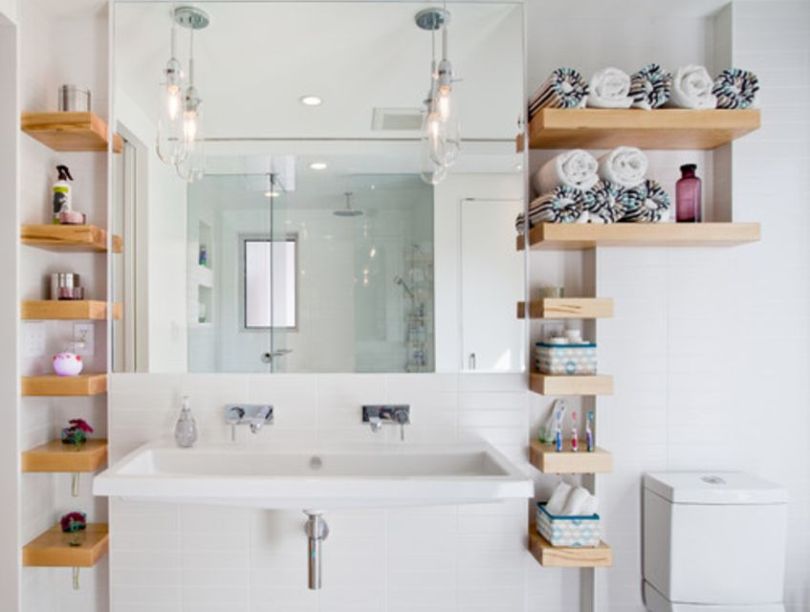 Bathrooms and storage shelves often work hand in hand. Especially, the shelves that are small are very helpful for storage, as well as to display some decor pieces. These shelves are perfect for spaces where cabinets or other furniture units won't be able to fit or are impractical to install. You may even consider ladder-style towel rack for your small bathroom – as it looks very chic yet casually practical.
8. Add rattan storage units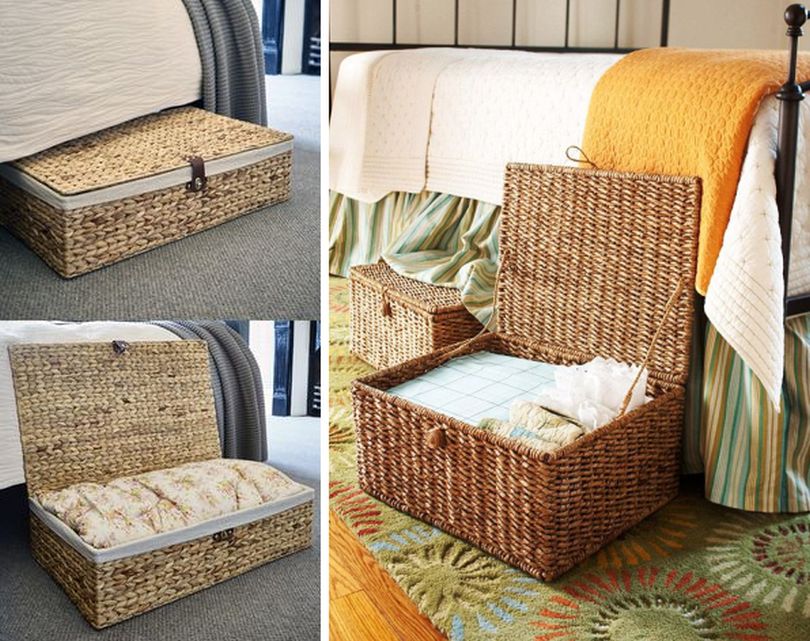 You can purchase compact yet useful rattan storage boxed to strategically storing everything in a given space. Such rattan storage boxes are available in various sizes and blend into any interior style of a bathroom, living room, kitchen, or bedroom.
9. Furniture with inbuilt storage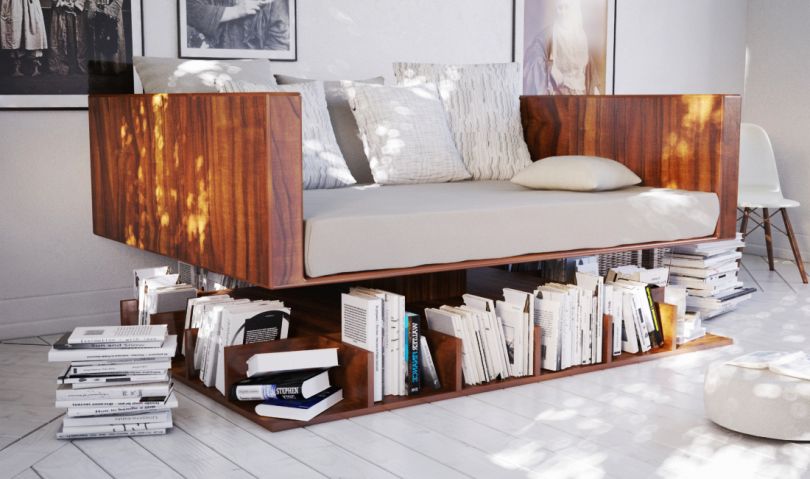 You may look for furniture pieces with inbuilt storage to maximize the area of your living room or bedroom. For instance, sofas or armchairs with storage boxes can be used for storing your books or other personal belongings in a neat and cluttered manner.
10. Storage under the stairs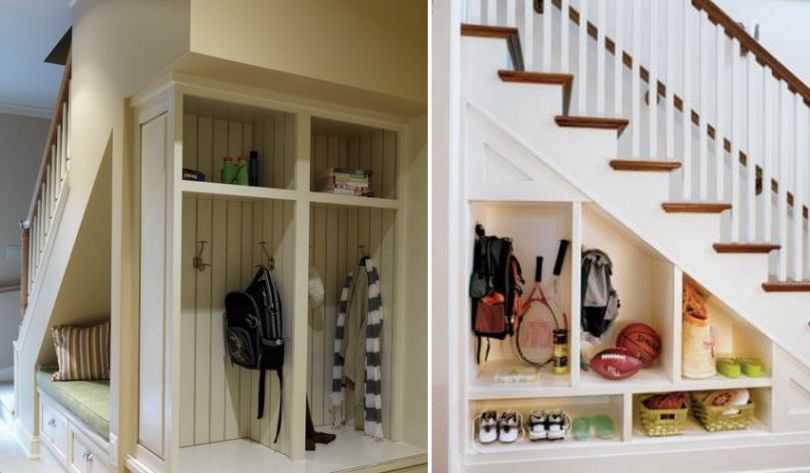 If you have a dual-story home, you may also consider adding storage under a staircase. Cabinets under the stairs are useful for storing your bike, daily use items, or other things that you may need at home at the time of emergencies, like a fire extinguisher. This clever storage space is also useful in storing your kids' belongings – as they can easily access it without any help.