10 Stunning Living Room Curtain Ideas For Instant Style Upgrade
Adding the right window treatments into your interior can elevate the overall look of the given space. Therefore, you need to look for the right living room curtain ideas for an instant style update. However, a wrong curtain style can quickly weigh down the look of the interior and disrupt the vibe of the room.
That's why choosing the right curtains for your living room is one of the most difficult parts of decoration. It is because you have to take care of different factors, like length, fabric, pattern, style, and more. But the good thing is that once things are working in the right way, you don't have to worry about more living room curtain ideas for many years. After all, the good quality curtains last for many years or until you decide to change your decor.
10 Living Room Curtain Ideas For Your Home
Below you can find inspiration abundance for styling your curtains in the living room. Hatch a design plan right away, so you don't have to stress over living room curtain ideas for longer.
Let's dive in.
1. Living Room Curtain Ideas Merging Into Walls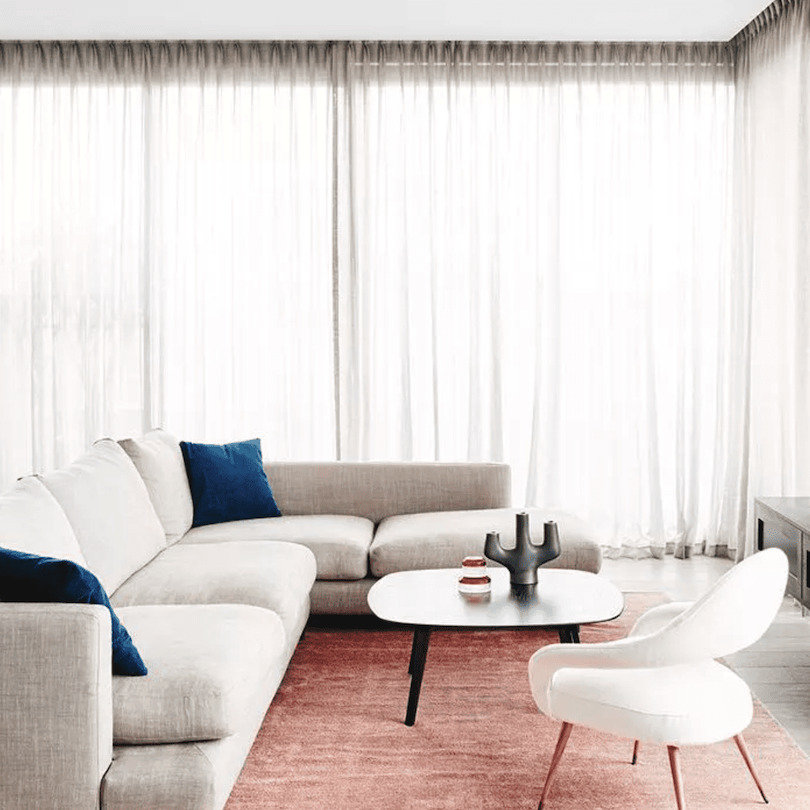 Curtains are also an investment in your home. But opt for a neutral tone so that it can last in your living room for a longer duration. For an appearance that appears stylish and confident at the same time, select almost identical hue for walls and living room curtain ideas.
Look for the curtains that match the color of the living room walls. it will create a feeling of gentle softness while enhancing the overall aesthetics of the given space. Such a neutral combination appears amazing in a small room, as it will help in making the room appear more bright, light, and spacious.
2. Contrasting To The Walls – Living Room Curtain Ideas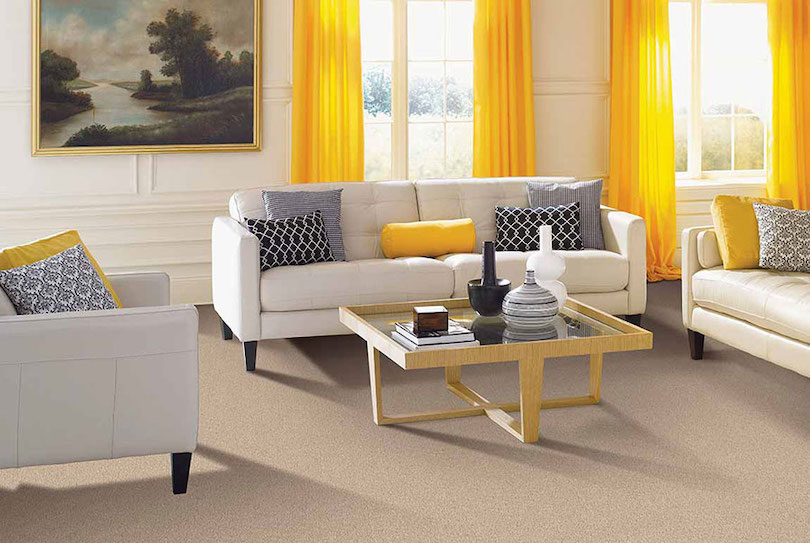 Spent so many years, looking for the perfect living room curtain ideas? Not anymore! One such striking living room combination is that of the contrasting curtains to the walls. For instance, if you have white, off-white, or pastel-colored walls, you can choose a vibrant curtain color, like yellow, or green, to add a touch of hue into the given space.
Such a contrasting color combination is perfect to make the overall interior scheme appear more lively and vibrant. In this particular room, you can see even the cushions are in the same color as that of the curtains. It helps in blending the overall interior scheme without going over the top.
3. Get Right Fabric For Living Room Curtains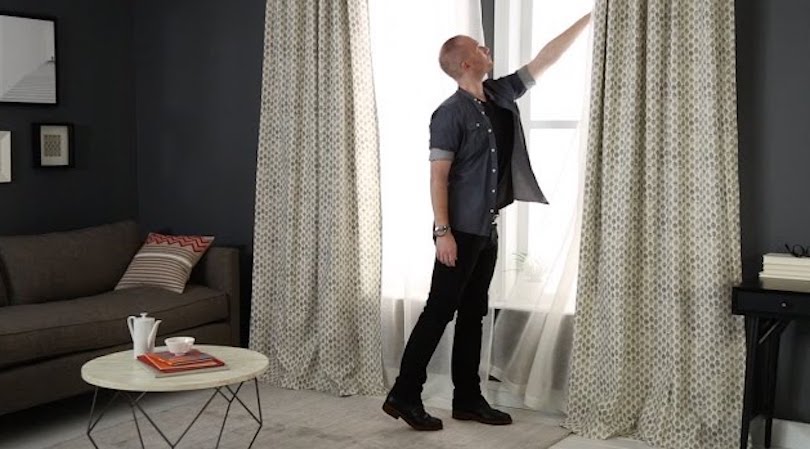 When looking for a stylish living room design with curtains, you need to pick the textiles carefully. It will help you to get the best result in terms of the overall look of the given space. The right fabric is a major part of picking the right curtain style.
Whether you choose a specific pattern or simply a plain light or heavyweight curtain, the fabric is important for improving the overall finish of the given space. So, it is important to know the exact style you want.
Have a look into this room, it has a subtle vibe created with its gray walls and sofa. On the other hand, the light patterned curtain adds a softer and more calming feel to the given space. You can choose the lightweight fabric in off-white or cream shades for subtle-effect. But if you want a more dramatic feel, then go for formal conventional curtains in heavy fabric, like velvet.
4. Go For Big Patterns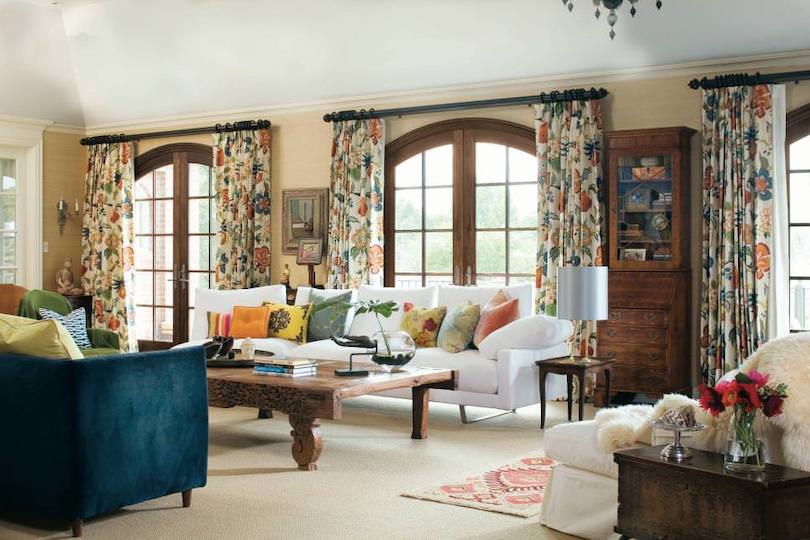 Are you blessed with a huge living room? If so, one of the best living room curtain ideas for you is the big patterned curtains. The scale of the selected pattern on curtains can influence the overall look of the given space. It also includes focal point and the sense of proportion in the given space. Plus, a large-scale design is great for transforming the overall appeal of any window, turning it into a showstopper.
The floral pattern of the curtain, shown above, blends perfectly with a neutral-colored wall. It makes the curtains a big statement in an otherwise plain room. This look is suitable for large windows where busy designs are widely appreciated. This is because it adds to the glory of the living room, instead of making the room appear more cluttered or busy with patterns.
5. Curtains With Decorative Trim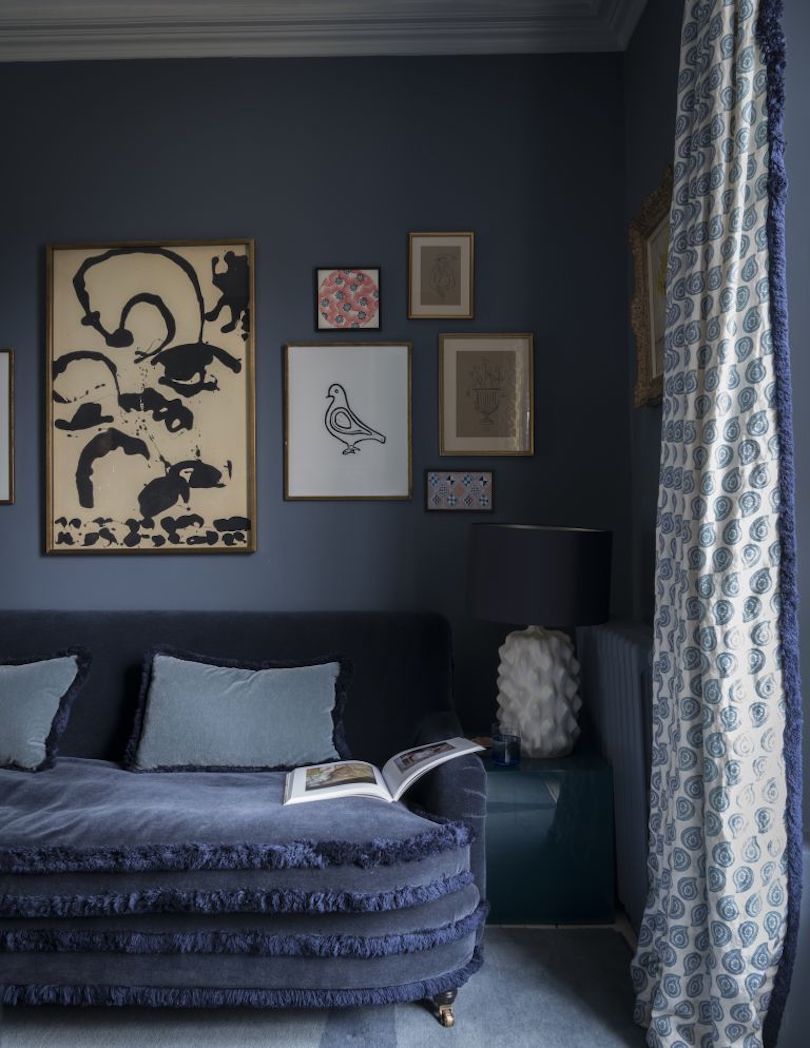 No matter you have a roman blind in fabric or a full-length curtain, you can enhance its visual appeal with a nice decorative trim. It will instantly make a stylish change into the overall look of your simple window treatment. Meanwhile, it will be an interesting feature in your drawing-room.
The best thing about this design is that it is ideal for when you're working with a simple color palette, as shown in the image above. Such small details and textures are perfect to add an element of interest to your living room. We love how this detail adds slight contrast and some edge to the overall design scheme of the living space.
6. Living Room Curtain Ideas With Tie-Back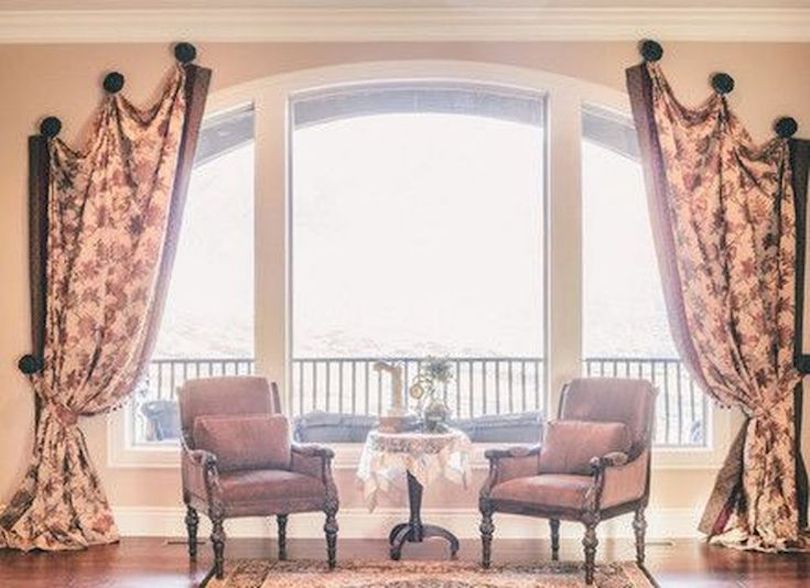 Another interesting way to add an opulent touch to your interior is by adding a curtain with a tie-back. Traditionally, this curtain style appears like a crescent and created by covering a firm cotton cloth that's called 'buckram'.
This cotton cloth remains covered with a furnishing fabric and light wadding. Wood or metal versions is easy to fix on the walls for tie-back style. Or, you can simply go for a decorative cord for a similar effect.
Just give this look a try, we are certain it will instantly make your living room appear more grand and stylish.
7. Layer Your Curtains in Living Room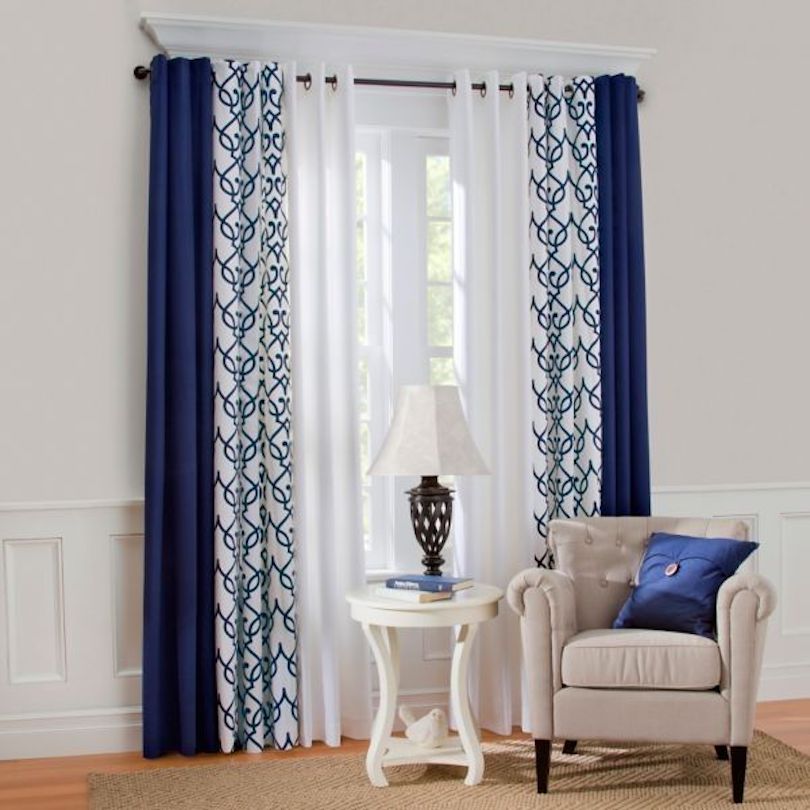 Due to their size, curtains play a major part in defining the color scheme of a living room. The layers of curtains usually add depth to your windows while offering an extra layer of insulation. This is perfect for winter regions. It is because such curtains help in adding an extra layer of insulation to a living room.
You can even open these curtains to let in more light and fresh air. If you need privacy, you can shut them for complete privacy. This method is perfect for mix-matching different patterns or colors, which is a perfect style for indecisive individuals.
For layering curtains properly, you have to select the exact combinations of size, fabric, and color.
If you wish to step away from the color family of the wall but still want to keep curtains tying up with the rest of the room, it is best to look for a color accent that repeats itself in the given space. Here, dark blue is present in the soft furnishings for a regular color scheme.
8. Living Room Curtain Ideas With Pelmet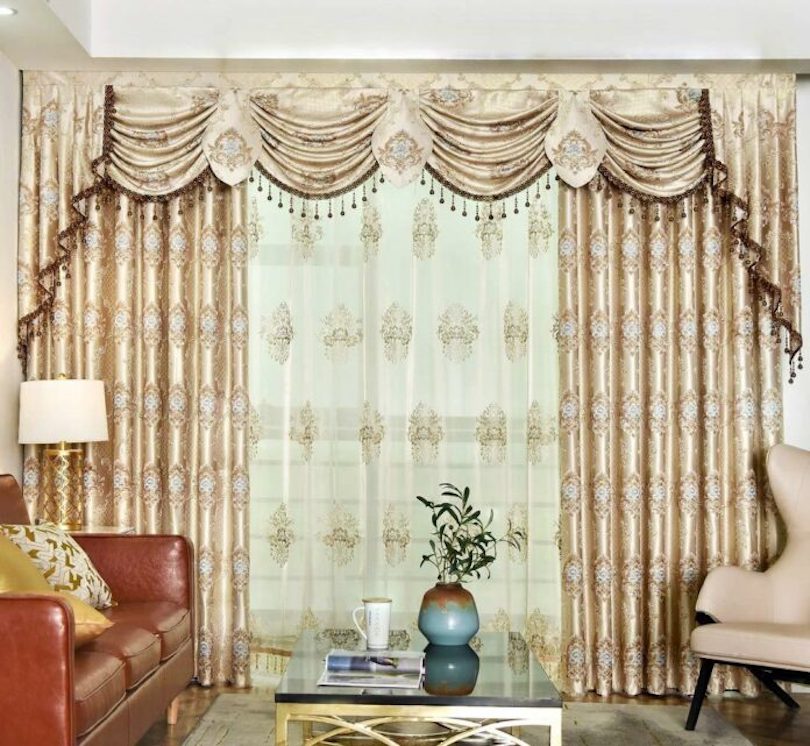 If you think pelmets belong to history books, think again! These are still in trend and are often used to add a classy touch to the interior design. Made with stiffened fabric, the pelmets cover up the top of the curtain and have returned in a big way. So, you must consider them for your living space.
Some people consider pelmets as fussy and old-fashioned. But in the right setting with the right fabrics, they can perfectly give a complete look to the overall space. Using the space over the window encasement, naturally draws the eye of the viewer upwards. It helps in elongating the height of the room.
If you are using pelmets, you have install them on tall windows with an abundance of natural light. This way the room remains well-lit, as well as open for adding privacy to the given space.
9. Sheer Living Room Curtain Ideas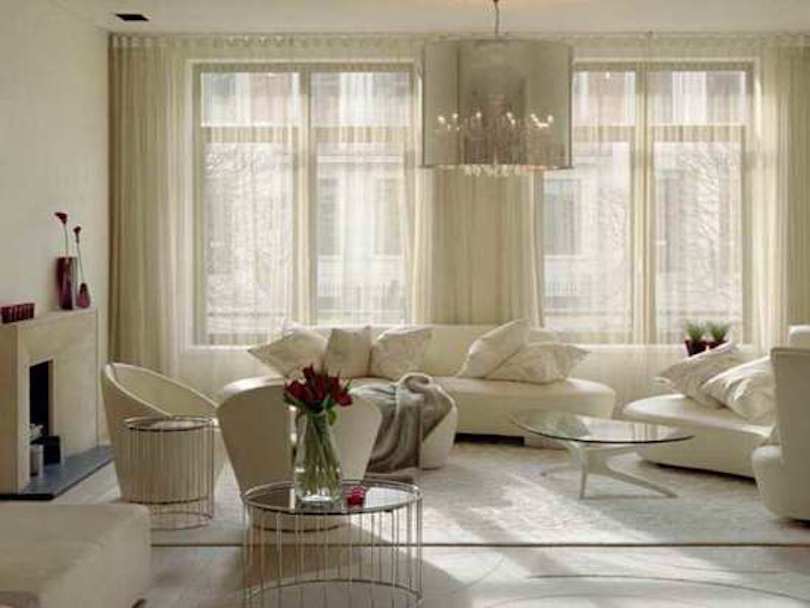 Using sheer curtains under the main drapes was a trend in the living room design. But now this style is back again. Since interior designers are increasingly using the sheer curtains again, it's the best time to include them in your living room for adding some flair.
If you don't want to use them under thick curtains as a layering effect, you can use them as it is. Sheer curtains alone in the living room also add unique interest and texture to the living space. This style of dressing up the windows work best in cozy spaces, such as bedrooms and living rooms.
10. Banded Drapes For Playing With Proportions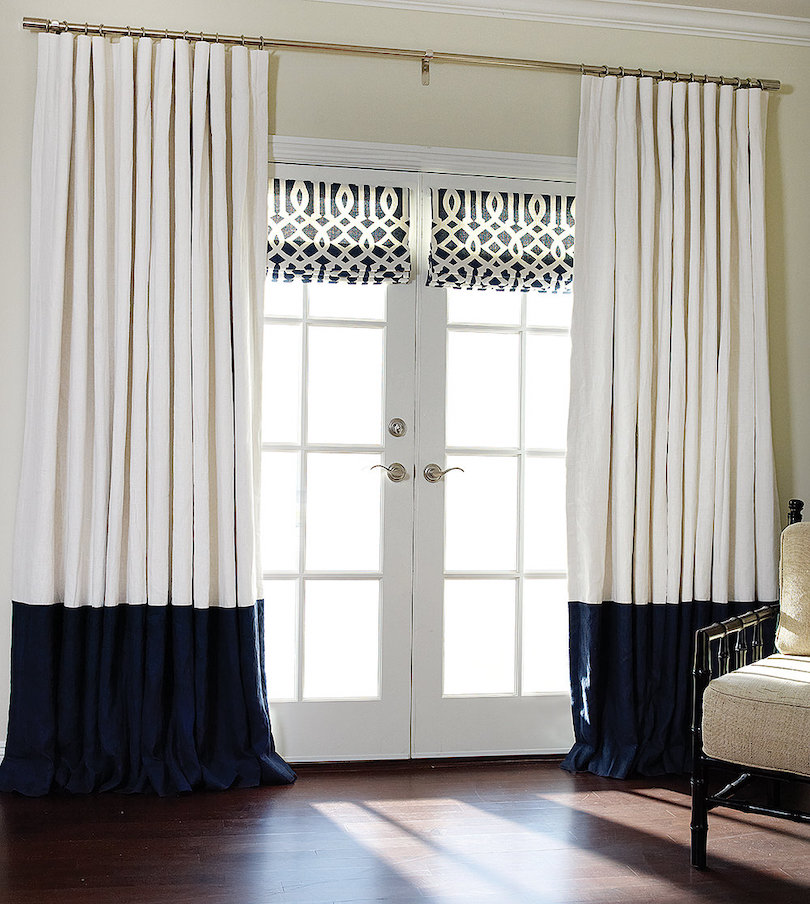 Have you heard of color blocking? Similar way, you can consider adding banded drapes, as shown in the image, to play with proportions in the living room. For instance, you can choose navy blue and off-white/cream/white hues for your banded curtains.
Here, the bands or color blocks not only make a visual interest but also change the sense of proportion in a given space. By using a lighter hue on the top and a darker one at the bottom makes a room appear taller. However, a darker top on curtains can help in balancing out the bottom-heavy space.
If you want to add some depth and dimension into your living room, you need to play with the right curtain style to make it work. We hope the given living room curtain ideas will help you choose the right one for your abode, making it blend everything.