15 Stunning Wooden Dressing Table Designs For Bedroom
A dressing table is one important furniture unit that can help you enhance the overall visual appeal of your bedroom decor. You do not just require a dressing table for storing things but also to display your personality by how you embellish it. But if you are out of ideas, in this article we will share with you some amazing wooden dressing table designs to match the overall scheme of your bedroom.
If you look at the past year, one thing that probably we all have learned is that life is not about living in a rush. We no longer had to rush every morning in 2020 to work and didn't even have to deal with the hassle of preparing and packing lunch boxes in a hurry. Even in 2021, most people are working from home. So, everyone can take their time to dress up and spend more time indulging in our routine skincare.
But for doing so, you need to invest in a classy piece of dressing table for your bedroom. But before making the buying decision, you have to make sure to check out some latest wooden dressing table designs for the bedroom.
15 Stunning Wooden Dressing Table Designs
Given below are some amazing wooden dressing table designs that you can pick as per your lifestyle, needs, and bedroom decor. So, without further ado, let's jump into the ideas.
1. Custom-Tailored Dressing Table With Storage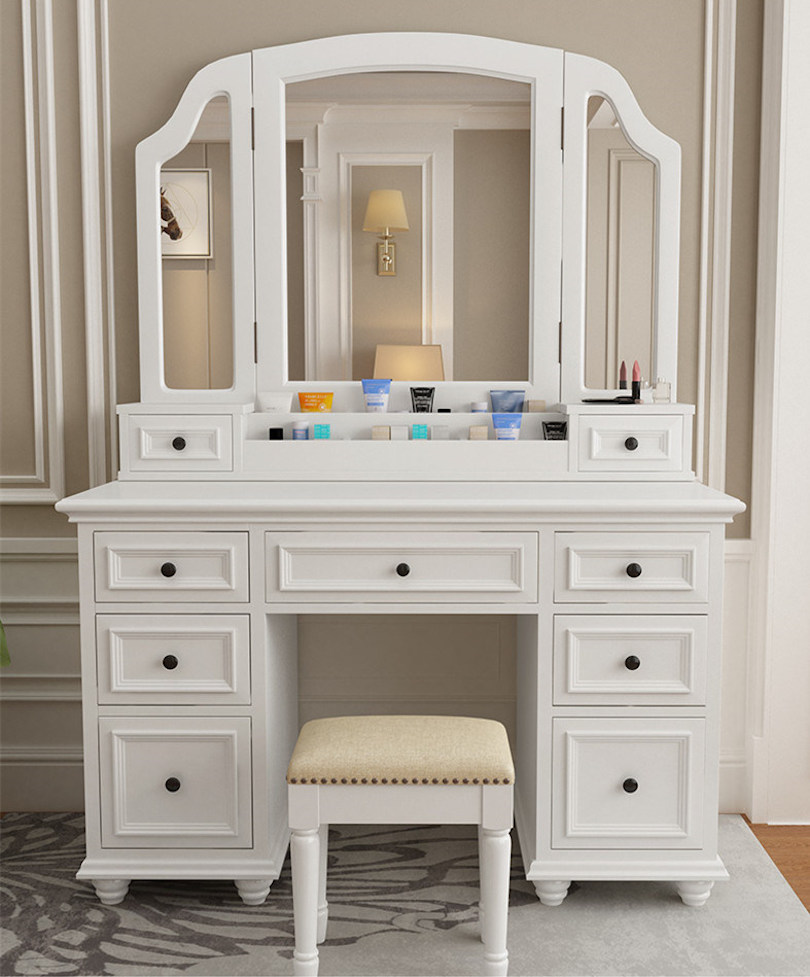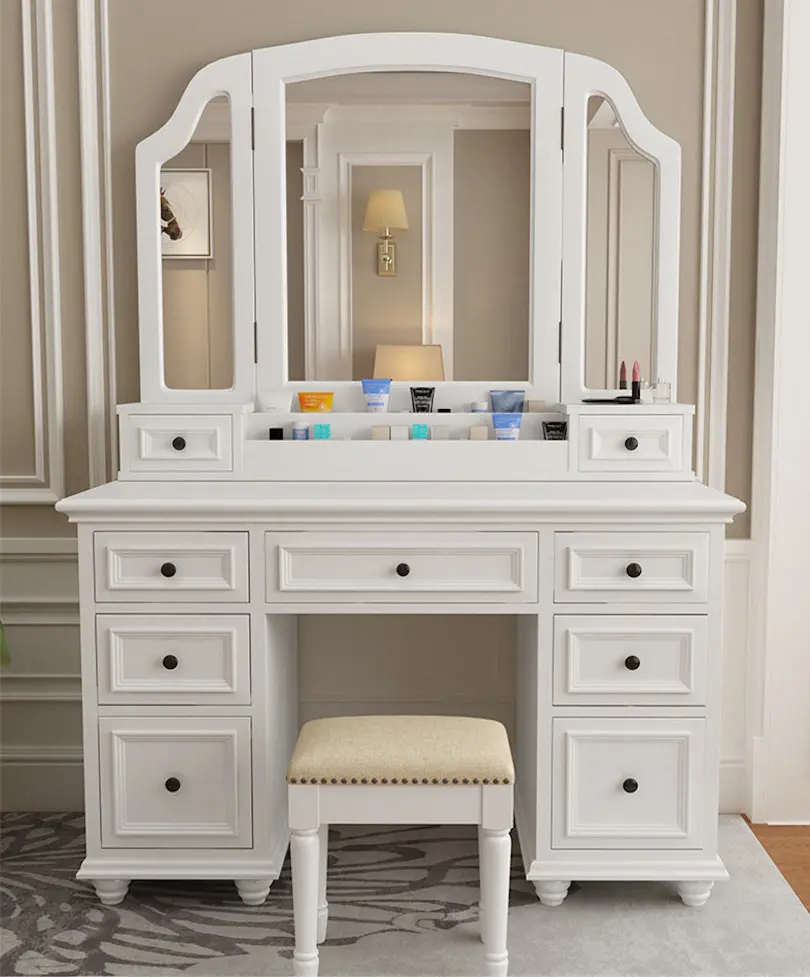 A clean and tidy dressing table is vital to keep the overall interior chic. A custom-tailored dressing table with ample storage, as shown in the picture above, is a great solution to help you dress. It also hides away accessories and cosmetics.
A dressing table is easy to tailor as per the requirements of the homeowner. Whether you want to store your extra jewelry, toiletries, or display your collection of perfume bottles, a custom-built dressing table serves as a clever storage solution. Meanwhile, it enhances streamlines the overall dressing area.
2. Dressing Table With Storage Behind the Mirror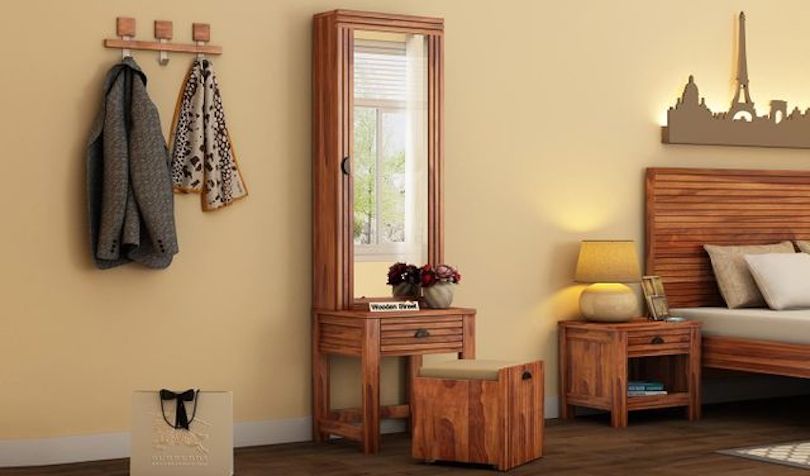 Are you particular about organizing without compromising with your dressing area? If so, you need to consider a dressing table design with storage behind the mirror. This will help you seamlessly store your cosmetics and other dressing accessories without making clutter on the dressing table.
This is one of the dressing table designs with a mid-length mirror with a drawer and a stool with additional storage. This type of dressing table is great to complement any bedroom decor.
3. Morse Wall Mounted Dressing Table Designs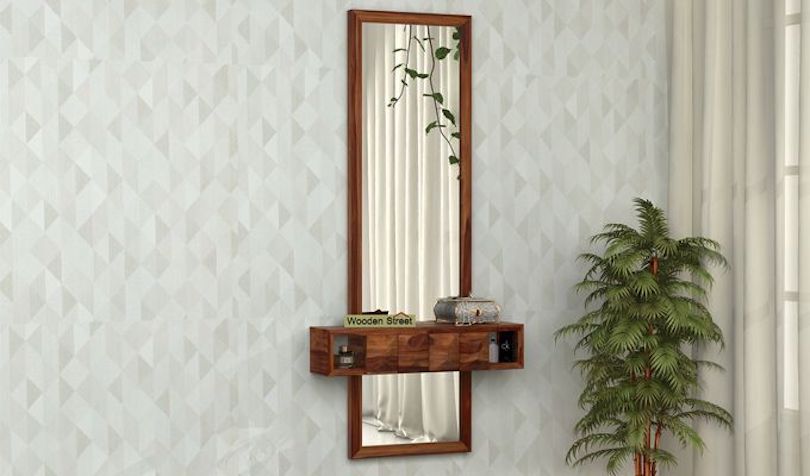 If you have less bedroom space, you need to consider the space-saving Morse wall-mounted dressing table designs. It is a great way to install a big mirror into your bedroom without occupying any floor space.
The Morse wall-mounted dressing table often features a full-length mirror with the suspended platform. It also consists of open shelves and drawers. So, such dressing table designs are perfect to blend with any interior – be it conventional or modern.
4. Boho Dressing Table Designs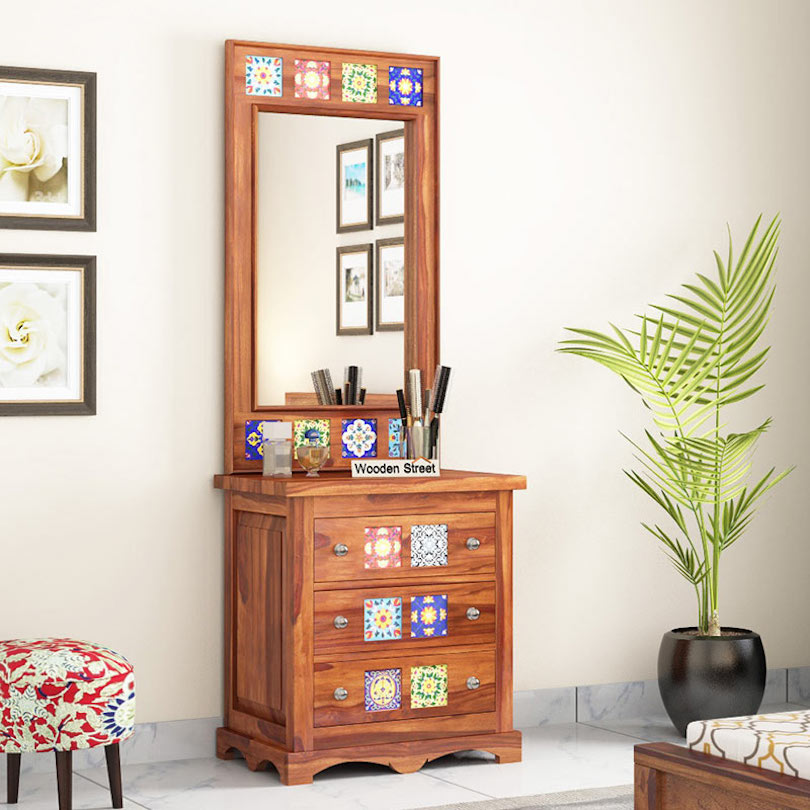 If the interior of your bedroom is lacking luster or you're looking for dressing table designs that won't dull your grooming time, you need to consider buying a piece that adds some flamboyant flair to your bedroom room decor.
The boho dress table like this image is a perfect addition to your living space. It appears colourful, unique, and beautiful at the same time. With a spacious countertop, a mid-length mirror, and different drawers featuring colourful tiles. This particular dressing table has a perfect audacity for enhancing the appearance of your entire bedroom.
5. Javert Dressing Table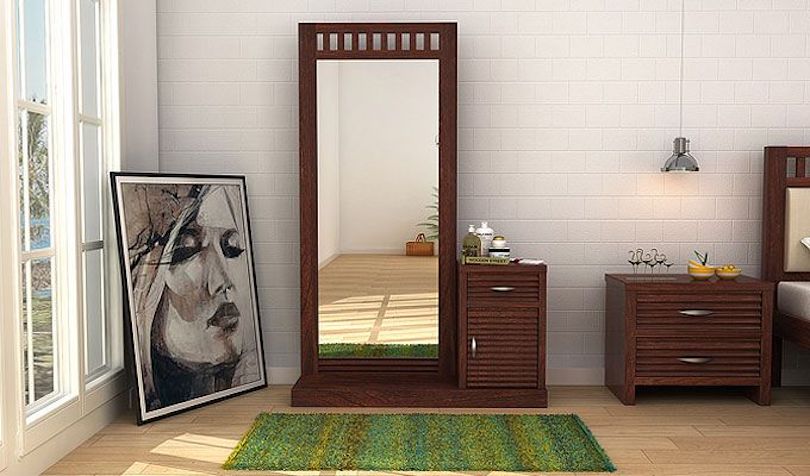 You can easily and perfectly groom yourself with this full-length dressing table with extra storage space on its side. There is ample space on the side of this full-length mirror. In the given storage space, you can keep all your self-care and cosmetics products.
Within the household chaos, this dressing table is like a breath of fresh air. If you want to keep the storage section only for yourself, you can install locks on its cabinet and drawer section. This way, it will be inaccessible even to your family members – whether it's your spouse or kid. However, all can surely check their dresses and appearance in the mirror whenever they want to.
6. Minimalist Dressing Table Designs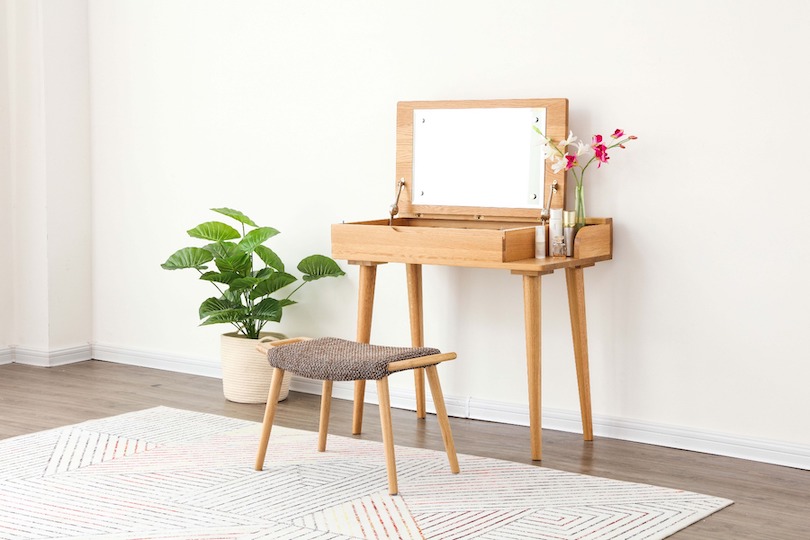 Do you have a minimalist makeup collection? If so, you need to consider this type of dressing table design. It will take less floor space and offers your bedroom a distinct style in its unique way.
This type of dressing table design often is the unsung heroes of an elegant bedroom. Another thing about this style is that it can blend into any interior design.
7. Full Length Mirrors Dressing Table Designs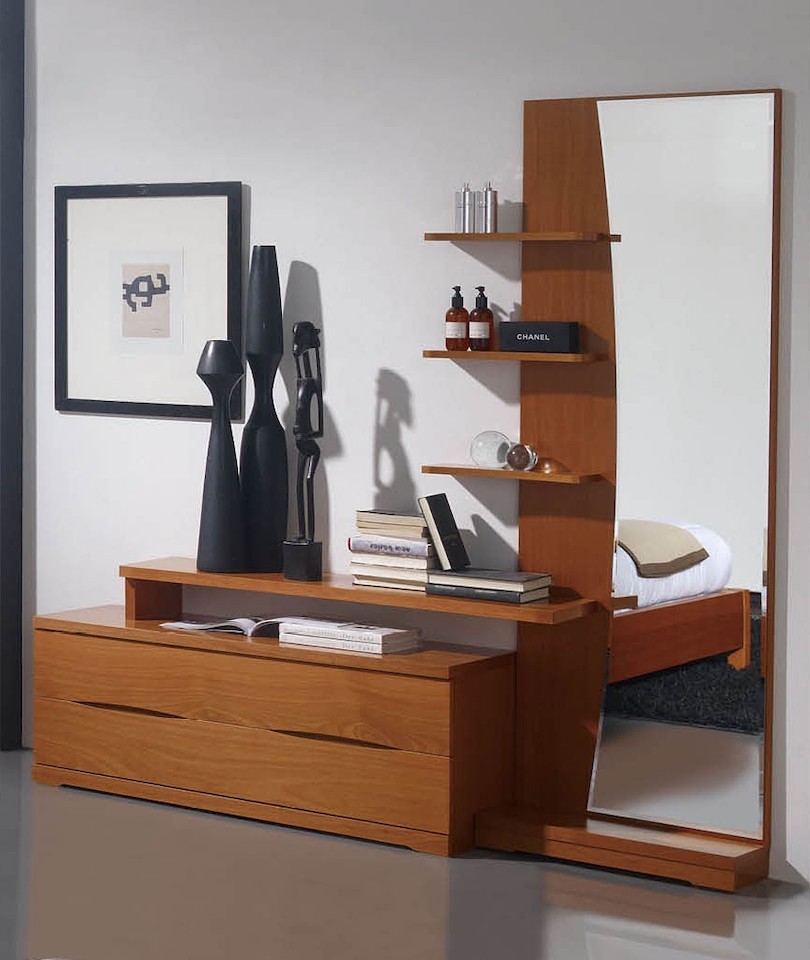 If you take more time grooming yourself or love to stand in front of your mirror to admire your beauty, the full-length mirrors dress table designs are perfect for you. This dressing table has ample space for letting you get ready, as well as keep all your cosmetics and skincare products in place.
You can also choose the one with open shelves to display your perfume bottles or add some decor pieces. It will add an aesthetic touch to your bedroom scheme.
8. Dressing Table With Spacious Storage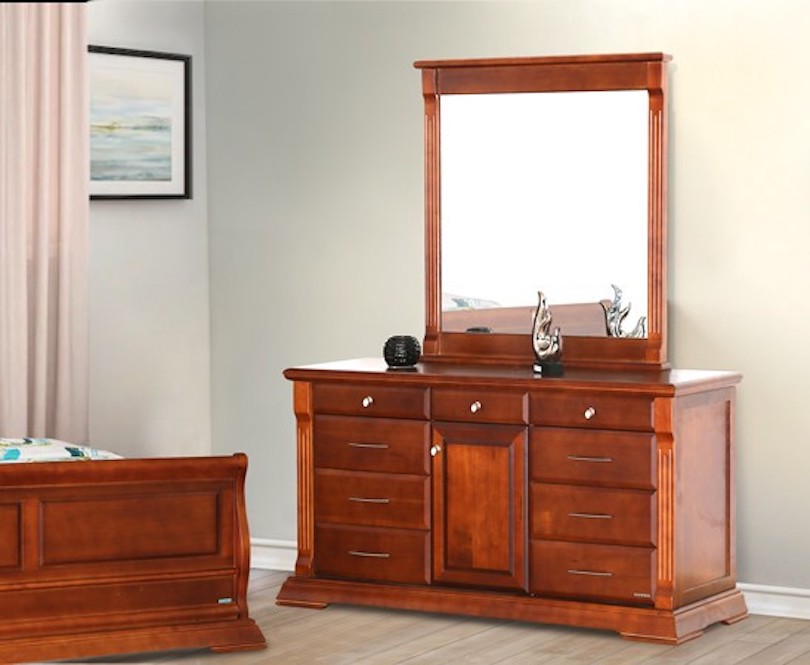 This particular unit can all our makeup products, cosmetic range, and even other things like clothes, accessories, etc. What else would you need from such a furniture piece? Such dressing table designs are available with ample storage cabinets, and shelves. hence, perfect for accommodating and showcasing things. These are also a great choice for modern bedrooms.
9. Royalty Dressing Table Designs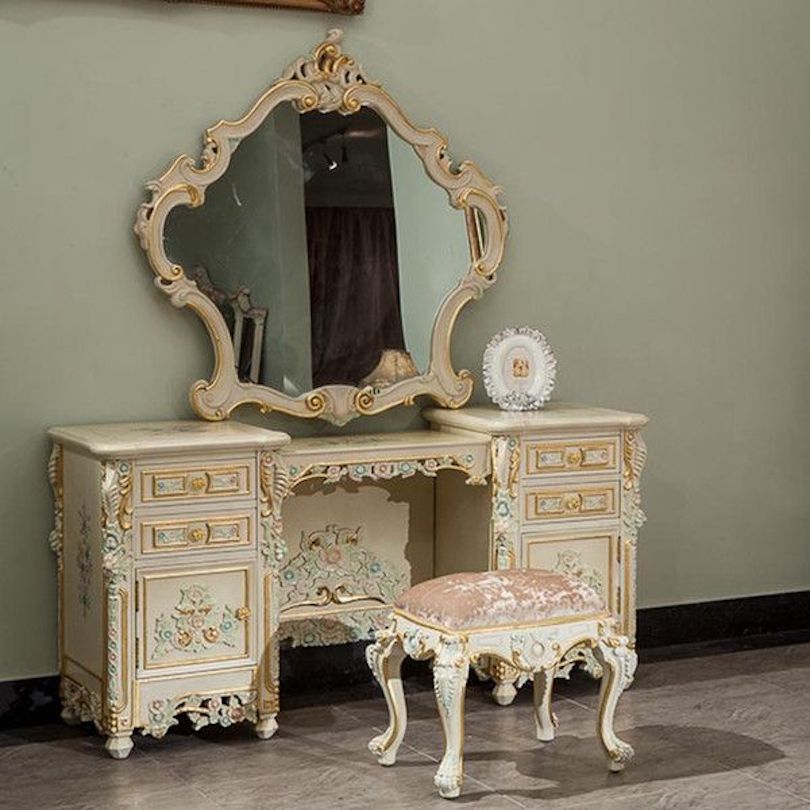 If you want to add regal and luxury touch into your elegant bedroom space, you need to look for such royalty dressing table designs. They boast elegant carvings, beautiful designs influenced by the old century, and also boast curvy ornamentation around the mirror. This sophisticated dressing table design is ideal to bring luxury and regal feel into your bedroom. Are you a fan of this design? If so, you can make a change by welcoming such dressing table ideas into your comfy and stylish bedroom space.
10. Closet Dressing Table Designs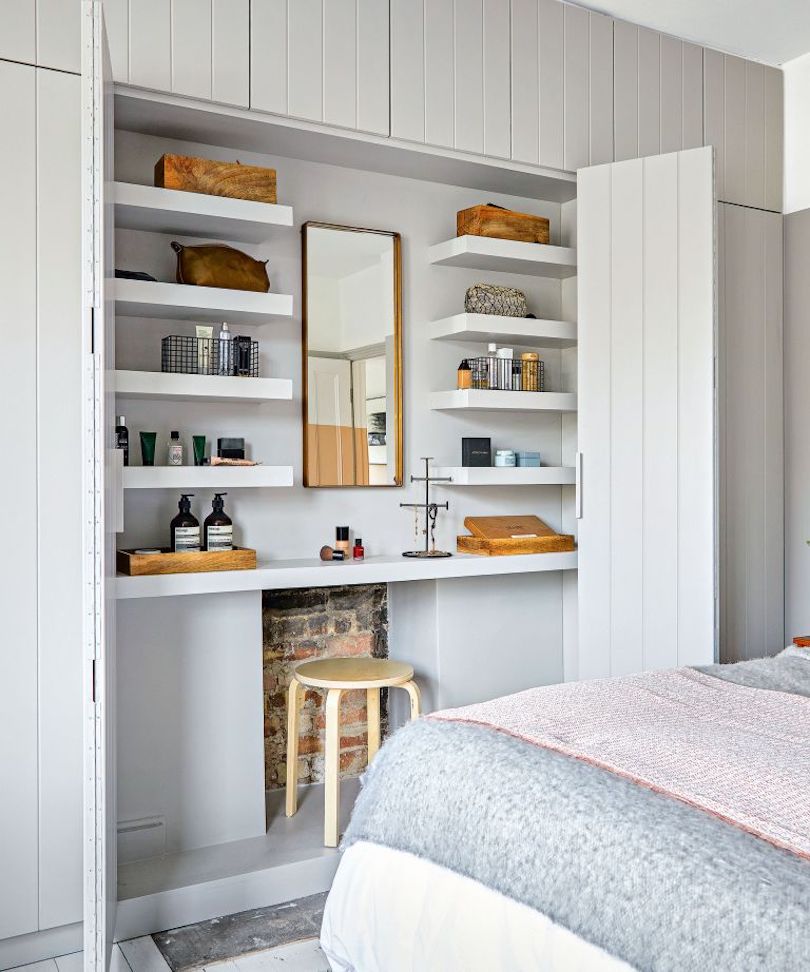 If you don't have much space in your bedroom, you can consider adding a dressing table into your closet. Such dress table designs are not only space-saving but also hides away when not required. Furthermore, you can use the space around your wooden mirror to keep you grooming products, like hair styling tools, hair gel, makeup, cosmetics, jewelry, perfumes, and more. Such design also remains out of sight while offering you all the grooming essentials whenever you need them.
11. Floating Dressing Table Designs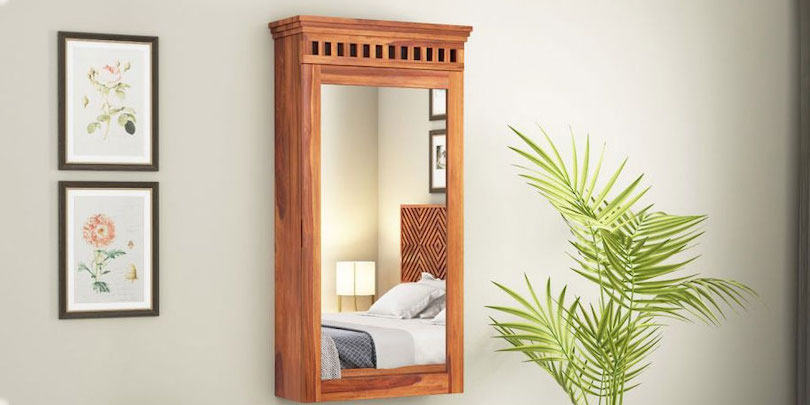 This particular floating dressing table is like the mentioned wall-mounted dressing table designs. But this one is a simpler version without any drawers. You don't need to have large space for installing this dressing table unit. Plus, the storage space is behind the mid-length mirror of this dressing table. Such designs are great for saving your floor space.
12. Industrial-Style Dressing Table Designs
Mixing two or more elegant materials can help you showcase an industrial-style dressing table in your bedroom. While the flexible mirror frame, counter, and drawers are of wood, the hairpin metal legs firmly hold the dressing table in place. This design with rustic exposed finishes and precise structural elements is ideal for giving an industrial appearance to the overall bedroom scheme. It may not appear too fancy to you but may add an inviting feel to the interiors. So, simply go ahead with this design and bring out the rustic charm in your given space.
13. Dressing Table Designs With Storage & Stools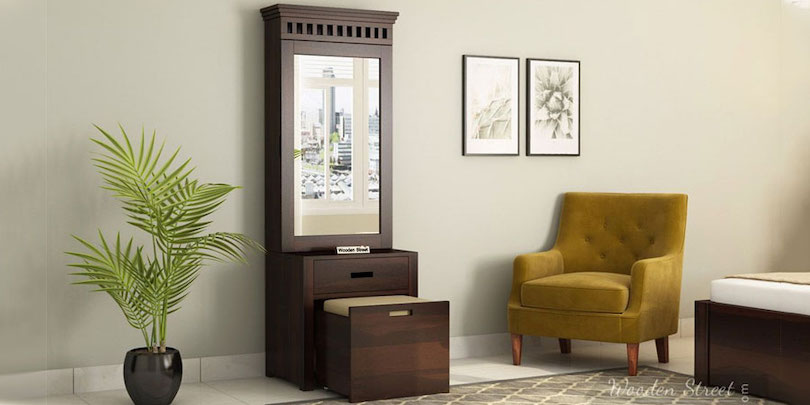 Have a look at this particular design that has rich storage for the organization of your grooming and cosmetic products. So, you can easily find everything with ease. It also comes up with an easy-to-use stool to sit and relax while getting ready. It means you can easily get ready without the hassles.
14. Dressing Table Designs with Light
How about a dressing table design with ample lighting fixtures? Such dressing table designs with integrated lights are perfect for women who want to keep everything perfect when it comes to makeup and dressing up.
The lights around the mirror frame help them see each detail while doing their makeup. So, their look is always on point. Besides the lights, there is ample storage space in the dressing table. So, it can hold all your makeup and cosmetic products without the need for any extra storage cabinet. There is also a separate space to keep a stool or chair under the dressing table. It means you can sit comfortably while getting ready.
15. Vintage Black Dressing Table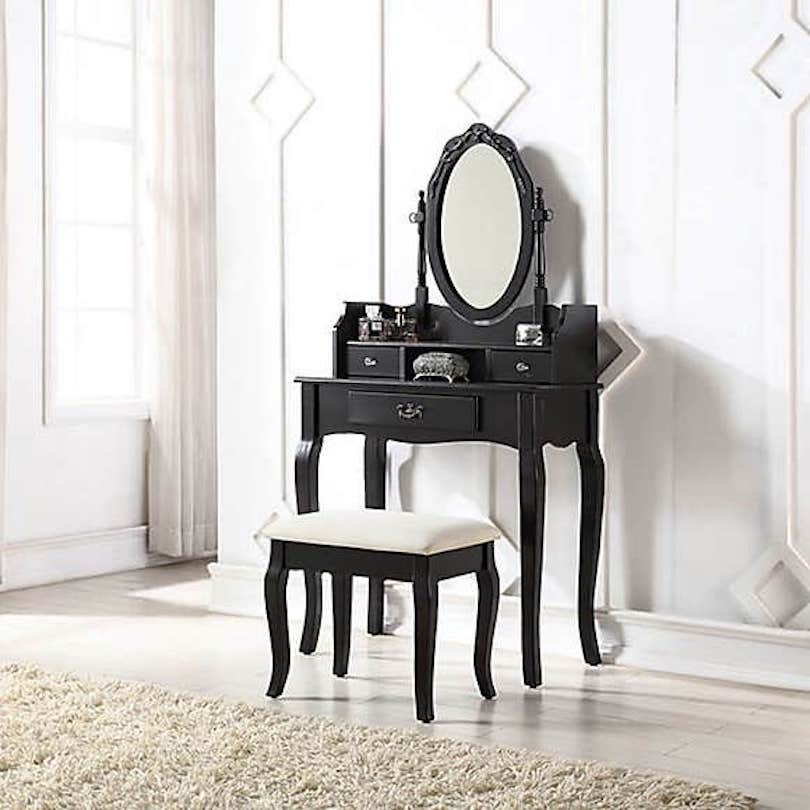 For adding dramatic flair to your bedroom design, you can choose the vintage black dressing table. This furniture unit will add an old-world charm to the given space while making you feel like a prince or princess while getting ready.
You can see how an oval flexible mirror is present around ample storage drawers. there is also a small table area. It also comes with a matching black stool with a contrasting while seat cushion for a monochromatic vibe.
We hope that you'd love these shaped dressing table designs and pick the right one for your bedroom. Which one has really stolen your heart instantly? Share your views with us in the comments below.