Garage Cabinets and Other Storage Tips For The Best Garage Ever
When you see a picture of a spotless home, you may think it only belongs in magazines and that you'll never be able to achieve it. A clean house, on the other hand, is critical to controlling anxiety and tension in your life. It's as easy as assigning a location to each object in your house. Suddenly, keeping a room clean becomes second nature, and your home appears to belong in a journal.
Even in our tidy and beautiful living spaces, though, there are still some hotspots that seem to accumulate clutter overnight. The garage, to be precise. The word probably made you squirm. Garages are typically cluttered and we can toss it down and close the door, obscuring it from our eyes and minds. Then there's spring and it's the time to take out your lawn mower.
When you're digging, you may as well clean out your garage. Garage cabinets, shelving, and other solutions are available to assist you in gaining control of the apparently uncontrollable room. Take a look at these storage ideas to make your garage the best it's ever been. All about it is magazine-worthy.
1. Off the Floor Cabinet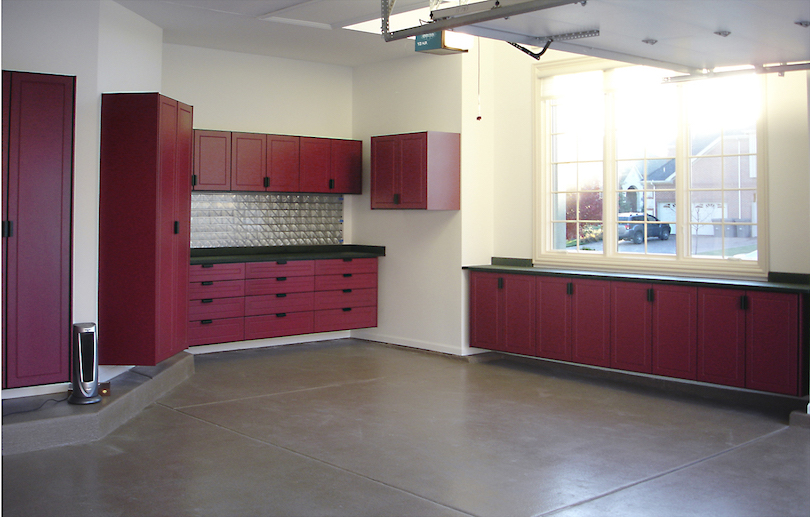 All you'll need for storage inspiration is an empty garage wall. You can either buy new cabinets or find them at a thrift store and use them to fill the wall with secret storage. If you do a lot of projects in your garage, particularly car repair, it's a good idea to raise your garage cabinets off the ground so that water, oil, and other gunk don't seep into your neatly organised room.
2. Heavy Duty Butcher Block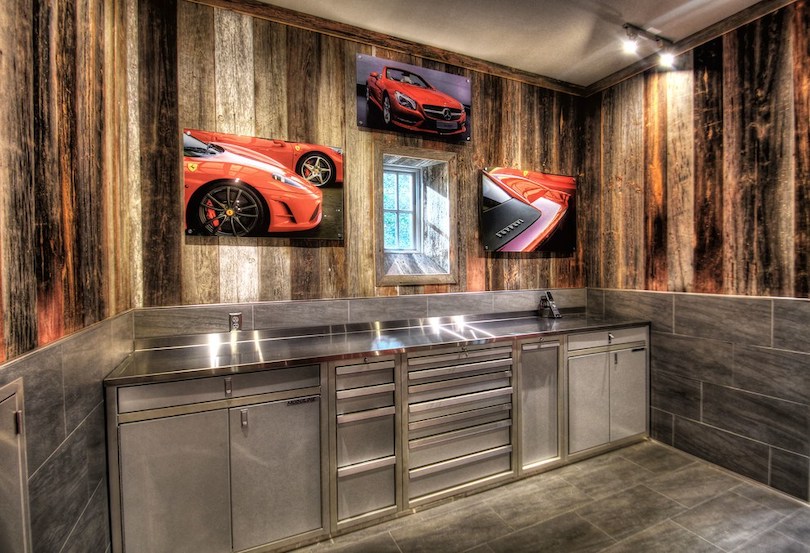 If you're unlikely to use your garage in its current condition, providing yourself with a workbench atop cabinet storage once you've cleaned it out would be a treat. For projects that can leave a sticky residue, such as oil or glue, a stainless steel countertop is ideal. Heavy duty butcher block is the ideal solution for woodworkers who want to build a crafty room for themselves.
3. Pegboards & Underneath Cabinets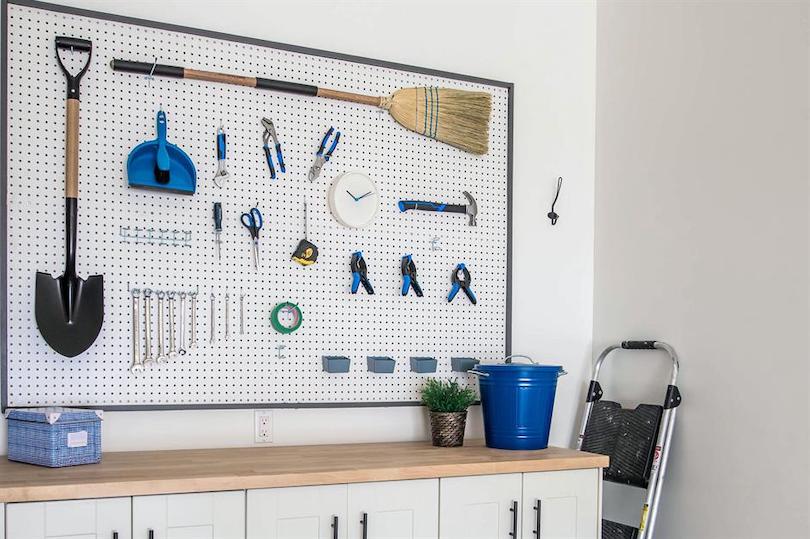 If you want to make it look like you're working on a workbench, you'll want to make use of the entire wall. Choose your underneath cabinets and drawers depending on what you want to store. It's time to go retro and hang a huge pegboard on the wall above. Not only can it double the storage space, but it will also save you money.
4. Garage Cabinets Along With Second Refrigerator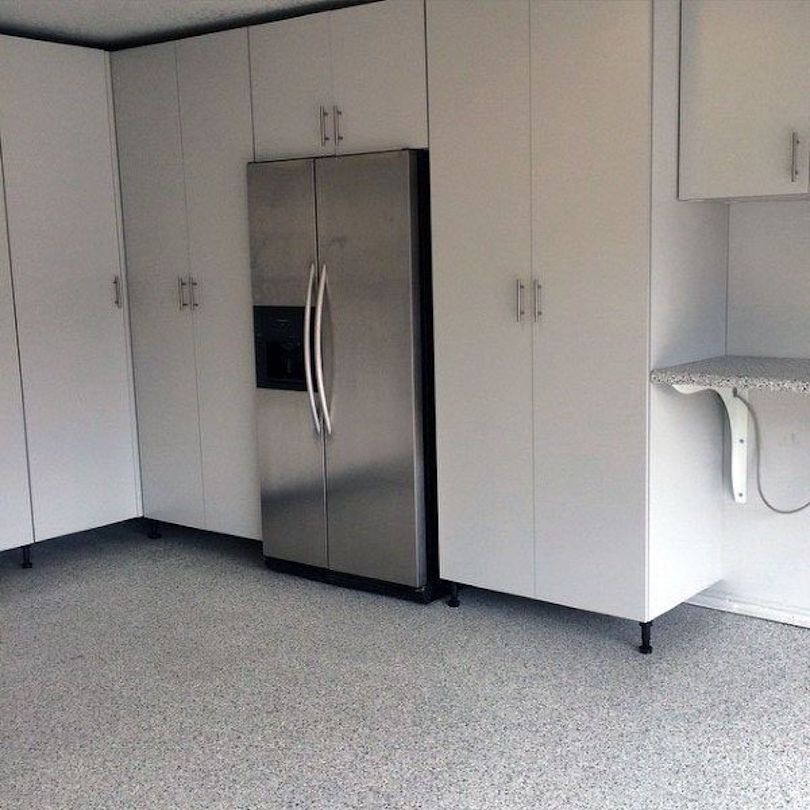 A second refrigerator or a utility sink… or both!… are common features in garages. An empty wall isn't needed to instal garage cabinets. Your dingy garage can be transformed into a sleek, well-organized space if you design your layout around these fixtures. It's especially useful if you use your garage as a secondary entertainment space for large parties and family gatherings.
5. Scarp Wood Garage Cabinets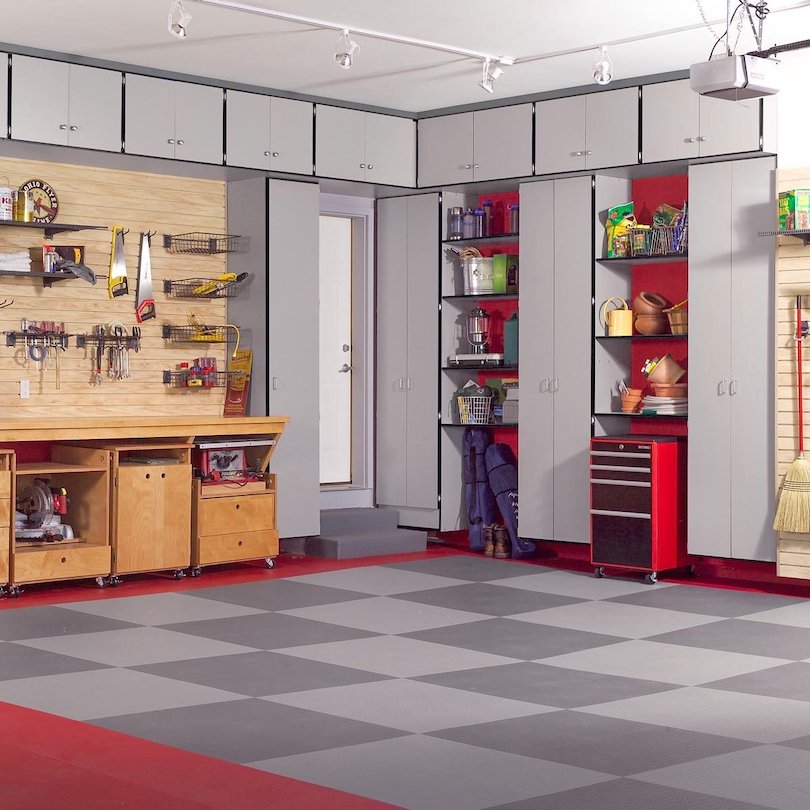 Everyones finances don't always qualify for all of our well-thought-out design schemes. If garage cabinets aren't in the cards for your room, there are other quick fixes that will have your garage organised in no time. Collect scrap wood, measure your room, and build shelves according to your needs. You can either paint them or just start stacking the totes; either way, your storage problems will be solved on your terms.
6. Hanging Storage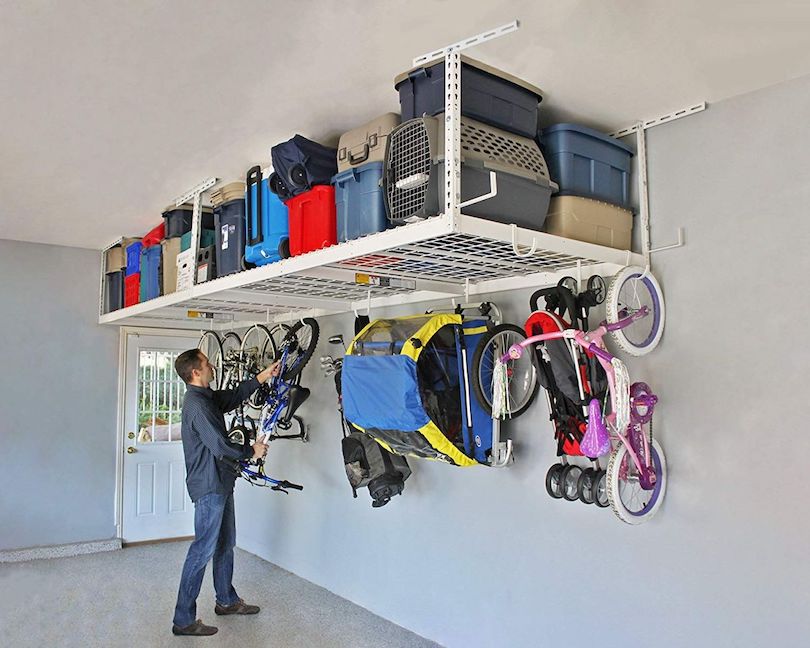 Many of the things you keep in your garage can't be packed into boxes or cabinets. If this is the case, it's time to consider using hanging storage. There are a variety of hanging storage systems available these days, so with a little research, you can find one that fits best for your garage and keep all of those big things off the floor and out of the corners.
7. Open Shelving & Cabinets With Drawers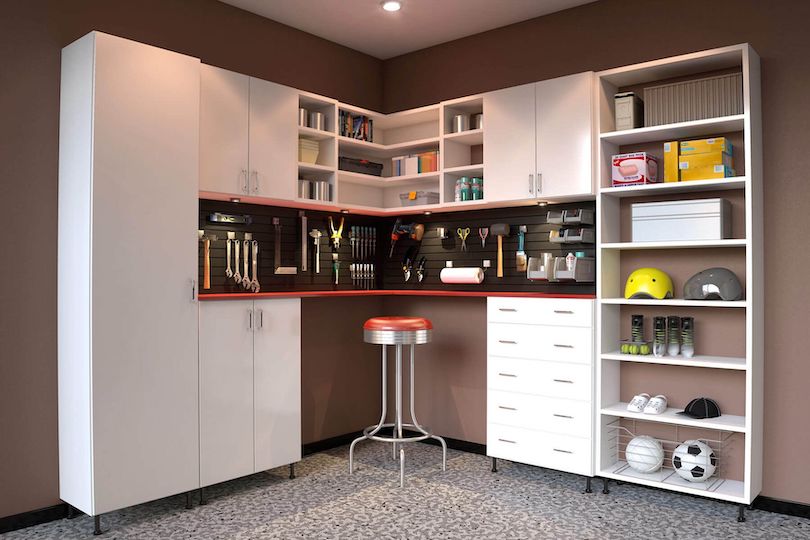 When your garage serves as your primary storage space, you'll need a variety of configurations to meet all of your storage needs. Cabinets and drawers are excellent additions, but don't stop there. Combine them with open shelving for big boxes and totes to create a unique look. Add some bike and garden tool storage to the wall. Don't forget to have a shoe rack for work shoes.
8. Garage Storage With Separate Cabinets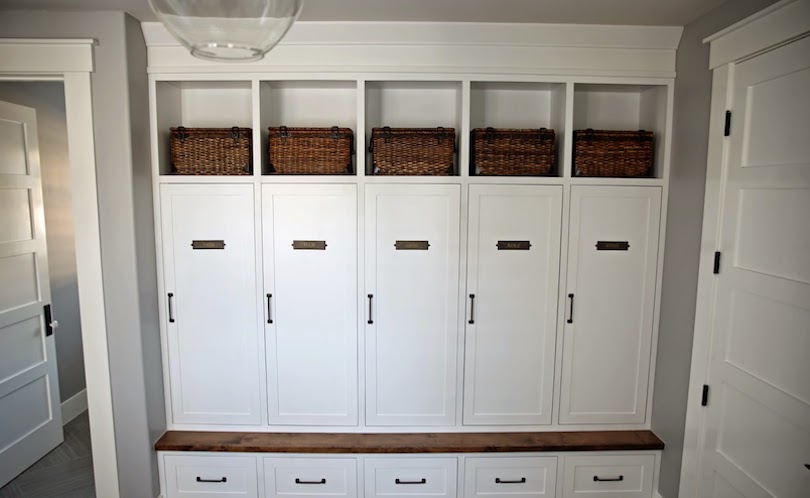 Do you have children at home? That elevates garage storage to new heights. You have sports equipment, extra sneakers, skateboards, and bikes in addition to all the requisite housekeeping storage. Consider installing some locker-style cabinets in your garage. Each child is given a locker, and now that they have a place to store their belongings, they must put them away.
9. Mudroom-Like Lockers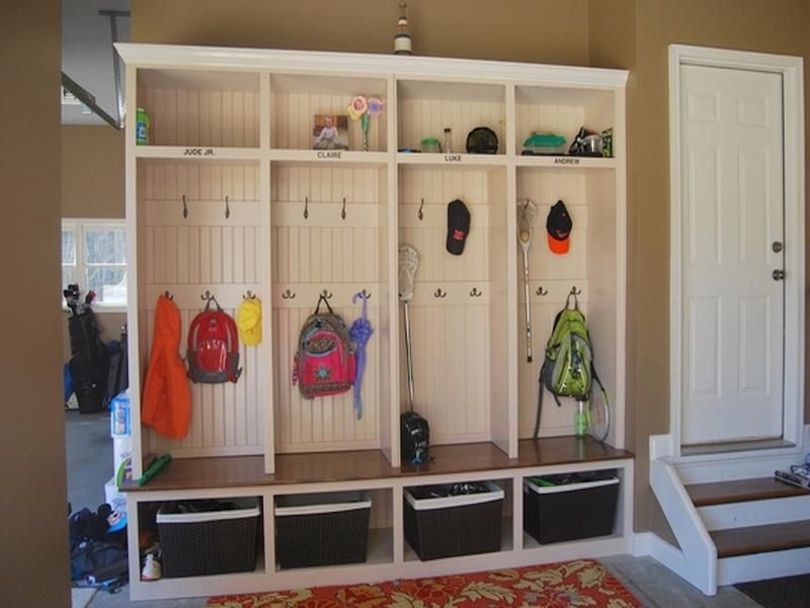 There are some who are fortunate enough to have a lovely mudroom in our homes, while others are not. However, just because we don't have the space, doesn't mean we can't build a lovely mudroom-style space in the garage. Set up these mudroom lockers in the garage for kids to store their shoes, jackets, bags, and balls instead of tossing them in a pile by the door.
10. Open Shelves With Bright Buckets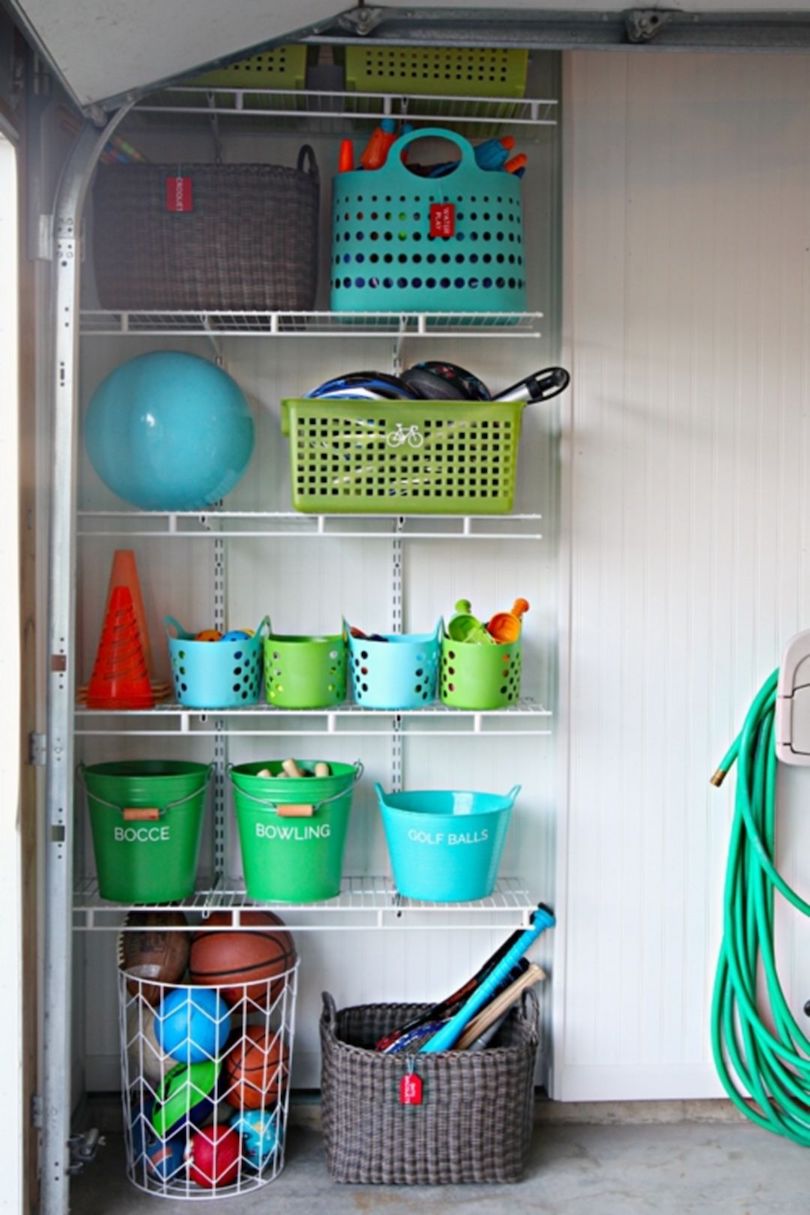 If you have little children, you'll want to think about how you'll store their toys and play equipment differently. Balls, chalk, bubbles, and all the other outdoor items they use can be stored on open shelves in the garage with some colourful buckets. It also prevents them from making a mess when looking for said outdoor items, as their location is easily accessible to small legs.
11. Strong and Sturdy Storage Unit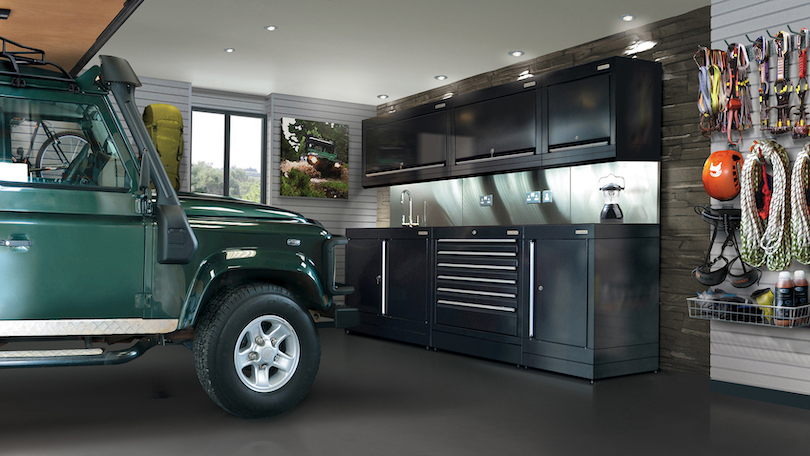 This particular one is an excellent example of a solid and durable storage unit that is suitable for tools and other relevant pieces. It's a steel storage chest with a basic and modern design and four casters so you can quickly roll it and shift it around while you work on different projects. The three drawers have plenty of storage space, which you can use to organise all of your resources into groups.
12. Tall Cabinet For Storage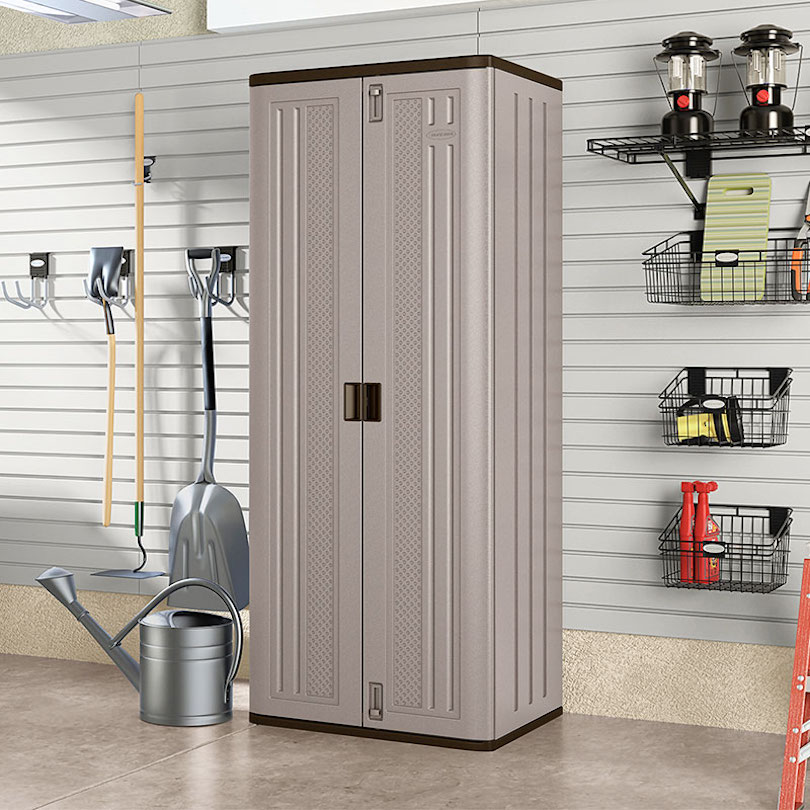 Consider a tall cabinet like this one if you need anything bigger to store and organise a variety of pieces and knickknacks that you normally keep in your garage. It's robust and strong, and it doesn't appear to be too rugged, which helps to turn the garage into a more welcoming space. There are four adjustable shelves inside, each of which can accommodate up to 44 pounds. These can be tweaked to suit your specific storage requirements.
13. Another Tall Storage Cabinet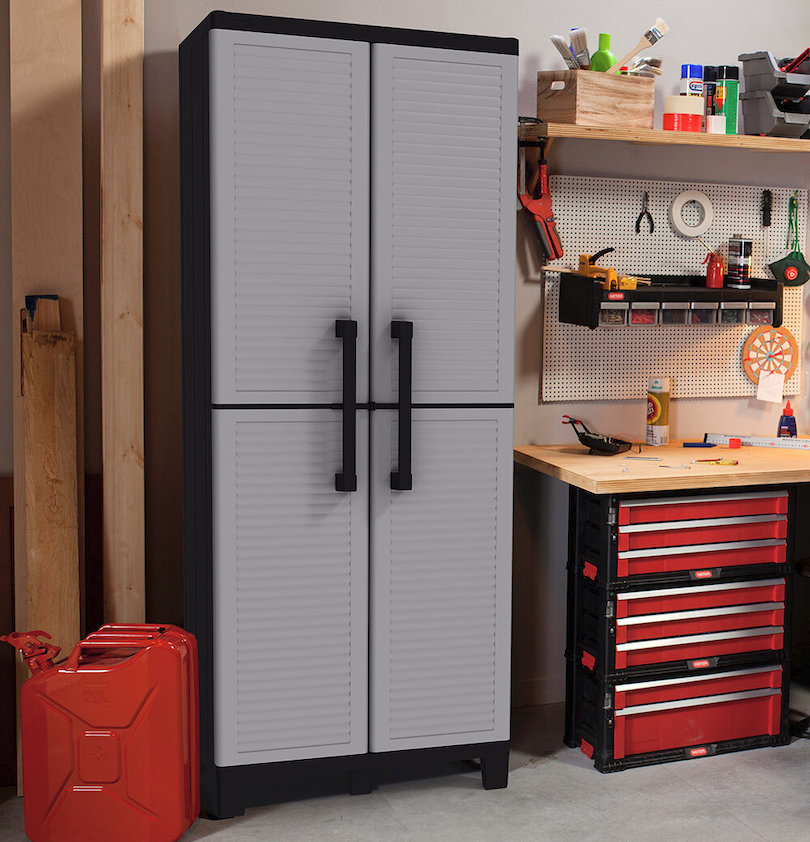 Similarly, this is another great example of a tall storage cabinet that would look great in a modern garage. It has a basic and stylish design that helps you to easily incorporate it into other areas such as the laundry room, mudroom, and entryway. It has four adjustable shelves on the inside that can be set at different heights to create custom storage configurations. If you ever need to keep the contents private and safe, you can add a lock.
14. Heavy-Duty Cabinet For Modern Garage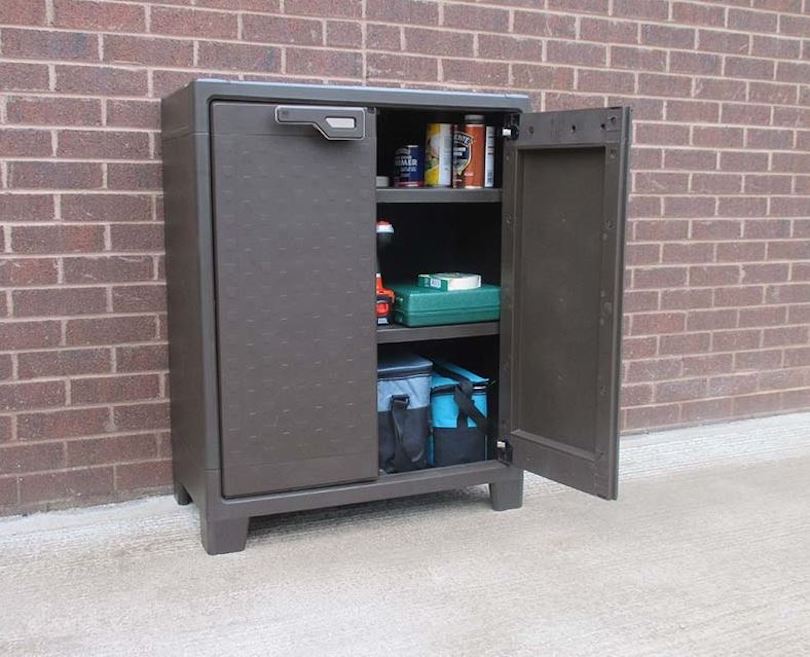 This is a fairly heavy-duty cabinet, making it an excellent option for the workshop. It's also very large and can accommodate a wide range of objects. With clean lines and a powder-coated finish, the style is plain and industrial. It features two stainless steel doors and four internal shelves, as well as the ability to lock it if necessary. The base also has wheels, making it super convenient to reposition and transfer the cabinet while cleaning or relocating it without having to remove the contents contained inside.
15. Two-Piece Storage Cabinets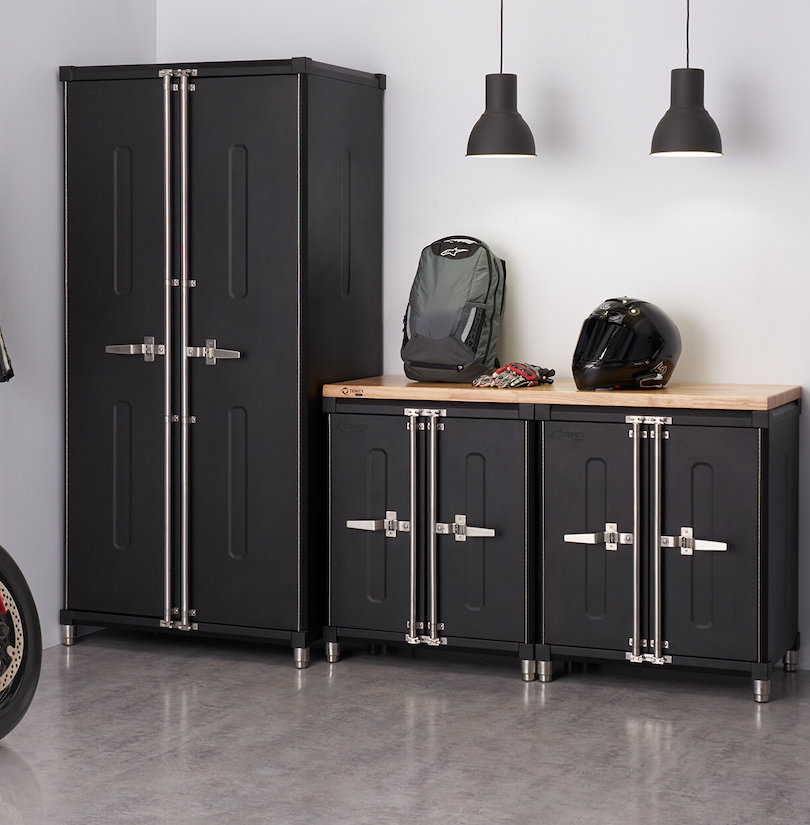 This two-piece storage cabinet collection is ideal for the garage or warehouse. They also have an 800-pound weight capacity, allowing you to store tools, heavy equipment, and a variety of other products. Inside the tall cabinet are multiple shelves that can be modified and placed to meet your precise storage requirements. There's also a closet rod where you can hang various objects, as well as a bamboo worktop that can be used for a variety of tasks. The tall cabinets are wall-mounted, while the smaller one is compact and comes with casters and a handle.
16. Metal Storage Cabinet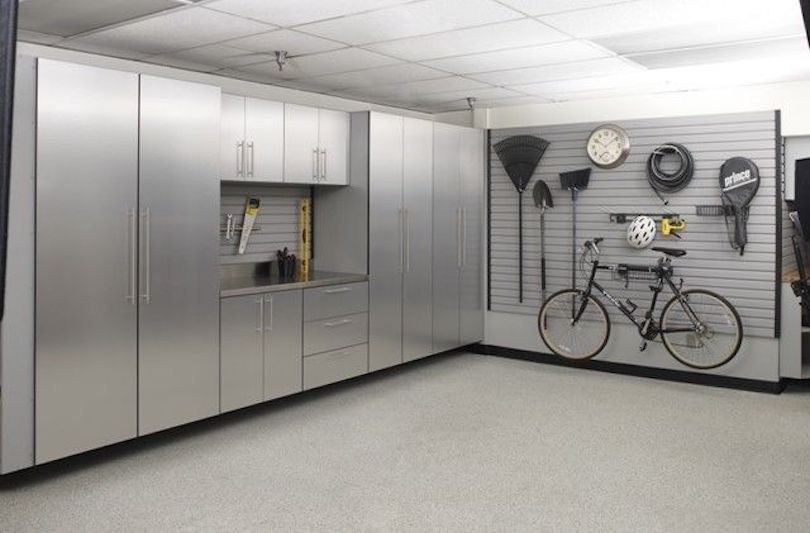 This is a metal storage cabinet that can be locked with a key so that no one else can open it. It has five storage shelves, four of which are adjustable, and is heavy, robust, and very sturdy. You can arrange them to fit your needs and build a one-of-a-kind storage system for your belongings. Each shelf can support up to 180 pounds, giving the cabinet a total weight capacity of 900 pounds. You can put it even on uneven surfaces thanks to the leg levellers.
17. Wall-Mounted Storage Cabinets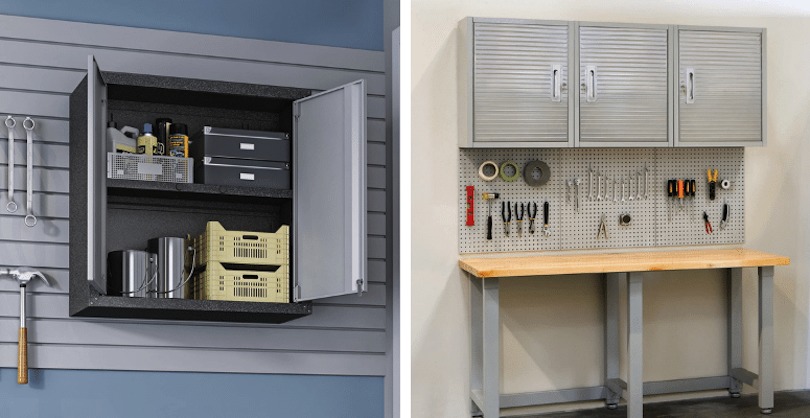 You should also suggest using some wall-mounted storage cabinets to maximise the space in your garage. They free up floor space and are really functional because you can put them almost anywhere and at any height you want. This one is made of rust-resistant resin and is sturdy. It has reinforced metal shelves that can accommodate up to 50 pounds on the inside, and the two cabinet doors can be locked and have an elegant design with a lot of detail.
18. Workbench-Like Garage Storage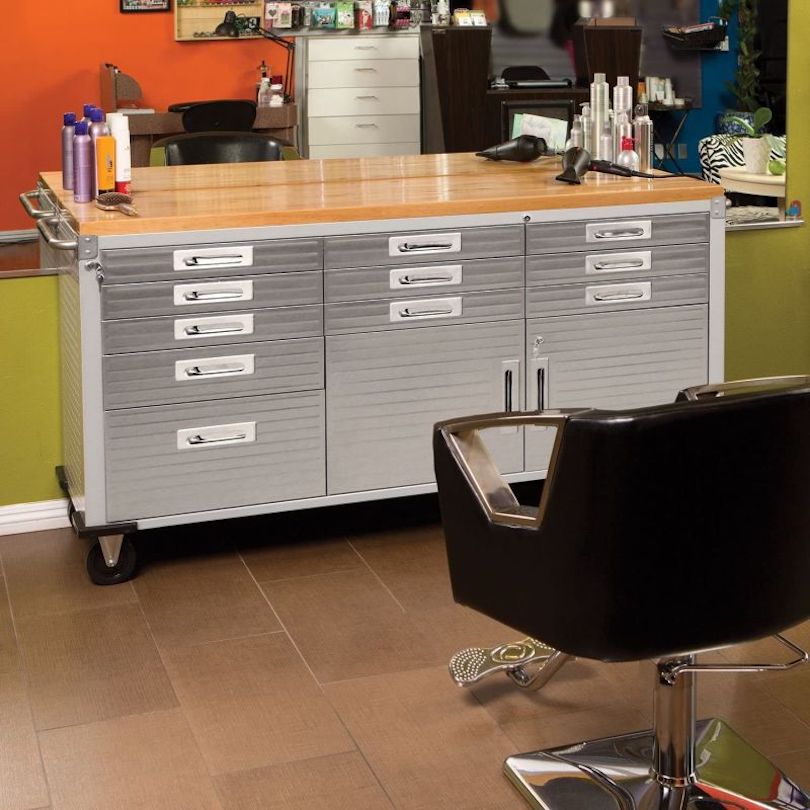 Since it also functions as a workbench, this cabinet is ideal for use in the garage. Its design and construction are very similar to those of a kitchen island, so it can be used as one if you think the style is appropriate for the room. It has wheels and two push handles, so you can easily shift it or reposition it. It has 11 drawers in total, as well as a storage module with two cabinet doors. The fingerprint-resistant doors and drawer fronts are made of stainless steel.
19. Industrial-Looking Storage Cabinets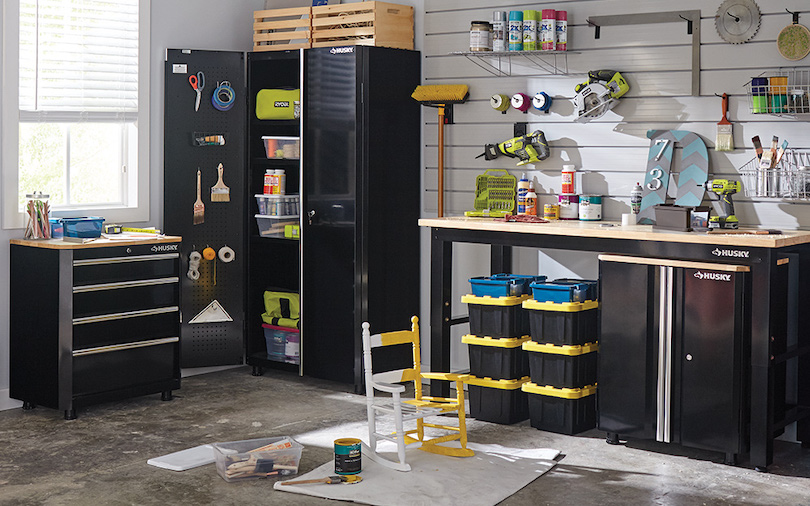 Perhaps something new is in order if you don't like the heavy-duty, industrial-looking storage cabinets and units. It could be cool to decorate your garage in a way that makes it seem more welcoming, like a living room. On that note, the storage modules can resemble the following. These are both elegant and trendy, with a basic and modern style. They're also built to be placed on a wall, leaving the floor space free and retaining a lightweight appearance. There are three modules in this package, two of which are cabinets with shelves and one of which is a drawer unit.
20. Hardware and Craft Cabinet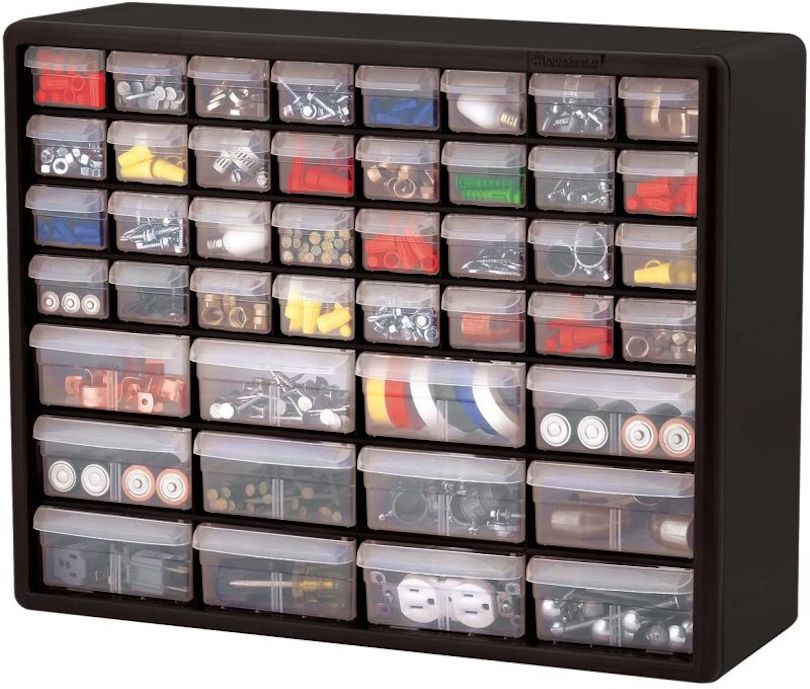 This cabinet is ideal for storing small items such as screws, nails, tape rolls, batteries, and other small items. It's not a particularly large unit, but it has a plethora of different drawers. Four rows of small drawers measure 6″ x 2-1/4″ x 1-5/8″ at the top, and three rows of bigger drawers measure 6″ x 4-1/2″ x 2-3/16″ underneath. You can stack several of these units or position them side by side if you need more. All of the drawers are made of plastic and are semi-transparent, allowing you to see what's inside at a glance. This is also a fantastic organiser for a workshop or a craft space.