Clever Yet Stylish Small Utility Ideas For Practical Homes
The organized storage is important for the utility room for keeping the utility, as well as the washing area clean and tidy. The main purpose of this small room is storage and washing clothing or outdoor equipment. While utility room storage has functionality written all over it, there's no need to make it look dull and boring. Whether you use yours for boots, laundry, or potting up, always keep your utility room highly efficient with practical storage solutions and even boost the value of your property 
There are many distinct ways to keep things organized, neat, and accessible in your utility room. Just think about how you use your utility area, what you want to store in it, and things you use here most days. Is it a space you wash your clothes? Is it an extension of your cooking area? You can invest in suitable utility room storage to meet your needs.
Also, don't neglect the style and decor when planning to arrange your small utility room. Always remember that aesthetics are not be shunned to create a practical utility room. Chic and sleek utility room storage can easily be achieved with colored storage units and high gloss buckets. However, traditionalists may prefer grey or cream units along with built-in drawers to conceal everything out of sight.
Here are some clever yet practical storage ideas for a small utility room:
1. Dresser-like look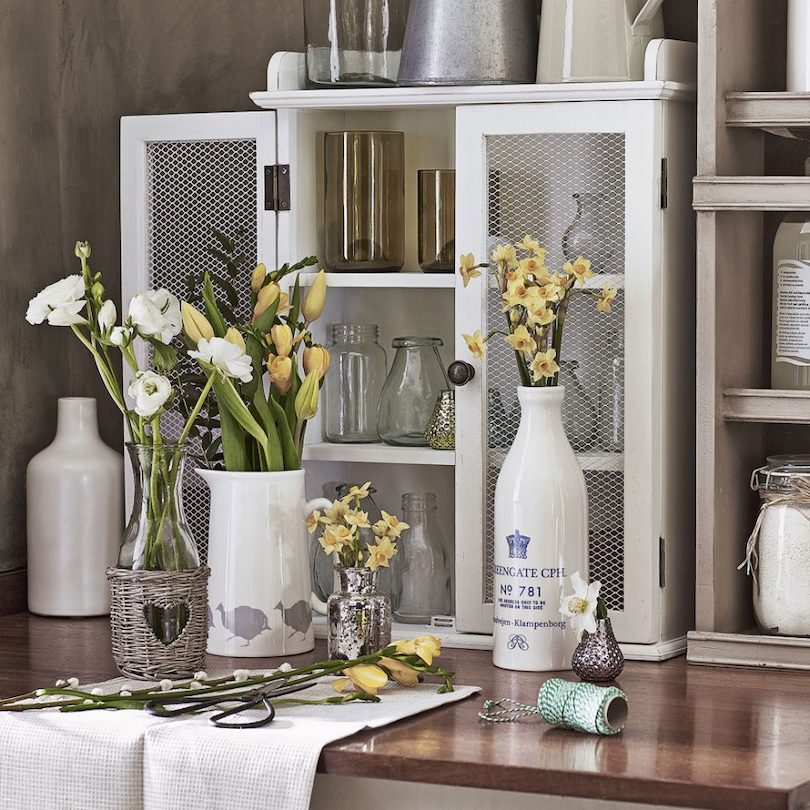 You can conquer a load of your laundry by ensuring that everything is placed conveniently within hand's reach. You can add a unique character to your utility room with classic, vintage-style storage. You can place mini cupboards or open shelves atop the worktops for a country dresser-like appearance. You can even try a wire-front cabinet in white for storing glassware. You can place less attractive utensils in closed cabinets and drawers and place attractive and decorative pieces in glass cabinets. Even freestanding units, like vases, can be placed on the worktop to mix display and hidden storage style utility for functional working space.
2. Make small utility under the staircase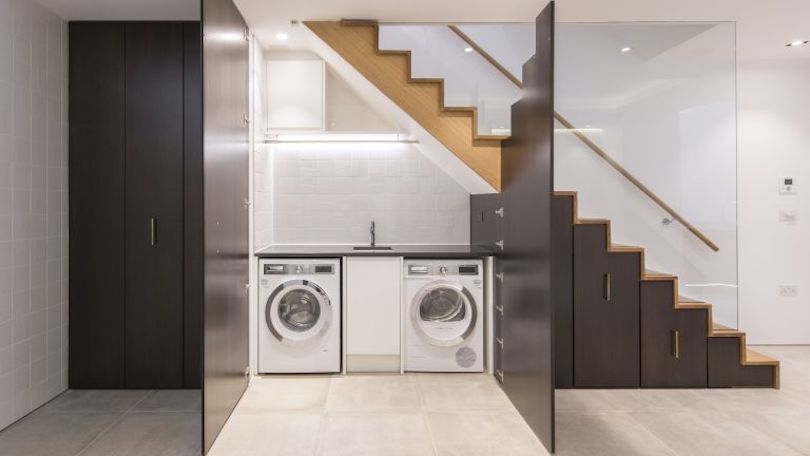 The space under the stairs in your hallway can also be used for storing a washing machine or condensing dryer. This way you can maximize the space while adding a tiny utility room sink, ample stack space for folded clothes, and a ventilated handing area for airing clothes. You may either consider opening doors of the hallway or invest in a dehumidifier to keeping this space dry. This how you can keep the utility room organized, dry, and clean.
3. Countrify a small utility space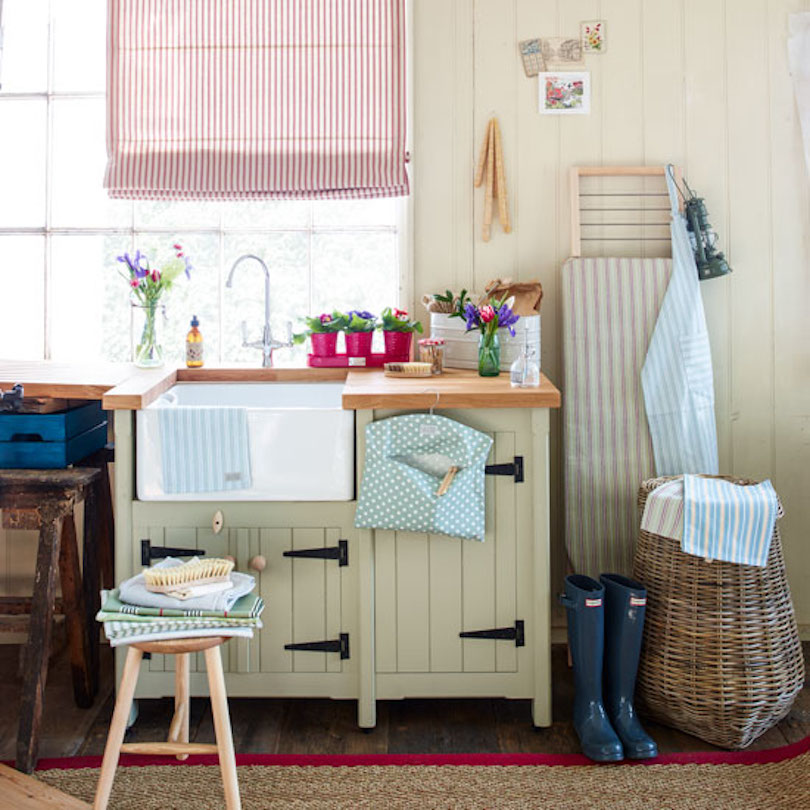 You can make the most of any available utility area with striking cottage features. You can consider adding country-style decor into the utility area with series of drawers and cupboards in Shaker-style cabinets. This will allow you to have proper space for every little object in your utility room. You can even install conventional metal tee hinges to add a practical yet vintage touch of yesteryear. Also, place some rustic accessories, like a wirework basket with a leaf motif for storage. You can even consider having a big sink for soaking clothes or pans without encroaching on the available space.
4. Form utility area behind double doors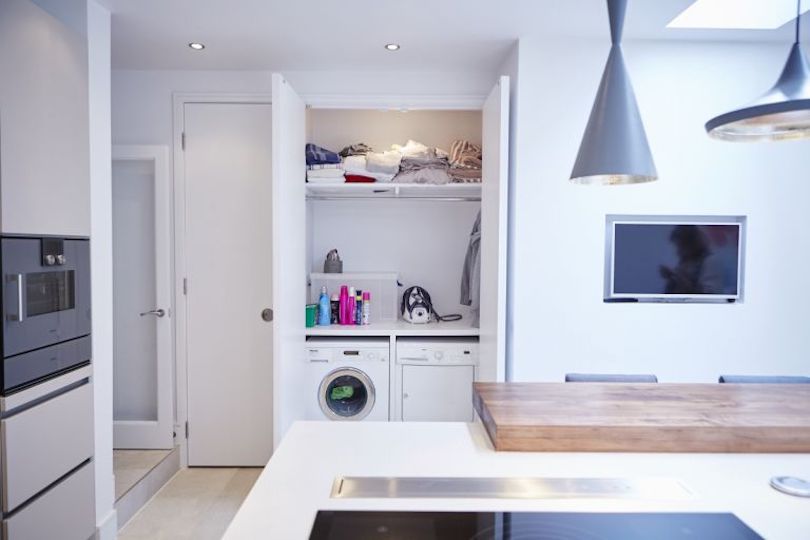 If your room has some space that can handle a large utility space, you can consider adding utility behind closed double doors in a kitchen. This idea is great for hiding a complete laundry room, not only for kitchen appliances but also for folding and keeping your clothes. When you are done washing and folding laundry, you can simply close the doors. This way you can seamlessly fit the utility room in your kitchen without any hassle.
5. Add a small utility room in your hallway upstairs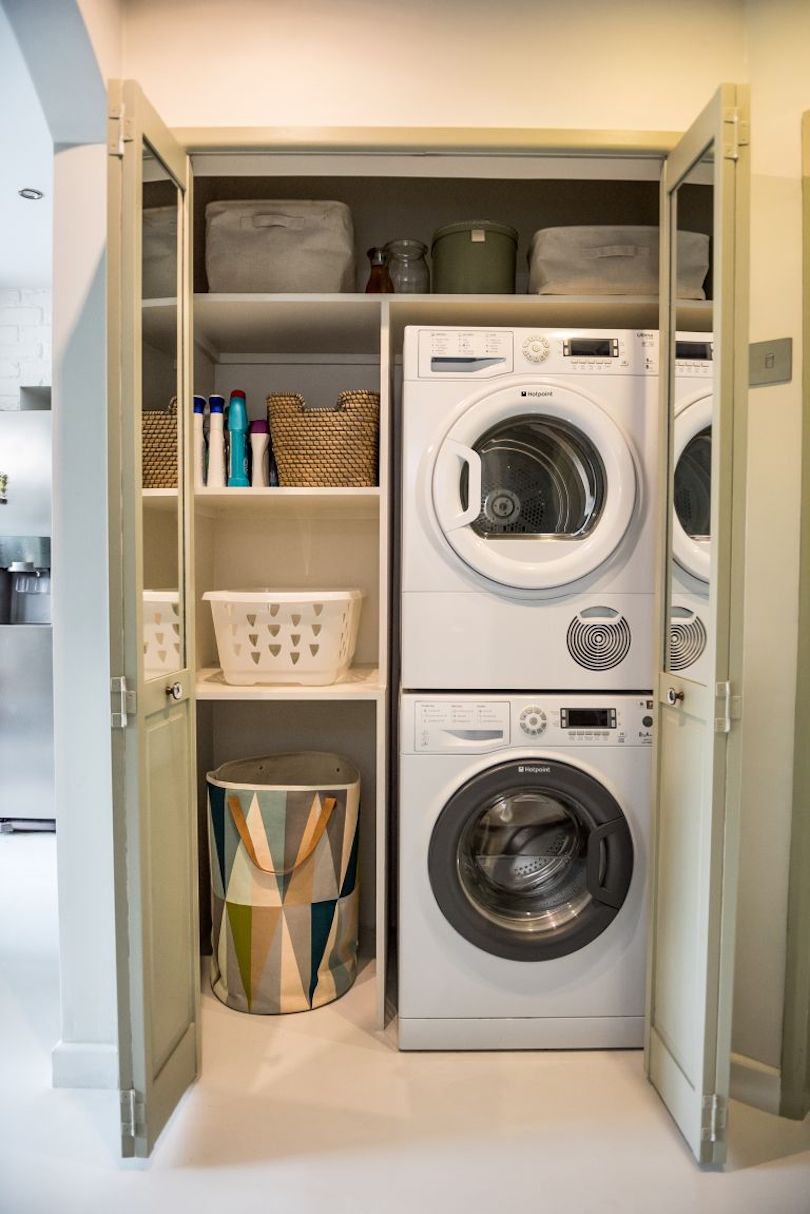 Not just under the staircase, you can even add a small utility in your hallway upstairs. It's a great place for a tiny utility room – as laundry will stay upstairs at all times and you can get it built with certain stud partitions without spending too much money. Make sure you choose a quiet washing machine to put upstairs in the hallway cupboard. This way you can easily wash your clothes quitely even at night without disturbing your kids. Otherwise, you can wash it when you're out.
6. Weave baskets for storage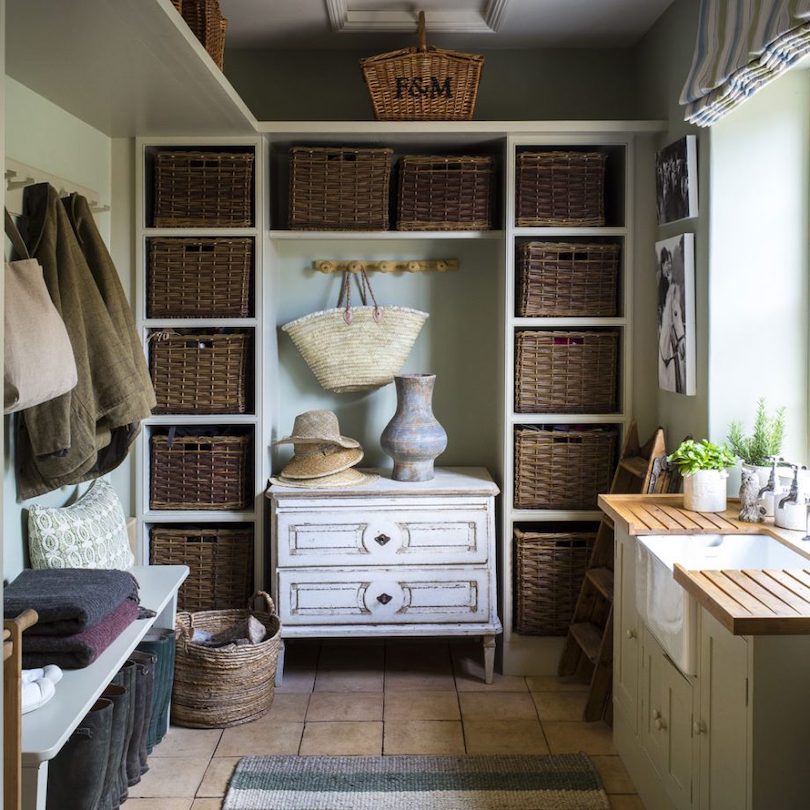 Good storage can easily maximize your space while keeping everything accessible at your arm's distance. You can consider adding cubby hole storage for keeping your things in an organized way. This version when blended with weave baskets is a great way to tame your belongings while bringing rustic touch into your home. Since the utility room experiences a lot of wear, you can choose tough weave baskets, especially when you're going to keep it on the floor.
7. Hidden utility in your bedroom wardrobe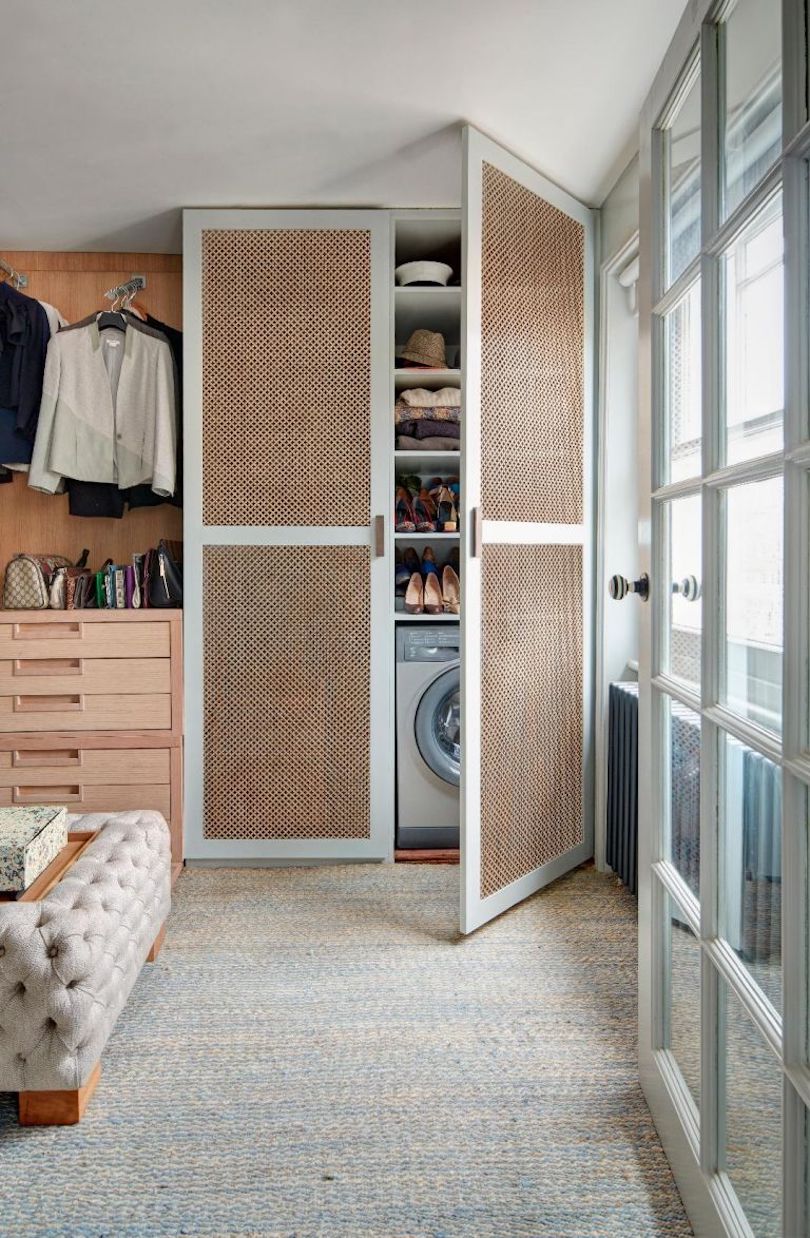 Since you get dressed/undressed in a bedroom, it could be a great area for a dressing room and utility. You can ensure proper ventilation in an area, where you can dress up and dry clothes at the same time. Just remember the drying clothes should not be able to damp the atmosphere of the rest of your wardrobe. If there is no dressing room in your bedroom or you need a dressing room, just consider creating one with hidden utility storage.
8. Utility room in the loft area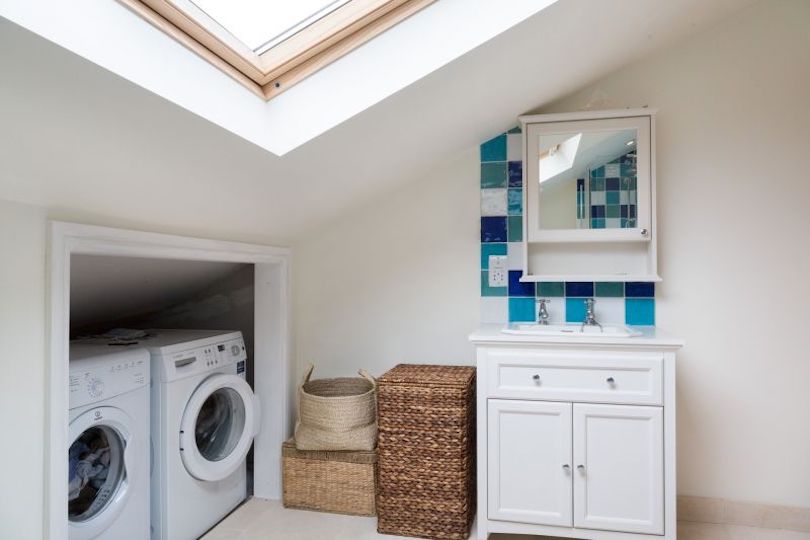 Have a loft area or designing a new loft? You can consider this loft utility room idea to save space and time. You can dedicate a small section in your loft for utility storage and equipment, like washing machines, drawers, cabinets, and wicker baskets for storing clothes. The costs associated with this utility room idea are minimal. However, such small minimal rooms make a good space for utility.
9. Create utility room behind sliding doors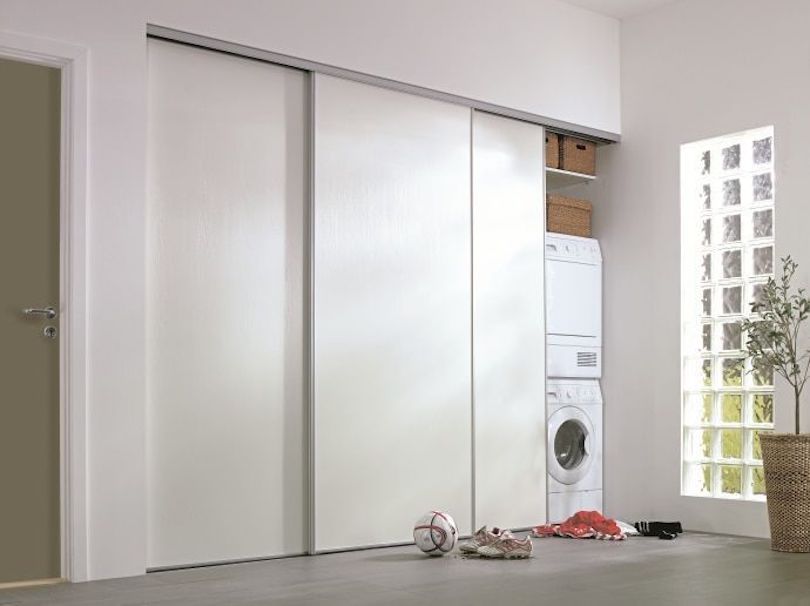 Have an area for creating a small utility but not space to install casement doors against a wall? If so, you can consider adding a utility room in your home behind sliding doors. This way, you can easily conceal your washing area from the main living space. Such sliding door utility can be created anywhere – your bedroom, living room, kitchen, or any other area of your home. When the sliding doors are matching with the rest of the decor, it's more likely to blend a small utility with your entire home decor without putting in some extra effort.
10. Make it for your pets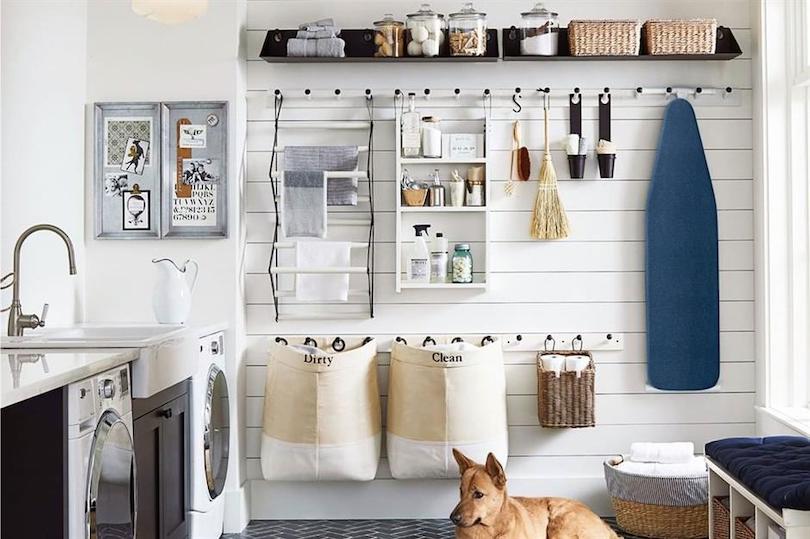 You can even make use of your small utility storage for your pets. A utility room can provide maximum home comfort to your pets without having to give them run of the house at night. You can place extra baskets for pets for sleeping, extra litter trays, and bowls for eating/drinking water.
Meanwhile, you can place open shelves in the same utility area to keep things in sight. It's best to put functional shelves for accessing and cleverly storing some mundane supplies. You can consider displaying attractive soaps and tins in colored designs for added rustic charms. Also, decanter washing powder into easy-pour and attractive jars with some traditional-style boxes.
Using all these practical ideas, you can easily create a small yet practical utility room in your home. These utility room ideas are likely to suit both traditional and contemporary home interior. Which one of these utility storage ideas did you like the most? Share your views in the comment section below.