Stunning Glass Front Doors Ideas to Connect Indoors with Outdoors
While many people are concerned about privacy and security when it comes to installing glass front doors, others prefer these doors because they effortlessly blend your indoor space with the natural outdoor landscape. The glass front doors are also becoming a popular choice of modern homeowners, who believe in minimalism and forming a connection with nature.
All thanks to glass front doors, you add curb appeal and exquisite style element into your house. These doors look very simple and clean that's perfect for adding a contemporary feel to any traditional or modern home. Another major advantage of installing glass doors is that they help in bringing natural daylight into the interior effortlessly.
If you're willing to opt glass front doors for your home with a specific set of circumstances, neglecting the privacy concerns, you certainly need some design inspiration.
Here are some simple yet stunning glass front door ideas to consider for your modern and stylish home.
1. French Doors with Glass Frames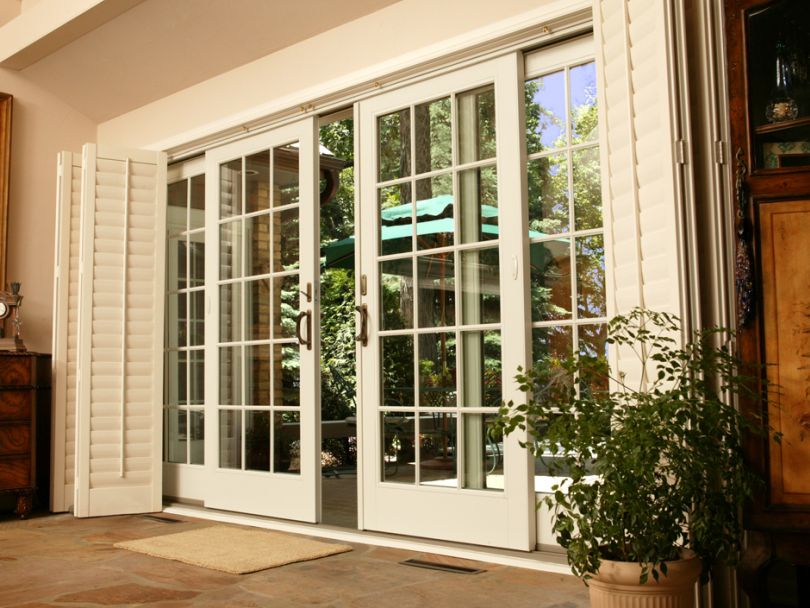 French doors are not for the traditional houses, but these days even modern homeowners are loving to install these doors in the front section of your living space. These are refined doors with small glass panes. They can easily match so many decor and color schemes. A classic white French door is a perfect fit for adding a touch of elegance and modern appeal to any rustic interior. If you don't want a white door in the entryway, you may opt for dark wood or black framed French door designs to add a modern alternative to the classic ones along with a cool statement.
With thin metal framing, you can gently divide the indoor and outdoor space, while letting in much daylight. The entire entrance areas with framed glass doors will also allow inhabitants to have a clear view of the garden or lawn while relaxing on a couch in their living room. This door itself is known to have an extravagant style statement.
2. Huge Pivoting Glass Front Door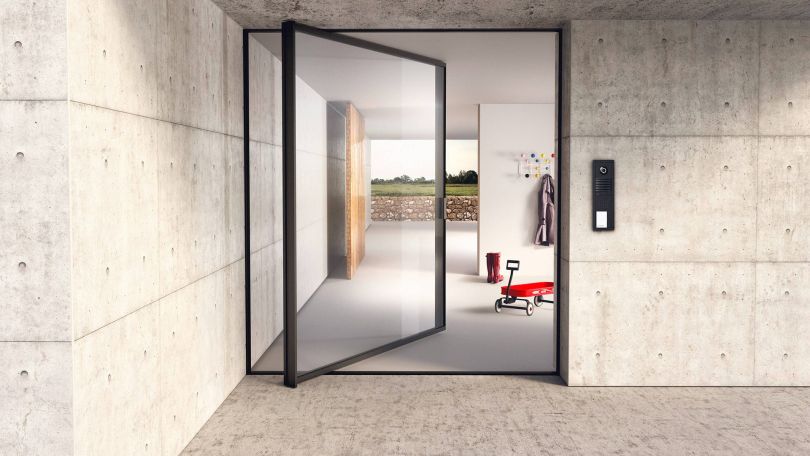 With such a huge pivoting glass front door, your home can easily be flooded with a lot of sunlight. This particular glass door design is perfect to be designed on private properties. Since lonely real estate or huge properties may seem a little boring, such large glass doors can add an interesting element of style to the property while forming a close connection with the natural surrounding space. Moreover, extra daylight entering the house will make the interior appear more bright and spacious at the same time.
The front door setup of a house with such simple glass frames gives an aesthetic appeal to the given space. At the same time, it makes your entryway appear very inviting and bright along with making a seamless transition between outdoor and indoor elements.
3. Glass on All Sides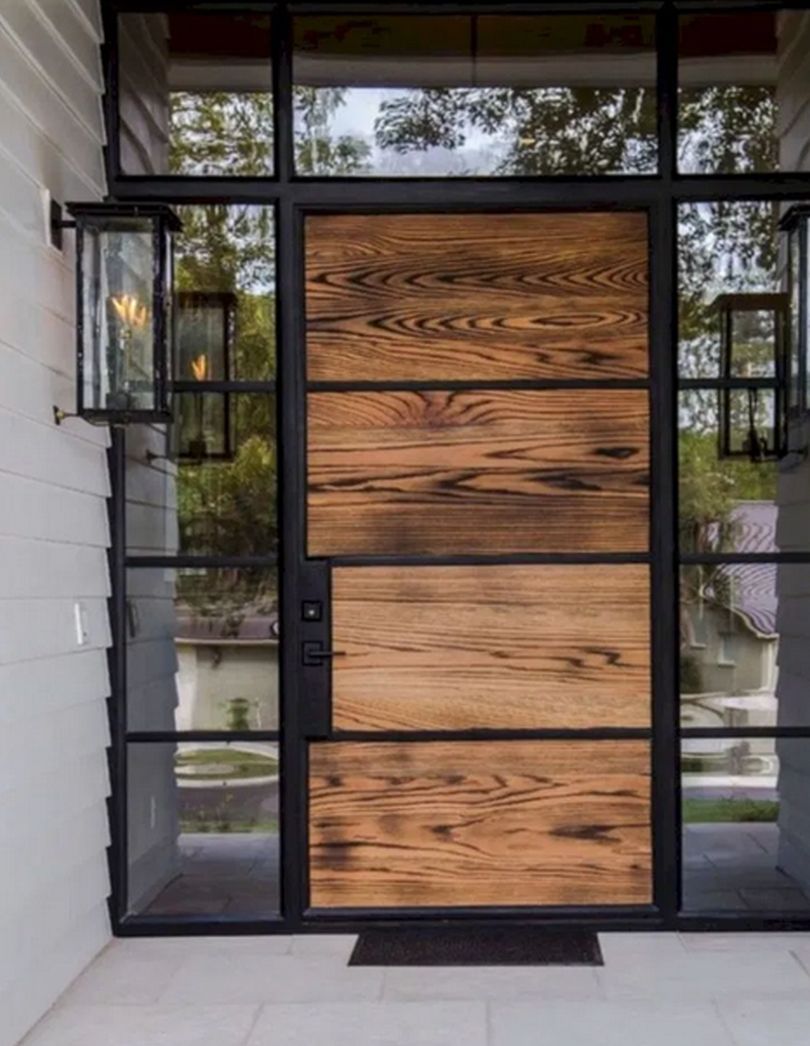 If you don't want all glass in the front door, you may consider this style. Here the main door is made of solid wood, whereas the surrounding sections are adorned with glass panels. This is one of the best ways to bring its natural light into the home while maintaining privacy and security. If you don't want the side glass panes to be too transparent, consider adding tinted glasses to the frames.
4. Glass Main Door With Curtains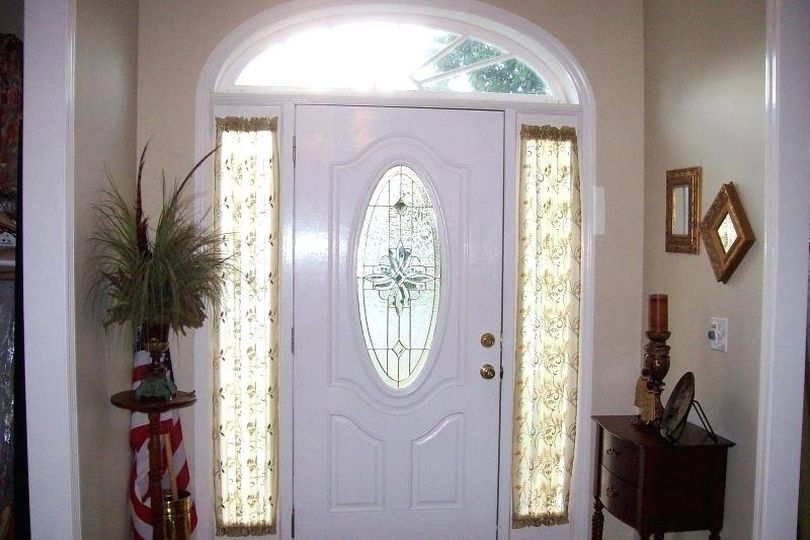 Another interesting way to frame a glass door at the main entrance is to choose a glass main door with curtains. If you like the glass main doors but also love your privacy, you may choose a wooden door with decorated glass in the middle. Installing slim long windows on either side of the door and install sheer curtains on each window. This way, your house will get enough natural light but without letting anyone intrude on your privacy.
5. Huge Glass Walls with Sliding Wooden Door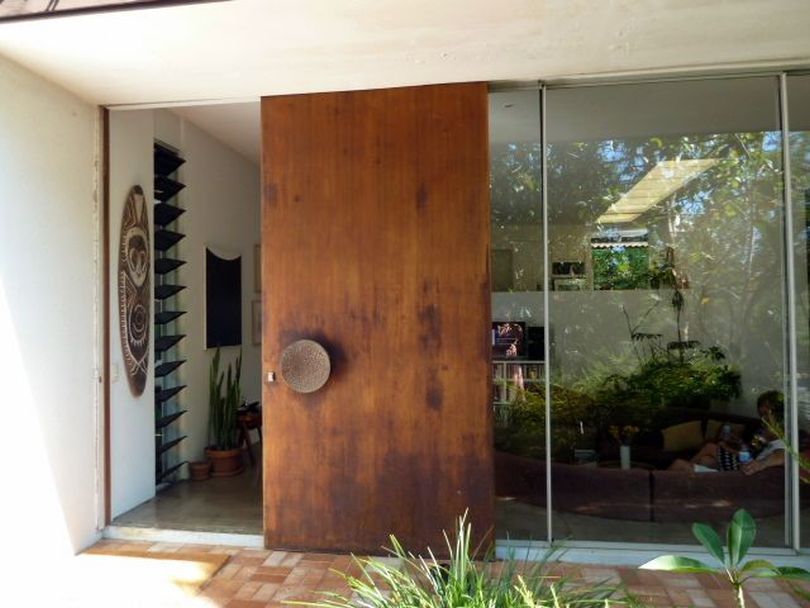 This is one stylish way to deck up your front entryway. If you don't want to have an all-glass door, you can choose a strong wooden sliding door but install floor to ceiling glass walls next to that wooden door. Invest in strong glasses for the front entryway so that it cannot crack down easily. A space with all glass walls will give you a stunning view of the surroundings while you relax on your couch or interacting with your family.
6. Beach Front House with Glass Front Door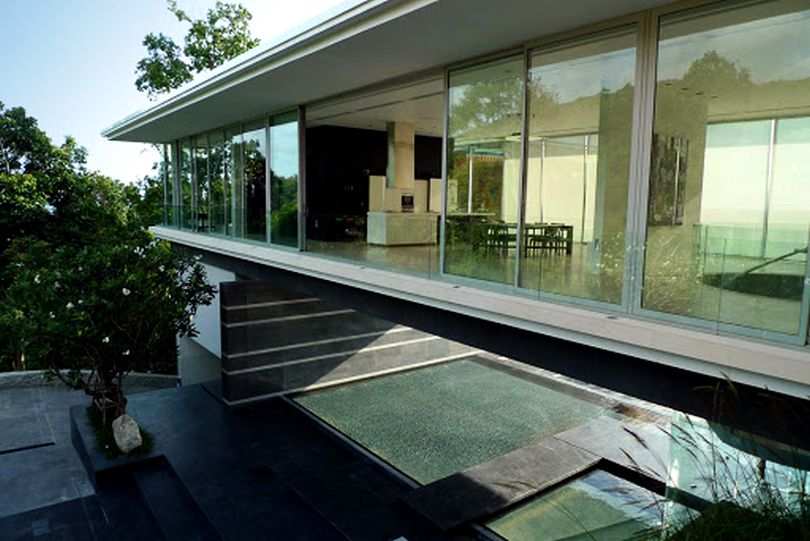 If you have a beachfront house, you may go for this style of glass facade design. Here, the entire front section of the house has huge glass walls, along with retractable glass doors. It is a perfect front door style for your personal holiday retreats by a panoramic sea, poolside, or opposite glorious mountainous views. Moreover, this space will flood the entire interior with natural light. But you also need to decorate the interior with beautiful sculptural pieces and artworks to ensure that even from outside you get to see the beauty of the indoors at the same time. For privacy, you can install retractable blinds or flowing sheer curtains for perfect beachy vibes.
7. Unique Blue Wood and Glass Front Door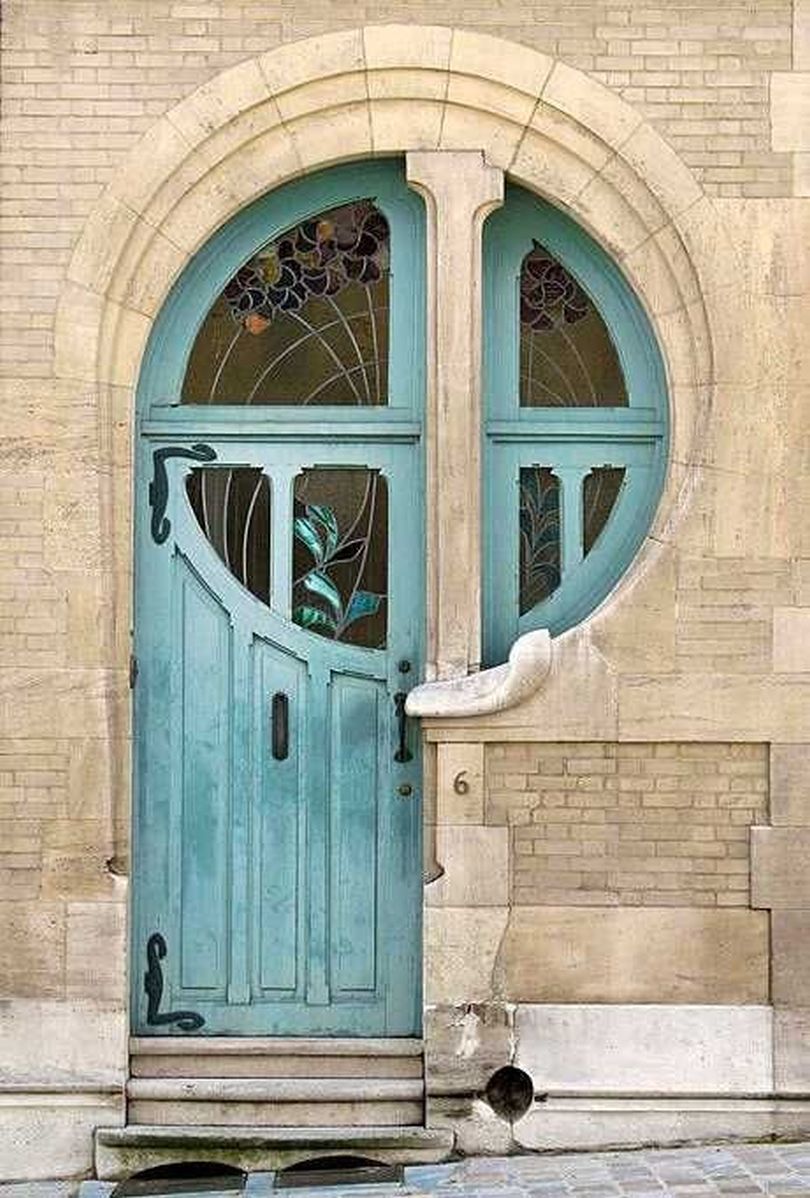 If you are looking for a totally unique but functional front door design, this is what you need to install in your entryway. It is a gorgeous blue colored door with top section completely rounded and framed with blue wood. Plus, a decorative glass is present in the most artistic way possible. Such a front door will give a surprise element to the visitors and an exquisite and refreshing look to your overall home. This way you can enjoy a glass front door style but without hampering your privacy.
8. Wood and Glass Front Door with Glass Canopy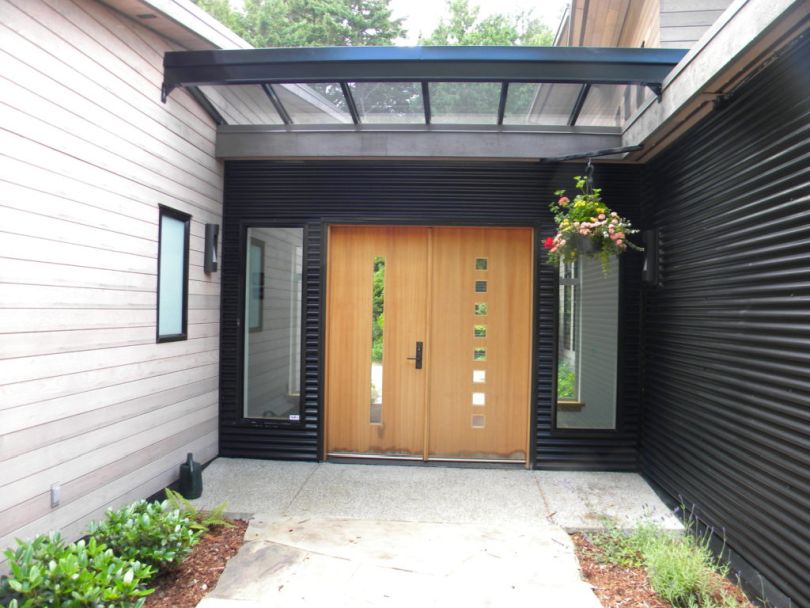 It is another interesting and stylish way to decorate your front door. While the design of the front door is similar to the one we discussed before – a wooden door with sidelights and long windows on either side, the interesting element here is that you install mirrored glasses on the door and the tall windows on both sides. This interesting glass is perfect to let you see everything outside your house but the visitors cannot see anything inside your house. So, if privacy is a concern for you, you can go for this door style. Furthermore, the glass canopy on the door protects the wooden door from environmental elements. However, it doesn't block the natural light.
So, these were some interesting ideas to create a magical yet practical glass door entryway for your beautiful home. A wooden door with glass is perfect for bringing in the natural essence of surroundings into your house while giving the entire house classy, modern, and luxurious vibes. I hope, this article was helpful for you to choose the best glass front door style for your residence.