Stunning Center Table Design Ideas for Wholesome Homes
The center table design ideas in your living room is a statement piece in itself. It not only helps in uplifting the look of the entire room, but it's functional at the same time. Although a center table is mainly for holding your snacks and drinks while enjoying with your family or guests, it even serves as a major decor element in a room – due to enough room it occupies in the available space.
With changing times, modern decorators and designers have become quite experimental and innovative when designing a center table. Once a humble four-legged table in the middle of a living room, a center table has now evolved into something no less than an art piece while serving the same purpose in style.
From traditional to modern and wood to glass, a center table has come a long way. However, in the fast-paced world of yours, you need a little guidance to make your center table an ultimate style piece in your living room.
Here we have compiled a list of different center table styles made from distinct materials. Moreover, you'll also get some amazing designing tips to spruce up your bland center table.
Have a look!
1. Contemporary center table with flower vase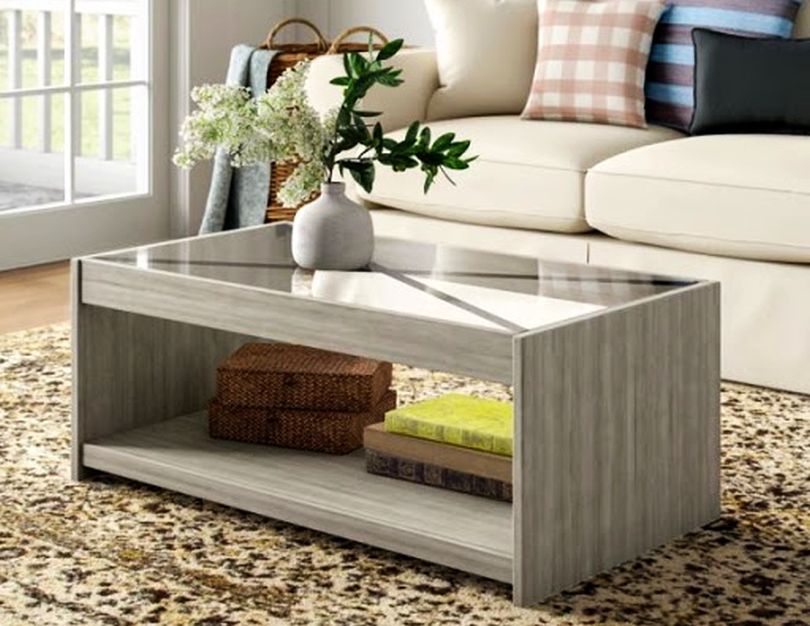 One simple yet stylish way to decorate your minimalist center table is by adding a beautiful flower vase on top of it. While the greyish tone of this table is supported by a glass top to minimal appeal, you can still spruce it up a little using a creative vase. This way you can create a simple yet modern and elegant looking center table for your living room without much effort.
2. Alluring wood and resin table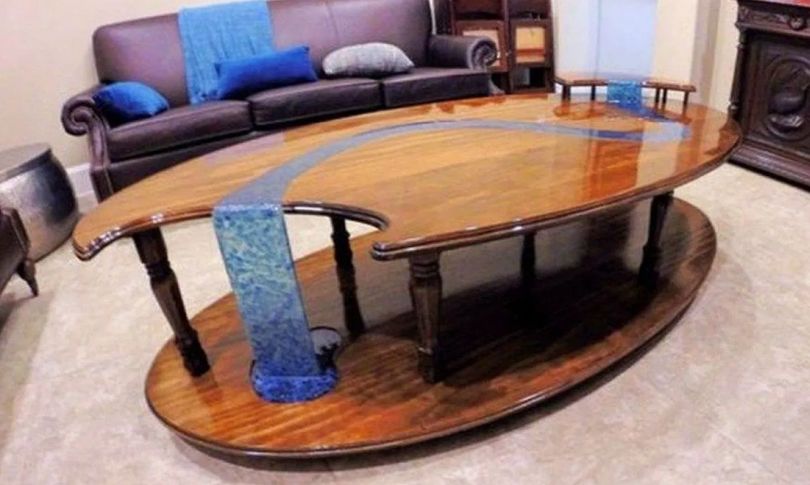 Another effortless and chic way to style your living room with an outstanding center table is with wood and resin table. Resin on wood creates a stunning effect of natural water bodies on the tabletop. It looks attractive while bringing the charming touch of nature into your home. You can choose the wood and resin table in any form – be it circular, oval, square, or rectangular – depending on the size of your room
3. Glass top supported by an art piece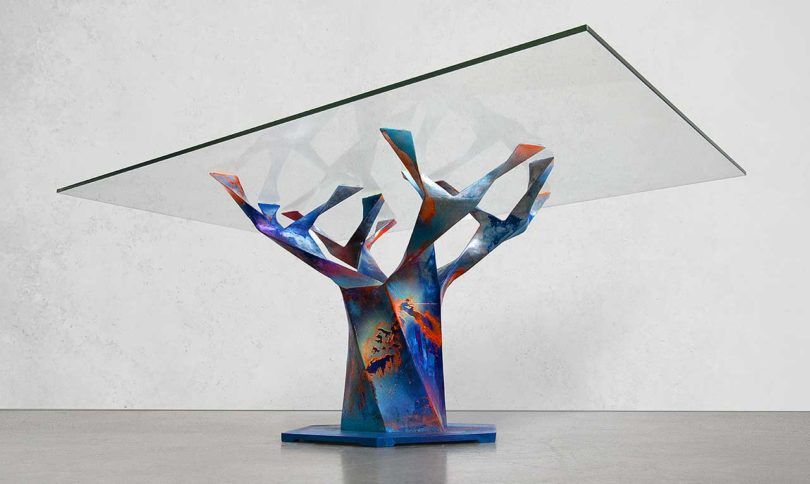 You may look for a sculptural piece of furniture that speaks volumes about itself. A center table, as shown in the picture, is supported by a colorful sculptural base and topped with a glass frame. A center table like this is enough to add an artistic touch to any modern interior effortlessly. There are so many designers, who like to turn furniture into wonderful art pieces. You can easily search for those online and add whimsical touch into your home interior.
4. Centre table serving as a planter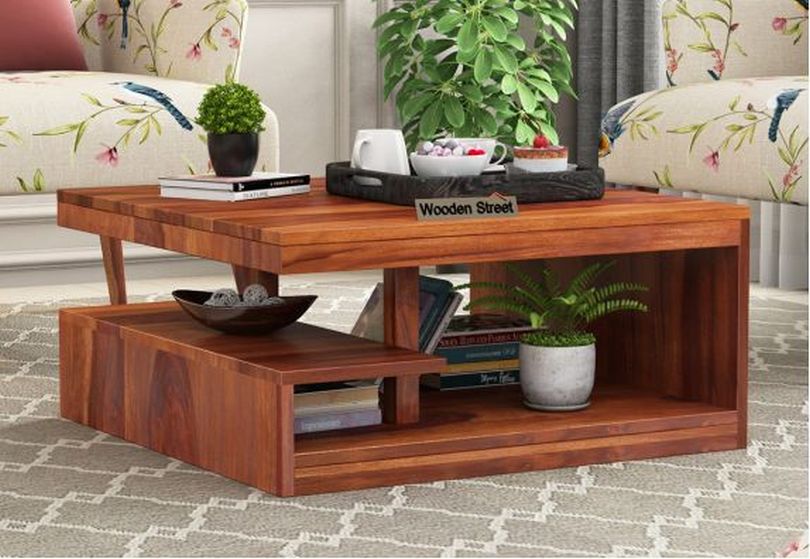 How about a center table that doubles up as a stunning planter? Such furniture pieces will not only be practical for homeowners but also help you create an indoor garden while embellishing the interior with greenery. With natural greens in your house, your interior will instantly look livelier. Besides, the storage spaces available in a center table will make it more practical for a modern dwelling.
5. Block over block center table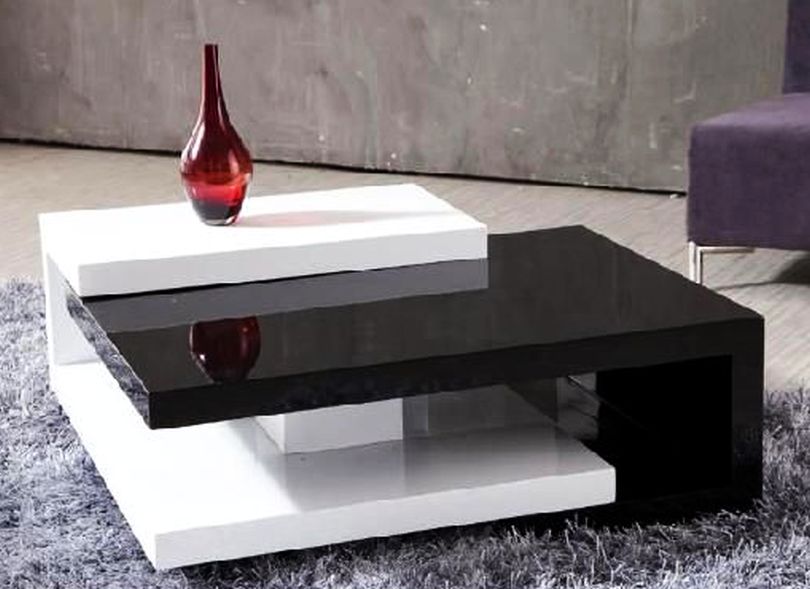 To add the monochromatic vibe to the interior, you may consider adding a simple black and white coffee table into a living room. A coffee table like this one with two different blocks (that seem to be interconnecting with each other) would be a great addition to a monochrome-themed interior. It can further with decorated with silver artifacts as embellishment atop this table.
6. Exquisite ceramic and glass center table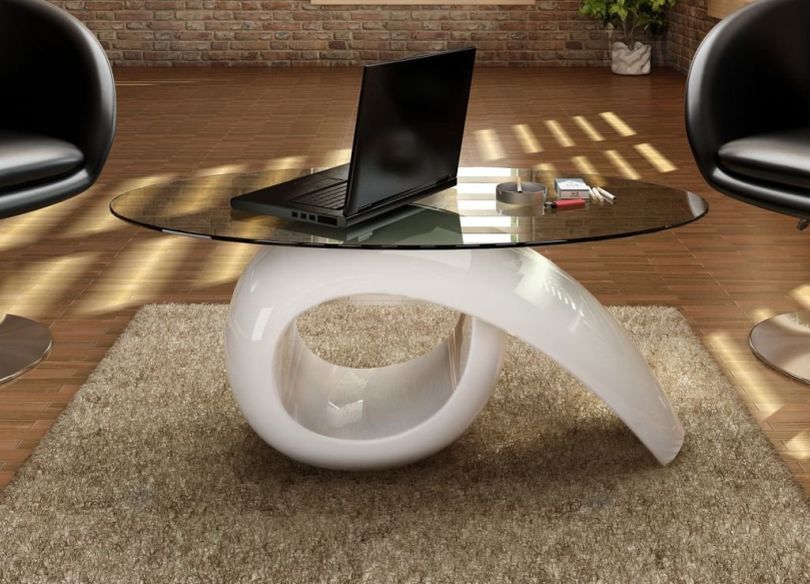 A uniquely shaped ceramic and glass center table (like the picture above) is also great for adding artistic touch into a living room. Meanwhile, such an exquisite design will instantly take the interior of a room to another level. There's no need to further add any decorative element to such an interesting table design. However, if you wish to add more detail to the design, you can top it up with a minimalist but stylish decor piece.
7. Vintage center table on wheels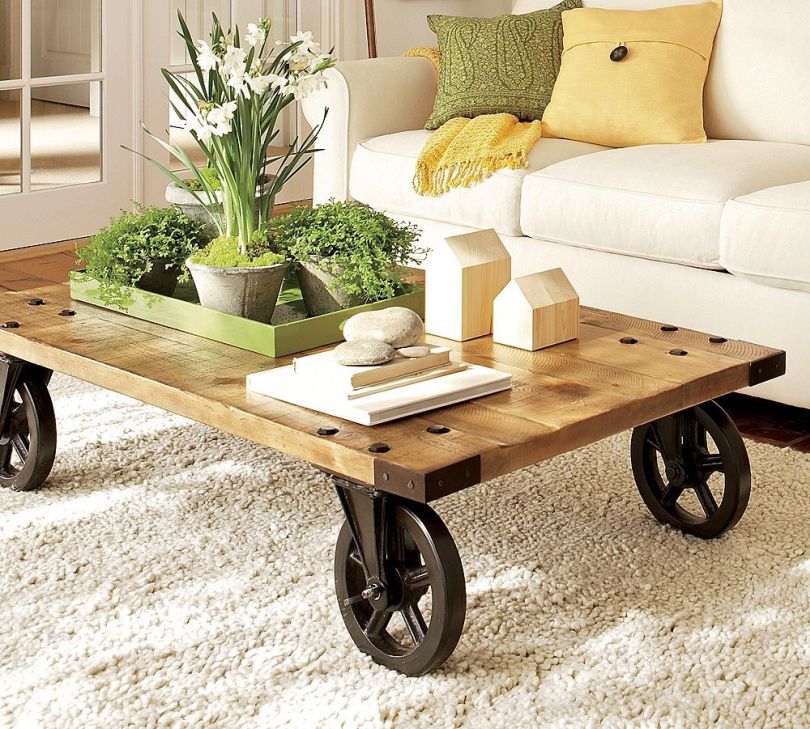 For those who love the vintage furniture designs, this rustic center table on wheels is perfect for a living room. Since its design is very simple, consisting of wood and metal wheels, you may decorate it with some interesting elements like small planters, wooden artifacts, or natural elements ( such as shells, stones, pinecones, etc.)
8. Centre table with an animal figurine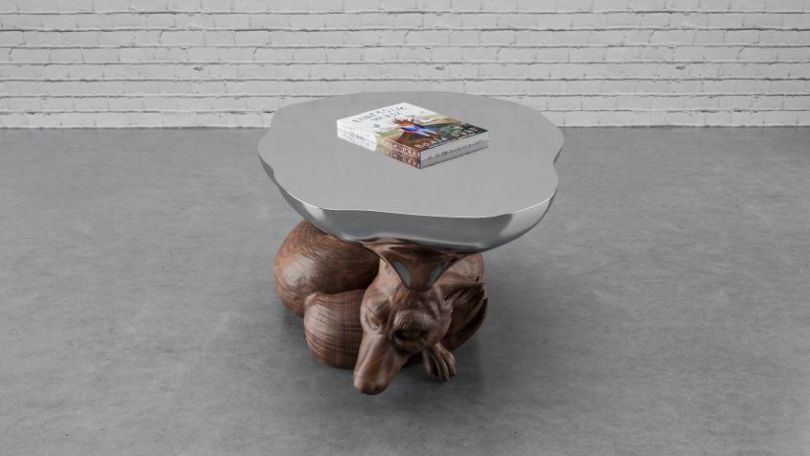 If you love animals or live in your bubble of fairy tales, you need to invest in a coffee table as shown in the picture above. This fox center table with an intricate fox figurine will be a perfect addition to the interior with rustic-theme. Although this particular table is small, you may look for similar-looking or more interesting table designs to add a unique element into your living space.
9. Wicker sofa set with wicker center table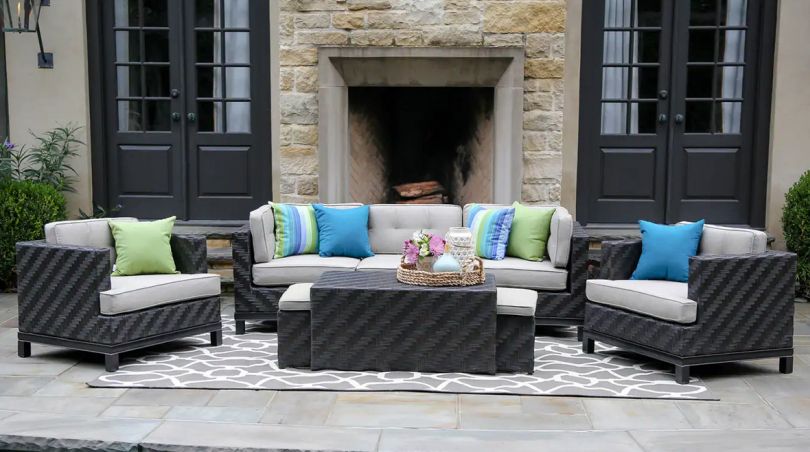 You may have seen the beautifully weaved wicker sofa set with a wicker table on patios or other outdoor areas of your house. But you can even use this furniture set within your home to bring a natural feel into the living space. Since this furniture style is quite simple, you can add some pop of colors to it by adding bright colored cushions on the couches and lively flower arrangement on the table.
10. All glass center table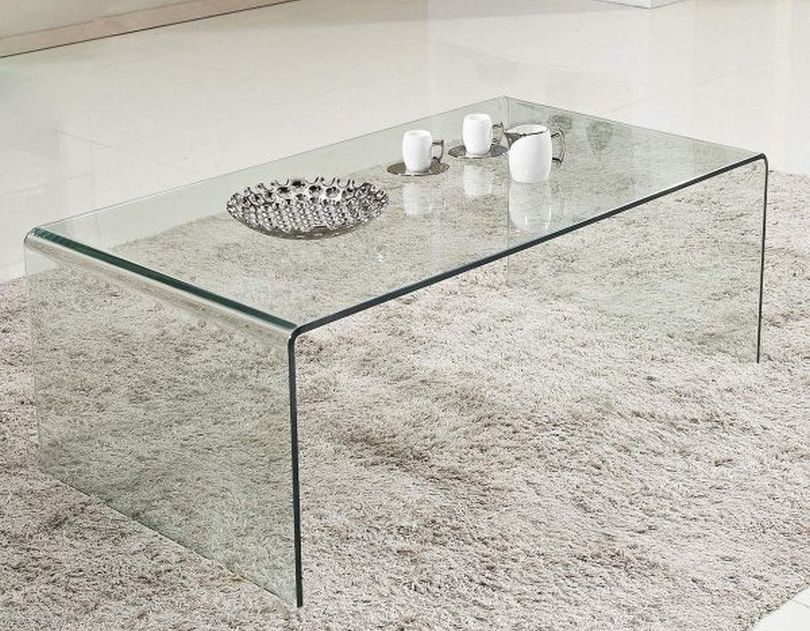 If you want your center table to blend into the interior while still making it a stylish part of the living room, you may choose all glass coffee table for that space. The best thing about all glass table is that it can easily blend with any interior theme. So, even if you decide to change the style of a living room, there won't be any need to replace the center table. You may further decorate it with flower put or interesting motifs for enhancing its simplicity and utility at the same time.
Centre table is both aesthetic and practical in today's age and time, just like it was ages ago. The only difference is that today center tables are more sleek, sophisticated, and minimalist. When combined with the modern home interior, such smooth and shiny table designs are likely to be sculptured to perfection while syncing in with your room's decor. Hopefully, these center table design ideas will be helpful and you get some design inspiration out of these.