15 Ridiculously Stylish Side Table Ideas For Living Room
Probably many people would agree with us that a side table is the true unsung hero of the furniture world. It is one unit that not only serves as catchalls for cups, remotes, and magazines but also holds your decorative vases and decor pieces to amp up the look of your living area. If you are looking for stylish side table ideas for the living room, there are endless options – from side tables doubling as a seat to sculptural tables with elegant waterfall edges.
And the fun doesn't just end with distinct shapes, the sides tables in different materials can add up to extra textural notes that one's looking for their living space. From minimalist side tables with drawers to DIY wire shelf side tables, we have created a list of ridiculously stylish side table ideas to instantly add up to the overall design of your living space.
15 Side Table Ideas For Living Room
Whether you are a hoarder for timeless design or someone who requires another upcycled furniture piece, you are going to love the given 15 side table designs that we have sourced especially for you.
1. Side Table Ideas With Drawers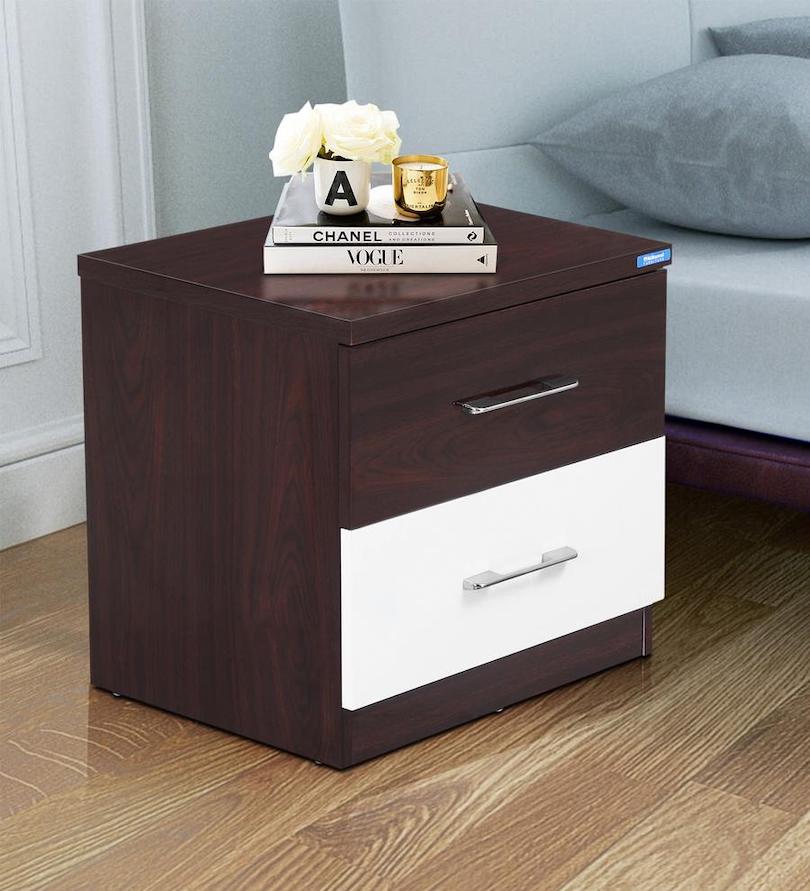 Apart from a stylish accent chair that you usually use for your living room design, a side table requires your attention. While a side table is not usually the statement piece of a living room, it does help a lot in tying up the whole space together. Therefore, it is essential to stick to practical yet fashionable side table design ideas with storage.
A side table with drawers is a great addition for your living room, as it maintains the theme of the entire area while helping you keep extra remote batteries, unwanted magazines, books, chargers, etc. out of sight. Furthermore, it lets you display your picture frames, antique vases, indoor plants, or a table lamp.
2. Small Black Minimalistic Side Table Ideas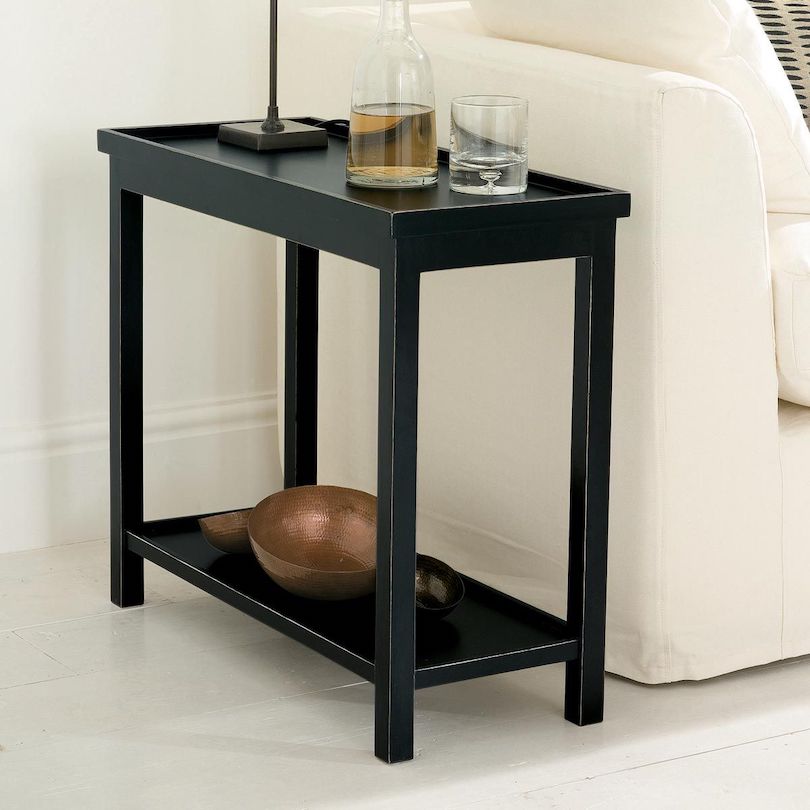 If minimalist designs rejoice with you, this simple black side table is a great option for your living room. You don't require any expensive or fancy side table to make your bedroom appear more functional and trendy. Only a simple side table design is a good choice to do the trick for you.
This simple black side table is subtle and stylish at the same time. It is also a great epitome of affordability and sophistication. Hence, a nice choice for all minimalists out there.
3. White Side Table Ideas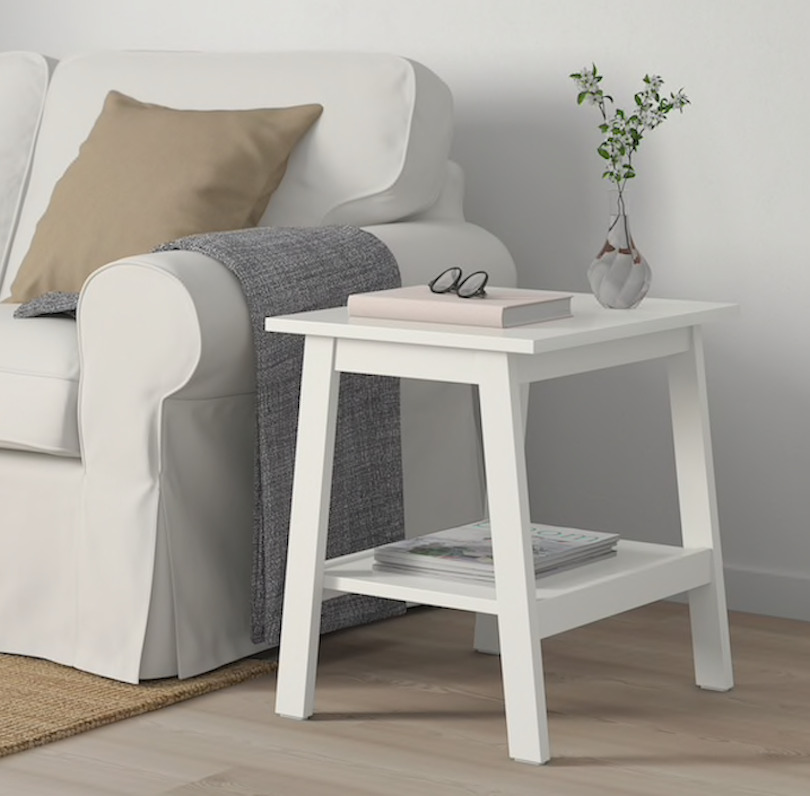 Just like the minimalist side table, a white one is also a good choice for people who prefer things plain but not ordinary. Have a look at this simple white wooden side table. It is a versatile piece that is neutral and also adds outstanding aesthetic value to the given space. While sitting in the corner, it simply serves its purpose right. With a single roomy section to hold magazines and books, it forms a perfect equilibrium between aesthetics and function.
4. Split Up Coffee Table as Side Table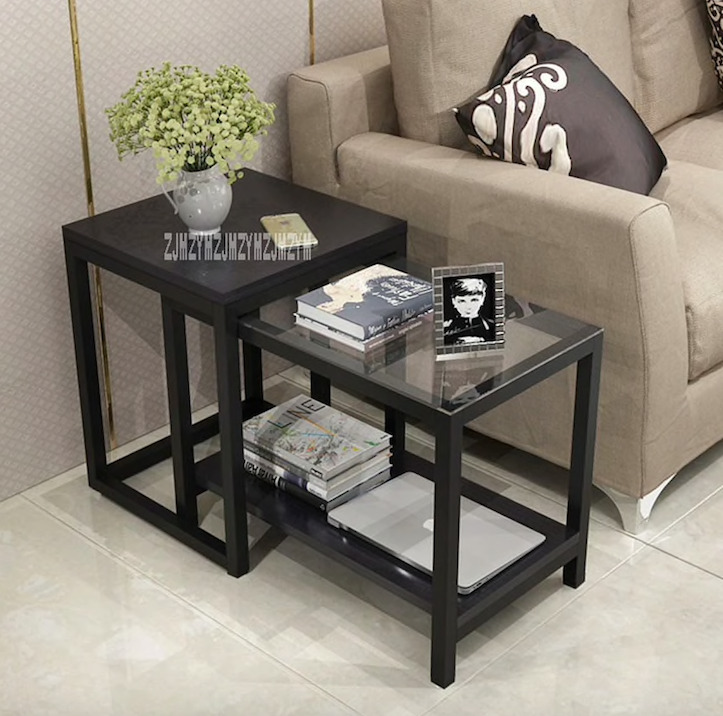 If you live in a small apartment, you can look for a dual-purpose coffee table that splits up as a side table. This furniture piece comes in a group of smaller versions. For instance, two square tables serve as a center table whenever required. When not needed as a coffee table, these are easy to split in two to cater as two separate side tables. This gives your living space a bonus of flexibility.
5. Cube Shelves-Like Side Table Ideas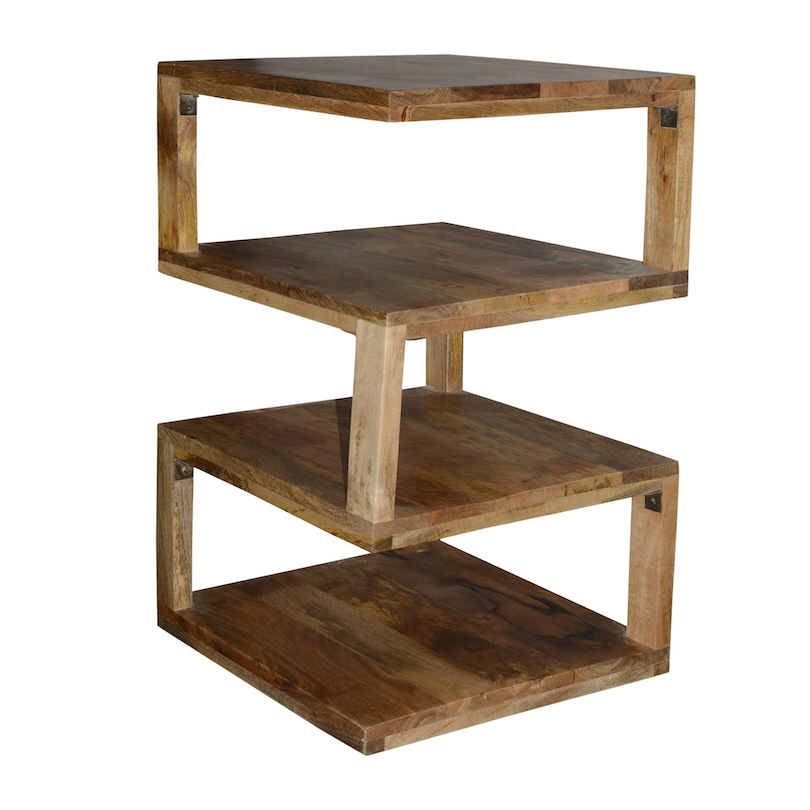 When it comes to designing your living room, some lateral thinking can help you with amazing side table ideas. Here are various cube shelves designs that double up as a side table. The effect created by this design is so interesting compared to a usual table. Plus, it gives you more flexibility. If you have removable cube shelves, you can even place them elsewhere.
6. Copper Pipe & Marble Side Table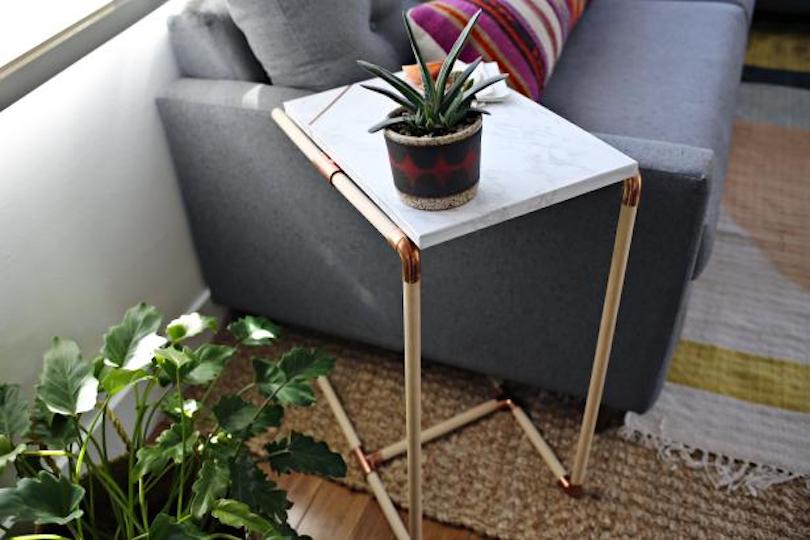 The copper pipe and marble side table is another interesting side table design that is simple and elegant. It is like a chic stand to keep a small indoor plant in a classic living room or a contemporary seating area. All thanks to its sleek creation, it can easily blend in with any desired interior.
7. DIY Terracotta Pot as Side Table Ideas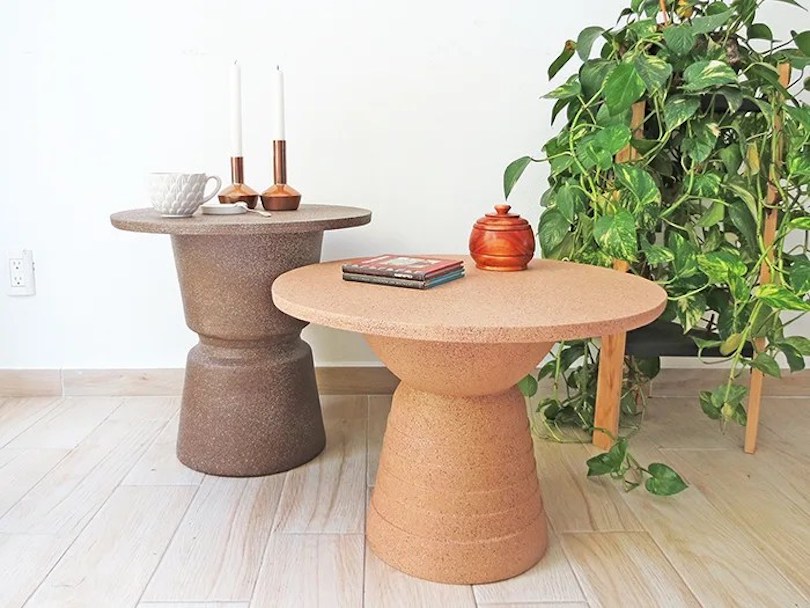 You may even consider converting a terracotta pot into a stunning side table for adding unbelievable touch to the given space. This project is something you can even involve your kids in for learning the benefit of reusing and recycling.
For creating this DIY side table, you need a terracotta pot, hot glue, jute, and paint. With these few things, you can easily create a chic side table for your patio or poolside deck.
8. Small Bookshelf Side Table Ideas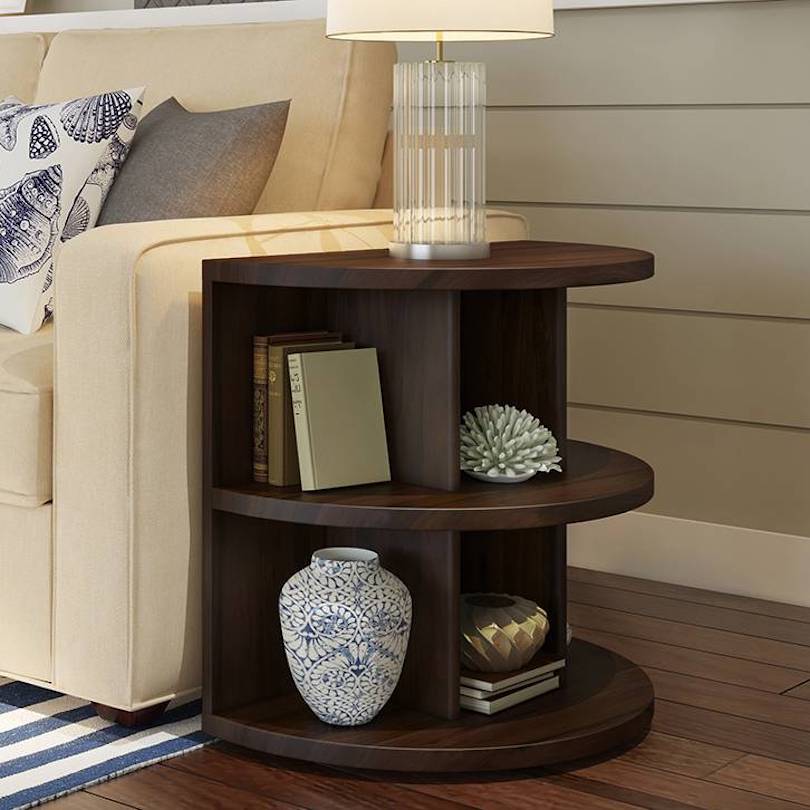 What's better than relaxing on your couch while reading a good book? But instead of adding a whole bookshelf near the couch, you can opt for a small bookshelf side table to hold only the books you're in the mood to read recently.
Such a side table doubles as a miniature bookshelf and you can have your books within your hand's reach. Not just books, you can even add one or two decor pieces on the side table to complement the living room theme.
9. Side Table Bar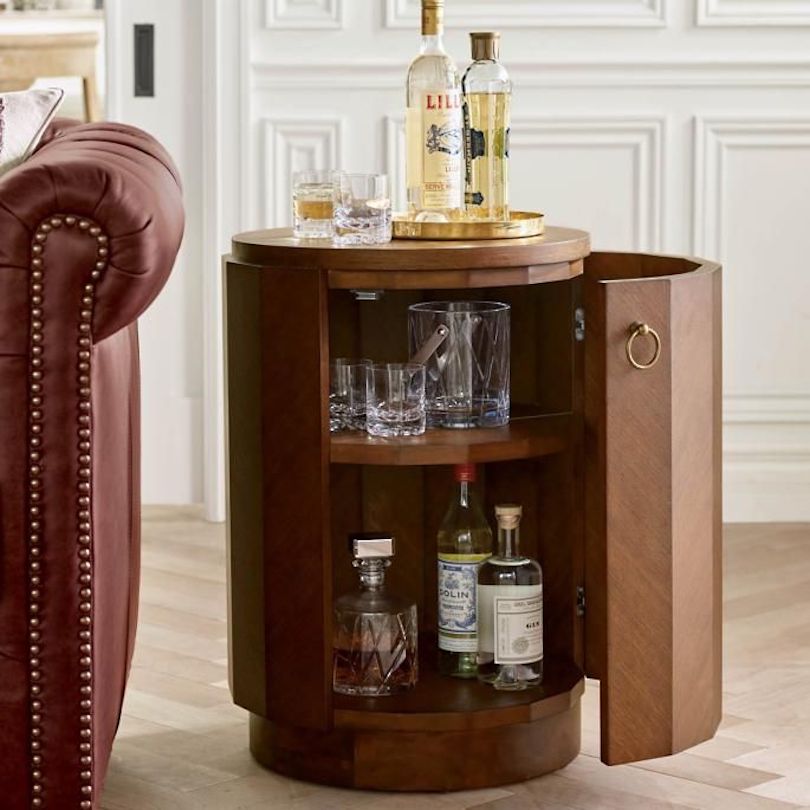 If having a huge home bar setup is not a good option for your small apartment you simply go for a tiny side table bar. You can either set it up as a temporary or permanent bar for entertaining your guests.
When opting for such sidebar design ideas, you need to choose a design with one of two shelves for storing your spirits, glasses, and other bar accessories. For more dramatic effects, you can choose a glass or mirrored side table. But for subtle aesthetics, a simple wooden side table bar is enough.
10. DIY Terrarium Side Table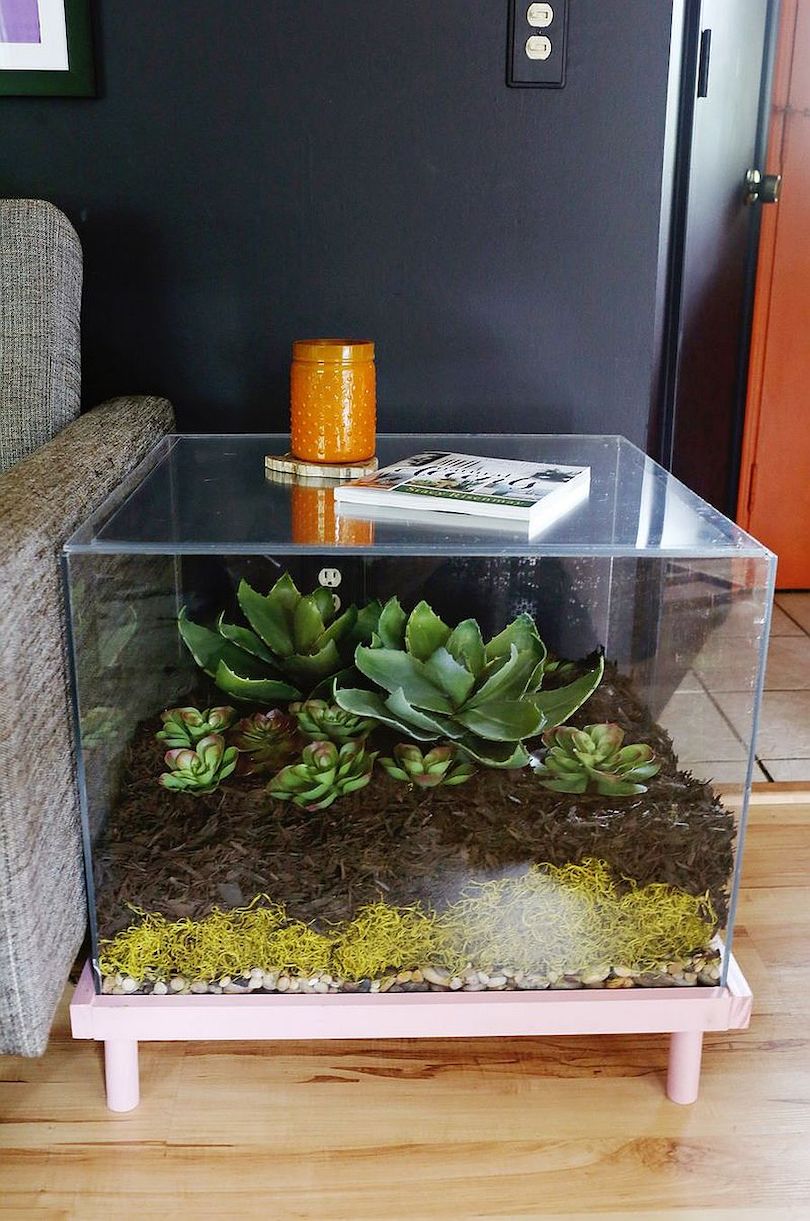 How about a DIY terrarium side table? This is certainly not a project for every other person – as working with it is quite tricky and it requires specific skills for building up. But this idea is so wonderful that one simply cannot neglect it.
If you have got the skills and patience, you can consider creating this green masterpiece for your living room.
11. Vintage Record Side Table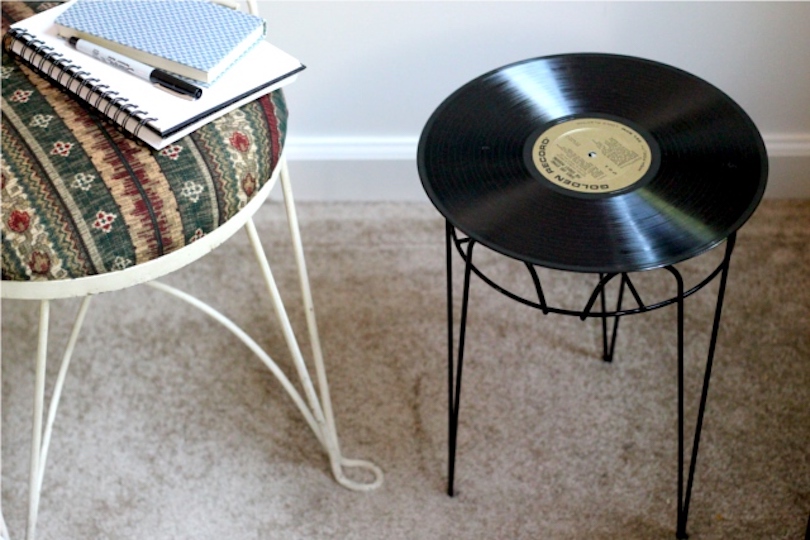 If you are a music lover with some DIY skills, this side table design idea is for you! It will help you add creative vintage aesthetics to your living space. Just check out how amazing this side table looks!
You can purchase it online or DIYed at home using a wire plant stand and an old record. This old-fashioned-looking side table is a great living room unit to instantly glam up the overall style of the given space. It is also quite sturdy to hold your coffee mug, vase, etc. along with a magazine.
12. Side Table on Wheels
This is one of the amazing side table ideas for small studio homes or apartments. Since a drinks trolley is a great alternative to a standard side table, choosing a side table on wheels is a good choice.
This particular piece of furniture adds a vintage glam to any given space. Plus, the wheels are a practical option to let you relocate the table as you require.
13. Double Up as a Seat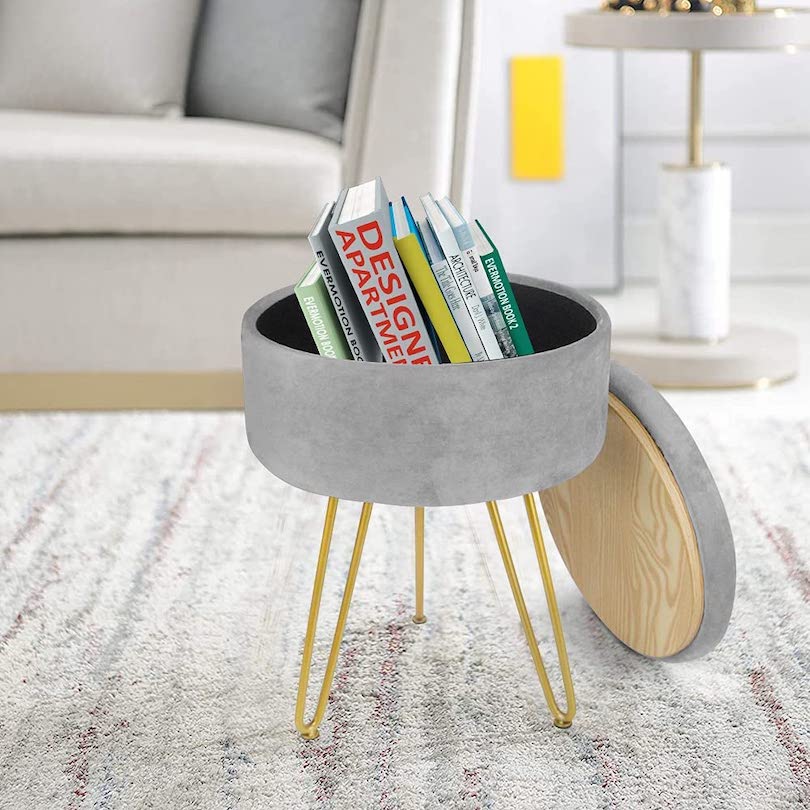 You can also look for a side table that doubles as a seat. For this option, you need a padded stool that serves as a side table. Worried of things falling off? You can keep a tray on the top for a hard surface. Or look for a seat side table with a removable top. Such a unit can also help you store things, like books, extra batteries, etc.
14. Log Slice Side Table Ideas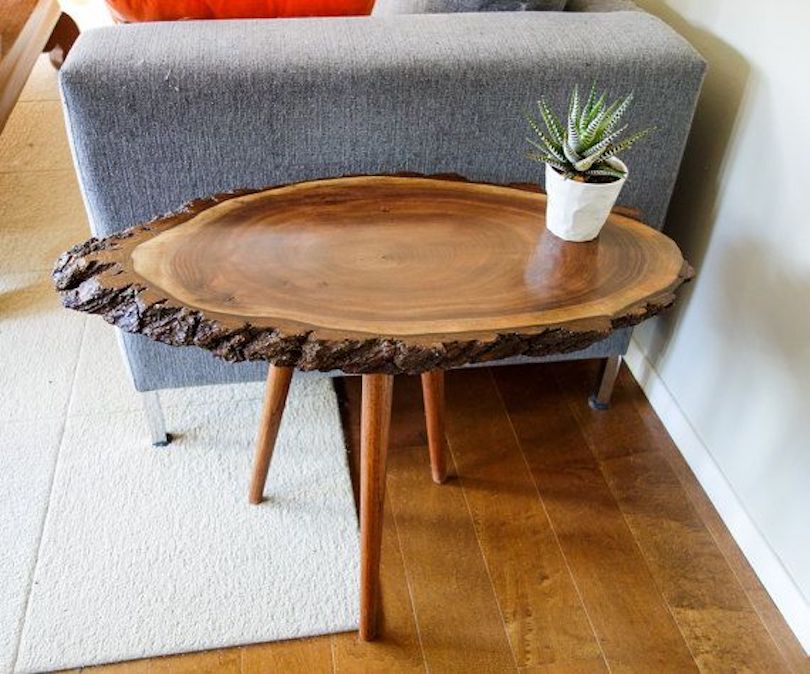 Do you require a side table to reflect a rustic-chic aesthetic? One such way to do so is by adding natural elements from the outside world into your room. That's why we added this elegance log slice side table to this list.
You can add this piece of furniture can in your living room to match with the wooden interior or contrasting all-white living room. You can even consider making it yourself but make sure to sand it well so that things sit well on the tabletop.
15. DIY Wire Shelf Side Table Ideas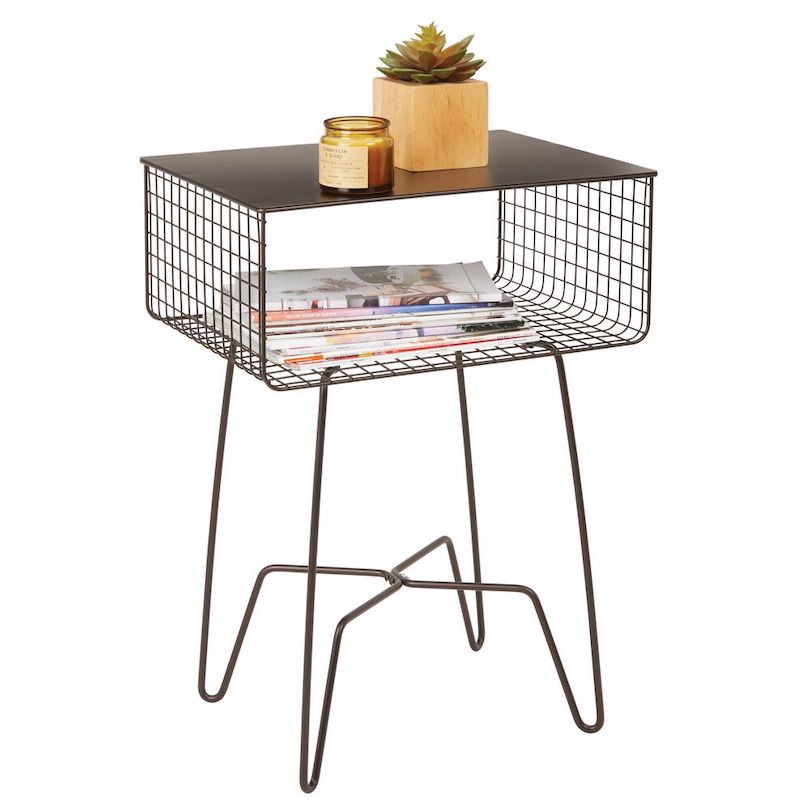 Another popular DIY side table idea for you is the DIY wire shelf side table. This is easy to create with an unfolding and folding wire shelf that's lying unused in your storeroom. Have a look at the image how this side table is mad into a useful side table. For DIYing this unit, you require a wire shelf, metal legs, and a solid metal tabletop. You can weld these elemets to create an industrial side table with a shelf to store magazines or books. On the other hand, the tabletop is also great for adding decorative pieces, like a planter or lamp.
So, these were some of our chosen side table ideas that you can consider for sprucing up the look for your living space.