15+ Best Home Bar Design Ideas to Impress Your Guests
If anything what the sad events of the COVID-19 pandemic have taught us is the "importance of home." While the environment around us is still not the same as it used to be before 2020, we can always make our living space happy and cheerful for ourselves and our guests. If you consider yourself as the entertainer, you got to have a good home bar at your lovely abode. But what home bar design ideas to consider for impressing your guests?
Don't worry, we've got you covered! In this article, we'll discuss with you some of the coolest home bar design ideas for your different fancies and moods. After all, we need a chic structure to hold all our alcoholic beverages and stack them nicely, isn't it?
Building a home bar is a dream of many homeowners, but most new home or renovation projects struck it off the list. But now is the time to make your dream come true. Whether you want a standing bar near a kitchen, a fun corner in a living room, or a full bar in your basement, just take a look at this list of some exceptional home bar design ideas before making a plan.
15+ Best Home Bar Design Ideas to Impress Your Guests
Here are some noteworthy best home bar design ideas to suit different home decor themes:
1. Golden Bar Trolley on Wheels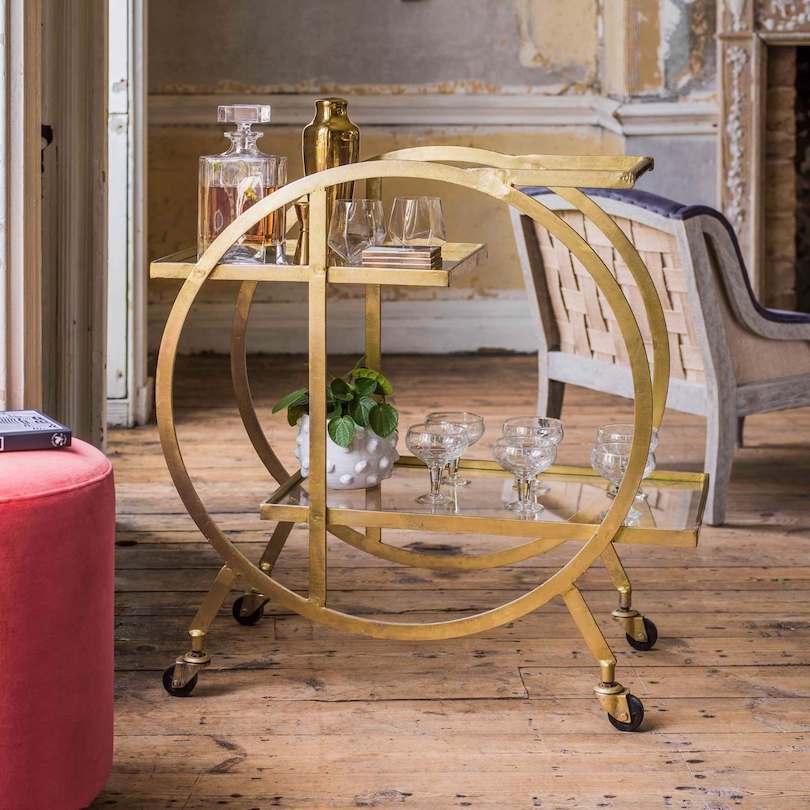 It is a modern living space with limited space, you can still have a party at home and keep your liquor and glasses on a bar trolley. A golden bar trolley on wheels would be a great addition to any metropolitan space with a minimal layout.
We love how this golden bar trolley stands out in this space against the neutral-colored wall and fine furniture in muted tones. When adding such a bar trolley to your living space, you even need to keep some lightness in mind. Meanwhile, keep the focal point on the home bar trolley for making it the hero of your happy hours.
Another plus point of installing a bar trolley in your home is that it is mobile, so you can take it to any area where you want to enjoy with your friends or family.
2. Retro Chic Home Bar Design Ideas
Just have a look at this image of the home bar design. It is well-balanced between retro and modern interior styles. While the accent wall and bar stool are in the same tone, the rest of the interior is in neural beige and brown mix design. The ceiling lights over the bar table add a touch of chicness and simplicity to an otherwise classic setting.
Fancy dedicating a section of your home to the retro bar? If so, you need to consider this home bar design to make the cut.
3. Classic Wooden Home Bar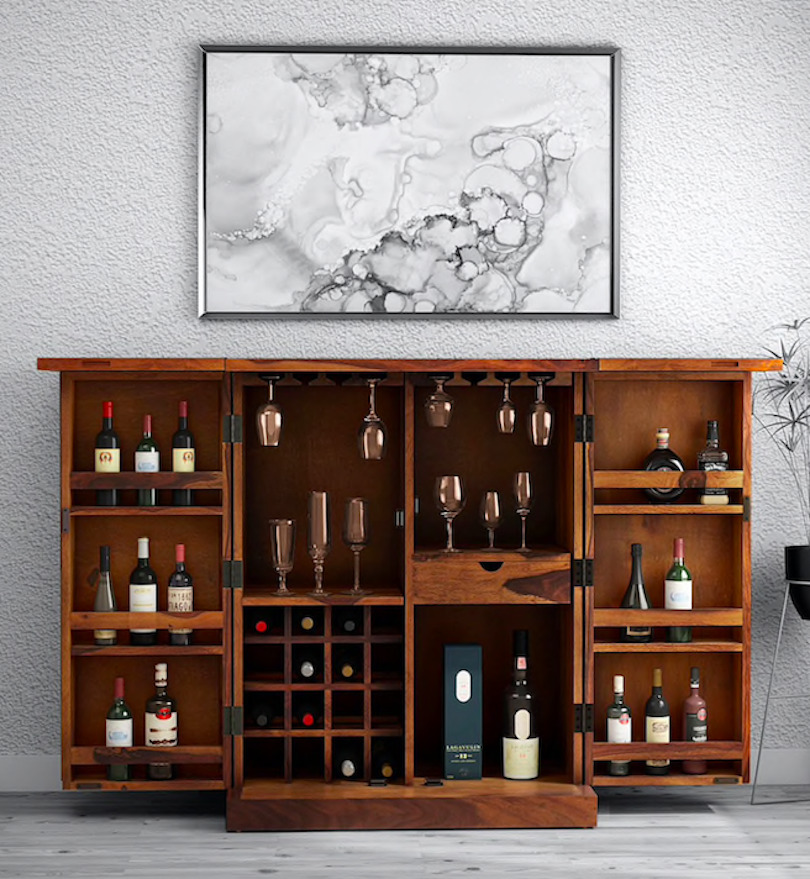 Get back to the classics with this stunning wooden home bar design, which is ideal for your collection of spirits. The major thing to consider when selecting a perfect home bar design is to have different sections to keep your variety of bottles. Also, make a dedicated space for related tools and equipment, like ice cubes, cocktail glasses, and accessories.
If your home has a bright and open vibe with vibrant furniture and white walls, you can place a stained wooden bar cabinet like this for your finest collection of liquor bottles. If possible, you can add LED lights in the cabinet to signal everyone that the party is on.
4. Minimal Home Bar Design
You may have heard that minimalism is sexy. If you agree with this, you won't be able to stop staring at this simple home bar design. While there are various bar design ideas we love, this one with a sophisticated granite top and leather bands to hold bottles is exquisitely striking. This home bar design is perfect to instantly uplift your mood.
Another element of interest is the gold metallic vase sitting on the wooden table, clear pendant lamp, and ropes of hanging plants. Don't forget that the plants also add some life to the whole setting.
5. Vintage Home Bar Design Ideas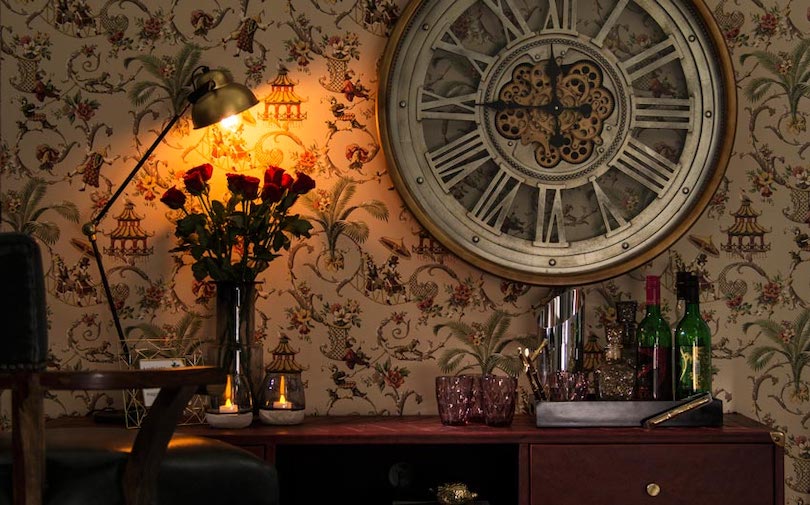 This home bar design is perfect for a regal interior setting to drink like royals. The gold and maroon are the two highlights of this setting. When you blend these two hues together, they speak of royalty. The wooden cabinet and a classic highchair make this home bar design elegantly classic, the printed wallpaper adds stunning vintage appeal to the entire setup.
Furthermore, a classic clock and metal lamp add more style to this home bar setting. The whole setup appears to be coming straight out of a royal room. If you appreciate every sip of your spirits and adore your vintage wine collection, you need to consider this home bar design for your abode.
6. All White Kitchen With Dedicated Home Bar Section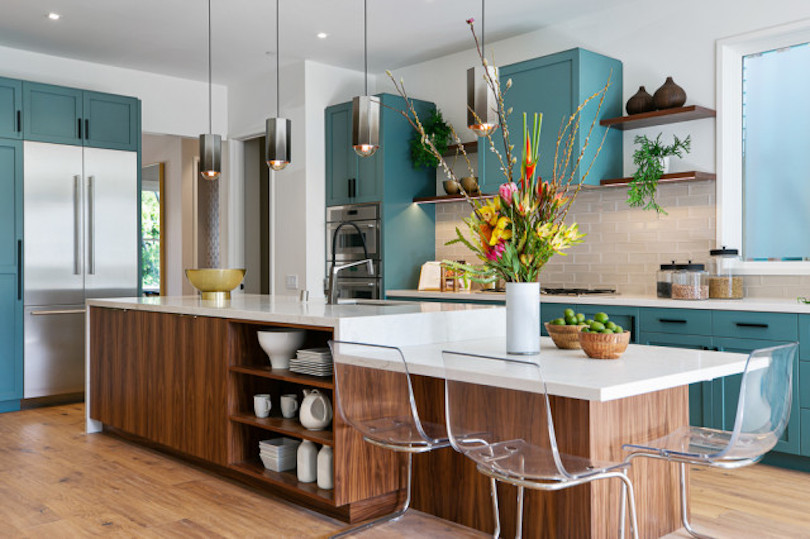 You can consider an all-white kitchen interior with a dedicated home bar area with clear high chairs. The transparent chairs add freshness to the entire space, making it appear more spacious and airy. The pendant lamps further add to the modern aesthetics of this home bar design. Besides being a perfect spot for family dinners, there is ample space for house parties.
There are also some cabinets and shelves to store your favorite collection of liquor bottles without attracting much attention. Hence, it is an ideal space for homeowners who live with kids.
7. Wooden Cabinet For Home Bar Design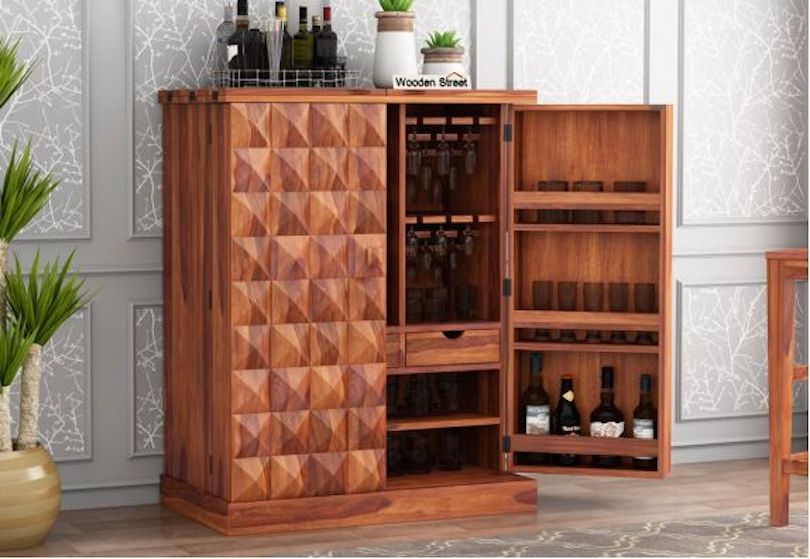 Are you thinking of adding sound character and soul to your cozy living area? Consider adding a wooden cabinet to make your best home bar design, as shown in the image here. The cabinet's top surface caters as an open display for some of your wine bottles and glasses along with some planters.
You can even add a huge plant on the side of the wooden cabinet to add a more lively appeal to the overall home bar setting. An interior like this is perfect for people who love their spirits and some plant life.
8. A Bar Trolley To Blend In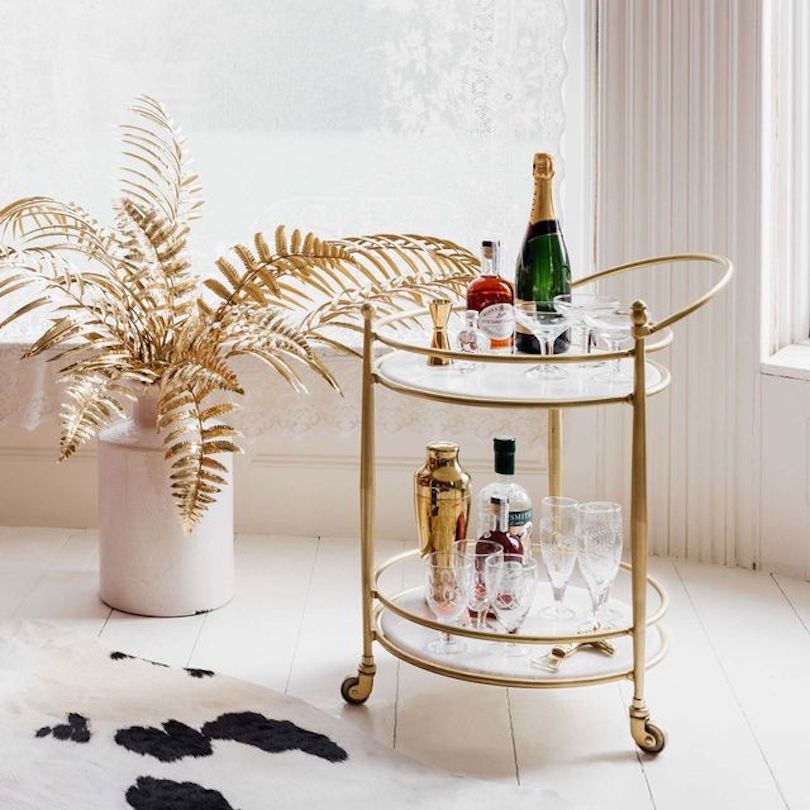 If your priority is accessibility when thinking of home bar design ideas, you need to consider a bar trolley as shown in the image. While a bar trolley has more of an over-feminine feel, this one proves otherwise. It beautifully combines the touch of metal and marble, making you sit back and relax while admiring its design.
While some area of this bar trolley blends in with the rest of the interior, its golden frame makes it the highlight of a room. And, most importantly, it looks amazing when holding spirits and clear glasses.
9. Industrial Home Bar Design With Wooden Drawers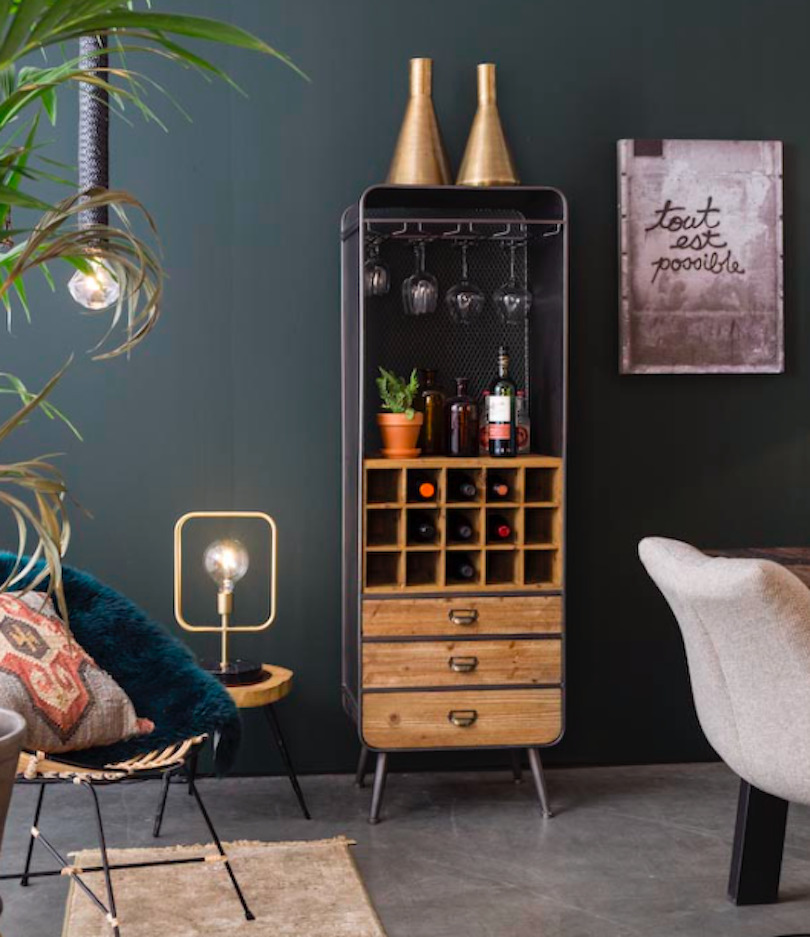 It is difficult to pick the right home bar design for your home. But to some extent, this home bar set is perfect for almost all home interiors. While the metal and dark tones provide a modern design, the wooden drawers underneath add an earthy and neutral setting to the overall interior. You can blend it anywhere alongside an earthy rug, printed cushions, or ample houseplants to add a lively vibe to the given space. Hence, the overall setting appears more cozy and stylish like this one.
The best thing about this particular home bar design is that it's fun to set up and fits every mood. Plus, there is ample storage along with various sections to securely hold your priced liquor collection.
10. Make Home Bar In Your Basement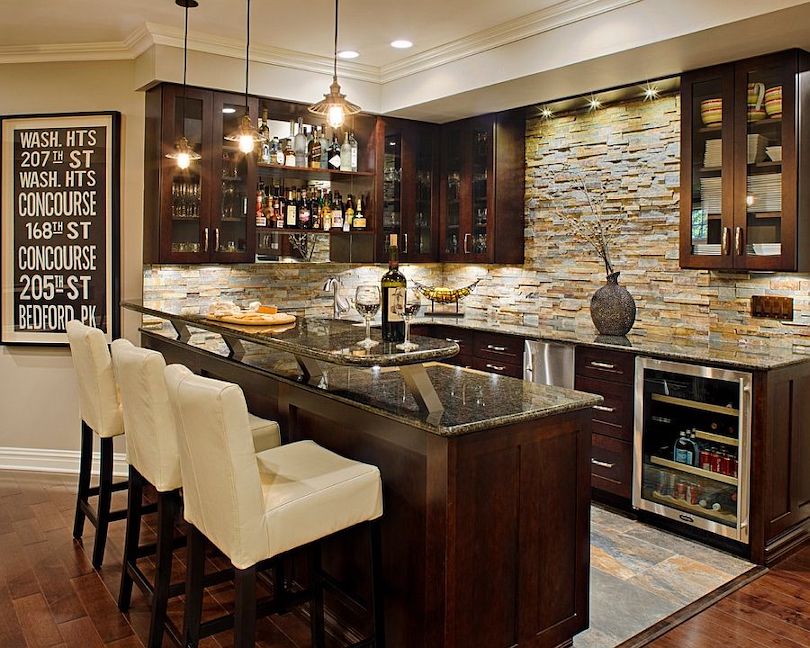 Your basement is a perfect private space to spend time alone or with your loved ones. With some creativity and little planning, you can transform this space into an inviting and bright home bar. Most basements have a low height, so you can simply play with the basement bar designs to add some rustic and chic touches to the overall interior. Plus, the brickwork, wooden cabinets, and wooden furniture make this basement uber cool.
11. Create Separate Seating for Sipping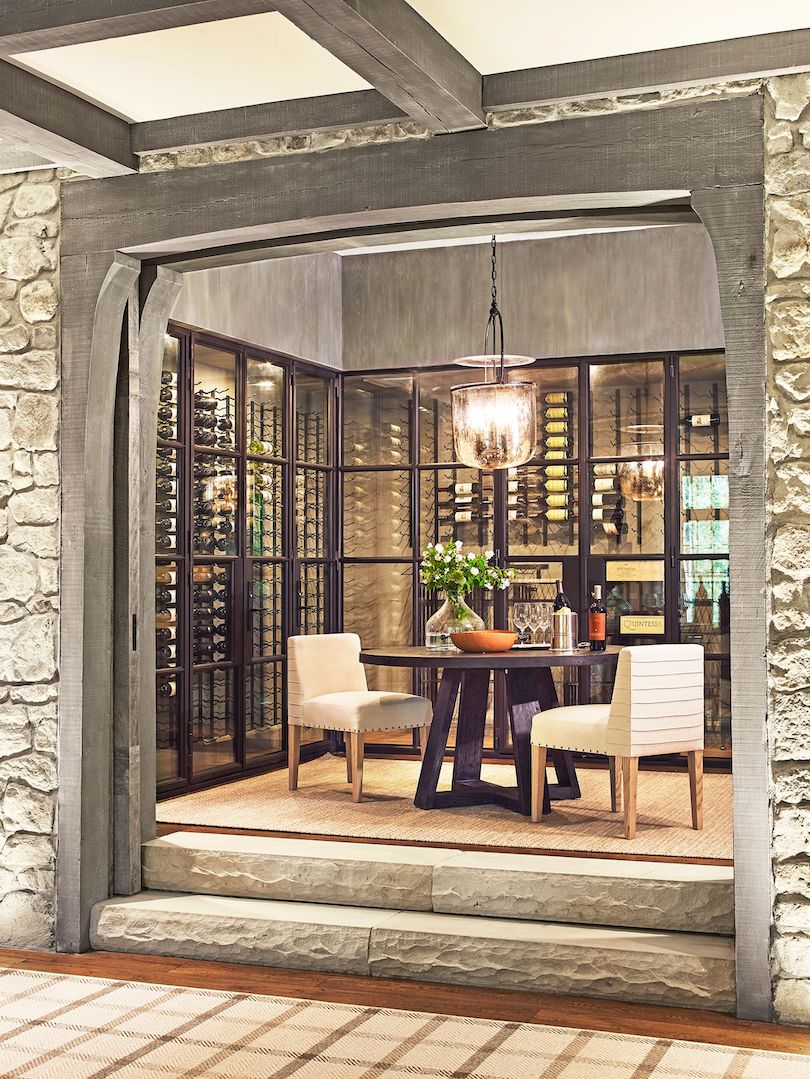 When creating a whole wine cellar to host guests, you can keep them behind a glass cabinet in a perfect climate-controlled area. So, it is best to create a separate seating space for lounging and sipping your wine while making your guests feel more comfortable. This home design is suitable for any large extended family home.
12. Transforming a Closet into a Home Bar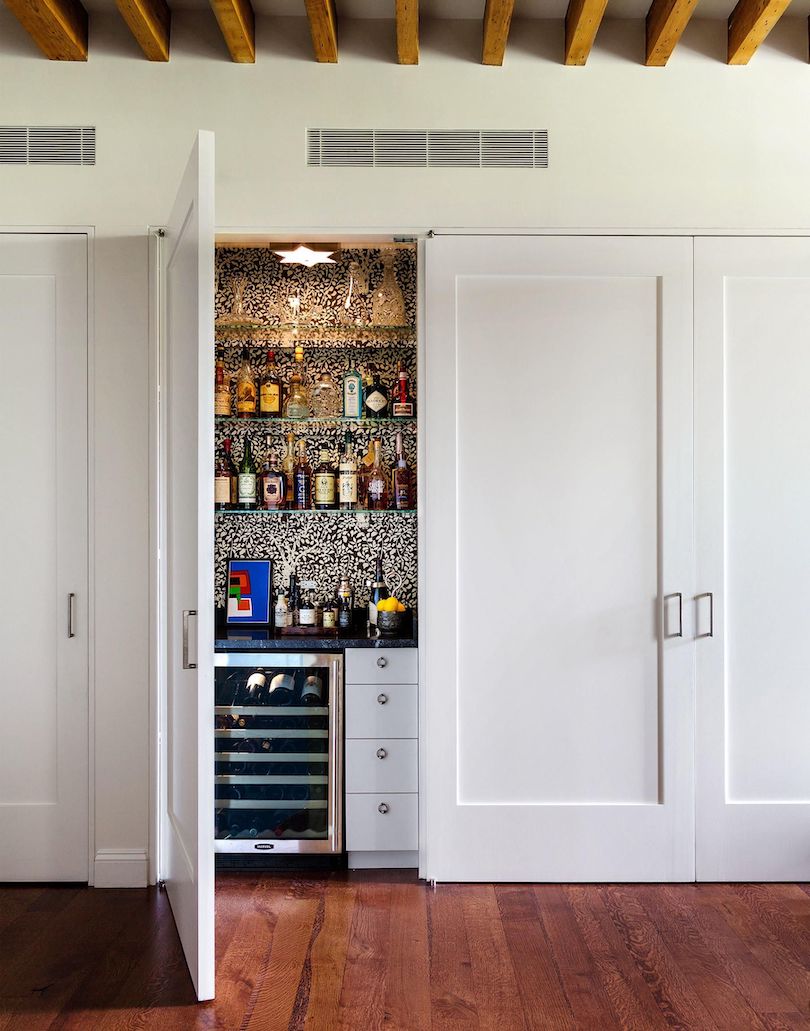 Check out how this closet space with a stylish home bar makeover. The designer has made this closet to store chilled wine, beer, and other spirits of their choice. Meanwhile, a collection of your glassware will look amazing in this closet bar that seamlessly blends with the interior.
You can even create a hidden door within the cabinet in a living room to open a closet-size home bar. It will keep your liquor out of sight and you can take it out whenever you want to entertain your guests.
13. Add Some Entertainment into Your Home Bar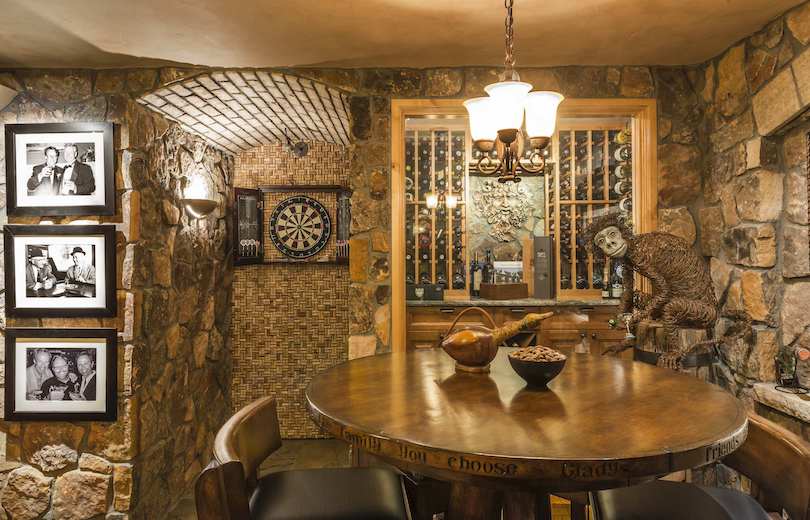 You can consider adding some entertainment elements to your home bar to make the area feel more exciting. For instance, by adding a dartboard or a pool table near the home bar setting, you can offer means of entertainment for your guests. They even add a visual treat to the interior. So, you can call your mates anytime for a fun dart or pool session. But consider adding a pool table only if you have a large space.
14. Outdoor Bar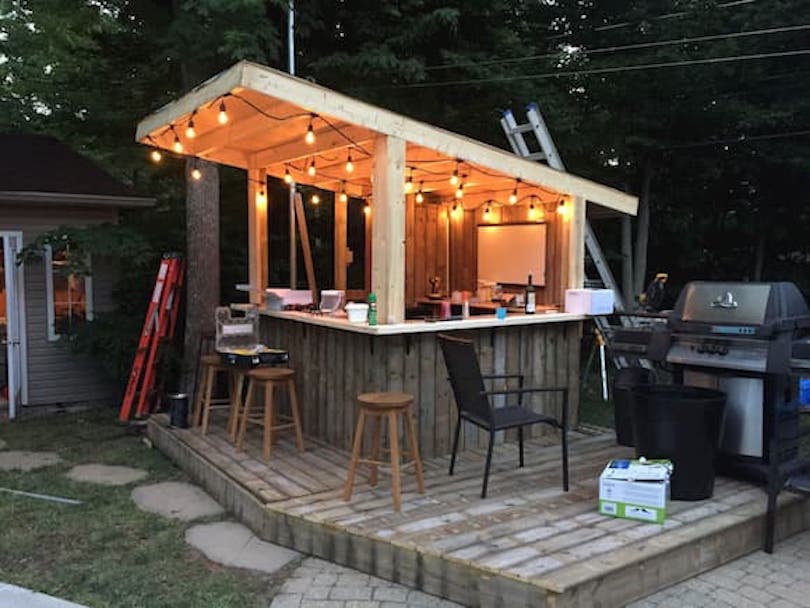 Add an outdoor home bar into your home for a beautiful and interesting ambiance in the given space. It will make your outdoor area feel more fun and lively. After a long day at work, you can spend your time in this area to have a drink while relaxing or chit-chatting with your family or friends. This setting will also be great for small get-togethers on weekends.
If you don't want to spend too much money on an outdoor bar setup, you can simply use a table or bar cart to decorate the available space. Or, consider adding barrels for a perfect outdoor bar setup.
15. Combine Recessed Lights with Pendant Lighting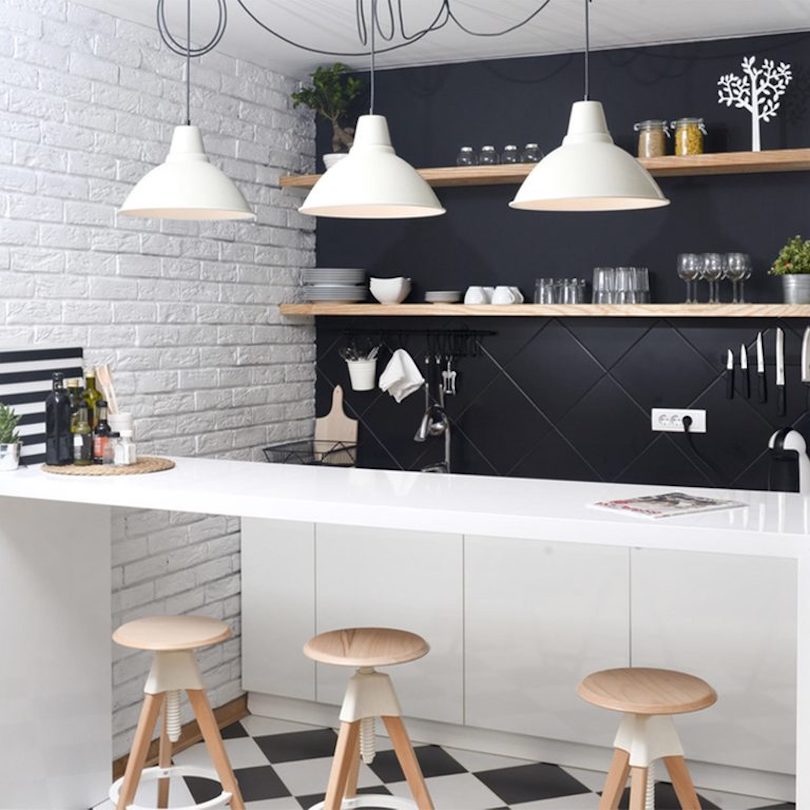 For a contemporary home bar design, you can consider combining recessed lighting with pendant lamps. A home bar like this appears amazing with a group of three to four pendant lamps right above the bar. But it best to place it high so that your head doesn't bump on your head.
Also, add recessed lighting to add more lighting to the drinking area. It will create a perfect pub-like atmosphere at home.
16. Mimic the vibe Of Your Favorite Pub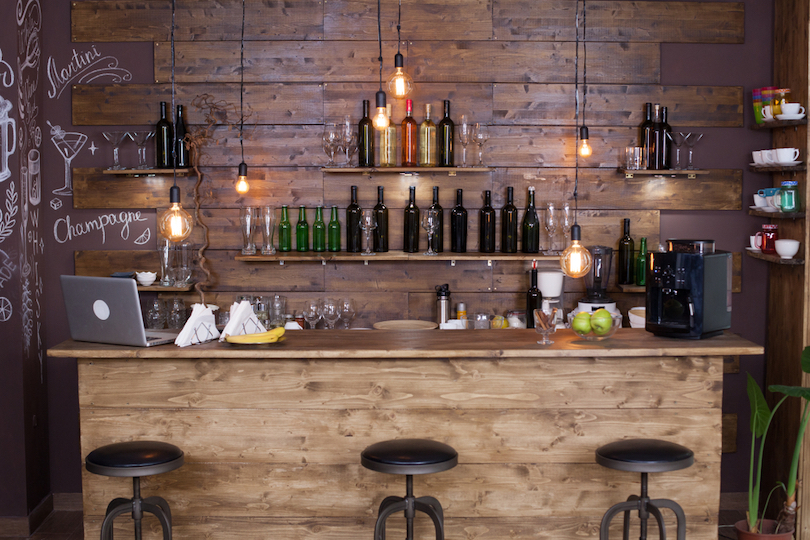 There are so many bar materials and styles for us to consider the best. But if you're not finding that perfect one, why not consider mimicking your favorite pub at home? You can choose lights, stools, and glassware similar to the ones found in your favorite pub. If possible renovate the flooring, ceilings, and walls closely to match your dream bar.
As confusing as it may appear at first, we are certain that you'll find your favorite out of the given home bar design ideas. Which one is your preferred one? Share your views in the comments below.