20 Trendy Kitchen Cabinet Hardware Ideas For 2021
Just like you need accessories to complete your overall outfit, you also need the right kitchen hardware to deck up your cooking space. The right kitchen cabinet hardware ideas make a world of a difference in the final decision.
While there are certain contemporary kitchen designs without any hardware, most homeowners prefer to choose cabinet hardware to personalize a given space. The knobs and pulls not only decrease the cabinet wear and tear but also minimize grime and finger smudges that often accumulate on touching their surfaces with bare hands. Plus, they make a bold style statement.
While you may tell yourself to see kitchen cabinet hardware ideas later, it is best to make your decision at the time of cabinet installation. You can take the help of a professional cabinet installer to make the best decision. After that, you can enjoy the final look of the kitchen and struck off one thing from your "to-do" list.
20 Popular Kitchen Cabinet Hardware Ideas For 2021
1. Mushroom Cabinet Knobs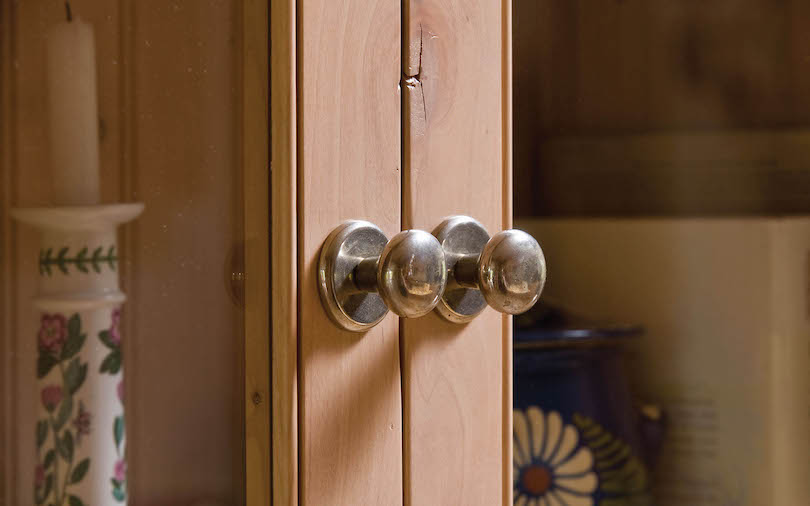 It is one of the most amazing kitchen cabinet hardware ideas you'll ever find. The mushroom cabinet knobs are very popular and always stand the test of time. It is most suitable for smaller wall cabinets and kitchen cabinets. Plus, these handy hardware pieces come in a variety of finishes. However, our preferred finish is the brushed satin nickel knobs that are ideal for a sleek modern or contemporary kitchen style – especially the white cabinets.
2. Oil-Rubbed Bronze Arendal Cup Pull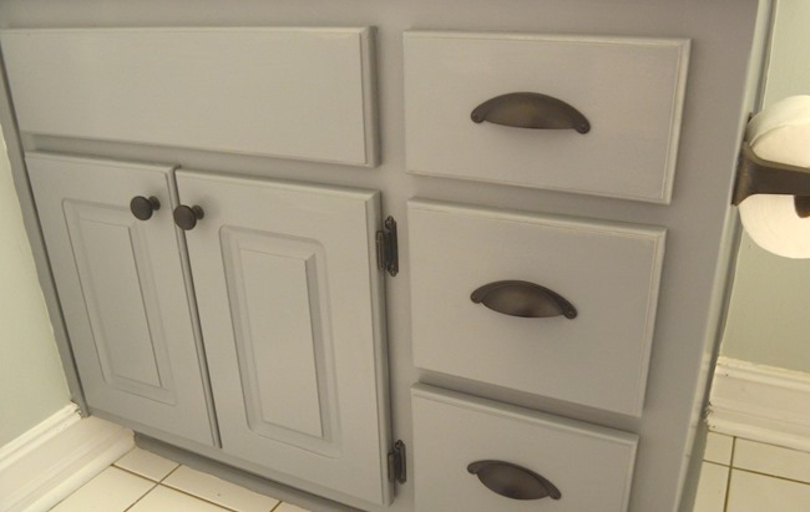 A common style found in classic and transitional style kitchens is the oil-rubbed bronze cup pull. This style has made a comeback. It is most preferred by those who love the rustic design. When combined with a white cabinet or some old-fashioned drawers, these cup pulls add a hint of old-school charm and some drama to your kitchen.
Remember: These are not best for cleaning because of their shape.
3. Center To Center Bar Pull Kitchen Cabinet Hardware Ideas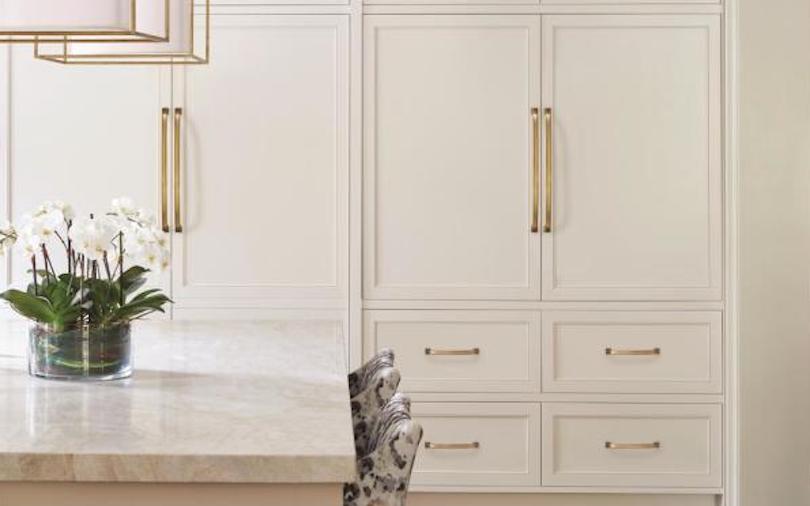 For those who prefer simplicity, these stainless steel center-to-center bar pulls are the best choice. These boast clean lines for functionality and also have a very low-key look. Plus, these simple bar pulls are often seen in modern kitchen designs for more than a decade at this point. These work well as cabinet and drawer hardware – according to their size.
If you choose it in stainless steel, it has the benefit of easy cleaning and is highly durable. Hence, it's very functional for a cooking space.
4. Black Marble & Nickel Knob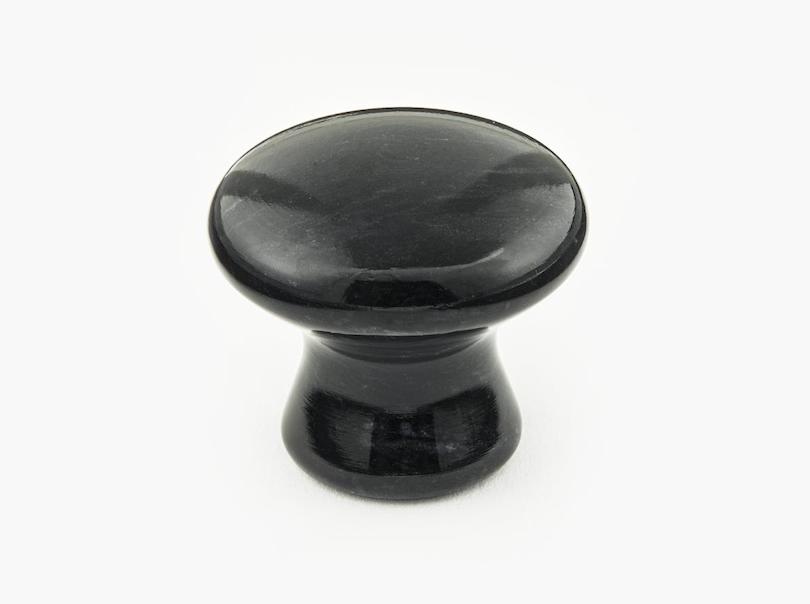 One of the most elegant and sophisticated kitchen cabinet hardware ideas is the Italian Black Carrara marble and polished nickel knob. This style can add a touch of opulence to any kitchen interior, particularly when it's paired with a complimentary black natural stone countertop.
5. Princetonian Bar Pull Kitchen Cabinet Hardware Ideas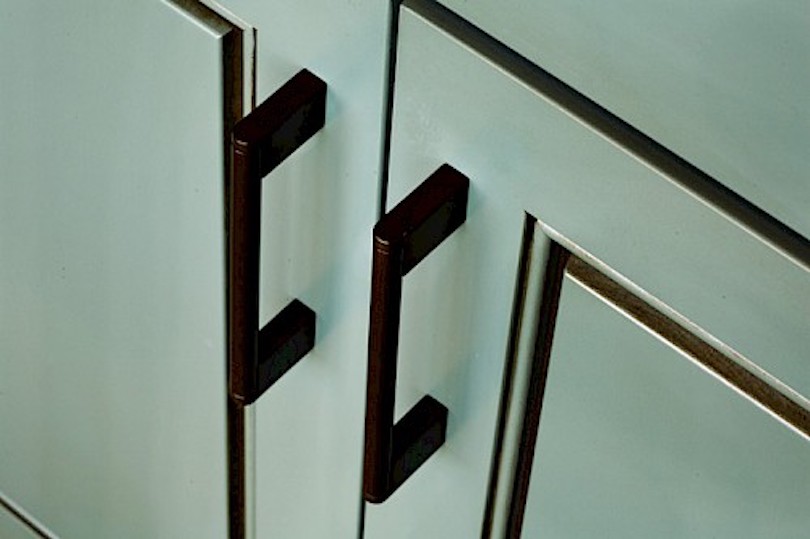 Looking for hardware suitable for both classic and modern kitchens? Check out these stylish bar pulls that appear new or classic depending on the cabinets you fix them too.
On glossy, sleek cabinets, this hardware appears more futuristic. But when installed on polished wooden cabinets, these bar pulls give a classic feel.
6. Clarity Clear Glass Knob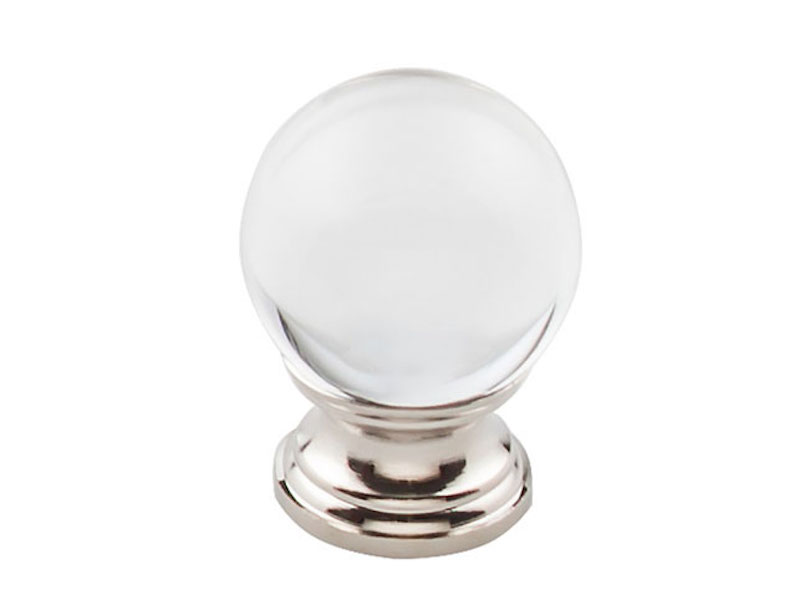 Glass knobs are also one of the most elegant and chic kitchen cabinet hardware ideas to consider. If you have an all-white kitchen design and you wish to bling it up a little, just add these clear glass knobs with a chrome base to tone down too much bling. This way, these knobs will appear stylish but subtle at the same time.
7. Satin Nickel & Bronze Finish Knob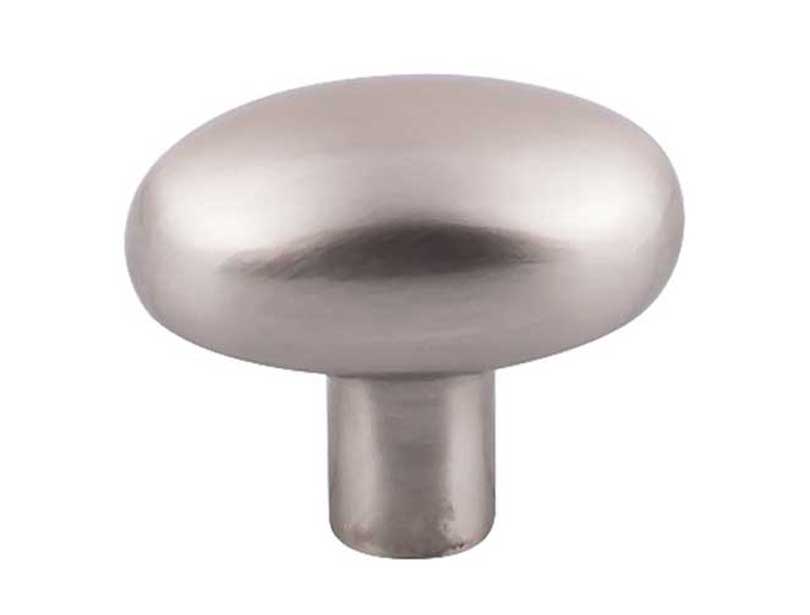 Created like a crosshatch handle boasting metallic ends, these pieces of hardware for the cabinet are both stylish and practical. The satin nickel and bronze versions appear stunning in transitional kitchens. If you want to make your cooking space appear more expensive consider adding polished nickel and golden versions.
8. Aspen II Flat Sided Pull Kitchen Cabinet Hardware Ideas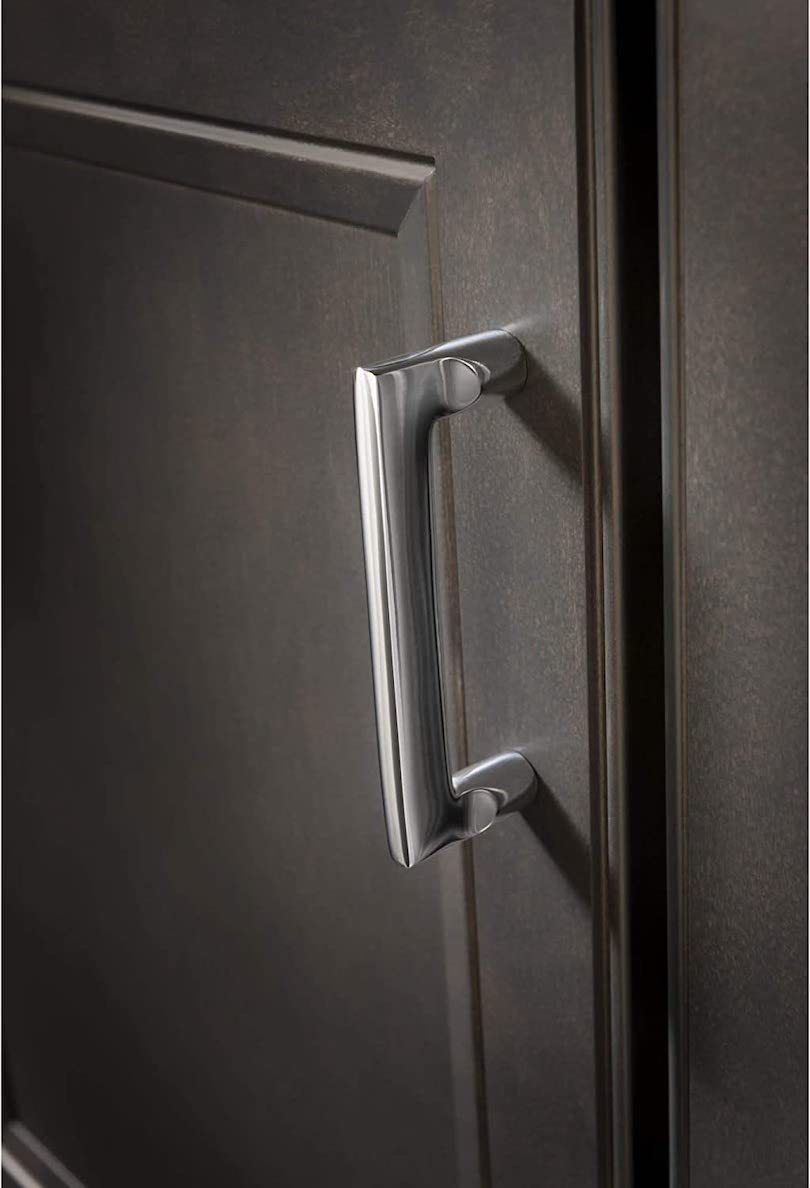 These flat-sided bar pulls have a slightly different take on conventional bar pull, as these have a polished chrome finish. The best thing is that they are easy to use and clean. And, you can use such kitchen cabinet hardware ideas to complete the overall look of any kitchen, depending on how you want to style it.
9. BlackRock Square Knob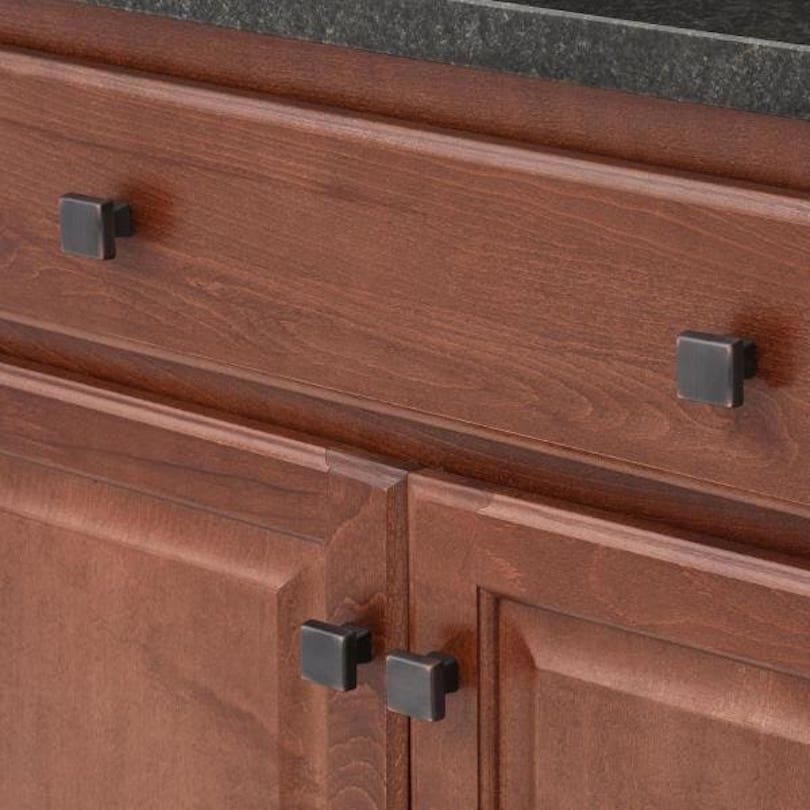 This particular kitchen cabinet hardware draws inspiration from geometric shapes. Hence, they are the ideal statement piece to complete the look of your cabinet doors. These knobs remind us of the 1970s style, which is again on-trend for 2021.
10. Tuscany D Pull Kitchen Cabinet Hardware Ideas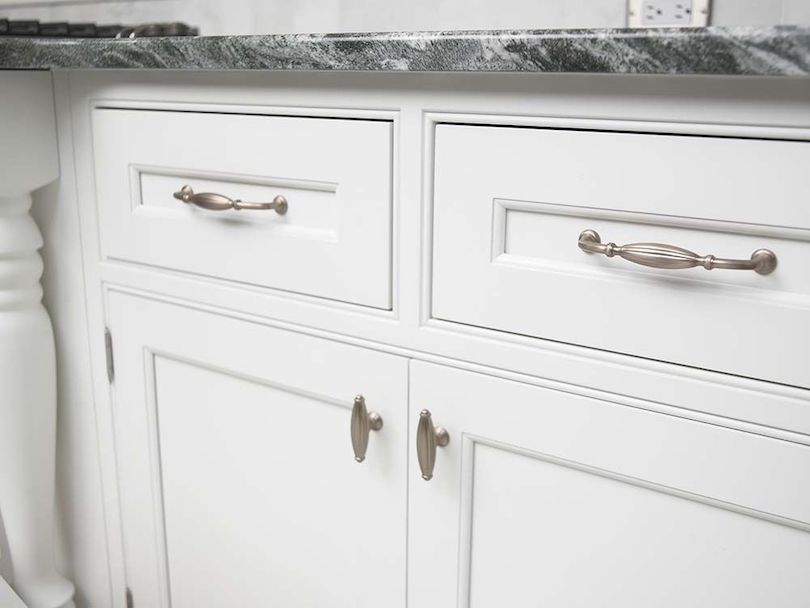 Consisting of a subtle brushed nickel, these pulls for a cabinet belongs to a conventional kitchen. This style is perfect for drawers to make them appear quite regal. It is because they have an ornate Italian vibe that reminds us of the palatial architecture of Europe.
11. Alison Value Antique Brass Knob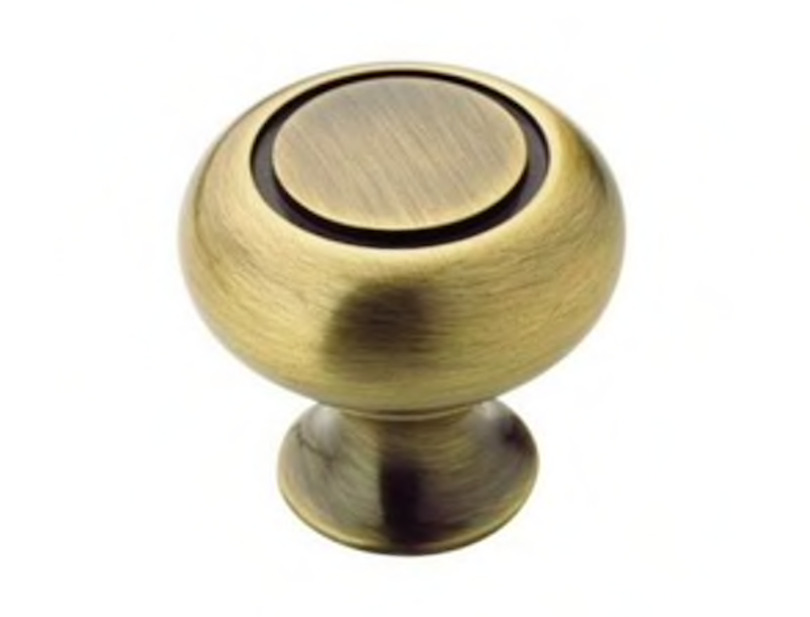 If you want fancy-looking cabinet knobs to spruce up your kitchen design, consider adding an oversized Alison Value antique brass knob. This hardware draws inspiration from the antique collections, which are often seen in transitional kitchens. These are best paired with matte black or dark wood cabinets for a traditional feel.
12. 3-Inch Bit Pull in Bronze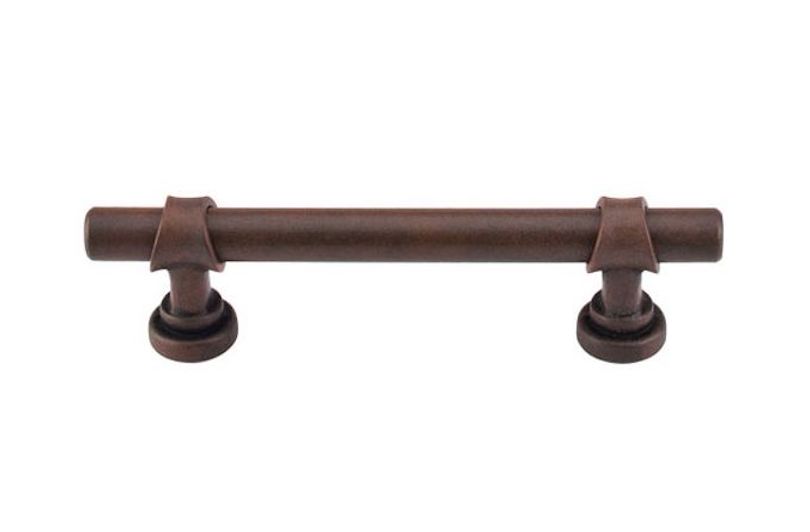 This cabinet hardware style is ideal for both transitional and classic kitchen styles. These rustic-looking bronze pulls look best with shaker cabinets in white. Since bronze pulls have some weathered quality that adds coziness into an interior, these are perfect for farmhouse-style kitchens.
13. Alison Value Center To Center Bar Pull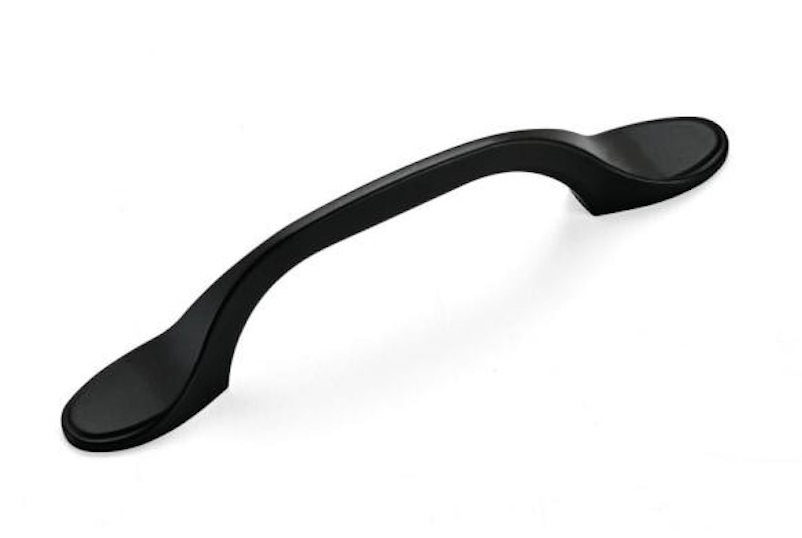 This modern hardware for cabinets comes in a satin nickel finish. Due to its finish and style, it is suitable for contemporary kitchens. This bar pulls with a simple and curved design offer easy handling. It also adds a slight accent on subtle kitchen drawers and cabinets.
14. Somerset Melon Pull 7-Inch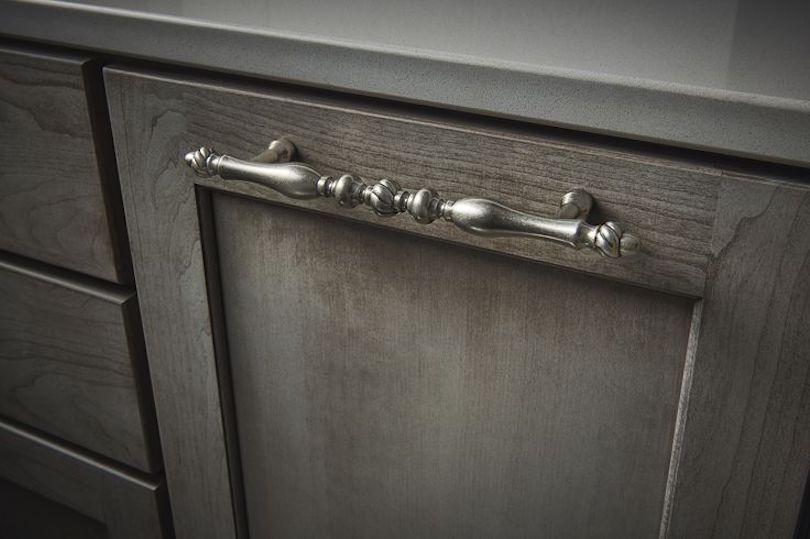 Want some old-school and traditional touch into your kitchen? Consider somerset melon pull kitchen cabinet hardware ideas. These look amazing when paired with dark matte woods. Unlike other classic hardware pieces for cabinets, these pulls have a more luxurious and ornate appeal. Hence, these would suit interiors with a farmhouse, rustic vibe.
15. Davenport Satin Nickel Knob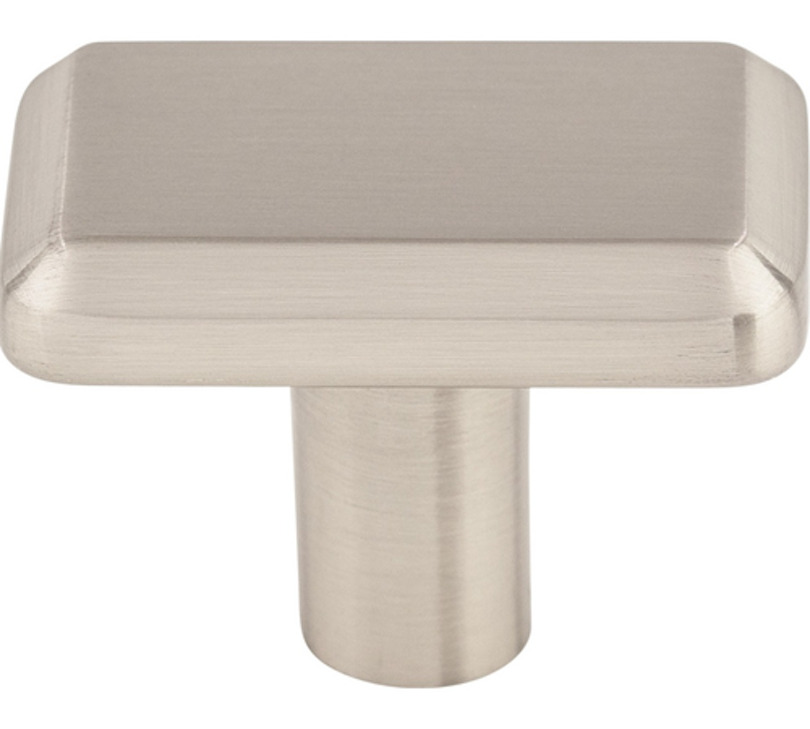 Comes in satin nickel finish, these exquisite knobs boast straight lines and curved bodies that work in both kitchen and bathroom really well. With their striking accent, these knobs are perfectly suitable for low-key cabinets that need to add aesthetics over the edge.
16. Square Twist T Handle Knobs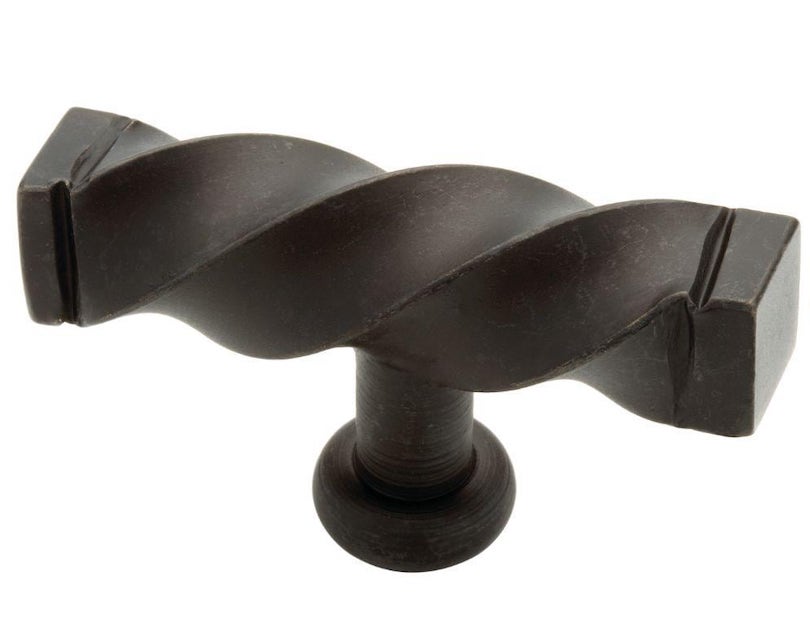 This kitchen cabinet hardware has an old-fashioned appearance. The twisted dark steel makes these knobs appear as if they have come straight from the workshop of a blacksmith of the medieval era. These knobs are suitable for kitchens that go with their theme.
17. Cutout Flat Bar Pulls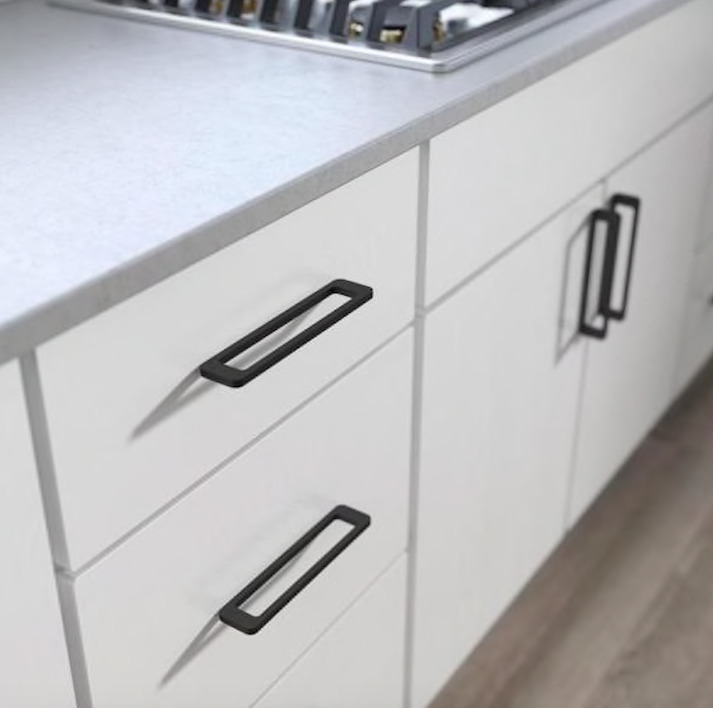 These flat bar pulls are simple and decorative at the same time. They give a 70s' feel to a kitchen design with an antique brass finish. We love that this pull adds a little glamour and furniture detail to the modern door style.
If you want to add a glamorous and decorative feel to your modern kitchen, you need to go with this kitchen hardware. These look well with high-gloss and rift-cut travertine finishes.
18. Wire Pulls Kitchen Cabinet Hardware Ideas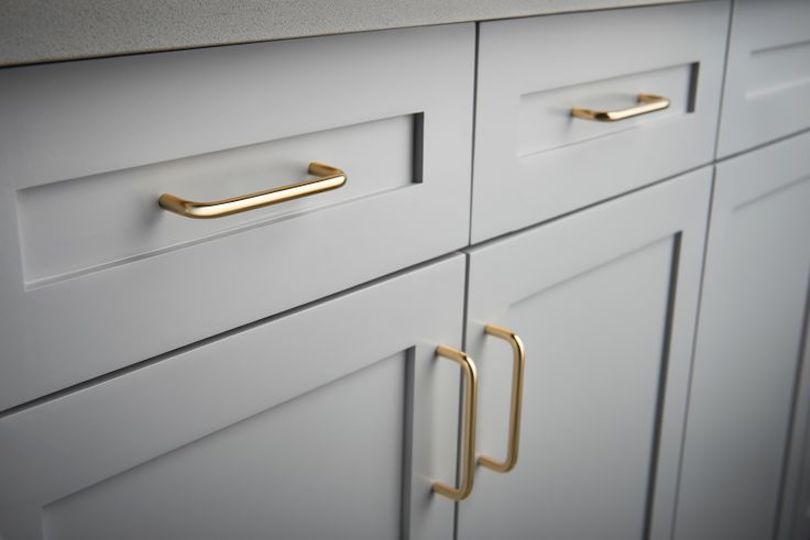 These pulls are classic, simple, and utilitarian. It is great for those who don't want kitchen hardware to be too bold. These pulls are perfect to keep things humble and simple in a modern kitchen, with a no-nonsense feel. They look amazing with stainless steel worktops and industrial appliances.
19. Hidden Touch Latches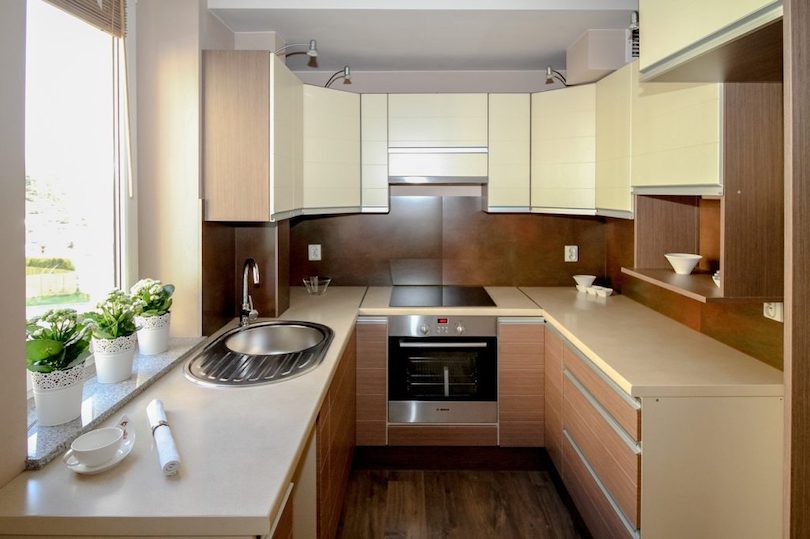 These kitchen cabinet latches are not ideal for kitchens with heavy-duty cooking in butter or oil. Fingerprints on the cabinet door can drive you crazy. So, consider adding hidden touch latches to have a sleek and stunning-looking kitchen design. These latches provide minimalist appeal to a kitchen – with no hardware accessorizing at all. These pulls appear amazing with exotic veneer cabinets or drawers, as they won't clash with their gorgeous look or style.
20. C-Channel Integrated Wooden Pulls
These wooden pulls are for those who don't want to mix-match too many materials in an interior. But these are not suitable for high-use cooking spaces. With these wooden pulls, you can create an effortless look in your kitchen cabinets in a wooden finish. These are suitable for minimalist kitchens with open shelving – and no wall cabinets.
FAQs on Kitchen Cabinet Hardware
1. How to choose kitchen cabinet handles?
There are no strict rules when you're choosing the right kitchen cabinet hardware or handles. But these must certainly match the overall appearance of a kitchen design. If you are going for shaker-style cabinets with a classic appearance, you need to choose classic cabinet hardware for a perfect match. Likewise, you need to go for sleek, modern high-gloss finishes, such as chrome, steel, polished nickel, etc. to match the vibe you're aspiring to create.
Never forget about functionality and how easy is the hardware for cleaning, especially if you make too much mess in your kitchen.
2. Can you mix pulls and knobs on cabinets?
Yes, you can mix pulls and knobs on cabinets in your kitchen. However, these must have some type of cohesiveness to pull everything all together. This way, your kitchen won't appear strange and disjointed.
For instance, you may consider pulls and knobs that are available in the same finish, such as nickel or stainless steel. So, you can easily blend them seamlessly. Generally, knobs and pulls must be in a similar style or chosen from the same collection.
3. Should I choose between pulls or knobs on cabinets?
Choosing between knobs and pulls depends on your personal preference. However, function and size also play a vital role in deciding what you want. Usually, knobs are the right choice for cabinet doors, particularly the ones positioned at chest height or higher. It is because putting pulls on this height may make closing and opening them a little awkward.
Generally, the pulls work well for cabinet doors that are below your waist height. One major exception to this rule is if your cabinet doors are extra wide or long. In such cases, the pulls work best to manage the extra weight of large or oversized doors.
Moreover, pulls are best for heavy doors or sliding drawers that are commonly filled with heavy objects. It is because the added size and shape of the pull enable you to have more leverage. Hence, it is easier to open/close the doors.
4. What is the most famous/popular kitchen cabinet hardware?
It is difficult to say that, as the decision always depends on an individual's style, preference, and budget. Nonetheless, there are very less products that people buy more frequently than others. So, if we have to name the most popular ones, those would be mushroom cabinet knobs, cutout flat bar pulls, and center-to-center bar pulls.
Besides that, matte block knobs are also popular as black is suitable for almost every cabinet or drawer style.
5. Should you add hardware to your kitchen cabinets?
Yes, you can add hardware to any kitchen cabinets. But if your kitchen cabinet is available with a built-in handle, you'd not require to add some sort of hardware.