15 Modern Kitchen Design Ideas To Inspire You
Are you seeking to upgrade your kitchen design but are short on ideas? Kitchen renovation is a very complicated process. As you can think, kitchen makeover ideas are quite perplexing – this is because you may not know where to start or how to frame your course of action.
Since the kitchen is a vital part of your home, it must appear aesthetic yet practical. You not just prepare your meals here, it's also a relaxing and entertaining space for your family. Whether you like to prepare meals for yourself or your family, you will often manage to form some amazing memories in your cooking space.
So, just like any other room in your house, your kitchen must be elegantly and beautifully designed to feel right. In an ode to all that, we have curated a list of some modern and functional kitchen designs that also cater as a major inspo for your upcoming kitchen remodeling project.
1. Add a pop of color & accessories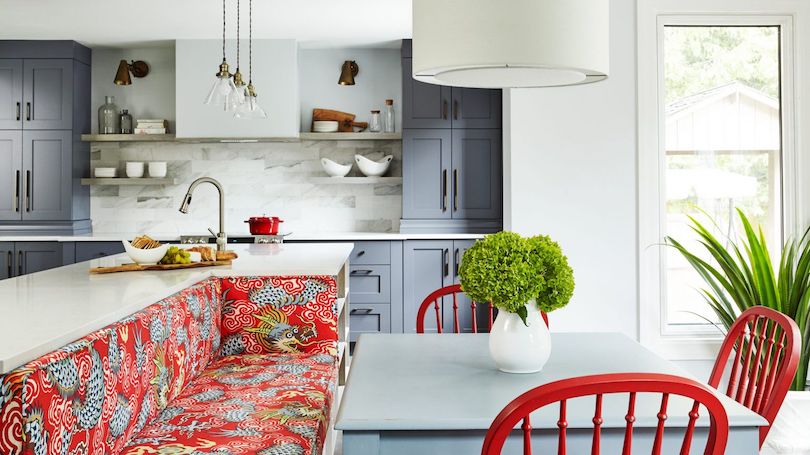 A minimalist kitchen design with a burst of color is something that appeals to the eye. This eye-catching interior design is perfect to catch the attention of the viewers while accentuating the overall look. You can consider adding a piece of colorful furniture and some vibrant accessories into your kitchen to make it appear striking yet practical. You can also add some lively plants to the kitchen for enhancing the overall decor.
In addition, make sure you enhance not only the look but also the functionality of your kitchen when choosing accessories. Smart storage solutions and small decorative pieces can significantly impact without requiring a big investment. For example, you can use different teacup and teapot designs on the kitchen shelves that can both serve as decoration and storage as well.
2. Open-plan kitchen design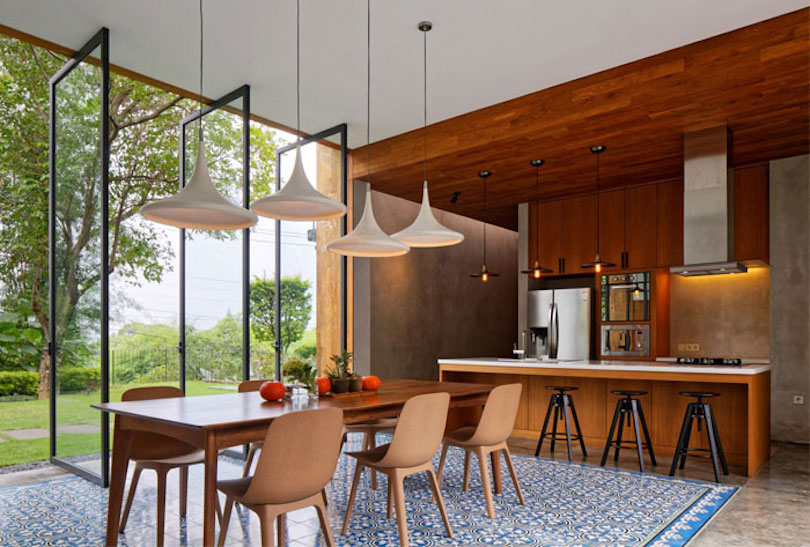 The open-plan kitchen design is modern, chic, and practical. It helps you connect to the rest of your home while preparing meals. To make the kitchen-cum-dining area appear more interesting, you can consider adding unique overhead lamps on the dining table as shown in the image above. This will maintain the eye-catching vibe in your minimalist kitchen and dining area. If possible, add a floor-to-ceiling glass wall to enjoy the outdoors while having a fun time with your family. With all these elements, this area would certainly be your family's favorite place to gather.
3. Go sophisticated with gray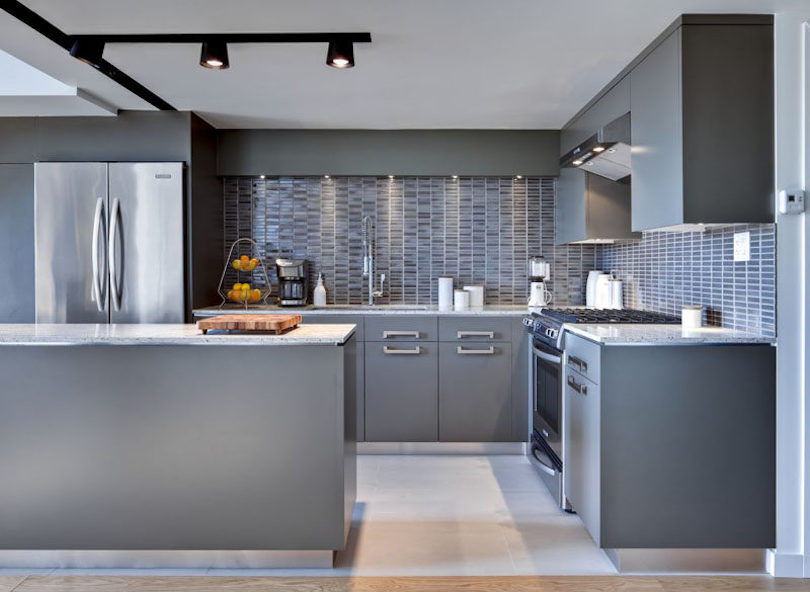 Contrary to the belief that gray is dull and boring, an all-gray kitchen with stainless steel appliances and similarly toned cabinets is perfect to create an understated luxurious interior. Add a white countertop to give a striking touch to space while the cabinetry adds to the grandeur. To bring out gray even more, install accent lighting and minimalist countertop accessories.
4. Farmhouse style
Another stunning modern kitchen design to get inspired from is the American farmhouse kitchen style. The while cabinets contrasting with the ceiling wood and dark countertop and floor wood are right on-point. The entire design looks so classic yet modern that you won't be able to neglect its aesthetic vibe while preparing meals for your family. And, don't miss the elegant glass door and windows that not only offer outside views but also adds more character to the overall kitchen design.
5. All-white kitchen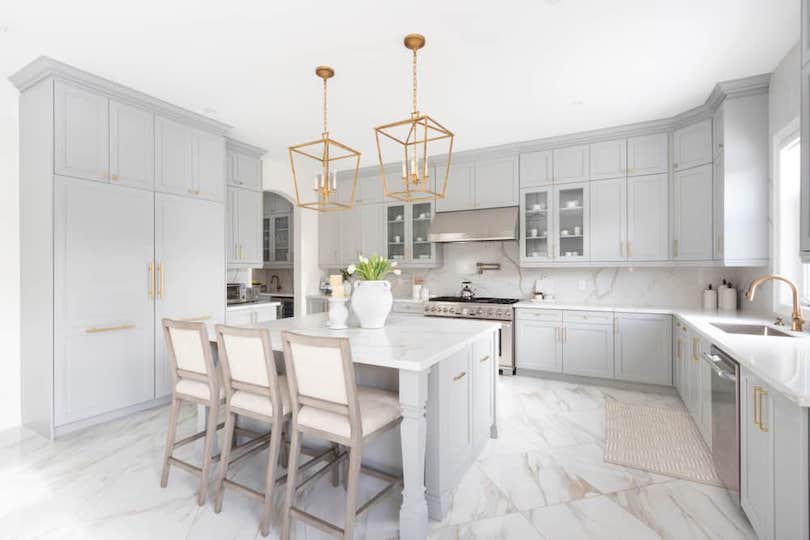 Ace the modern kitchen interior with an all-white design. The marble flooring with a plain white countertop, cabinets, and dining area are just perfect to complete this look. The veining pattern of the marble flooring adds an interesting touch to the interior so that it doesn't appear too bland. Another eye-catching element of this all-white kitchen design is the geometric ceiling light. Even plants can be added to bring some life to the otherwise boring-looking same-toned interior. This modern kitchen design idea is perfect for small kitchen spaces – as white reflects light and makes the entire area appear spacious than its actual size.
6. Focus on natural light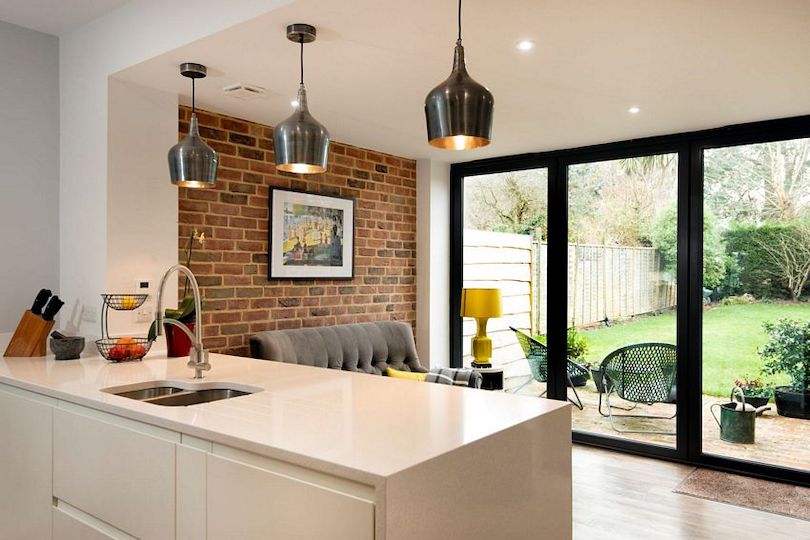 Whether you have an open-plan kitchen, a U-shaped kitchen, or any other kitchen layout, one simple tip for you is to focus on the natural light. You can opt for a large window or glass door to bring in abundant daylight. This will be the focal point of your kitchen to brighter up the area naturally while offering outdoor views to the inhabitants while preparing delicious meals. Plus, the patterned brick wall can be added to break the uniformity.
7. Cheer up with yellow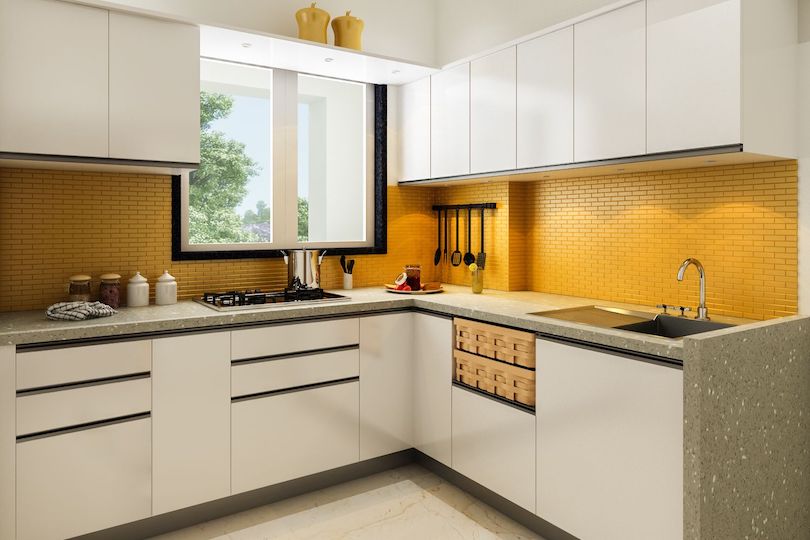 If you are into vibrant hues, you can consider making your kitchen appear interesting with yellow. It's a beautiful hue to add charming and lively visual appeal to the interior. You can choose bright yellow or sunflower yellow on the wall between the countertop and cabinets. This will help you create a perfect balance between feminine and industrial looks. In case, you want a streamlined appearance, it is best to go for handle-less cabinets with aluminum finger pulls. The handle-less design is becoming popular for modern kitchens nowadays.
In addition, make sure you enhance not only the look but also the functionality of your kitchen when choosing accessories. Smart storage solutions and small decorative pieces can significantly impact without requiring a big investment. For example, you can use different teacup and teapot designs on the kitchen shelves that can both serve as decoration and storage as well.
8. Scandinavian style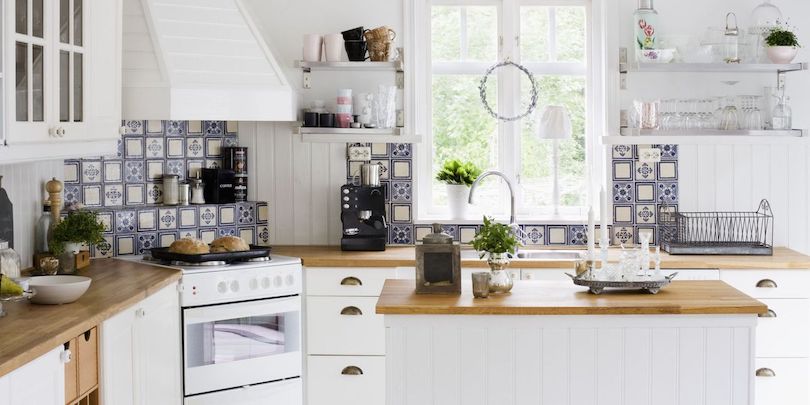 Don't like very busy kitchens? You can go for the minimalist yet cozy Scandinavian-style kitchen. You can consider adding a minimal wooden countertop and flooring in contrast to the white cabinetry. Another interesting design element for such a kitchen is a patterned wall along with open shelves for utilities. The blend of white and subtle hues creates a perfect balance for a minimal-looking kitchen design. It is perfect to give this overall space a relaxed and serene vibe.
9. Keep it simple & elegant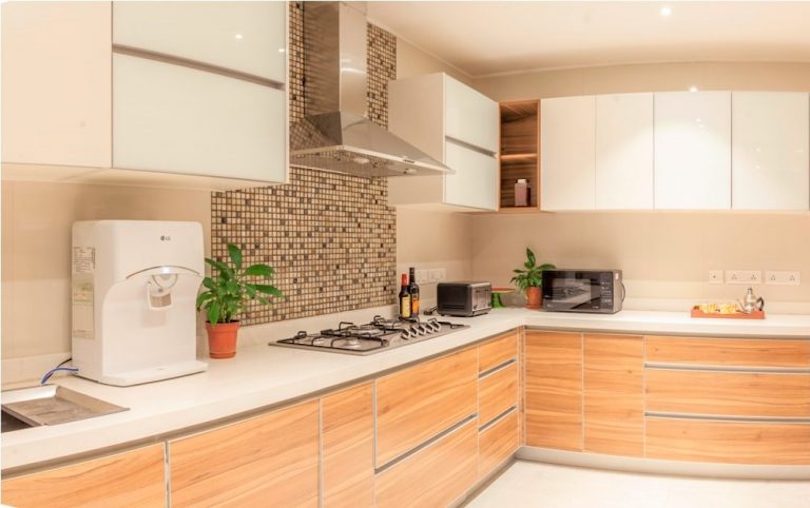 Another minimal modern kitchen design is this simple cooking space. It boasts a blend of natural wood with white – a combination that's very simple yet so irresistible. What to give a modern twist to this dual-toned combination? You can pair it with glossy white wall cabinets above the countertop. Plus, the warm tones of the light will emphasize the wooden areas even more. Even the tiled backsplash gives an interesting tone to the overall design.
10. Chalkboard for quotes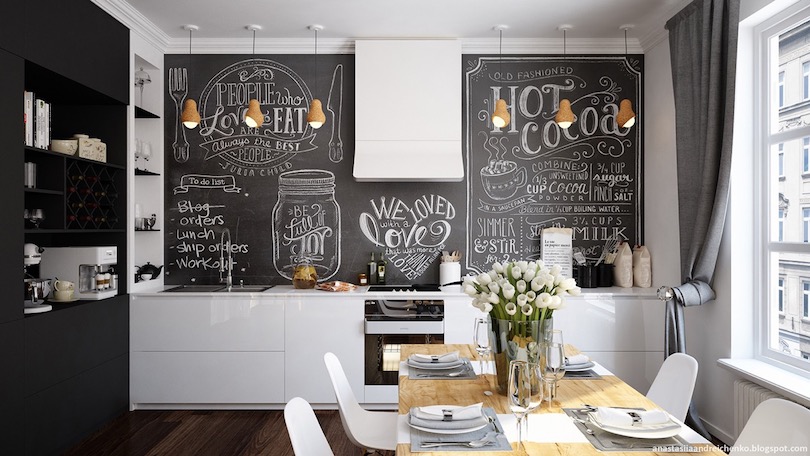 For DIY enthusiasts, a simple kitchen with a chalkboard wall is a great option. This will help you lighten up your mood in your kitchen with funny handwritten notes, quotes, and adorable illustrations about food and cooking. This will also be a fun weekend DIY project for you and your kids. Meanwhile, it will double as a conversation starter when your guests are over for lunch or dinner.
11. Use that extra space
Kitchen islands are often used as an additional preparation space or a dining table substitute. But there's also another interesting way to work them – by shifting your stove or sink to it. While an island stove would help you be more involved with your family while cooking, a sink (as shown in the above image) makes it easier to move vegetables and utensils for washing and rinsing. Although it's all about personal preference and liking, we won't like a pile of utensils on a kitchen island. So, using it as a preparation area or stovetop is ideal according to our opinion.
12. Black and white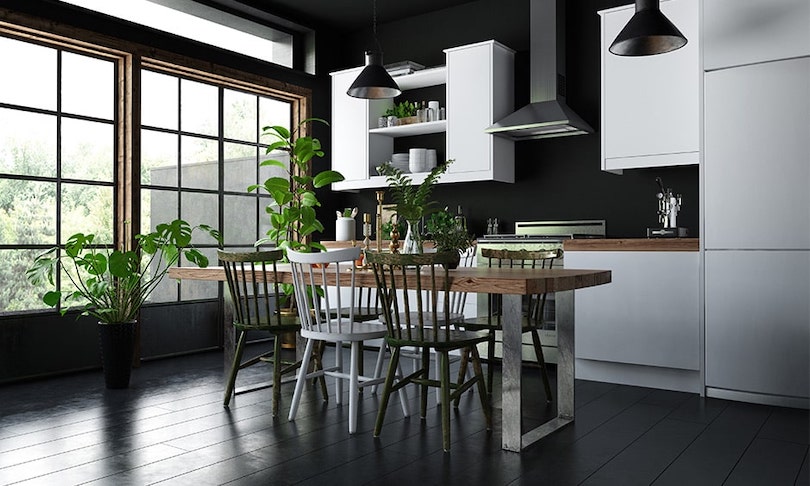 How about the classic monochromatic look? This stunning black and white kitchen design show how striking this color scheme looks. Plus, the wooden countertop helps in breaking the uniformity. Adding a few planters beside a large window or on the countertop or dining table will add breathing space into this elegant kitchen design.
13. Experiment with texture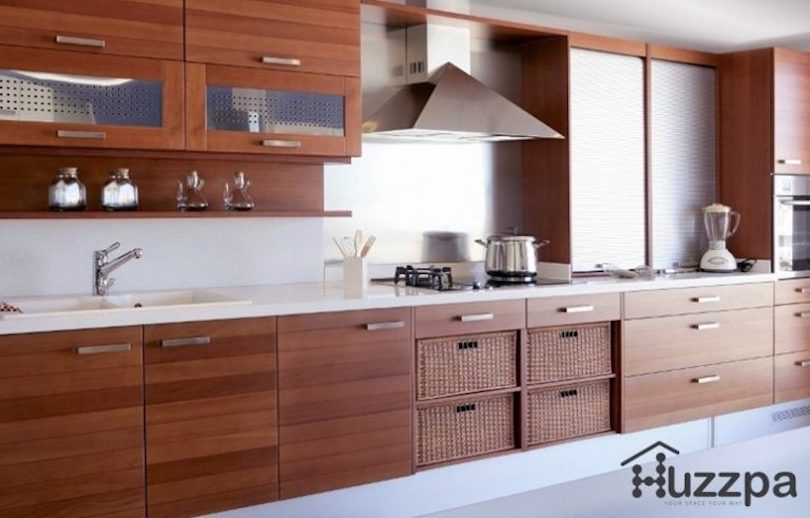 While this kitchen design looks very classic, using different textures on cabinets will add an interesting touch to the overall interior. For instance, you can add pull-out wicker baskets in the open shelves between the wooden cabinets. These baskets will help in breaking the monotony of the wooden texture that boasts the entire wall. On the other hand, the metal inserts on the cabinets give a shiny contrast to the whole interior.
14. Paint colorful furniture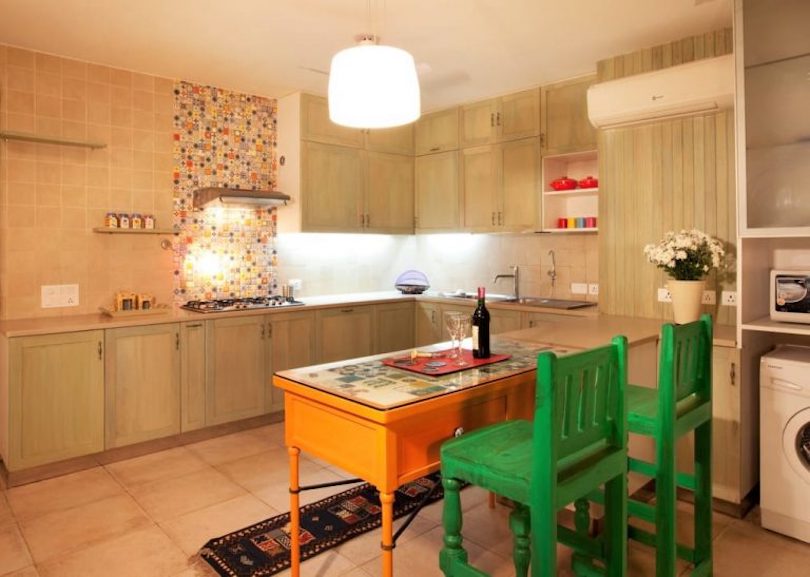 Sometimes you just need to paint the basic furniture in your kitchen to give an instant boost to the entire interior. This set of breakfast chairs and rustic tables add character to the traditional peninsula. But with a coat of bright green and yellow paint, the whole interior goes to another level. Such vibrant furniture appears amazing against a neutral background.
If you don't have such furniture in your home, you can search for it at a local street furniture market. And, get them painted for a similar kitchen design.
15. Sleek industrial small kitchen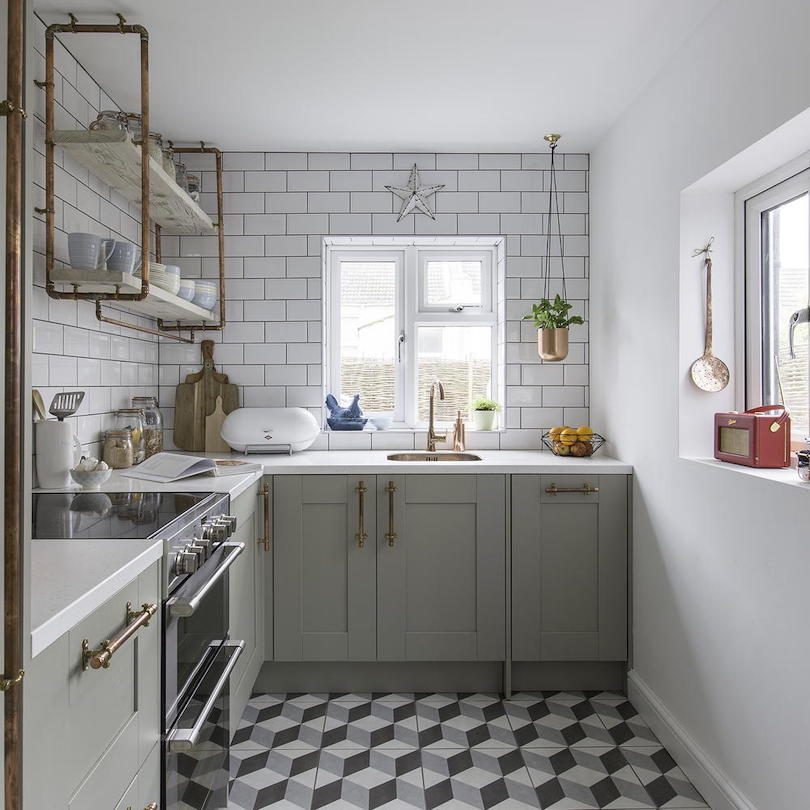 Got small space issues? Want to save extra space but also desire a sleek look? You can go for this minimal industrial kitchen design. This small kitchen design has cabinets under the countertop and open shelves on the wall. The open shelves are made from reclaimed wood and aluminum pipes, adding an industrial touch to the simple yet elegant kitchen design. Even the handles on the cabinets mimic the same industrial vibe as that of the pipes. Another interesting element in this kitchen is the checkered flooring in the same color scheme.
So, these are some wonderful kitchen design ideas for you. What design did you like the most? We would love to know your views in the comments below!