10 Design Illusions To Make Small Bathroom Appear Bigger
In busy cities, small apartments with small bathrooms are very common. Some bathroom spaces in modern apartments have around 3-square-meter floor space. It may seem challenging to design a bathroom with finite space. But if you are a bit design-savvy, you can easily turn your small space to both functional and stylish while making it appear larger than its actual size.
We have seen several bathroom designs and would like to help you make your tiny bathroom feel and appear more spacious. From decor to lighting and storage, we offer you plenty of small bathroom designing tips to follow without putting a hole in your pocket.
1. Clean Paint Job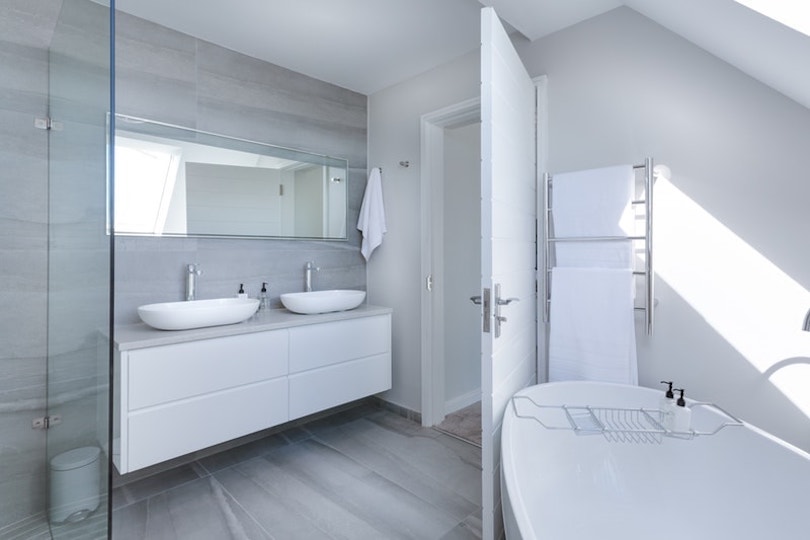 If you have wallpaper or patterned paint on every wall of your bathroom, it can make the space feel crowded and chaotic. Getting rid of this interior design and replacing it with clean, simple paint would immediately make your bathroom appear larger.
Pick light colours, such as pastel pink or sky blue, when it comes to the colors you can use. Neutral colors, such as beige and off-white, will work just as well, providing a blank canvas on which you can create anything you desire by adding color with accessories and furniture.
If you want to do something different with your decor, a feature wall is a great way to do so without going overboard in a small space.
Simply select a blank wall in the room to build your element (preferably one without doors or windows). A bold color will stand out, or you can use stencils or wall decals to create a pattern effect.
Build a shelving unit to draw attention to your feature wall and add some personality. You may use this space to display decorations, artwork, or a spectacular plant, such as a peaceful lily or cacti, which thrive in a bathroom setting.
2. Clever Tiling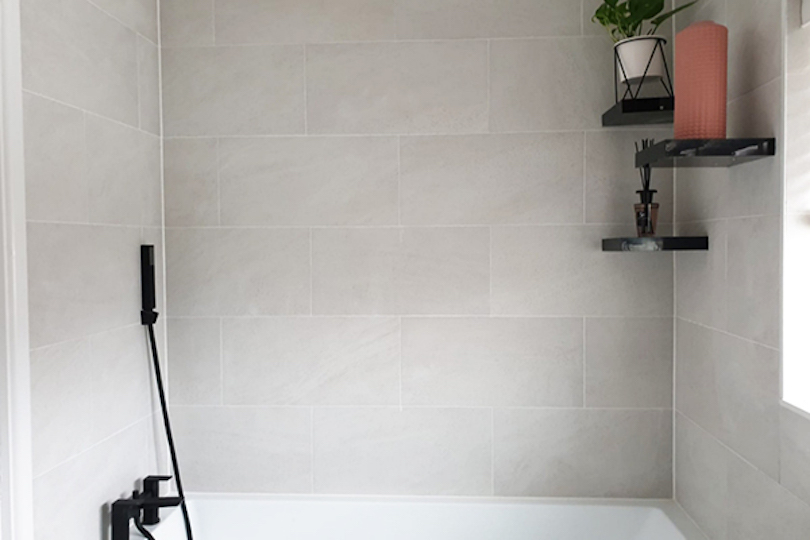 To creating an illusion of bigger floor space, plain-colored floor tiles are a great option. It is common thinking that small tiles in small bathrooms are good for making space appear bigger. However, the various grouting lines make the given space appear much smaller. Even busy patterned tiles have a similar effect in a small bathroom. That's why plain, larger tiles with fewer grouting lines are a better choice.
Likewise, when tiling the walls in a bathroom, simple colors work better than busy patterns, like black and white check tiles, which make the area feel smaller. Using only one color to make space appear bigger and less congested than patterned tiles is an easy but efficient way to do so.
Through the use of mirrors, the effect can be amplified. In a small bathroom, reflective decor can help to create the illusion of space, and simple tiles throughout the space will appear amplified, allowing the floor and wall space to seem much larger.
3. Install a Larger Mirror
Mirrors in the bathroom not only give the impression of more space, but they also reflect extra light into the room. If you already have a mirror in your bathroom, consider enlarging it. With only a cordless drill, a few screws, and drill bits, you can easily mount super-sized mirrors up to 3 feet to 5 feet long or high. This type of mirror can be made for less than $100 if you do it yourself.
It's best to consider mirrors with no frames to give the impression of more room. For accommodating heavier mirrors, you need to screw into studs. And, for protecting against more moisture content, you need to seek a tarnish-resistant coating.
4. Clever Sanitary Ware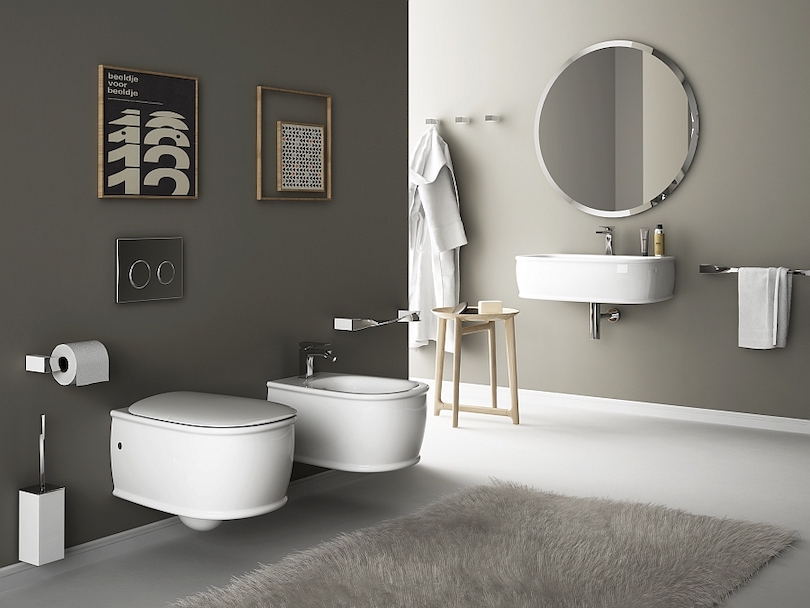 With some clever sanitary ware, you can create the illusion of more space in a small bathroom. Wall-hung and back-to-wall toilets are excellent for streamlining bathrooms by concealing the drainage system and allowing space to look less cluttered right away. Furthermore, wall-hung toilets are designed to be compact and can help to increase the amount of floor space in a room.
It's worth considering how the fixtures and furnishings affect the space – everything with a lengthy profile that tends to 'stick out' can encroach on the space, while attracting the eye to it. This way it makes the room appear cramped and small.
Slimline fixtures can be extremely useful in this situation since they take up less room than traditional fixtures while still providing full functionality.
Another useful tip to consider is hanging your door so that it opens outwards rather than inwards. It will maximize the amount of available floor space in the bathroom.
5. Increase Natural Light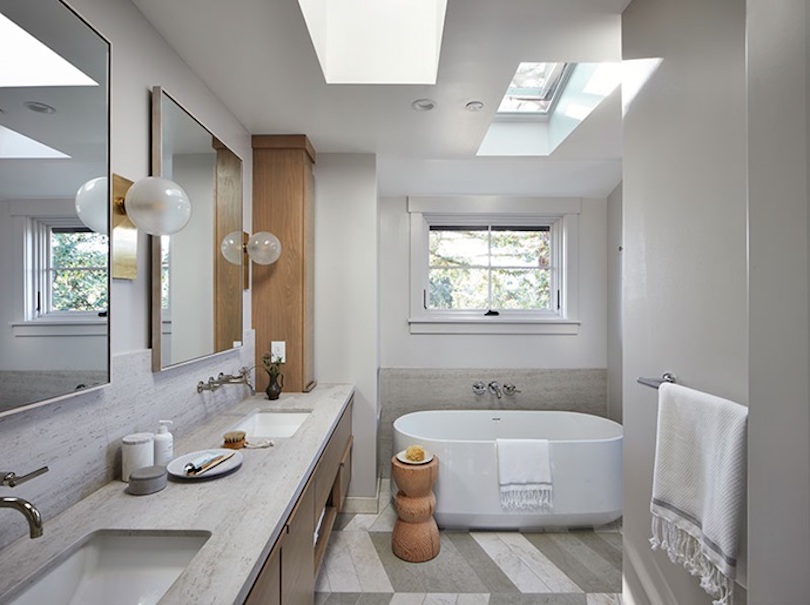 If a small bathroom requires more light, natural light is often the best option. Skylights and windows can be installed in small bathrooms to flood the interior with ample daylight.  Plus, window cleaning is easy if they don't have dirty curtains. all you need is warm water, a scrub brush, and a mild detergent for cleaning.
The broken curtains and blinds must be repaired for easy opening and closing. Also, replace the clear glass with frosted glass for privacy. Even dirt and cobwebs can obstruct daylight, so clean window screens with a soft brush and water.
6. Clever Shower Enclosures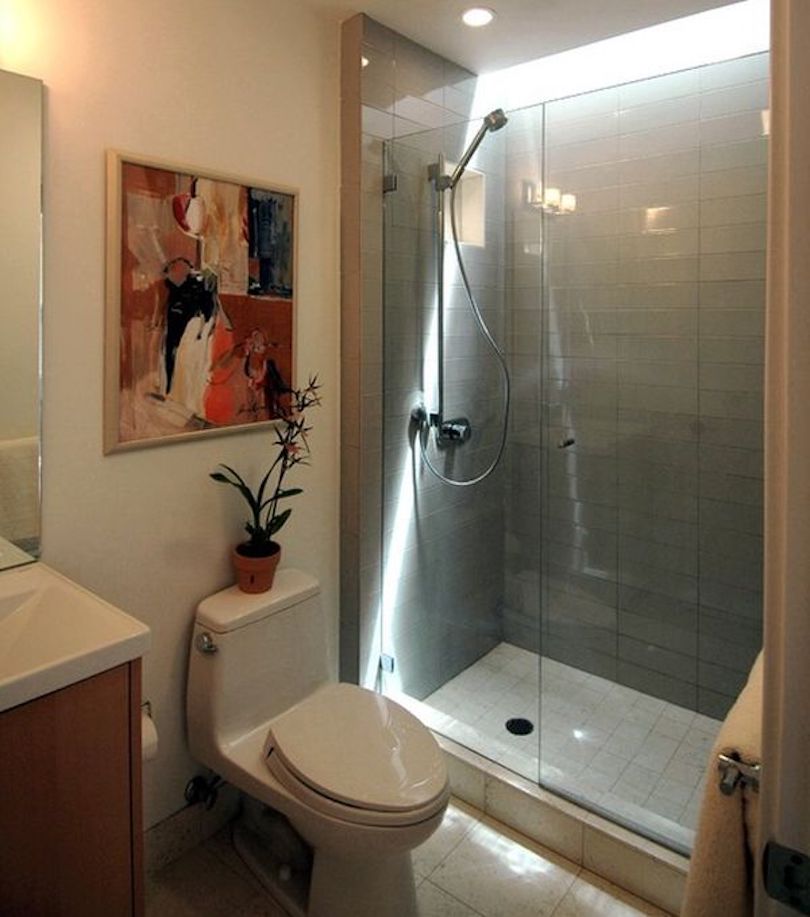 A common issue in small bathrooms is that there isn't enough room for a bathtub and a separate shower enclosure. If you want to shower but don't want to give up the option of taking a bath, a shower bath might be the perfect solution. A shower bath will not take up valuable bathroom floor space because it sits flush against the wall, although the tub will still serve as a great focal point.
Quadrant shower enclosures or an enclosure with either sliding or infold shower doors are suitable for enhancing space in a small bathroom for separate shower enclosures. Streamlined sliding doors move across rails in the enclosure without intruding on space, either in the enclosure or bathroom, while infold doors neatly fold in on themselves rather than opening into the room.
7. Go Easy on the Decorative Accessories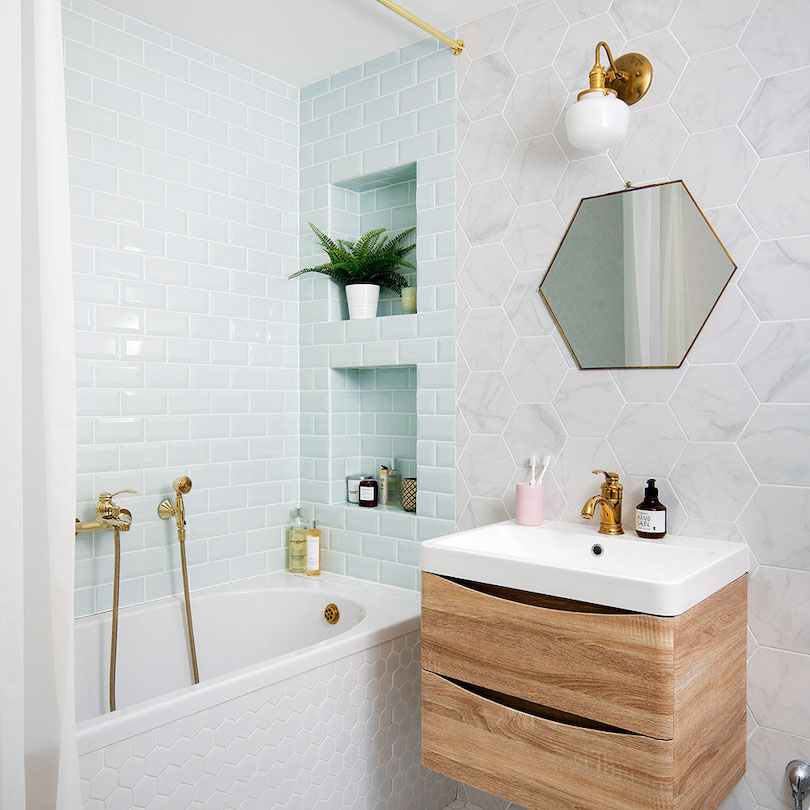 Adding decorative accessories, like small rugs and artwork, to a small bathroom will make it feel cozy and welcoming. However, if left unattended, they can quickly become a source of significant clutter. Consider thinning out unnecessary things from the bathroom if you're a collector. Clutter removal is free, and the results are noticeable right away.
You need to limit yourself to fewer things rather than multiple items. Just see if an item has any use when selecting it for a small bathroom. If you cannot seem to part with an object, consider moving it to another place.
8. Consider Hanging Objects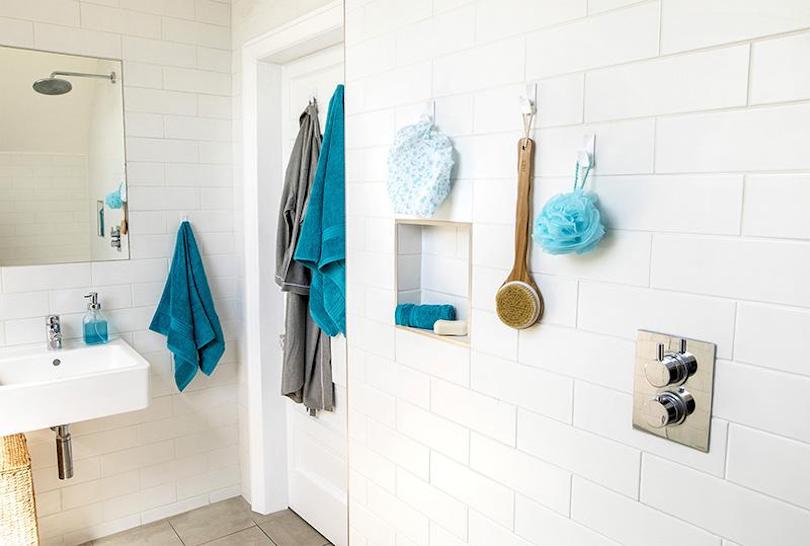 In a small bathroom, hooks and rails are a great way to save space. Hooks take up just a few inches on a door or wall if they're for towels or clothes, and they don't break the flow of your bathroom's decor. A towel hook for your heated towel rail is another space-saving idea that also keeps your towels soft and fluffy.
Hanging storage for your shower and bath can also help in saving a lot of space. Wire baskets have plenty of space to store soap, shampoo, and sponges without taking up valuable shower space.
9. Savvy Storage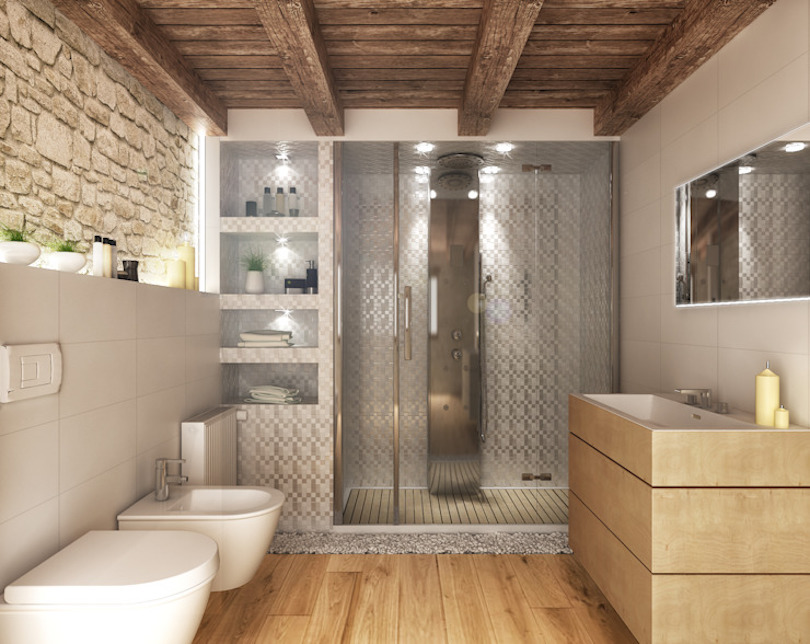 Open shelves are an excellent way to open up a small space visually while still adding storage. With these shelves, you can be creative and make fashionable features out of your towels and cosmetics.
You can also consider adding a short furniture unit with enough storage – without intruding on the space. It will enable you to make the most of your bathroom. By putting everything away, you will reduce clutter on window sills and countertops, resulting in a more organized space.
10. Reduce Color Contrasts and Dividing Lines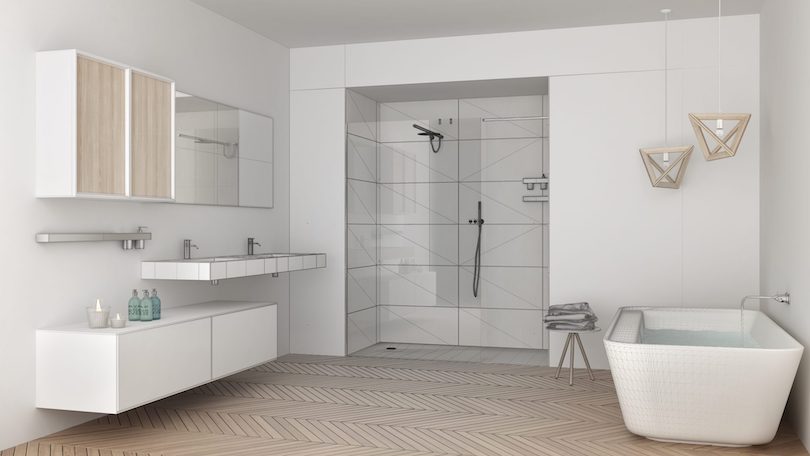 Dividing lines and sharp color contrast only make the bathroom feel smaller. So, remove or blur lines between objects wherever possible.
A wainscot that is painted a different color than the wall, for example, should be painted to match the wall color. Crown molding serves as a visual "stop" for the eye. Crown molding may be painted the same color as the ceiling or walls. Halfway up the wall, wall tiling should be extended to the roof.
Other tips to consider are:
* If you have to choose between a light and a dark hue, choose the light shade.
* The narrower baseboards can be used in place of large baseboards.
* More transparency can be achieved by removing crown moldings entirely.
With these simple tips, you can easily transform your small bathroom space into a clutter-free and practical bathroom. You will certainly impress your guests with a tidy bathroom while enjoying the benefits of a practical and smart space where everything has its purpose.