Storage Solutions to Keep Your Home Office Well-Organized
During another lockdown phase, you still must be working from home. Whether you have recently shifted to the home office work style or already have been managing work from home for many years, you need a perfect workplace even at your abode to peacefully complete your routine tasks.
When creating a home office area in your living space, you need to think about apt storage solutions to keep everything well-organized and keep you feeling productive. No matter you have an entire room, or just a small area in your bedroom or living room, you have to ensure you have the right storage solutions for keeping the available area tidy and properly organized.
With a clean and well-coordinated space, you can often yield the best results on routine basis. It's crucial to get rid of clutter, as it alleviates anxiety while enabling you t focus on work rather than cleaning all the time. For preventing clutter build up, you need to have all the right storage solutions to keep everything in the correct place. Having a spot for everything can make you feel calm and all set to tackle any project coming your way.
Here are the 20 storage solution ideas for taking your home office from messy to clutter free space, so you can easily get down to work your way.
1. Keep Everything on Your Work Desk Clean and Simple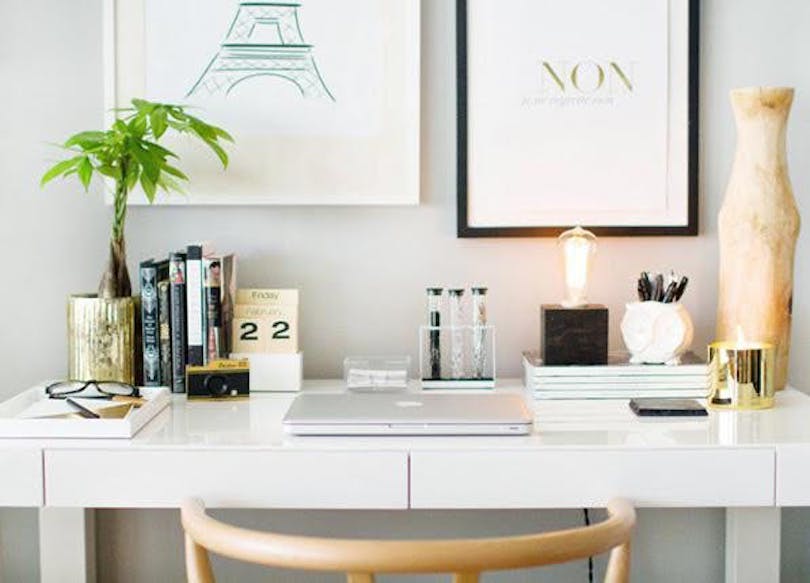 Make your workstation the first item you organise in your home office. It will make you feel a lot better if it appears to be well-organized. The easiest approach to do so is to invest in a few functional and attractive accessories that will help you achieve a more streamlined appearance on your desk. With a cup for pens, a magazine holder for folders and tiny diaries, and a stacked drawer unit for other files are perfect for keeping your desk organised while keeping papers and other tiny items out of sight. You'd certainly love the way your desk appears with right accessories.
2. Arrange Work Items in Cubbies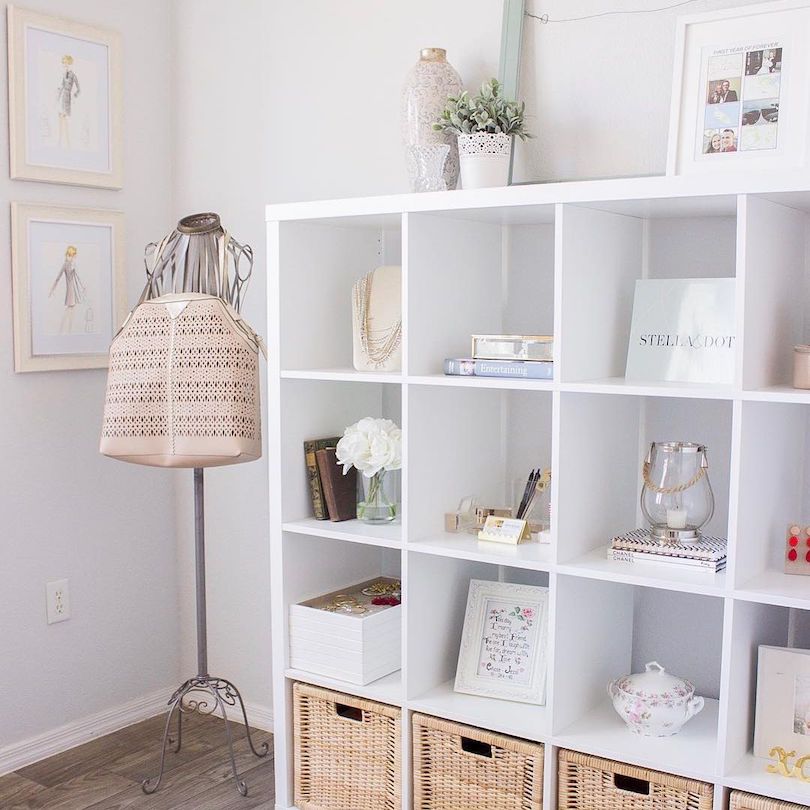 Do you have inventory that is difficult to keep or need to show products for visitors to your home office? If that's the case, a cubby system might be the ideal organisational tool for you. The jewellery and accessories on this stylist's cubby bookshelf can be displayed tastefully.  A cubby system has the advantage of being naturally clean, symmetrical, and ideally sized to create the appearance of organisation. Decorative storage baskets can be slid into cubbies to conceal small objects or goods that might otherwise appear disorderly.
3. Differentiate Work Areas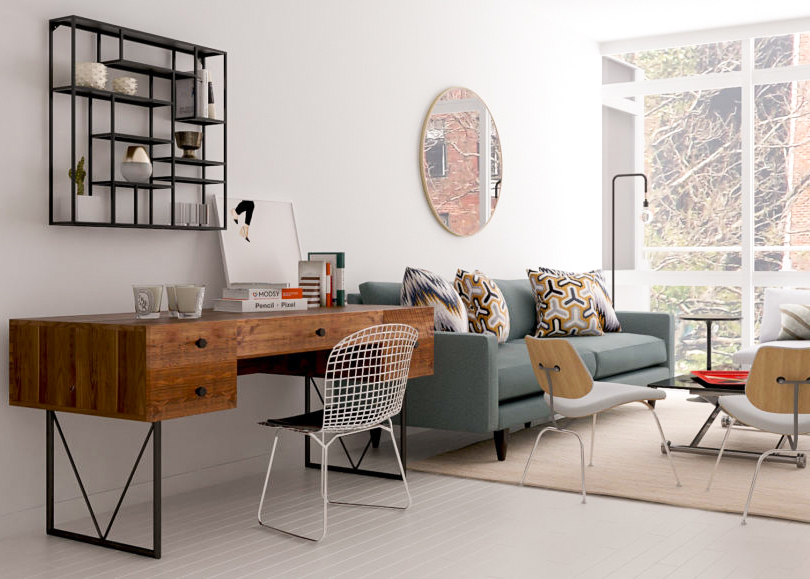 Even if you work from home and have a small office space, it's crucial to keep your workstation separate from other areas of your home, such as living space.  Maintaining a clean working environment in a living room can help you be more creative and productive. By differentiating work areas, you can have a separate space for working in your living room where otherwise you entertain your guests. Don't forget to keep your work space organized to make it easier for locating things while enhancing the visual-appeal of the given space.
4. Incorporate a Peg Board
One of the greatest home office organising ideas is to leverage wall space with a pegboard. This will save space in drawers while allowing you to display objects that are essential for your work. Place one over your desk and attach a cork sheet to keep calendars, daily reminders, and memos on it. It will also help you to be right on schedule – as every meeting reminder and daily schedule will be right in front of you all the time.
5. Reuse Household Items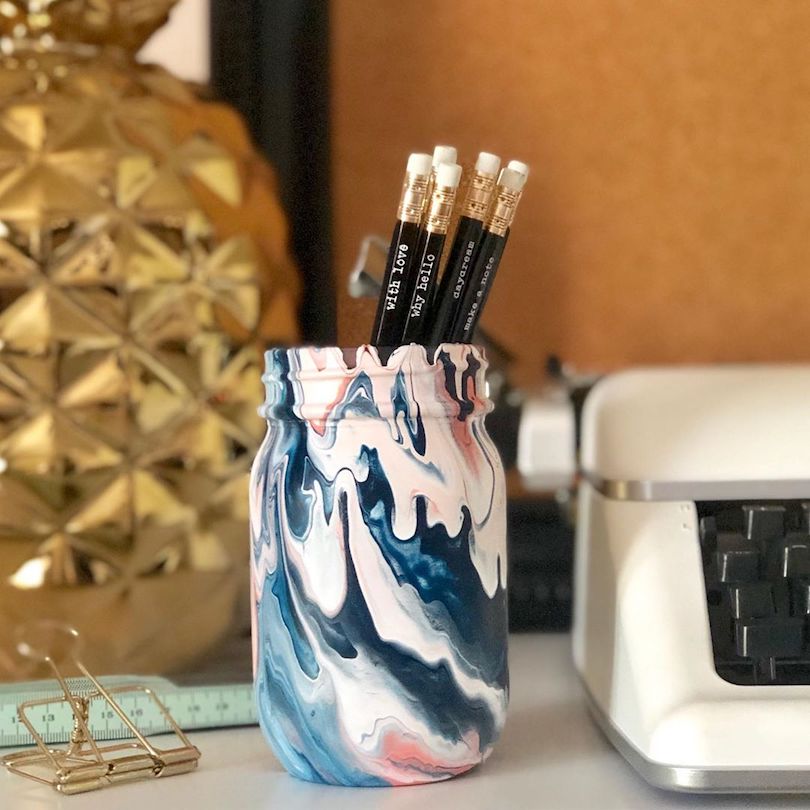 Look no further than what you already have at home for budget-friendly home office storage solutions.  You can make cute desk tool organisers out of old cans, cookie tins, mason jars, and tea containers. Besides that, you can even use  old ceramic cups or lid-less glass jars to store pens, scissors, and other office accessories.
6. Find a Desk with Storage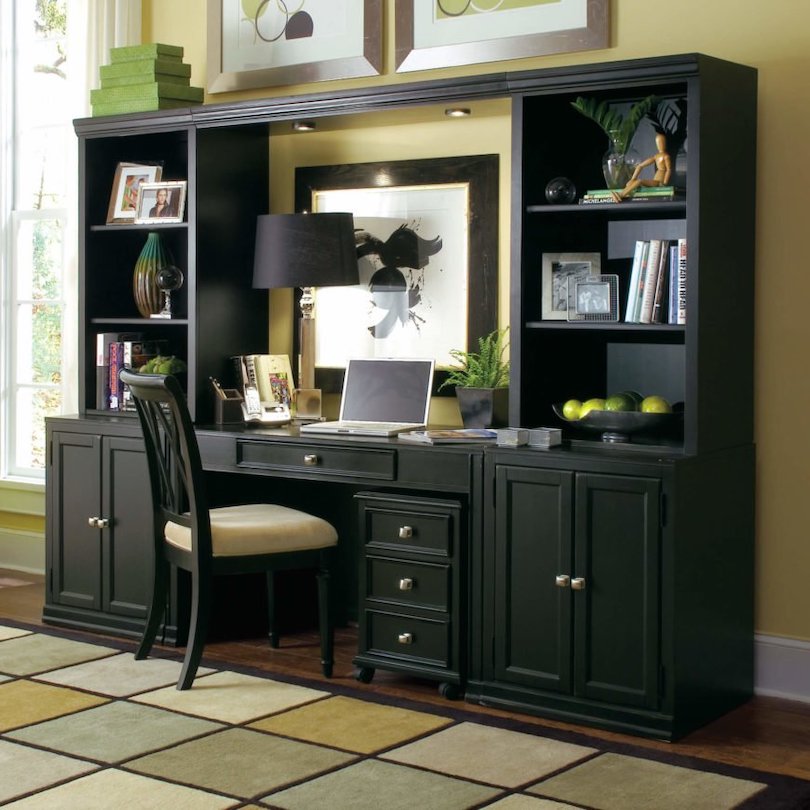 Many storage problems can be solved by finding a workstation that meets your needs. It is best to invest in an office desk with enough storage. Your home office will be neat and clean if you have enough drawer space and linked shelving. There are various methods to make your desk a more effective office, whether you're looking for a new workstation or want to add storage.
7. Consider Storage on Wheels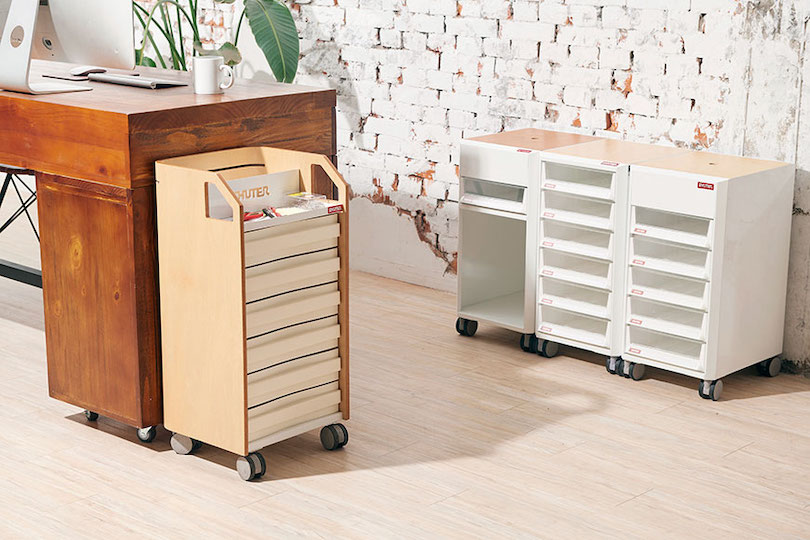 Furniture on wheels is a convenient method to keep what you need close at hand. Rolling storage drawers, wheeled filing cabinets, and transportable office desks all offer portable storage and help you keep your small home office tidy. Utility carts are even a great home office storage solution because they enable you to transport your work and supplies to another room. So, consider adding such functional furniture in your home office for convenient completion of daily tasks.
8. Make the Most of Closet Storage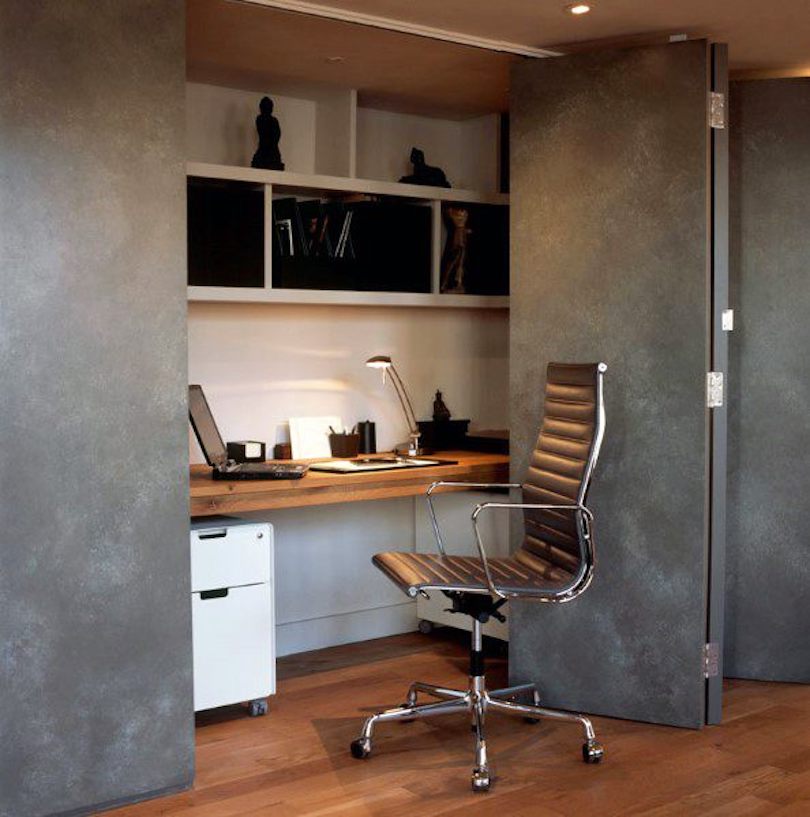 Another wonderful home office storage alternative is to use closet space if your home office is in an extra bedroom. To make the most of the space, use pre-existing racks, hooks, and hangers to properly organise goods, or add moveable cabinets. And, when not in use, you can simply close the door of the closet to keep the home office space out of sight.
9. Give Floating Shelves a Shot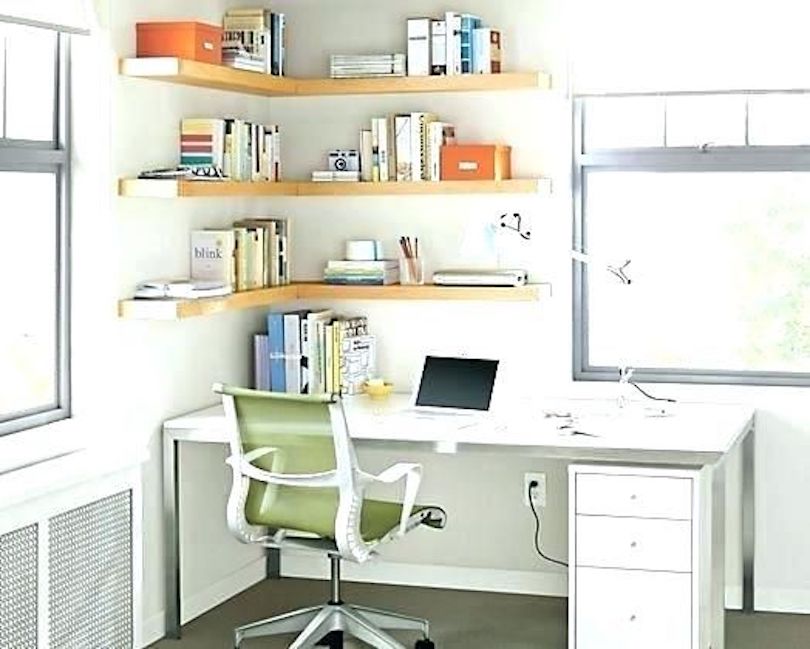 Adding more storage to your home office with floating shelves is a simple DIY project! This is a basic and affordable home office storage idea if you work in a small space or have a limited budget. Floating shelves are a basic and economical home office storage system if you work in a tiny space or have a limited budget. Meanwhile, you can keep all your important files and documents within your arm's reach.
10. Invest in File Cabinets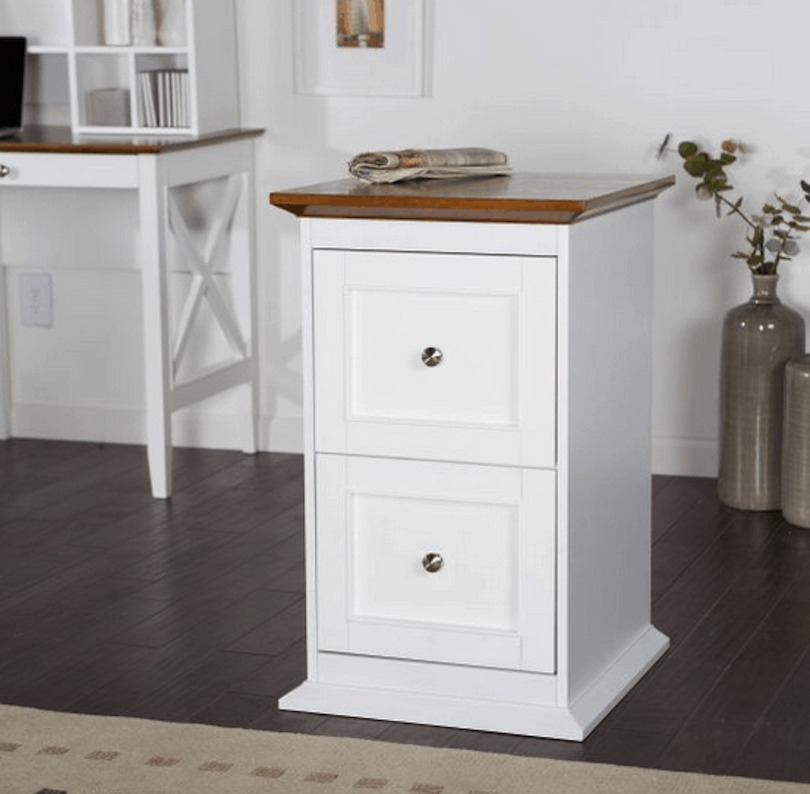 Another simple yet effective way to add storage to your home office is by investing in a file cabinet. There's a reason file cabinets are so common in offices and can also be purchased for your home office space.  They're a tried-and-tested solution to keep files organised and supplies tucked away. At home office supply stores, you can easily find a variety of adaptable file cabinets at a variety of price points. The best part about these storage solutions is that these are narrow enough to fit into any given space without occupying extra area.
11. Hanging Wall Cabinets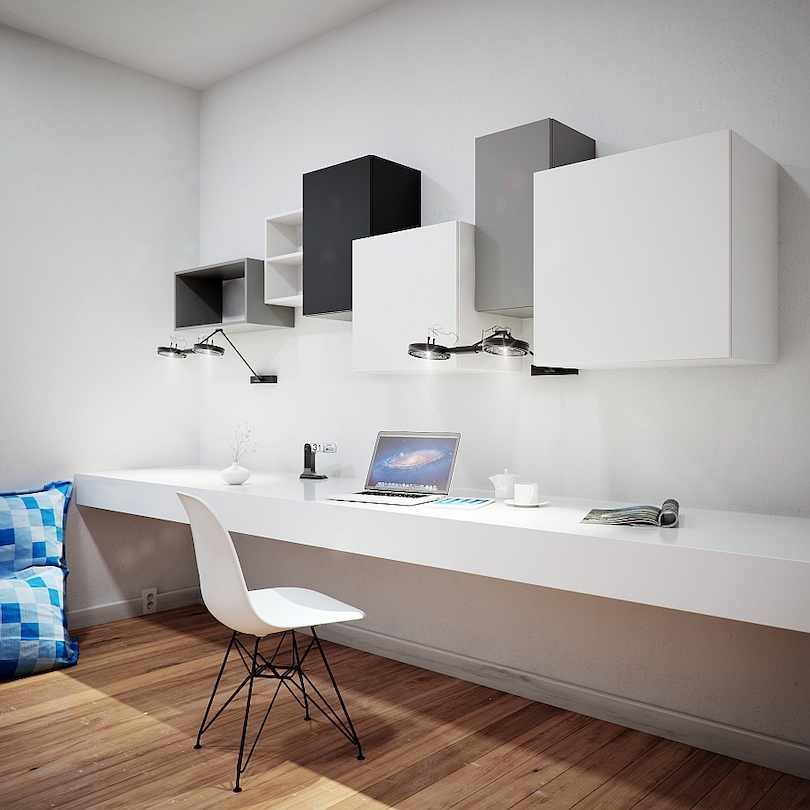 Consider adding hanging wall cabinets to increase your organisation if you have the space and budget. The hanging wall cabinets are a great way to keep objects out of the way. Consider purchasing standard kitchen cabinets from a home improvement store to conceal office supplies and files in the same way. Or get these cabinets customized as per your liking. Extra workspace is provided by top cabinets with a length of surface. Alternatively, you can go to Ikea and get cabinetry that you can personalize to fit your workspace.
12. Surround Yourself With Plants and Functional Accessories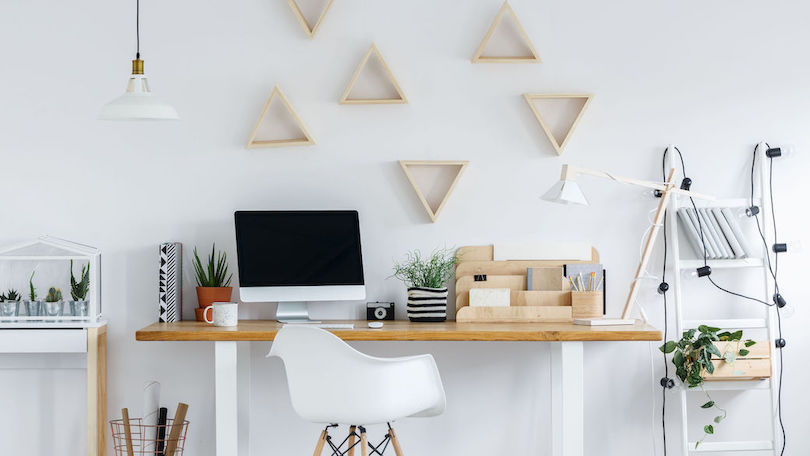 Having a home office doesn't mean it has to be dull and boring. You can consider adding ample plants and functional accessories into your home office to organize the environment. This way you can maintain your home free of clutter. Meanwhile, you'll feel at peace while working in an environment surrounded by plants. It will also allow you to fully appreciate your pieces without being distracted by clutter. The basic shelving units can be used to display plants and other valuable vases, which also serve as decoration.
13. Turn Your Home Office Storage Into a Feature Wall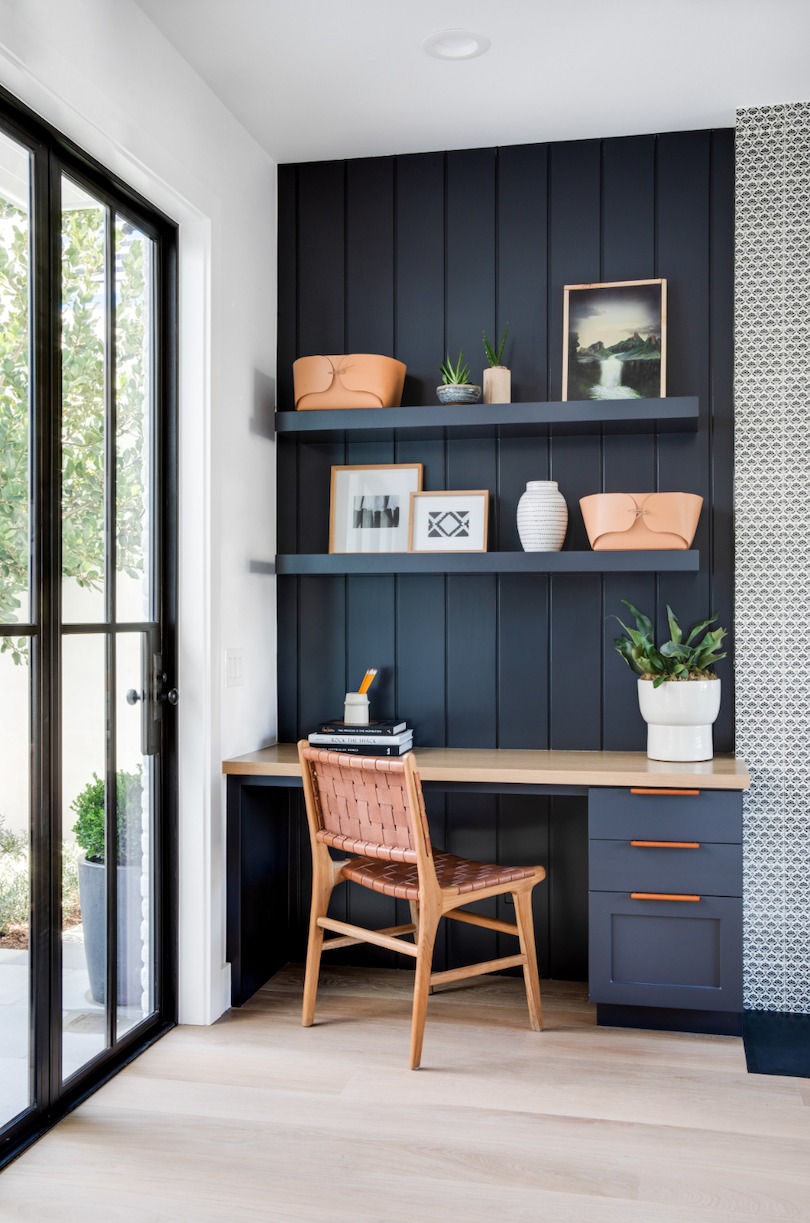 With a feature wall of shelving or pinned photographs, turn the necessity of home office storage into something lovely. This is the ideal solution for people who want to incorporate a home office into a living room or shared space. Keep it as aesthetically beautiful as it is utilitarian by leaving enough of space to display prized possessions.
14. Form a Shared Workspace With Ample Storage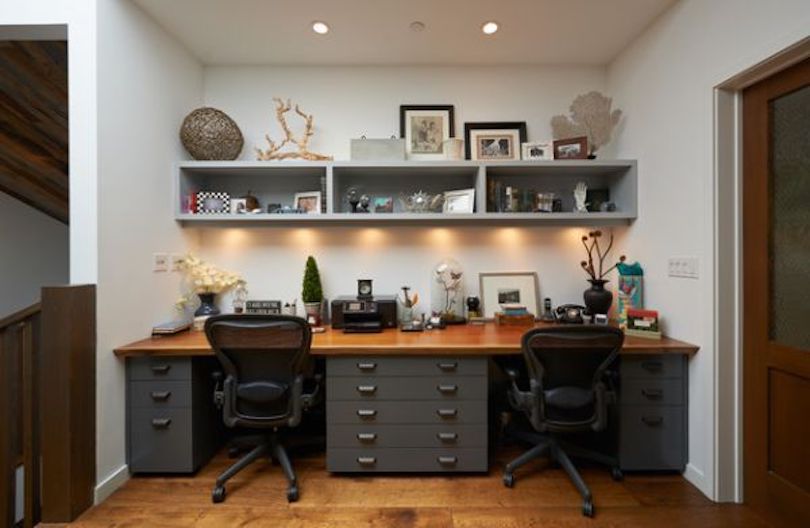 Sharing a workspace entails cramming a desk, as well as two people's documents and personal items, into a small space. A double desk and workstation with ample storage and built-in drawers under each will maximize the available space.
15. Select Modular Home Office Storage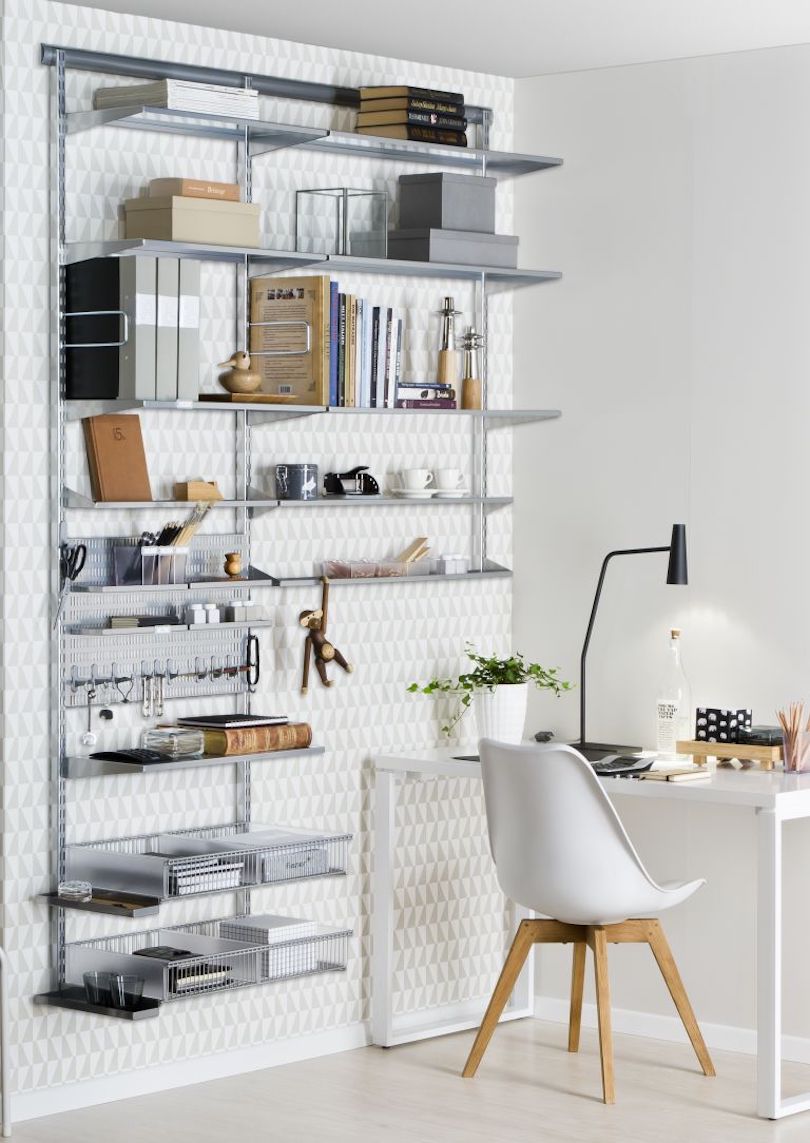 Building a flexible storage wall with floor-to-ceiling brackets and supports is a terrific home office storage concept. Modular  storage systems provide you complete control over your storage space. Not only could you get shelving in any depth, but you can also add drawers or pegboard-style panels for stationery.
16. Create Wall-To-Wall Home Office Storage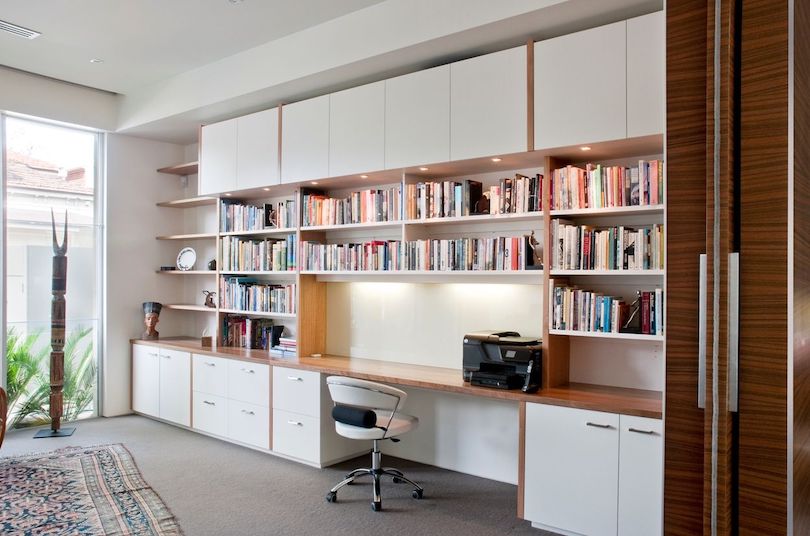 Fill the enitre wall or corner with shelf and cabinets for plenty of home office storage if space allows. If you want to go for height, keep in mind that you'll need to be able to access the upper shelves, which is where a library-style ladder and rail come in handy. This wall-to-wall storage solution has ample space for storing all your files and important documents while making a versatile space for accessories to display in the given space.
17.Ottoman Home Office
Don't have enough space for home office? No problem! Finding somewhere to put your papers, laptop, stationery, and other items if you don't have space in your home for a separate home office might be difficult. But have a look at this clever solution: keep everything in an ottoman.
To get this look, all you need is a cheap Ikea storage ottoman and a variety of desk organizers. The inside of the ottoman has been customized using a combination of Kuggis and Kvissle, but you may obviously customize the inside of your ottoman to fit your storage needs.
18. Pick Wall-Mounted Wire Shelving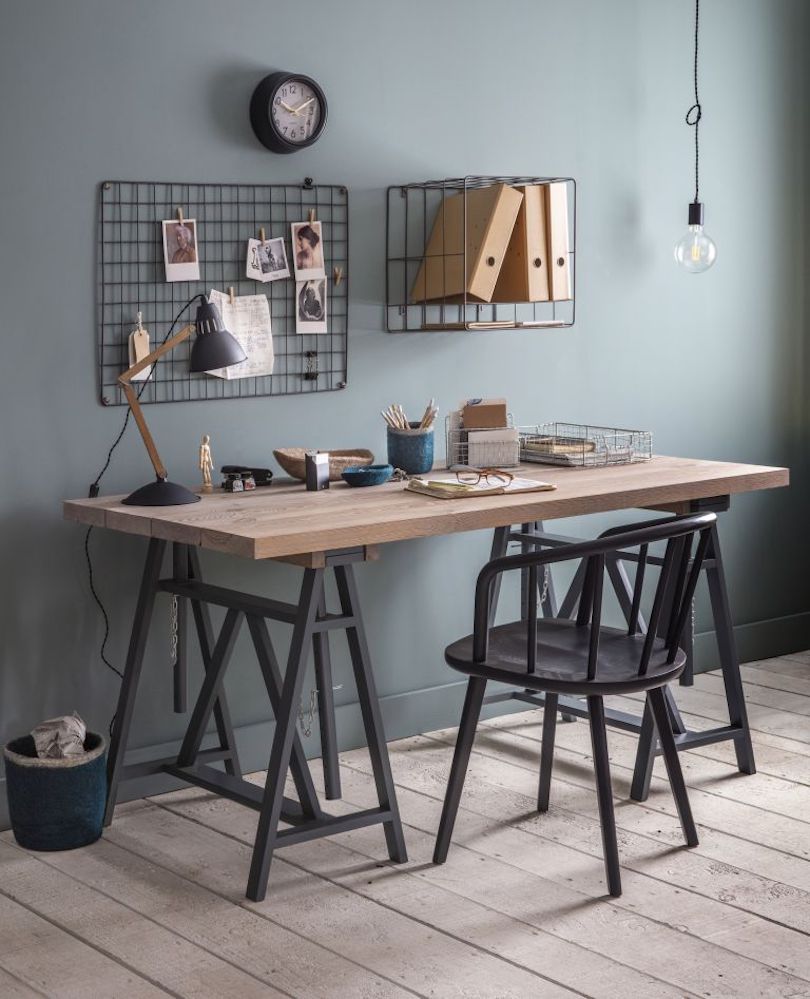 Check out these wire products from for simple yet effective home office storage options if you want an industrial vibe. The memo board is excellent for storing anything from inspirational quotes to reminders. There's also a similar wall-mounted shelf, which is ideal for keeping your workstation clutter-free.
19.Choose Home Office Cabinet For Concealing Everything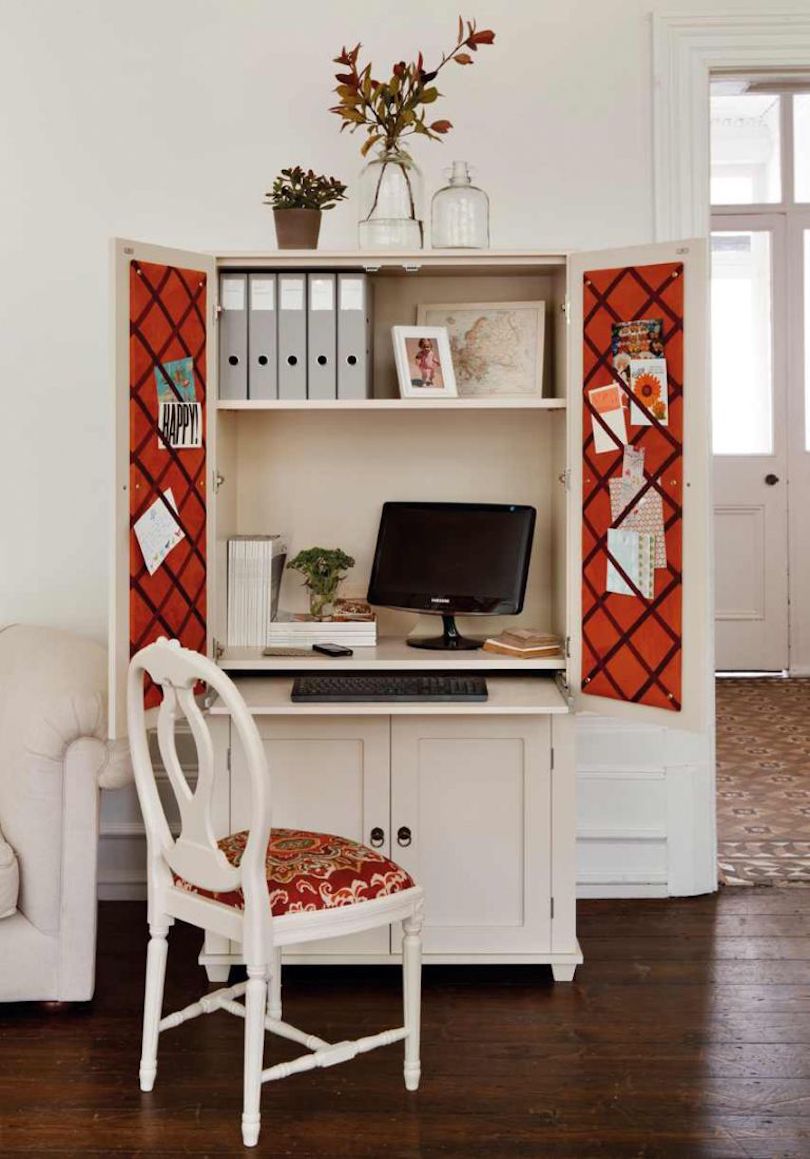 A concealed cabinet is a terrific alternative if your home office isn't in a designated home office. Just like the closet home office space, the  doors of this concealed cabinet can be left open during the day to offer you with a fully functional home office; at night, just close the doors and hide everything. Plus, the colours and textiles of these cabinets can be changed to suit your taste.
20. Create Walk-In Library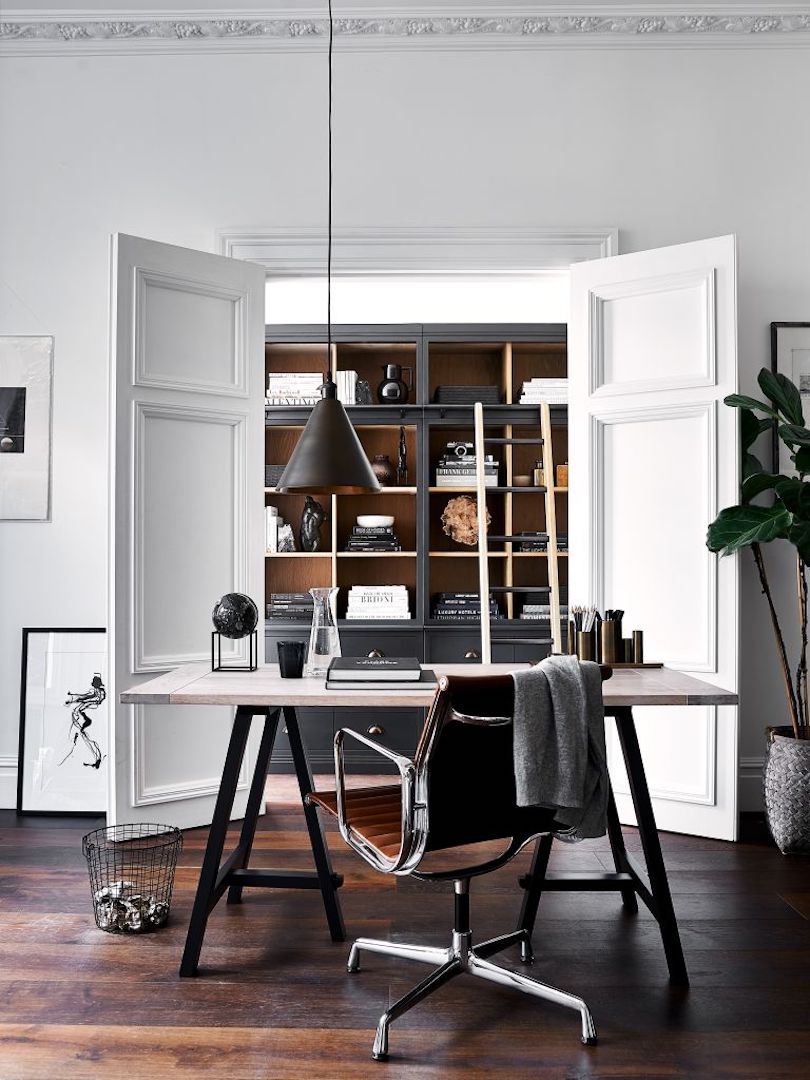 Building a walk-in library, similar to a pantry but for your books and work supplies, is a genuinely unique home office storage option. Obviously, there was a little room put onto the side of this large home office in this lovely home, but if you have lesser proportions, you might construct a stud partition wall in the current set up to achieve the same (if not somewhat less grand) effect.