Top Interior Design Trends For Your New Home in 2021
Just like 2020, the year 2021 is again dealing with another variant of coronavirus. Amid all the heart-wrenching stories of people dying or surviving the pandemic, your home is the only tranquil place that you can escape all the chaos. As you are more likely to spend most of your time working from home, it is a good time to think about redoing your home interior.
This year, interior design trends have taken a whole new dimension – as each of these has come out from a genuine need. All these trends reflect how our modern living spaces are also changing to meet the requirements of the current pandemic situation.
Take a look at our latest list of interior design trends 2021 to find out what you can opt for sprucing up your entire home interior.
1. Mini Study Nooks For Work From Home Setup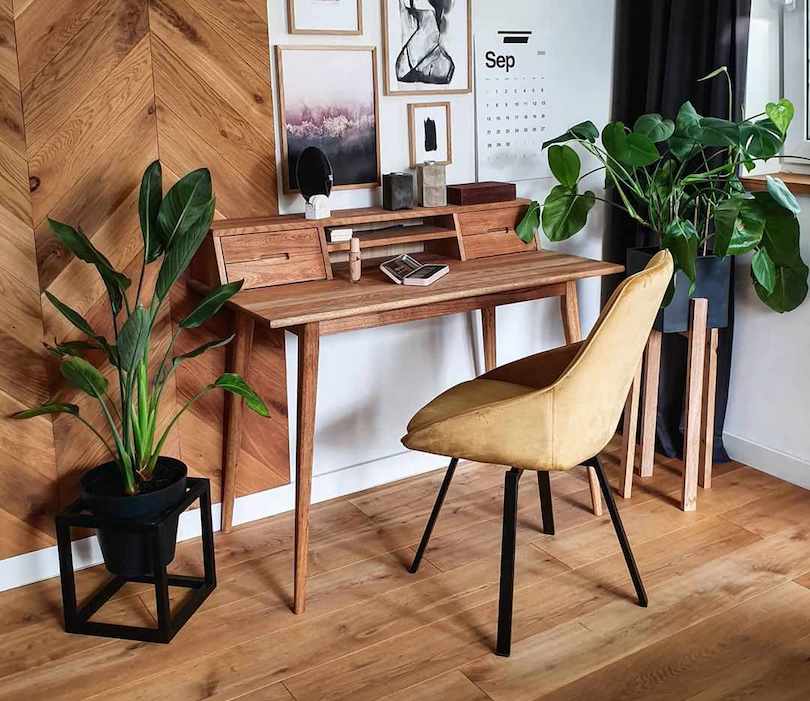 Now that staying at home and working from home is more common, adaptability at home has become more vital than ever. Working places have become less formal in this setting and can cohabit with other areas in your abode. As a result, tiny study nooks have begun to appear in bigger furniture pieces, such as hidden behind closets or attached to bookshelves.
Creating a home office is one of the most important interior design trends for 2021. With the rise of at-home workplaces, it's more important than ever to build a productive and practical workspace. If having a home office feels like a luxury at this point, there are inventive methods to arrange and turn almost any room into a workstation. This relates to the concept of multi-functionality.
How To Use This Trend in Your Home?
To begin with, you need to look for any small extra space in any area of your home. Bedrooms, guest rooms, and even closets are best for creating mini nooks for your home office setup. Space-saving options such as a small floating shelf, a leaning ladder, or a compact secretary desk can help anchor a work area.
If you don't have any extra space for another furniture unit, you can opt for other practical options for making working from sofa or bed more convenient. Lumbar support pillows and lap desks are the main items that can help you create a work area no matter where you are. To make the mini workstation appear lively and fresh, you can add plants around the desk.
2. Wallpapered Ceilings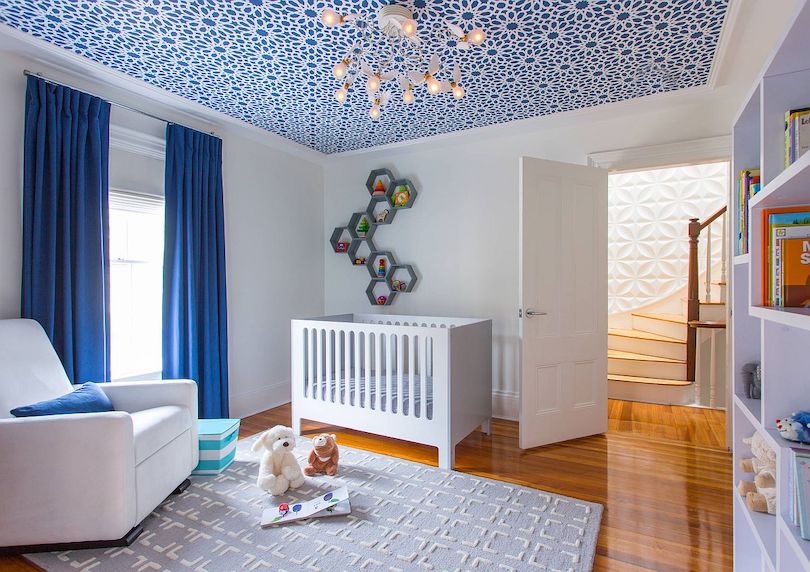 Wallpaper has had a return in popularity in recent years. Designers have been embracing wallpaper to bring pattern and texture into spaces across many different design styles because it offers a lot of bang for your budget.
Although this trend has already taken several turns, it has suddenly found itself in an unusual place: the ceiling! Wallpapered ceilings can offer a tremendous "wow factor" with hardly any effort, making them ideal for places where drama is limited.
How to Use This Trend in Your Home:
First, pick a room in your house that might use a little more oomph. This might be your foyer, powder room, or home office, to mention a few possibilities.
Then decide which sort of wallpaper will best complement the look you're going for. You may choose a dramatic design, a tactile grass fabric, an exquisite metallic, or a peaceful monochrome motif. The sky's the limit, so before going in headlong, make sure you know who you are as a designer.
3. Statement Pieces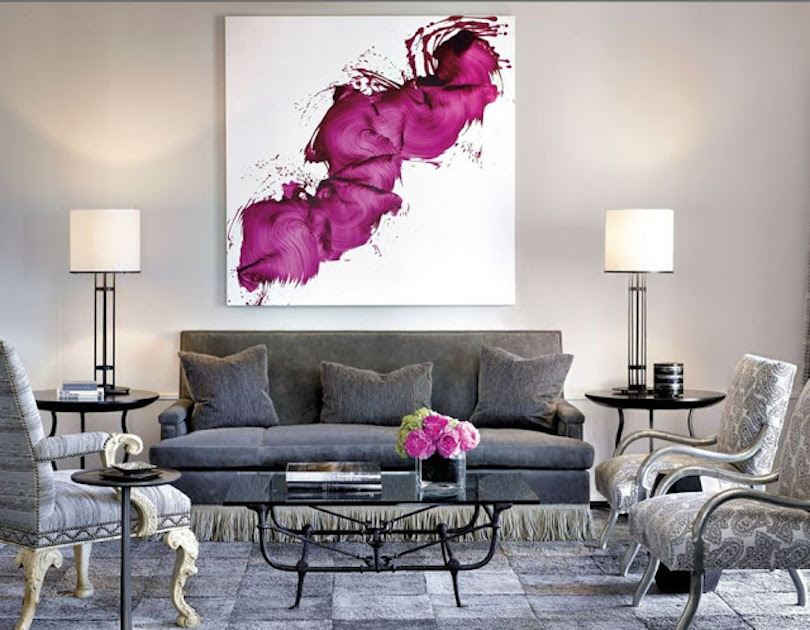 Top designers in 2021 have moved away from cookie-cutter, i.e. one-size-fits-all designs. Rather, they choose to create environments that seem collected throughout.
Statement pieces are employed to lend a dash of the unexpected touch to this preplanned yet effortlessly cool approach.
How to Use This Trend in Your Home:
Look for "one-of-a-kind" furniture, artwork, and decor items at estate sales. Consider larger artwork, one-of-a-kind lighting, or old armchairs or accent items.
If purchasing something new isn't in your budget right now, consider repurposing something you currently have. Repaint a chest or side table in a bright color, or reupholster a chair in a striking new fabric.
4. Biophilia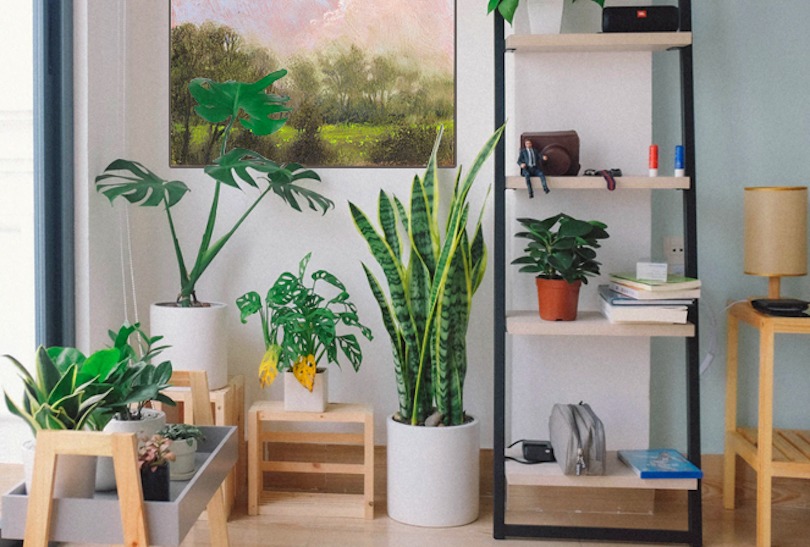 Due to its good impact on mental health, biophilic design has gained prominence in recent years. Incorporating natural elements through one's home has been proved to produce a sense of balance and tranquility, which is especially important in today's tech-centric environment.
How to Use This Trend in Your Home?
Bringing actual, green plants into your home is the simplest approach to combat this trend. No, a greenhouse in your living room is not required. Instead, begin with a few basic, easy-to-care-for plants like succulents, ivies, or a huge floor plant and work your way up. If you don't need a green thumb, invest in the best artificial plants according to your budget.
If plants aren't your thing, use natural elements like stone, wood, wicker, caning, rattan, or cork instead. You can also include images of flowers, plants, or natural landscapes.
5. Light-Colored Wood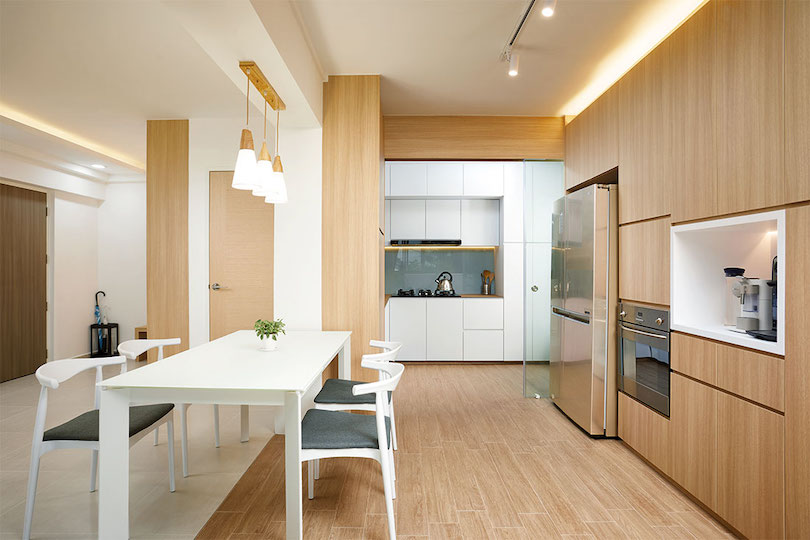 Another trend to consider for decking up your home this year is choosing light-colored wood for the interior. The light-colored wooden tone is perfect for opening up space.
The basic color of each variety of wood varies. Mahogany and teak, for example, are dark woods, but rubberwood and maple are lighter in color. It's important to keep in mind that light-colored wood is a signature of Scandinavian design. Light-colored wood, and by extension, lighter gradients of wood-colored finishes and laminates, will be big this year.
How To Use This Trend in Your Home?
Warmth and, in some circumstances, the texture is intended to be added to space by using wood tones. Light-colored wood, on the other hand, helps to open up areas. As a result, wooden finishes can now be used in small spaces as well. This season, light-colored timber flooring will undoubtedly be popular.
6. Materials, Like Terrazzo and Rattan Cane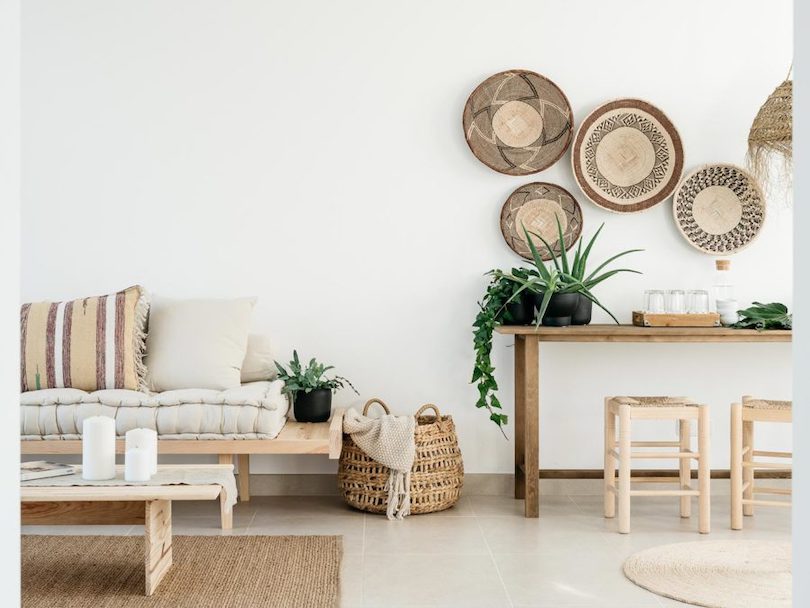 Weaved rattan would be our texture of choice for the year, and speckled terrazzo would be our pattern of preference. Both materials are extremely popular and can be used throughout your home's interior design. Both this texture and pattern can transform your interior without putting in much effort.
How To Use This Trend In Your Home?
Cane furniture, rattan mattresses, marcombe woven tapestries, planters, and baskets (made of rattan or cane) are all excellent sure to modify texture in your house. The good news is that they complement light-colored wood that's also a popular trend this year.
Terrazzo is typically used for flooring or wall cladding. However, because the pattern will be popular in and of itself, you can use it in antiquities or even soft furnishings or speckled upholstery.
7. Sustainable and Eco-Friendly Decor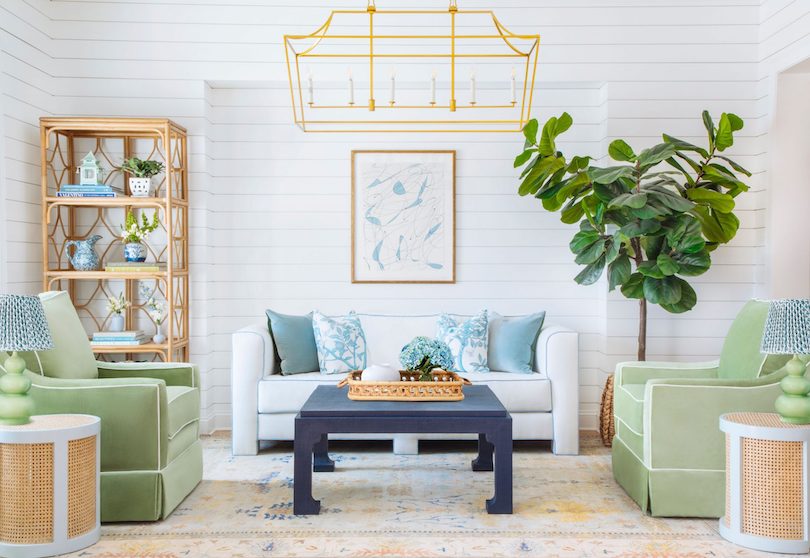 Staying indoors for the majority of 2020 and 2021 has had a significant impact on our mindsets and lifestyles. One of the most appealing perceptions has been about the environment and how, at the very least, we must begin saving it now. This expresses itself in sustainable and eco-friendly design for house interiors. The more natural materials you utilize to adorn your home, the more environmentally friendly it will be. Therefore, in 2021, you need to stick to materials that are sustainable and have a minimal carbon footprint. Also, use as little plastic as possible to stay true to sustainability.
How To Use This Trend In Your Home?
In this "new normal," plants in the house have become our best friends. We need to employ them a lot more now to decorate our houses. Furthermore, instead of synthetic objects, utilize natural and biodegradable materials such as wood, cane, hemp, and so on to equip your home. Consider using objects that may be found locally, such as tribal art, or hiring a local artist to paint your walls for you. This will incline you towards eco-friendly and sustainable home decor.
8. Rounded Furniture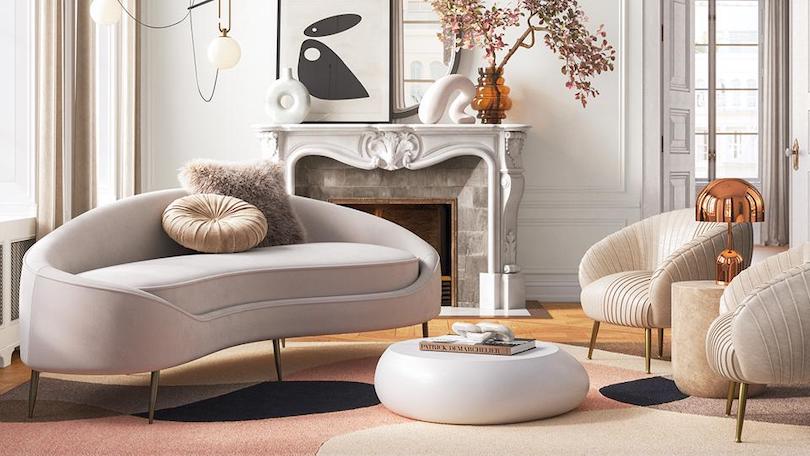 Curves are back! While the previous decade was mostly about furniture with clean straight lines, curves have made a strong comeback this year.  Furniture with rounded shapes and more shapely legs is likely to be seen in home interiors.
How To Use This Trend In Your House?
Choose chairs with curved backrests and consoles with rounded legs in a pleasing shape. Your sofas should now include rounded arms. Even the round coffee tables will be all the rage shortly. Consider adding a round rug to the mixture to suit your furniture's curves.
9. Pantone colors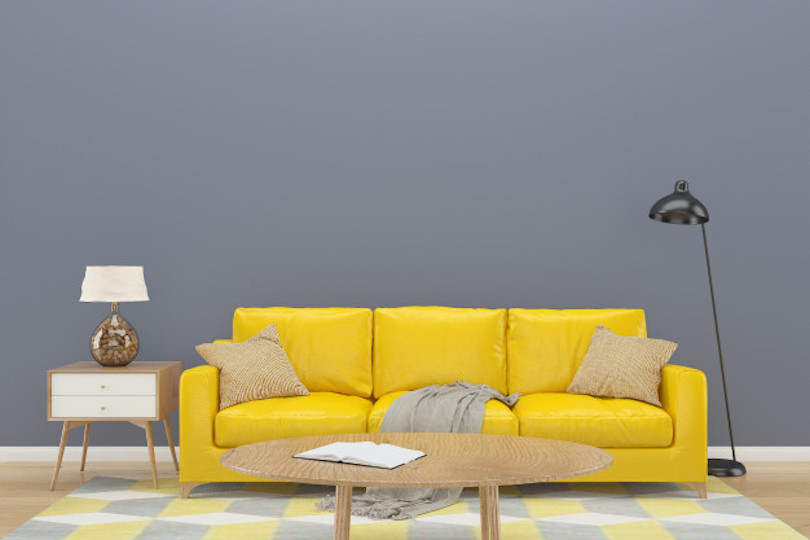 Pantone has chosen not one, but two hues for the first time in 22 years. Pantone, for the uninitiated, produces a color each year that is expected to dominate industries such as fashion and interior design. The color of the year before, for example, was classic blue. Ultimate Gray, a deep and dark grey that represents persistence and maturity, is paired with a cheerful yellow color that represents hope, for 2021. The two colors are meant to work together as a harmonious combination.
How To Use This Trend In Your Home?
Grey gradients, as well as geiges (the combination of beige and grey), work well as backgrounds for bright colors like yellow. As a result, a bright yellow headboard against a grey background would be a good idea. In an otherwise bland living room, a yellow sofa can add a splash of color. You could also choose yellow for soft furnishings and grey for the remainder of the décor.
10. Retro Elements From The 80s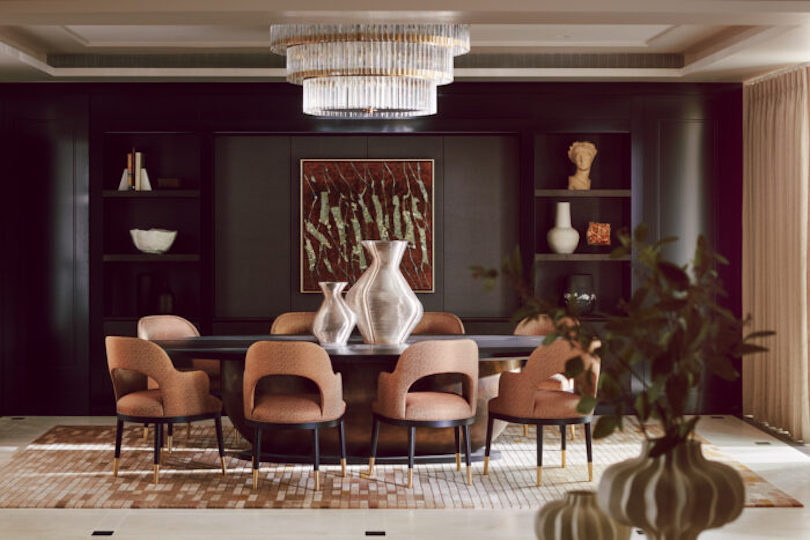 Nothing compares to the decade of the 1980s. All of the glitter, glitz, and bling has returned this year. Starting in 2021, 80s decor features such as architectural breaks (like arches) and disco lights have made a comeback. These retro pieces are likely to jazz up your interior with striking bling that brings a lively touch to the interior.
How To Use This Trend In Your Home?
Choose one blingy object for your room to add a touch of glitz to your decor. In this case, metallic lights are extremely attractive. Consider using wallpaper to create a false archway or updating a window to appear as one.
If you loved these home trends that will characterize modern homes in 2021, you might also enjoy our list of popular modern kitchen design ideas for this year.
Our latest home interior design edit present you with a specially selected design that will lead your home into the New Year with amazing style. From the increasing concept of sustainable materials to graceful features and an appreciation of uniqueness and originality, there are various things to consider when sourcing up your home with modern trends this year.