15 Simple Ways To Create Spa-Like Bathroom
Wondering how to give a spa-like feel to your bathroom? You can easily create your dream bathroom by taking inspiration from the timeless appeal and sophistication of saunas and luxe spas. Making a home spa is a great way to provide yourself a tranquil retreat for promoting well-being while minimizing stress.
Although all homes don't have a spacious master bathroom, luxury can be added to small spaces too. The beautiful materials can easily set the tone of a luxe space when blended with soothing hues. The finishing touches – such as adding bath bombs, scented soaps, pretty baskets, and sponges – can pull everything together for engaging all your senses. All you need to do is find a perfect balance between different materials.
A spa-like bathroom renovation does not need to be a big undertaking and also should not need too much time and effort. Only simple updates and minor changes can go a long way. Whenever you think about a spa, you might start thinking about fluffy oversized towels, subtle fragrances, soft candlelight, and calming ambiance. Everything works well in synchronization to form a harmonious and soothing environment to rejuvenate the body and mind.
For this harmonious makeover, you can consider adding little things like natural and organic decor, scattered rose petals, and soft music in the background. Also, work on the design details, including natural elements like stone, water, and wood. Baskets and trays with luxury items also need to be placed on the open shelves for a touch of opulence.
You must be wondering how to achieve all that in your small or spacious bathroom. Here are 15 simple ways to follow to create a spa-like bathroom in your abode:
1. Remove Clutter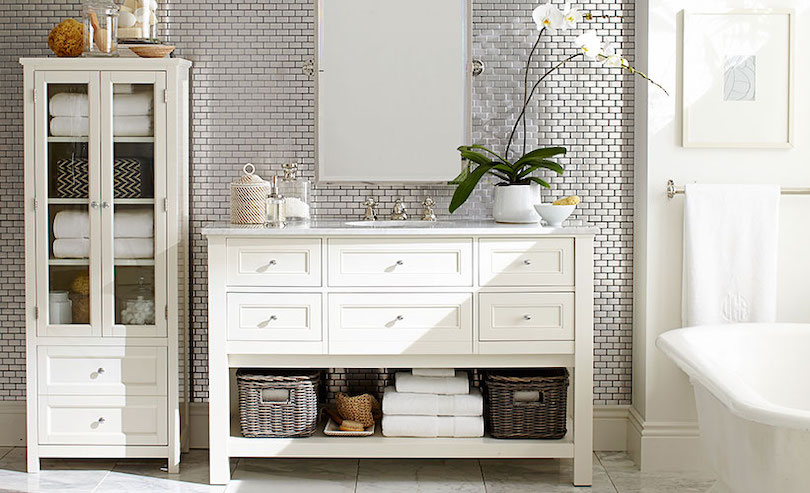 To create a clean, organized, and friendly atmosphere, the first step in establishing a spa-like bathroom is to eliminate clutter. Keep the essentials in the bathroom readily accessible, but store everything neatly in dedicated storage places. When rearranging the bathroom, the best technique is to put a towel on the floor and after that empty the contents of the drawers and medicine cabinets onto the towel. Now, place similar products together to check how many you have and then choose the ones you want to keep and the ones you want to dump.
Repeat the same with other products, like shampoo, cosmetics, cold and cough remedies, and pain relievers.  When everything is out, clean the cabinets and drawers.  Even the storage baskets and trays need to be organized well to keep everything organized. You can also consider other bathroom storage solutions, like hear-resistant boxes for hair styling tools, tiered trays for under-the-sink storage, makeup organizers, and stackable wicker baskets.
2. Bring in Nature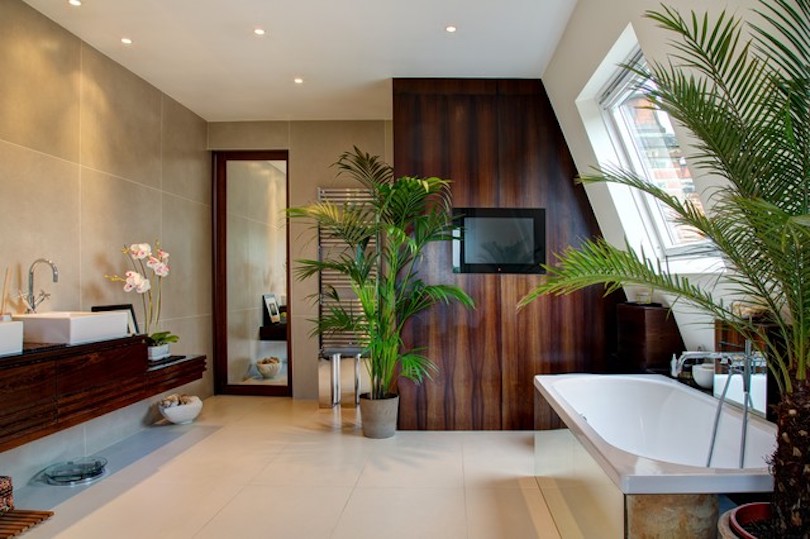 Beautiful flora contributes to a healthy environment while providing a relaxing atmosphere. Because bathrooms contain less light, more humidity, and warmer temperatures than other areas of the house, it's critical to locate houseplants that thrive in this setting.
Color, character, and vitality are added by displaying potted plants on counters, shelves, and the floor, as well as suspending plants from the ceiling. Use fresh flowers in a vase or include vines that trickle down from shelves.
Some plants that survive better in the bathroom environment are Aloe Vera, Begonia, Bamboo, Boston Fern, Chinese Evergreen, Cast Iron Plant, Dieffenbachia, Ivy, Orchid, and Peace Lily. All these plants don't require direct sunlight and can easily survive in low-light conditions. Meanwhile, these plants are perfect to add vibrancy into a spa-like bathroom.
3. Think About Creative Storage For Small Bathrooms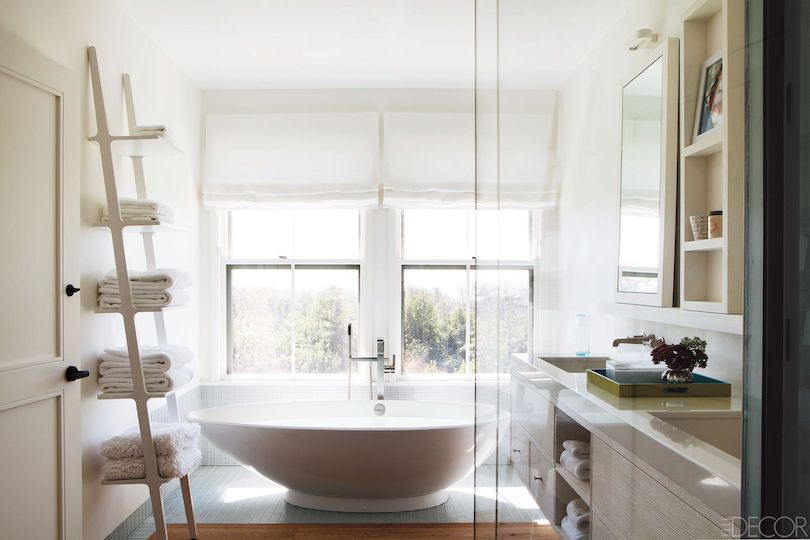 Have you ever visited a spa and observed how well-organized the guests? Spas have a way of arranging everything so that it appears sumptuous, from amenities to towels. A huge silver tray can be used to showcase lotions, perfumes, and other necessities elegantly. Cue tips, cotton balls, and sponges can all be stored in beautiful glass jars. On a vanity counter, stacked trays can be added to improve elegance and provide a place to store hand soap and lotions. Hand towels can be stored in wicker baskets that are put on countertops or flooring.
Storage ladders are another excellent alternative for storing objects at various heights in a visually pleasing manner. Custom shelf systems, mirrors with storage compartments, floating glass shelving, corner storage cabinets, and over-the-toilet storage are all different options to explore.
4. Use Calming Colors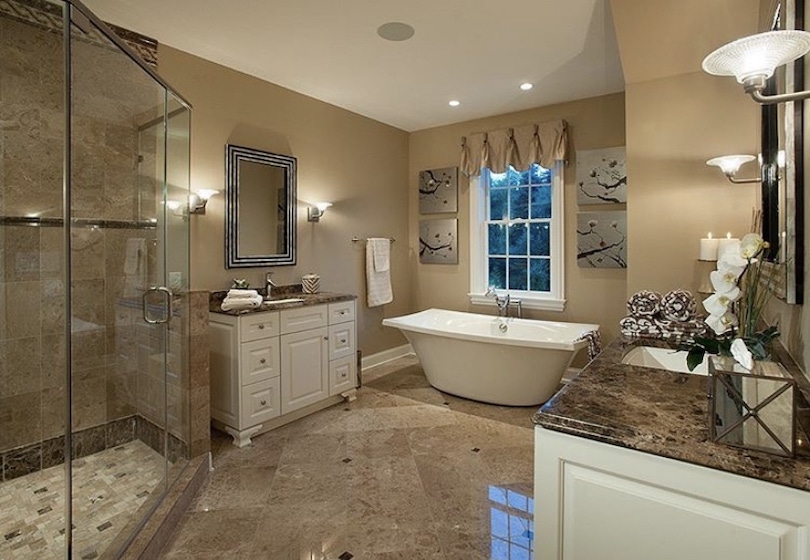 It's critical to choose relaxing colors to establish the vibe for your home spa. Ivory, beige, white, or gentle greys and browns are good choices for defining a relaxing atmosphere. Artworks, plants, and ornamental accessories can all be used to add a subtle color. Consider incorporating pastel colors of pink into the decor in the shape of florals, vases, or artwork to give your bathroom a more feminine or romantic feel.
5. Add Soft and Nurturing Textures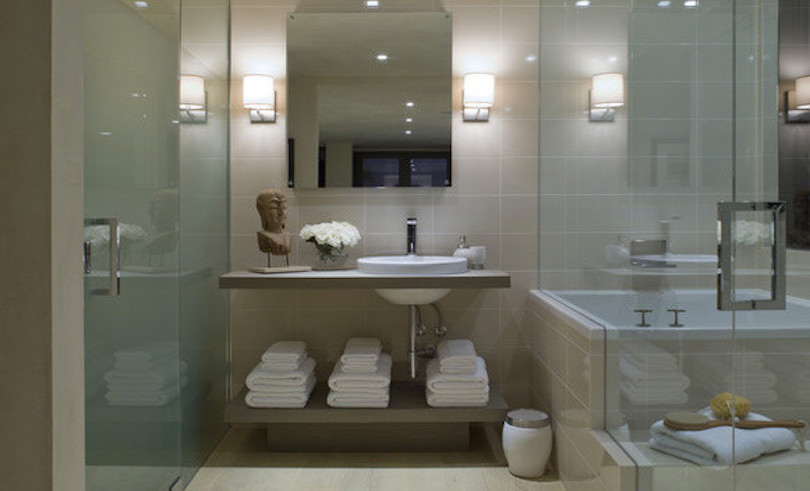 The bathroom is the perfect area to introduce soft and nurturing textures – from plush towels to fluffy bath mats, comfortable robes, and cozy slippers. They're also essential for giving your bathroom a spa-like vibe. Nothing says spa-like a clean stack of soft towels arranged carefully on a shelf, placed over a towel bar, or wrapped in baskets.  Consider adding a towel warmer to your home spa to experience the relaxing warmth of heated towels in the comfort of your own home.
One of life's minor comforts is a decent towel. Towels should be fluffy, absorbent, and quick to dry for a spa-like bathroom. According to Pottery Barn, the rule of thumb is to design a towel closet with two to three sets of towels for each member in the household. But it can take so much space in the given space.  Fortunately, there are a variety of innovative options for storing your bath towels, ranging from elegant boxes to functional rolling carts. You may also buy your towels separately to create collections with different designs you like. From sumptuous Turkish and Egyptian cotton to quick-absorbent microfiber and Pima cotton, there's so much to choose from.
6. Elegant Plumbing Fixtures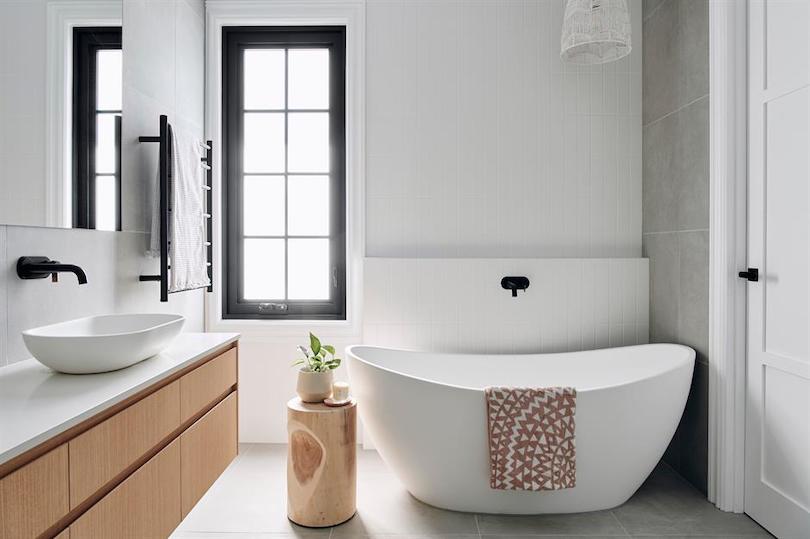 The shower, tub, toilet, and sink are the focal points of the bathroom. So, be careful when selecting these. The right choice of plumbing fixtures will go a long way toward achieving a spa-like atmosphere.
7. Upgrade Your Showerhead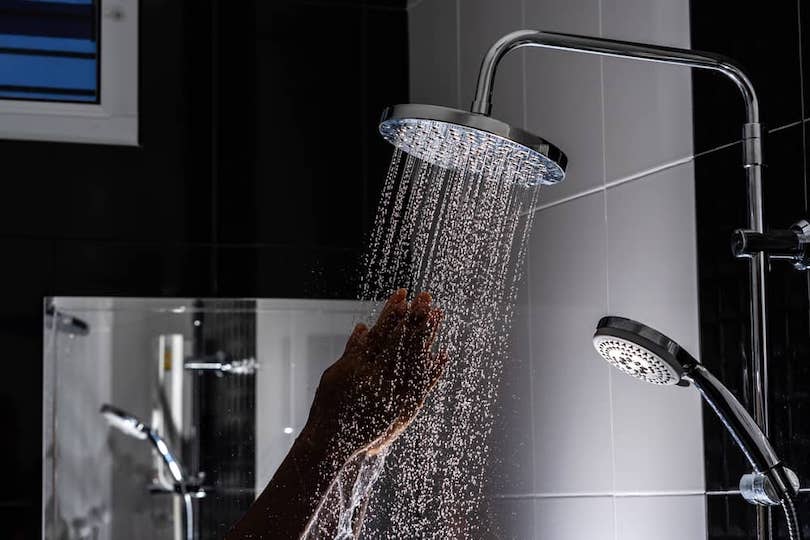 The shower is the focal point of the bathroom, and it should be as luxurious as possible. Installing a rainfall showerhead in your bathroom will give it a luxurious and spa-like feel. A steam shower adds instant relaxation while hydrating the skin and leaving it refreshing.
8. Wooden Bathtub Tray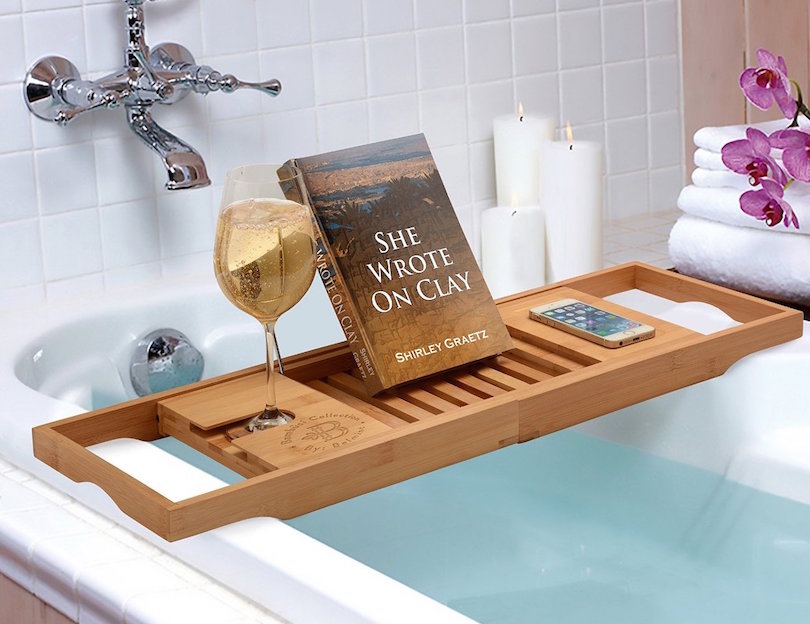 Adding a wooden bathtub tray can instantly add a luxe feel to a bathroom. You can place a soothing cup of tea, a book, or a glass of wine with other bath accessories for creating a perfect spa-like feel.
9. Add a Cedar or Teak Bath Mat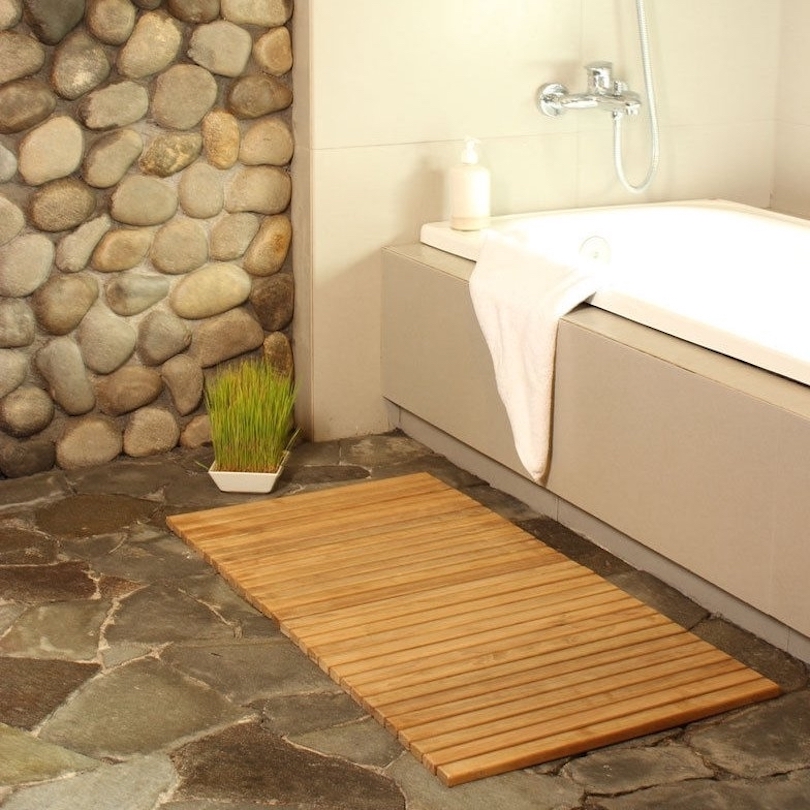 A simple cedar or teak bath mat instantly transforms your bathroom into a spa. It's a sophisticated and contemporary solution that instantly transports you to a day at the spa. Cedar is an excellent choice because it is a cost-effective and water-resistant wood. If your budget allows, teak is also an excellent option.
10. Add Calming Scents
The aroma that greets you as you enter the spa instantly soothes and refreshes you. Consider utilizing scents to recreate the aromatherapy found in the top spas in your bathroom to complete the spa environment. It's the ideal element for easing you out of your daily routine and into a state of peace and relaxation. A little goes a long way, whether it's fresh mint, eucalyptus, or a hint of jasmine, lavender, tea tree, ylang-ylang, rose petals, neroli, or vanilla.
You may transform your bath into a peaceful sanctuary with the introduction of scented candles and soaps, essential oils, fragrant lotions, diffusers, and potpourri.
11. Prepare to be Pampered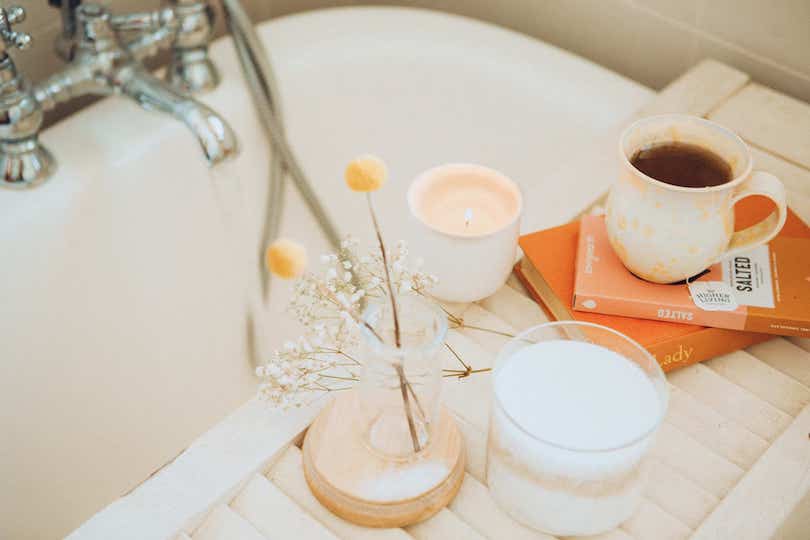 Display your favorite spa pleasures on open shelves or in gorgeous glass jars on the counter, such as bath salts, body scrubs, and sheet masks. Many companies are designing beautiful packages for their goods that run along the bath's edge.
12. Use Art For Spa-Like Bathroom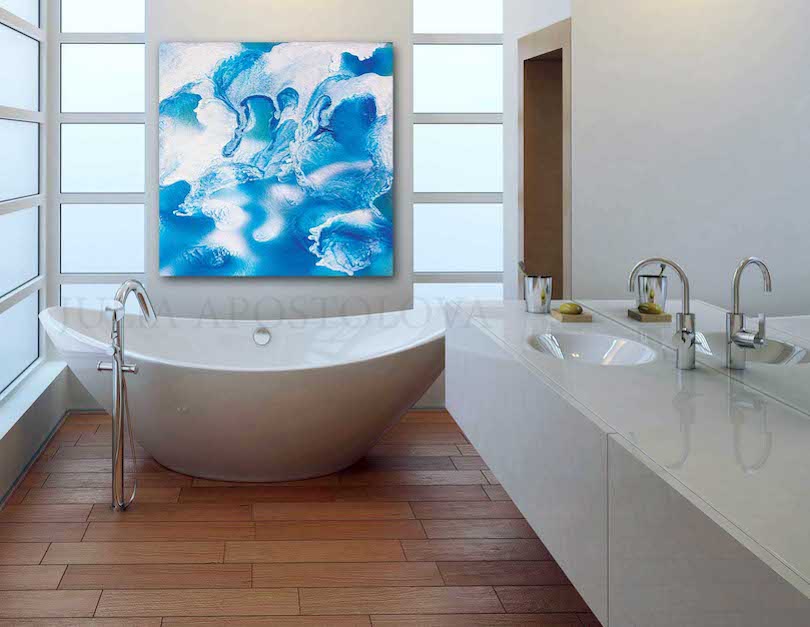 A well-curated gallery wall or a huge piece of art can immediately elevate a bathroom while also tying the entire space together.
13. Dimmer Switches & Lighting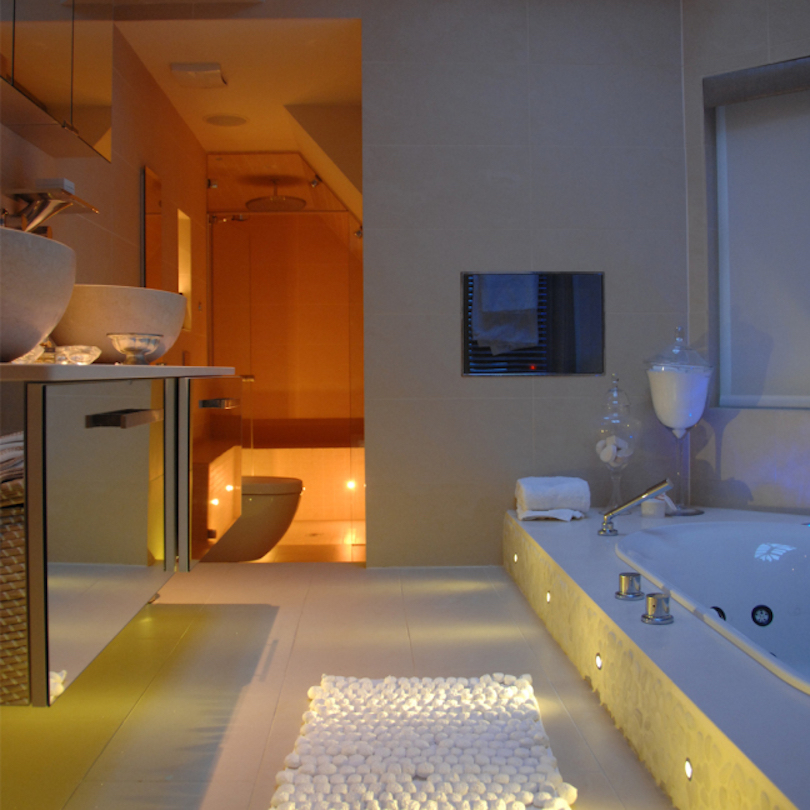 The strategic use of recessed lighting, chandeliers, and ornamental wall sconces may go a long way in generating drama and refinement in a truly luxurious bathroom. The key to correctly lighting a bathroom while producing a sumptuous impression is to use numerous layers. Consider installing dimmer switches, which may mimic the feeling of soft candlelight and are a charming touch to any bathroom.
14. Add Accessories to Countertop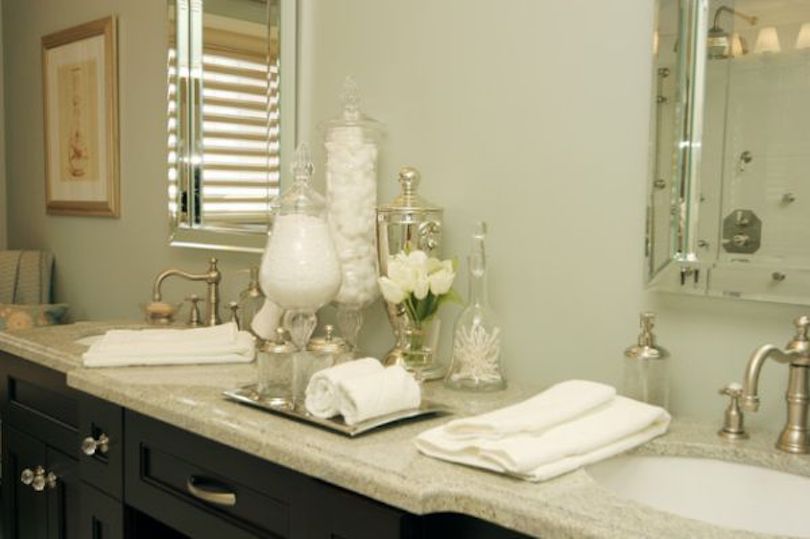 Choose elegant accessories that go with the bathroom's overall style. Even a little floral arrangement can make a big difference if you're short on space. So, you can consider adding accessories, like vases, glass jars, towel trays, candles, etc. on the countertop.
15. Add Seating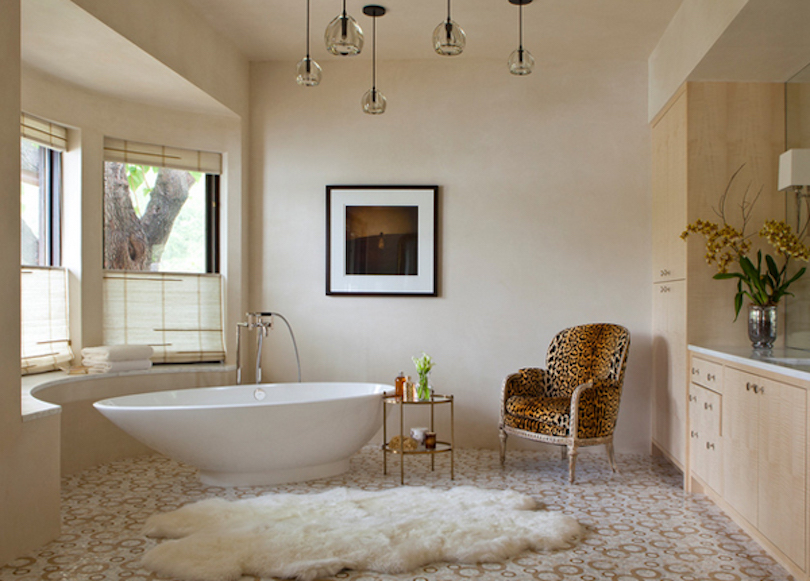 Additional seating, such as a small stool or a small soft chair, provides an expensive look if you have space. It can also be used to apply lotion or to unwind after a bath.
By making all these changes in your bathroom, you can easily convert your shower room into a luxury home spa.