Want to Renovate Your Bathroom? Keep These 10 Things in Mind
The bathroom remodeling will cost you money, time, and a lot of effort in thinking about what things to consider for redesigning. The price may range from a few thousand dollars to as high as six figures for a high-end master bathroom design. However, if you are smart about your spending habits, this investment will be worth the time and effort.
The key is to select certain upgrades that can improve your routines and lifestyle. For instance, you might need a tub for a relaxing bath after a long day; a wall niche for storing bathroom accessories; two sinks for brushing your teeth or washing your face without getting into an elbow war.
But before you get into designing and selecting different materials for your bathroom, you need to ask yourself certain questions.
Ask Questions Before You Begin
First of all – before you get into the mood-boarding or picking the best bathroom design for a remodeling project – you need to ask yourself some important questions. You may not even realize that these questions are likely to impact your bathroom requirements. Even a designer you hire for bathroom renovation is likely to ask you these questions before starting the makeover process. So, get these answers ready to talk to your designer, and then begin a collection of inspiration photos for your bathroom's new look.
1. What's your daily routine?
Usually, the layout depends on it.
2. How much you want to spend?
You need to do the budget now to avoid being disappointed later.
3. How much storage do you require?
It is easier to add while renovating than adding it later.
4. How many people will use the bathroom?
Based on this, you have to decide to add double mirrors and double sinks or one.
5. What do you dislike about the current bathroom design?
It is important to discuss so that the same mistakes are not repeated.
Things to Consider When Redesigning a Bathroom
Given below are the 10 important things that you need to keep in mind when redesigning a bathroom:
1. Look for Inspiration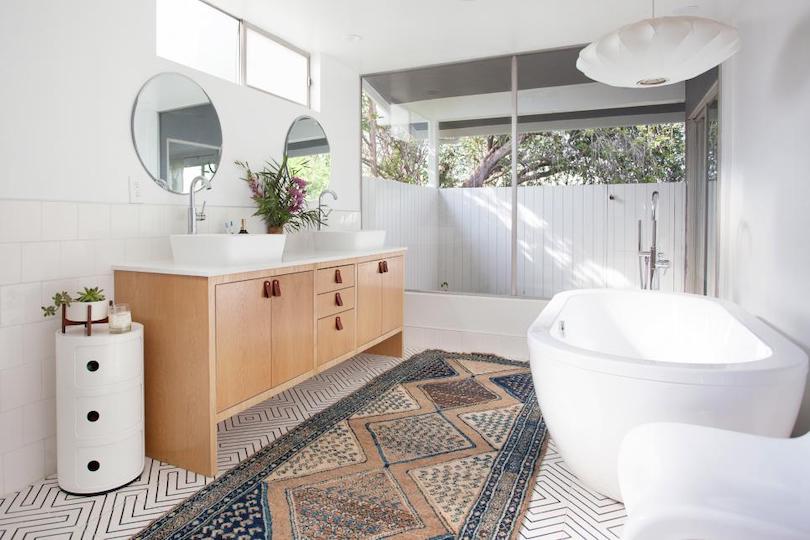 It's good to get a precise concept in mind for your next bathroom design before contacting a bathroom interior designer or contractor. Contractors can use reference books to help estimate the cost and time of a bathroom remodeling project.
Pinterest is a fantastic place to keep track of all your bathroom remodeling inspirations. To get a better concept of the style and vibe you need for your bathroom, make a Pinterest board with all of your favorite inspiration ideas. This is useful during the design and construction phases since it provides a reference point to look to if you become disoriented.
You can also gather magazine pages or other real copies of bathrooms that have features you wish to copy. The most crucial thing is that you know what you're doing.
2. Establish a Budget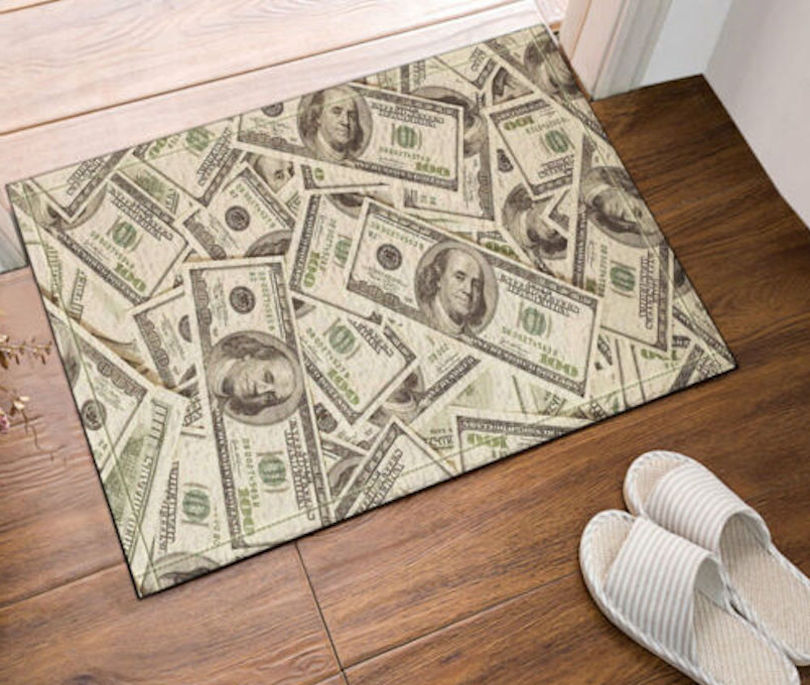 Even simple bathroom renovations require planning and budget. Keep in mind that you'll have to pay for labor, supplies, materials, permits, and any other unexpected costs.
We propose putting away some extra cash in case your remodeling job runs into problems. Cracked tiles, broken pipes, warped wood, unexpected mold, bad wiring, and a slew of other issues can toss your bathroom renovation plans for a loop. Having extra cash can help you catch that curveball and stay on track. So, always work as per the budget plan.
3. Consider Space You Need for a Half Bath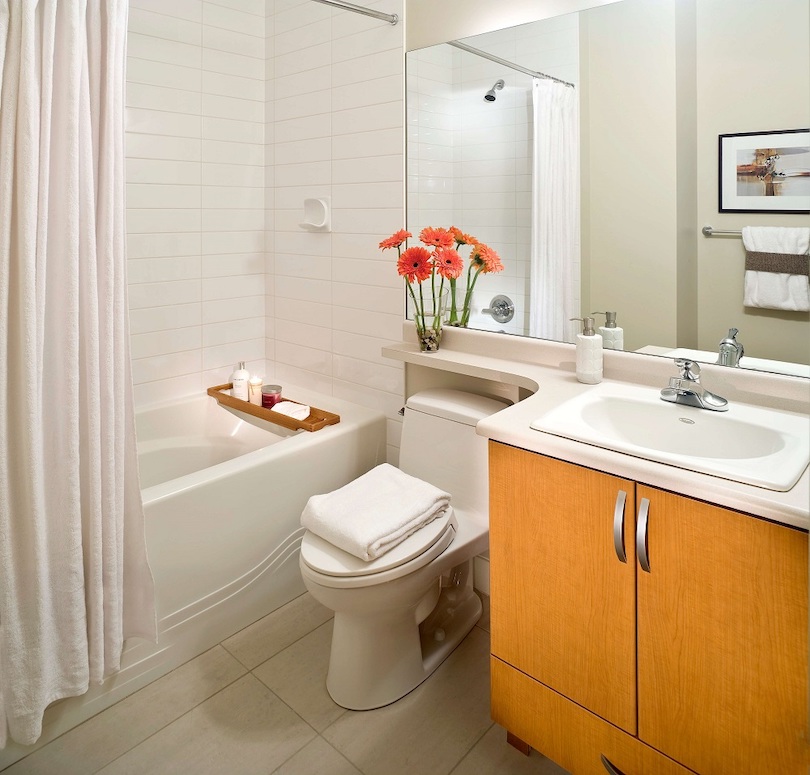 A sink and toilet can theoretically fit into an 11-square-foot space while still meeting national building requirements. However, for maximum comfort, choose a space that is 3 to 4 feet wide and around 6 to 8 feet long. Check your local codes for any additional needs, and be sure to read proper dimensions and clearance information stated as per your area's building requirements.
If you consult any professional contractor, they will guide you through proper building codes and requirements for small yet comfortable bathroom space. so, it's best to consult them for better guidance and space consideration.
4. Design for Accessibility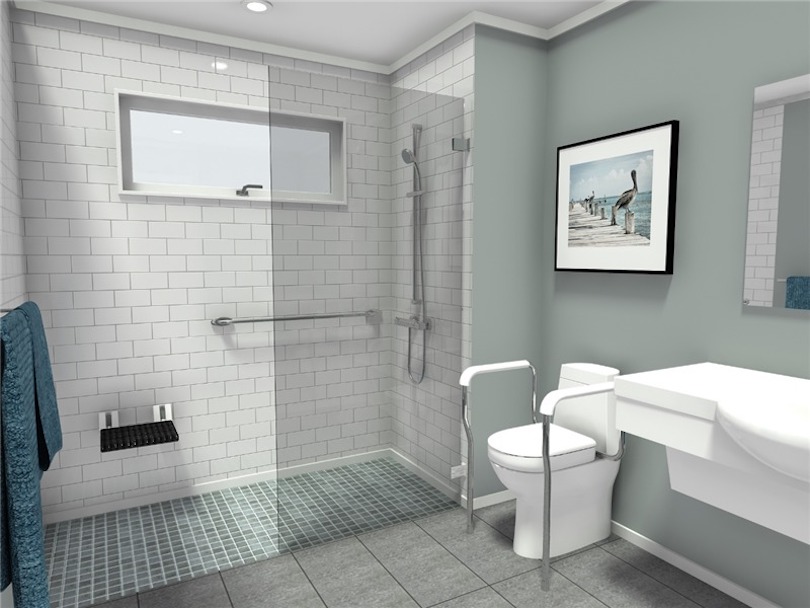 Handheld showers and lever faucets with easy-to-grip levers are suitable for persons of all abilities and can be installed at any time. However, make permanent features a priority early on. Grab bars should be installed 33 to 36- inches off the floor and attached to blocks between wall studs. A barrier-free shower, a larger doorway, and a lower sink height are among options.
These grab bars will also be beneficial for the safety of children and anyone with injury or disability. Instead of installing them later when you're injured, it is best to install them beforehand as a safety measure.
5. Know The Materials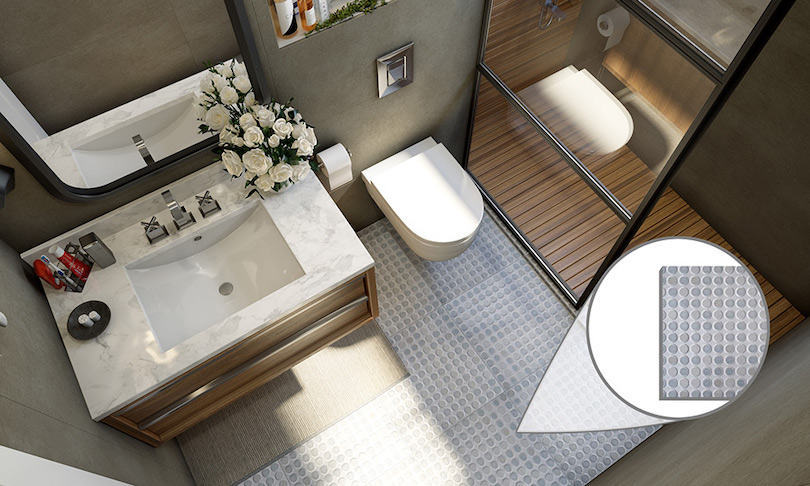 You need to know the right materials you want in your bathroom. Some common materials to consider for the update are:
* Natural Stone: Probably, one of the most refined and elegant bathroom surfaces is the natural stone. Any natural stone can do well in a damp environment with the correct sealant, so it'll primarily come down to pricing and aesthetics.
* Tiles: Subway tiles are a classic choice, but zellige, a more custom and handcrafted option, is also a good option. Also, don't overlook small tiles like penny and hex: These little rounds are still recognized for their affordability more than a century after their invention; you can acquire them for as cheap as $5 a square foot and use them all around. They can be a terrific alternative to more expensive bathroom materials like natural stone (and they're just as attractive) because of their low cost and endurance in wet settings.
* Wallpaper: Yes, wallpaper can be used in a bathroom! The key is to keep it out of the way of splashes and to provide adequate airflow to avoid moisture buildup.
6. Don't Move Plumbing Fixtures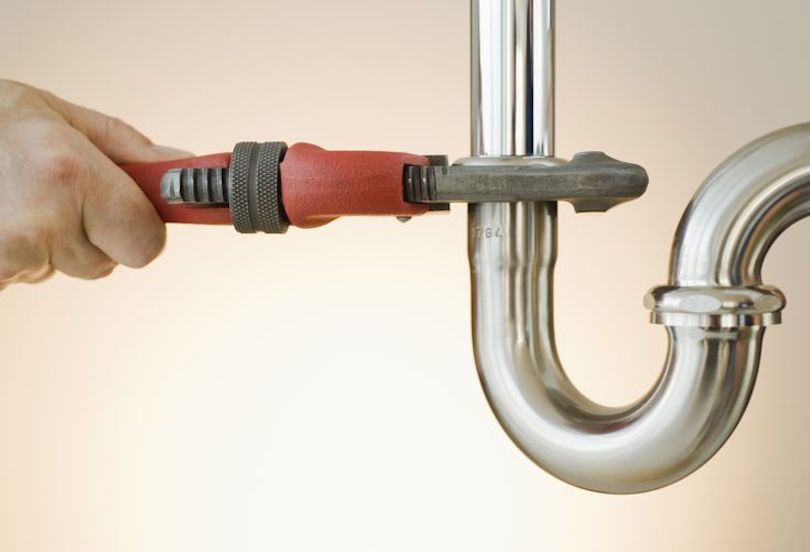 Moving plumbing fixtures is more expensive than leaving them in their existing location. The average cost of moving a toilet or bathtub could be up to $5000 or more. So, we would recommend you contact a bathroom remodel contractor if you want to change the arrangement of your bathroom.
They'll know the dimensions of tubs, toilets, and other fixtures so you can choose the ideal plan. If you have a small bathroom, for example, adding a small sink in the corner can help you make the most of the space you have.
7.Choose Waterproof Flooring
Bathroom flooring that is resistant to moisture and humidity is recommended. Luxury vinyl, stone, and tile are among the greatest bathroom flooring options. Hardwood flooring has a natural appearance that many homeowners like, but they don't suit bathrooms. Because hardwood is a natural product, it expands and contracts in response to changes in moisture.
For commercial spaces, look for durable, high-quality options suitable, such as slip-resistant tiles, rubber flooring, or epoxy flooring. These options can withstand heavy foot traffic and are easy to maintain. There are a lot of high-quality vinyl brands for flooring to choose from.
This means that the humidity and steam caused by showering will cause the floors to swell. Water can also cause damage to hardwood flooring. In humid environments, carpeting should never be used in bathrooms because it is sensitive to mold and mildew.
8. Keep Storage In Mind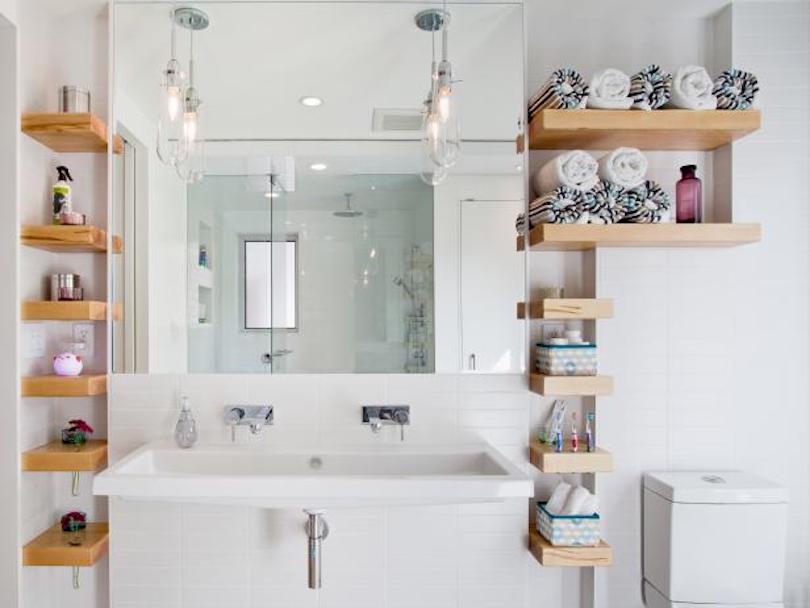 Here are different storage ideas to consider for your small bathroom space:
* In the Shower: Since most bathrooms have limited storage, a built-in shower niche is almost required. Purchase a prefabricated niche to tile over or install one between the studs. Just make sure it's big enough to store all of your shower essentials.
* In the Vanity: You have two alternatives for a vanity: custom, where you choose high-moisture-resistant materials and have them installed by a designer-contractor team, or store-bought to save yourself the trouble. However, if you don't have to, don't rip up the pipes: "If you're on a budget, buy a vanity that will work with your existing plumbing." Cabinet doors can cover your mess, or you can make a cottage-inspired aesthetic with a curtain and pole.
* On the Walls: A minor cabinet, floating shelves, towel racks and hooks, and a built-in linen closet are all useful additions—whatever you choose depends on your taste and the amount of space available.
9. Light a Vanity Right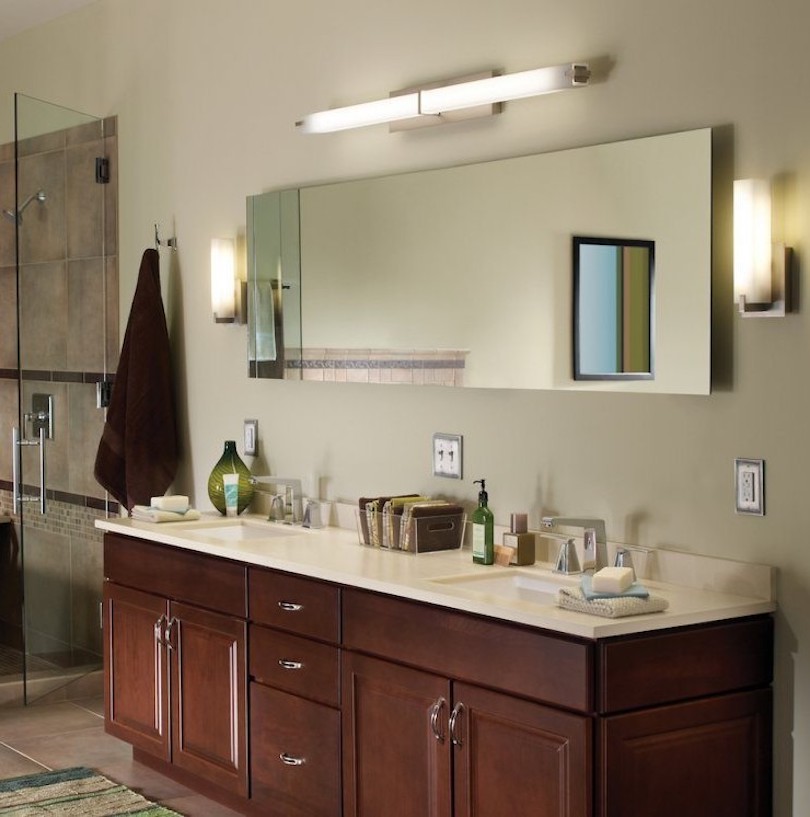 Place lighting fixtures on either side of the mirror at eye level (about 66 inches) and 36 to 40 inches apart. Before you purchase, try to observe the fixtures in action to ensure that the volume and intensity of light are enough. If you don't have enough space for side sconces, hang a long fixture above the mirror. Relying on a recessed ceiling fixture is a great idea!
10. Turn Your Tub to a Shower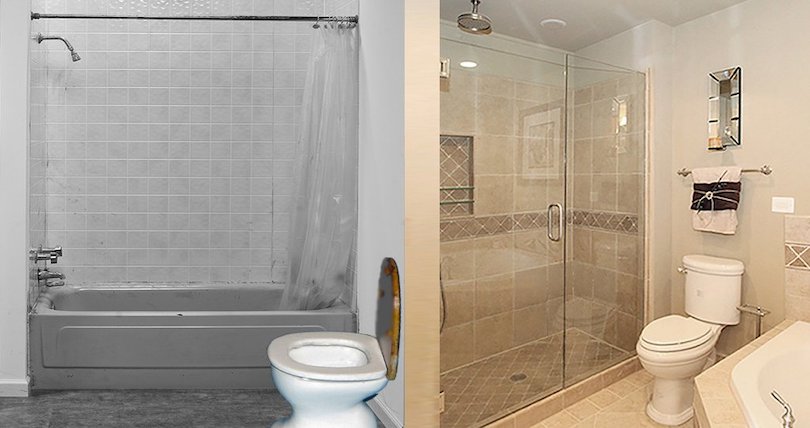 A beautiful shower may be just as enticing as a tub, which is why an increasing number of homeowners are converting tubs to showers. Because you'd be replacing the tub with a shower, all of the essential piping would already be in place, saving you money.
Installing a luxury shower also allows you to make room for other items, such as a larger vanity or an additional sink. These upgrades can increase the overall value of your bathroom.
Any home can benefit from a bathroom remodeling project that quickly adds a sense of elegance and flair to the given space. So, if you're bored of your old bathroom set up with a 1990s layout, it's time to consider a bathroom makeover now. Before you begin, always keep these points in mind to get your dream bathroom within your estimated budget.