Recycling Ideas for Home Decor
We all have some pieces of old frames, furniture, or glass jars that are so simple yet beautiful to throw away. Fortunately, we don't have to do that. We'll discuss with you 15 amazing recycling ideas to inspire you to recycle your odds and ends into something elegant.
Home decor projects are a terrific way to save money while still being environmentally-friendly. Instead of purchasing a brand new item, you can make something unique and special with your own two hands. Many of these DIY ideas would look great in a high-end home decor store. Instead, they're handcrafted with passion and are one-of-a-kind.
So take your DIY tools and choose from this selection of recycled home decor ideas for your next project:
1. Reclaimed Wood Furniture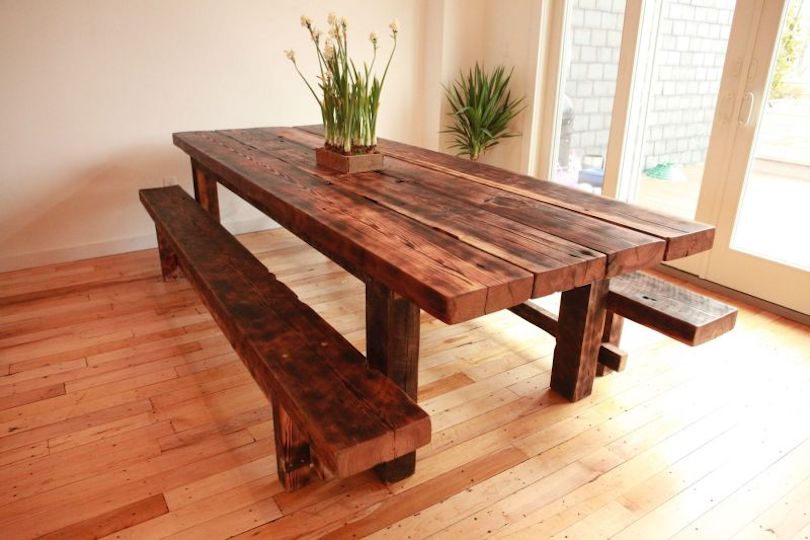 Love the rugged and rustic vibe of trees? Reclaimed wood furniture is one great way to add second life to already dying trees by reusing wood from old building fences and other properties. The reclaimed wood furniture manufacturers often look for various collapsing barns, soon-to-be-demolished properties, immense warehouses, closed factories, and other buildings constructed in the past century.
The old building was generally made from old-growth forests that means you can make use of old woods that are no longer workable for further use. The reclaimed wood is strong and sturdy, as well as abundant character. Using old wood, you can create different furniture items like a dining table, center table, armchairs, etc.
2. Bottle Walls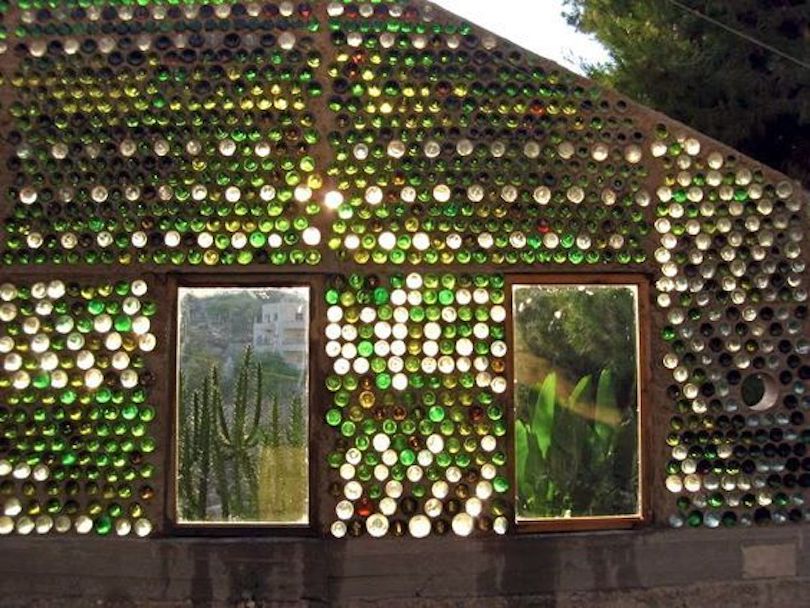 Reuse all of your glass or plastic bottles in wonderfully attractive bottle walls inside or outside your home if you're handy with bricklaying or working with mortar. To begin, save a variety of bottles in various colors or just one color.
Calculate one bottle of brick for every two inches, depending on the scale of the project—some people create walls, while others build buildings. Clean and remove the labels from the bottles, then cut them in half with a tile saw and tape two bottle bottoms together to form a brick.
After that, begin laying and stacking. Mortar, cement, adobe, plaster, clay, joint compound, or stucco can act as a binding substance. When everything hardens in form of an elegant wall, the sunlight getting into the interior creates a wonderful effect. Even heavy glass items look great in glass brick, creating a striking effect.
3. Plastic Caps and Other Items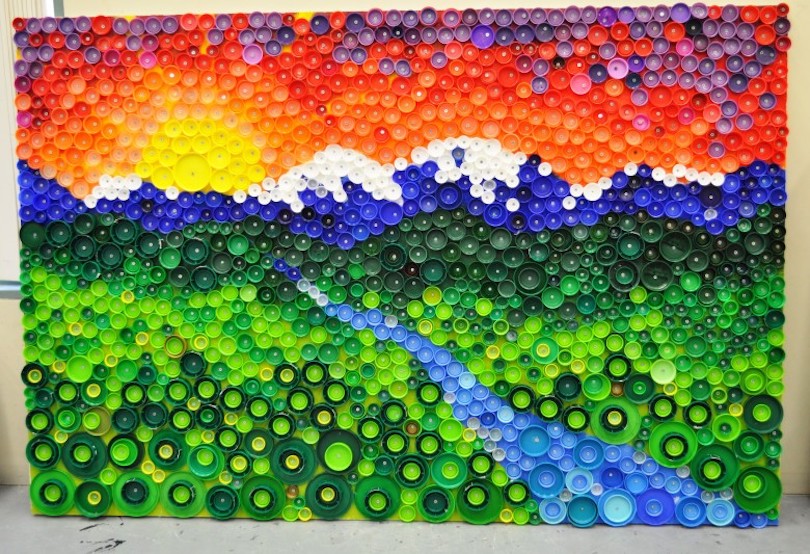 Plastic is the global environment's worst enemy. It takes decades to break it down after using once and discarding. While it isn't a long-term solution, recycling plastic keeps waste out of the environment for a while. Stacks of plastic are obviously not something you want in your home.
Plastic-colored container tops, on the other hand, are an excellent medium for creating murals and mosaics, whether as a kid's craft or a basement installation. You can hang the caps on the wall by nailing or gluing them in place. With various plastic things and a bottle of epoxy, let your creativity go wild.
4. Renewing Old Furniture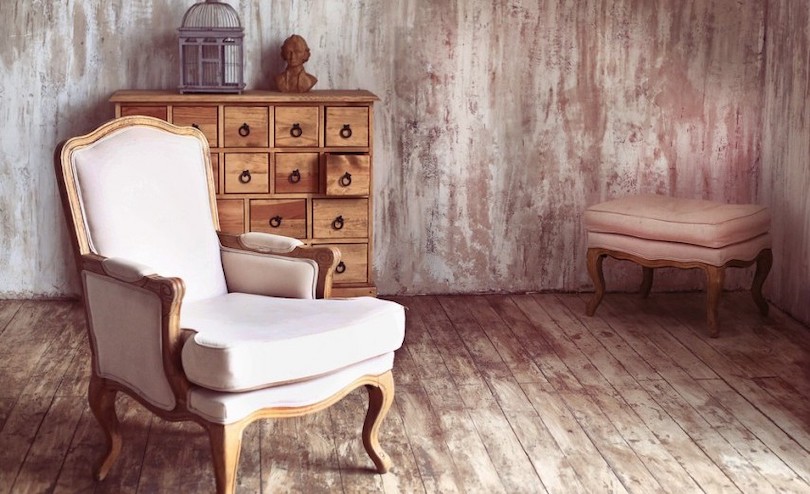 Know that you wouldn't have to eliminate what you already have when considering recycling ideas for home decor. Give your furniture or hardware a fresh chance at life if it's a little beaten up or garnished. An old piece of furniture can get a new life with good sanding, fresh fabric, and a few coats of paint. To store shoes in the entryway, refurbish and repaint a little old bookshelf. You can turn an old window into a picture frame by sanding and repainting it. The options are limitless.
5. Recycle Old Wood For Home Decor Objects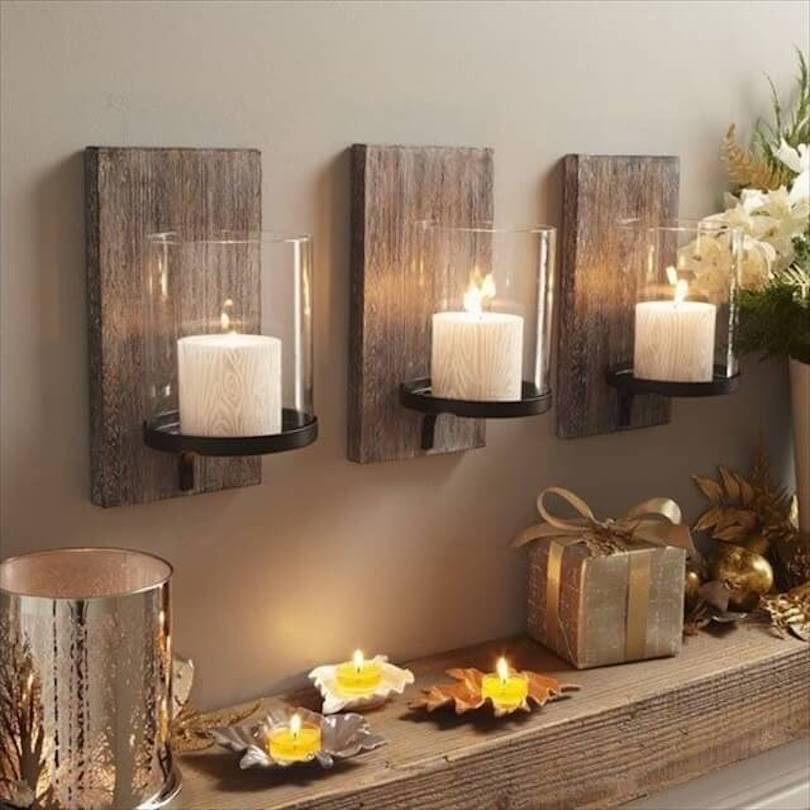 When it comes to recycling and decorating, timber is one of the most useful materials. If you have any furniture that's damaged by climate or insects, don't throw out. You can still reuse those pieces to make attractive shelving with a rustic vibe.
The wood does not need to be neatly painted or cut. It can create a beautiful wall hanging or other home decor pieces. You may construct a beautiful key hanger and decorations out of a tiny piece of wood.
You may even use whole elements such as doors or cabinets to give any area in your house a more familiar and intimate feel by utilizing the structures already present on your furniture.
These shelves created with doors vintage cupboard space, for example, are great for the kitchen. You can also save time and space by converting a tiny drawer into a bookshelf slide-collars.
Following the edge of the cabinets, scrape out the bottom, paint them, and use them as floating shelves to properly store your utensils. You can use these in a variety of sizes and colors to create a stunning wall with floating shelves.
6. Recycled Glass Bottles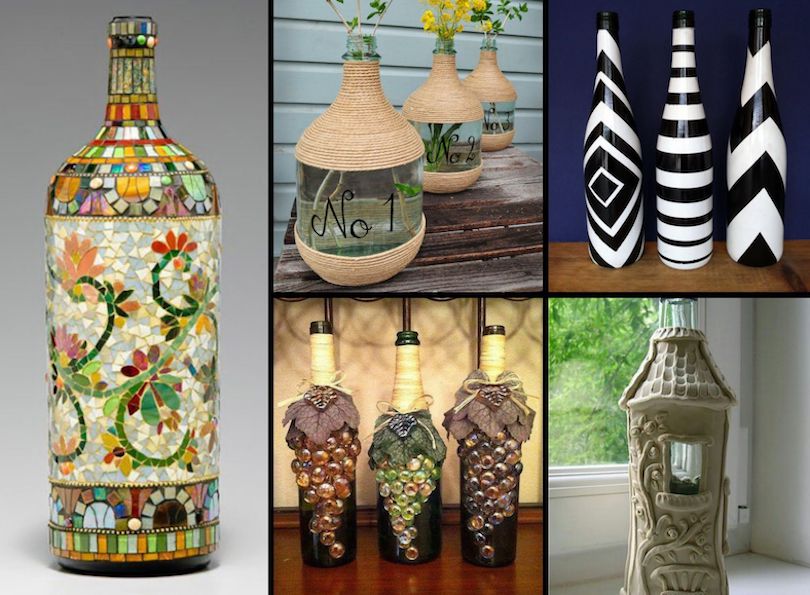 You undoubtedly have a pantry full of jars of pureed jellies or fruits if you have a baby at home. Luckily, you can put these jars to a variety of applications, and they're made of thick, robust glass, so they'll survive for years.
Remember that glass jars play a vital function in the kitchen, and you may use them to store cereals, spices, and seasonings. It's ideal if you don't paint or decorate them in a variety of different ways to spruce up a certain section of your home.
7. Reuse Fruit Boxes For Decorating or Planting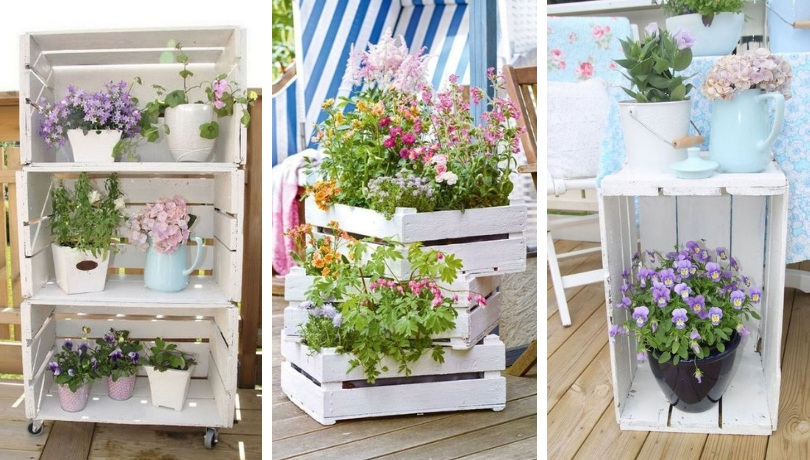 Fruit boxes are a good source of lightweight, easy-to-handle wood for different craft projects. Turning on ledges or shelving to the walls of your living room, bedroom, or kitchen is the most practical way to reuse.
They may even help you organize your shoes, clothes, and other belongings that have accumulated in your room. You can paint them in your choice of colors and used to beautify an unoccupied wall in your space. Just be creative, as you like.
8. Vases With Recycled Cans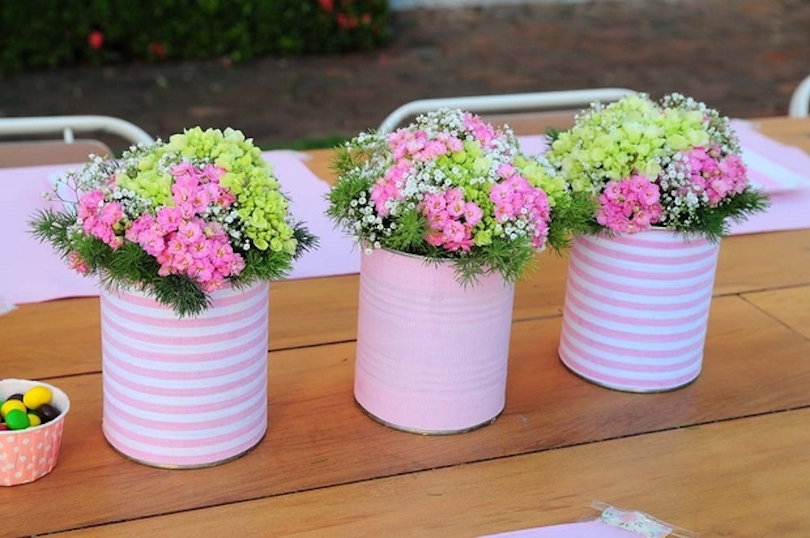 Cans make up a significant portion of the trash we generate daily, but if properly recycled, they can provide an endless supply of vases for our gardens. If you like flowers, you can have them in every room of your house now.
Paint with lovely colors to complement the design of your area to create vases with a rustic touch without appearing like a basic trash cans drawn-waste.
You can use them as centerpieces or put them on the flower garden's walls. Take a peek at these decorated vases.
Another way is to organize your workstation or desktop for your kids using the cans. They're ideal for holding crayons, bits of paper, postcards, and more.
9. Toilet Paper Rolls to Recycled Art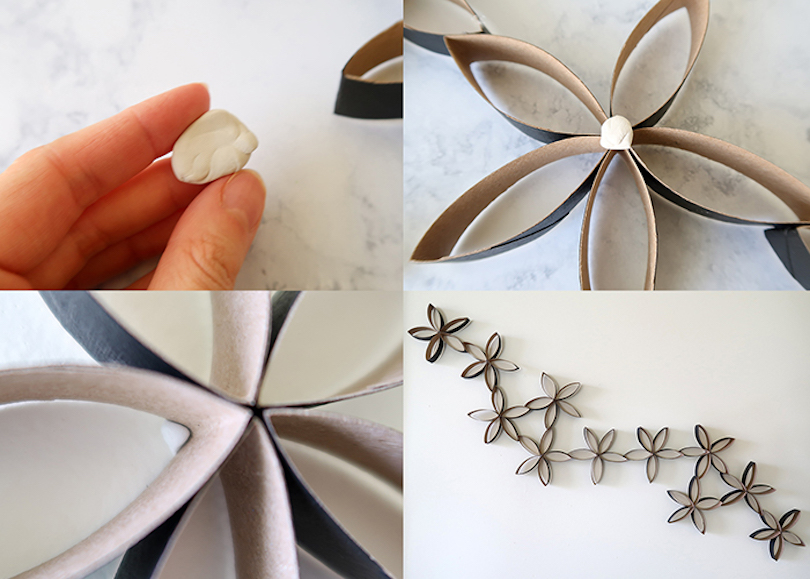 It is an idea it might not seem appealing at first, but don't be mislead! You will love this idea, as it allows you to produce works of art or recycle creative concepts while ensuring that no one is aware of the materials used. Just look at this beautiful decor piece.
But don't worry, this beautiful art piece is quite simple to prepare. Simply begin trimming the paper roll along the length, making little petal-like shapes. Then, to create a symmetrical arrangement put them in a wooden frame; you may also recycle an old piece of furniture for this. Once you're happy with your design, use glue to adhere all of the papers together, and then place your masterpiece on the wall. Isn't it simple?
10. Have Old Mugs? Just Recycle them!
There's no need to toss those mugs that made it through your entire dinnerware set. Simply recycle them and use them to make little candle holders.
You can place these stunning candle holders on different areas of your house. For example, bookshelves, end tables, side tables, dinner tables, or patio.
With a little imagination, everything is easy to reinvent and recycle! Isn't it?
11. Recycled Cardboard Photo Frame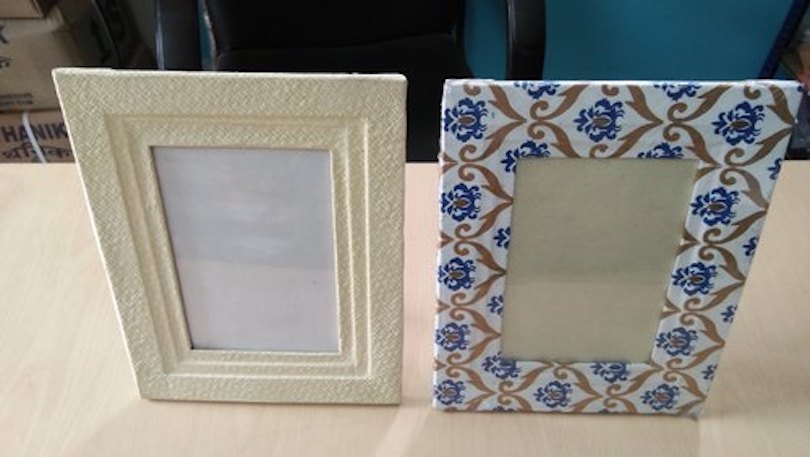 Cardboard photo frames are incredibly simple to construct and are ideal for when you want something unique. These are not only terrific for adorning your own home, but they also make wonderful gifts for others.
They're also inexpensive because they're constructed of recyclable cardboard and have a foldable pattern, making them ideal for displaying photos on a table or mantel.
12. Doily Table Runner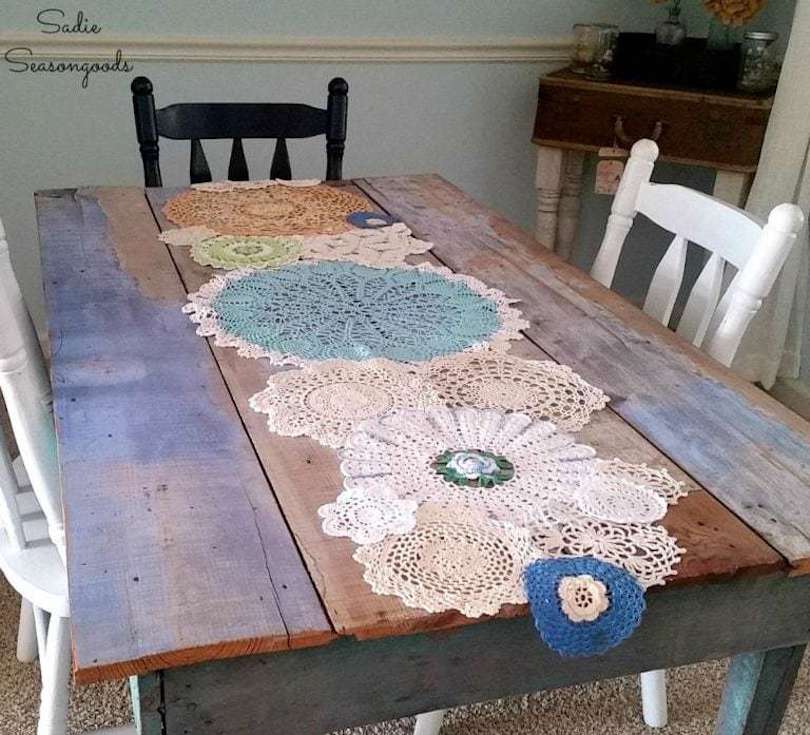 The home decor doilies are pretty much gone. These crocheted or knitted things made of cotton or linen were trendy during the Victorian era and used for serving food. Meanwhile, it helped in reserving furniture. While they are attractive, they do not appear to serve any use in our modern environment. Unless you upcycle them into a gorgeous doily table runner, of course!
It's simple: just collect as many lovely old doilies as you can. They should come in a variety of forms and sizes. Arrange them out in a layout you prefer, clip them together, and then sew them around each other loosely in the design you choose. It must be a few centimeters longer than the table you intend to use.
You can dye linen or organic doilies in any color you want with regular clothing dye if you can locate them. You won't be able to dye more recent doilies because they're made of polyester. So, make changes as per your liking and preferences. You're certainly going to make a perfect furniture decor item that adds a unique charm to your interior.
13. Tee Throw Pillows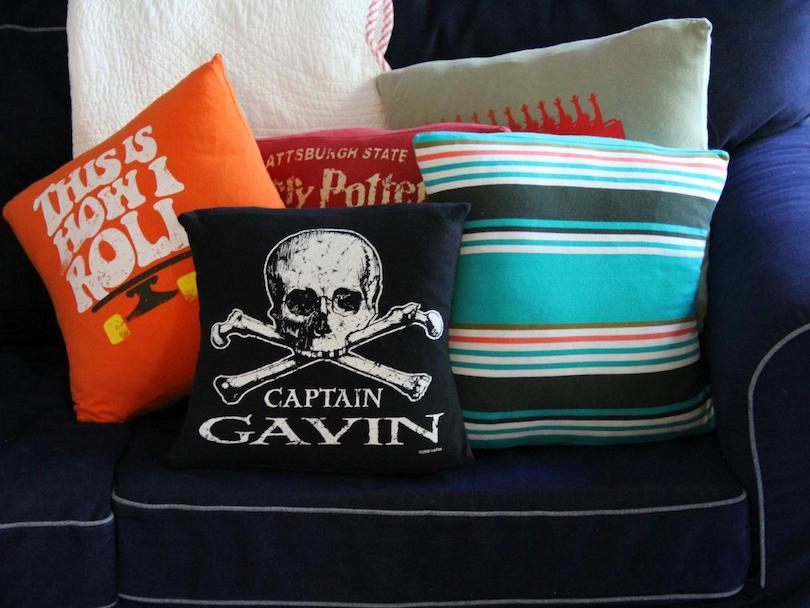 Maybe a few years ago, that slogan T-shirt was extremely hilarious or adorable. But you've subsequently graduated to more "mature" clothing. You have previously slept in the tee as PJs, but you're not sure what to do with it now. What is the solution? Make some lovely throw pillows with it!
This simple DIY requires just some old slogan tees, a measuring tape, a sewing machine, and a tiny pillow. Or, even better, stuff them with ripped rags from other old clothes that aren't functional in any manner.
14. Toy Truck Planters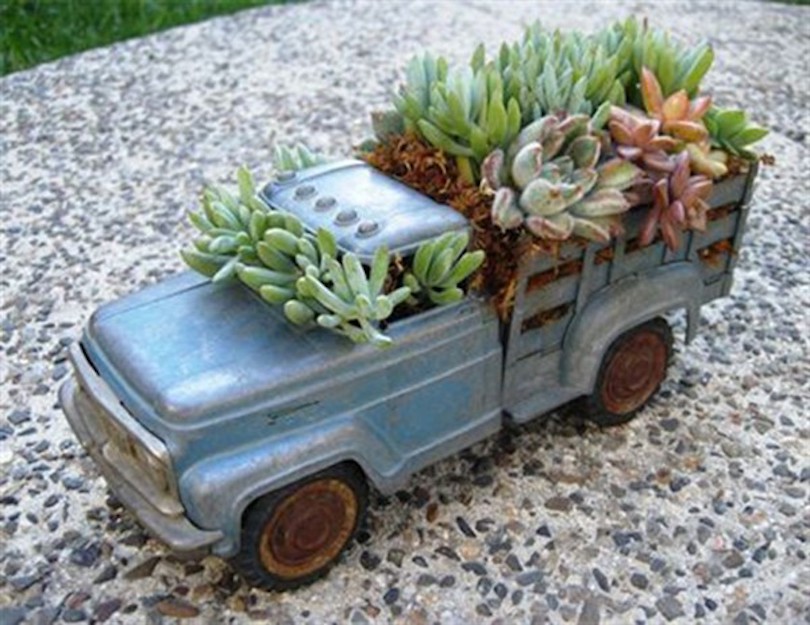 Boys may forget or throw away their toys, but turning their old toy trucks into planters is simple! The greater the size of the old truck, the better. To get started, all you will need is some sandy soil and a little water. These look fantastic indoors or out, and the finest plants to include, probably, are small cacti or succulents.
It will be a cute craft project for your children. You can even consider painting each section in a different color and place your child's favorite toys with plants anywhere you like in your house.
15. Guitar Shelf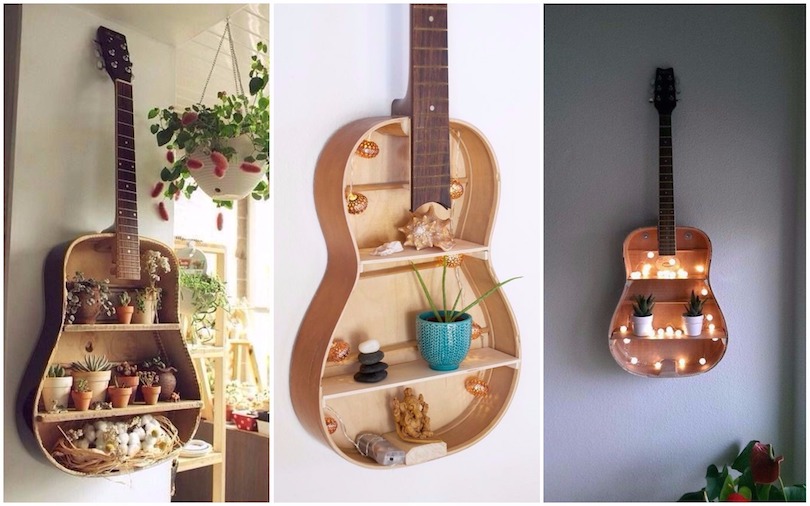 With a little imagination, an old guitar can get a new perspective on life! To make this shelf come to life, all you'll need is a fine-toothed saw, some custom-made glass shelves, and some wooden modules. Because the glass shelves are fragile, it's best to use them to display little candles or ornamental things rather than stacking them with books, and large plants, for example.
Put your imagination to work once you have anything nice that you can no longer use. Is there a way to turn the object back into something useful? With a few creative things and crafting tools, those objects can find a new life. They created lovely containers, vases, furniture, or other home decor objects. After all, all the old things were lovely objects in the first place!