DIY Plant Stands to Bring Out Your Creative Side
Indoor plants not only improve the aesthetic appeal of a home, office, or other spaces, it also enhance indoor air quality and gives you fresh oxygen to breathe. However, the way you display them around your house is crucial on making a big impact on the look of your decor. But to place indoor plants in your home, you need stylish plant stands, more specifically the DIY ones that let you explore your creativity.
While the store-bought planters would make things quite simple and lack character, the DIY plant stands add an interesting touch to the overall decor of your living space. Using metal and wooden elements, you can come up with so many amazing ideas for improving your home decor.
Here we have shared 15 different metal and wood planter stand ideas with you to inspire you to recreate these or come up with some of your design for a unique interior setting. These are are some of the best eco-friendly ideas to use over in your abode.
1. DIY Wire Plant Stands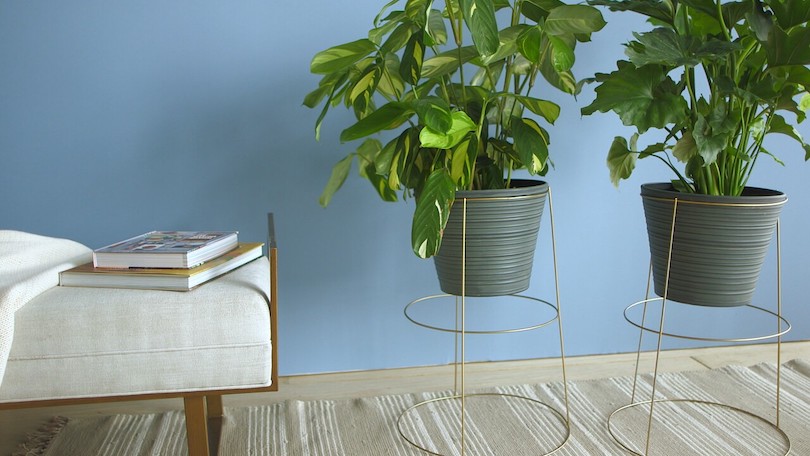 This particular DIY project does not need much effort. You can create this wired plant stands with a used lampshade that has wires. You can use those wire in a simple yet unique way. The results are amazing and offers you a great way to deck up your home interior. When done in the right way, you will appreciate your creativity while saving a lot of money. You can even look for some amazing lampshade frames at a local store near you.
2. DIY Metal Lantern Plant Stand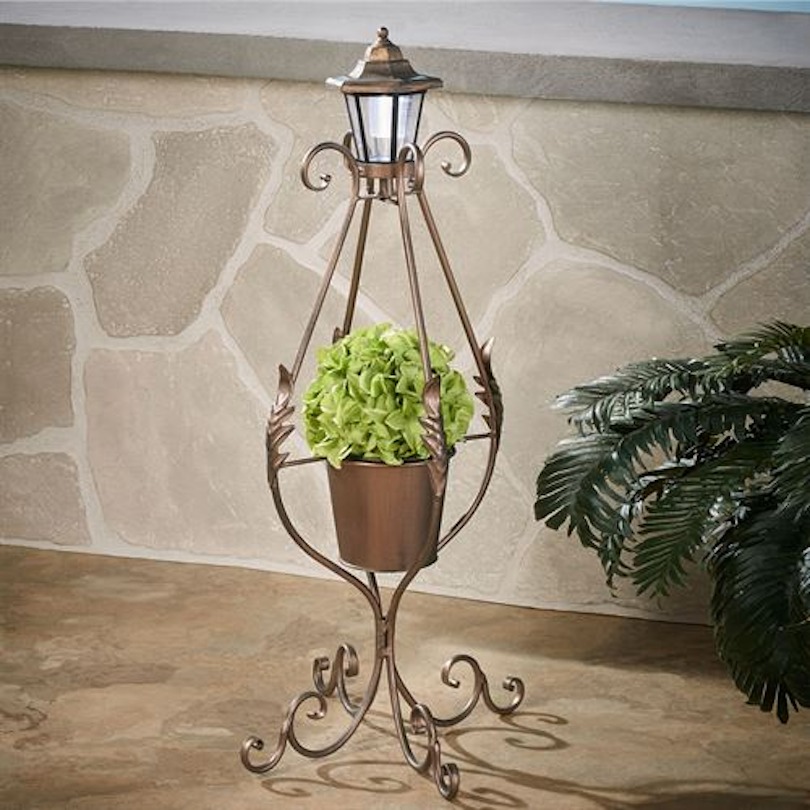 Another interesting hack to give you value for money is converting an old metal lantern into a DIY plant stands. This idea will certainly pay off and offer you a statement plant stand. Just check out the image given above and see for yourself how beautiful this metal lantern plant stands looks. It will certainly add a striking and distinct appeal to your home interior.
We are sure that you won't be disappointed with this DIY idea. But you need to keep in ind to choose a metallic shade that goes well with any home decor while standing out from rest of the decor pieces in the given area.
3. Piano Stool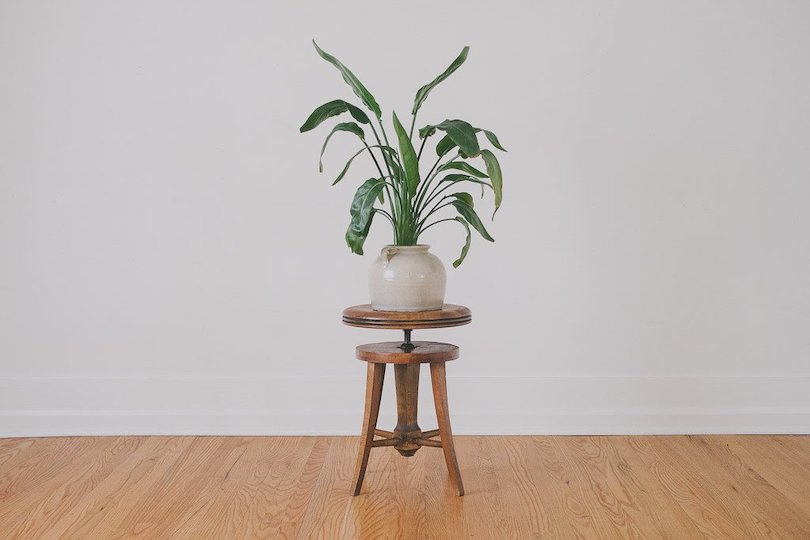 There is no need to invest in an elaborate plant stand. Often a simple stand can help you pay off a lot. You can choose it in wooden shade or any other color, depending on your preference. But always choose a single shade to ensure that it looks outstanding when place in a specific area of your house.
Wooden piano stool stand for plants is a great option, as it has a neutral appeal. You can place a white flower vase on the top of this piano stool-turned-into-a-planter-stand. Just give it a try and it will certainly pay off a lot!
4. Mini Mid-Century Modern Plant Stand DIY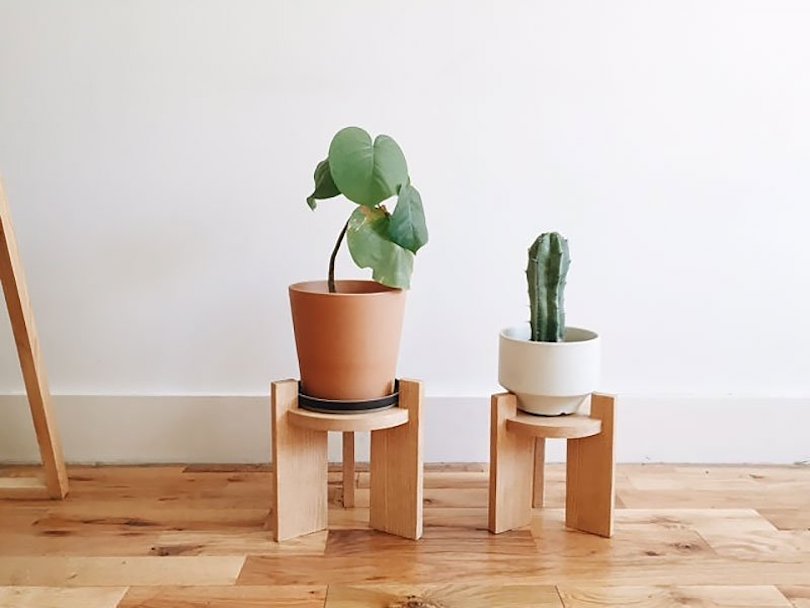 This simple stand comes with tapered legs or the ones given in the image above. This minimalist yet modern looking plant stand can instantly bring an appealing look to your interior. Of course, you can place rock-based or ceramic vase on this stand to give you even more interesting appeal.
All you need to be concerned about is having the right approach when designing a simple plant stand like this. You can even get more creative with the color options, but there's no need to experiment too much.
5. DIY Rope & Copper Plant Stand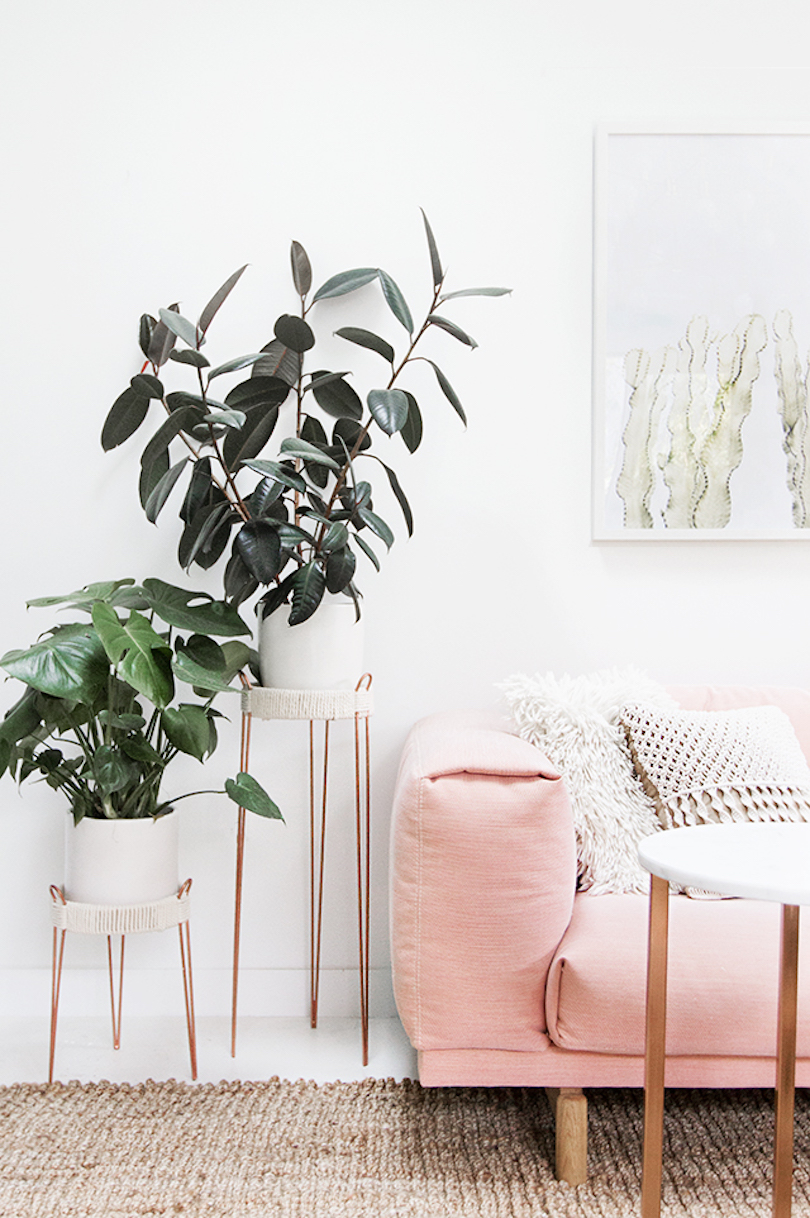 Rope and copper are perfect materials to create an appealing plant stand. If you cannot use copper, you can even use copper spray on a metallic stand. You further need a flat top. You can take your time to wrap top around the copper stand and form a flat top for holding a simple plant vase.
This will bring perfection to the design while offering you great quality and value that you may require. It definitely worth a shot, as the end result is mind-blowing and totally worth all the effort.
6. DIY Copper Pipe & Wood Slice Side Table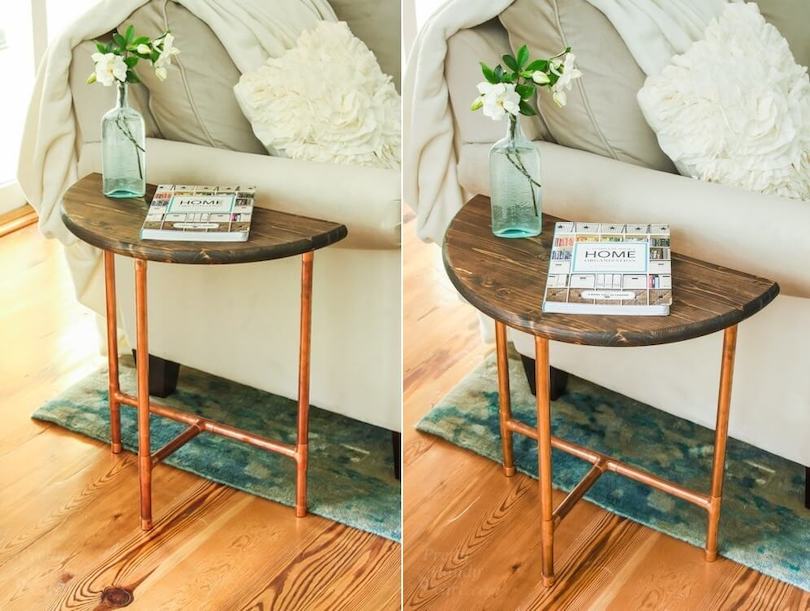 Due to this copper pipe and wood slice stand, you can combine rustic and traditional theme in one design. If you like to create interesting plant stands and you want something unique to bring resounding value to your money, you need to give this particular DIY a shot.
It is a delightful and distinct design that will bring joy to you while creating this plant stand. This simple stand is perfect to show quality and value to your creativity. This will really bring out the shine in front of your eyes while offering you a resounding experience. So, you need to try it and we're certain you would like it a lot.
7. DIY Skinny Planter Stand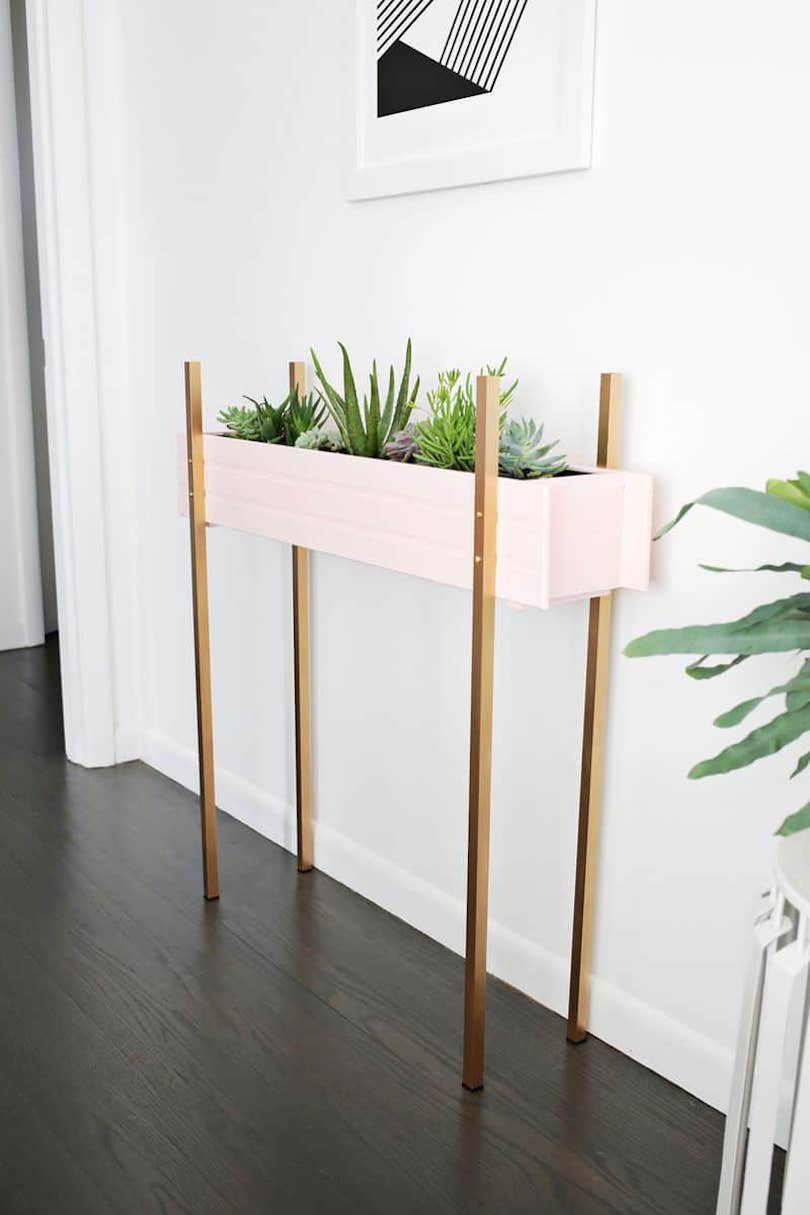 If you want a DIY plant stand for a corridor, hallway, or balcony, you need to give a try to create this skinny planter stand. It is a very interesting project. You can use window boxes to create this unique planter stand. Using the window boxes painted in white and gold-painted aluminum tubes, you can create a stunning DIY plant stand that give value you need.
It is by far one of the best minimalist additions for the hallway and entry way of your home. It can also impress you with stunning visuals to begin with. And, it's also a simple DIY plant stand to create on your own. The end result will certainly impress you and your guests.
8. DIY Bullet Planter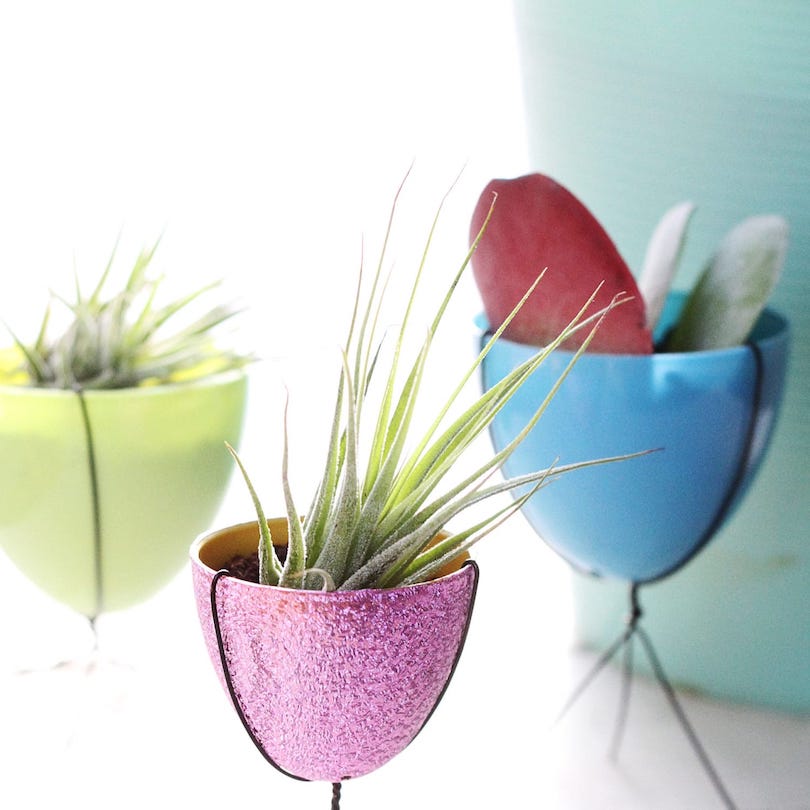 The DIY idea here is to use a cone-shaped planter with some weldable steel rods. In the end, you will receive a very unique experience with highly impressive visuals. You will definitely like the end result, which is quite rewarding due to its distinct design and shape.
While there are various challenges to get this DIY project right, but you can certainly do it. The minimalist appearance of this DIY planter is worth all the effort and you also get a good quality overall. You can even choose these bullet-shaped planters in different colors to add an interesting touch to the area in your house where you want to keep these planters.
9. DIY Log Planter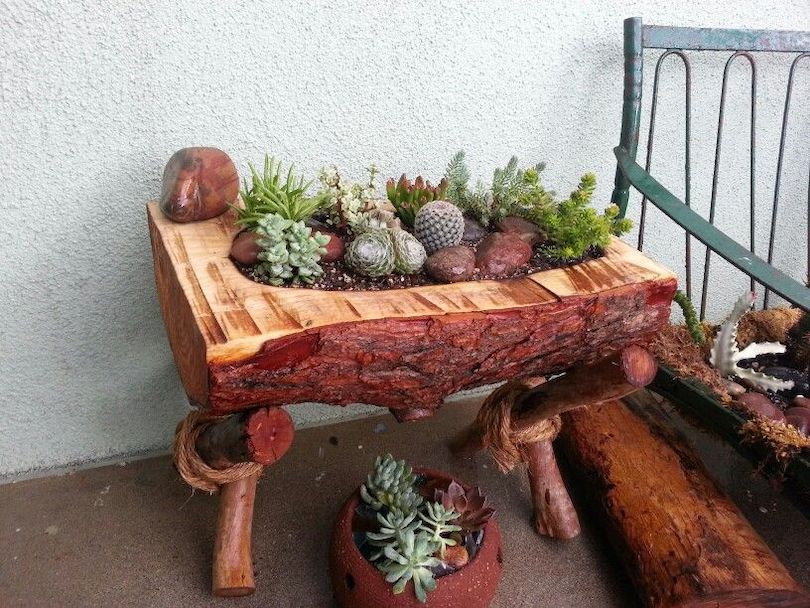 This particular plant stand is made using a log. It is an easy alternative to the stands available in various stores near you. The idea for the creation of this DIY planter is to use a big log and cut it in half. Also create wooden legs to hold the log planter stand above. The legs can be held firmly using a strong rope. After that, empty the inner portion of the half-cut log and add soil to grow plants of your choice.
The end result will give you stunning visual appeal, as the log seems to bring a touch of nature into your home interior. With a simple approach, the outcome can be excellent and you're free for performing the desired customization.
10. DIY Mini Wooden Plant Stands
Using simple pieces of wood, you can create a block-shaped mini wooden plant stands. Use a nail gun and combine these – or you may use some glue to ensure proper fit of the small pieces of wood. The possibilities of these wood pieces are limitless, you just have to follow the right approach to add value to your property. Just like other DIY ideas mentioned here, this one is quite simple and unique. So, you can take your time and you'll certainly like the overall outcome for sure.
11. DIY Acacia Wood Plant Stand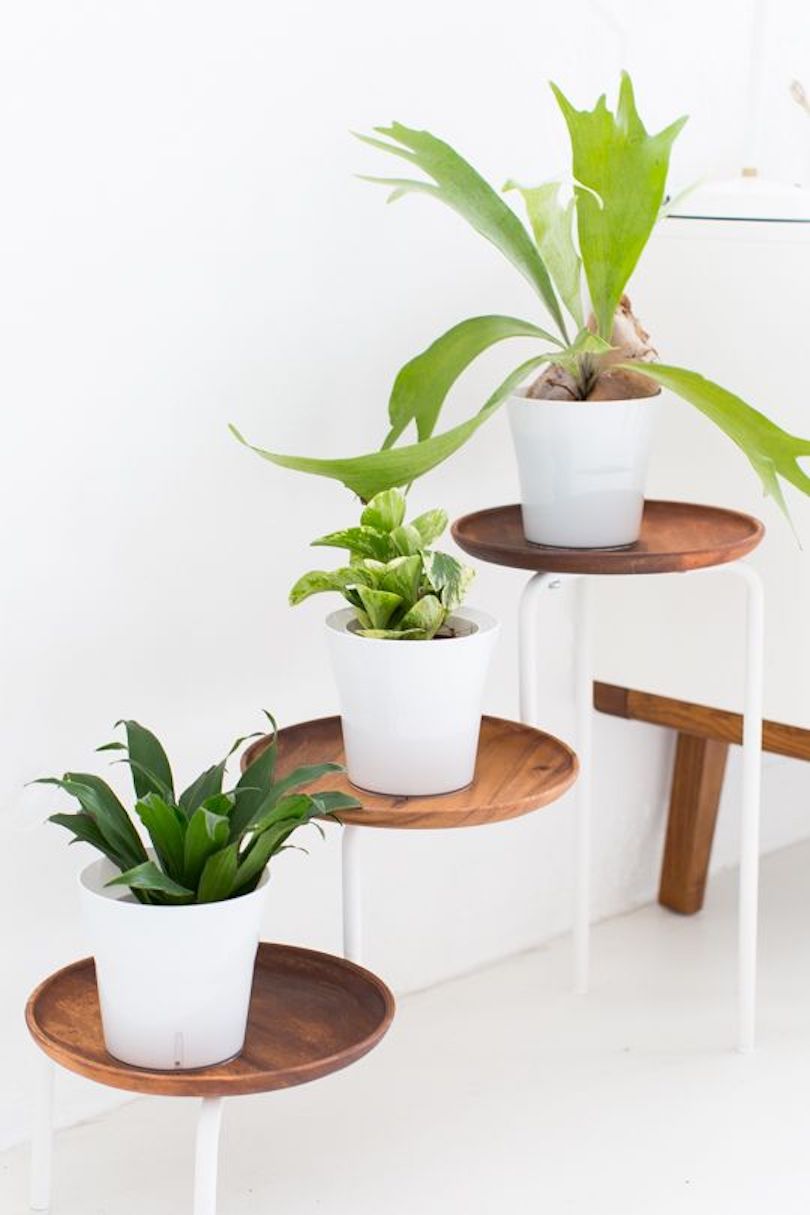 This amazing hack is by IKEA. All you need to do is attach acacia plates onto the white metal circles using a super glue. It is crucial to focus and try to use some other types of stools too. This is a minimalist looking DIY planter stand that can suit any type of room in your home.
However, creativity is the key here and you can take your time to design this simple yet stunning looking planter on your own. The combination of wood and white shades is simply amazing to suit any indoor space while keeping everything in place.
12. DIY Pot Rack Plant Stand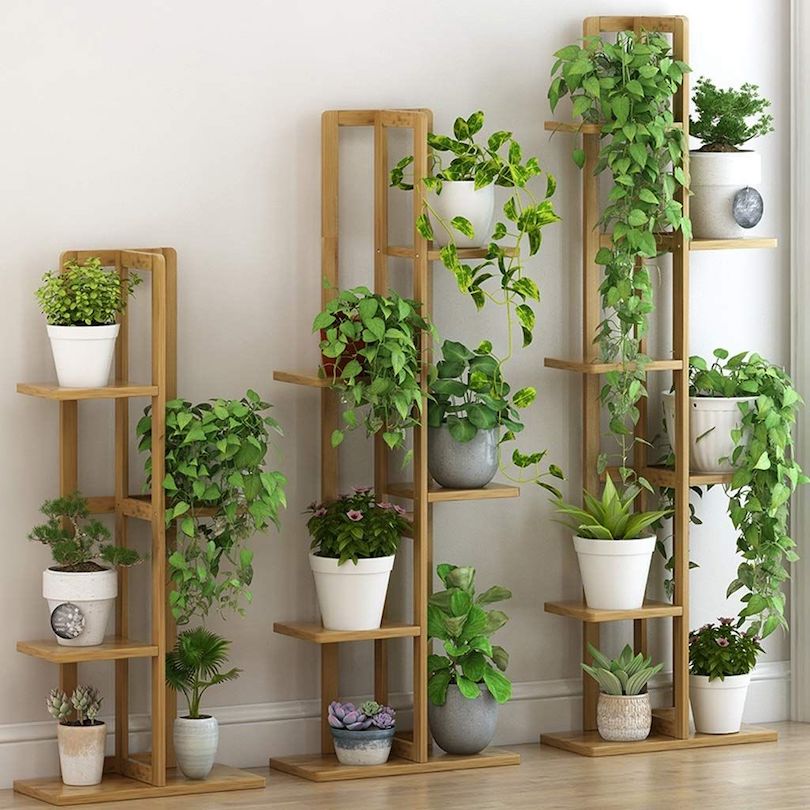 Using a DIY pot rack plant stand shown here, you can add delightful visuals to your home. All you need is an old pot rack or more than two pot racks. After that, assemble these pot racks using nails or super glue to form a sturdy plant stand. Add minimalist white plant vases onto the different sections of the pot rack to create an interesting looking plant stand that adds a touch of greenery into your home interior.
We are sure you'll create a stunning visual appeal and amazing experience to your home interior. It is best to choose this particular stand in muted colors to let your greens become the highlight of the given area.
13. Portable Plant Cart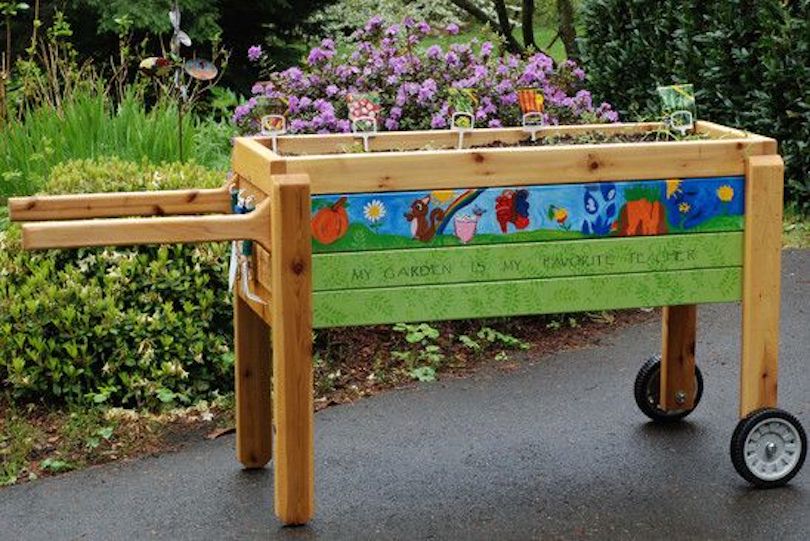 This is another simple to create yet interesting DIY hack. You need an older wooden cart to convert it into a portable plant stand. You can even move it around, as the cart already has wheels. Furthermore, this cart can easily offer you a great way to store a variety of flowers. You simply need to bring out your creative side, as the possibilities are endless here. You can simply choose the right option as you desire.
14. DIY Concrete Stool Plant Stand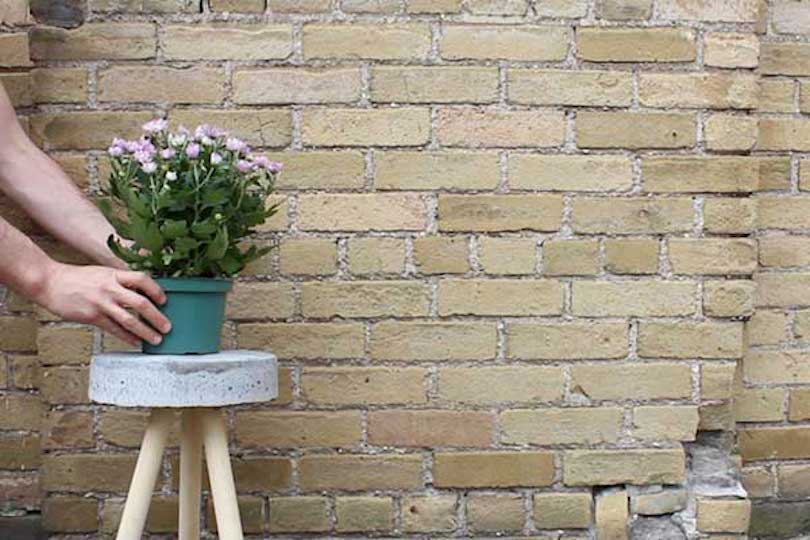 Using this concrete stool, you can save a lot of money. All you need to do is take legs of old wooden stool. For the plant stand's top, you need to create a circular concrete block. Place the concrete block on the wooden legs to form a plant stand. Now, place a neutral colored plant vase on top of this stand to highlight the given area. We're certain that everyone will be happy with this simple yet elegant plant stand.
15. DIY Acrylic + Wooden Plant Stand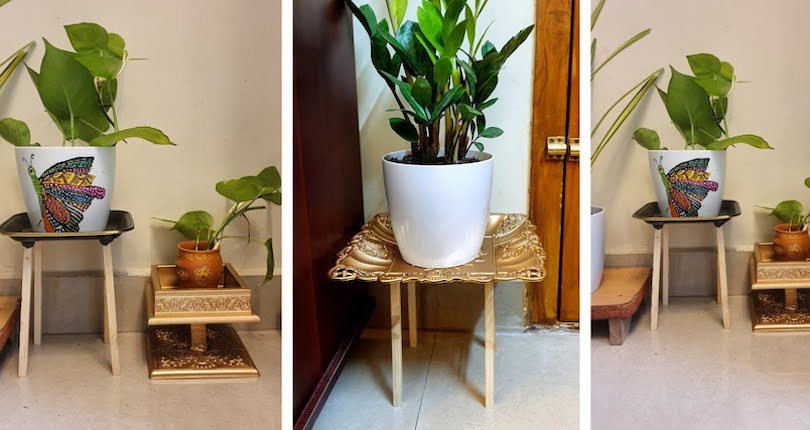 It is also a nice combination to impress anyone. It further helps you create an astounding plant stand with wooden dowels. The idea behind this design is that you have a contemporary and stunning looking plant stand to impress everyone. Besides being aesthetic, this plant stand is very functional as well.