Dining Room Lighting Fixtures To Make Dinnertime Fun
A dining room is an important place, where the whole family gathers to share different conversations over delicious meals. So, why not spruce up this special area in your house with a touch of lighting. A lighting fixture not only brightens up a given space but also adds life to an otherwise normal-looking interior. Therefore, it is essential to choose the right light to give your dining area a major uplift.
There's nothing more wonderful to have sumptuous dinner with family and friends in a well-lighted dining area. So, let's find out about the 15 amazing lighting fixture ideas to illuminate your dinner space while making the dinnertime more fun.
1. Elegant Paper Pendants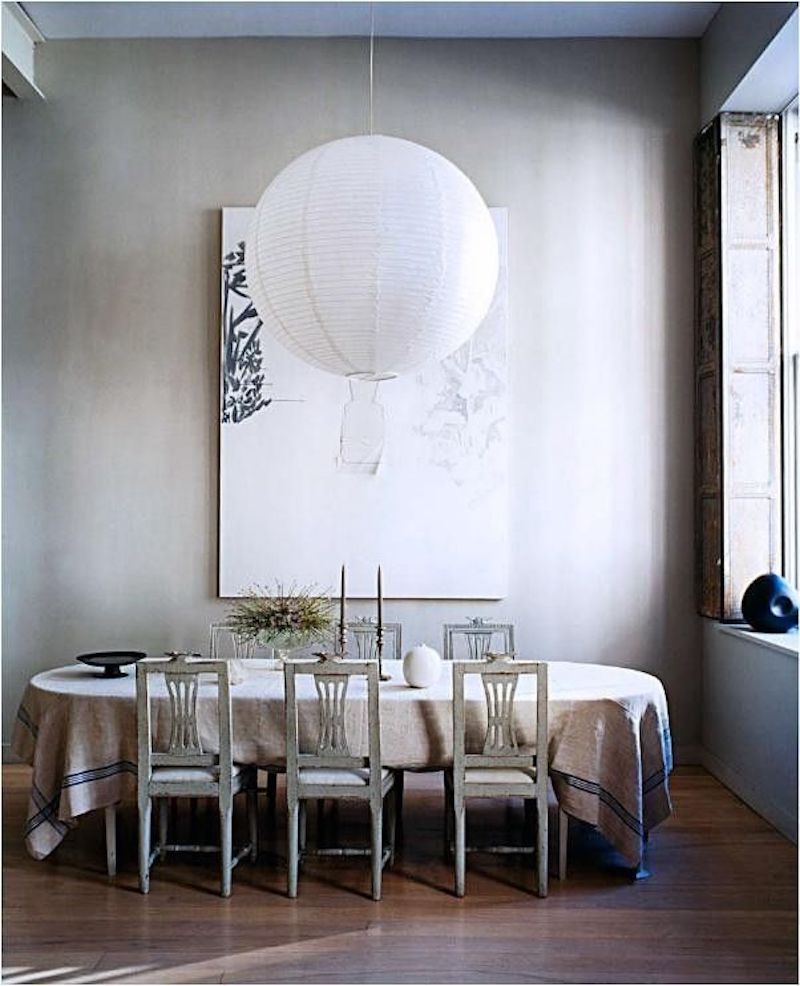 If you don't want to spend too many bucks on lighting a dining space, you may consider adding simple yet attractive paper pendant lamps atop your dining table. This will help you give a nice makeover to the whole space without spending much on expensive lighting fixtures.
Paper is available in so many patterns, shapes, and colours, So, you may pick the one that suits your interior and your taste.
2. Sculptural Light Fixtures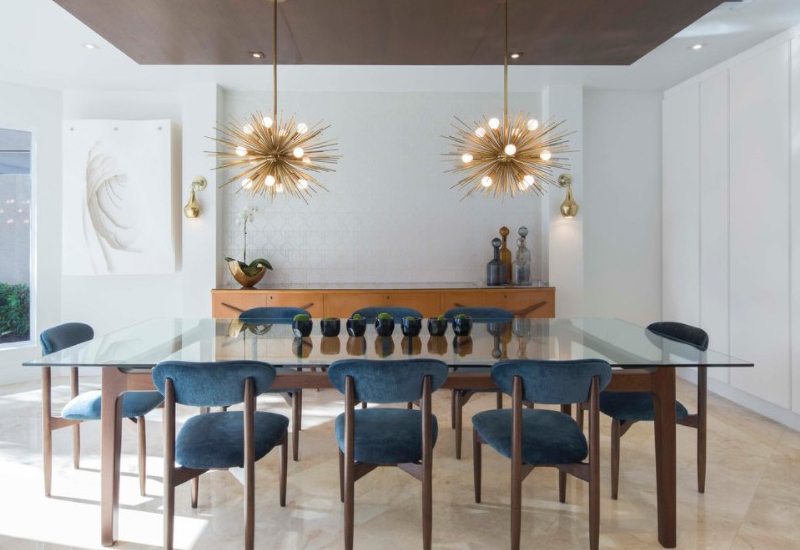 A sculptural lamp is perfect to make the atmosphere more lovely around the dining area. Many modern homeowners incline towards sculptural lamps or pendant lights on the top of their dining table. These are available in various shapes, designs, and patterns to complement your interior. Moreover, they beautifully illuminate the whole space effortlessly.
3. Bulky Chandelier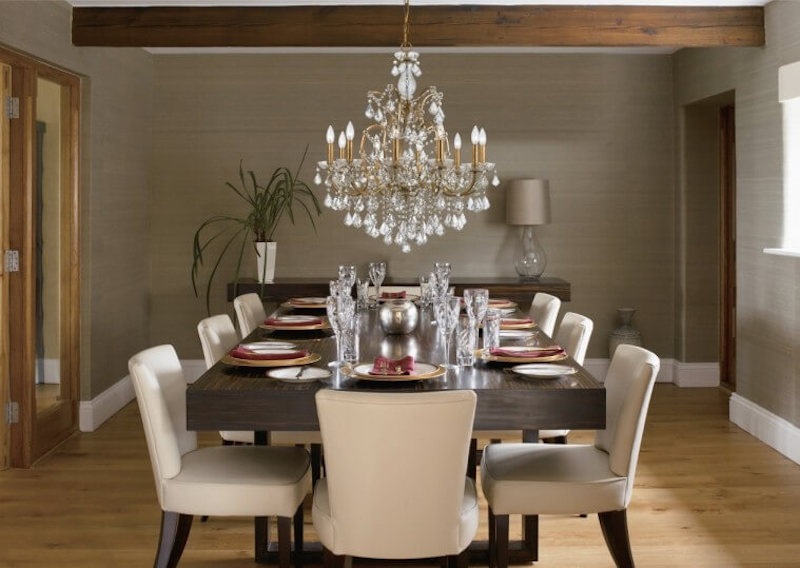 If you like things the traditional way, you may consider adding a bulky chandelier to the dining area. You may choose an artistic and regal chandelier design for the given space. It won't collide with your dining furniture and brings an exquisite charm to the dinner time.
4. Fabric Lights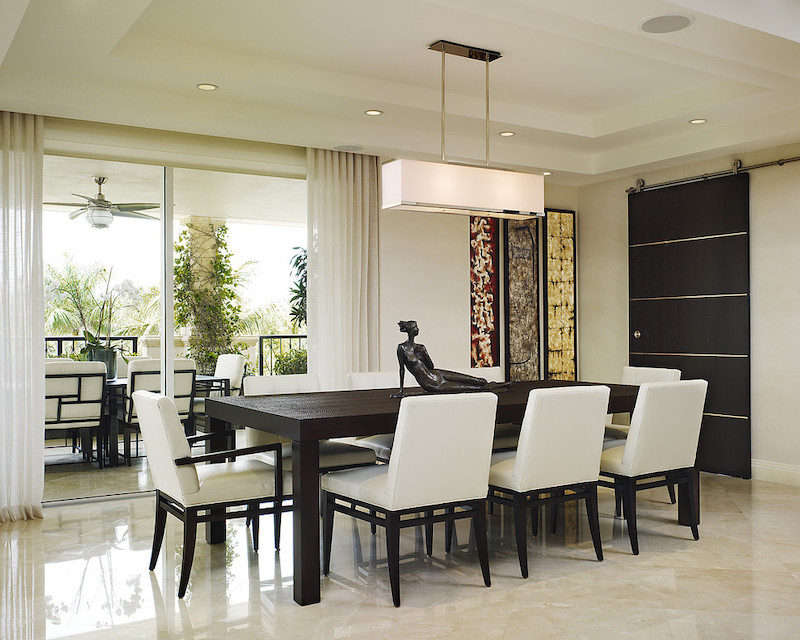 Another simple yet elegant idea to spruce up your dining space is adding a beautiful bulb with elegant fabric on the top of the dining table. This lamp design is very simple to look at but will add a spectacular charm to the atmosphere when illuminated.
5. Bubble Lights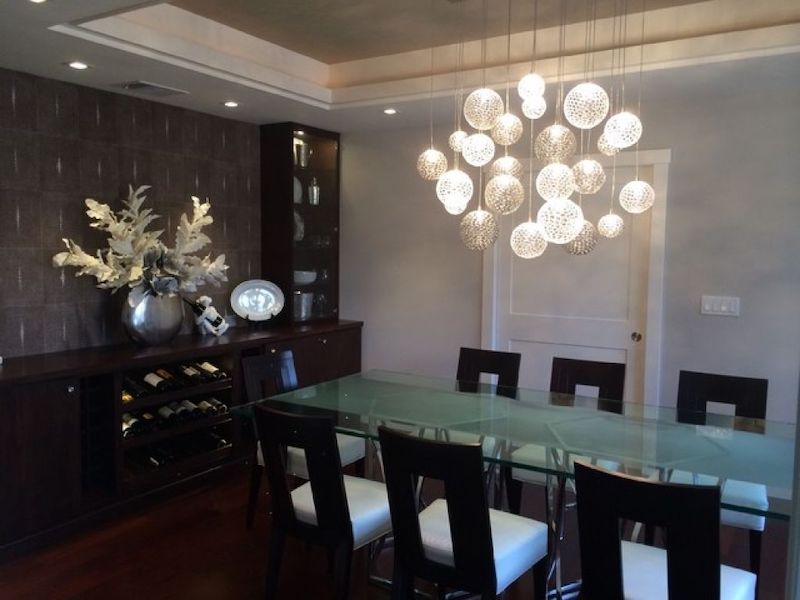 Bubble lights are another wonderful idea to turn a dark dining room into a lavish space. They not only look classic and modern but also uplift your mood as soon as you enter the room for meals. You can invest in different designs and colors in bubble lights to give the space a special feel.
6. Metal Pendants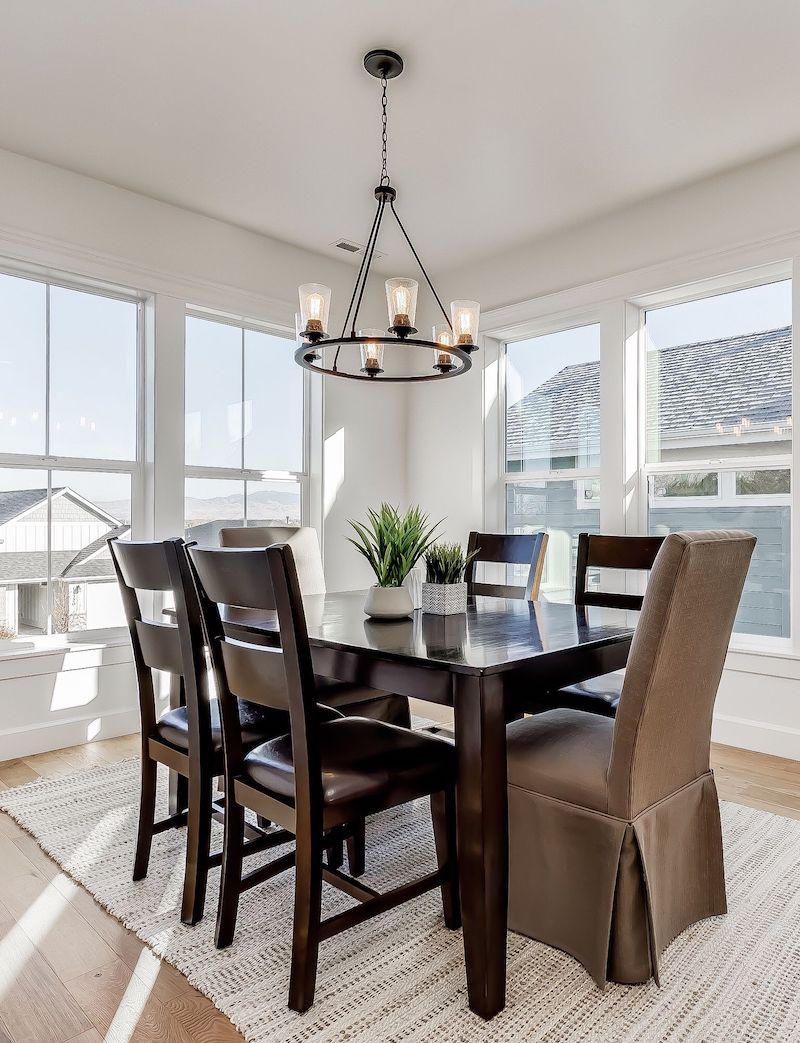 Most homeowners today prefer LED lights over conventional light bulbs to cut electricity bills. Metal pendants are a perfect solution for this, as these lighting elements consume less power and provide more brightness than normal pendant light fixtures. The metal pendants are available in so many amazing shapes and size to spice up any dining area while taking the whole design to another level.
7. Shell Chandelier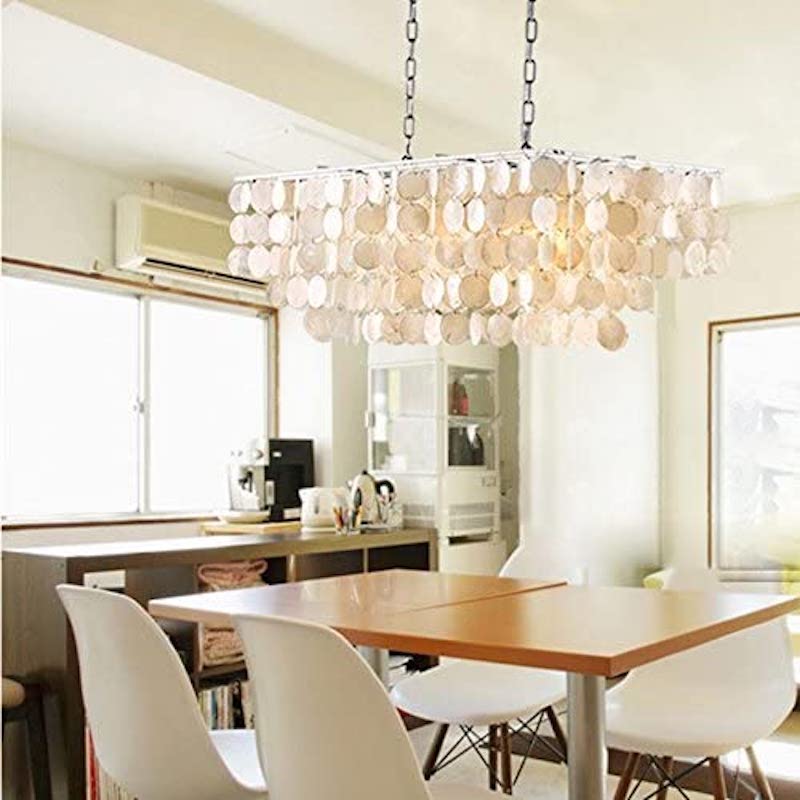 Want to add coastal or beachside vibes to your dining room? You can simply do so by adding a shell chandelier to the top of your dining table. The dining room chandeliers make space appear more light and breezy. Meanwhile, you'll feel as if you're dining alongside the Mediterranean or the Caribbean Sea.
8. Retro Ring Lights
Retro lamp light never becomes outdated or boring. So, if you want to enhance the dark and dull dining room, retro ring lights are your best deal. Another major benefit of installing ring lights in a dining room is that these throw light into every corner of the space, not just the dining table.
9. Wall Mounted Sconce Lights
Wall-mounted sconces are one of the stunning and attractive dining room lamps for small spaces. They help in making your dinner time more romantic with your partner – be it a normal day or a special occasion. Apart from that, the wall scones also help in adding festive vibes during the holiday season, like Christmas or New Year.
10. Vintage Style Lamp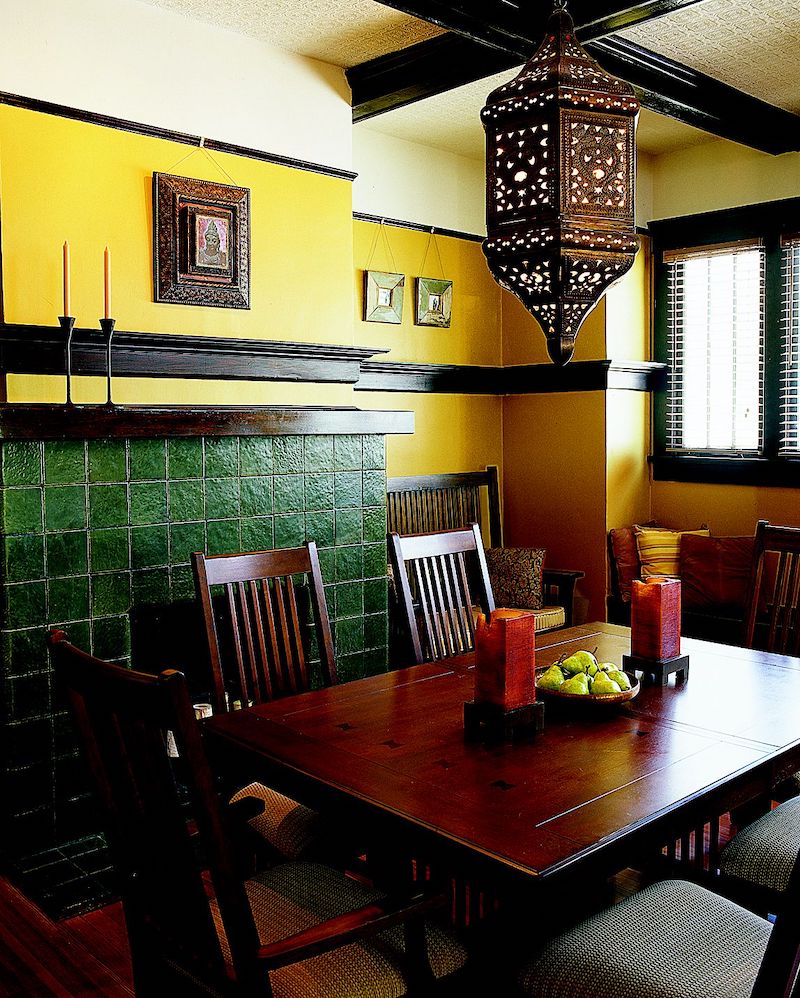 Many people love the fascinating design of vintage lamps. If you wish to impress your family members on a special occasion, or simply love the vintage vibes, you may consider adding a vintage style lamp above your dining table. They are quite heavy but do add a beautiful appearance to the dining area with extra brightness.
11. Metal Wire Lights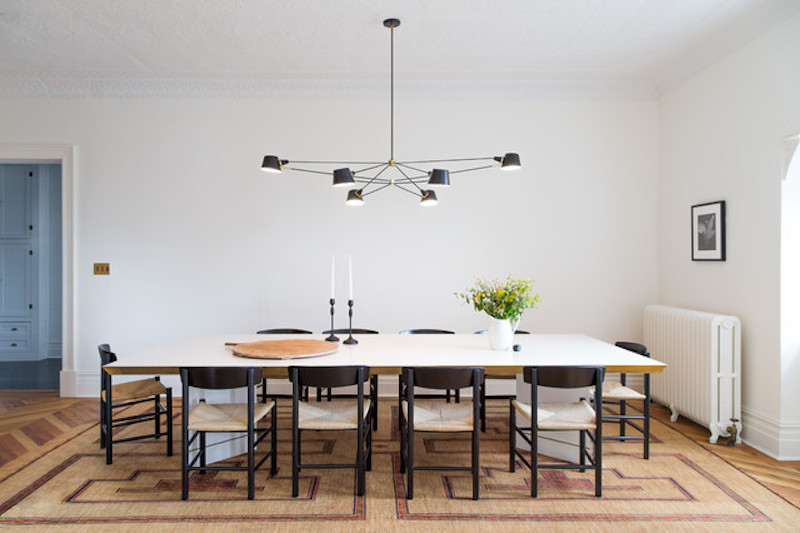 It is certainly a better option for those who prefer natural lighting. You must check how much weight your ceiling can hold. Further, the foliage can be supported with the metal wireframe. You can simply attach small lights to this minimalist lighting fixture frame.
12. Colorful Lights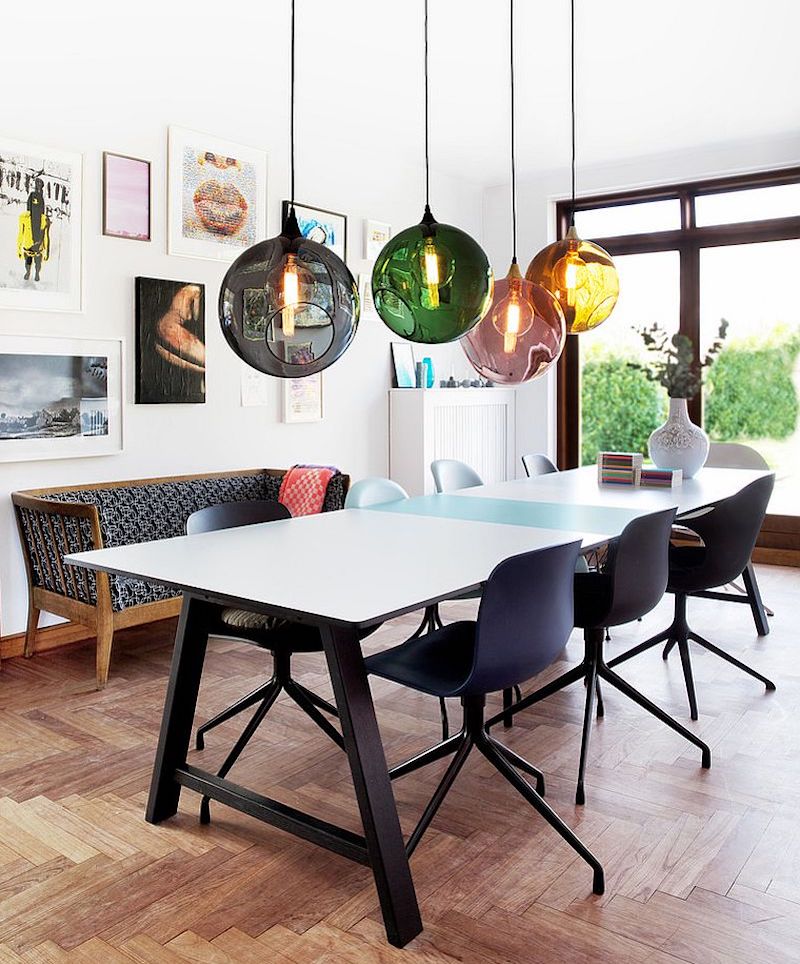 Your dining area will look ultra amazing with bold colors. You must place colorful lamps in your contemporary dining room and further try for family gatherings or a small get-together with friends. Different colored lamps make space more vibrant and comfortable for meals.
13. Ancient Lanterns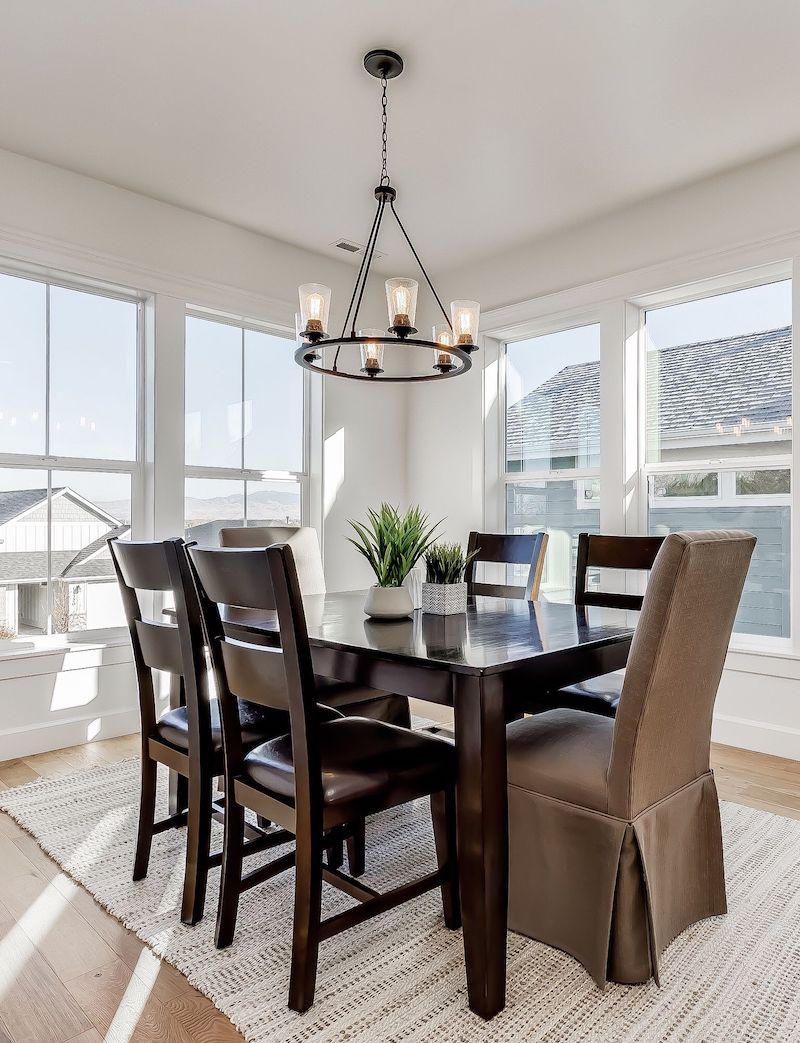 It is crucial that everyone feels comfortable and cozy at dinner time. So, a simple yet heavily design lantern is a perfect object to provide mental relaxation to the given space while you enjoy your meal with family and friends. It is simple and easy to install a lantern onto a ceiling. After that, all you need to do is enjoy your meals in a relaxed manner every day.
14. Geometric Shape Lights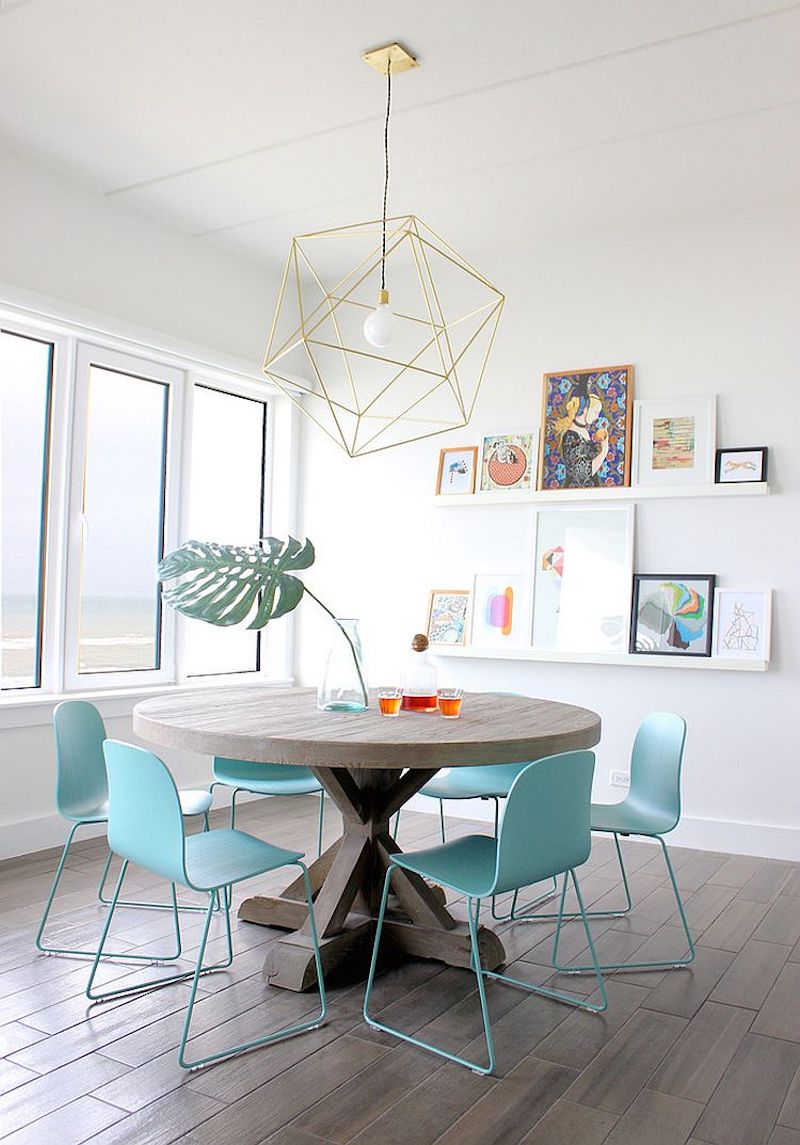 People of all age groups, especially kids, love geometrically shaped lights. You may purchase a pentagonal or hexagonal dining pendant lamps in geometric shape to add warmth to space while adding extra interest factor for your children to learn about its shape and geometry. It would look best when installed right above the center of the dining table.
15. Ceramic Lights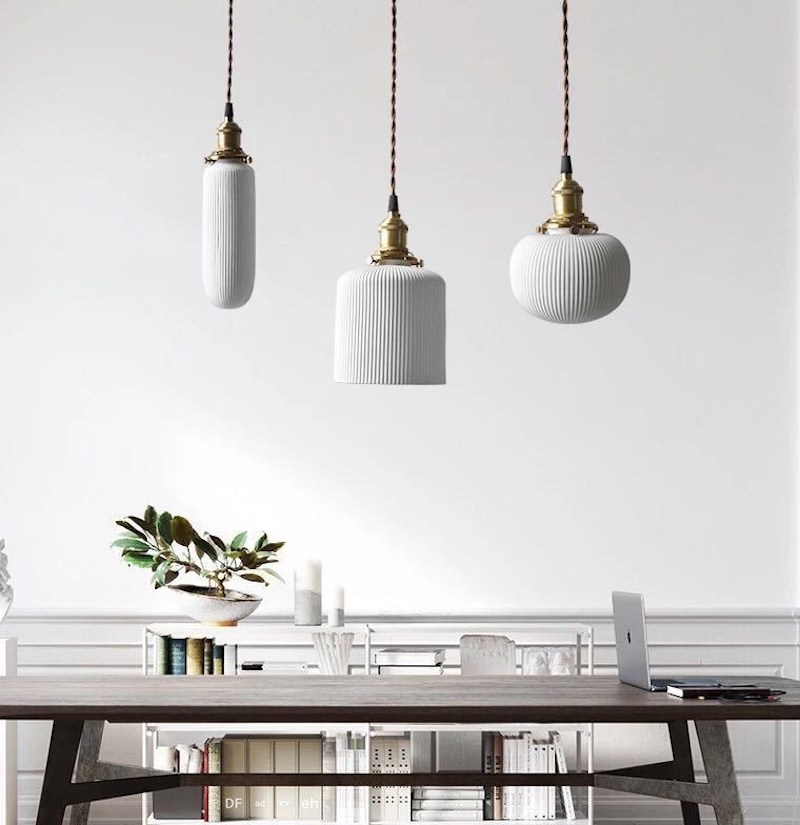 Hanging ceramic lights is a modern dining room lighting trend for both small and large dining areas. These are available in traditional designs and stunning colors to convert your boring dining space into a striking area. Another advantage of installing handmade ceramic pendant lamp(s) is that it's available at a reasonable price. Moreover, available in so many colors and patterns.