Tips to Add French Country Style Allure into Your Home
If you've seen French country style houses, you may have noticed a unique charm in their aesthetic appeal. Generally, these houses have a rustic vibe with welcoming and alluring appeal.
This interior design has an amusing versatile character that enables it to blend seamlessly with both traditional mansions and airy contemporary houses. This style also thrives on slight imperfections that depict the overall organic beauty of the natural materials, like rattan or wood, used for creating such interior design theme.
In this article, we'll discuss a few tips and tricks to adapt this timeless style to your modern lifestyle today. But before that let's understand the basic requirements you need to consider when choosing a French Country style interior for your home.
What is French Country Decor & Furniture Color Palette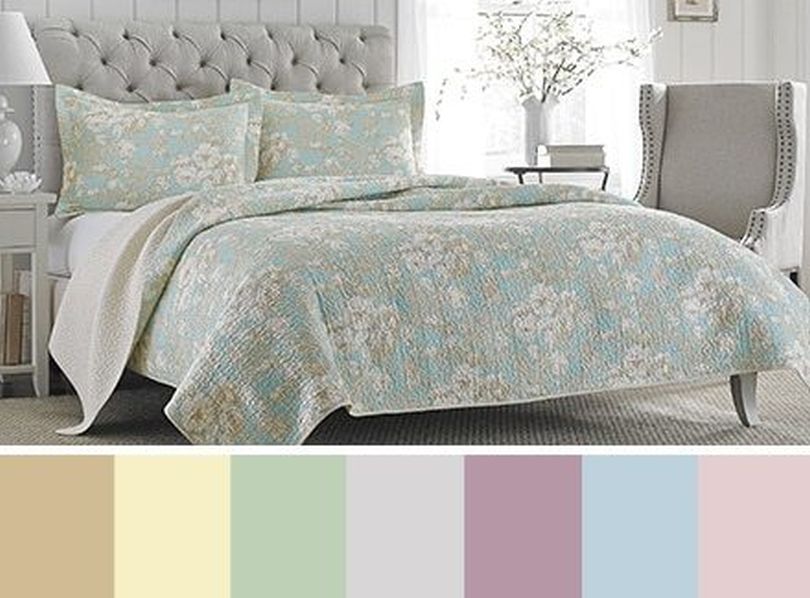 You must understand that the basic French Country style color palette takes a cue from the serene natural landscapes. It boasts dove grey and soft ecru flooring, walls, wood finishes, and seat cushions. The earthy tones, like lavender, soft blue, sage green, summer yellow, and light pink shades, are also the major part of the stunning French Country theme.
All these subtle yet charming colors are perfect to sustain the overall elegance and appeal of the interior theme. However, you can also add varying textures (such as chunky knit throws, ruffles pillows, or faux fur rugs) into the interior for breaking the neutral colour scheme while adding some dimension to the given space.
French Country Elements
Some basic French Country Elements are, as follows:
Toile Print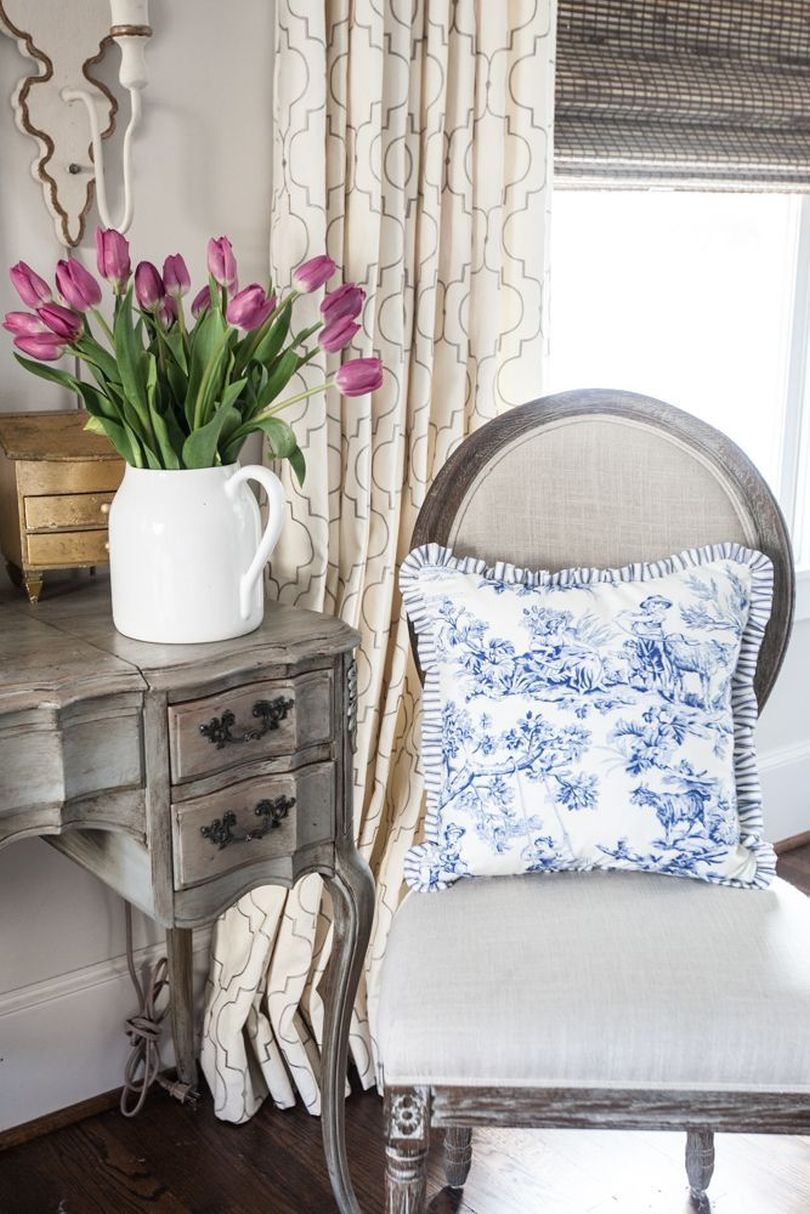 Also called Toile de Jouy, this light fabric is usually the linen featuring intricate motifs with landscape, floral, and pastoral schemes. The traditional fabric is known for gracing different parts of your home, including furniture, windows, bedding, as well as dining room linens. The toile fabric usually adds visual interest to an otherwise basic and neutral look. You may further combine toile with more interesting prints like florals, stripes, gingham, etc.
Whitewashed Woods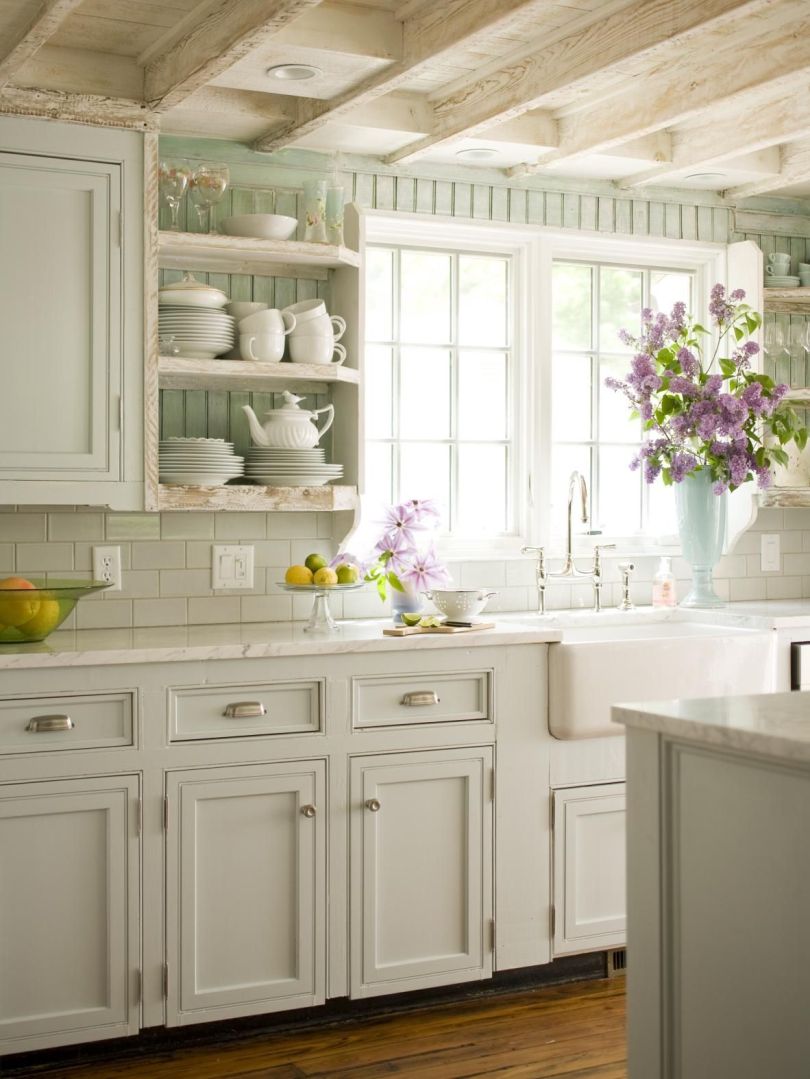 Taking inspiration from beautifully worn country farmhouse interiors, French Country style often opts whitewashed wood for furniture and other decor elements. This neutral wooden theme is perfect to give an authentic look to your interior. So, just forget the glossy polished wood and embrace the natural and organic vibe of the distresses furniture.
Linen Fabrics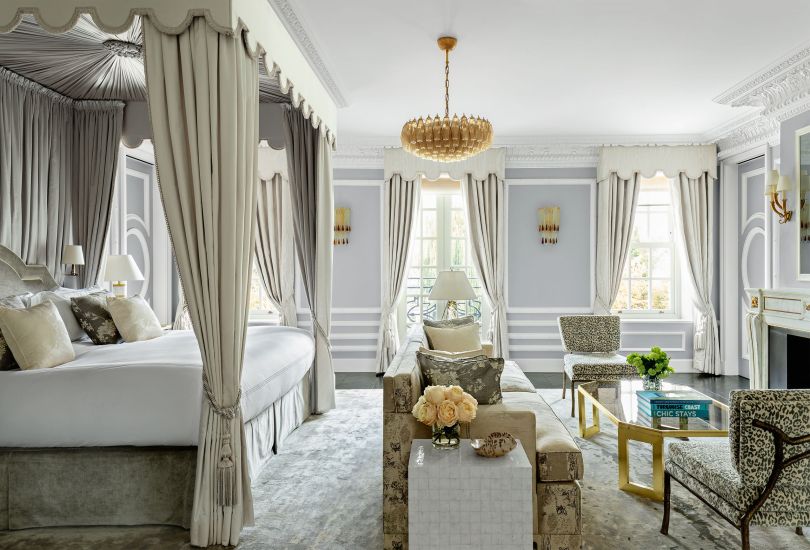 Being lightweight and airy, linen fabrics add airy texture to the charming French Country house. Whether draping furniture or hanging on the windows, linen textiles can infuse your room with minimalism and elegance. You must seek linen accents for upholstered furniture, window treatments, and throw pillow for adding a fresh touch to the interior.
Botanical Elements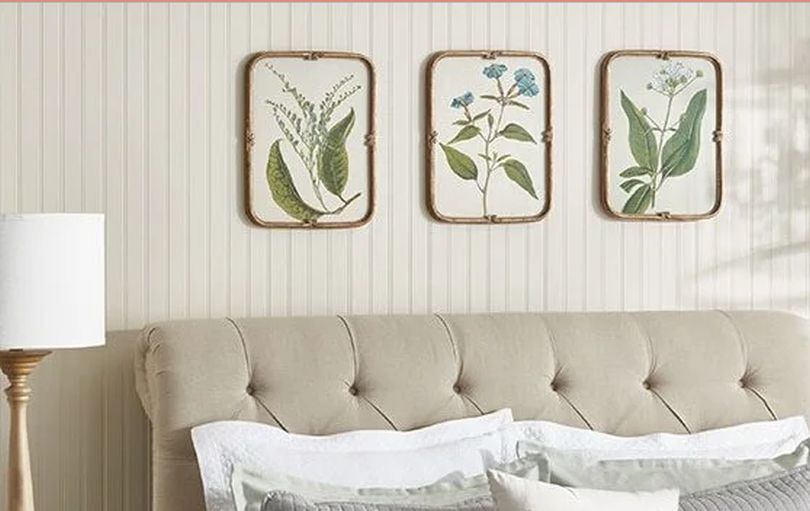 The natural botanical details merging indoor and outdoor spaces is one of the major characteristics of French Country style homes. You may consider adding potted plants, floral art prints, and silk flowers for infusing organic beauty into the classic theme. Just get creative with antique jars, ceramic milk bottles, and birdcages for bringing unique character to your living space.
Mirrors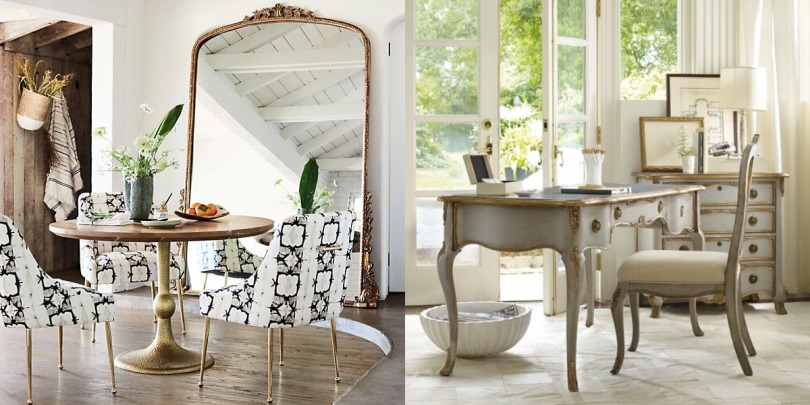 Mirrors reflect natural light while making an interior appear spacious and airy. Meanwhile, it helps in adding a certain depth to a given room while making the interior appear more welcoming and visually appealing. Look for a mirror with French Country style motifs or designs for accenting your walls. The whitewashed wooden mirror frames are perfect for sprucing up such cozy space.
Birdcages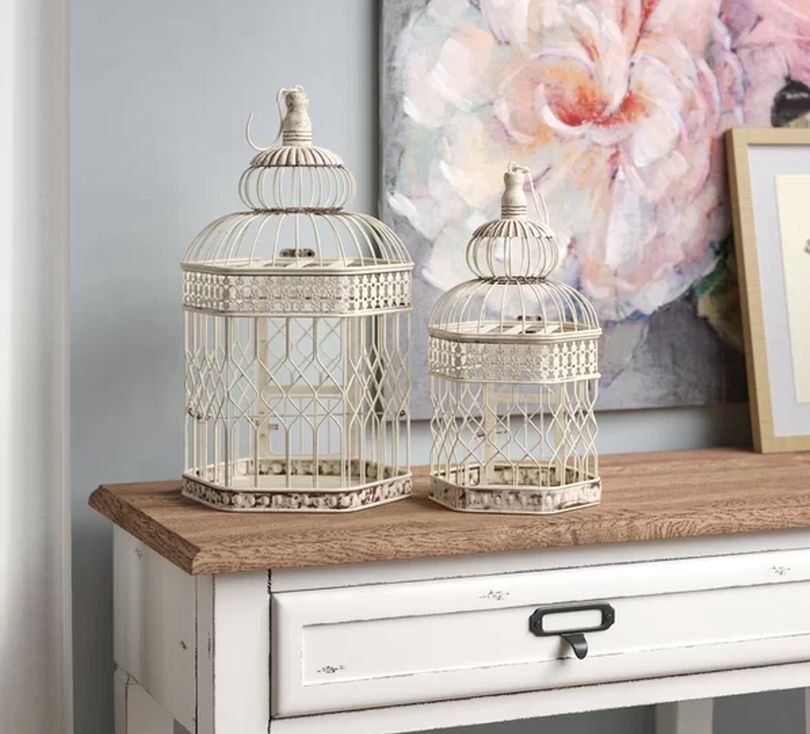 A metal birdcage can add a spectacular and whimsical note to the French Country Decor. You can add a potted plant in the birdcage or any other summery accessory to provide the allure of springtime garden. It's best to look for birdcages that have distinctive features, such as whitewashed finish, classic silhouettes, wooden construction, or wrought iron construction.
Spruce up Different Areas of Your Home With French Country Style
Here's how you can add French Country allure into different areas of your home: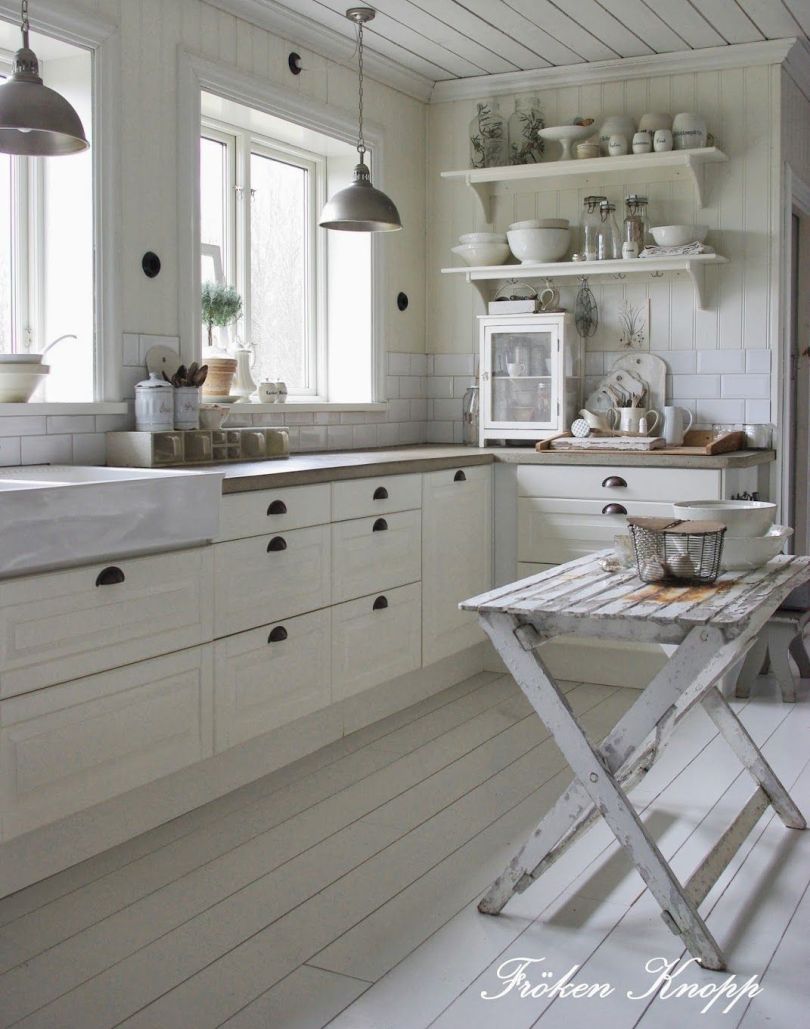 Certain elements of French country decors are so rustic, charming, and remind you of old farmhouses. For instance, you can simply add a deep, farmhouse-style sink in your kitchen. A wooden table with an old rustic vibe is also a good addition to this interior theme in your cooking space.
Furthermore, add wainscoting or beadboard details into your kitchen along with potted indoor plants to create organic vibes with some natural elements.
French Country Living Room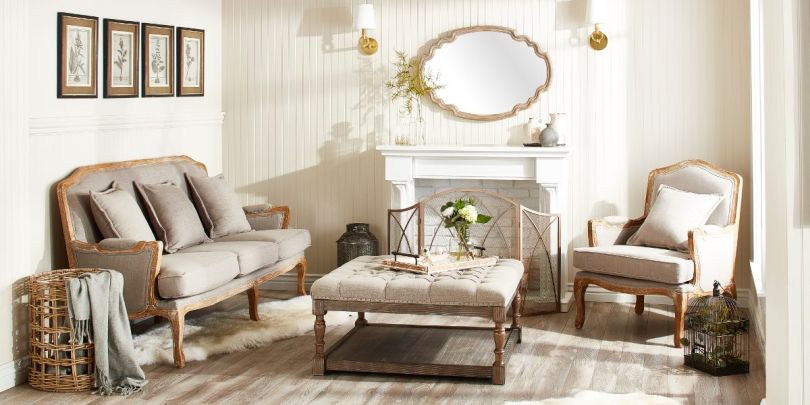 For creating a French Country style living room that's elegant and reflects tradition, you need to add antique-style furniture and subtle decor elements into the interior. Natural light also plays a major role in making such interior theme feel relaxed and vibrant at the same time. You may consider adding decadent crown molding and other scrolling details for drawing attention to the distressed decor and furniture.
Furthermore, consider installing metal hardware, such as rubbed bronze, wrought iron, and pewter into the room for matching with the authentic rustic interior design. Also, look for some decorative accents like colored glass vases and metal birdcages for enhancing this laidback design.
Furthermore, add light sheer fabrics on windows for gently filtering the sunlight entering your living room. Finally, complete the overall look with understated yet striking decor pieces that brings the essence of outdoor surrounding into your home.
French Country Dining Room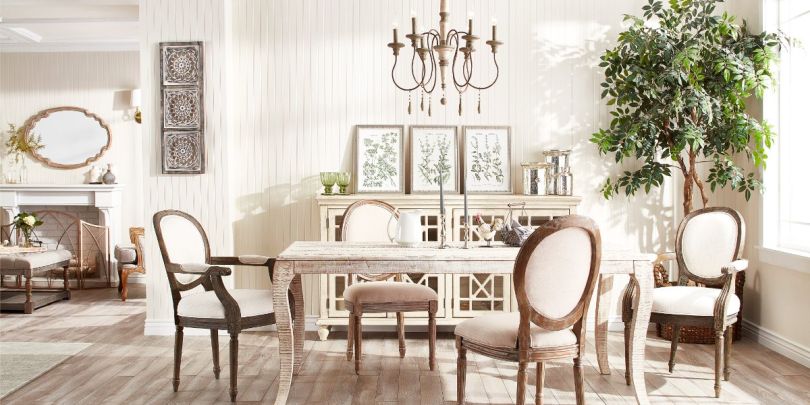 A dining room is a perfect gathering spot for an entire family for enjoying meals together. When decorating a French Country dining room, consider the provincial comfort of authentic country living. Add shapely dining chairs with sturdy wooden frames around a solid wood farmhouse dining table that features age-worn finish.
A simply styled French farmhouse dining room is also functional and makes use of every space for displaying useful things, like carafes, glassware, and table linens. The decorations in such a dining room include elements reflecting original countryside charm. Furthermore, adorn the walls with floral printed wall decor.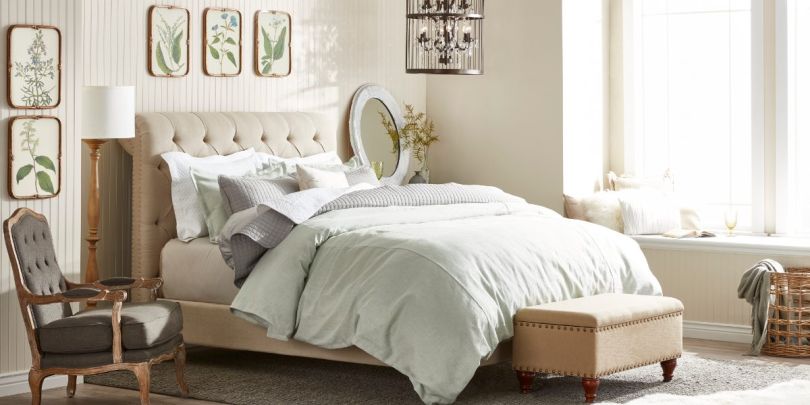 Luxurious Bedding, neutral hues, and homey details make a perfect French Country bedroom decor with relaxing vibes. Usually, this decor theme embraces simple accents, practical elements, and sturdy fabrics to keep the overall look refreshed and organized.
The layers of plush bedding can be enhanced with a deeply tufted fabric headboard to create comfortable and restorative sleeping space. Even nature-inspired artwork, like framed vintage floral art prints on the wall or plants on the bedside table, can breathe freshness into a bedroom. Also, consider adding sheer window treatments to enable gentle sunglow to enter into your room. Furthermore, the bedroom with French Country theme can be spruced up with other practical pieces, like storage bench, mirror, lamp, armchair, etc. to make your everyday routine a breeze.
So, when decorating your home with French Country decor, always consider visual-aesthetics and practically. A piece of versatile storage furniture, fashionable floral print linens, neutral tones, and natural elements like potted plants or wall decors are all part of this rustic style decor theme. It is a gorgeous and functional interior style for both traditional and contemporary themed interior style.