10 Kitchen essentials To Keep Your Cooking Space Organized
The kitchen areas are often hard to organize, as these spaces are the magnet for clutter. While the kitchens are smaller compared to other rooms, these are always jam-packed with double the amount of stuff. From drawers storing abundant spoons and piles of plastic containers taking up space in the whole cabinets to pantries full of ingredients, things can get very chaotic in the kitchen. Therefore, you need to look for reliable kitchen essentials to keep everything organized.
If you are looking for different ways to declutter your cooking space, we have compiled a list of various products that may help you clear the mess. Items like storage racks, magnetic knife strips, etc., are perfect to make your kitchen organization easier. Even if you incorporate any one of two of the given tools in your cooking space, it will be a lot more convenient for you to keep things arranged in order.
So, without further ado, let's have a look at the top 10 kitchen essentials you need to sort your cooking area:
1. Yamazaki Home Tosca Magnetic Kitchen Storage Rack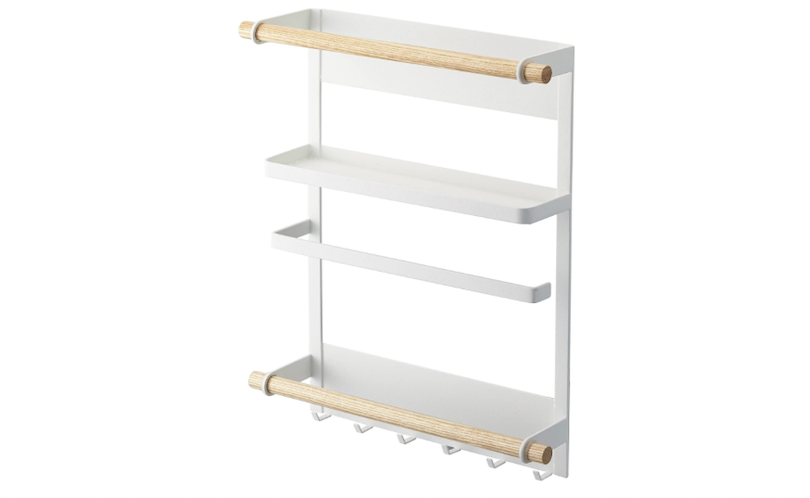 Rather than buying three separate organizers, it is best to organize everything in one. So, you may consider investing in this magnetic kitchen storage rack. It is perfect to store your spices, paper towels, and utensils in one spot. It comes in a subtle white steel finish. Plus, its magnetic body secures it well to the fridge without the need for nails.
This rack is perfect for mounting on a refrigerator or any other metal surface. You need to apply its sticky side to the magnetic surface. This storage rack is ideal for bakers, home cooks, or anyone else who wants to keep things more organized in their kitchen. Just attach the strong magnets to the back of the unit and further stick it to the fridge door. Or, you can stick it alongside for saving cabinet space.
2. Refrigerator Soda Can Organizer – Kitchen Essentials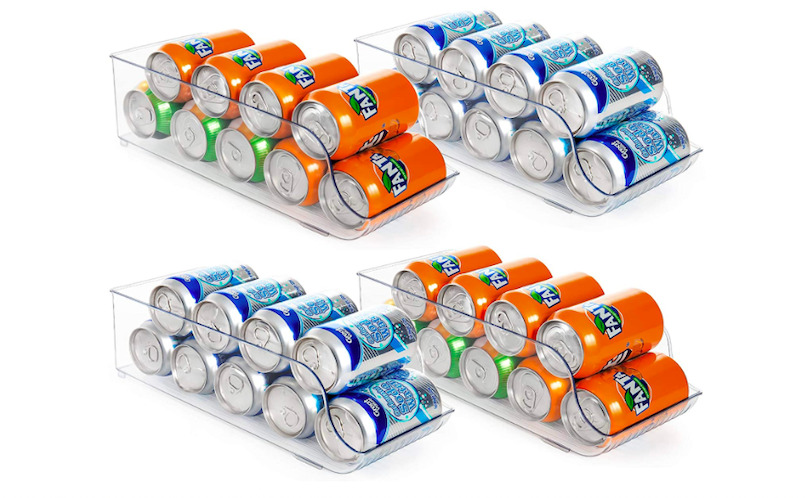 It may appear like this unit is just for soda cans. But you can use it for storing any type of can. Whether you have a couple of canned pumpkin puree or canned beans, this storage unit is perfect to keep them organized. It measures 13.5″x 5.5″x 3.75″ and stores around 9 standard-size soda, beer, or pop cans. You can use them side by side for maximizing the storage space in the freezer, refrigerator, cupboards, countertops, cabinets, or pantry shelves.
The best part is that this unit is lightweight but sturdy. Made from premium BPA-free polyethylene, this durable refrigerator organizer is quite sturdy. It is clear, so you may even see what you need without taking the whole unit out of your fridge.
3. Hanging Fruit Basket Rustic Shelves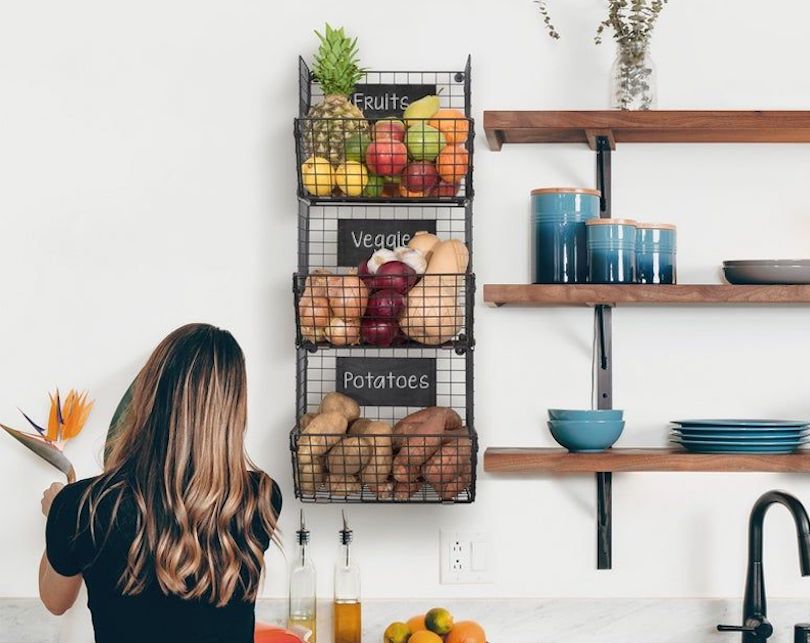 This is one of the best kitchen essentials to double the space of your cabinet. All you need to do is hang it inside the cabinet door or on a wall. And, then you can put your measuring spoons, spices, or any other kitchen accessories in it.
Its compact hanging design is perfect to free up the space on the countertop. Its slanted panels are easier to stock them with anything you want. Not just in the kitchen, it is useful for any other room in your house. From pantry items in the kitchen to bathroom towels or kids' toys, this one unit is perfect for the storage of any desired objects.
4. Magnetic Knife Block Holder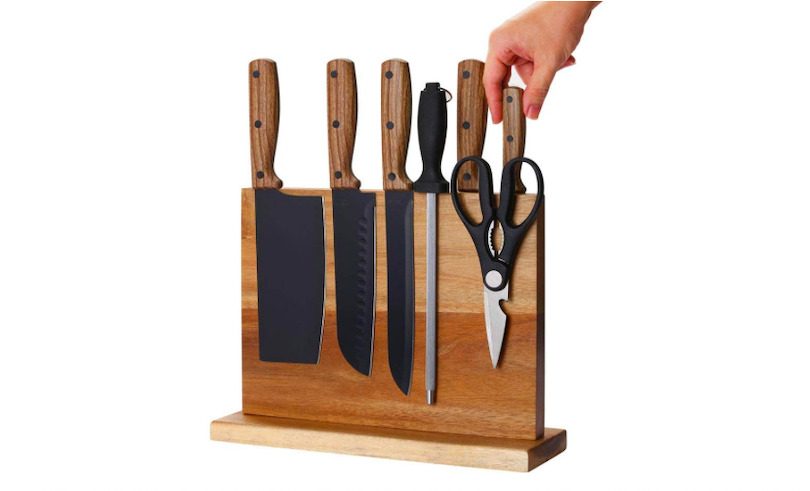 The knife boxes have become so outdated now. Just have a look at these magnetic stripes to hold knives. It is one of the useful kitchen essentials with double-sided use. So, it has the super capacity to hold as many items as you want. Furthermore, it is consists of a high-grade magnet that remains hidden within the surface. This strong neodymium magnet supports the objects firmly. It means that you don't have to worry about things falling off.
It even has an anti-skid design at its bottom for the increased thickness of the base. This makes the tool placement more stable and arbitrary. Therefore, no need to stress about shaking or slipping. All thanks to its simple design, the unit is very easy to clean. All you need is a damp rap to simply clean its surface.
5. Pull Out Cabinet Organizer – Kitchen Essentials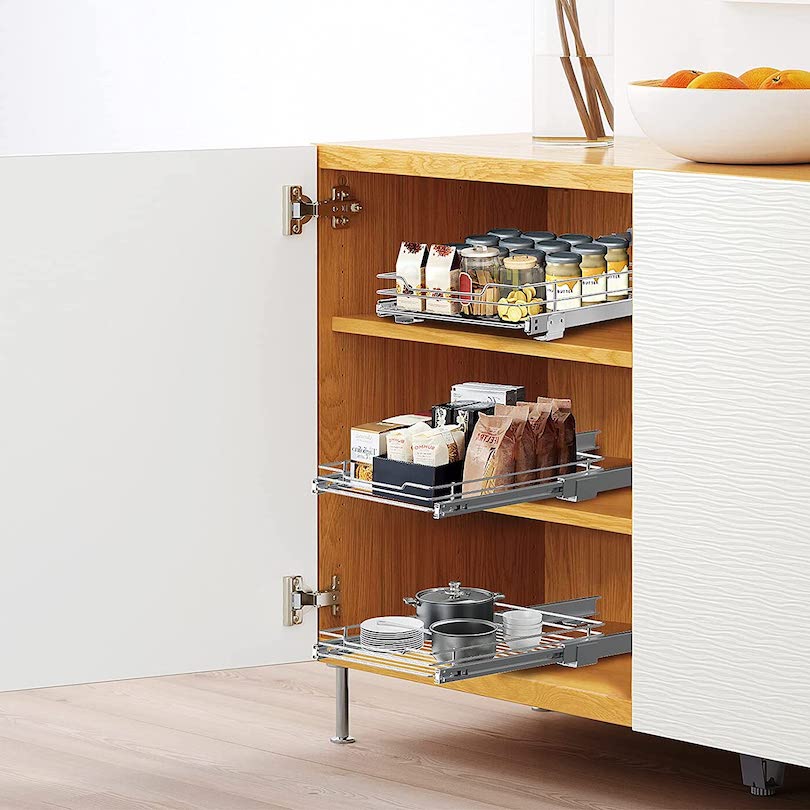 One major reason why cabinets always get disorganized is that you cannot see what's lying inside them. So, finding a pot in a cabinet means going through so many things. However, with this pull-out cabinet organizer, things become more accessible. Such kitchen essentials work by simply sliding the rack out and taking out any desired thing you want from it.
This unit is great for organizing and storing many other items. So, you can easily put the mess away and enjoy a tidy kitchen. The pull-out sliding shelving unit is perfect for many areas in your kitchen. For instance, pot rack, under sink organizer, spice rack, etc. If not in the kitchen, you can even use it in laundry rooms or bathrooms for keeping your cleaning supplies organized. These drawer shelves are also washable, as they are easy to remove.
6. Magnetic Spice Tins – Kitchen Essentials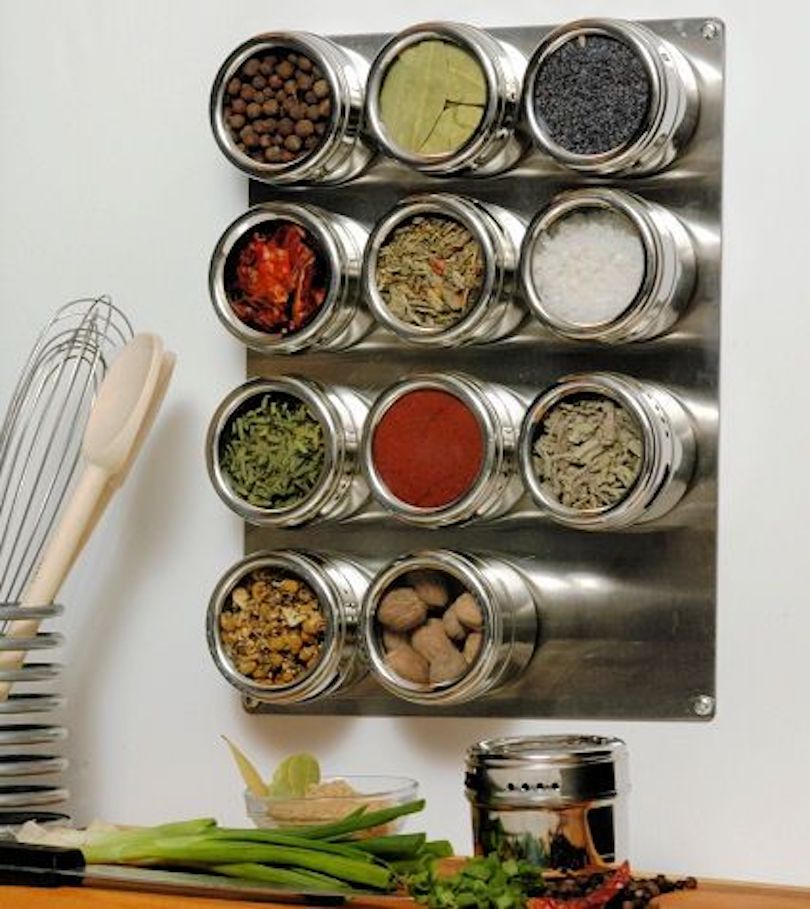 These magnetic spice tins are very impressive. They come in the perfect size for storing spices and contain a wide surface area for taking any desired ingredient. What's best is that these are magnetic. So, you can cling them onto any magnetic surface, like a fridge, or any magnetic strip hanging on the wall.
You get a pack of 24 magnetic spice jars for storing spices and condiments in an organized manner. These are both are convenient to use and also amazing to add artistic touch too. These come with powerful magnet rear to let you stick these jars easily stick on any metal surface you want. Plus, their transparent lid helps detect the right spice quickly. The jars have both rotating designs with pour holes or sift. So, you can add the ingredients to your dish at your convenience.
7. Yamazaki Storage Baskets – Kitchen Essentials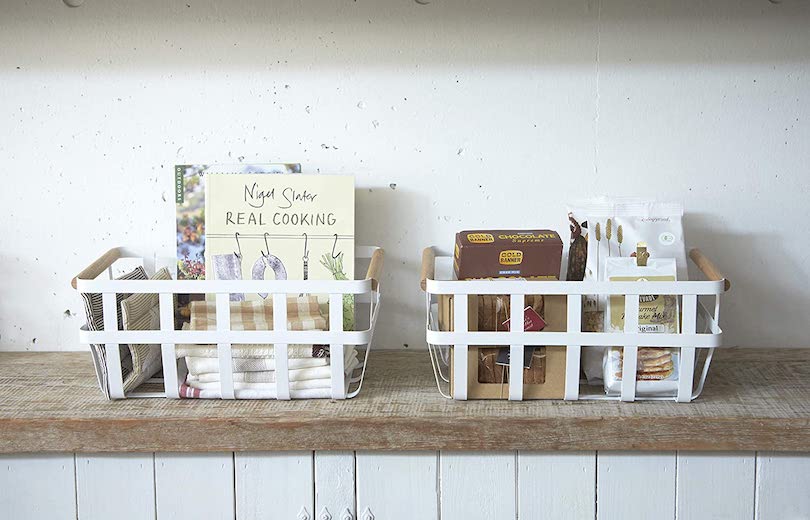 These stylish kitchen essentials are one of our favorites to put on the shelf and countertop. These storage baskets are not only great for storage but also for displaying some knickknacks, including your favorite recipe books.
It is because these are available in a crisp white hue. You can even use them to store fruits or veggies and display them on the countertop. Or simply store snacks or chips packets in it and keep them in a cupboard.
Made from steel and wood, the Yamazaki's storage basket is a solid and long-lasting product. Meanwhile, its wooden handles make it easier to grip and more it around with convenience.
8. Kitchen Drawer Organizer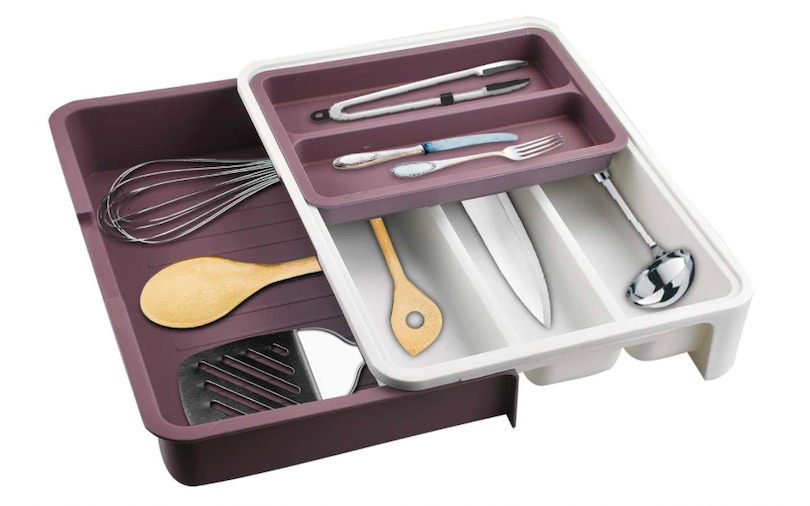 We understand that cutlery in trays is an eyesore. This is why you need such kitchen essentials. Have a look at this color-blocked drawer organizer to keep all your essentials properly.
The plastic casing of this drawer organizer makes sure that it is lightweight and durable. Plus, it has a hidden expandable compartment for jumbled chopsticks, pizza cutters, and tea strainers that are often hard to store. Hence, it gives you the best way to store your utensils by keeping them in one place. This tray is amazing for storing cutlery in the kitchen. Furthermore, the drawer storage unit also has a telescopic function. So, it can be freely arranged as per the drawer size.
9. Under Shelf Wire Baskets – Kitchen Essentials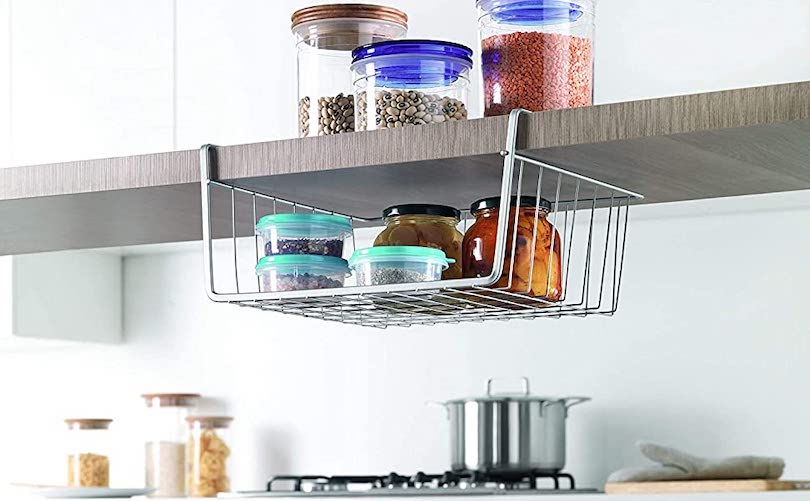 These kitchen essentials are under-shelf baskets that easily fit under most cabinet shelves. However, it is suggested to measure the thickness of your kitchen cabinet's shelf before ordering one. The perfect size of these under-shelf baskets is 15.94 x 9.76 x 5.11-inch. So, if you can measure your cabinet shelves and see if it's perfect for your pantry organization.
It helps you to maximize the space by adding these baskets under the shelf with an easy slide. Plus, you don't need any additional tools to install these under-shelf baskets. You can widely use these 4-pack hanging baskets under the shelf for storing food wrap, cups, utensils, napkins, spices, dinnerware, and other items.
10. OXO Good Grips 10-Piece POP Container Set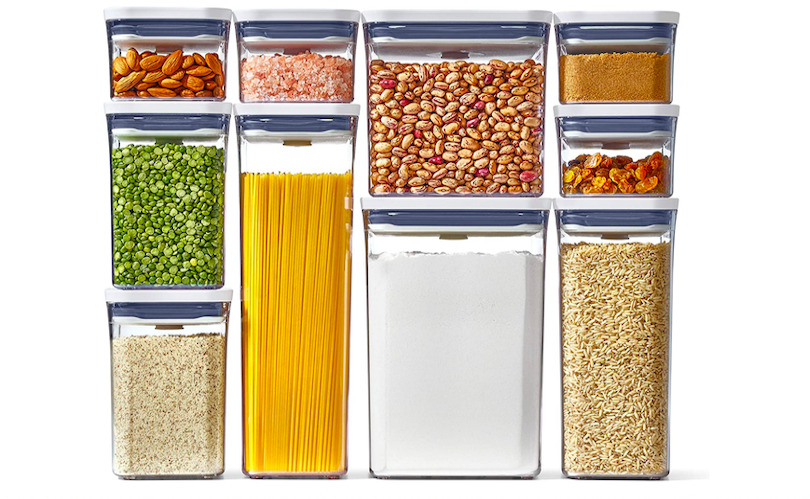 Another important kitchen essential to consider for your cooking space is this 10-piece POP container set. These containers are pricey but they will help you store your food in good condition. Moving ingredients out of their original bags is a great way for keeping the pantry away from chaos. Usually, flour and sugar can get spilled easily when it is left in the bags. Plus, these are more susceptible to getting contaminated by insects or bugs. One good way to store these kitchen ingredients is by transferring them into these containers.
These containers also have a push-button for an airtight seal. The button also doubles as a handle for its lid. These are convenient to store your pantry staples, such as coffee, flour, cereal, sugar, dried beans, nuts, and snacks.
So, these are some major kitchen essentials to consider for your cooking space. These are not only convenient to use but also great for keeping this tidy and well-organized in your kitchen.