15 Stylish Bedroom Curtain Ideas For Dreamy Sleeping Space
When it comes to adding curtains to your bedroom, you need something that provides privacy while pulling together the elements within your room. Since drapes are available in different materials and designs, it is not easy to choose the right one for your room. That's why we have come up with a list of stylish bedroom curtains ideas to help you transform your sleeping space. Each bedroom curtain design idea given in this article is practical, stylish, and easy to put together.
No matter what's your budget, you can choose any of the given curtain styles for your bedroom. If you want to promote more sleep, it is best to go for a luxury finish fabric that completely blocks the outside light. However, if you want little privacy and more style, then sheer curtains in natural hues are your best bet. The inspiration is in abundance and it's quite dreamy too.
Which Curtains Are Right For Your Bedroom?
Various types of curtains have their pros and cons. However, when you have to choose the right curtains, you need to consider the right fabric. The airy and light options appear amazing and also offer privacy. But these are not very effective if you prefer sleeping in total darkness.
In this case, you need thicker curtain fabric to blackout the incoming light from the windows. Heavy fabrics, like slubby linens, thick pieces of cotton, and luxe velvets, are perfect blackout materials. These heavy fabrics will help you keep light away from the interior. Hence, you can sleep peacefully without any outside disturbance.
Here are the 15 best bedroom curtain ideas to consider for your room. We are sure these ideas will help you to instantly elevate the entire look of the given space.
1. Dip Dye Bedroom Curtain Ideas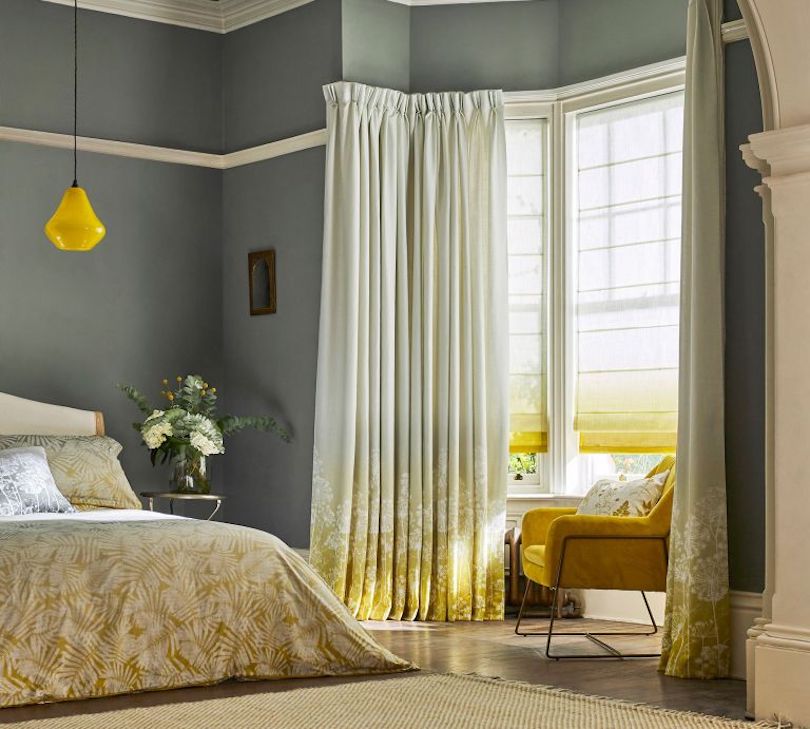 A hint of the color duo is always on-trend. That's why we love this gentle dip-dyed curtain with a yellow tinge in subtle cream fabric. This little touch of color on the curtains also helps in lifting all other yellow accents within this bedroom interior. Hence, you get a perfect sunny finish that's always enjoyed – whether you're waking up or relaxing in the evening.
2. Country Bedroom Curtain Ideas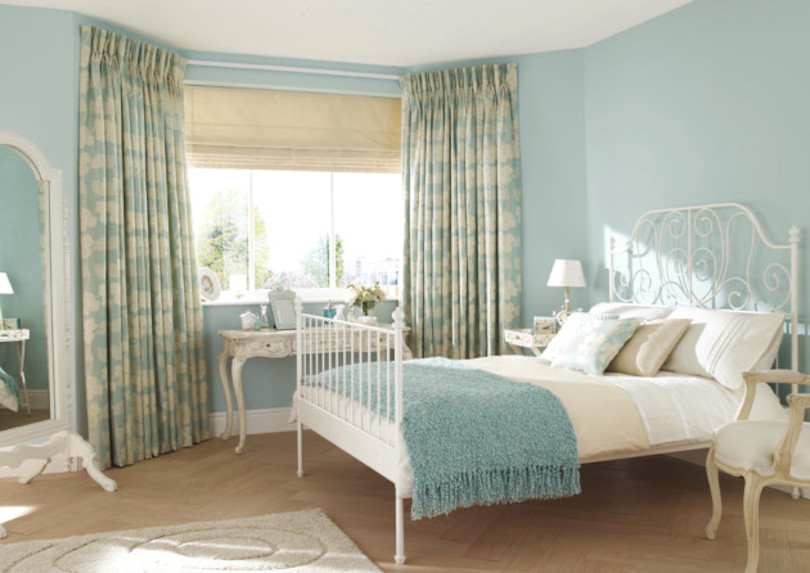 Have a look at these blue and cream patterned curtains against the blue walls. The pattern of this country-style curtain is likely to elevate the whole interior. Meanwhile, it ties up the whole interior together. This curtain style is also teamed up with a retracting window treatment to completely block the light when you need more privacy. It would look gorgeous both open and close – all thanks to its elegant pattern.
3. Sheer Bedroom Curtains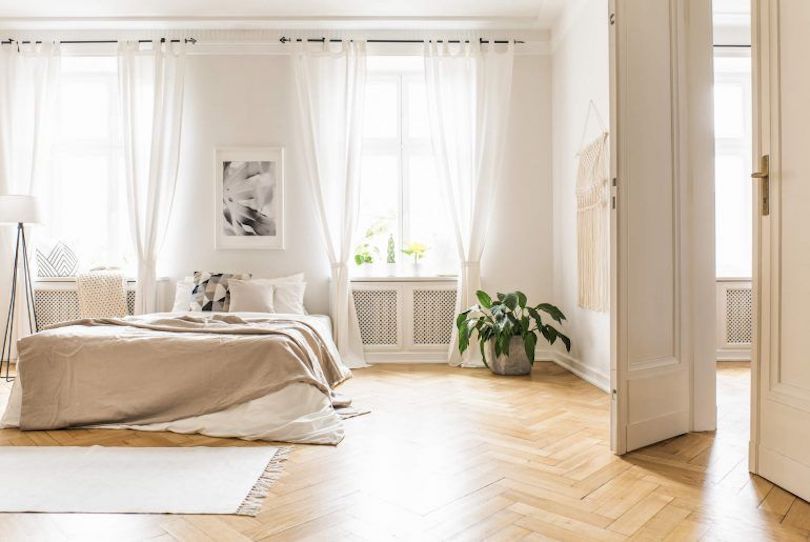 The sheer bedroom curtain ideas are best for those who don't like to obstruct natural light completely. These curtains have enabled enough light to brighten up the room. Meanwhile, it gives a sleek and modern finish to the given space. If you don't like all the plain look of these white sheer curtains, you can choose these in subtle patterns and light colors. However, make sure the color is in sync with your room's color palette. This way, the whole room will be in perfect harmony.
4. Mermaid Curtain Ideas for Bedroom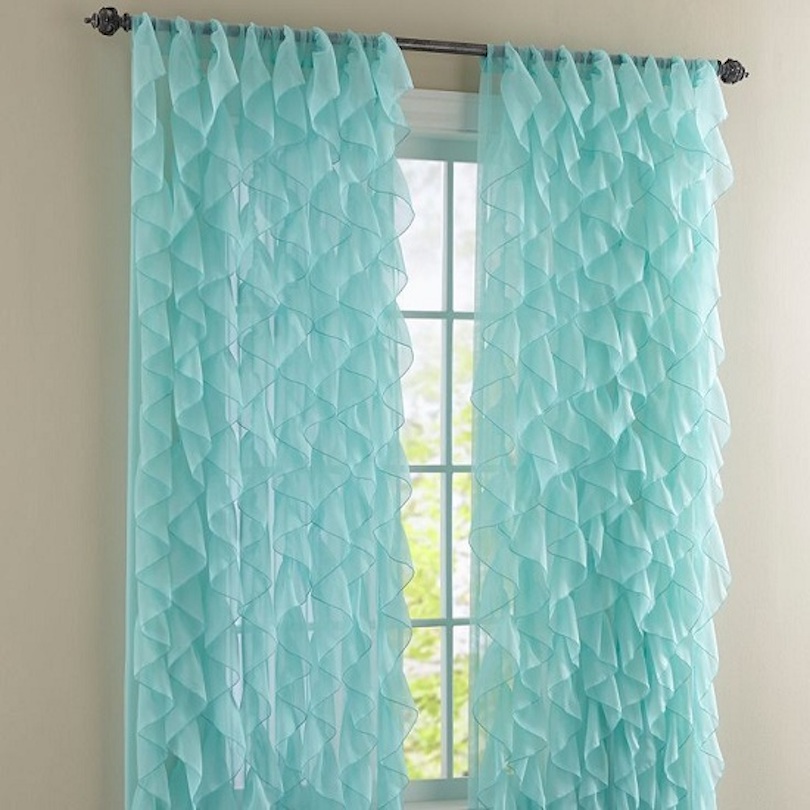 It is one of the best bedroom curtain ideas to consider if you like to play with delightful colors. The aqua blue here represents the sea's natural hue. Plus, the elegant ruffles give it the appearance of fins of fish or mermaid. This mermaid curtain is suitable for anyone's room who loves to live in fairy tale fantasy.
5. Shabby Chic Bedroom Curtains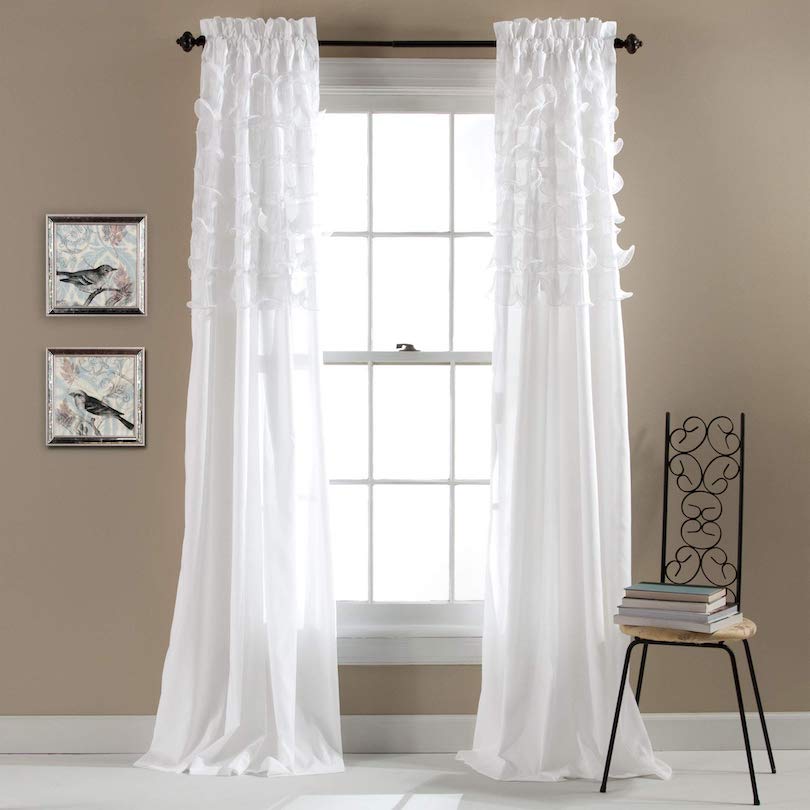 Are you looking for simple but aesthetic curtains for your bedroom? If so, this shabby chic curtain design is ideal for you. This white-colored curtain with ruffles would be a prominent feature in any neutral bedroom interior. It is perfect to add a romantic touch while creating a sense of nostalgia while maintaining comfort. Such curtains are likely to stand out against beige or gray bedroom walls.
6. Bright and Lively Bedroom Curtain Ideas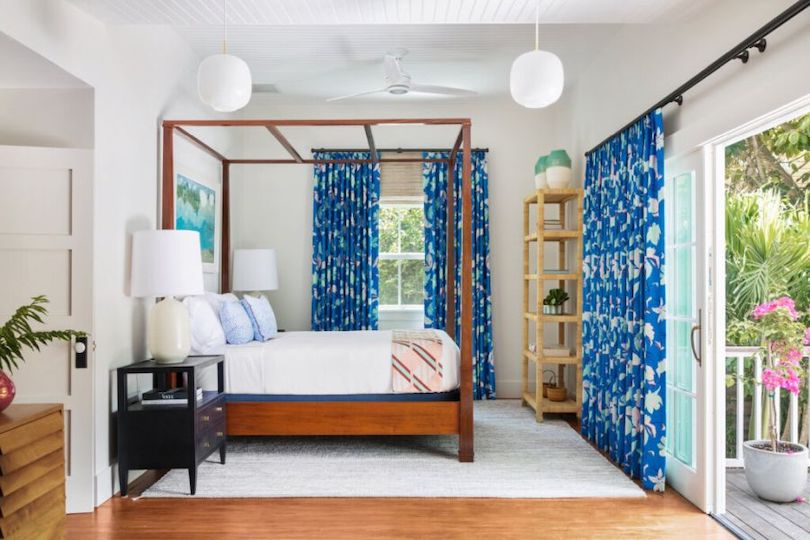 Here is a perfect demonstration of a bright and lively bedroom curtain. It features bright blue and white patterns that stand out from the rest of the interior. Since the bedroom has a huge bay window and a balcony space, these patterned curtains add a cheerful pop of hue to the entire window treatment. The overall appearance of the given space is clean, lively, and pleasant.
7. Statement Striped Bedroom Curtain Ideas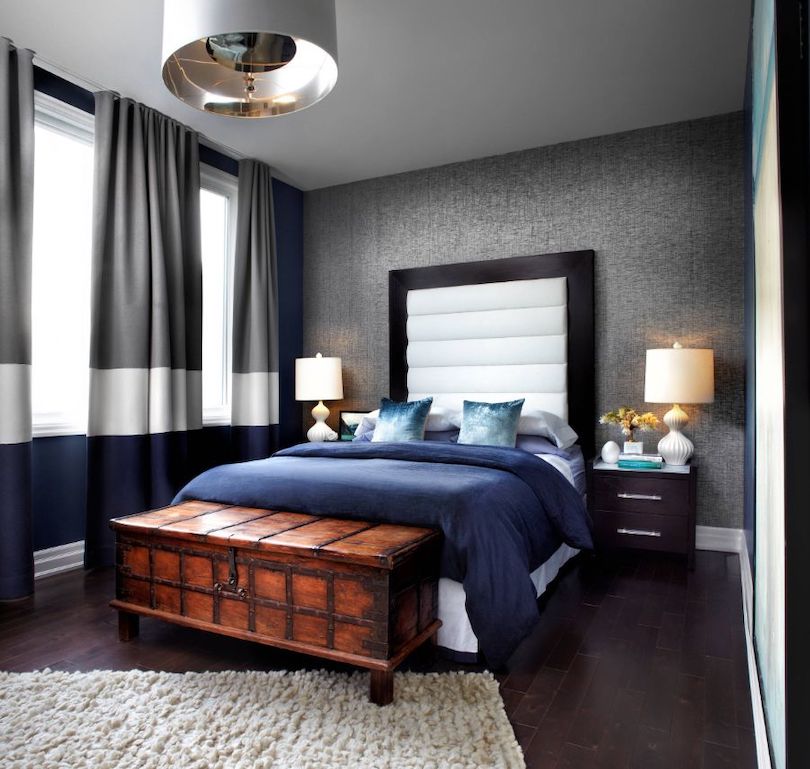 The bold stripes on these bedroom curtains may seem unusual to you. It is because these are dramatically thick, almost like color-blocked style. The mix of navy blue, gray, and white on the curtains add drama to otherwise dull plain walls. This way, it makes the entire bedroom appear taller than usual. Being installed near the ceiling, these curtains give the illusion of a more lofty space. Hence, ideal for a contemporary bedroom space.
8. Modern Georgian Style Curtains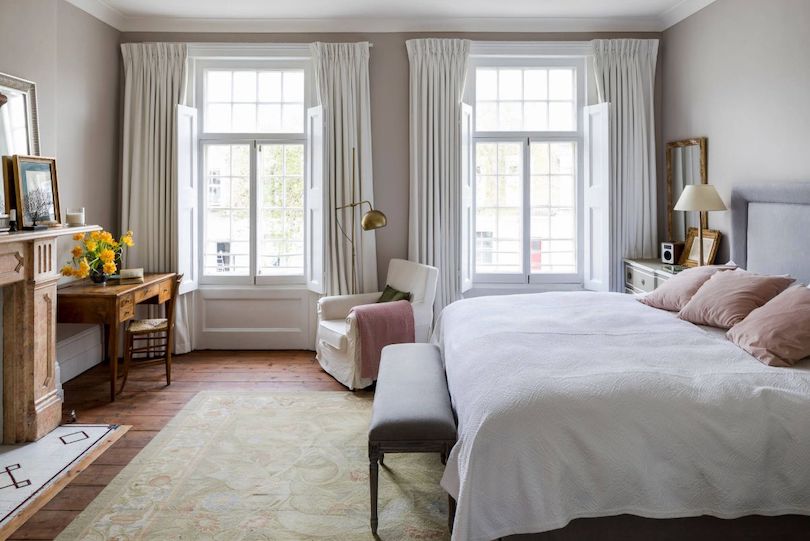 When your bedroom interior is traditional, you can add a more modern twist to it with the right choice of curtains. For instance, you can for these modern Georgian style bedroom curtain ideas. These cream-colored drapes are available in conventional style while focusing on large window treatments. These curtains are hanging atop the window frames. Hence, they create a more dominant wall effect.
9. Dominant Color For Bedroom Curtains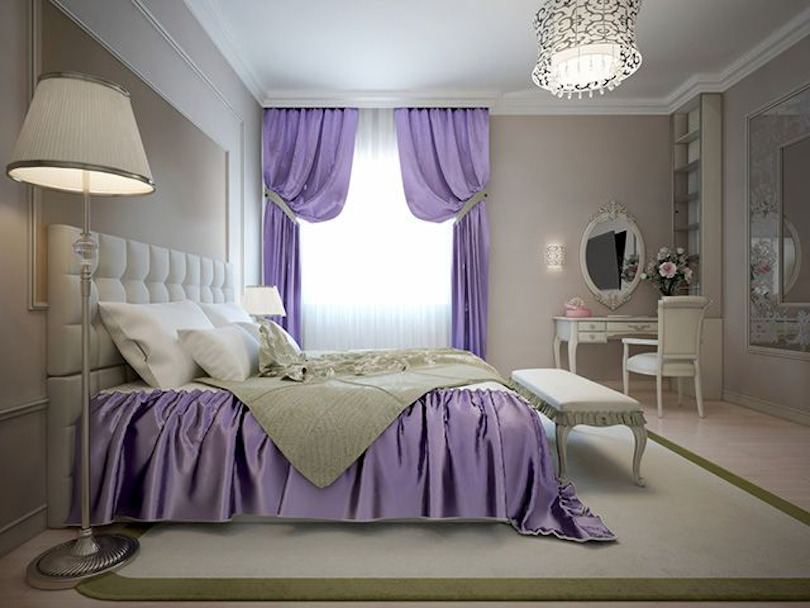 Out of the given bedroom curtain ideas, these drapes are focus on the bold hue. This curtain in lilac hue adds lively charm into the neutral interior. Plus, this particular shade is different than the usual bold colors, like teal, blue, red, etc. Hence, it gives a refreshing makeover of the given space. To sync the whole interior, you may consider adding a bedsheet in a similar hue.
10. Flowing Curtains In the Middle of Your Bedroom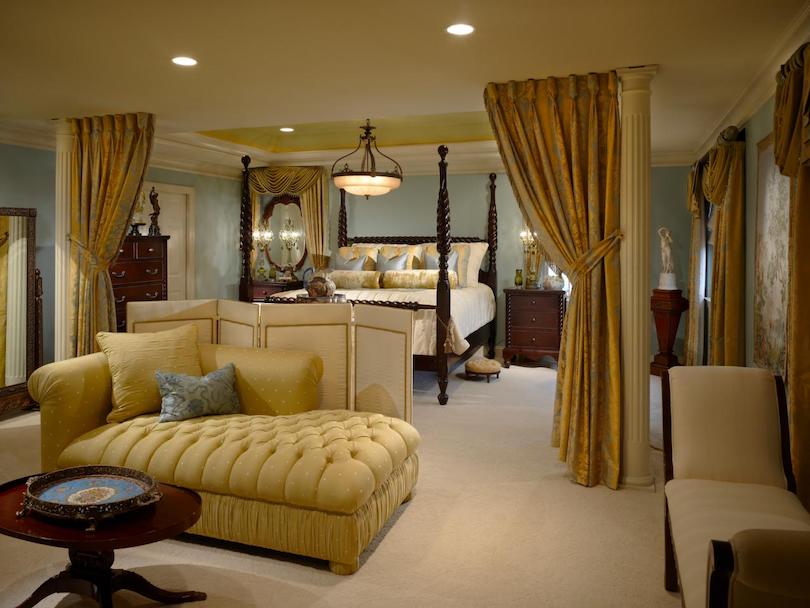 If you have a large bedroom, you can consider dividing it using flowing curtains. Just have a look at the image above – how beautifully these curtains separate the given space. All thanks to the curtains hanging in the middle of your room, you can divide the room into a sleeping area and seating area. If you don't like the look of the thick curtains, you can consider adding sheer curtains to ensure the light flow is not obstructed.
11. Wide White Bedroom Curtains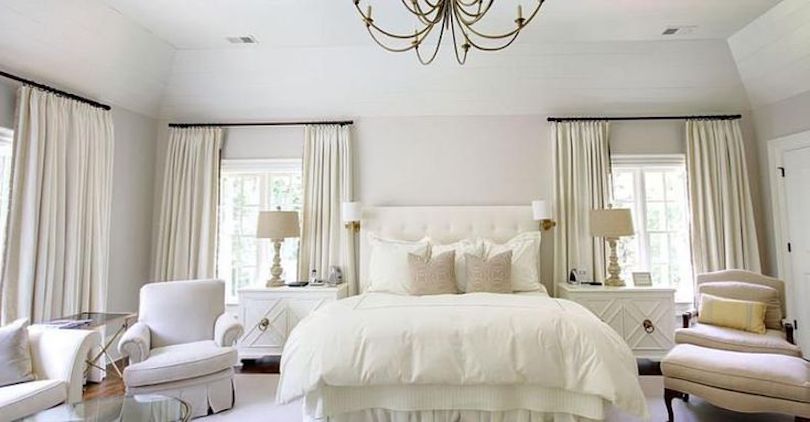 This one is for pure minimalists. These bright white curtains around your bed are likely to make the room appear more spacious.
It is because it naturally blends with the all-white interior. Moreover, the curtains are high above the windows, making them appear bigger than their actual size.
Plus, its plain pleated curtain style gives the interior a versatile appearance.
12. Not So Basic Black Curtains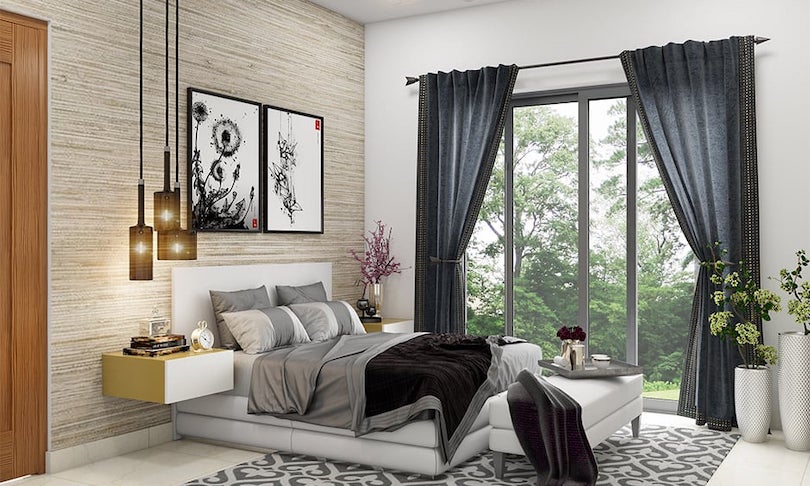 Black is not a popular choice for bedroom curtains. But if you dare, black curtains can add a dramatic pop of hue to your otherwise dull neutral bedroom interior. But when choosing drapes in this color, choose not the basic ones. Instead, pick the ones with little patterned trim or slight design. Also, add a similar hue in other areas of the interior to sync the whole setup.
13. Totally Victorian Bedroom Curtains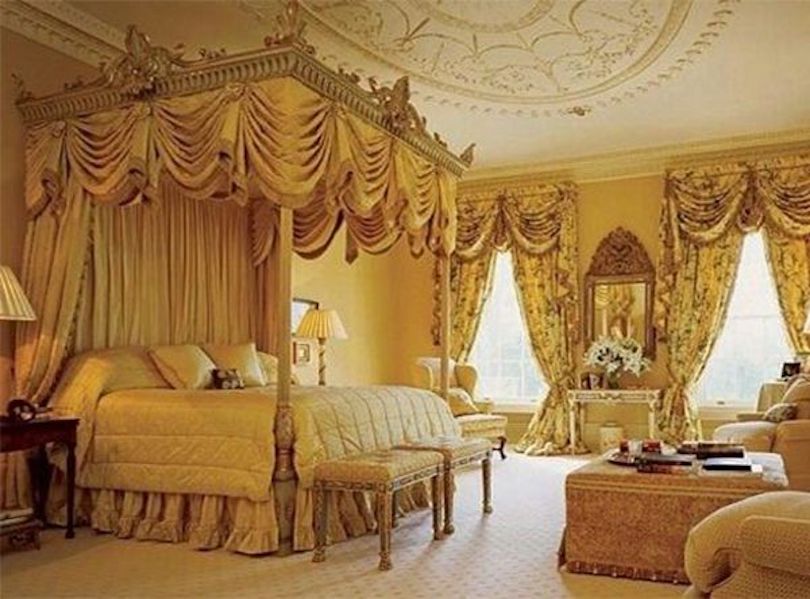 For those who have the classic taste, consider adding Victorian bedroom curtains. These patterned curtains in Victorian drapery style are perfect to add age-old charm to the given space. To tie the whole look together, also add the same drapery around your bed. This is perfect for your bedroom interior to add a more dramatic vibe to the given space. Probably, women would be more fond of this bedroom drapery.
14. Mix Curtain Materials For Striking Effect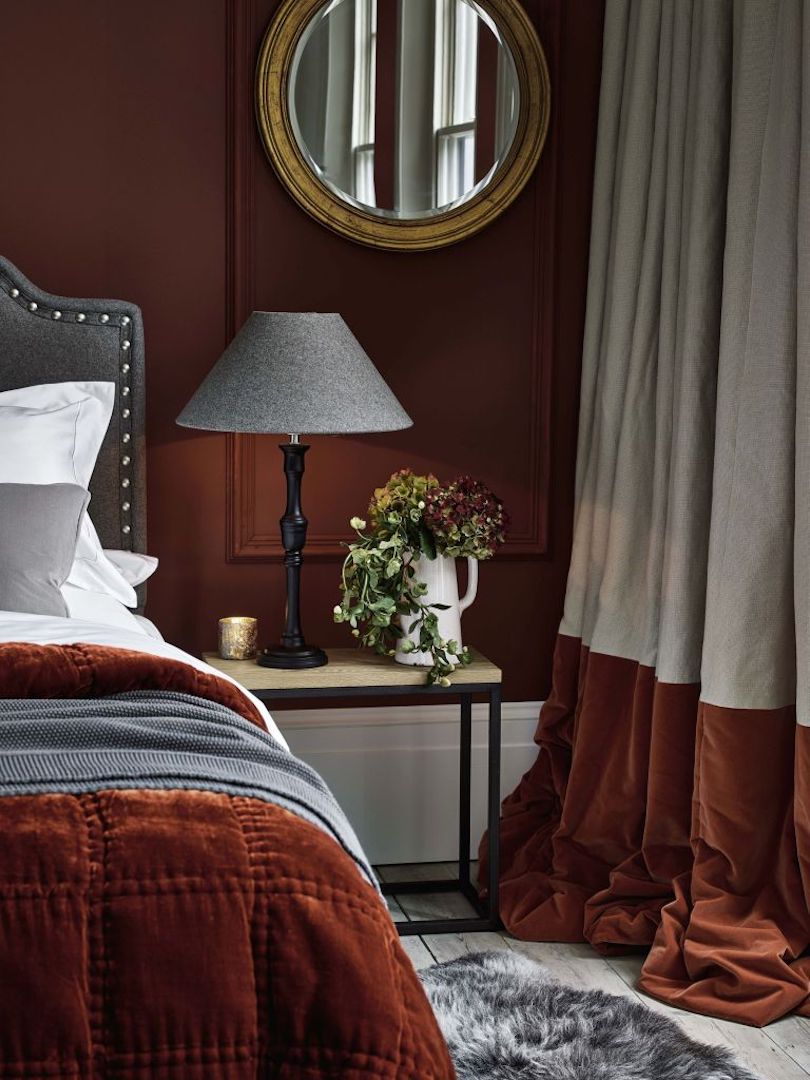 Do you love one particular color or fabric, but scared of using it as a whole block? Why not consider matching it with some neutral material? By mixing two materials for your curtains, you will create a brilliant bedroom curtain style. It is great for those who are on a budget – as they don't have to purchase the entire piece of expensive fabric. They can mix it with some other affordable fabric for the whole curtain. For instance, you can mix velvet with linen to create a gorgeous curtain style for your bedroom.
15. Modern Botanical Bedroom Curtain Ideas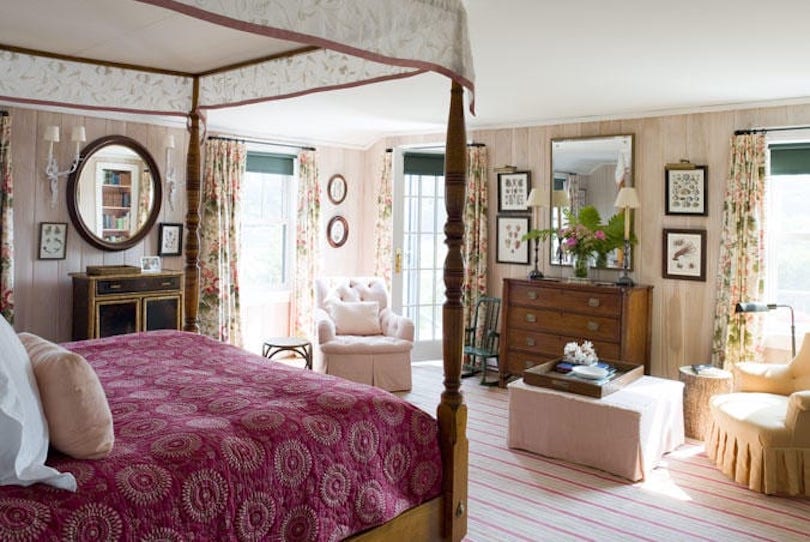 For those who love floral patterns or a bohemian vibe, modern botanical bedroom curtains are great for you. We love how these modern botanical curtains stand out while subtly blending with the interior. To add a pop of color to the interior, add a bold colored bed sheet or furniture piece in the bedroom. This will make the entire space appear more interesting.
As you may see, there are endless stylish bedroom curtain designs to choose from. Whether you like the minimalist design or vibrant hues, you can choose any of these curtain styles. No matter which curtain design you choose, it is likely to elevate the overall look of your bedroom.