10 Halloween Bedroom Decorations For Spooky Fest
Since Halloween is around the corner, everyone is counting the days on their fingers. After all, Halloween is not just about eerie costumes and scary costumes, it is also a fun celebration to give an exquisite look to your house. While mostly we decorate our living room and outdoor areas, why not create a new design for your bedroom this Halloween? In this article, we have shared amazing Halloween bedroom decorations to add some spookiness to your resting space.
But before jumping into the Halloween decor ideas for the bedroom, let's discuss how the popularity of these gory decorations.
Popularity of Halloween Decorations
For centuries in regions of the USA and Europe, people have believed that the dead socialize with a human during Halloween. Due to this, we humans put all things gory around our dwellings to ward off evil. During Halloween, people believe that it protects them against the evil spirits that are wandering in the neighborhood to attack humans. The things that usually scare people, such as witches, ghosts, demons, etc. are the common decor pieces on October 31. Centuries ago, people thought that such scary ornamentation confuse the demons, making them think we are one of them. Hence, they don't harm us and go away from our house.
Today, there is a whole new approach for Halloween. Now, it is being celebrated widely across the globe. This is the time for all to have fun and dress up in fun scary costumes. Meanwhile, they give a spooky makeover to their house – both indoors and outdoors. The use of Halloween decorations has increased over the years. Not just gardens, patios, doorsteps, or yards, but people also like to deck up indoor spaces, like living rooms, bathrooms, kitchens, and bedrooms.
10 Halloween Bedroom Decorations For You
To explore different Halloween bedroom decorations, check out the given 10 spooky but fun decor items. These all are worth consideration. Not just Halloween, some of these items can be in your bedroom year around.
Have a look!
1. Haunted Halloween Throw Blanket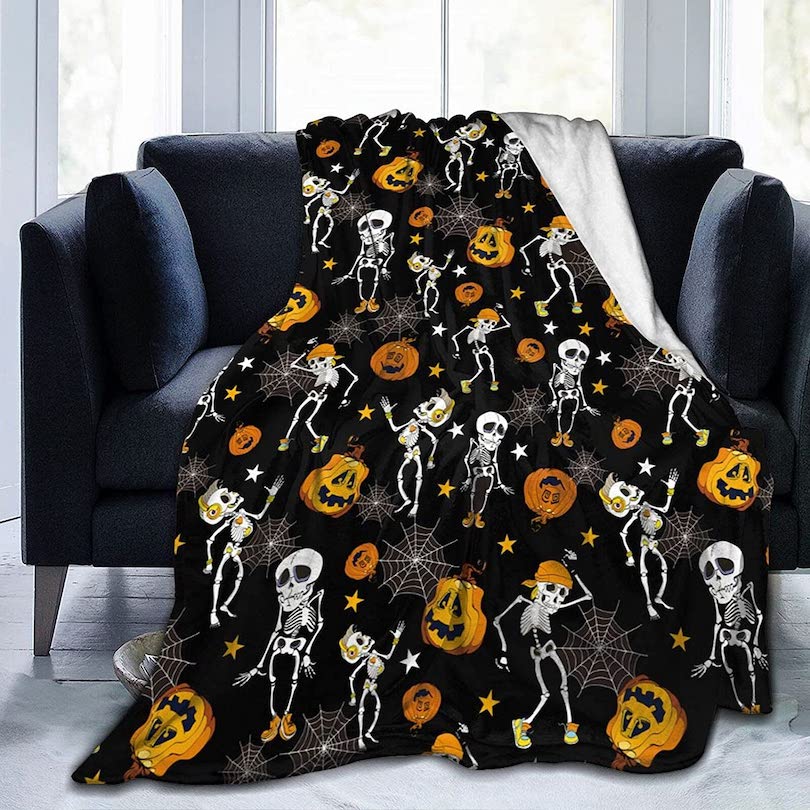 This haunted Halloween blanket is one of the best Halloween bedroom decorations on this list. You can use it throughout the winter. It features pumpkins, spider webs, and dancing skeleton designs all over. Some people believe that skeletons are related to dead or Satan, others say these are possessed devils. You can add this Halloween blanket to your bedroom for the festive touch this year.
2. Sleeping Lamp – Halloween Bedroom Decorations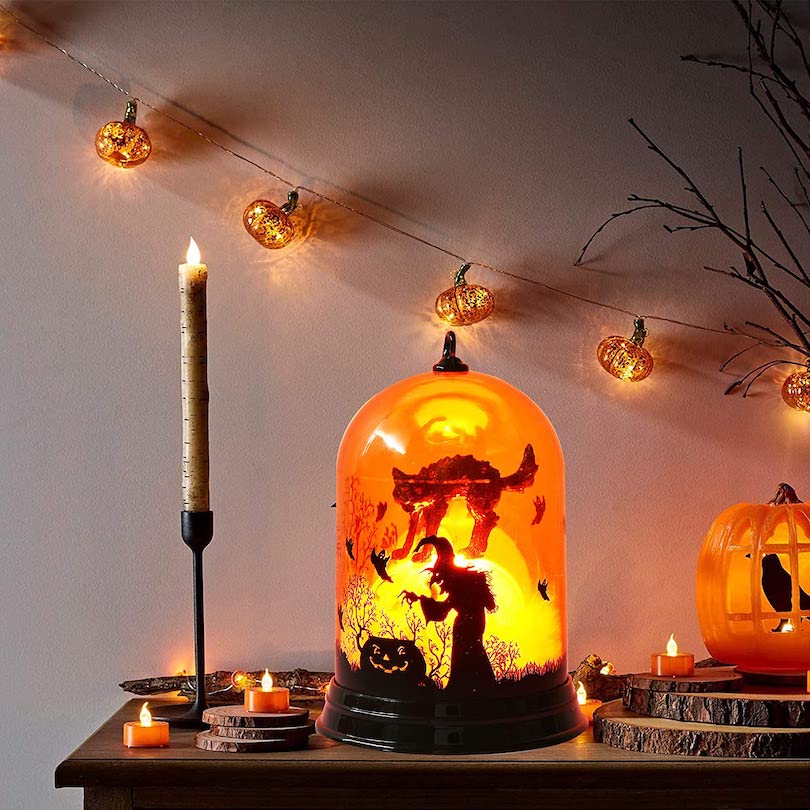 Illuminate your Halloween bedroom decorations with this spooky lamp. This is a great way to add Halloween flair into your bedroom during the festive time or throughout the year. You can keep it on your bedside table or any shelf in your bedroom.
If not fear, this cute Halloween lamp will bring a fun and relaxing bedtime experience into your room. If you are quite scared of the witch inside it, then we're not sure how you'd sleep keeping its light on. Just be careful!
3. Scary Canvas For Halloween Bedroom Decorations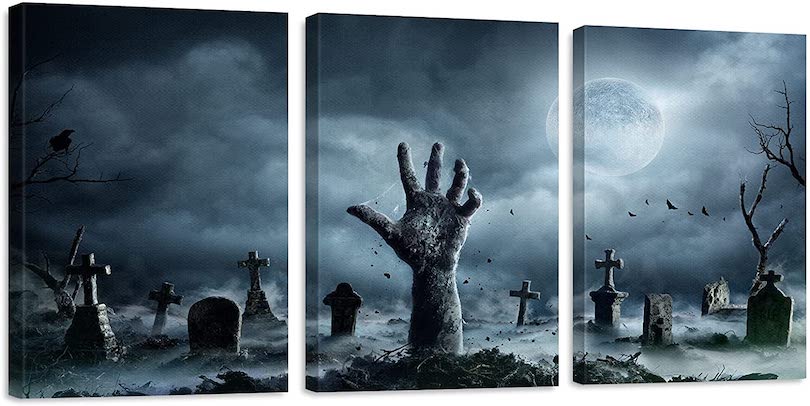 If you dare, add this Halloween scary canvas to your bedroom wall. This is perfect for making a terrifying atmosphere in your room. However, it is more suitable for someone who usually likes dark decor in their room. This set of canvases include a graveyard scene with a zombie hand emerging from the ground.
Do you want to transform your bedroom into a frightening space? If so, this is a perfect canvas to put on your walls.
4. Black Rug – Halloween Bedroom Decorations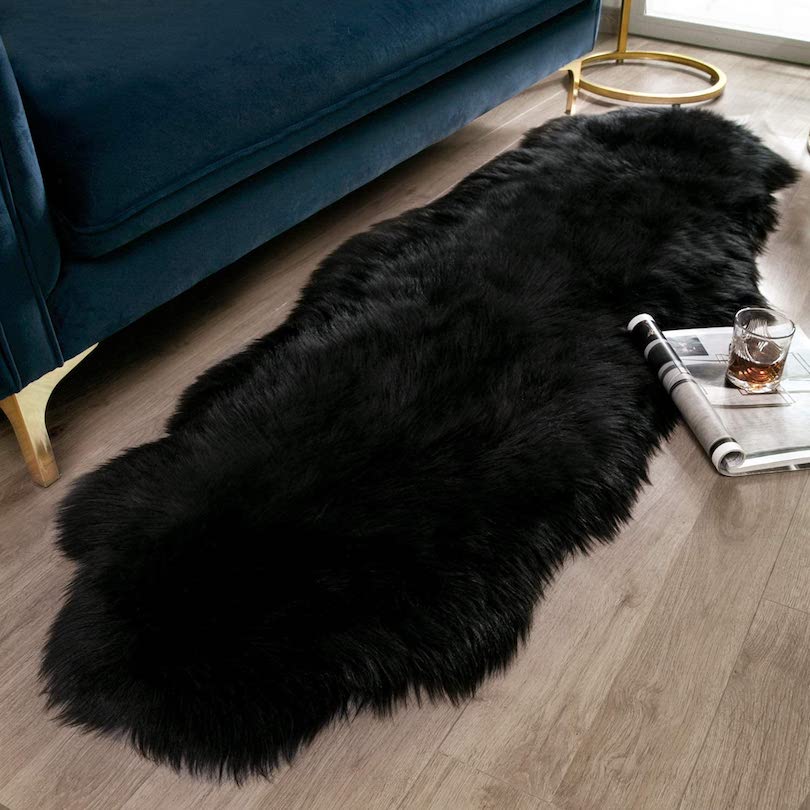 We all know that bedroom rugs can add pattern, texture, color, and theme to any room. And, for perfect Halloween bedroom decorations, add this furry black rug to your bedroom. The bonus is that it's a classic way to add a fresh feel to your bedroom. Meanwhile, it will maintain the dark Halloween theme for the spookiest night of the year.
If you want to transform your bedroom into something scary, don't forget to add this rug to your room.
5. Hanging Ornaments For Halloween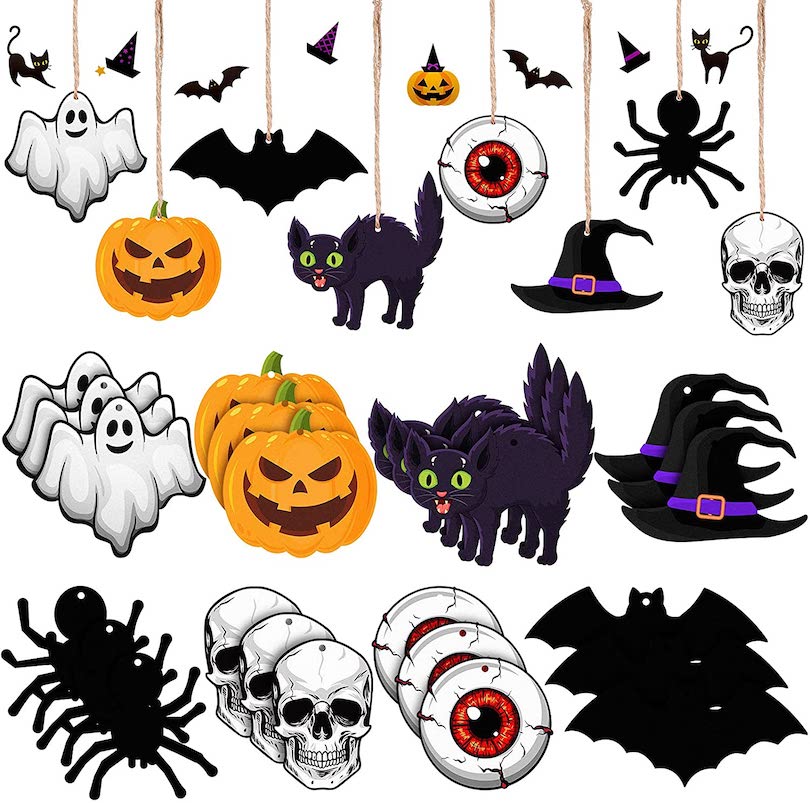 Halloween hanging ornaments are one of the fun ways to add a ghostly image to any area in your home, including the bedroom. Just hang these ornaments in your room to give them a ghostly touch or to create a frightening touch. You also need to keep in mind that these ghastly ornaments are hung on windows or lamps to create maximum impact.
The ghost and skeleton ornaments are the perfect choices when you want to decorate your room for Halloween. As you know – the line between dead and living is often blurred on October 31, so such scary ornaments are the perfect time to do so. You can disguise these ornaments in different areas of your house to prevent evil spirits from attacking your dwelling.
6. Black Candles For Halloween Bedroom Decorations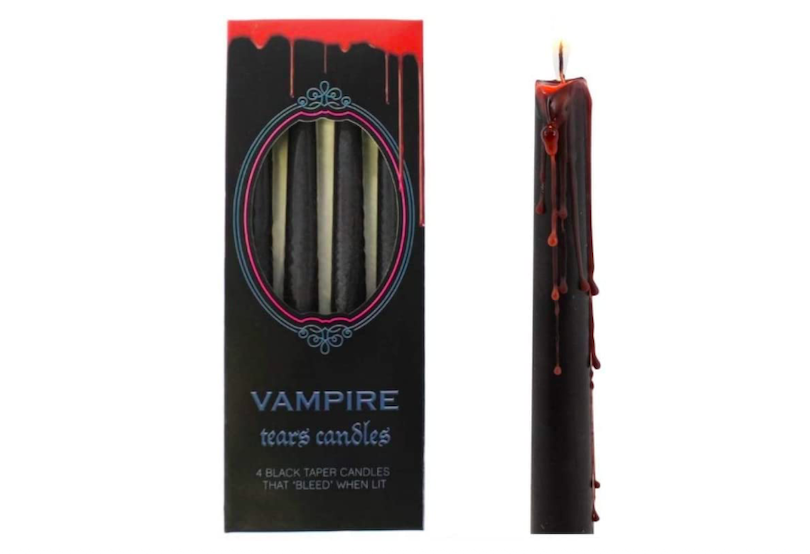 The candles often rank high on any home decor list. But what about the scary blood dripping candles? Have a look at these black tapered candles that seem to drip blood when the wax melts on igniting them. These candles are perfect to make the creepy atmosphere, add a lighting effect, or set the perfect dark tone for your bedroom.
Just remember to put these candles away from flammable things in your bedroom, like curtains, paintings, house flags. There must be no danger of catching fire around these spooky candles.
7. Colorful Halloween Skull House Flag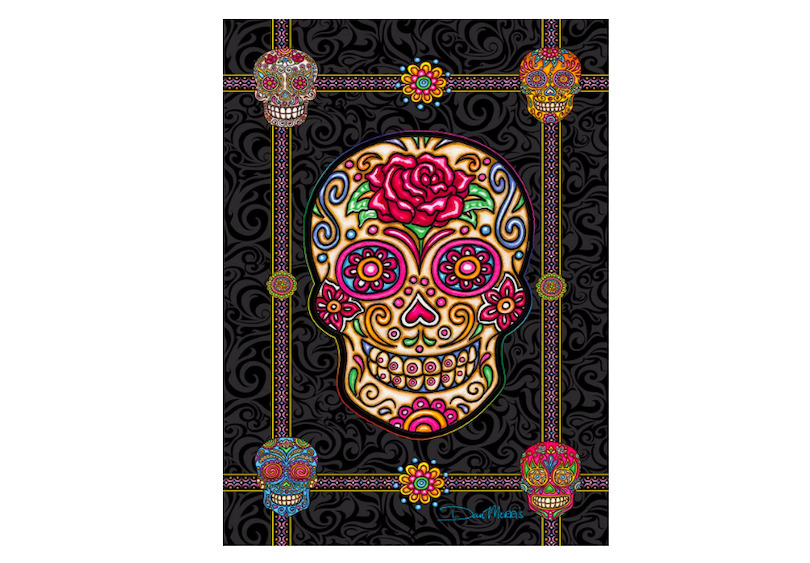 For creating a frightening factor for the Halloween setting, this colorful house flag is perfect for your bedroom decor. It boasts a skull pattern with colorful illustrations. Hence, it seems to be a perfect decor item to add a scare-yet-fun factor to your bedroom for Halloween.
If not this one, you can even consider a house flag with jack-o-lantern or ghost carving for the bedroom decor. You can keep it in a room for a perfect Halloween night ambiance.
8. Velvet Pumpkins For Halloween Bedroom Decorations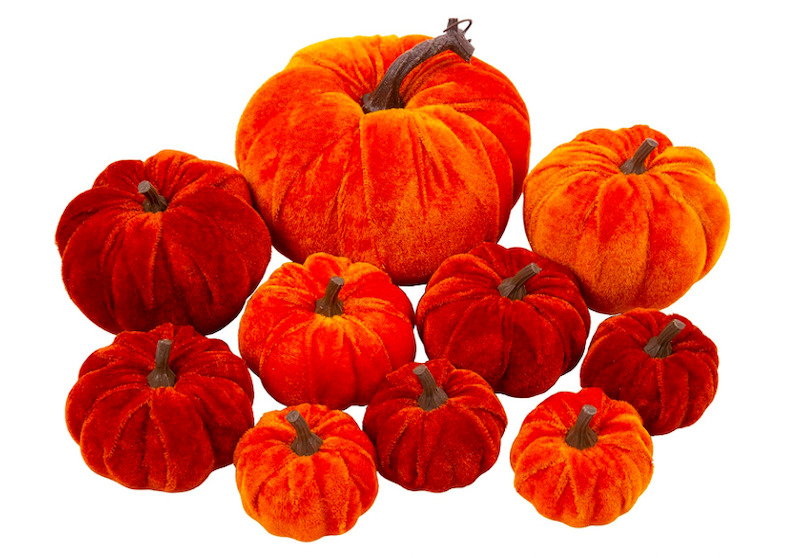 These velvet pumpkins are the perfect decoration item for All Hallows Eve. These serve as a decorative link to the spooky fest and autumn crop. After all, these are the well-known harvest ambassadors. So, they got to be part of your Halloween bedroom decorations.
You can place them anywhere in your bedroom to set the perfect mood for Halloween. The best part is that these decorations are kid-friendly. It means you can keep them in their room as well.
9. Halloween Custom Round Wood Sign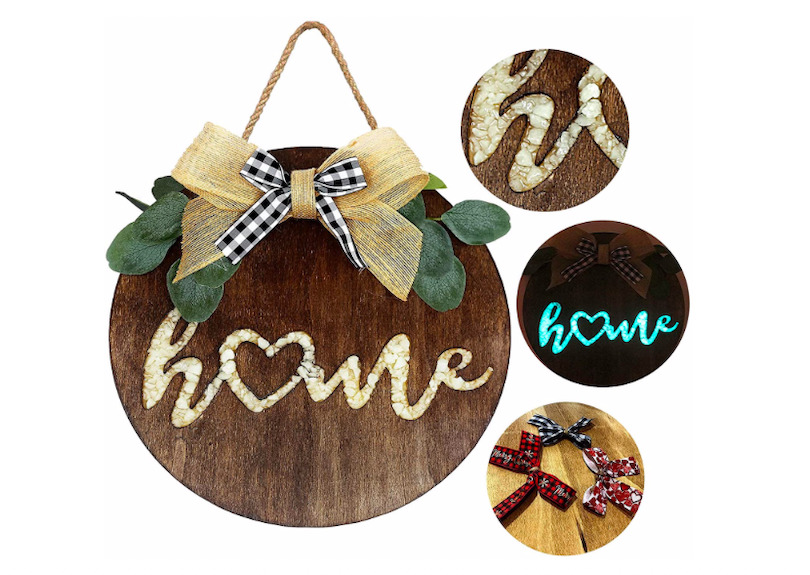 This Halloween custom round wood sign is a lovely compliment for your bedroom. The wood sign says 'home'. The best part is that you can customize it for your bedroom.
It seems simple but you can paint pumpkin face or other Halloween-themed decors. It you can paint it in vibrant hues to stand out in terms of Halloween bedroom decoration ideas.
10. Halloween-Themed Pillows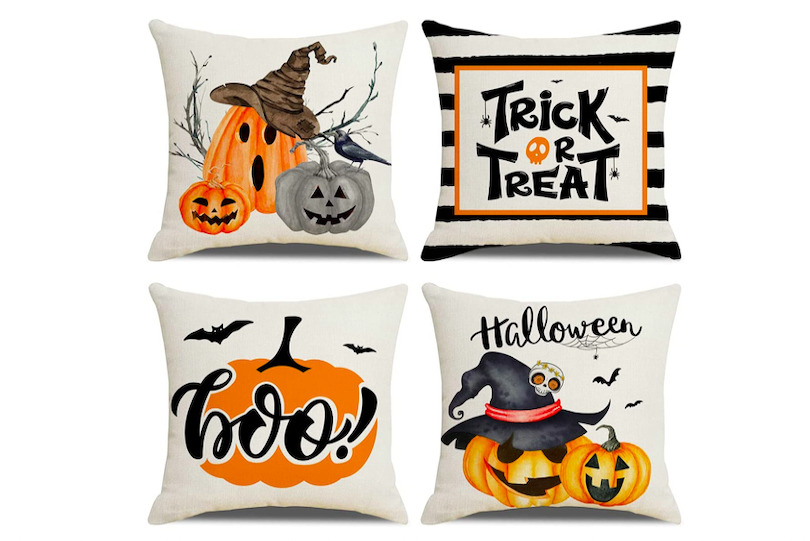 You can brighten up your bedroom's color scheme with these Halloween-themed pillows. Adding these throw pillows to your bed is a great way to decorate it for October 31.
Each pillow consists of something that screams Halloween. The color orange and pumpkins are a symbol of the harvest and the spooky fest. Hence, it is one of the perfect decor items to add an ideal festive theme to your room.
Final thought
Halloween decorations are an age-old tradition that's popular even today. The materials used to decorate your living space and bedrooms during this fest are not the same that were uses years ago. Today, we have added a modern touch to Halloween by decorating our bedrooms and other areas in our home with new-age items.
You can consider the mentioned Halloween decoration items to give a spooky vibe to your interior. We hope you found this article helpful.
Wish you a Happy Halloween Day!