15 Frightfully Awesome Halloween Front Door Decorations
All Halloween enthusiasts are aware that Halloween decorations are not just limited to indoors. Even your front door needs much attention on the All Hallows Eve. After all, it is the main entry to your home. So, must have a frightfully awesome decoration to impress and scare your boo crew. But what if you are clueless about your Halloween front door decorations this year?
Don't worry, we've got you covered!
From freaky Frankenstein decor to creepy clown decor to witch wreaths, we have compiled a list of hauntingly amazing Halloween front door decorations for you. No matter how much money or effort your want to put in, these door decorations are perfect to add spooky holiday spirit to your house.
1. Frankenstein Halloween Front Door Decorations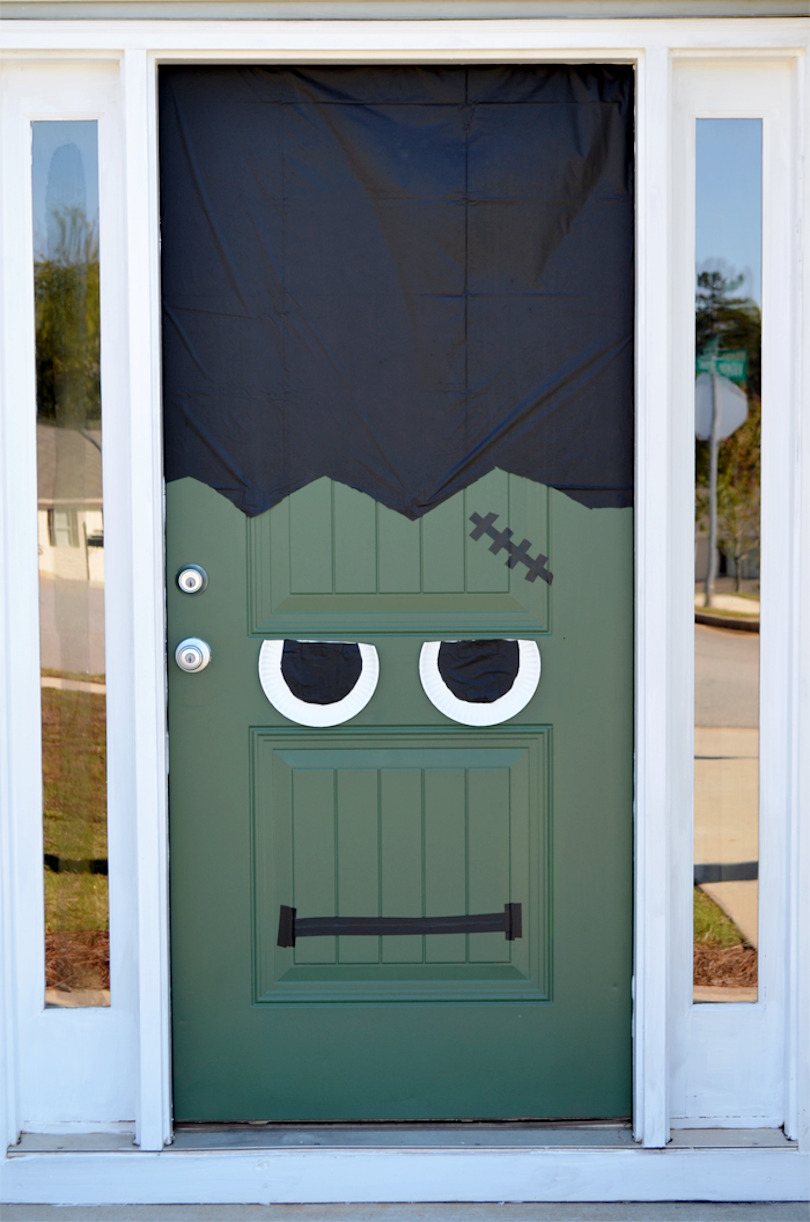 Such Halloween front door decorations are more adorable than creepy. It is a felt and paper version of Frank. And, he seems to be comfortable hanging around under a front porch. If you already have a green door, this is one of the perfect Halloween decorations for the main entry.
But if you don't have a green door, you can get your door covered in green plastic, paper, or fabric tablecloth. This is a very easy DIY project that is easy to accomplish with the help of your kids. Even your kids will enjoy creating this fun Halloween door that will leave your neighbors green with envy (pun intended!).
2. Mummy Halloween Front Door Decorations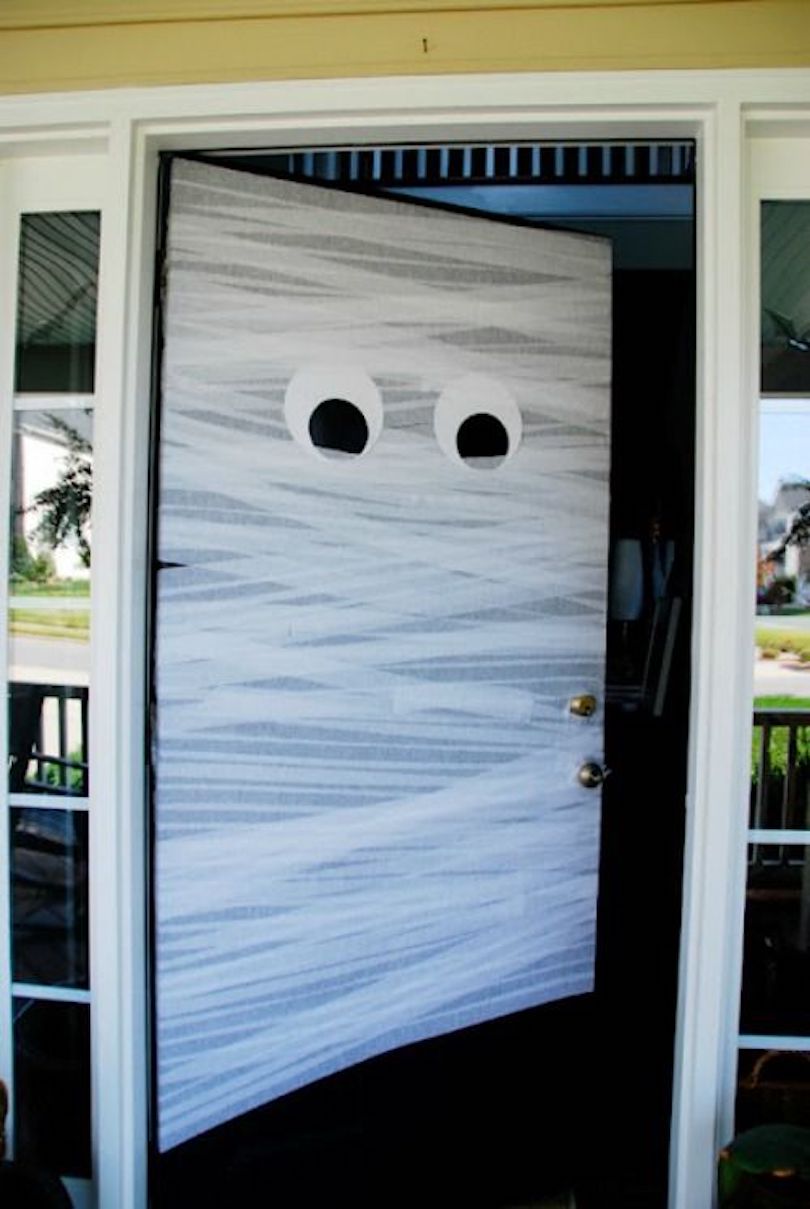 Another fun Halloween front door decorations to consider is this 'mummy door.' This is best to create with the help of crepe paper that you can wrap around the door in no time.
Have a closer look at the image above. This mummy door decor consists of white strips and a shadowed face and eyes. You can create this Halloween decor idea using fabric, paper, or felt. No matter which material you choose, it's going to add a great visual impact. The curious eyes seem to be lookin' at all trick-or-treaters.
3. Poison Apple Halloween Door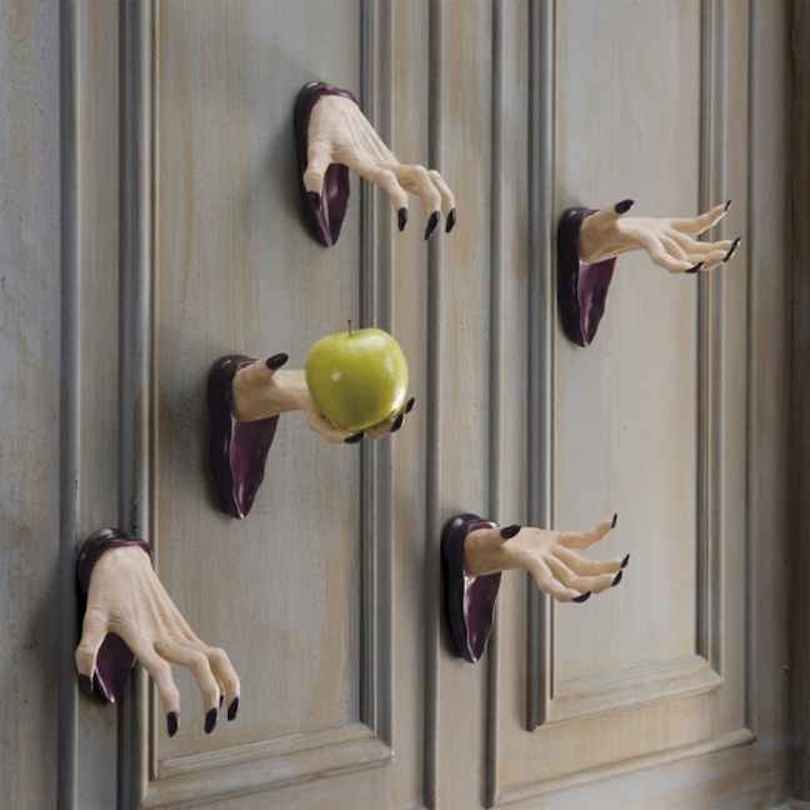 This particular Halloween door decoration appears quite spooky. If you think these hanging hands won't make your guests feel creepy, the catch is that they have to pass through all these hands. They have to knock on the door by going past all these hands.
Overcoming their fears, they will get their Halloween treat. But only after they manage to knock on the door!
Moreover, the trick-or-treaters will think of the wicked witch who gave a poisoned apple to snow white. So, are you ready to add this spooky vibe to your front door?
4. Witch Halloween Front Door Decorations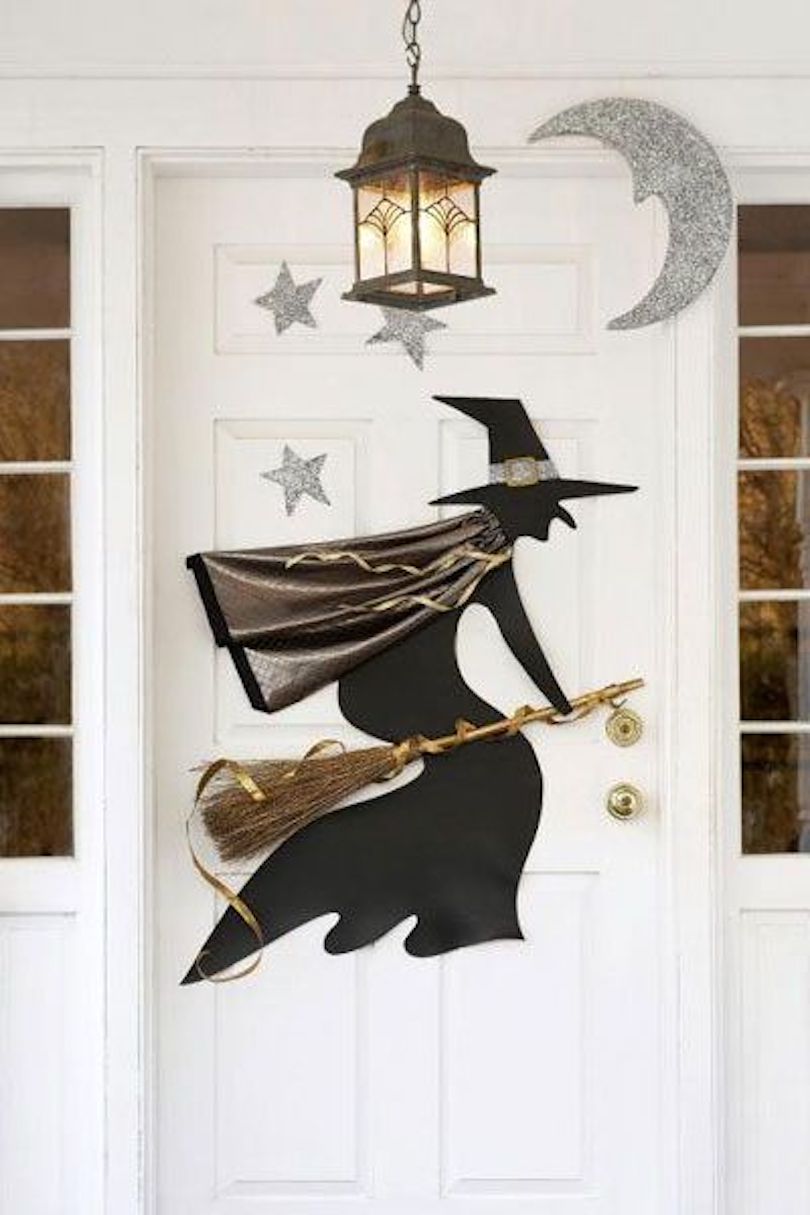 Your Halloween guests are going love this decor with witch flying on her broom. It may be one of the fun Halloween front door decorations for grownups. But it can scare the little ones, especially at night!
You can also add sparkling stars and moon around the witch with her flying trail. It seems as if the witch is flying high in the sky.
5. Creepy Clown Halloween Front Door Decorations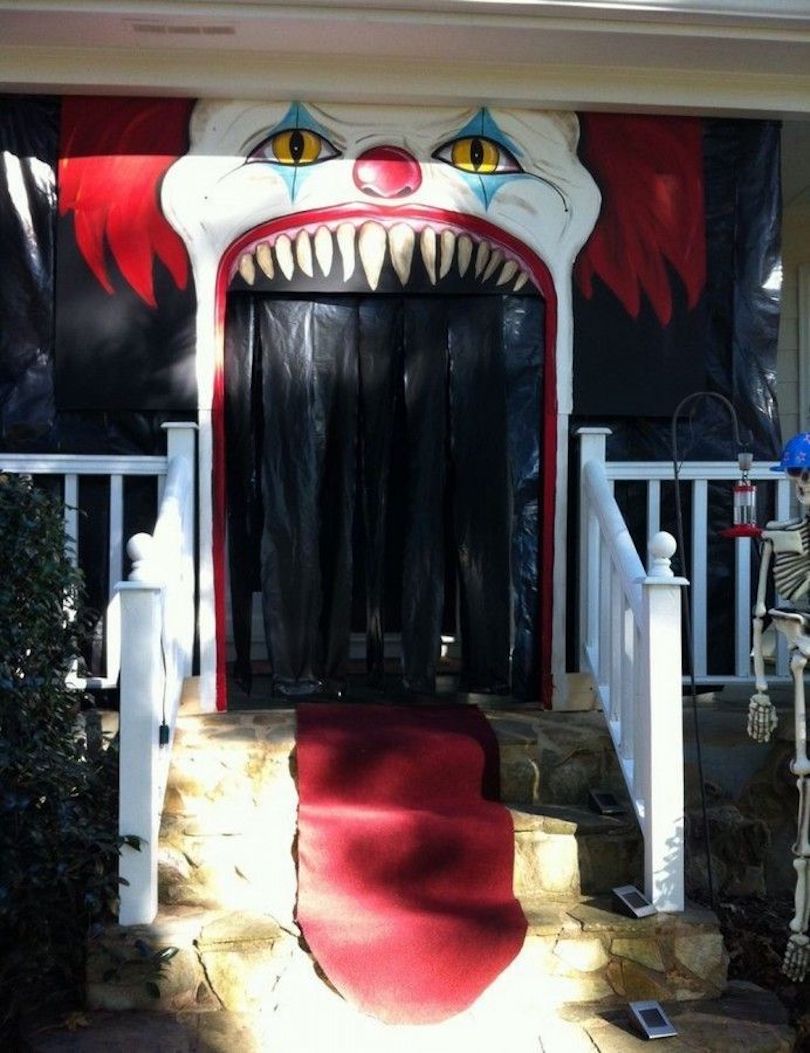 The clowns are basically supposed to bring smiles and laughs. But this is a twisted sort of clown. It is something that would generate a scare factor with its spiked teeth and open mouth. After all, the guests have to enter its mouth to get into your home.
Such creepy clown Halloween front door decorations are surely not for faint-hearted. However, it is surely impressive. Just check out the entire decoration. The red carpet tongue would certainly grab all your attention.
6. Monster Teeth Halloween Decor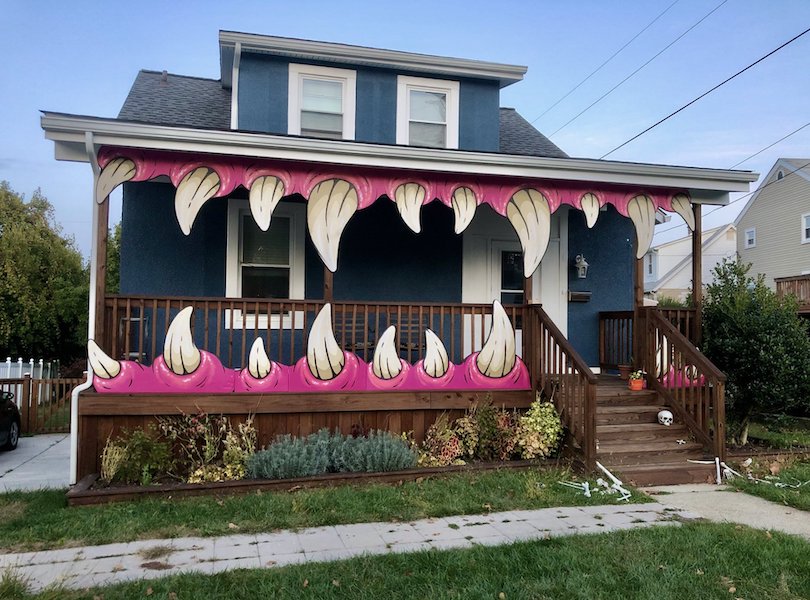 Just like the clown front decor covered your entire front porch with spooky spirit, these monster teeth adds the same scare factor. With such Halloween front door decorations, you can make your house come alive.
To create this monstrous teethed Halloween decor, you need plywood, some paint, and a little creativity. For replicating the Halloween door decor, you also need to use a saw. So, be cautious.
7. Coffin Halloween Door Decorations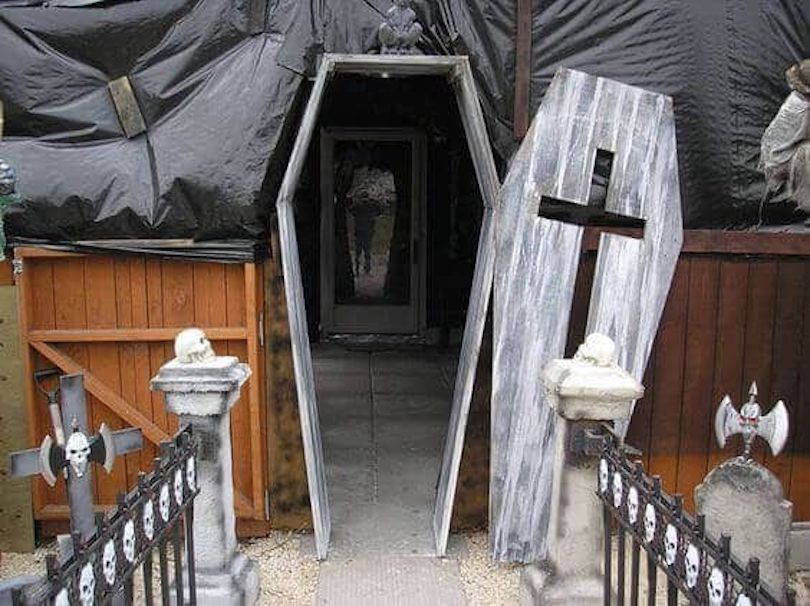 How about making your guests enter your home by stepping into a coffin first? That too when your spooky candies are at stake. This entrance takes shape of a coffin using wood. This door is perfect to take your Halloween guests into the unknown spooky world.
You can also add a few more scary tricks within the coffin door to add more fright to the whole setup.
8. Jack Skellington Halloween Front Door Decorations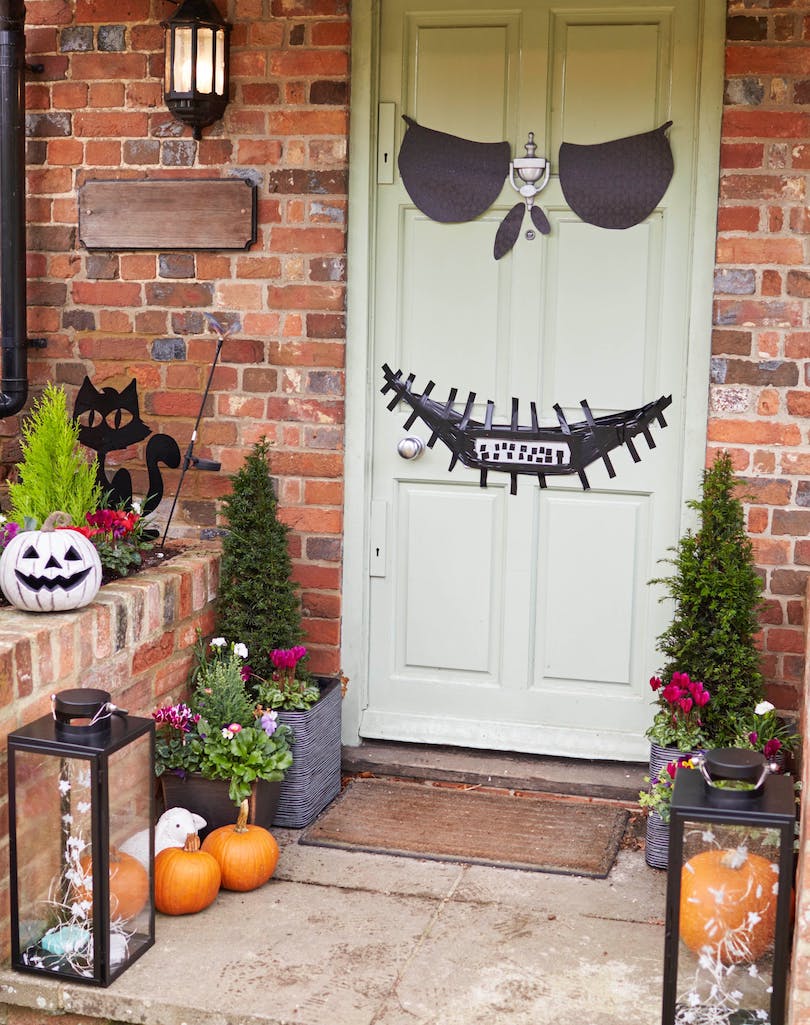 This stunning Jack Skellington Halloween door is very easy to create using a stenciled template. The supplies to recreate this front door decor is very simple. All you need is tape and paper.
It's very simple but will create an amazing impact. Plus, both kids and parents can participate in making fun of Halloween outdoor decor.
9. Fall Seasoned Door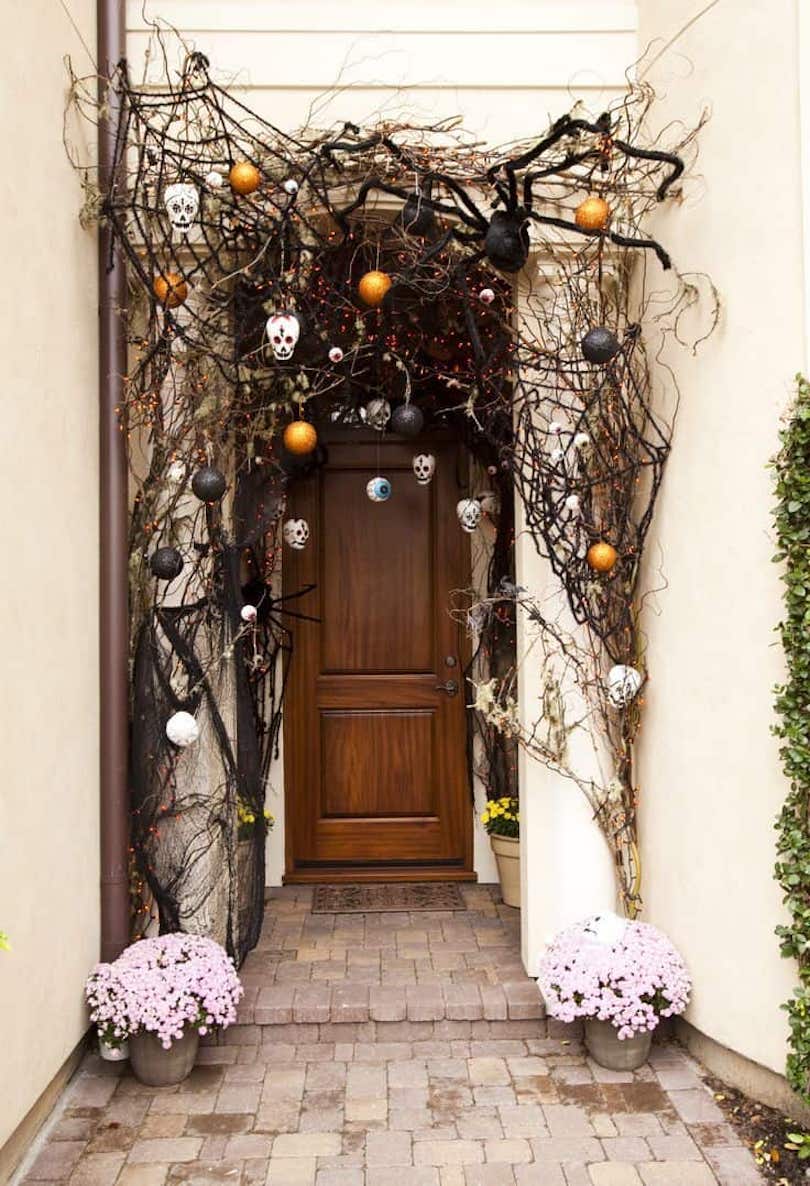 With some creative skills, you can create this stunning Halloween arch door in front of your house. It is easy to create using a few fallen branches and some fun Halloween decor pieces.
Such fun Halloween front door decorations are not for the spooky spirit. These are just for adding an exciting touch to the already spooky festival.
10. Felt Bats Halloween Door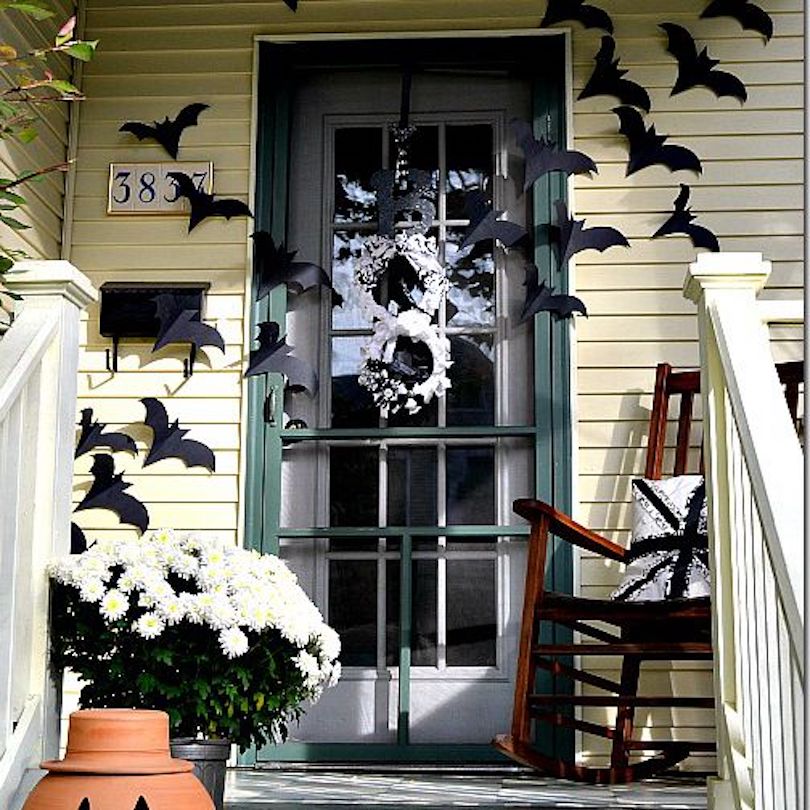 Make your front door of the house appear more spooky with the addition of felt bats. These are very easy to prepare using a bat template. You can simply download the file and print its template, draw its shape on the felt, and finally cut it several times.
Once you have made enough bats for the decor, you'll know you have more than enough to decorate the front porch and the door.
11. Monsters Inc. Halloween Front Door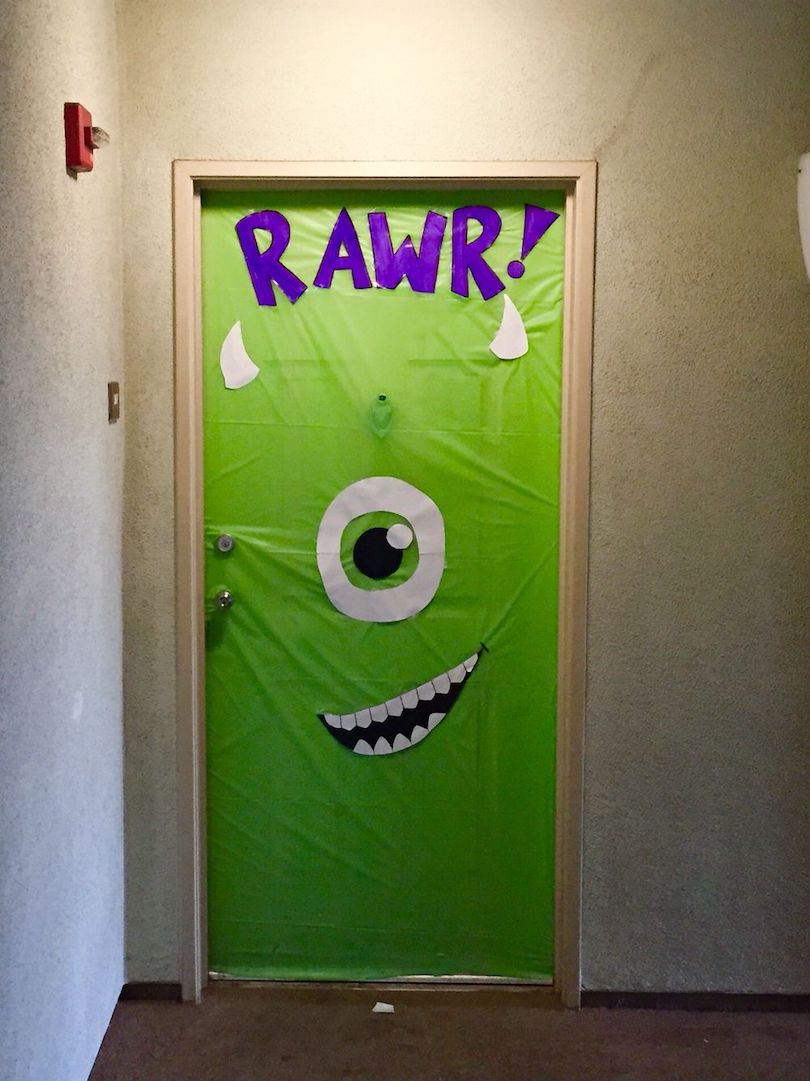 Mike Wazowski is most likely to approve of this amazing Halloween door that's inspired by Monsters Inc. Even Sully and Boo would love this front door decor.
If you have a green door at home, it's perfect for being the background of this decor idea. Otherwise, you can create this decor using green poster paper and markers. For making the Monster's facial features, you need to have basic drawing skills.
This Halloween door decor is perfect to create at the last minute. If you're worried about the weather spoiling it, you can use laminate pieces around the decor to keep it safe.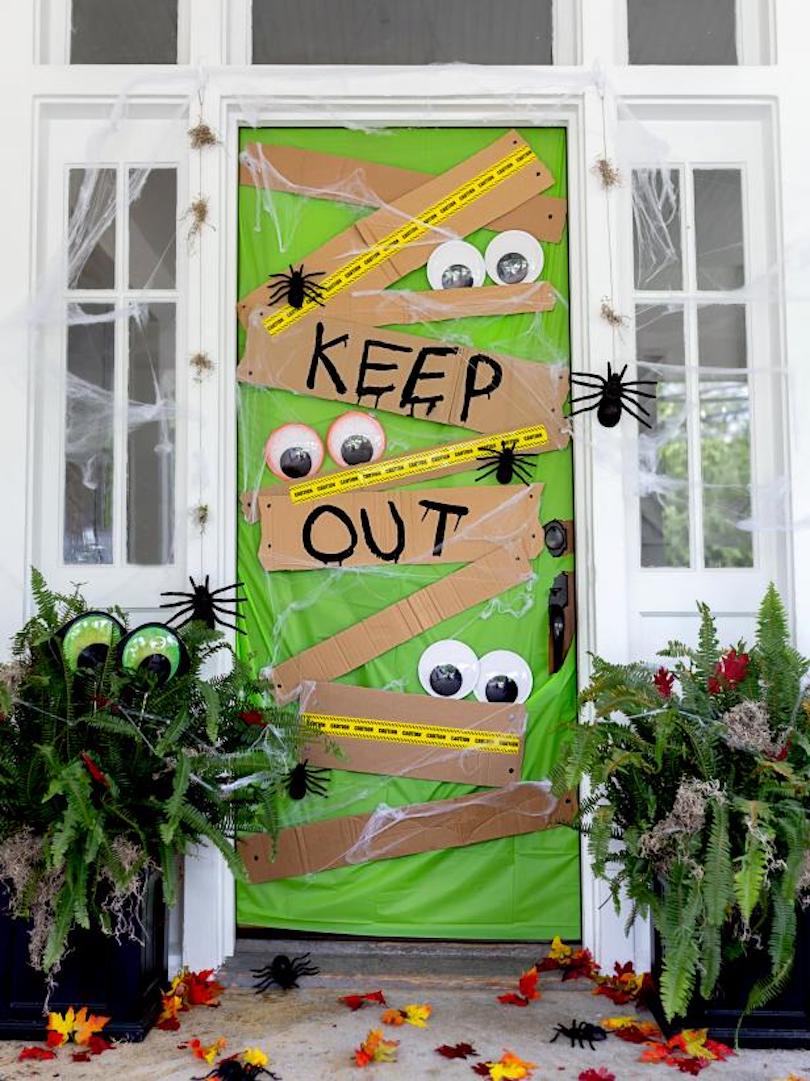 With Halloween front door decor, your guests may rethink entering your house. Especially, when they see the "Keep Out" sign. But the rest of the decor elements around them will instantly bring a smile to their face. After all, it's a pun-intended warm welcome of your loved ones.
13. Jack O Lantern Door Decorations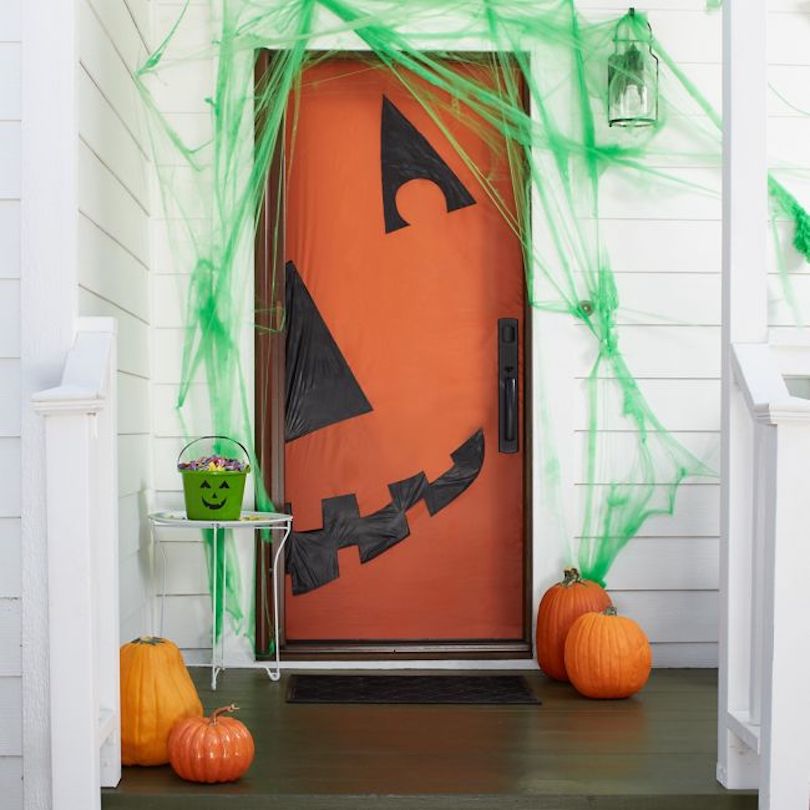 Add an exquisite look to your front door with this toothy orange jack-o-lantern on your front door. This is another great front door decoration idea to bring a smile to the faces of your Halloween guests.
This particular jack-o-lantern is easy to create using cut wrapping paper. You can easily put it together with orange gift wrap, double-sided masking take, and gold gritter gift wrap.
Also, put fall leaf brands and assorted pumpkins around the front door to create a seasoned look for the front porch.
14. Halloween Witch Wreath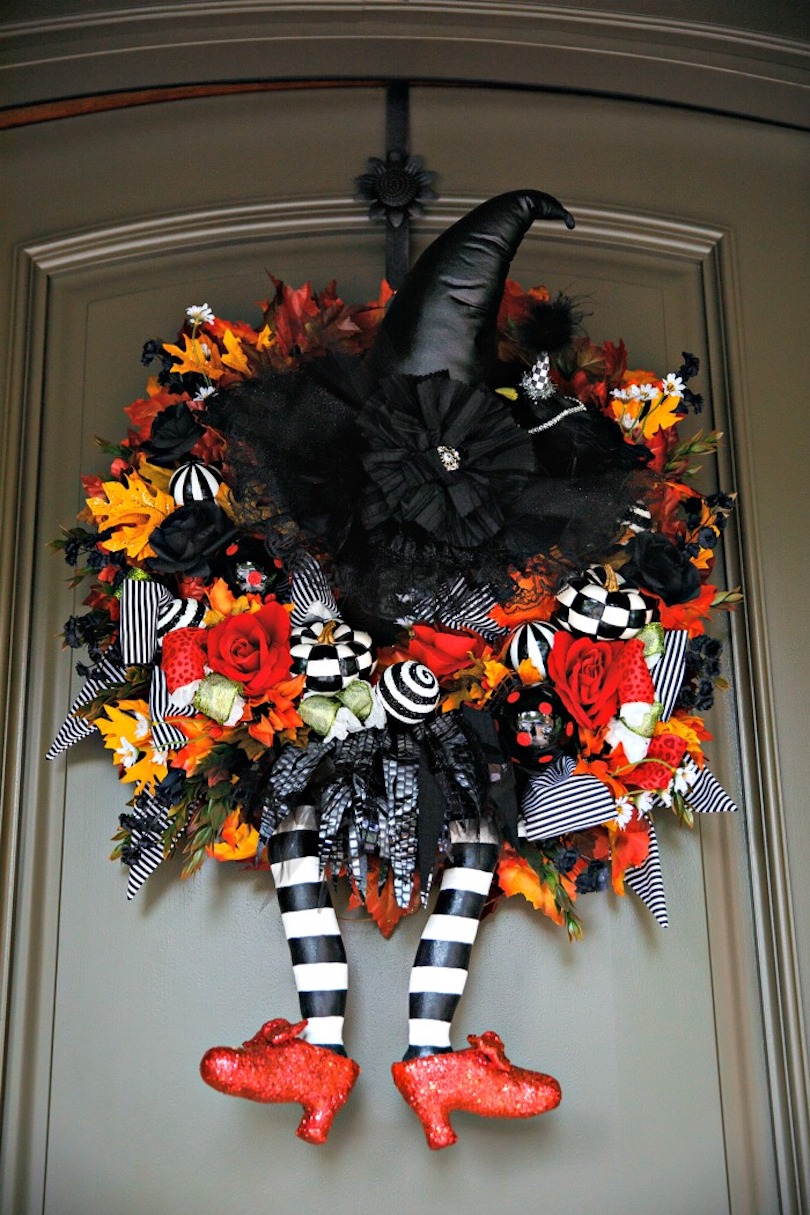 You won't require to concoct a unique magic potion to create this DIY Halloween door decor. This witch wreath is very easy to create and makes an ideal front door decor piece. The items you need to create is are witch legs, witch hat, and other colored decor pieces.
You can find all these materials online. Also, add a broomstick for a more prominent witchy effect. When you glue these materials together, they create a perfect wreath. It would remind the viewers of the eerie witch welcoming you for the scary party.
15. Spiderweb Halloween Door Decorations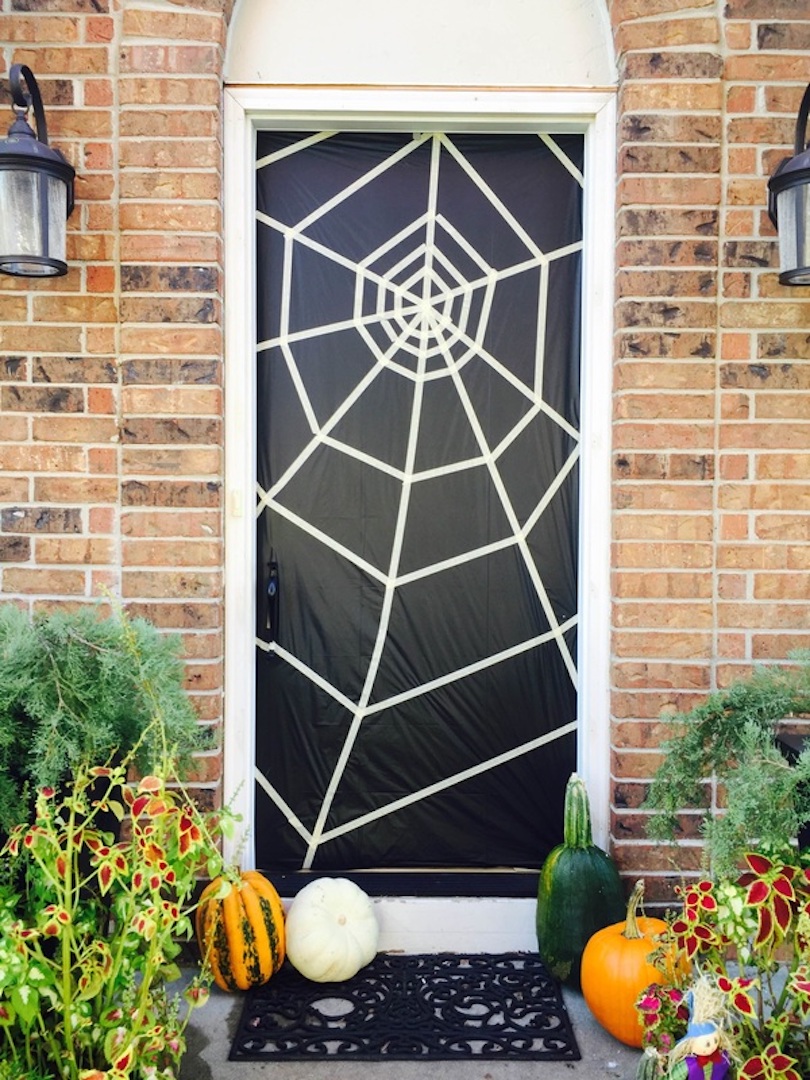 Want to deck up your Halloween door in a monstrous way? Have a look at this stunning Halloween door decor idea.
It is easy to create using a spiderweb template that you can download from the internet. Just print it and cut it in any desired size. This door decor is great for making your guests scared, as they will be instantly reminded of creepy spiders.
So, these are some amazing Halloween decoration ideas for your front porch. Which front door decoration would you like to try this Halloween? Share with us in the comments below.