20 Door Knocker Decoration Ideas to Amp Up Your Front Door
The front door is not just a gateway to enter your home. It also reflects the inherent lifestyle and personal preferences of the house owner. It enables you to make the best of the front door while making it appear as inviting as possible. But it's said than done. After all there are so many door knocker decoration ideas to become overwhelmed.
So, you need to incline towards stylish designs to make a good choice. You can begin with the selection of a stunning door knocker to match your personality. It also amps up the look of your front door.
What is a door knocker?
A door knocker is an essential door accessory that enables visitors to alert inhabitants about their presence. Fix it to the door by a hinge. This accessory looks amazing with a striking plate that's fixed to the door to make a noise. The struck plate fits and supplies with the knocker. The door knockers are always decorated. But if someone likes a simple design, it can be a simple fitting with a metal ring or bob.
No matter how simple your door design is, a properly designed door knocker is like an ornamental piece for your house. You can ornate the front door in the way you like. For a custom-made door knocker, you need to contact a professional door knocker designer and manufacturer. This way, you will get a desired door knocker design that's unique and speaks volumes about its identity. It will also create a lasting impression on the guests.
In this article, we have compiled a list of some stunning door knocker designs to spruce up the home exterior. You can easily choose the right one for your front door and style it the way you want.
Just have a look at these 20 distinctive door knocker styles for your front door:
1. Cephalopods door knocker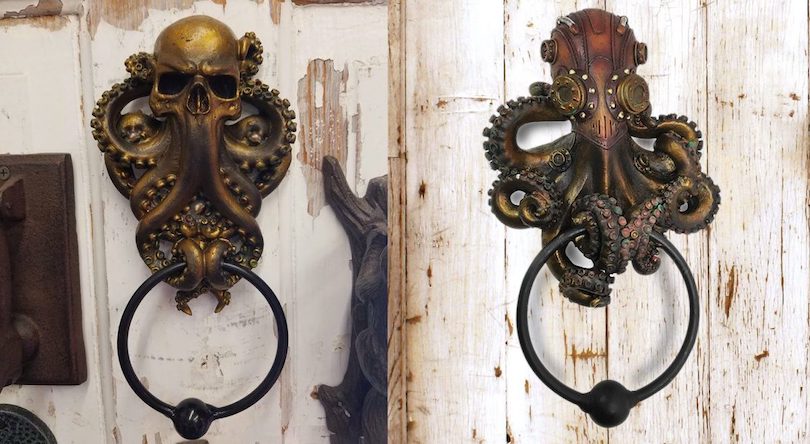 How about octopying your front door? Consider adding a stylish cephalopod door knocker on the door. This eight-armed door knocker will look stunning, welcoming your guests to your abode. For anyone is adores deep-sea creatures – whether a grilled appetizer or a spirit animal – this octopus-inspired door knocker is a wonderful option. Just give it a try for the astonishing visual appeal of your house.
2. Pagan temple door knocker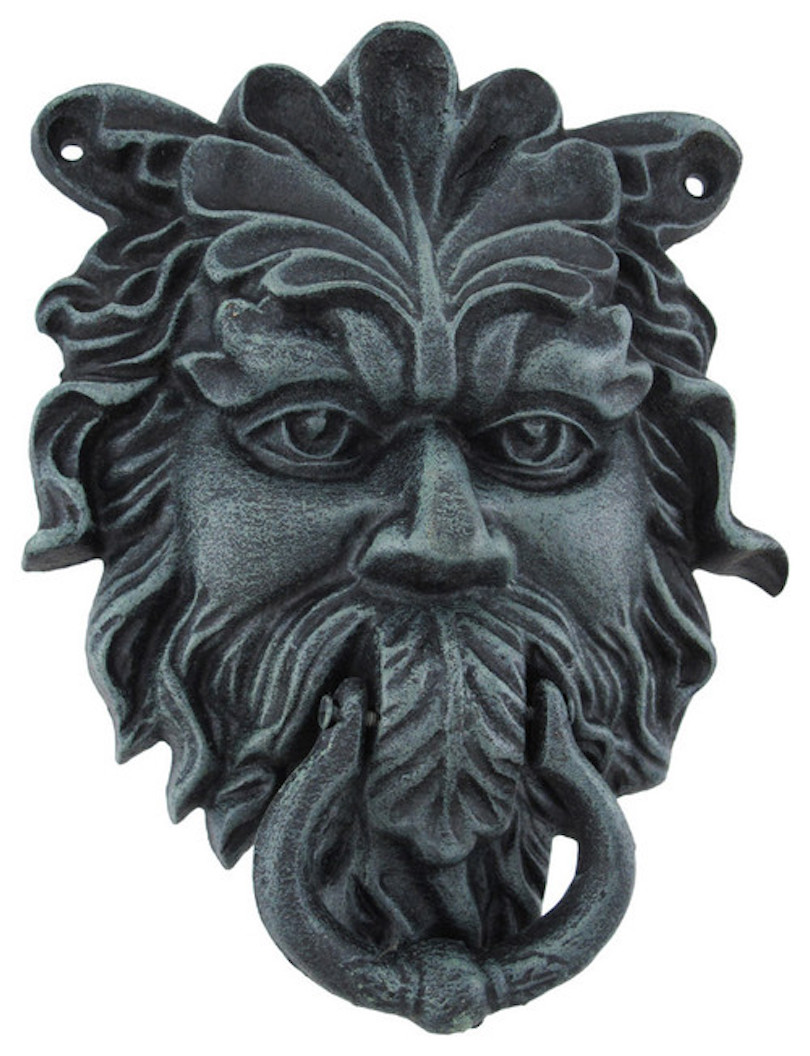 If you want to add the pagan temple vibe on your entryway, it's best to install the Green Man door knocker on the door. The expressionless gaze of this figurine will make the visitors feel wonderful about entering your abode. Such a stone-cold guy is the epitome of renaissance and rebirth.
Renowned as "the keeper of woods and forests," the Green Man is popular in many cultures all across the world. Simply install it on the door to let the world know that you follow Earth religions. It also shows that you're ready to welcome everything in your realm.
3. Halloween-themed door knocker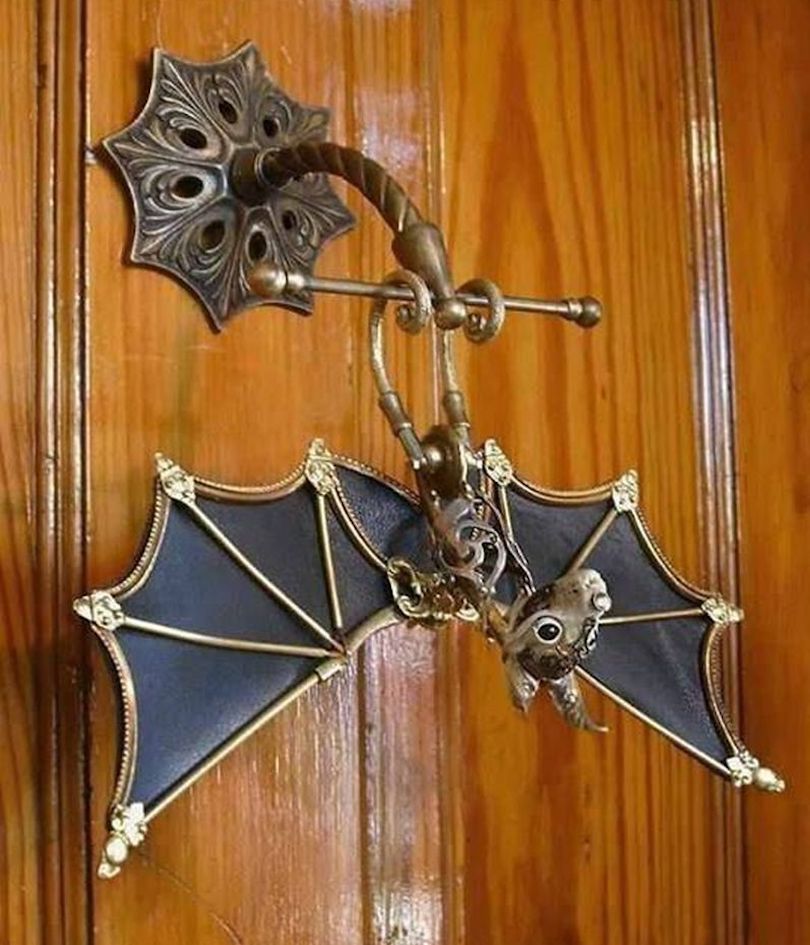 Love Halloween-theme to an extent that you'd not shy away from embracing it 365 days a year? If so, you can install this bat door knocker on your door. It will add the stunning Transylvania vibe to the given space while letting your visitors know that your home celebrates Halloween throughout the year. The wings of the bat are perfect for gripping it easily while making it more functional as a door handle.
4. Basket door knocker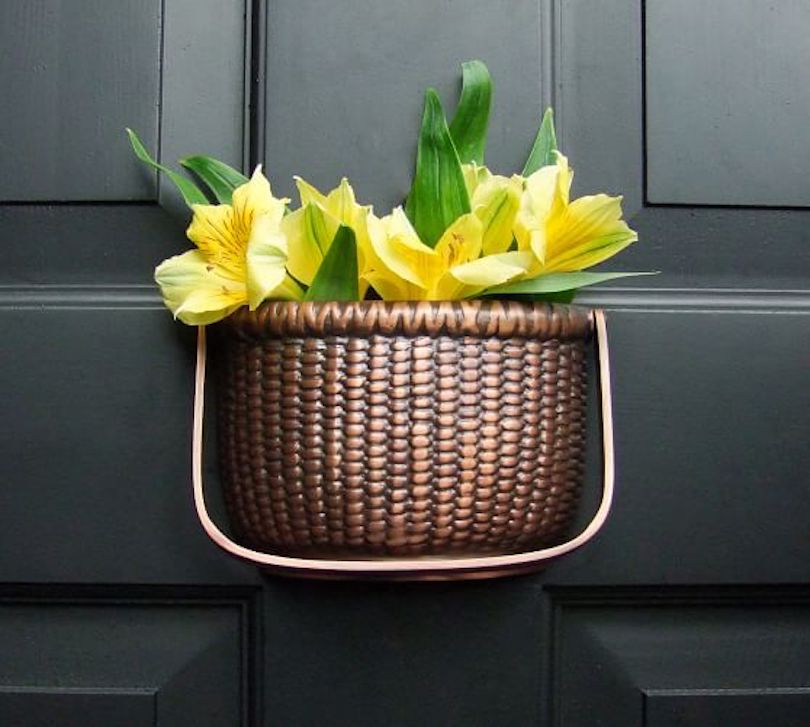 If you are preppy and like things decorative, consider installing this basket door knocker. This will add a tasteful decor element to your house exterior. If your house is in the wilderness, these cherrywood and rattan accessories in form of Nantucket lightship baskets will remind you of a fairy tale. The baskets are also recognised as the status symbol and also give nostalgic vibes.
However, even friendly socialites can nail this small knocker for their door with the infusion of tiny preps.
5. Racket-shaped door knocker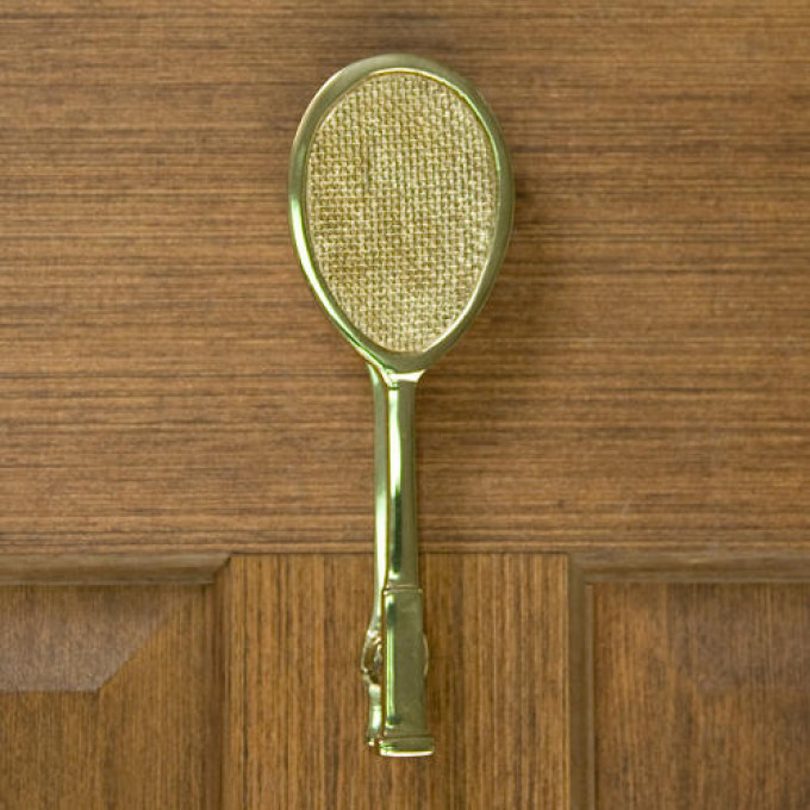 Game, set, and match!
Are you obsessed with Wimbledon? This knocker is a fun and sporty addition to the front door. It lets your visitors know that the ball is in their court! Whether you are playing in the USTA league or a novice hacker, this golden racket is an essential door accessory for tennis fans.
6. Buddha door knocker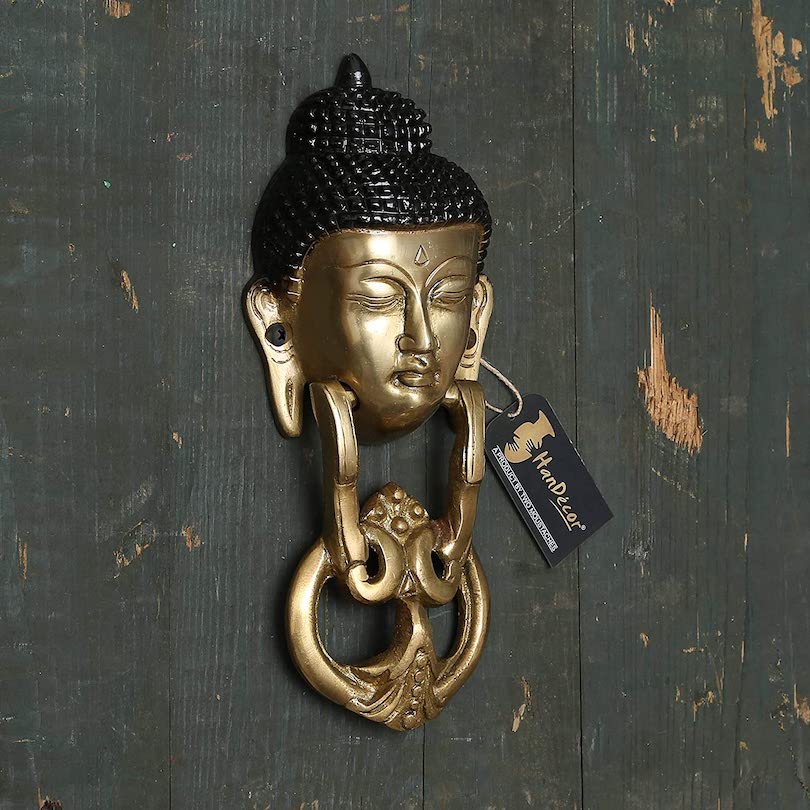 If you are spiritual, your wise old soul must include this Buddha door knocker. With the addition of the Buddha door knocker, the surroundings appear enlightened with calm and pleasant vibes. It also tells your neighbors that you won't mind that someone wants to come over to your place for a small gathering or chit-chat.
One pro tip for installing a Buddha knocker is that position it on the door facing the east direction. It is because Buddha used to meditate in the direction of the sunrise. So, it's believed to bring good vibes to your living place as well.
7. Serpent door knocker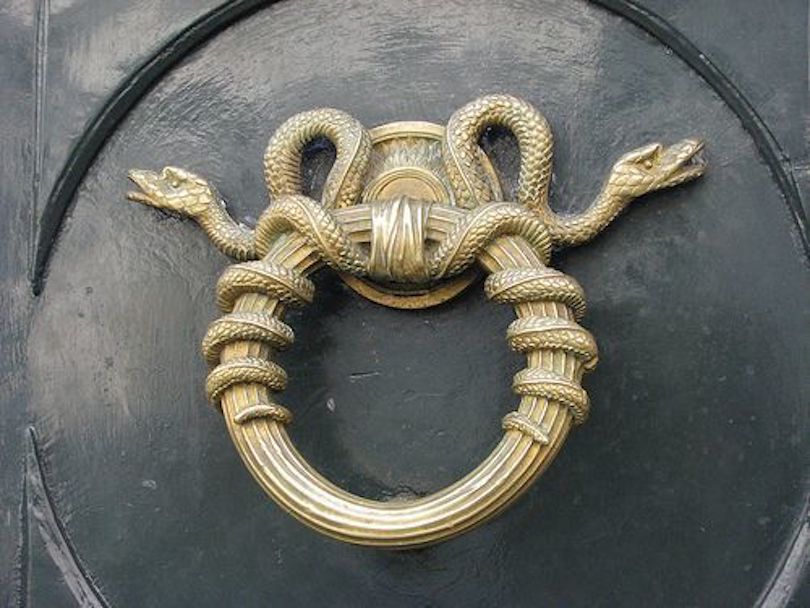 It's sssssso nice to add a serpent door knocker on the door! With snapping iron jaws and pointy fangs, this door knocker indicates a willingness to protect your house at all costs. This scary yet striking serpent knocker doubles as an epitome of rebirth and fertility. But we are betting on who would install it telling their visitors to keep some safe distance.
8. Lacquered brass kissing cherubs door knocker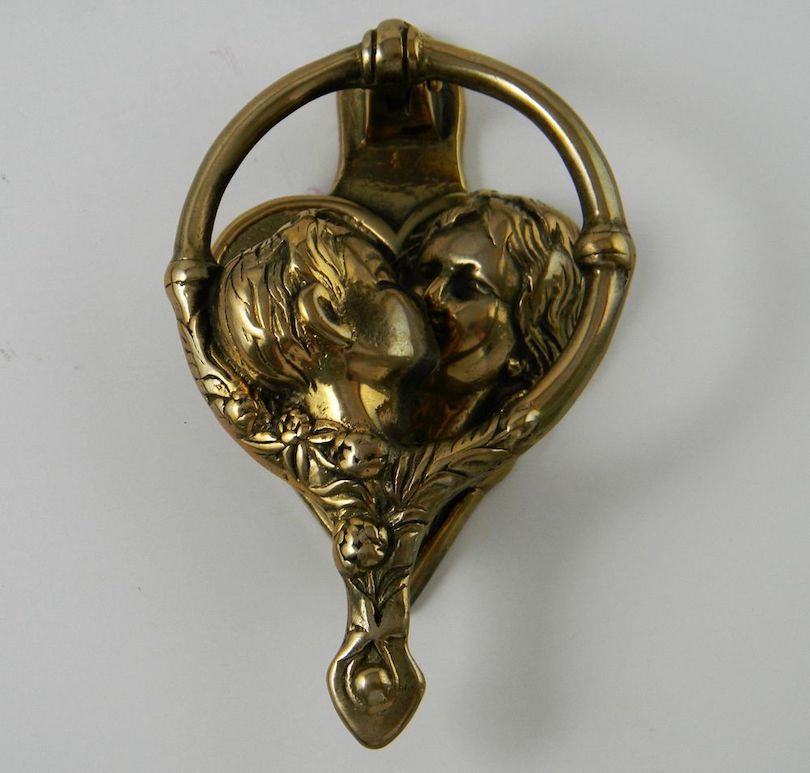 This door knocker would be a perfect addition to the home of newlyweds. It will welcome their guests while boasting about their sweet time of the marriage. The right tone and style of this door knocker, featuring girl and boy in a lip-lock is ideal for a couple's home. If you want to add something unique but aesthetic to your front door, this knocker is a good option.
9. Cat and mouse door knocker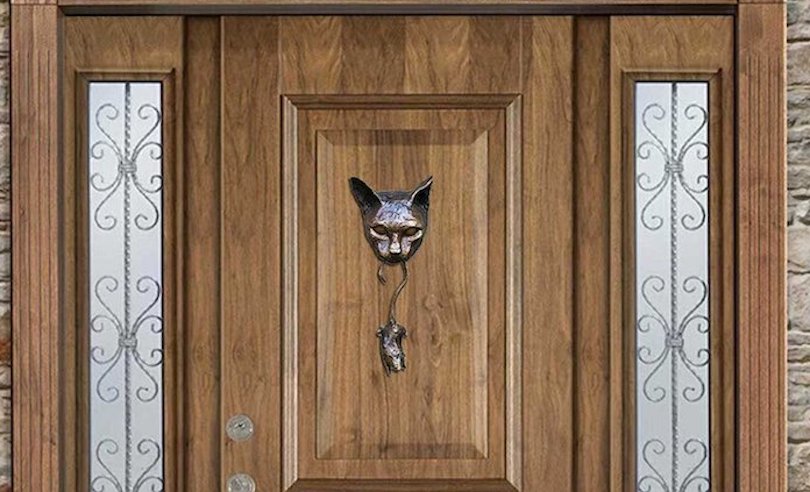 Let's get out of the way with this intriguing door knocker. It may cost you more than your door but will look amazing for sure. Plus, it will add an interesting touch to the home exterior while making your door appear more lavish. If you have money to spend like water and a major bone for picking with rats, this brass knocker is a good addition to your home.
10. Pecking bird door knocker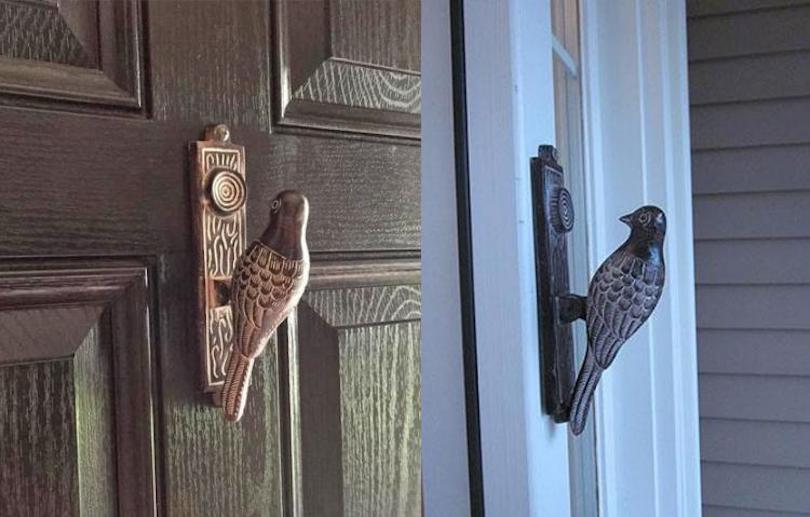 A bird on a door as a knocker is another wonderful addition to your home. This knocker is ideal for birds. You will thrill by this amazing-looking woodpecker's gentle tapping. It's going to look charming and enchanting in any property whether traditional or contemporary.
11. Rejuvenation classic ring door knocker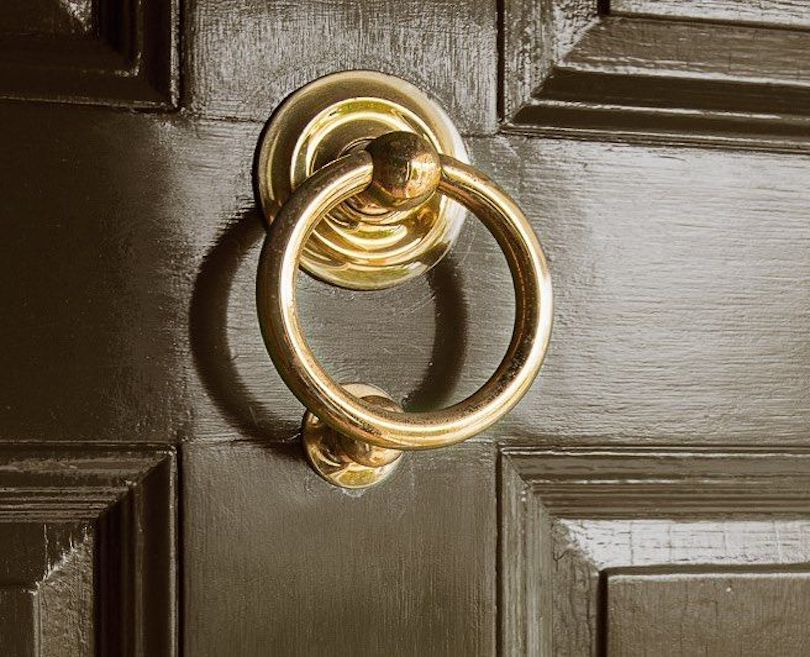 A classic ring door knocker boasts a timeless design that appears amazing on any house. This particular ring-style door knocker consists of solid forged brass with long-lasting durability. It further comes in various metallic finishes to match any door style. It is as practical as it is aesthetic, delivering a sturdy rap when utilized.
12. Hillman hardware door knocker with peephole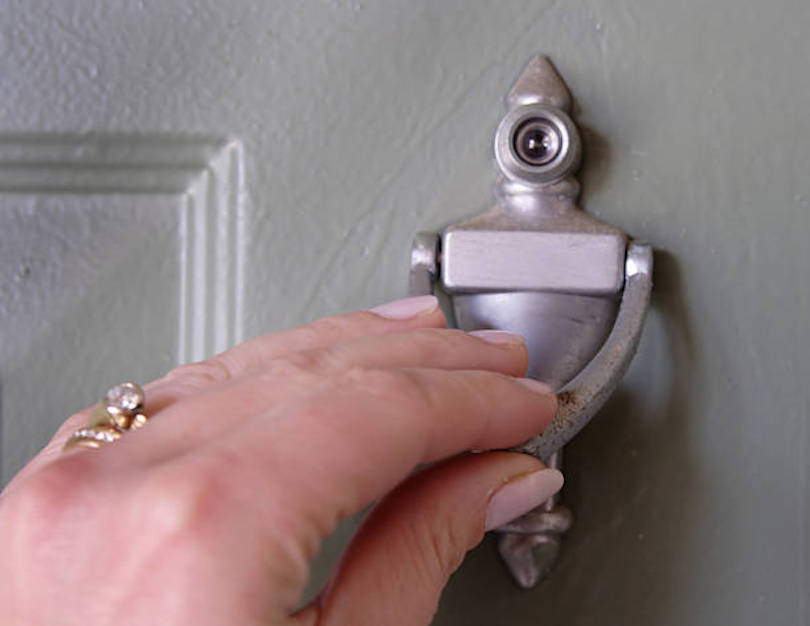 This stylish Hillman hardware door knock comes with a door viewer, which is also known as a peephole. It enables you to see who's waiting outside the door without even opening the door. This knocker is perfect to blend with a traditional design with a brushed nickel finish. Plus, it consists of solid brass for durability and longevity.
13. Taymor modern door knocker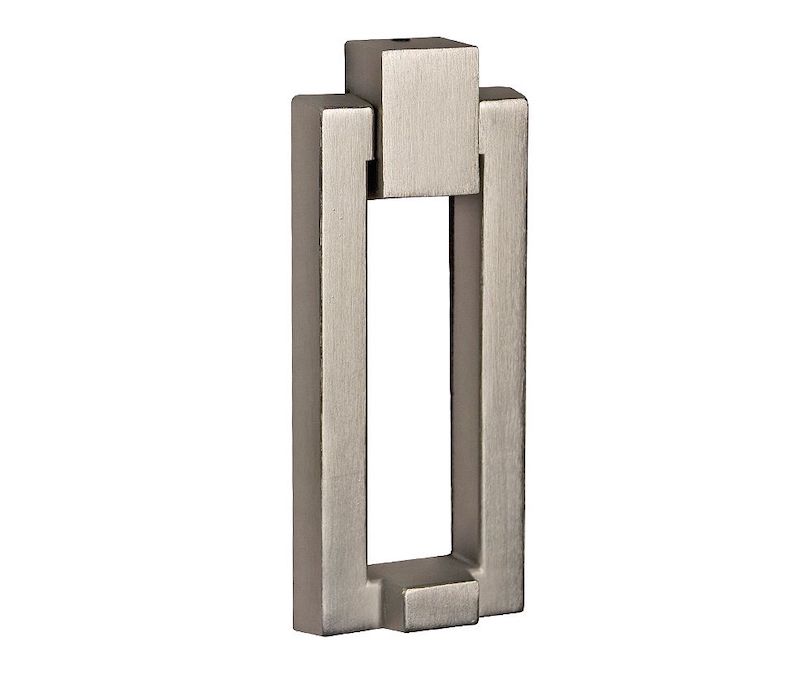 This specific door knocker has a slim, geometric design that's well-suited for modern homes. The door knocker comes in silver and black finishes that match the exterior decor. Plus, its timeless and elegant finish is likely to feature a hidden screw mount for a streamlined look. This elegant door knocker will amp up the look of the entryway with its glamorous appearance.
14. Pacific giftware dragon door knocker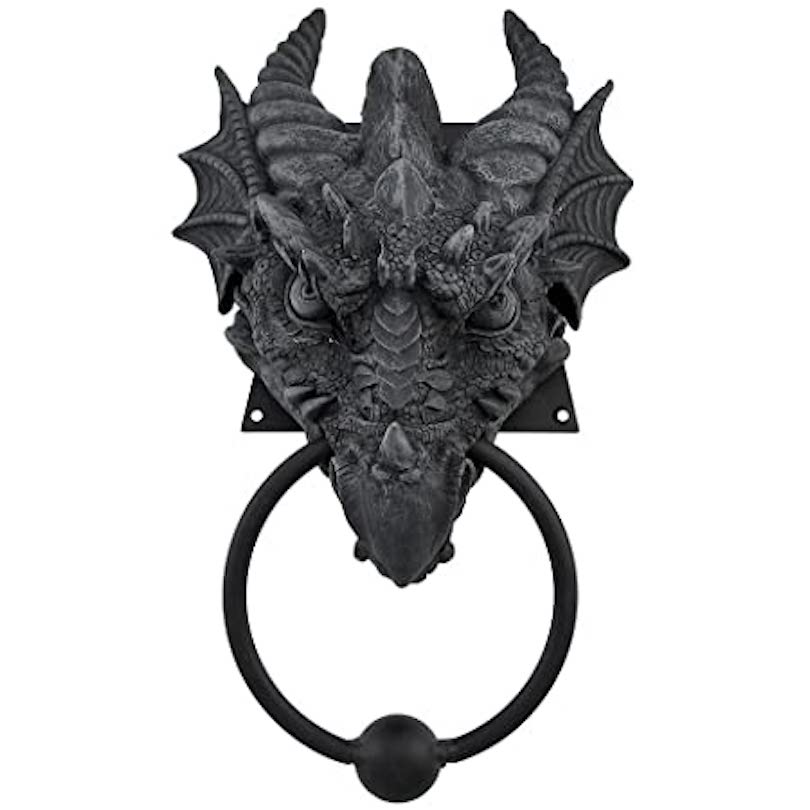 Make a bold gateway statement to your guests with this stunning pacific giftware dragon door knocker. This highly detailed, gothic-style dragon head ring-like knocker would look absolutely stunning on both traditional and modern door designs. The piece comes in gray resin finish with a metallic ball ring. However, you have to be careful when mounting the screws.
15. Sun and crescent moon door knocker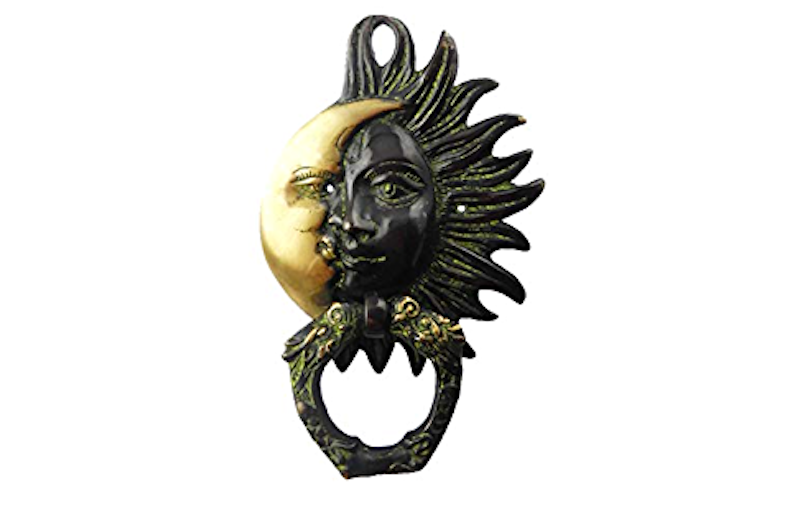 The Sun and crescent moon knocker made with cast iron is a perfect addition to add a bohemian touch to any home. It consists of heavy-duty material for unbeatable durability. This specific unconventional door knocker boasts the sun as the backdrop and the crescent moon as its knocker piece. Everything is well-constructed with a beautiful rustic charm.
16. Tree of the life door knocker
Are you a fanatic of Frank Lloyd Wright? If so, you would like the tree of life door knocker. It features a stunning geometric pattern influenced by popular architects. It features a rectangular backplate with a square knocker. Made with solid brass and hardware, it comes in antique copper and pewter finishes.
17. Bumblebee Door Knocker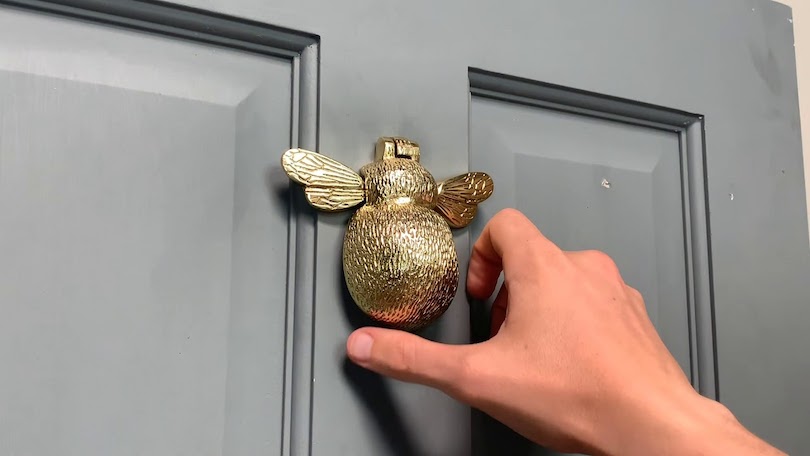 The stunning Bumblebee door knocker will bring a smile to anyone's face. Its exterior with solid brass is available in four metallic finishes and two sizes. Moreover, the knocker has been surface-mounted. And, there is no hardware seem from the inside. This way this knocker looks like a completely seamless part of the door.
18. Shell door knocker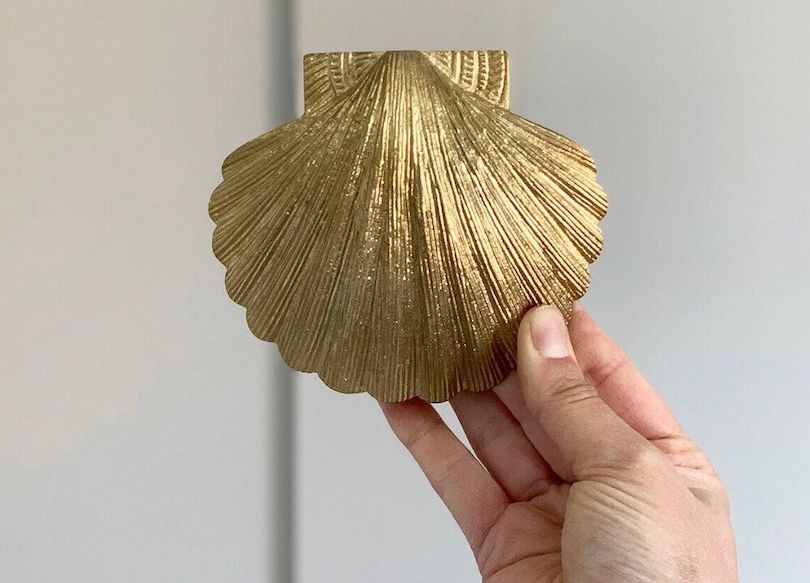 If you are seeking hardware in a coastal home or beach-style abode, a handcrafted shell door knocker is a great choice. It consists of the sand-cast brass. It's available in three finishes, such as nickel, bronze, and brass. So, you can choose the one as per your liking and door style.
19.Farmhouse-style door knocker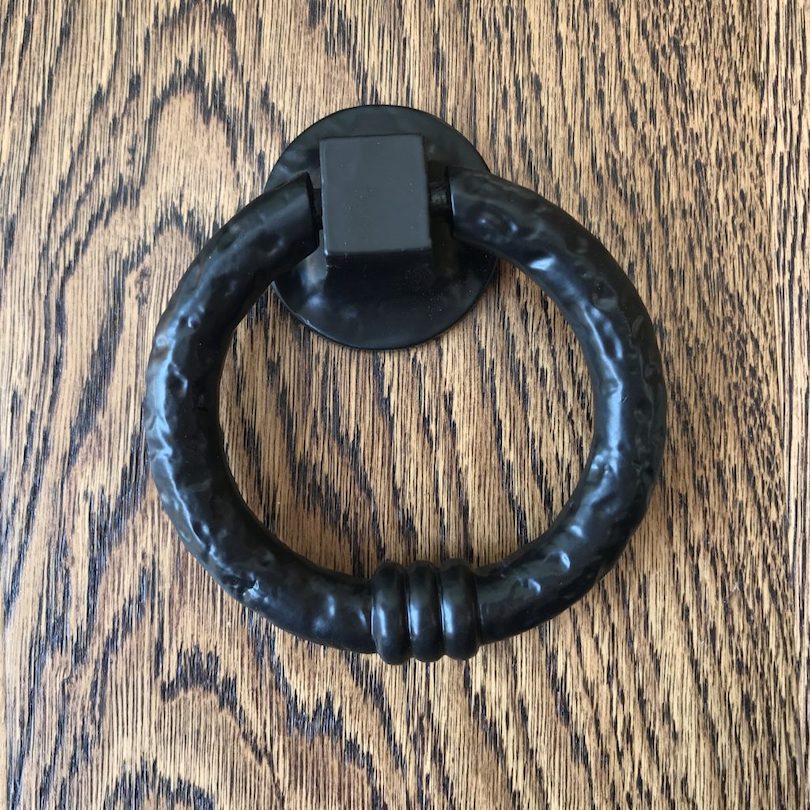 Made with durable cast iron, a farmhouse-style door knocker appears amazing in a similar style abode. It is available in a wide range of finishes, such as colored and metallic options. This door knocker comes with sanded and hand-painted finish with a distressed, rustic look.
20. Engraved brass door knocker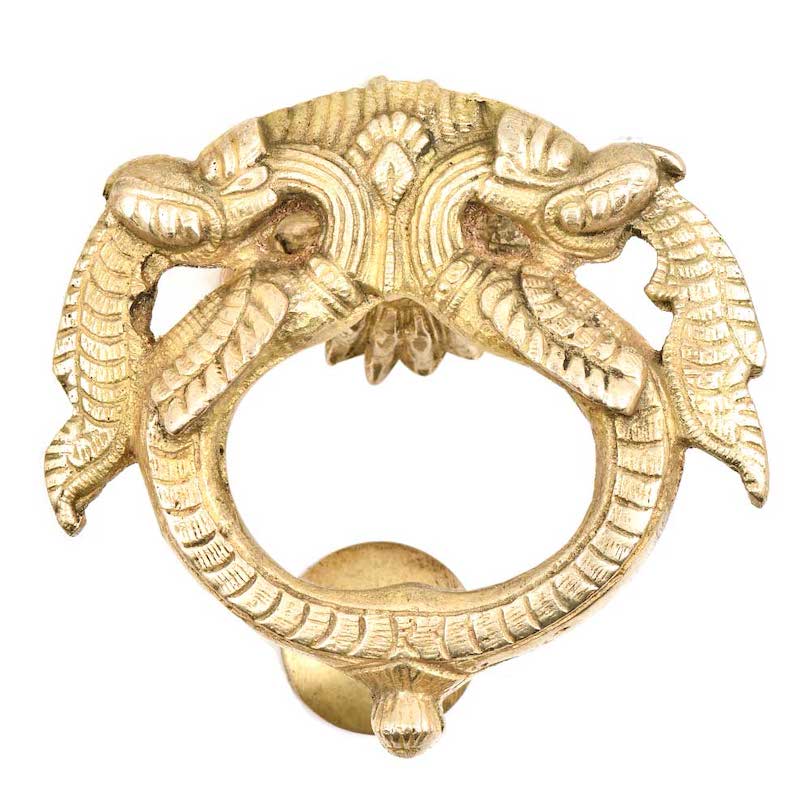 You can engrave your last name on such a door knocker. It also comes in a variety of styles. A homeowner can further customize it as per their liking. The knocker consists of solid brass with a rubbed bronze finish. The classic design of this door knocker appears stately on a front door.