15 Laundry Room Ideas For Functional & Decorative Space
Many people believe that kitchen is the heart of their home. But, a laundry room is as crucial and functional as a kitchen. So, instead of taking this space as an understated essential, it's best to give it the significance it deserves in a house with a big family. No need to stress, if your home doesn't have a large space. We've got you covered. We are going to show you some fun and stunning laundry room ideas. With these designs, you can easily turn your old room into a new and stylish laundry room.
All our laundry room ideas with some storage tips, as well as decor tips. So, you can easily make the most of the available space in your home. While we share certain functional uses of a laundry room, we also include ample decorating ideas.
It is because a laundry room is a very important part of any home. So, shower some love to designing this room like any other room in your house. Besides being a rough and sturdy space, a laundry room also enables you to wash and dry clothes in a newly formed stylish space.
Also Read: Mudroom Ideas For Every Home And Style
Laundry rooms are essential mostly in Western countries. However, in some Eastern countries, a laundry room is not on their essentials list due to lack of space. But this year and the previous year, we all faced a pandemic. With no or minimal movement outside, most of us smostximum time in our home.
15 Stunning Laundry Room Ideas to Inspire You
If you're considering adding a laundry room to your house after a pandemic, don't worry. We have come up with some simple and easy-to-attain hacks to create the stunning laundry room of your dreams!
Without further ado, let's find out what these laundry room ideas are:
1. Stunning Wallpaper in a Black and White Laundry Room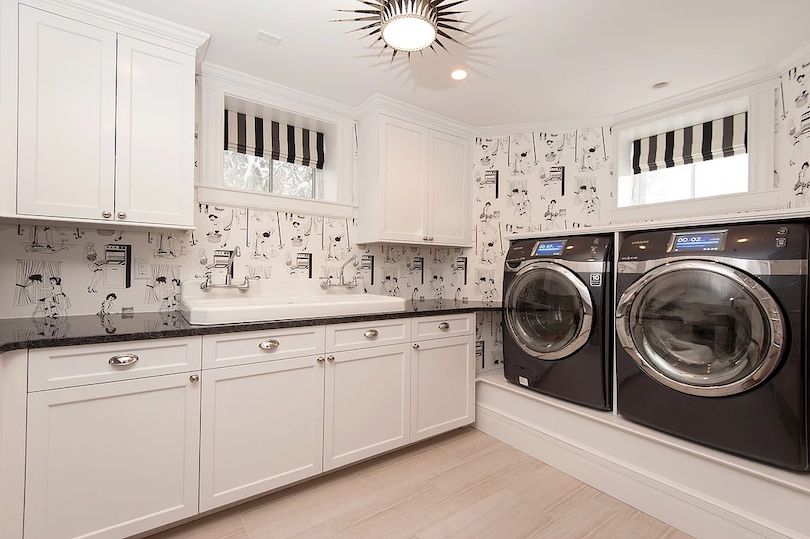 Laundry rooms used to be dark, gloomy chambers tucked away in dark basements or filthy garages. Laundry rooms nowadays are very customized areas. This is all thanks to a mix of decorative accents and attractive, useful features. Take this black and white space by Roost Interiors as an example.
The wallpaper contains drawings of pinup females performing housework in a retro style. A trendy, midcentury-inspired light fixture hangs from the ceiling. There's plenty of room to fold clothes on the black granite surfaces. Cabinetry in White Shaker style adds a lot of storage. The most efficient laundry rooms, of course, contain a utility sink. A ceramic overmount sink with two chrome faucets as given here in the image
2. Get Creative With Flooring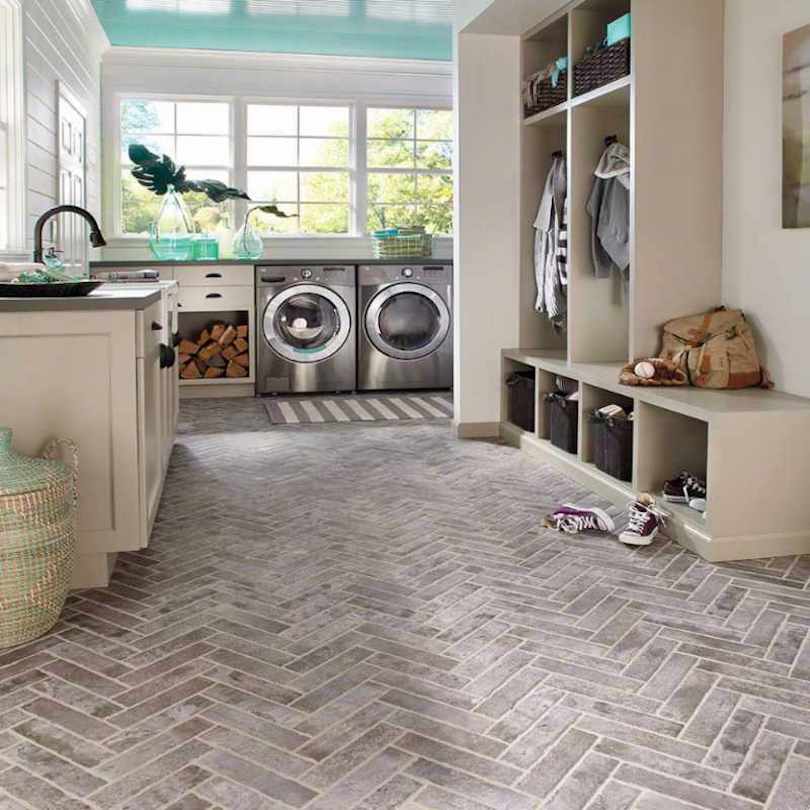 Nothing says clean and tidy like a pristine white laundry room like this one by. We adore the stylish floor tile, which adds a touch of playfulness to otherwise simple laundry space. The vase loaded with flowers and the old mesh basket, among other decorative details, offer visual warmth.
3. Laundry Room With Additional Sewing Room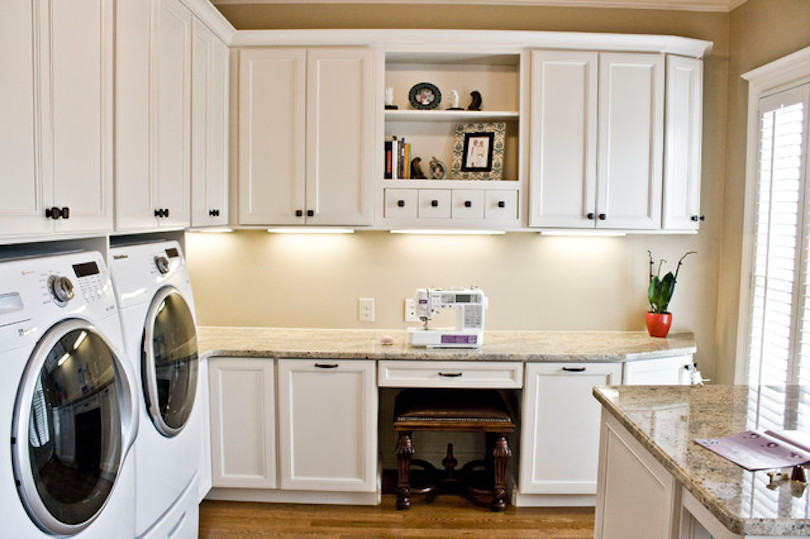 This professionally outfitted wonderful laundry room comes with plenty of storage options, including cabinets and under-the-counter storage. The built-in sewing desk, though, is our favorite feature. It is because allows the homeowner to work on projects while washing the laundry. If you know how to sew, you can choose this laundry room design option for your home.
4. Narrow Laundry Room With Patterned Flooring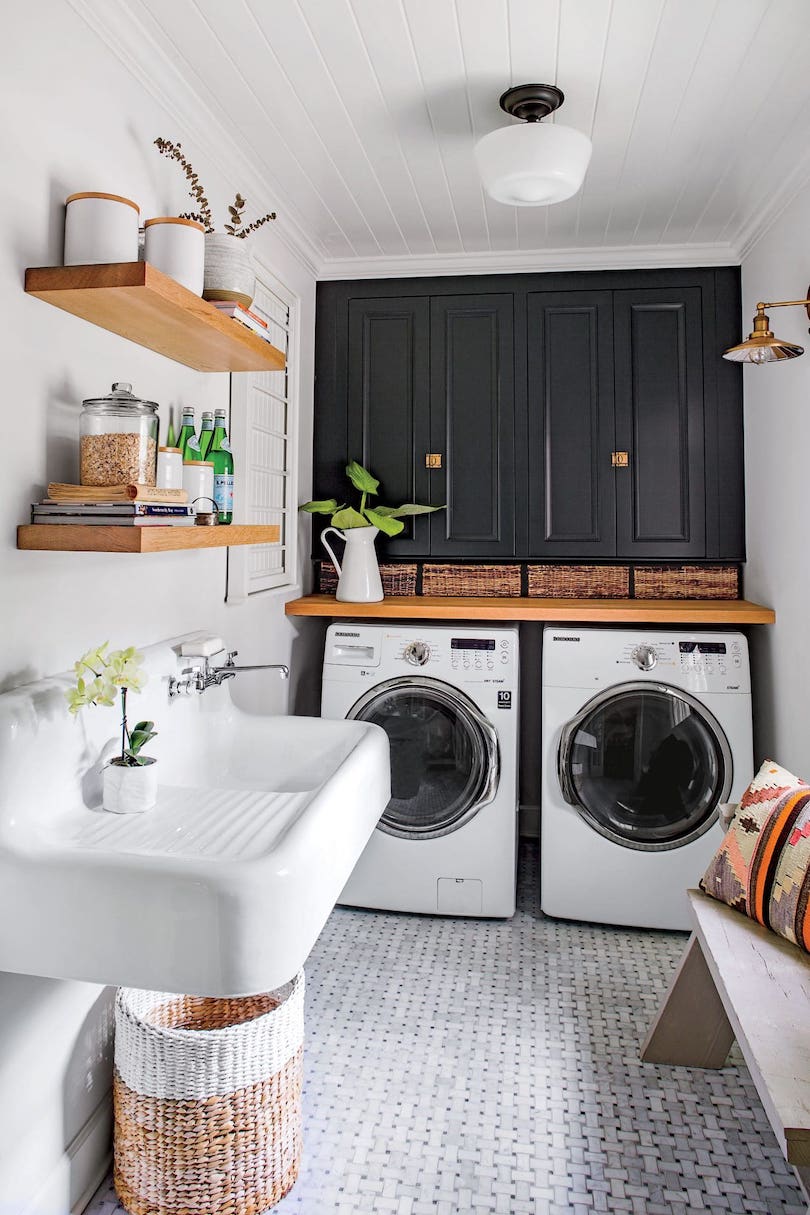 Any laundry room will benefit from the patterned floor tile. It provides a nice backdrop even for a tiny area.
Take note of all the clever ways to make the most of the small space. On top of the washer and dryer, a slab of butcher block wood carves out a sleek countertop. The ironing board is hanging on the wall so that it is always within reach.
Who says beautiful cabinetry is only seen in kitchens? The navy blue cabinets in this room give both flair and functionality. Also, add open shelving to keep ornamental accessories off the white quartz countertop, there's no room for clutter in this space.
5. Laundry Room Ideas With Dog Washing Station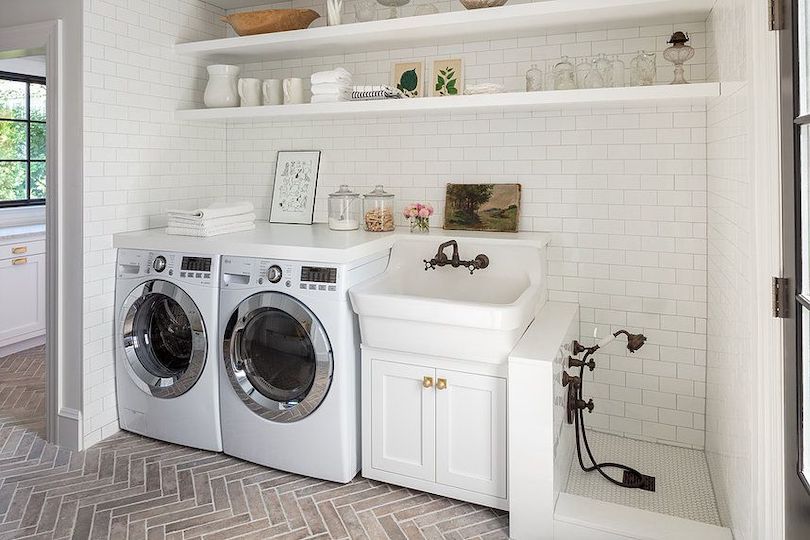 Owners of dogs, take note! If your laundry room also serves as a mudroom, check out this clever solution. A unique dog washing station is also present next to the washing machines. Oil-rubbed fixtures in the tiny shower and utility sink are also connected for a splash of nostalgic flavor.
Take a look at the walls. The walls in white subway from floor to ceiling look stunning. They also protect the area from dirt and dampness. On top of the washer and dryer, a white quartz countertop provides space to fold clean laundry. Decorative prints and artwork add to space's personalization.
6. Consider Pops of Color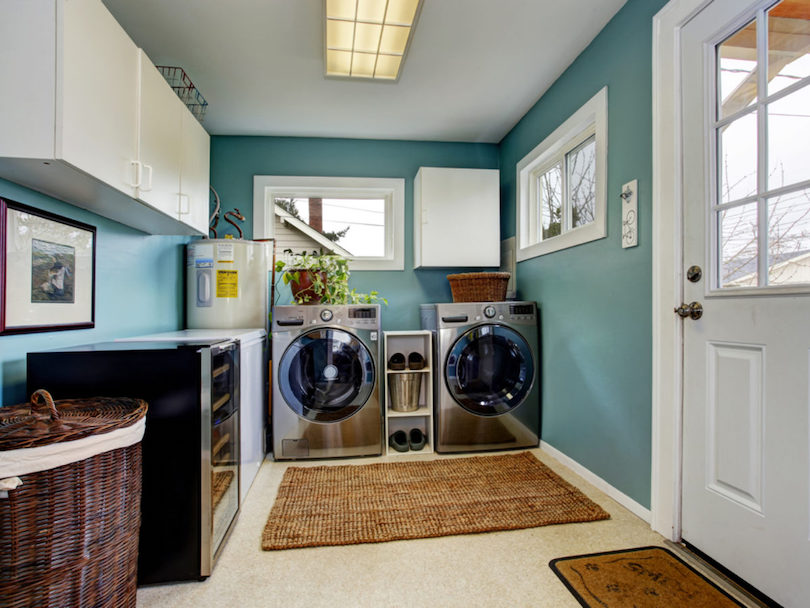 Adding splashes of color to your laundry room is a simple and creative way to make it your own. So, you can use a minty fresh hue for deliciousness throughout the area, or any other color for the doors and the cabinet knobs.
Brightly colored vintage items provide visual charm. Do you want to update your existing cabinetry with a new farmhouse feel? Consider using wire mesh to replace the front panels. It will be really useful.
7. Beautiful Cabinets and Faux Greenery
Let us introduce you to the world's (perhaps) most beautiful washing room. This beautiful laundry room has eye-catching custom base cabinets painted in marigold yellow. Upper white cabinetry with charming eyelet-styled cutouts has an old-fashioned appeal. Plus, it still feels cute and modern. Do you like the idea of houseplants but have a bad case of the green thumb? Who says you have to use the genuine thing to decorate? You can add artificial plants for greenery.
8. Monochromatic Laundry Rooms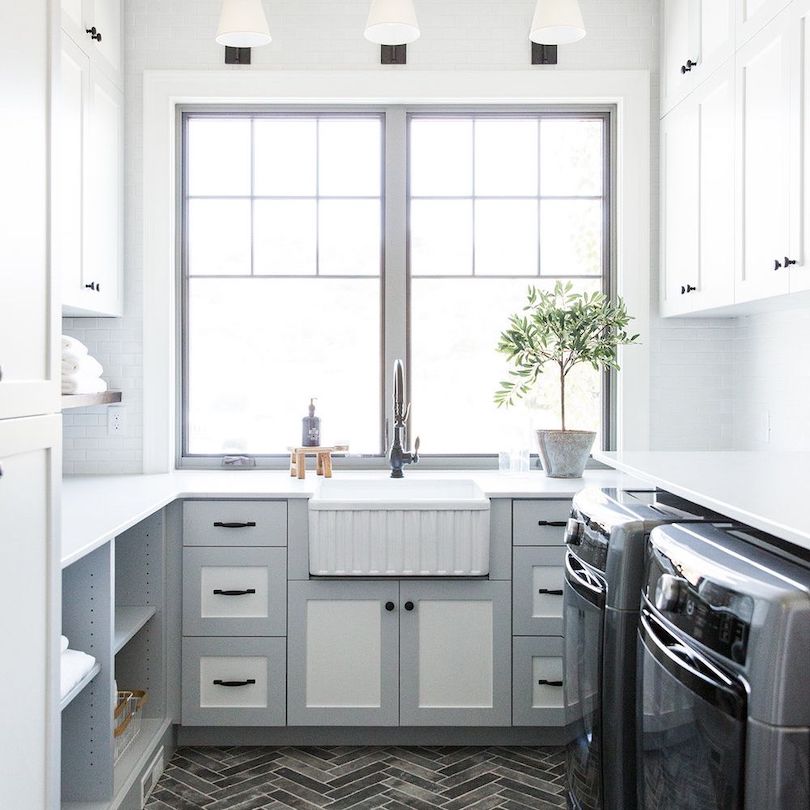 As seen in this picture, you can fit a lot of vintage designs into a small laundry room. With its intriguing pattern, a herringbone tile floor grounds the space. A modest apron front sink sits near the grey and white shaker-style cabinets. While doing laundry, natural light is vital. Three ceiling lamps ensure that this space is well-lit even without natural daylight.
9. Secret But Stylish Laundry Room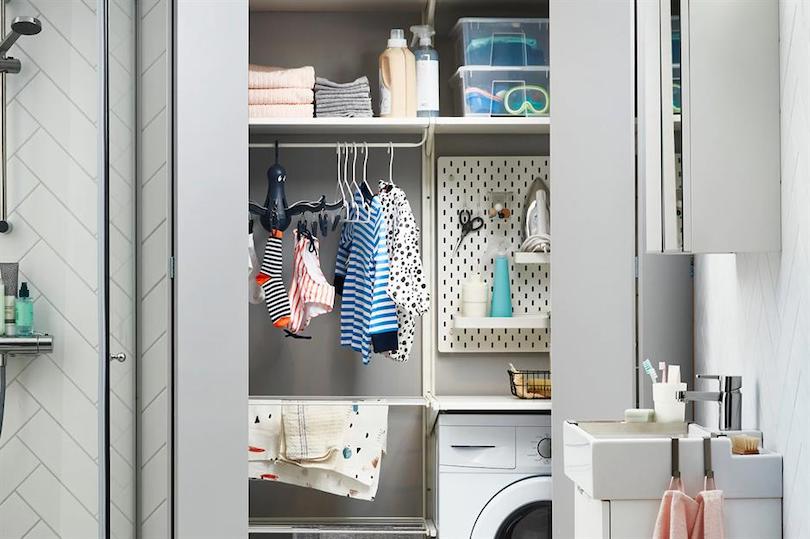 Small and sleek are two words that perfectly describe this laundry room in the picture. When not in use, pocket doors keep the space hidden. The back wall turns into an interesting feature with arrow patterned wallpaper. We have to admit, a traditional stainless steel utility sink is one of our favorites.
The one pictured here has an industrial feel to it and goes well with the washer and dryer. Two additional ingenious and inventive features add to the functionality. The first is a white wall-mounted drying rack that folds up nicely. The second is a mobile laundry cart that keeps everything in order.
10. Colored Floor Tile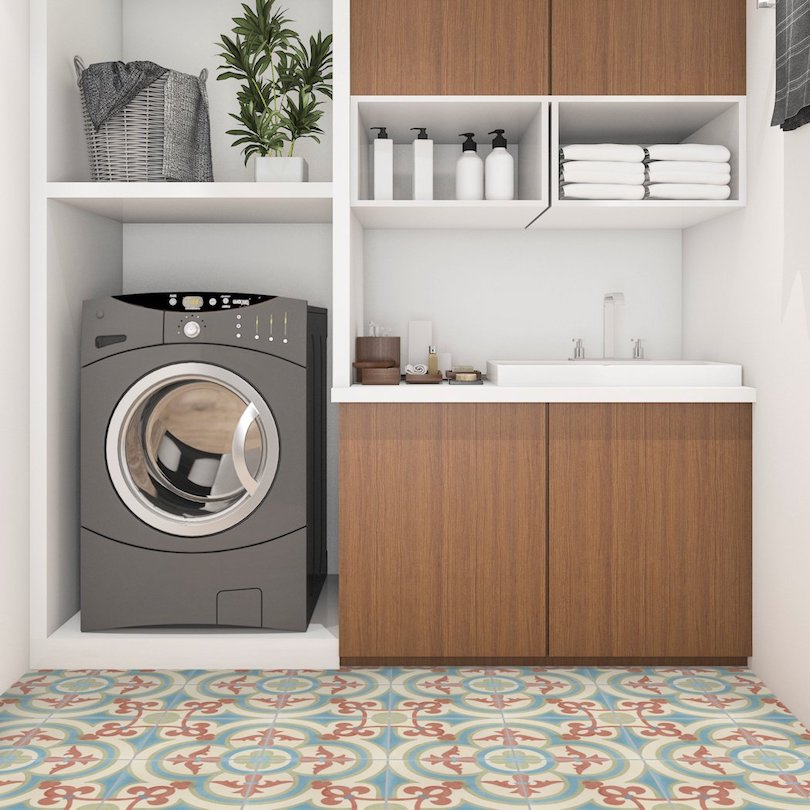 Patterned floor tile, as we discussed before, can help to customize a place. With vibrant floor tiles, this laundry room looks like a show-stopper. So, you can also consider adding such colored tiles in your dull or simple-looking laundry room.
11. Rustic Laundry Room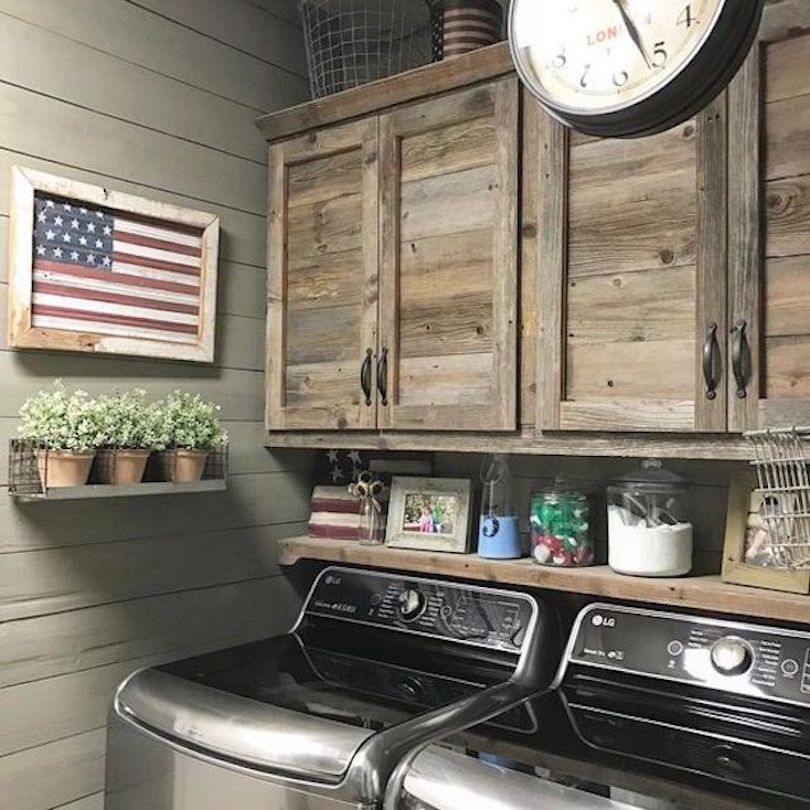 Rustic is trendy, and we love the aesthetic of this cute little laundry room. Adding old cabinets from a remodel or from a flea market is a terrific way to keep your laundry room organized.
It's crucial to keep this room clutter-free because no one wants to undertake duties in a room that needs a thorough cleaning. This room has a great Farmhouse vibe about it.
12. Chalk It Up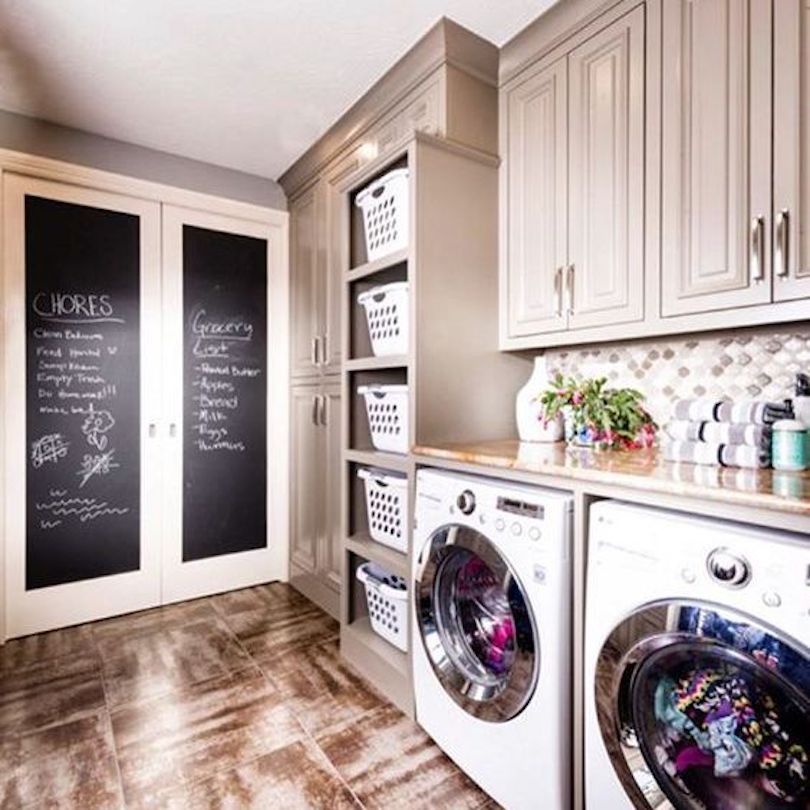 It might be difficult to get youngsters to participate in tasks without frequent prompts. But adding a chalkboard to your laundry room can help! It's also a wonderful method to remember which garments are not meant for drying and which duties are pending for the week. This one is even doable on your own. The laundry basket shelf in this room is also one of our favorites; it's a terrific way to keep all of the family's possessions in order.
13. Mid-Century Design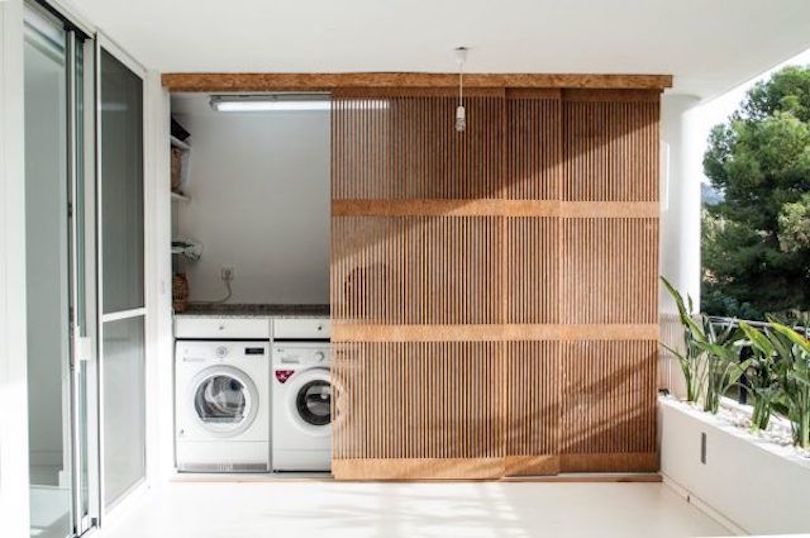 The mid-century decor is a fashionable approach to make a room feel open and contemporary. These retro-inspired bamboo laundry room doors are fantastic. If barn doors aren't your style, these provide privacy while also evoking a cool Palm Springs ambiance. This is a fantastic solution for a laundry room that doesn't fit in a closet or a basement. Bonus points if, like this lucky homeowner, you can do your laundry all year round.
14. Organized Laundry Baskets On Shelves
The idea of having a bin in each of the kids' storage bins, allows homeowners to fold things straight from the dryer. Just place them in the bins is a great idea.
But we are curious if there's enough clearance on the top of the laundry baskets on the shelf. It is because it allows you to put the laundry inside without having to slide each basket out a little. We think that if we had to slide each basket out to put things in it, sorting and folding would take twice as long. What are your thoughts? However, it's an interesting concept for those who all can manage these things well.
15. Multipurpose Magic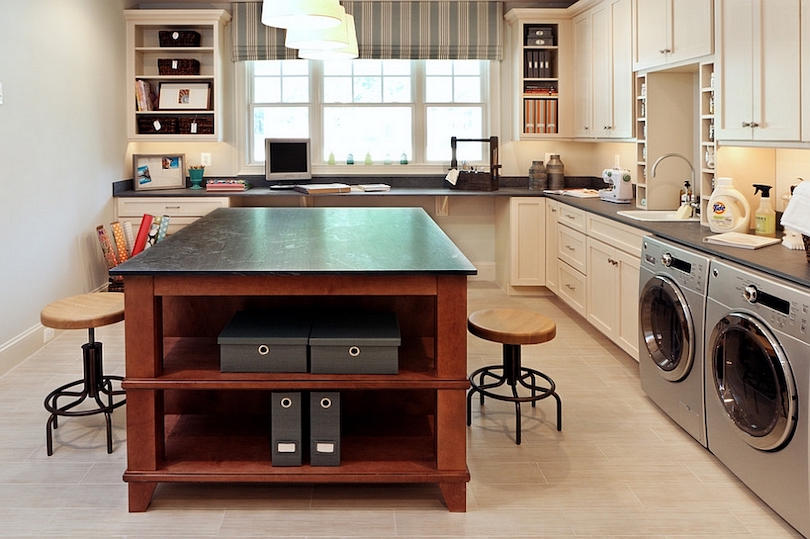 This laundry room is ideal for the home cook, coffee addict, workaholic, or regular entertainer who doesn't have a lot of extra space. It's often critical to include all the amenities of a larger home into a small space. But this design works well for anyone who wants to increase the given space.
In this space, both homeowners and guests can feel at ease and have everything of their needs in one location. Behind a wall of the closet, cabinetry, and a small utility room, one can store ample things. When closed, it seems to restore bedroom's calmness and you won't know what is on the other side.
People like the look and feel of clean clothes. But the truth is that several people despise doing the laundry. It's understandable if their current laundry room is gloomy and dingy. That is why we believe that every home should have a beautiful and useful workplace. The mentioned suggestions will show you how to achieve just that by making imaginative changes to your laundry room that will both modernize and personalize it.