15 Large Living Room Decor Ideas For Modern Homes
Looking for large living room decor ideas for making the most of the given space? Or just looking forward to making your existing space appear bigger? No matter what's your motive to tackle a living room, you're most likely to spend your time in this room. So, it is best to get things right in the first place.
The perfect way to deck up a large living room is to decorate it as per your lifestyle. Whether you need an area for relaxing, entertaining, isolation, or a multifunctional space, you need to adapt things as per your liking. You'll get amazed after seeing how many ways things can be set up in a large living room.
When it's about large room decor ideas, there is so much beyond pushing the furniture against walls and angling it towards couches.
You just got to be a little bolder in the living room layout.
In the pointers given below, we'll discuss both the decor ideas and the best layouts for a large living room.
I. Large Living Room Layout
1. Open plan living room with organized layout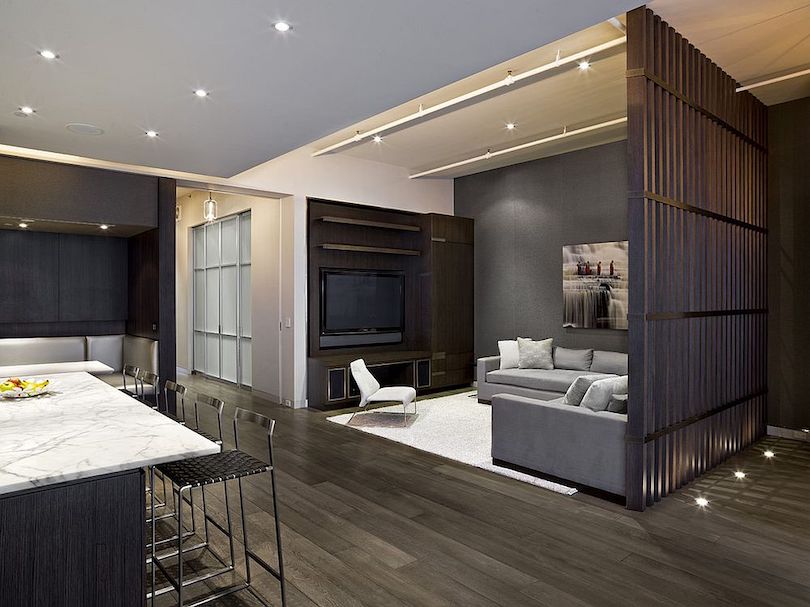 If you're thinking about expanding your home or breaking down walls, your living room might end up being partially open to other areas. Consider how you'll stay in the space and how much of a distinct hideaway you'll need to get away from home life. You might want to keep other individuals out of the room. For example, the separate area could be a place where teens can hang out with their friends for watching TV or playing computer games. Meanwhile, while the grownups can be in the kitchen or dining room.
On the other side, you might choose a more open-plan layout in which the kitchen, living, and dining spaces are all connected. This structure encourages more contact among family members. So, the area appears bigger.
Often, the best solution is a mix of the two, with rooms connected by knocking them through while maintaining a delineated living space. Double doors, foldable doors, and even massive sliding doors are useful for connecting and dividing spaces. Such layout is perfect for ample large living room decor ideas. So, there are ample possibilities.
2. A narrow and long living room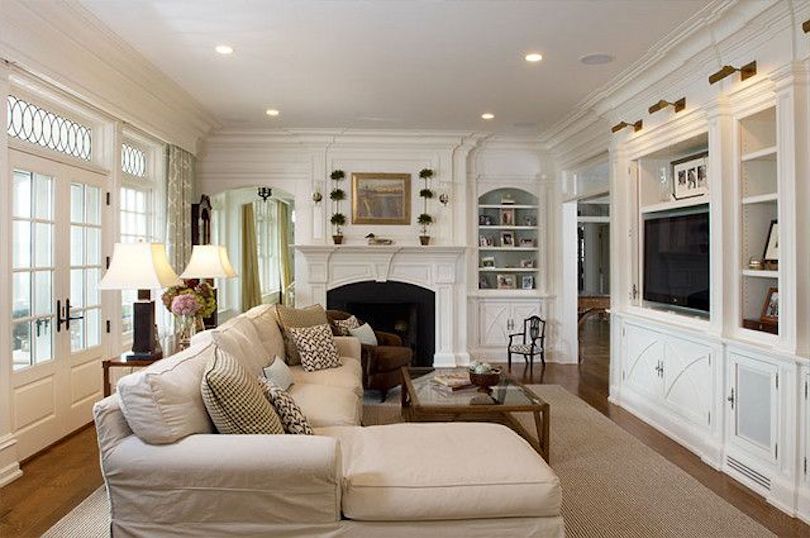 Another stunning large living room decor ideas include a narrow and long space. The entrance looks best on a short wall in this setting. So, the foot traffic flows in a central, linear path all over the room. A sofa looks good next to a fireplace for a balanced look. Furthermore, place around two armchairs opposite each other. But make sure the armchairs match the theme of a room for better overall symmetry.
3. A living room extending to a dining room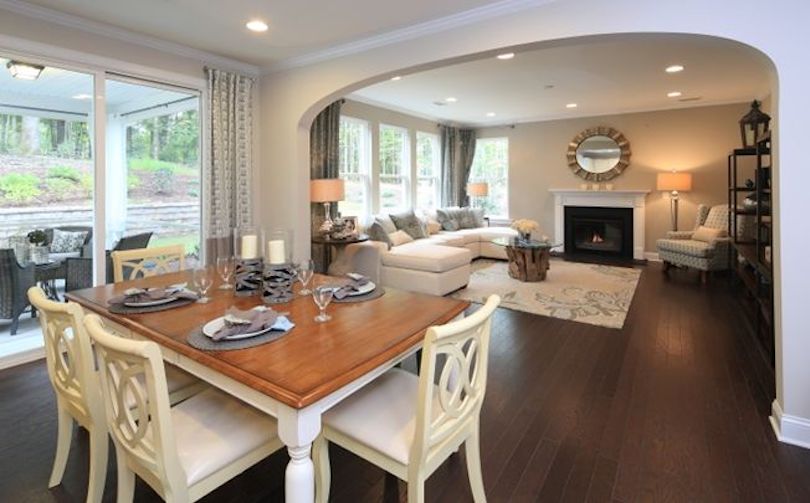 In this example, a living room opens directly to a dining area. So, create some separation. It is best, to begin with, a console table and sofa overlooking the fireplace. A huge rug may even create a boundary for a perfect seating area.
For making it more open, it is best to opt for a long daybed/bench alongside the window wall. Two tiny stools sitting in the front of a fireplace is another good option. This way, stools are easy to move around the given space. It all depends on the activity that's going around the area.
4. A living room with a double entrance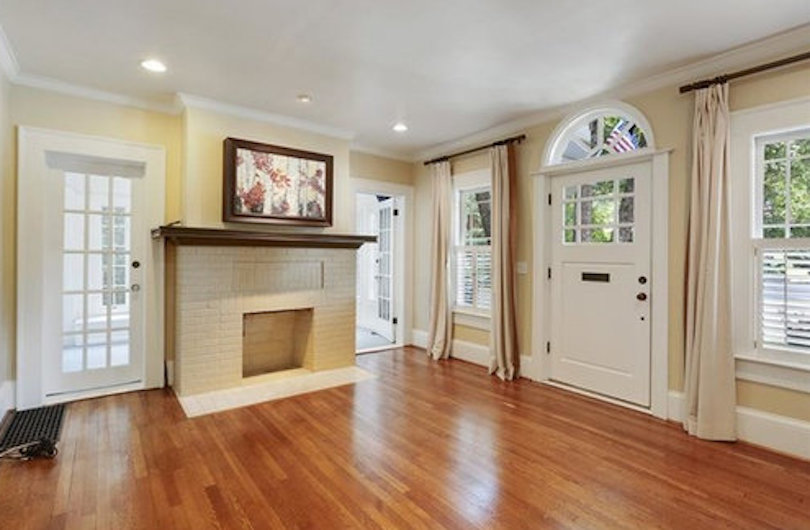 Because the living room in this first-floor plan includes two entrances and two fireplaces, it's best to divide it into two seating areas. These areas are a resting space and an entertaining area. Each looks best with a central fireplace.
To establish a border between the spaces, position a sectional sofa near the fireplace. Also, consider two console tables behind the sectional. A huge coffee table will look best in this setting surrounded by four swivel seats. This section is perfect for enjoying wine and chatting with friends. Even toddlers will appreciate a swivel chair!
5. A large, open concept living room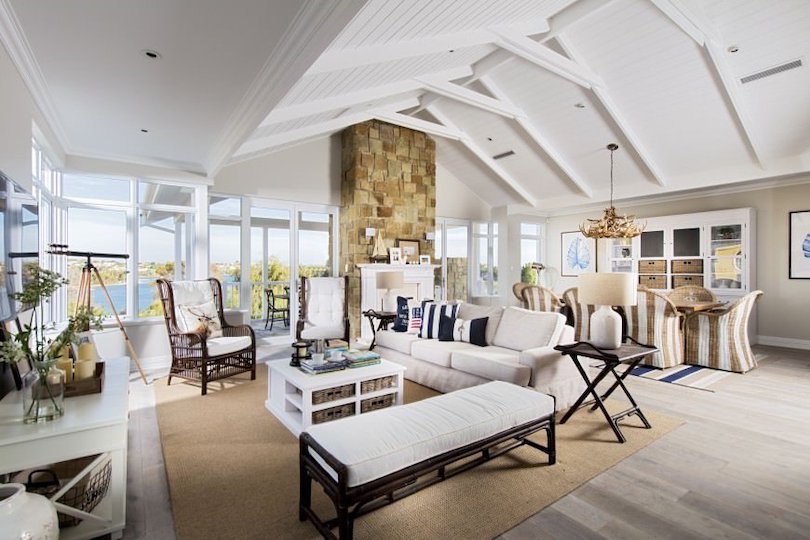 Another layout option is ideal for a spacious living room that connects to another space, like a kitchen or outdoor garden.
It appears best with one sitting area with a large sectional and two armchairs to balance things out. To give the impression of one enormous table, position two coffee tables side by side. This plan displays built-in bookcases on either side of the fireplace.
But if you don't have built-ins, a cabinet or console tables are a good option. And, to tie it all together, add two small accent chairs and a second table for extra seating. It's all about experimenting with different seating arrangements!
II. Large Living Room Decor Ideas
1. Find a focal point in your living room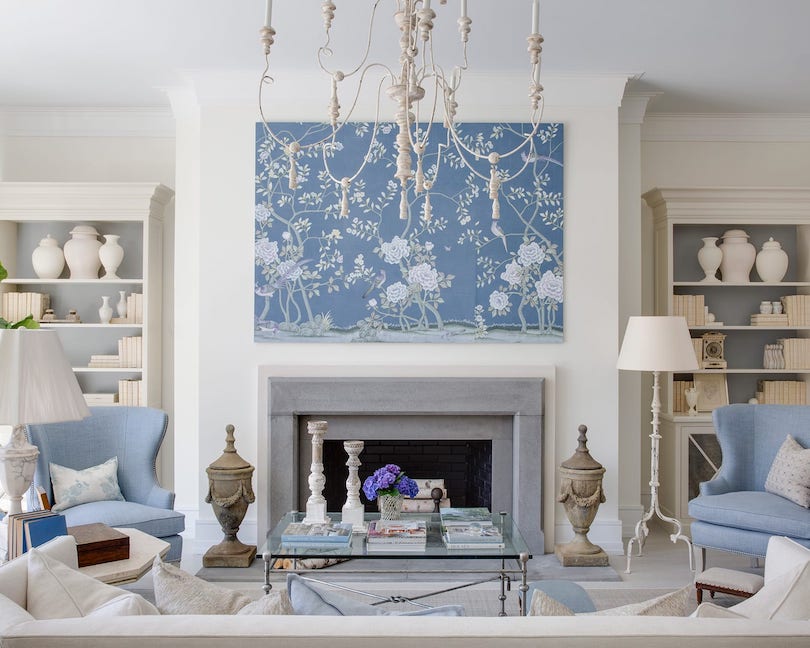 For large room decor ideas, you need to consider a proper focal point. The focal point of the room depends on how you want to use it. The placement of the TV dictates the arrangement of the living room. But you don't want it to be the focal point unless that is what the area is primarily for. If you want to use your living room as a home cinema, make the television a focal point.
Alternatively, you could use a fireplace, artwork, or chandelier over the mantelpiece is a prominent point in your living room. This is especially useful in a setting where there isn't much in the way of electronics. If you want to relax in your living room while reading or listening to music, a focal point like a fireplace will help. So, consider it for decor.
2. Focus on symmetry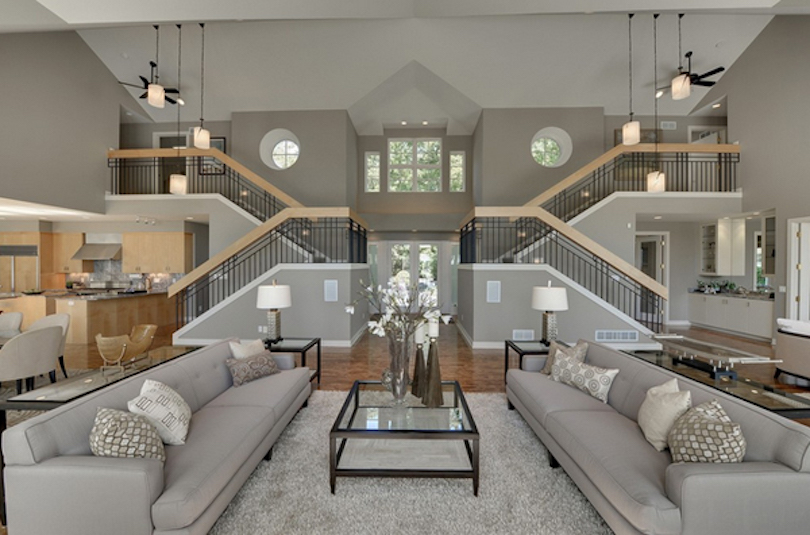 Symmetry is the way to go if you want a more formal living room layout. It's quite pleasing to the eye, and it works especially well in tiny areas. It is important to give your furniture room to breathe to avoid a cluttered sensation.
This look is achievable with two sofas and a coffee table in the middle. Or, create it with an off-balanced look with a sofa facing two armchairs. You should install a TV so that it can be visible from both sides of the room, but keep in mind that you'll have to turn to watch. So, this plan is best for space where the TV isn't the focal point.
3. Pick Something Flexible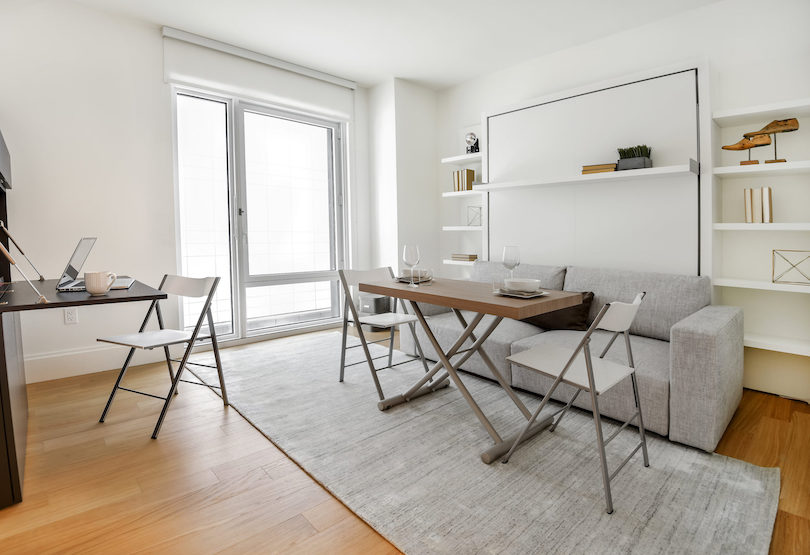 By eliminating the symmetrical design and scattering your furniture more randomly across space, you can create a more laid-back living room. Because it makes sense, place your sofa lengthwise with the coffee table in front. But also think of scattering mismatched stools, chairs, and even tiny tables in the space opposite. With minimal furniture around a coffee table or another table in a room, the area can double up as a study or some other room.
4. Consider natural lighting for a living room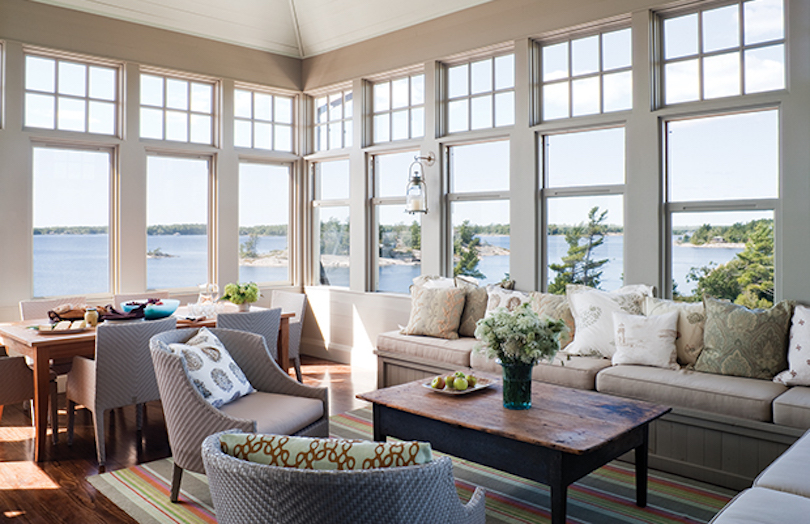 If the views from your living room windows are spectacular, making them the focal point of the room is a terrific living room layout idea. Again, this is a terrific concept for rooms is ideal for relaxing rather. If you have created large windows to fill the space with light, this is a wonderful alternative. It is also a great option for open space living rooms.
Your choice of focal point will also influence where you place furnishings. If the major focal point is a large window looking out onto the garden, the seating looks best in a relaxing setup.
5. Let your furniture become the focus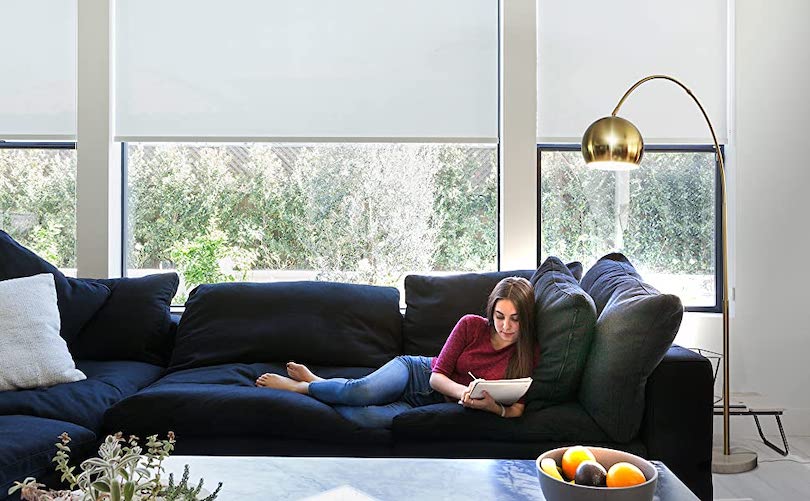 If you're going to spend money on nice furniture for your new living room design, there's no reason it can't be the focal point. Arrange the furnishings in such a way that it encourages family connection. Designate a well-lit spot for your ideal sofa or armchair, and people will notice the furniture before anything else when they walk into the room.
6. Don't push everything against your walls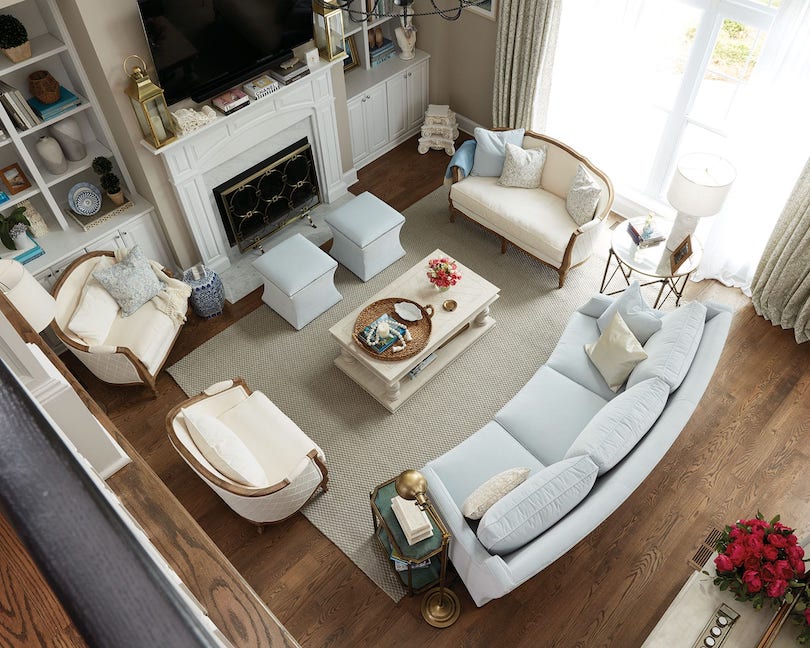 When constructing a living room arrangement, it's usual to push all of your furniture up against the walls. But attempting to reclaim those precious few inches can frequently backfire. Instead, take inspiration from this living room layout. Here, you can see some space between the furniture and the wall. It creates a little space around the room's perimeter. Plus, the arrangement is around a central coffee table.
7. Think about how to move the space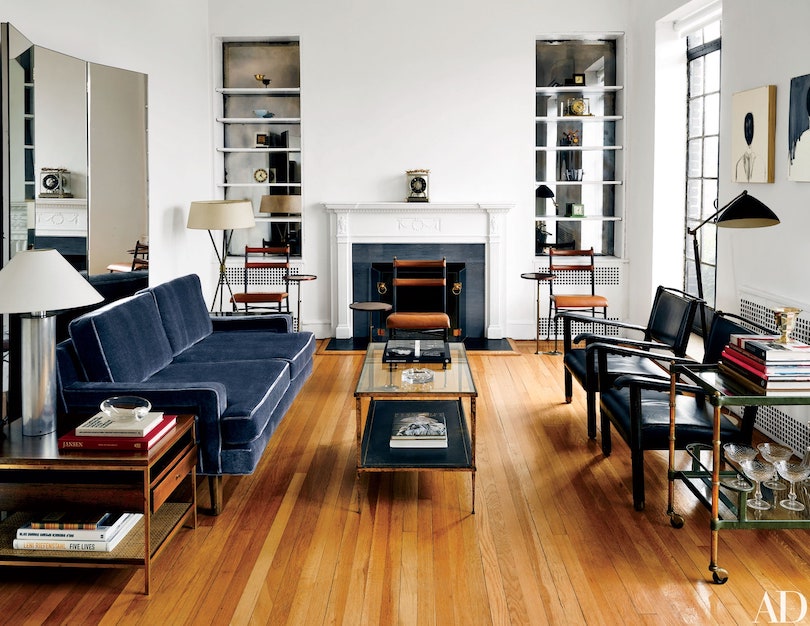 You can consider the functionality of your living room layout once you've determined the room's functional needs and focus. How will people enter, exit, and circulate the space? This will assist you in deciding where the furniture placement is most efficient.
You can use open shelving or storage units as screens to give partial separation. It is beneficial if the area doubles as a key path through to the garden. Or if the a space is where people will go between the kitchen and dining room.
Also, consider zoning the room (using furniture placement) to create a circulation path that does not pass through the seating or TV area. In an open-plan living room, for example, you may use the furniture to define the living room area. Sofas, particularly L-shaped sofas, are best for defining the limits of a living area.
8. Plan proper storage in the layout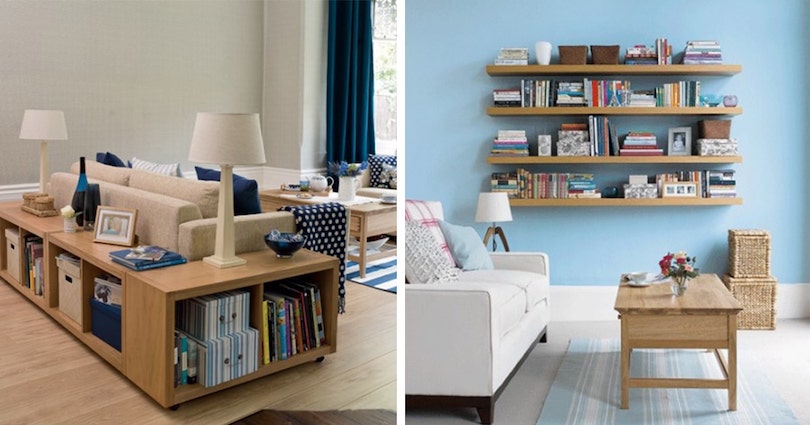 Remember to include storage options in your living room design. So, adding bench or banquette seating along one wall in a living room is a good option. This more setting gives you ample storage for small things and other home entertainment devices.
Even floating shelves look great for efficient storage. And, it will also maintain the aesthetic look of a living room. This setting is perfect for a contemporary style.
9. Consider proper lighting too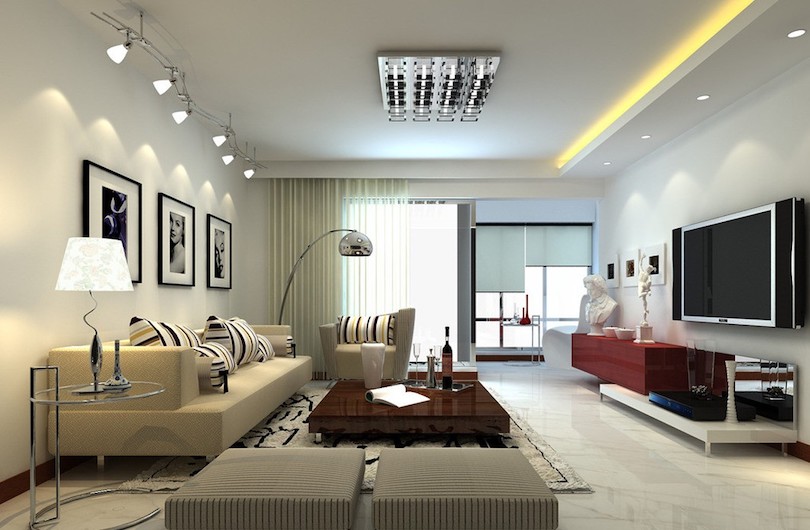 Because a living room serves a range of purposes, the key to good living room lighting is variety and unpredictability. When it comes to artificial lighting, for example, having a variety of light sources is often beneficial. Many of these are controllable via a dimmer switch or lighting system. So, you can choose the right one as per the area and your preference.
Lights may be quite attractive design elements. A typically symmetrical room with a chimney breast and a pendant light can look spectacular. Plus, a long-stemmed arching floor standing lamp is another visually appealing feature. Plus, it can also move around. Take a look at our guide for more living room lighting ideas.
10. Add mirrors in layout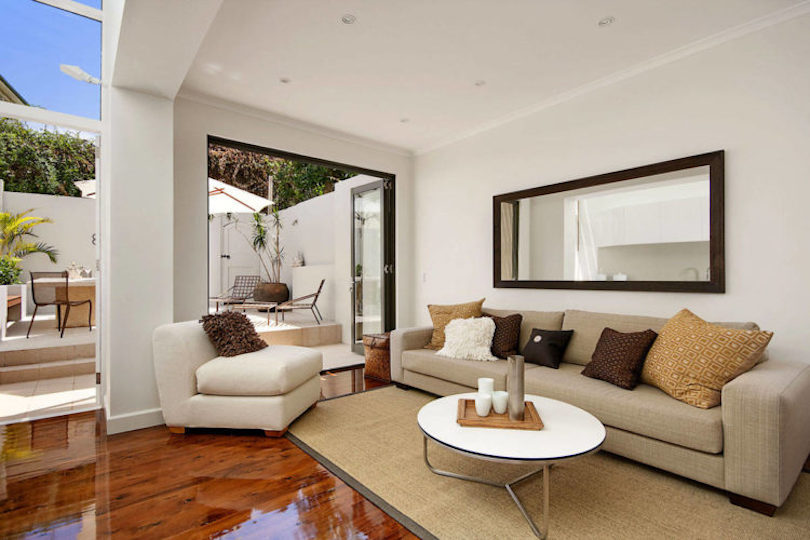 Surprisingly, mirrors make small spaces appear larger, so keep that in mind when planning the layout of a small living room. But mirrors are also great for large living rooms with small windows. Start with a large mirror on the opposite wall from the windows. It will bounce more light and make the area appear even larger.
If you have less windows or you prefer not to use natural light, try placing a tall mirror behind furniture or lights. It will also create the illusion of another room opening up beyond.
We hope these large room decor ideas and layout options will inspire you for your next remodeling project. If you are looking for more furniture layouts and are planning tips, check out our blogs on "20 family room lounge designs to transform your home" and "Storage Solutions to Keep Your Home Office Well-Organized." You will learn more about arranging things and how to design a space in your home.