20 family room lounge designs to transform your home
Your family room, or commonly known as the living room, is a social part of your house. It is where life takes place. So, you need to design this space with certain things in mind. When looking for room lounge designs, you need to consider entertaining, watching TV, and family gatherings on the top of the list. In this post, we will help you create a perfect version of your outstanding living room.
Instead of digging through your family room for comfort, you could turn it into a perfect lounging haven. This way, it serves as a highly functional living area where everything has its place. Our family room lounge design ideas will guide you through the interior decor maze. And, you can figure out what you want in your family room to have a wonderful time.
You need to remind yourself of what is necessary for you. A well-curated family room is like your life's book that your guests can read while socializing with you. BY adding your personal touch to your interior, you can easily transform your family room into an ultimate indoor landscape.
Check out the 20 amazing family room lounge design ideas to give this special room a calm, cozy, and entertaining makeover.
1. Family Room For All Ages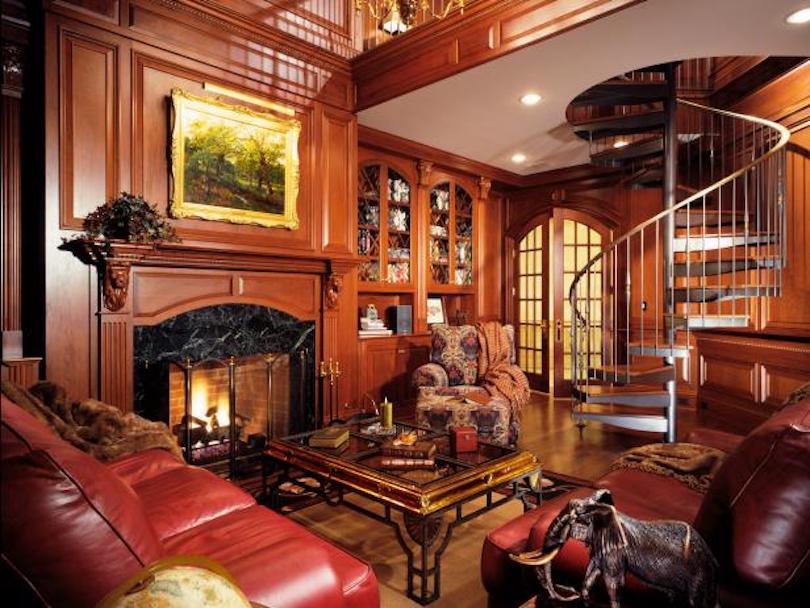 How about creating a grandparent's family room, where kids can run around. Meanwhile, grownups can also find their perfect spot for relaxing. This ethnic design is a treasure for all generations. All age groups can enjoy themselves here regardless of the occasion.
Every pillow and ottoman is one-of-a-kind, which adds to the appeal. This family room design is all about recognizing your roots. You can see that in the interior's wooden ceiling support and twisted staircase. It is one of the simplest ways to create a family room for all ages.
2. Modern But Cozy Family Room Design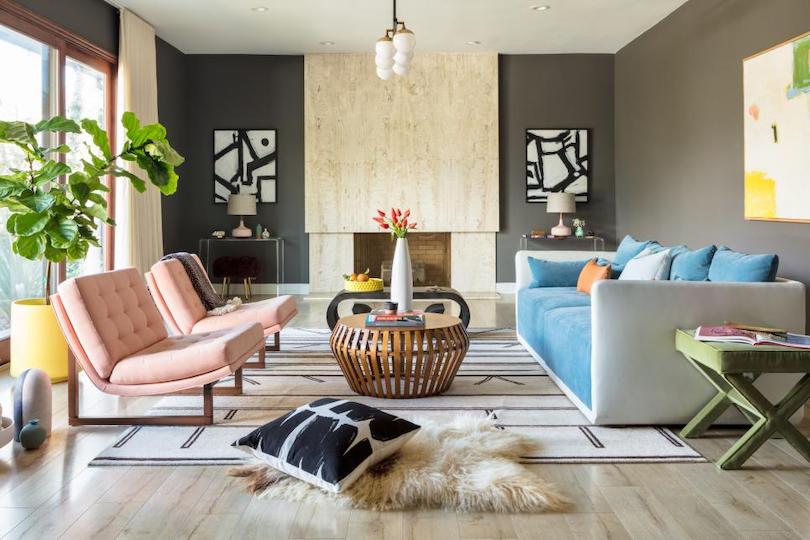 This family room design is ideal for you if you prefer a compact yet stylish space. In a family room like this one, unfiltered chats and a relaxing evening can be a common occurrence. While the majority of the furniture is wooden, the vibrant colors make the space lively.
The swing with whimsical pillows, as well as the lovely city perspective, are icing on the cake.
Pro tip: Wooden flooring is cozier than marble since it is warmer.
3. Luxurious Family Room Design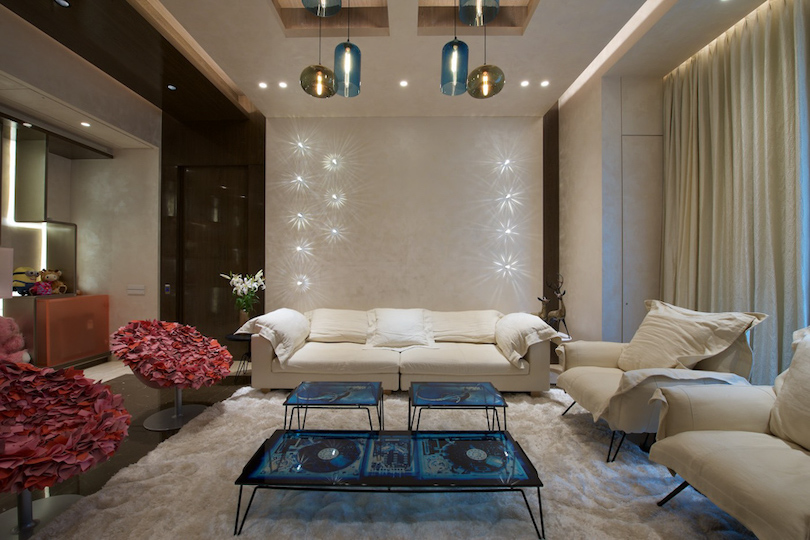 The comforting off-white dominates the interior of this family room. But the red leafy chairs add vintage flair to the given space. The luxurious appeal is further enhanced by unusual vinyl center tables. There is no better spot to spend a pleasant evening with your family. Meanwhile, you can reminisce about old times.
4. Family Room Design For a Movie Night or Game Night
It is impossible not to have a good time in this fun family room. That enormous, comfortable couches are ideal for relaxing while enjoying a movie. These are also perfect for long gaming sessions. The choice of neutral hues for couches adds to the excitement. But the maroon throw blanket keeps everything lively.
We wouldn't mind spending our quarantine time here, for better or worse!
5. Family Room Design For Airy Gatherings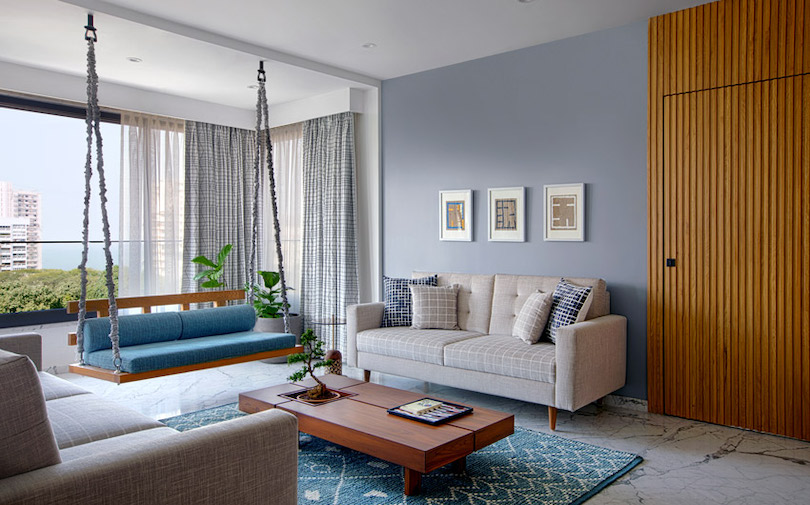 For small and large families, nautical tones coupled with wood are perfect for designing. Plus, a stunning view outside the window adds up to the wonderful family room design. The swing is a great addition to this family room. The area is further brightened by the off-white couch and house plants.
Every area of this place is refreshing because of the blues and light wooden structures. Everything here complements each other so beautifully.
If you want to recreate this living room design, add a wood door, swing, and coffee table in similar tones.
6. Family Room Design For Artists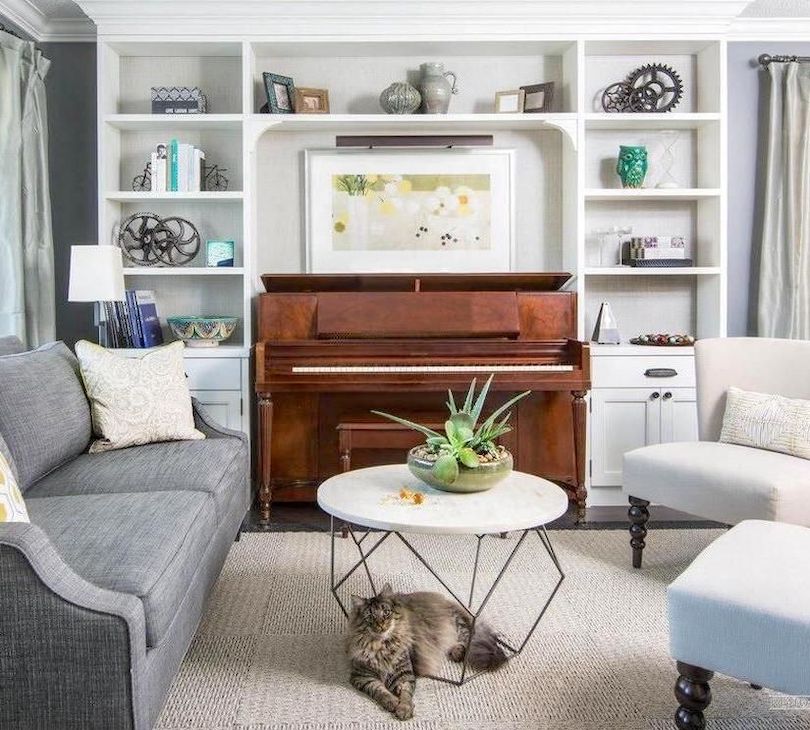 A family that creates together is more likely to stay together! Is your family is artistically inclined? Or they enjoy a variety of art forms? This family room with art is great for you. This family room design is unique because it features art pieces that you may enjoy for hours. Plus, a piano is the focal point of this family. The musical instrument would make any reunion memorable.
Even a beautiful painting above the piano or on any other wall can be a great addition. This will add another artistic feature to a minimal interior.
Do you want to dance a little? There's plenty of room in a family room like this for doing that!
7.Sectional Family Room Design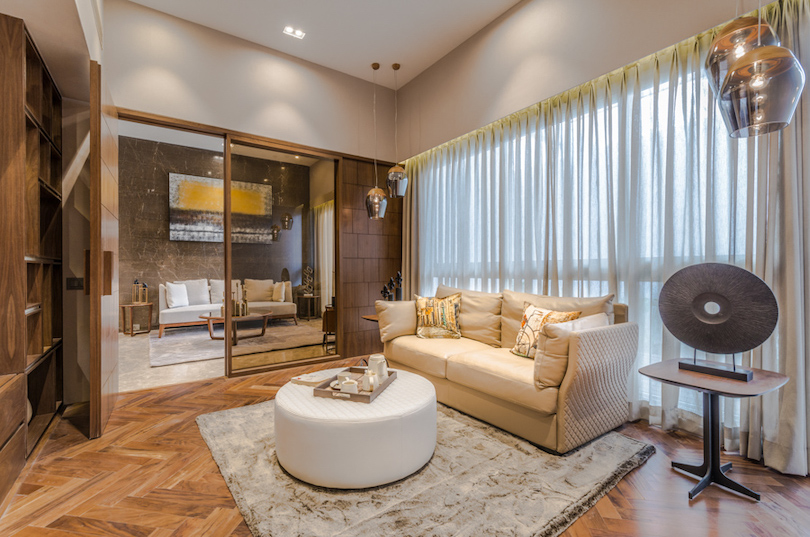 We understand it's all about togetherness. But we can't overlook the fact that siblings and parents need their own sections to do what they want. A sectional family room, like this one, allows your family to maintain their privacy. Meanwhile, they can still spend time together.
The kids can have a game night, while the adults can enjoy a few drinks separately. But in reality, everything is just a few steps away. It is because only a sliding door separates this sectional family room design. Isn't it stylish yet functional?
8. Cabin-Like Family Room Design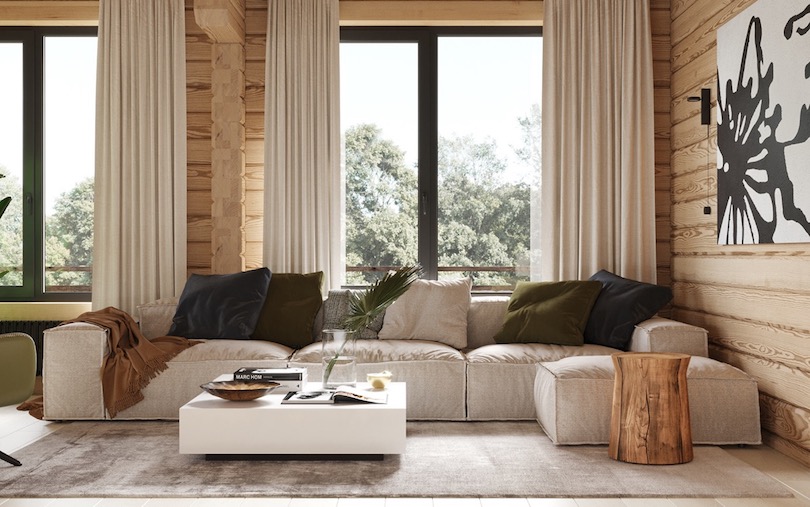 The larger a room is, the more difficult it is to provide a cozy feel. But such is not the case here. Along with the wooden walls, an abstract carpet, and many pillows add warmth.
These elements give it a cabin-like feel. This family room is attractive, but not so much that it disturbs the ground for bonding. It is possible with the throws and studio mirror.
9. Vibrant & Cozy Family Room Design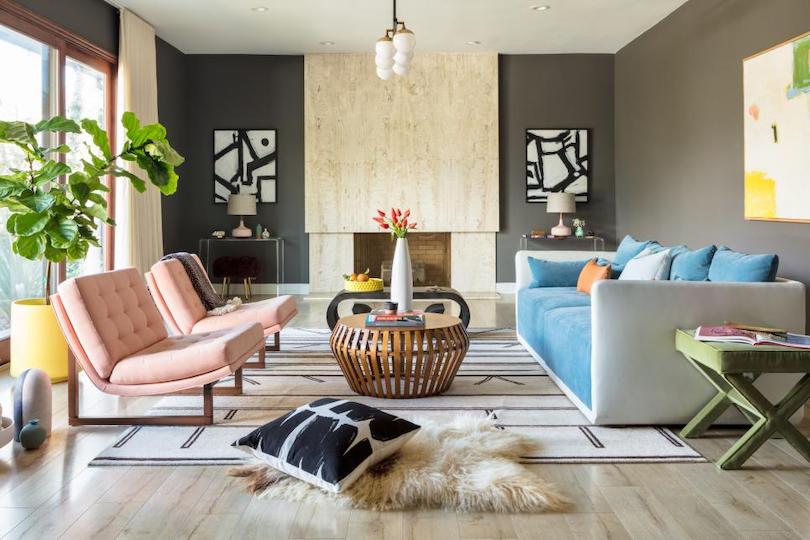 In our digital age, a modest family room that keeps you connected regularly is vital. The blue couch, on the other hand, gives the space a vibrant and dynamic appearance. Besides, the swing allows you to fly.
The striped carpet gives this family room design a warm feel. And, the cushions and orange vases add a splash of color. This room is like a safe cocoon for your loved ones. They can enjoy listening to music or have a heart-to-heart conversation.
10. Colorful Studio-Like Family Room Design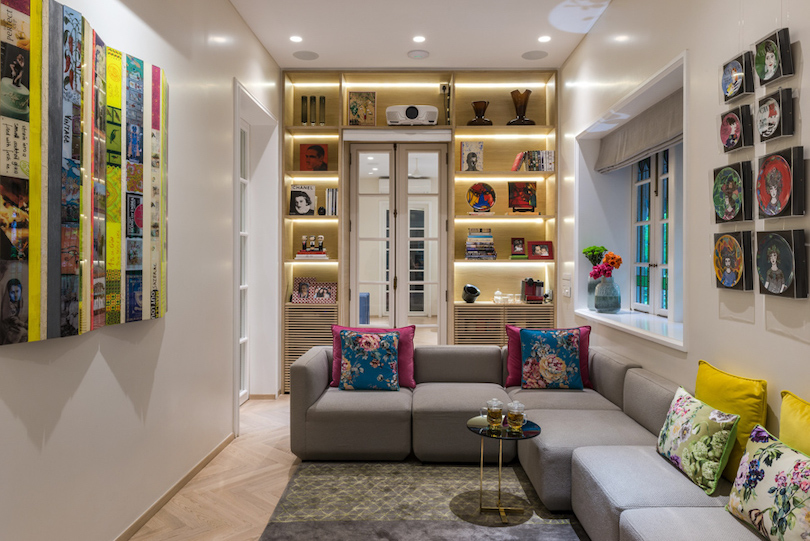 While everything is in a grounded tone, everything else is vibrant here. Styling your family room with all-things-retro is a great way of designing it. It's done with your music collection or art pieces. The theme for this delightful family room is small, intimate, and quirky.
What do you think about this cozy yet stylish family room idea? It's it perfect for relaxing and socializing?
11. Family Room Design For All Fun And Games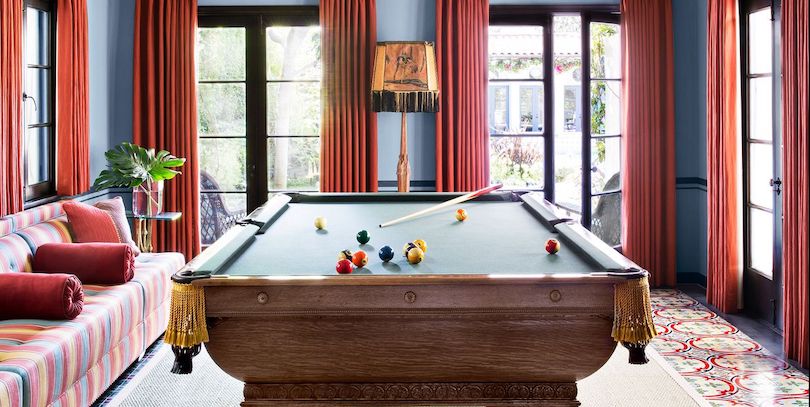 Does your family enjoy a good game night together? Consider adding a pool table in the family room lounge. Every get-together here will be unforgettable.
You can even enjoy some board games on the couch if you're bored with the pool table. The vibrant art pieces add to the overall feel of this living space.
12. Family Room Design For Loud Laughs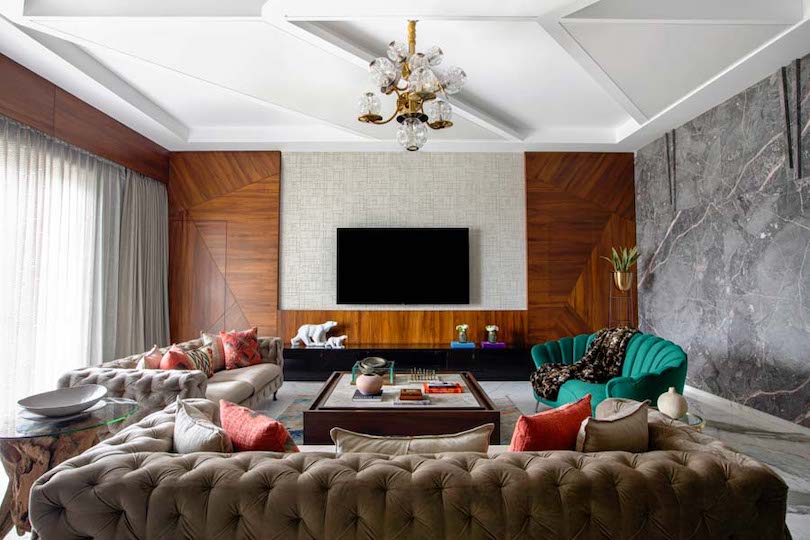 Do you often crave to spend time with loved ones? Who doesn't? Conversating and laughing over the meals is the best way to spend time with family. For that, this particular family lounge design is ideal.
The most comfortable sitting in a circle of couches with a large central table to keep your dishes. What we like about this room is the flash of color provided by the green velvet couch. It not only adds vibrancy but also gives it a vintage feel. The enticing chandelier is the icing on the cake.
13. Family Room Design For a Pleasant Evening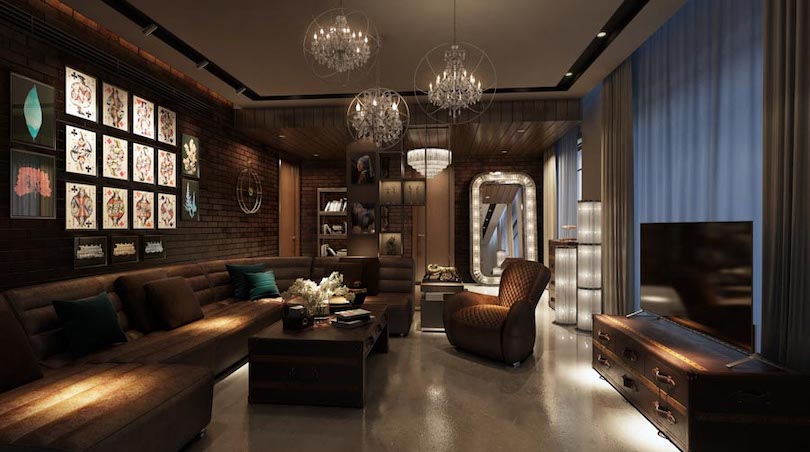 This family room design has mostly natural and pastel tones. But the dark wood lends depth to this interior. This living room design will make you feel like you're sitting in your cave.
You can enjoy here a quiet evening by yourself. Or, you can even plan a little get-together to catch up with your loved ones. The paintings of mountains add to the chilly cabin atmosphere.
14. Family Room Design For Cocktail Nights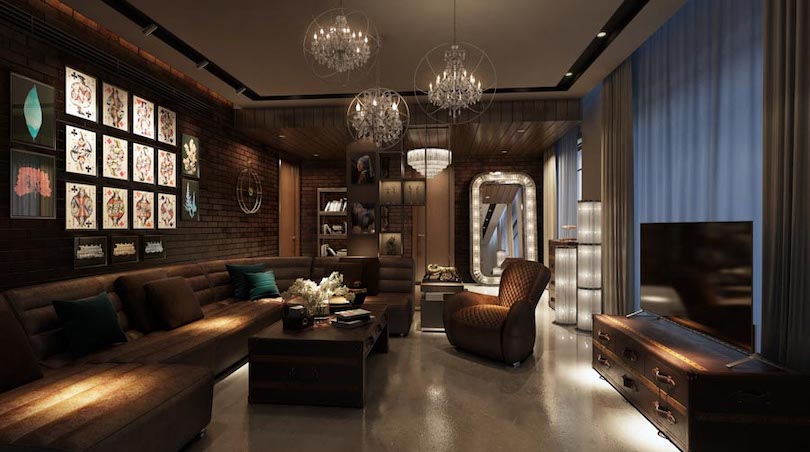 This living room lounge design is perfect for those who enjoy dressing up and staying in. The decor is more rustic with brick walls and brown velvet couches.
But the spotlights are strategically placed to focus on every area of the living room. It makes the entire family room enjoy a retro lounge vibe. Plus, the pendant lamps are unlike anything we've seen before. They work well with the white lights that surround the mirror.
The green couch and wall art, as subtle as they are, lend a refreshing wave to this quirky environment.
15. Family Room Design For a Musical Night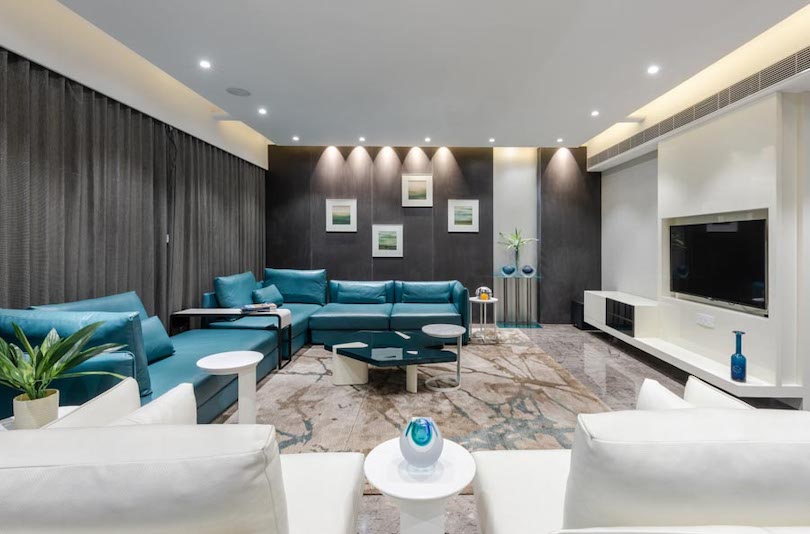 If you enjoy beaches and calm music, this relaxing living room lounge will transport you to one. This apartment seems light and airy thanks to a blend of teal and white couches, grey drapes, and white walls.
Are you looking for the sand? Take a peek at the sand-colored carpet that feels like paradise. You're done once you've added some house plants and artwork. And, your beach-themed living area is now available! You'd surely enjoy a musical night in this setting.
16. Family Room Design With Bold Contrasts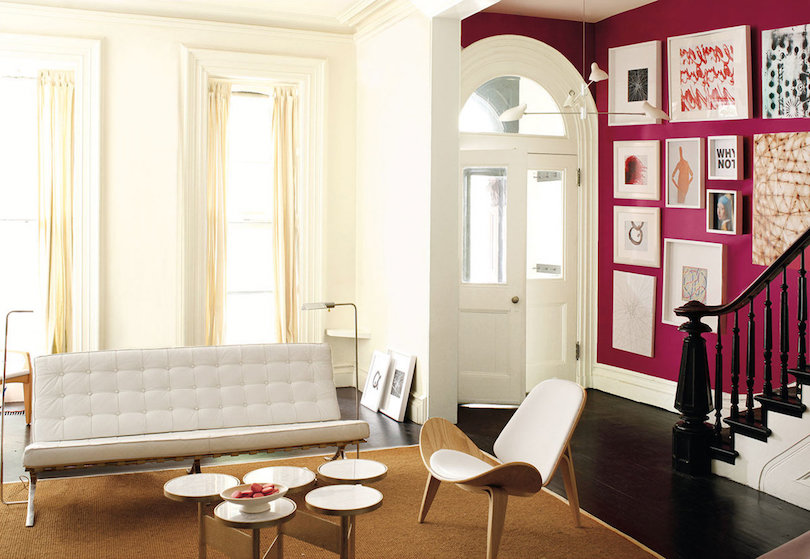 This opulent living room features a variety of dramatic characteristics. To begin, the feature wall is in a dramatic maroon. The maroon contrasts with the light walls and cushions, as well as the black staircase.
Furthermore, the unique center table and brown carpet are also worth noting. Everything is contrasting but still binds everything together. This gives the room a very modern and styled look that goes well with the rest of the decor.
17. Family Room Design in Beachy and Bohemian Theme
A neutral color palette with sun-drenched tones makes this room more appealing. The nubby accessories and similar patterns in a variety of scales add more character.
The airy look finishes off with a standout rug and ceramic, metal, and rustic elements. We love how the tiny details tie the room together without being noticeable.
18. Family Room Design With Industrial Sleek Scheme
This loft's glossy yet industrial atmosphere is quite kid-friendly. This living area contains green couches for a vibrant touch.
The open shelves, on the other hand, are ideal for displaying home decor or periodicals.
The enormous pendant lamps further draw attention to space's height.
19. Family Room Design With European Flair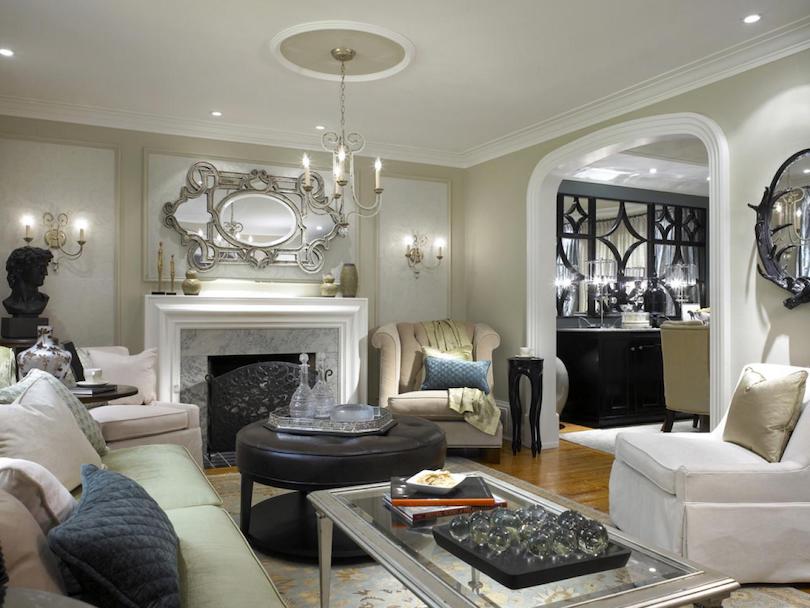 Are you interested in Parisian design? Check out this gorgeous living room with European flair. Above a gilded mirror, delicate ceiling molding seems opulent. The leather chaise, light pendant, fireplace, and leather seats bring a touch of glam to space.
Looking for more styling advice from the French? Take note: Embrace imperfection, mix things up, and don't run away from the past elements.
20. Family Room Design With Woven Tactility
What's the secret to making woven components pop in your living room? Pare back the rest of your area so that the tactility of the weave may speak for itself. And, we feel this in the entire area.
Everything is so wonderfully arranged and combined. It gives airy yet welcoming vibes to the eyes. hence, it is a perfect spot to relax after a long day.
Which family room design did you like the most? Share your views in the comment section below. Also, explore more home decor ideas for the living room with Pepuphome.