10 Best Lightweight Bike Locks To Prevent Theft
Bike locks may not seem like the most thrilling purchase, but theft is, unfortunately, a major issue. So, you need to buy a good-quality bile lock to prevent theft.
We have tried a wide range of bike locks, from heavy-duty U-locks for optimum security to portable lightweight solutions. These are perfect for offering you peace of mind at the cafe stop —and everything in-between.
Before you agree to purchase, there are a few things to think about, much like when buying a bike. For example, where do you intend to store your bike, and for how long? What is the value of your bicycle? Is there any lock security rating that your insurance requires? How is the security of a lock determined?
Once you find the answers to these questions, you get an idea about the type of lock suitable for your bike.
What to look for in a bike lock
Before we begin, keep in mind that no lock is unbreakable. With the right tools and information, anyone who wants to steal your bike can do it with ease.
To stop the thief from looking for a quick buck, you can make it much more difficult to access the bike. With that in mind, one of the finest pieces of advice we can offer you is to utilize two locks of diverse kinds and brands.
If a burglar can break one type of lock, it is unlikely that they will have the tools or knowledge to break another type. And, the inexpensive locks with different styles are more preferable to a single pricey lock.
Here is a breakdown of different key lock combination that you need to know:
* Key – Keys come in a variety of shapes and sizes, but they always work the same way. They align pins or discs to allow the lock plug to spin for opening the lock.
* Shackle – The D-shaped part of a D-lock/U-lock or padlock is the shackle. It binds two objects together. In our situation, it's upgrading our bikes to something more durable.
* Links – Chains include various links, which are hoops that are finely linked together. The smaller the interior diameter of the links, the better, because it leaves less room for a lever for inserting and breaking the link.
* Protection – Nobody wants the sound of a naked metal lock clattering against their frame. To keep your pride and joy looking great and prevent the lock from breaking, use a cloth or sponge cover.
* Multiple keys – These are vital, and some manufacturers provide up to five with a lock. One to keep at home, one to keep at work, and one to keep on your keychain.
* Lock barrel – The lock mechanism is in the center of the barrel by the manufacturers. Check the barrel's weight; if it's hefty, it's almost certainly armored.
* Maintenance – Check the function of the mechanism because locks spend the majority of their lives outside. So, in the environment, it gets exposed to factors causing corrosion or rotting. Apply a little lubricant or water repellent (GT-85 or WD-40) generously and reapply as needed.
* Anti-theft guarantee: This promise is by Kryptonite as a part of insurance. It raises the cost, but it also offers peace of mind to the bundle.
* Warranty – An extended warranty is usually a smart idea. It won't protect you from theft, but it should be a sign that the lock won't break or fall apart.
OUR PICK OF THE 10 BEST BIKE LOCKS
We have arranged the locks in order of budget, combination system, etc. With this, you can figure out which type of bike lock is perfect for your bike.
There is a 'Buy Now' link next to each product. If you click on this, you can directly reach the manufacturer's website or any other retail website for the purchase.
Without further ado, let's check out the 10 best bike locks for preventing theft.
1. Kryptonite Evolution Mini-7 Bicycle U-Lock
Buy Now: $70
Pros: Small, Durable, and Comes with Cable
Cons: Not large to protect both rear and front wheels
The Kryptonite Evolution Mini-7 U-Lock is a traditional mini U-lock that includes a 4-foot cable for securing your front wheel. U-lock consists of high-performance steel that is resistant to bolt cutters. It also includes a protective vinyl coating to help it withstand normal wear and tear.
This lock is 7 x 3 inches, which is large enough to go around your bike. But it is not so large that it takes up too much room in your bag. You can toss the lock in your bag and carry it on the move without giving it a second thought. It is because the lock comes with anti-rattle bumpers to reduce noise.
2. Titanker Bike Cable Lock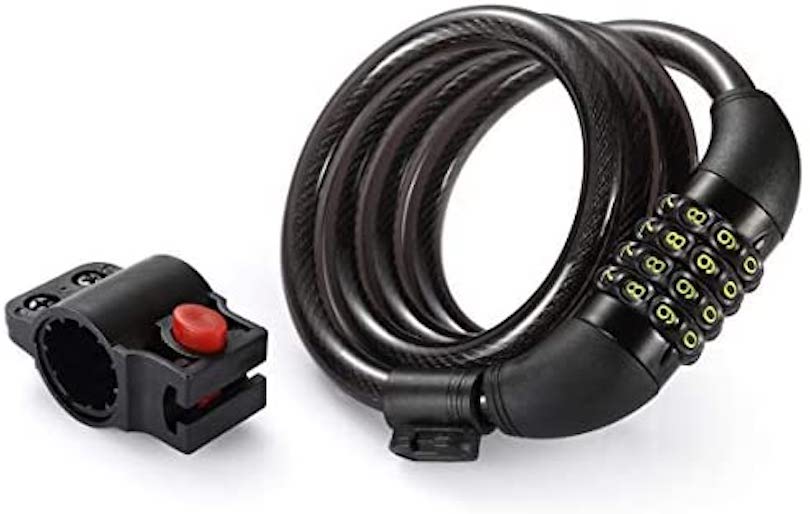 Buy Now: $13
Pros: Long, Lightweight, Compact, Affordable, and Capable of protecting the front and rear wheels
Cons: Not durable, Not very thick
Titanker Bike Lock Cable is a 4-foot long cable. This cable works as a bike lock and consists of cut-resistant steel and includes a protective PVC covering. Its PVC coating protects the cable from everyday wear and tear. The self-coiling wire is lengthy enough to wrap around both bike wheels. These are also compact enough to store between uses.
Simply connect the ends of your cable and apply the lock's combination to secure your bike. And, won't have to worry about losing any keys because the lock simply requires a combination.
3. Seatylock FoldyLock Compact Folding Bike Lock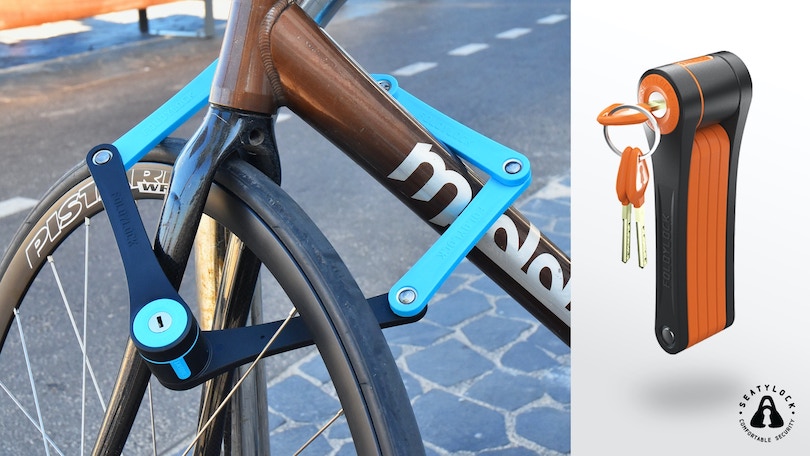 Buy Now: $85
Pros: Compact and Durable
Cons: Not large enough for protecting both front and rear bike wheels
FoldyLock Compact Folding Bike Lock, with 33.5 inches length. It lets you store any bike, regardless of size. While it is lengthy, it folds down to a small dimension of 2.35 inches wide, 2.35 inches thick, and 7.48 inches long. It makes it easier to transport.
Steel makes this space-saving lock very durable. This lock weighs only 2.2 pounds. It can even withstand bolt cutters, crowbars, hammers, and other tools. And, its durability is the result of its tough design.
4. Amazer Heavy Duty Combination Bike U Lock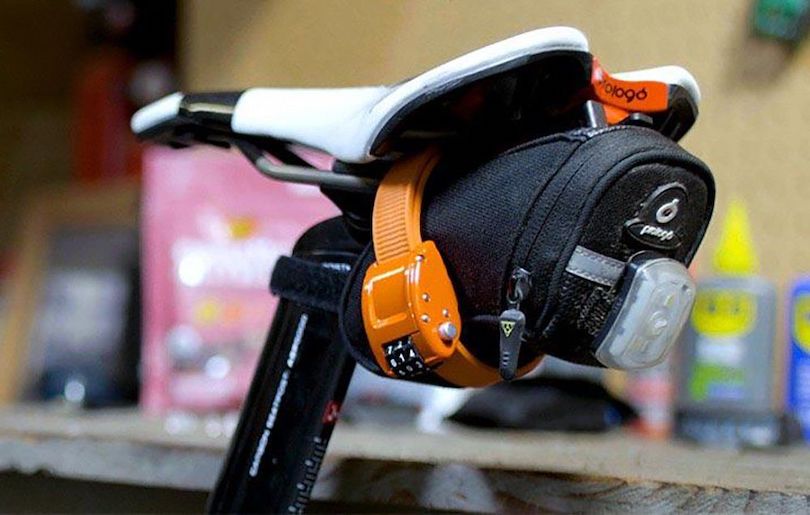 Buy Now: $17
Pros: Affordable, Small, and Perfect for those who don't like to carry keys
Cons: Not durable, Not large enough to protect both front and rear bike wheels
Amazer Heavy Duty Combination Bike U-Lock uses combination security. It is different than most U-locks that use keys. This makes it an excellent choice for folks who have trouble keeping track of little goods. It is also a good choice for those who always lose their keys.
This micro lock is small but tough. It includes cut-resistant steel and coated with a PVC coating. There is also a dust-resistant covering to keep the lock in good condition over time. Despite its tough exterior, the lock is rather light. Amazer lock weighs only 1.8 pounds for simple portability. So, you can easily carry it to any location without any trouble.
5. Titanker Bike Chain Lock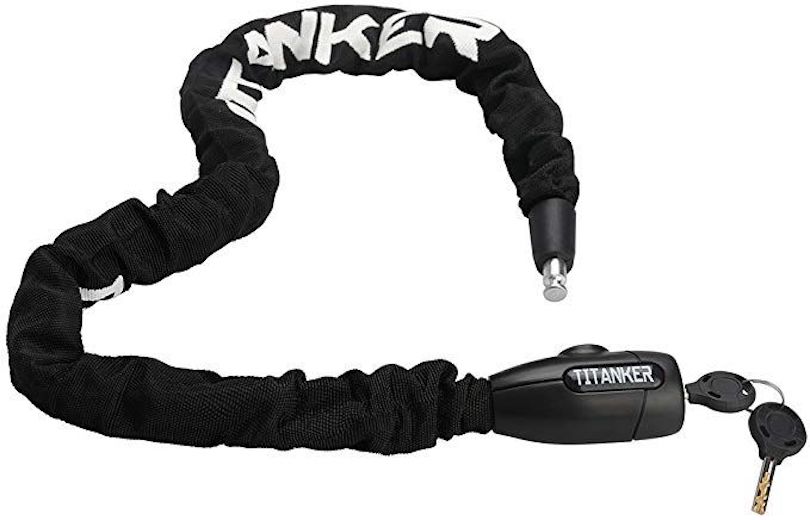 Buy Now: $14
Pros: Highly durable, Lightweight
Cons: Cannot protect both front and back wheels of the bike
Titanker Bike Chain Lock has the classic toughness of a chain lock. But it's also convenient to carry around in a bag. It is so due to its lightweight design that measures just 1.76 pounds. This lock comes with a 3.3-foot-long chain, which is sufficient for any sort of bike.
Titanker bike chain even includes cut-resistant, heavy-duty steel and comes with a protective cloth to reduce wear and tear. You don't have to twist a key every time for locking the bike. It is because both ends of the chain simply snap together and lock automatically.
6. Ottolock Combination Bike Lock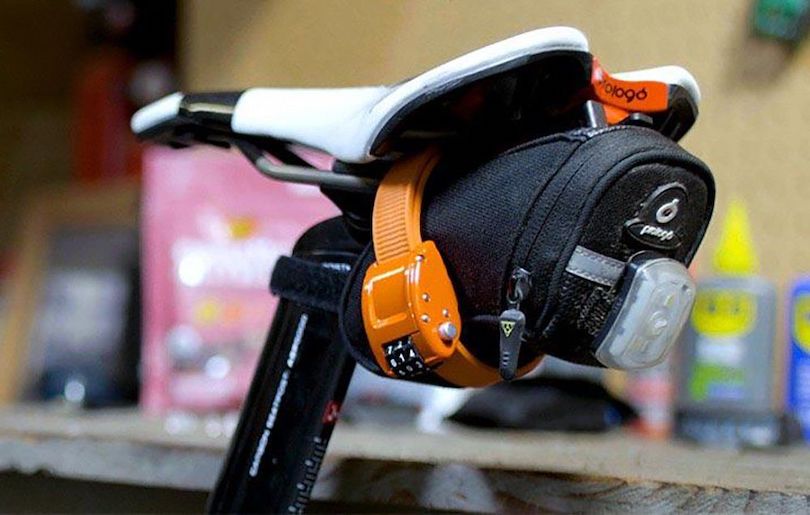 Buy Now: $70
Pros: Very lightweight, Compact, and Protects front and rear wheels
Cons: Not as durable as other options
Ottolock Combination Bike Lock is one of the most compact bike locks available. It is small and portable and weighs only 0.4 pounds (less than half the weight of common bike locks). This bike lock rolls up to be just 3.5 inches in diameter. This makes it easy to carry in a pocket.
Ottolock bike lock consists of stainless steel. It is further covered in a mixture of tough Kevlar and scratch-resistant plastic. It can be anything from 18 to 60 inches long when uncoiled. The shorter locks are wonderful for saving space. If you want to cover both your front and back wheels, you have to invest in one of the longer locks.
7. Kryptonite New York Fahgettaboudit Mini Bike U-Lock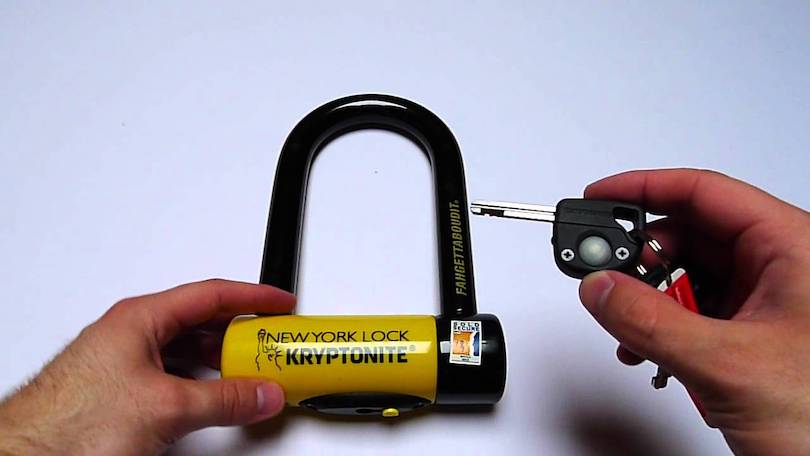 Buy Now: $125
Pros: Very durable, Comes with one-year anti-theft protection
Cons: Expensive, Heavy, Not big enough for protecting the front and rear bike wheels
Kryptonite New York Fahgettaboudit Mini Bike Lock is one of the most durable U-locks on the market. It survives cutting from bolt cutters, hand tools, and more.
This mini lock is built of high-strength steel and has a tough crossbar that makes it resistant to lock picking and spinning. The lock is modest, measuring 9.25 inches long, 5.71 inches wide, and 1.97 inches thick, and weighing 4.53 pounds, making it too hefty for daily transportation.
8. Crystal Vision Anti-Theft Alarm Bike Lock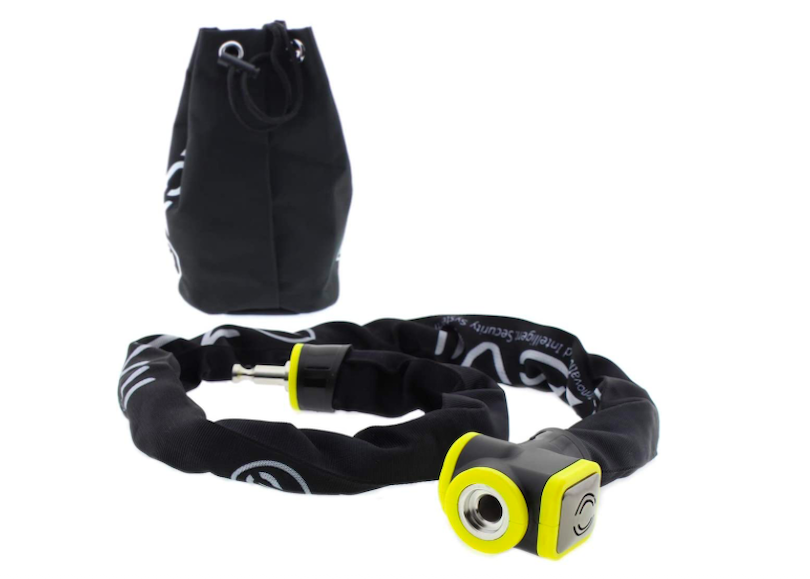 Buy Now: $60
Pros: Budget-friendly, Small, Integrated with a loud alarm
Cons: Not very durable, and Not large enough to protect both bike wheels
Crystal Vision Anti-Theft Alarm Bike Lock has a conventional style with an alarm that sounds when someone tries to tamper with the lock. It has a waterproof covering to keep it from rusting, and the long U-shaped shackle should easily loop around the back tire.
You can even turn the alarm off to make bike protection very straightforward. If enabled, the alert will sound at 130 decibels. It is louder than standard ambulance sirens, which range from 120 to 130 decibels.
9. Hiplok Spin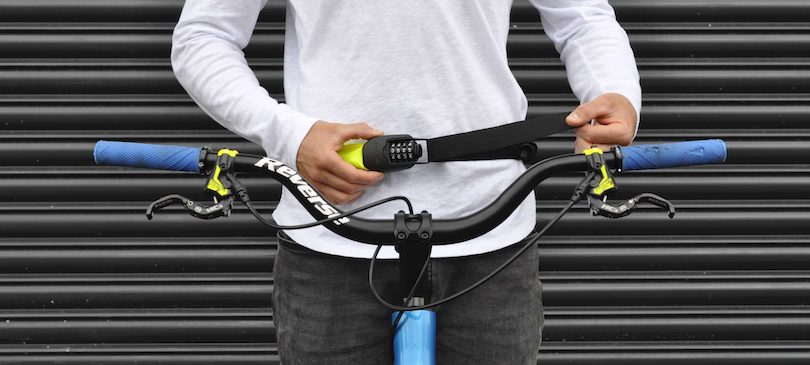 Buy Now: $59
Pros: Lightweight, Compact, Wearable, Budget-friendly
Cons: Not large enough to safeguard both front and rear wheels
Hiplok Spin could be a nice option if you don't like lugging about a bag. The lock is easy to wear around your waist. It provides the security of a bike lock with the flexibility of a cargo-free ride. It also comes with a soft cotton cover that protects the steel exterior from further wear.
This lock is lighter than some other options. Weighing only 1.7 pounds, it boasts a combination system that eliminates the need for a key. Hiplok Spin is only 30 inches long, which may be insufficient for securing both your back and front wheels.
10. Kryptonite New York Fahgettaboudit Chain Lock
Buy Now: $186
Pros: Durable, Long enough to protect front and rear wheels
Cons: Expensive, Heavy
When it comes to locking up an expensive electric bike, you want a lock that is both durable and long-lasting. Kryptonite New York Fahgettaboudit Chain Lock consists of strong steel. It measures 5 feet in length, providing you plenty of room to secure your bike.
Its chain consists of protective nylon covering. This covering prevents scratches on your electric bike. It further includes a key closure, which means you'll have to keep track of a key, and a double lock design for further security. At 15.25 pounds, this chain lock is heavier than usual, so it might not be the ideal choice if you're always on the road.