15 Striking Home Decoration Ideas Using Flameless Candles
Whether it's the festive season or you want to add romantic or welcoming flair to your house, flameless LED candles are a perfect choice. These illuminating flameless candles can instantly turn your abode into a luxe holiday space. The best part is that it provides all perks of a regular candle without any risk.
The LED candles are an ideal lighting solution for various occasions. You can use them for elegant holiday displays, romantic candlelit dinners, or movie nights. There are endless possibilities for home decor with flameless LED candles.
Reasons To Use Flameless Candles
Here are some reasons why these candles are your best choice:
They Won't Start Fires
The fact that the battery-operated or rechargeable "flame" in the candle cannot ignite a fire is one common reason to switch to LED Candles. With these candles, you don't have to worry about leaving a candle burning when leaving your house.
Without fear of starting a fire, you can keep an LED Candle blazing behind your draperies and on the windowsills across every room. These candles create a perfect warm setting without the risk of fire or other hazards.
 They Are Safe
Because these candles come with LED technology, they won't become too hot. So, they won't burn anyone who gets too close. Everyone in your family is safe around a candle without a flame. So, you can leave them around busy youngsters, adoring grandparents, or curious cats.
*They Are Clean
With these candles, you don't have to worry about hot wax leaking on your furniture. This is because these candles are battery-operated or rechargeable. Flameless candles are hygienic, easy to maintain, and don't make a mess. Traditional candles can be peaceful, but they lose their appeal when they melt wax on burning. But with flameless candles, you don't have to stress about burnt wicks, melting wax, or harmful smoke.
They Save Your Money
Flame-burning wax candles are quite expensive. Once the wax has melted, there is nothing left of your investment. Since the bottom of the candle is also covered in hard wax, its container becomes worthless as well. When you choose a long-lasting, low-maintenance LED candle, you won't be burning your money. Today's flameless candles may be lit constantly and appreciated 24 hours a day, 7 days a week. This is possible due to their batteries or rechargeable devices.
They Are Healthy
Many flame-burning candles use a variety of chemicals and dyes. Some even use glitter, plastics, or other embellishments to enhance their aesthetic appeal. Unfortunately, these substances contribute to strange and potentially hazardous smells. Flame-burning candles are unhealthy for your family, children, and pets. Furthermore, the smoke created by a typical candle might irritate the eyes. Flameless candles emit no fumes and pose no health risks. This is because they do not burn waxes, polymers, or chemicals.
Flameless Candle Home Decoration Ideas
Want to know how to use flameless LED candles for decorating your home? Check out our 15 safe yet stylish LED candle decor ideas. With these ideas, you can give a quick inviting makeover to your interior.
Here are some of our favorite ways to spruce up your home with these candles:
1. Hurricanes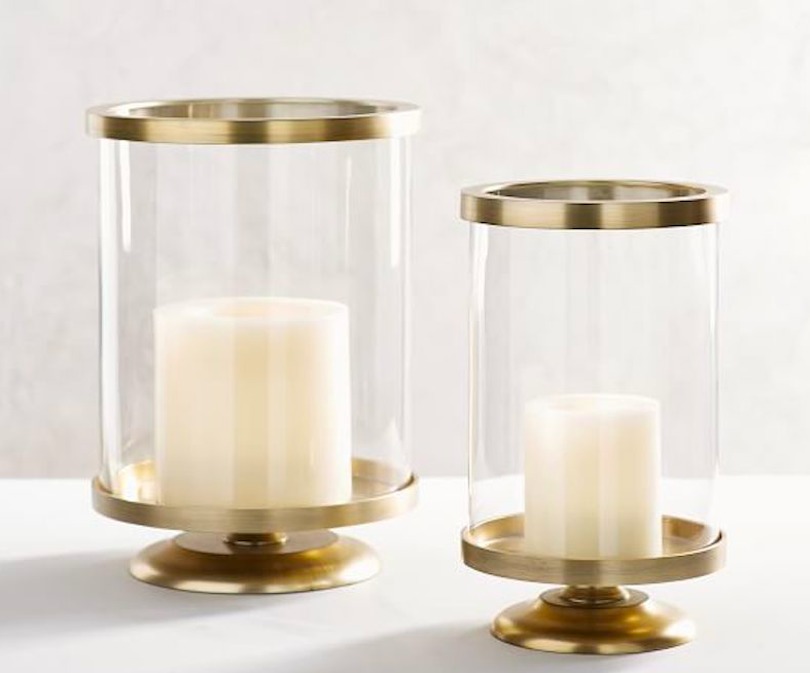 The hurricanes are perfect for decorating your home. With these, you can decorate your dining room, living room, bedroom, front porch, and other areas. These imaginative and romantic candle centerpieces are enough to impress your house guests.
Hurricanes are a simple way to add complexity to ensembles, mantle displays, and centerpieces. The candle pictured above wouldn't look nearly as good on its own.
But when combined with an animal figurine and a white ginger jar in a hurricane, it creates a beautiful tableau.
There are many various sizes, shapes, and colors of hurricanes available on the market. You can find the one that works well with your home decor. Or if you are not happy with one, you can invest in many hurricanes for greater impact.
2. Lanterns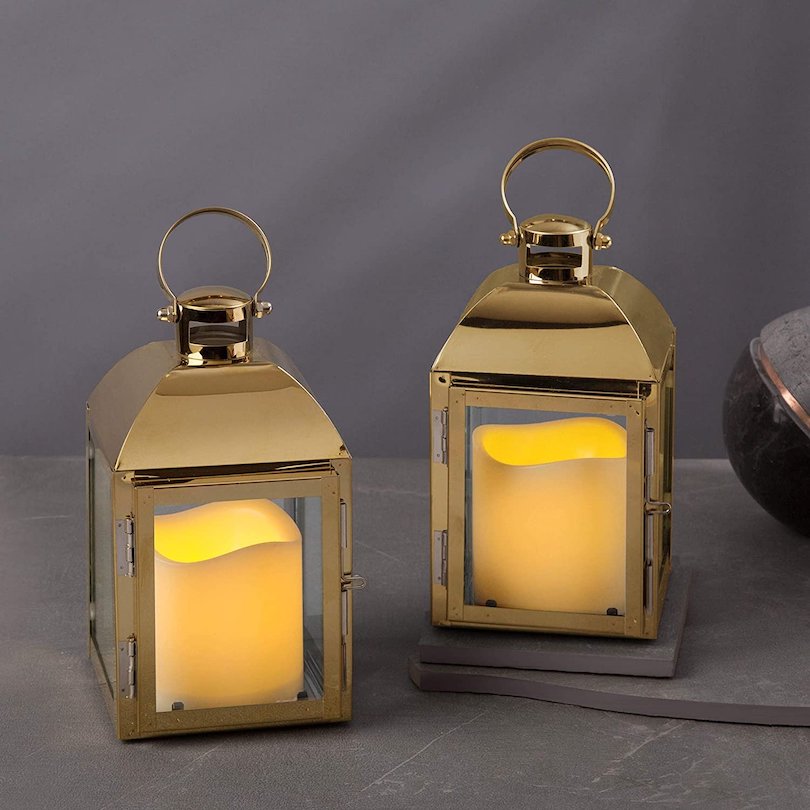 Another flameless candle decorating idea is the candle lantern. This style is suitable for different areas of your house. These look very romantic, imaginative, and stylish. You are likely to impress your spouse or guests with these fun flameless candle lanterns.
You can place these candle lanterns in a bookcase for a soothing glow. The lantern is beautiful on its own. But when combined with the flameless candles, it creates a magnificent glow in the evening hours without the need for a real flame.
Lanterns are by far the designer favorite of all the flameless candle decor options discussed on this page. They are available in a variety of styles that are perfect for a range of settings. Be it seasonal decor or a special occasion, candle lanterns are perfect to deck up a given space.
3. Candle Rings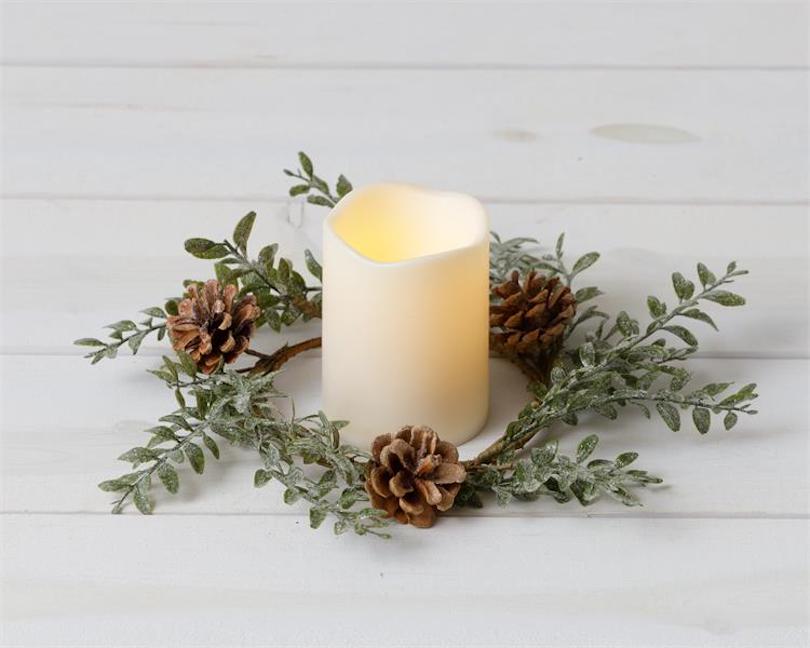 Candle rings are another method to incorporate flameless candles for home decor. A beautiful flameless LED candle makes a perfect centerpiece when placed within a candle ring. Consider using them on nightstands, sideboards, and bookcases in the living room.
Candle rings are an excellent way to include foliage or beads in your ensemble. They are simple to change out for the holidays and other seasons. You can find them in the most creative and home goods stores. whether you choose a seasonal candle ring or a minimalist one, it's going to amp up your home interior for sure.
4. Candle Stands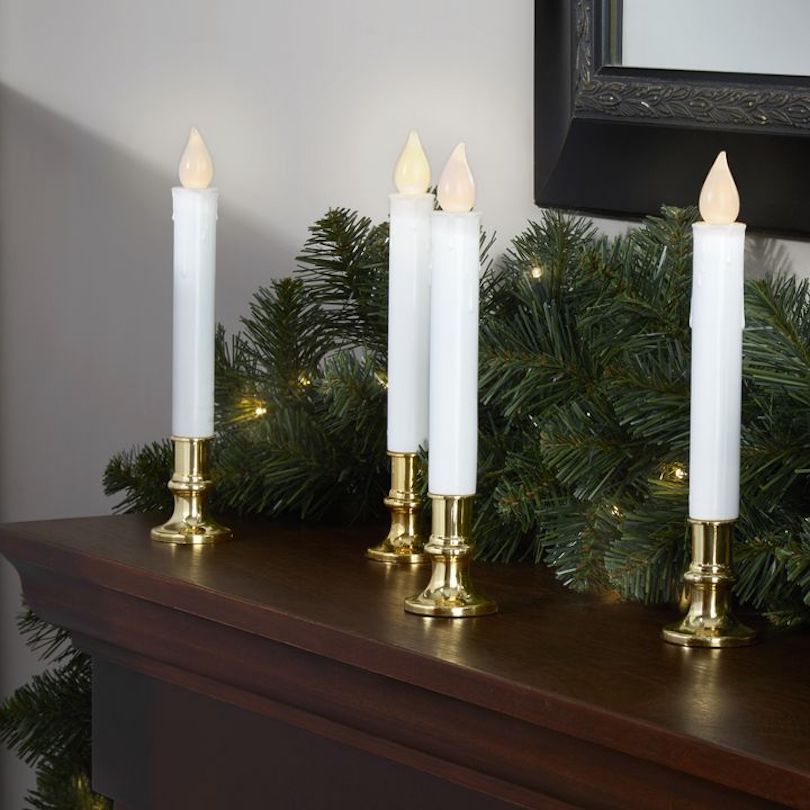 A simple method to add elevation to your design is by using candle stands. They do, however, look a little ridiculous without the candles!
Flameless candle sticks coupled with candle stands create a strong statement in any room. This is a fantastic method to use flameless candles. And, you don't have to worry about them catching fire around decor pieces and furniture.
5. Big Displays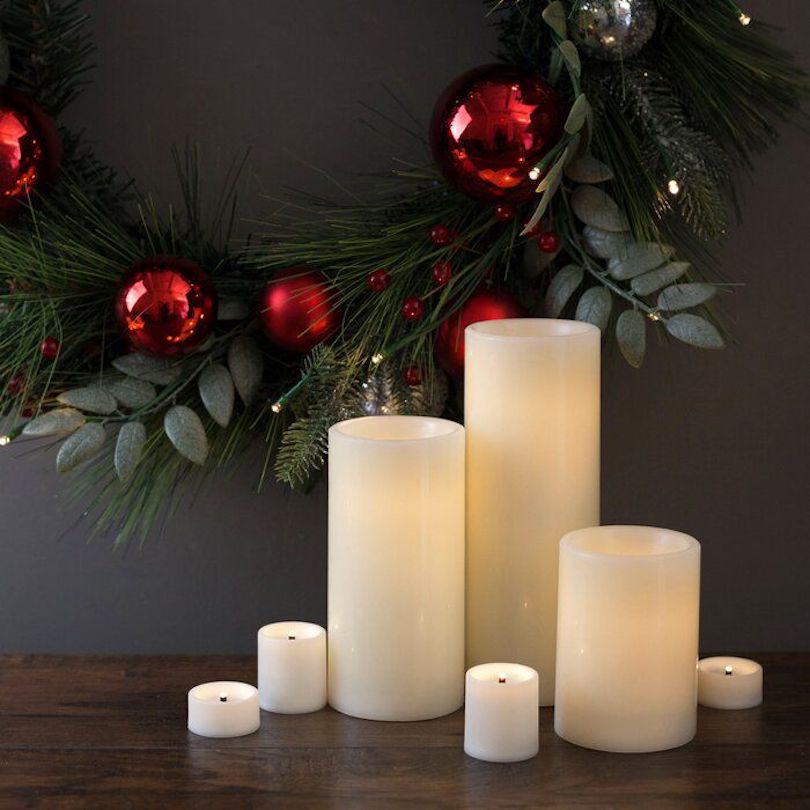 Large numbers of flameless candles are set on a mantel, sideboard, or table. They make such a lasting impact that you don't need any other decor piece.
When designers wish to give a room the appearance of continuity, they use this technique. It's commonly found in hotels, eateries, restaurants, and retail establishments. There's no reason why you can't replicate the appearance in your own home.
If you truly want to make a statement or have a modern design in mind, these flameless candle-decorating ideas are fantastic. You can use flameless candles in various sizes and shapes for variation. Above all, don't be afraid to mix and match flameless candle designs and styles for a unique look.
6. Bedrooms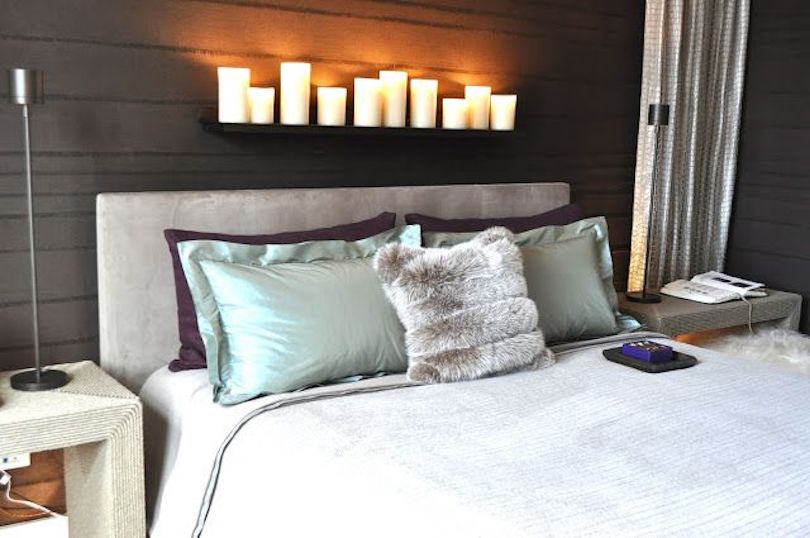 These candles are also great for providing a relaxing glow to your bedroom. Set the timer for them to go off when you're ready for sleep. When you get into bed, you can use the remote to turn them off. Alternatively, use them as a night light and leave them on all night!
This is a one-of-a-kind and entertaining method to provide subdued illumination to a child's room without the danger of real flames. The dancing flame LED candles frequently enchant children.
Have you tried some smart flameless candles? You can switch them on and off by pushing the flame's component. To turn them off, you can simply blow on the flame piece. Your kids are going to love these flameless candles.
7. Centerpieces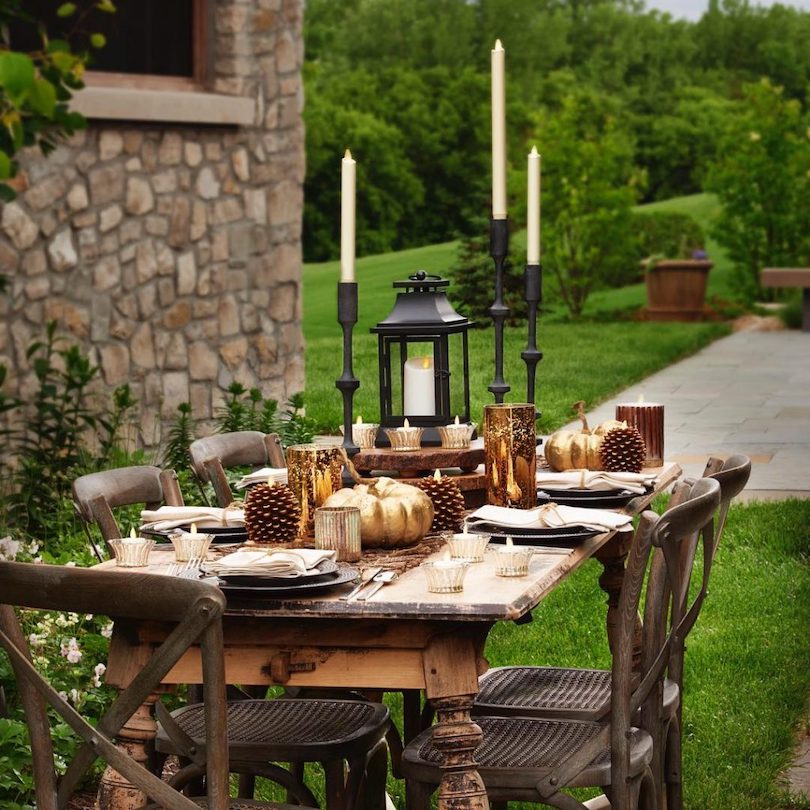 These candles appear to be real and can undoubtedly give your centerpieces more height and depth. Mix your dining room centerpieces with flameless candles. You can choose flameless candles in various heights, sizes, shapes, and designs.
For a softer, less dramatic image, use all votive candles snuggled within the greenery. Flameless candles are not just the basic white pillars you see throughout the place. These are decorative and very stylish to look at. So, these candles can upgrade the look of your interior without extra effort.
In the photo above, we like the Luminara flameless pine cone candles. They go perfectly with rustic, woodland settings.
8. Mantels & Fireplaces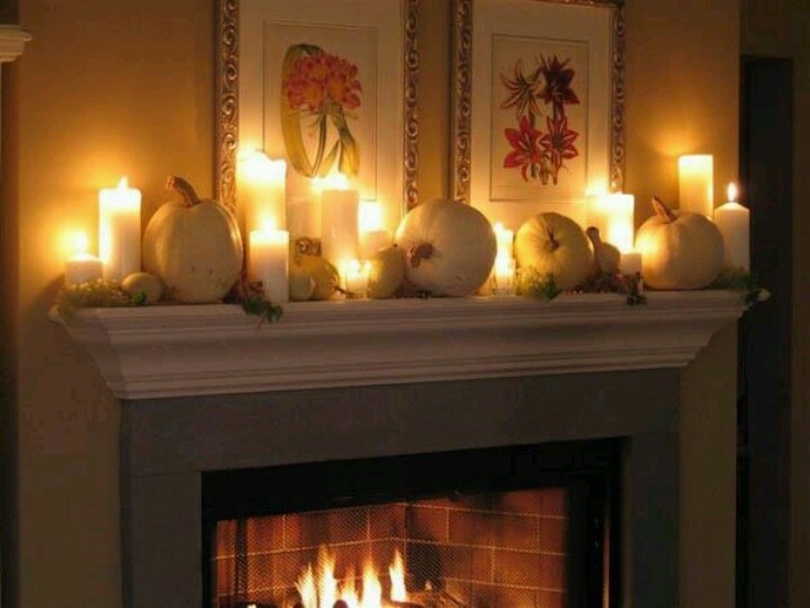 The mantle and fireplace are probably some of the popular spots in your house for flameless candles. These candles look great on mantels and fireplaces.
For a dramatic effect, tuck them amongst seasonal greenery. Or, simply group them by themselves. A huge cluster of them inside a fireplace gives off a glow that is almost identical to that of a real log fire.
These look amazing whether you ignite the fireplace or not. The candles will leave a lasting impact on the ambiance of the interior.
9. Tablescapes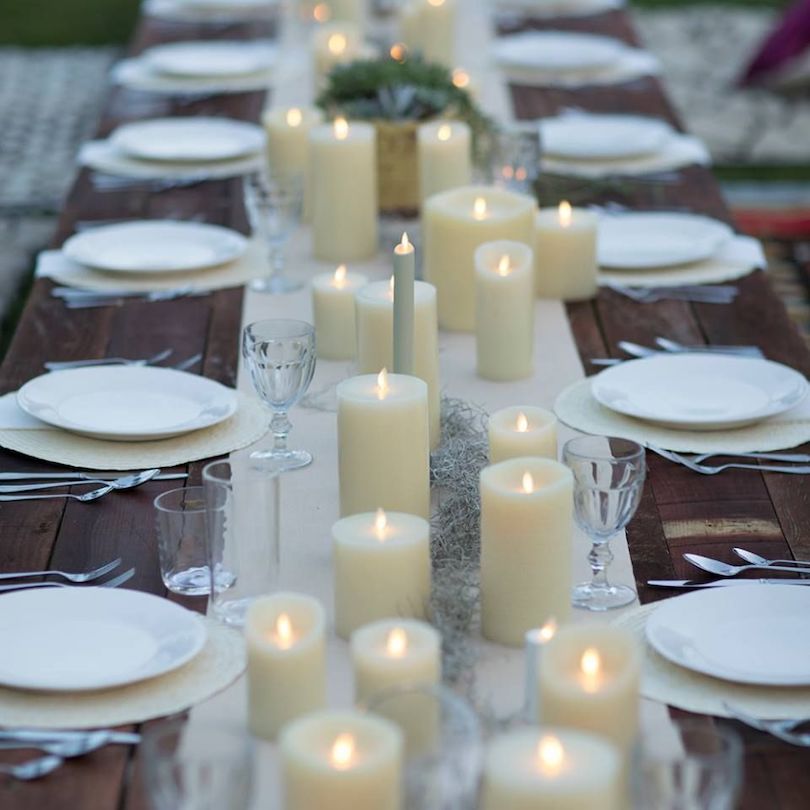 Real wax candles add romance and intimacy to tablescapes, but they also pose a fire threat. As a safe alternative, consider the flameless candles.
For a stunning radiance, combine the tablescape decor with minimalist flameless candles.
It could be the perfect wedding or family lunch centerpiece decorating idea using flameless candles. You may, however, do the same thing with your dining room table.
10. Outdoor Displays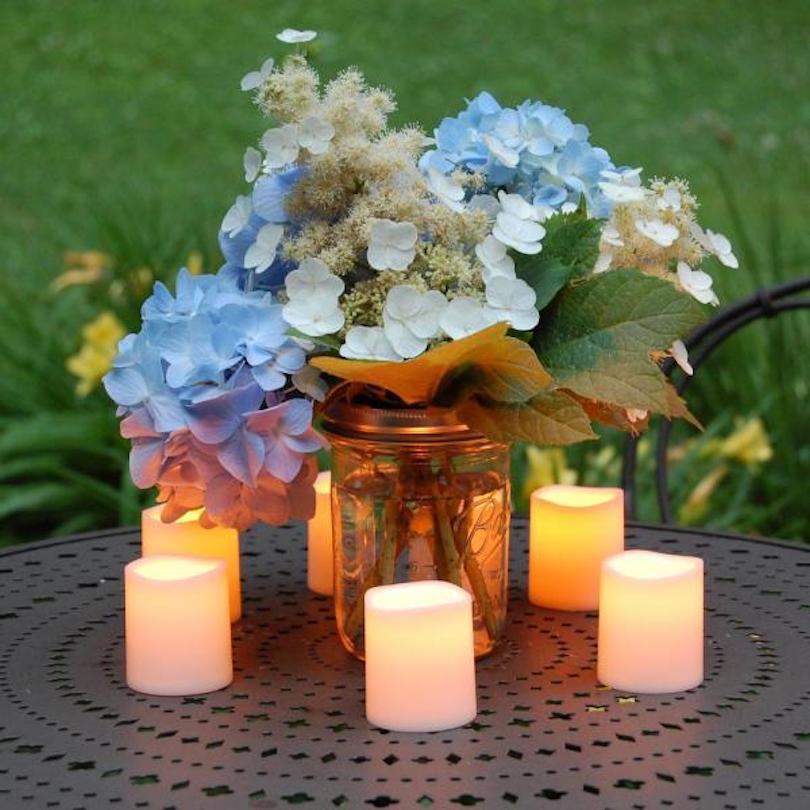 The majority of the flameless candle decoration ideas in this post include using flameless candles inside your home. However, why not use them to decorate outdoor areas as well?
Make sure you're using outdoor-rated flameless candles. Find ones constructed with waterproof plastic. Like, these outdoor flameless candles (in the picture above). Your wax-flameless candles might melt in the sun. But weatherproof flameless candles can last in any weather condition.
11. Front Porch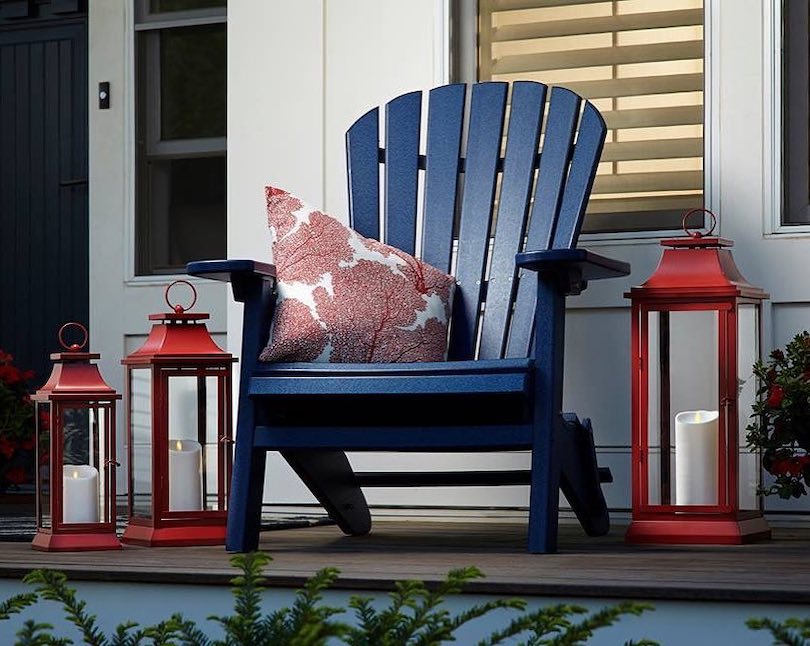 Do you want to know how to put flameless candles on a porch? In the evenings, placing flameless candles on your front porch is an attractive way to provide light and warmth to this outside space. Use LED flameless candles in a variety of sizes for great impact.
You'll choose to use "outdoor" plastic flameless candles unless your porch is protected from the elements. Flameless candles that are weatherproof are perfect for outdoor use. They can withstand a variety of weather conditions without becoming damaged. Look for designers who make wonderful flameless candles for outdoor use.
12. Bathroom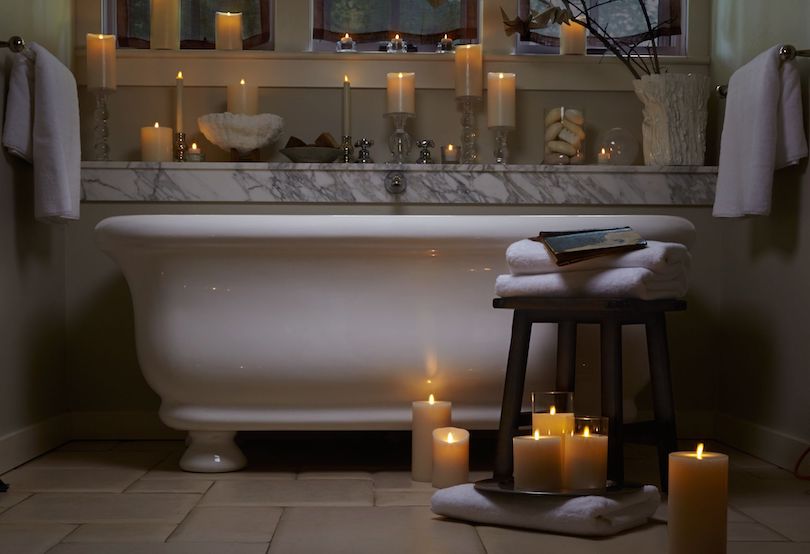 Flameless candle decorating ideas allow you to put these candles anywhere you would not have imagined before. Do you like the concept of candles in the bathroom but are concerned about the risk of fire?
Consider placing flameless candles for stunning impact in the bathroom and spa. They don't have a flame, but they do seem real. And, they won't turn off when they catch moisture. In the bathroom, you can also use conventional wax flameless candles. Just make sure they're not in a place where they'll become soggy.
13. Blended With Home Decor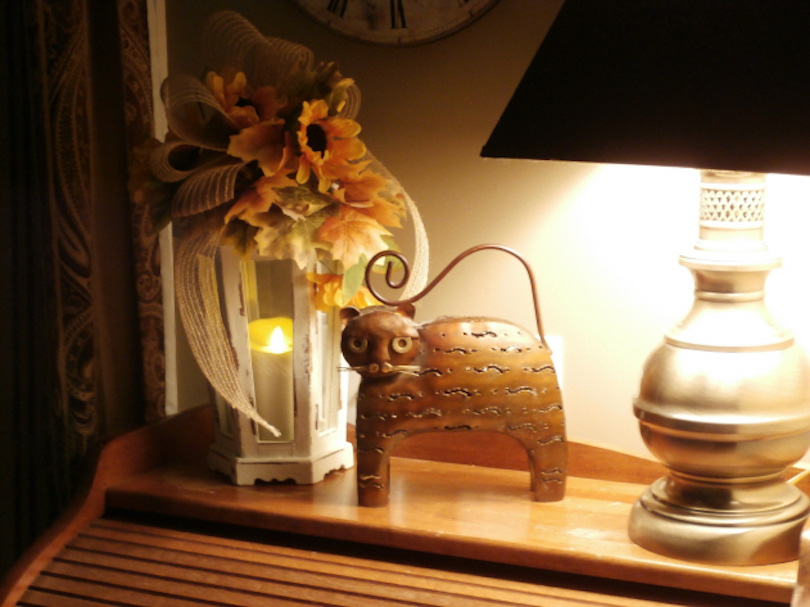 Battery-operated candles wouldn't have to be one-of-a-kind decor items. Rather, they can be aesthetically attractive when used with various decor styles. Consider incorporating them into your design as a way to highlight other items on show.
On this end table, LED candles are with other home decor pieces, like animal figurines and table lamps. This is how you can decorate with flameless candles without going overboard. This way the decor won't even look tacky.
14. Concealed in Decor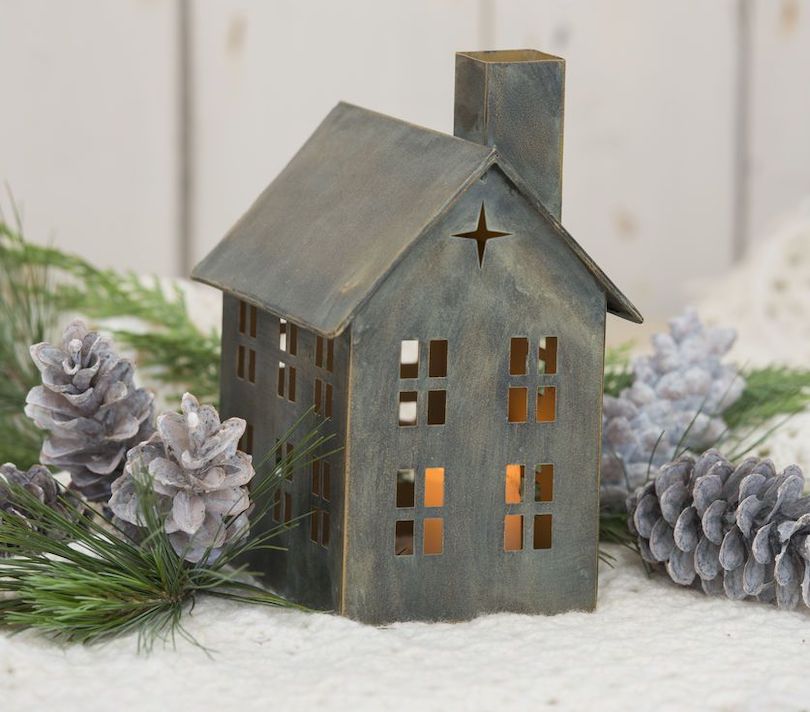 Don't want to put LED candles with other home decor pieces? You can simply hide them in certain decorative items. You can hide these LED candles in lanterns, votive candle holders, and bird cages. Because flameless candles do not burn, they are a simple and safe way to give light to decor elements.
15. Out of Sight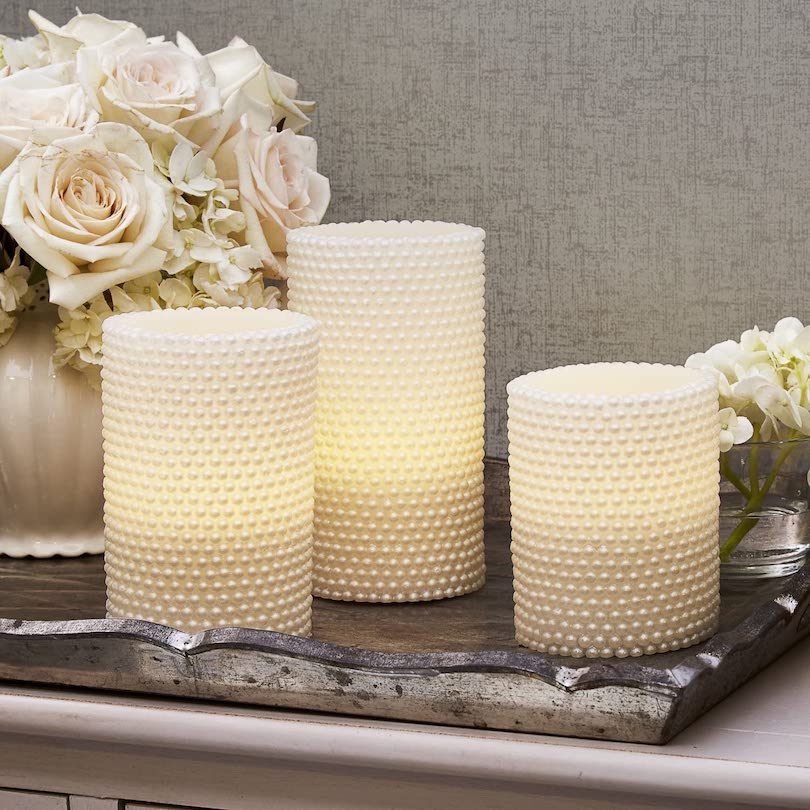 Want another way to keep them out of sight? Choose them in designs that don't appear like candles. For instance, you can choose these LED candles in the shape of pillar-like decor pieces.
These battery-driven candles seem like any other decor item on your end table. So, your guests won't be able to figure out you've lit up the plastic candles. Only you'd know that these illuminating decor pieces are flameless candles.