Stunning Tabletop Fountains for Relaxing and Chic Interior
Everyone loves the sound of water flowing down the rocks. It's very tranquil and relaxing, so there is no reason to dislike it. If you're feeling that something is missing in your home interior, probably you need a stunning water feature to add a bit of dynamism to the decor. The tabletop fountains make a great interior decoration and also add a zen touch into the available space.
If you do not have one in your home but want to make it part of your interior, just check out the given collection of 10 stunning tabletop fountains for relaxing and chic decor.
1. Moon Light Tabletop Fountain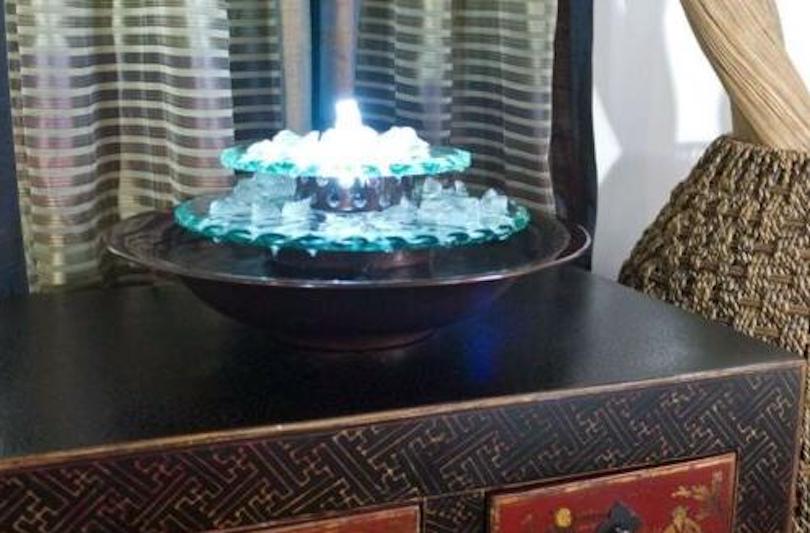 The exquisite Moon Light Tabletop Fountain brings a stunning impact on any tabletop. This tabletop fountain contains elements taken from the Earth's natural minerals. It further shines and sparkles throughout the day and during night time. Measuring 17-inches in diameter and 9.5-inches high, this tabletop accessory serves as a focal point anywhere you keep it.
The fountain includes water that gently bubbles up in the center of its two thick tiers, which are made from glass featuring edges, which are scalloped delicately as the water cascades over its edges and drips into the dark, copper bowl at its bottom.
The accessory also features tiny lighting fixtures that make water glow white, providing a luxurious and elegant feel to the surrounding area where it's kept. The intricate detailing of the tabletop fountain makes an excellent complementary piece for any home or office tabletop.
2. Alpine Tiered Column Tabletop Fountain with 3 Candles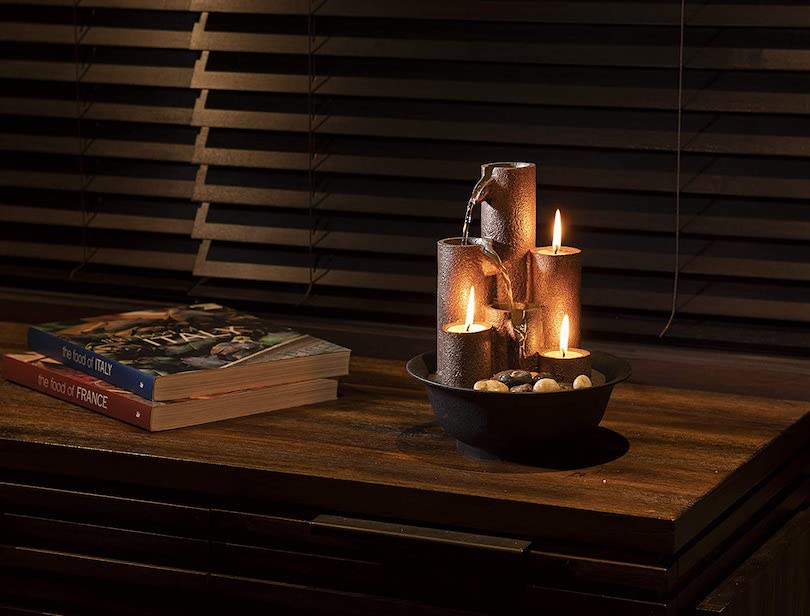 For adding feng shui to any particular area of your home, you need this pleasant cast-iron tabletop fountain from Alpine. This tiny fountain is made from three tiers through which water gently flows. It also includes three tea light holders, which give a soothing glow to this fixture. The accessory comes with everything you need for the setup – including accent stones, pump, and candles.
Measuring 9 x 9 x 11-inches, this tabletop is easy to move from one place to another. So, you can place it anywhere you find the best feng shui. Due to its calming and stunning appearance, you'd certainly love the appearance and vibes of this water fountain. The water pump of this accessory is virtually silent, so you'll only hear peaceful water flow. This stunning piece of interior decor offers you a fantastic way to add calmness and Zen to any space.
3. Rowell 7 1/2″ High Tabletop Fountain with Light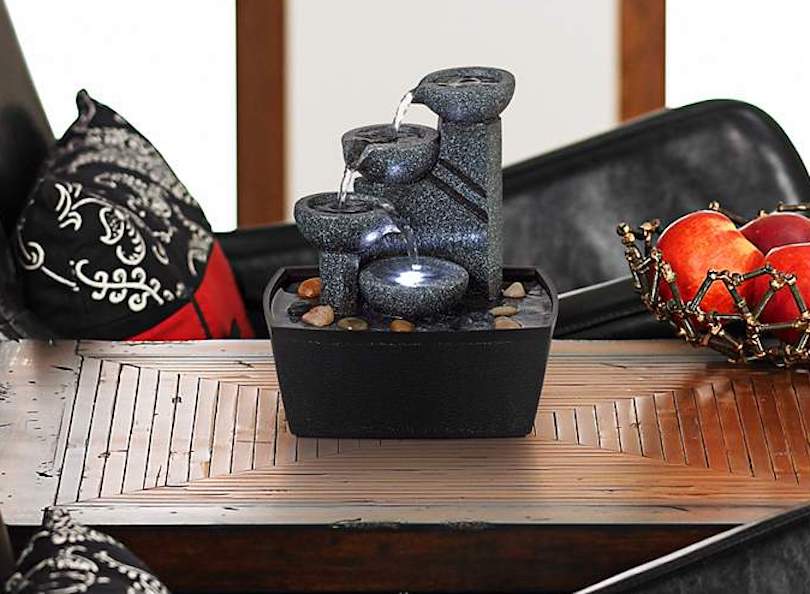 The stunning Rowell 7 1/2″ high tabletop fountain with light by John Timberland is integrated with soothing sounds that you would like in your delightful tabletop fountain. Even the volume of this tabletop accessory can be adjusted as per your liking, as everyone's definition of tranquility may differ.
Measuring 7.5 x 5-inches, this fountain with four tired bowls is equipped with an LED light that offers a warm glow in the evening. The fountain runs on electricity and comes with a 6-feet long cord that makes it easy to find a perfect place for it. Since this particular accessory is made from lightweight resin, it is very easy to move from one place to another.
The accessory is very easy to set up and its motor is silent, so it won't cause any disturbance when the lights are on. Adding some more rocks to the fountain can better tailor its sound, as per your preference. Overall, it's a great fountain that adds a delightful and relaxing touch to any space.
4. M-Series Flores Fountain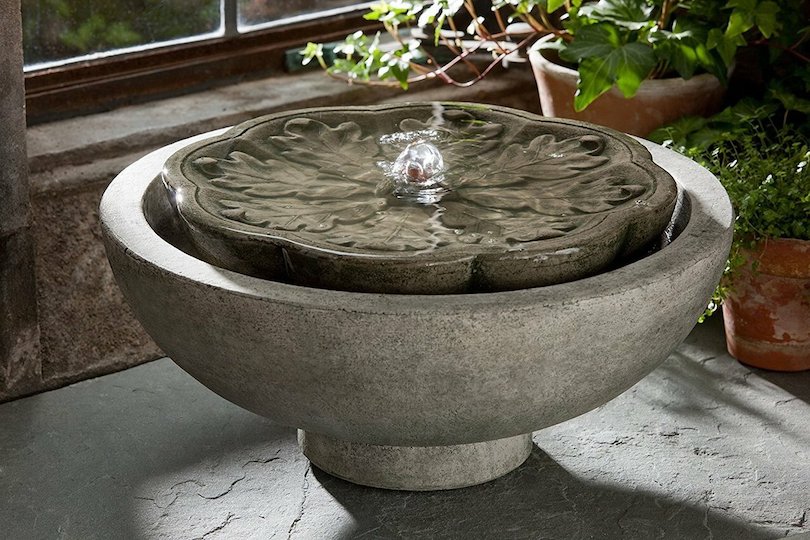 M-Series Flores fountain is a stunning tabletop accessory that's ideal for both outdoor and indoor settings. It offers a soothing sound as it bubbles out of the center sprout, filling the oak leaves designed bowl at the basin. The little fountain is made from cast stone that can stand the test of time and lets you enjoy soothing sounds for many years to come.
The best part is that it's completely customizable and comes in around 14 different styles: natural, aged limestone, copper bronze, brownstone, English moss, travertine, greystone, lead antinuge, verde, French limestone, and many more. Hence, it's easier to match it with any aesthetic and interior decor.
Using this wonderful tabletop fountain, you can make any space appear relaxing and soothing. Plus, this accessory adds a natural European look into the interior and also provides a pop of style to any outdoor setting while making it very peaceful and tranquil.
5. Wymer Resin Cascading Tri-Step Tabletop Fountain with Light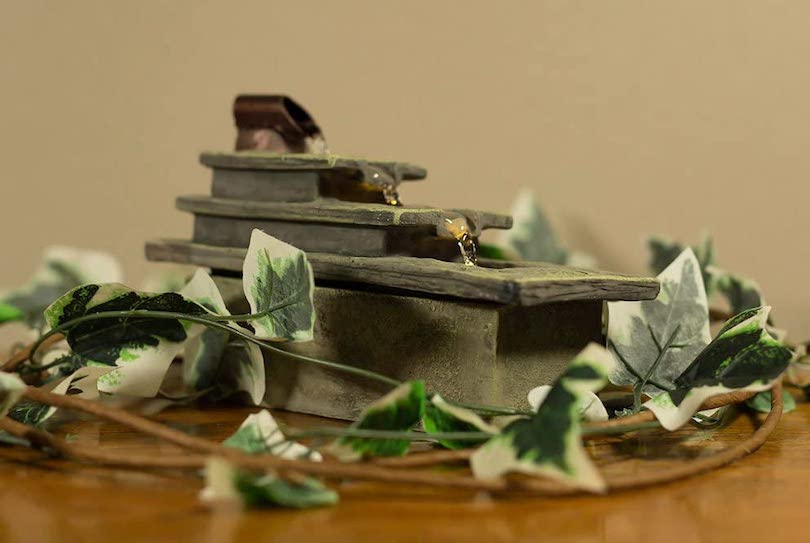 Since the tabletop water fountains are likely to relax your mind, many people like to place them in their bedroom or library, or study. This particular tabletop fountain is ideal for allowing you to incorporate water element into your home without taking up too much space.
Measuring 5.5 x 8.75 x 4-inches, this tabletop fountain has a stylish and artistic flair that adds an elegant touch to the home decor. This makes it striking to watch, as water flows down three stepped channels from a faucet up top. Meanwhile, underwater LED lights provide a soft glow to the accessory.
Made from resin, this portable, and lightweight tabletop fountain is very easy to setup. All you need to do is add water and plug it into an electrical outlet. With its soothing sound, this water feature adds a lovely touch to any interior and also makes a great gifting choice.
6. Campania Rosette Mini Series Fountain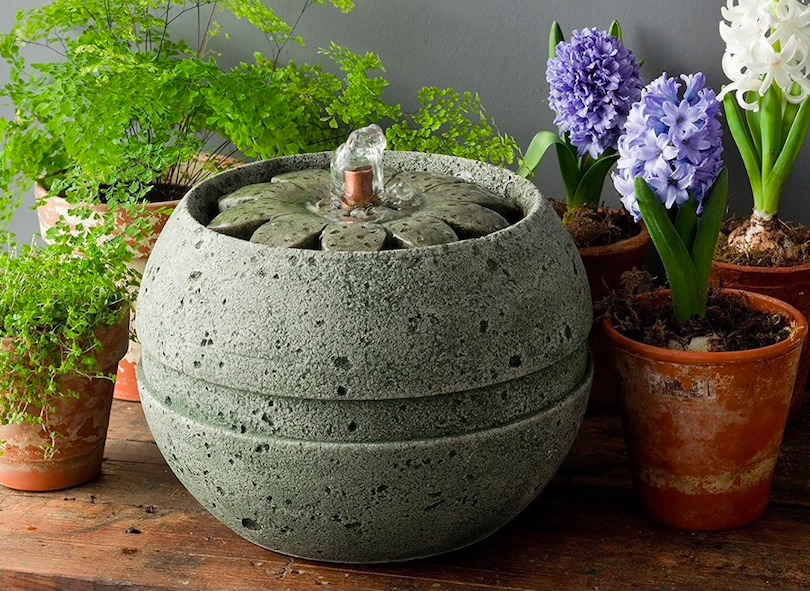 Campania Rosette Mini-Series fountain has stunning, rounded construction with fiber-reinforced cast stone. It is crucial to note that this cast stone item with a patina finish is likely to age naturally in any outdoor setting over time. So, it's best to place this mini fountain indoor so that it doesn't wear down due to environmental factors.
The tabletop fountain includes a recirculating pump that keeps the water flowing peacefully. So, you can keep it anywhere in your home or office to relax your mind. Measuring 10.25 x 10.25 x 7.5-inches and weighing 25 pounds, it's easy to move this fountain from one place to another with great ease. This allows you to switch up the aesthetic of your interior anytime you want. Hence, it's a versatile product for your living space.
7. Alpine Rock Waterfall Fountain With Led Lights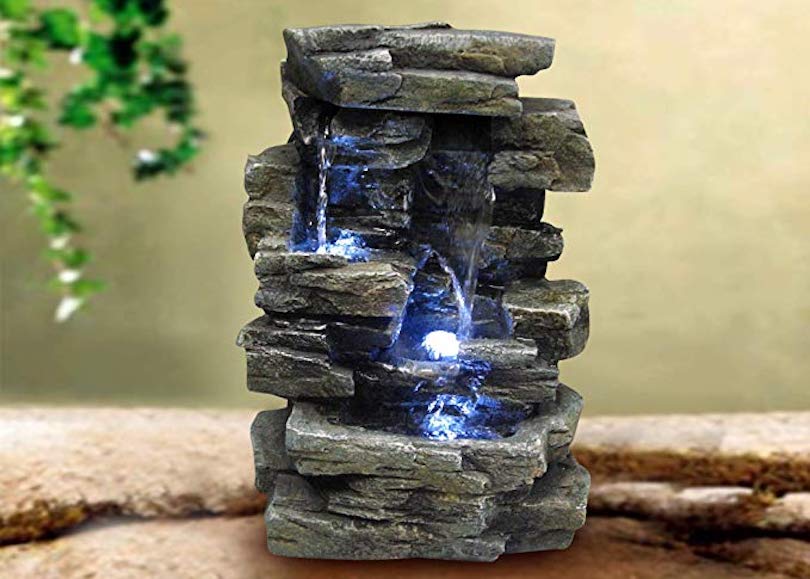 For the coffee table, side table, or end table, this illuminated Alpine Rock Waterfall Fountain can add a stylish touch to any interior. Although it is made from lightweight fiberglass, it has been crafted to appear like natural stones and bark.
Measuring 15 x 13 x 22-inches and featuring LED lights for a soft and warm glow, this water feature is all you need to spruce up your interior in a jiffy. The sound of water falling on the stones of the fountain seems very realistic. But due to its compact size, this water feature is a great decor piece for small spaces. This fountain can work amazingly anywhere – from a small balcony to a small study or living room.
8. Namaste Buddha 11 1/2″ High Indoor Table Fountain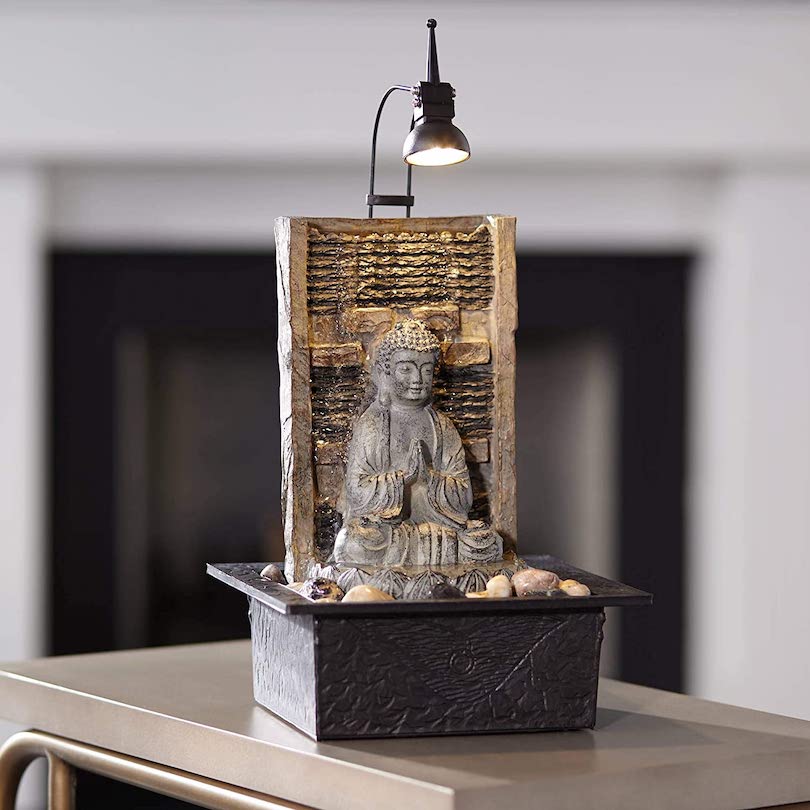 Want to add a touch of style and spirituality into your interior? This Namaste Buddha water fountain is an ideal piece for your home. This one measures 11.5 x 8.4 x 7-inches and boasts an adorable Buddha in the Namaste position. There is a light above the head of the Buddha to emitting a soothing glow to the figurine. There is also a 4-watt light bulb within the pebbles over which water flows gently.
Its stunning design makes it a beautiful addition to any room. Plus, the calming water sound makes it peaceful and relaxing for any interior space.
9. Indoor Water Lily Water Fountain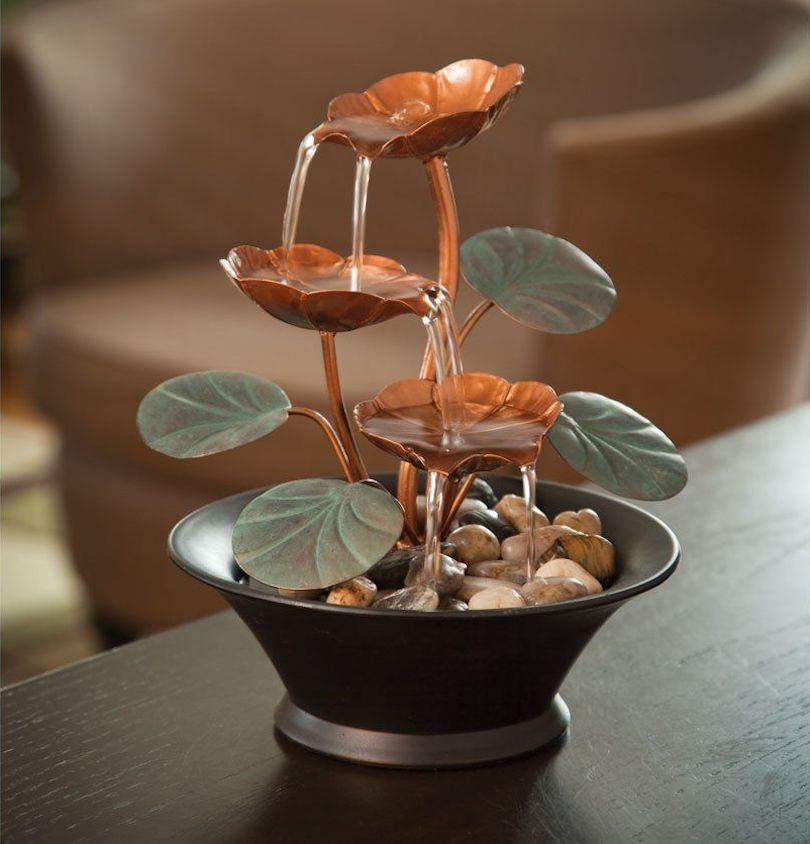 While the flowing water sound is soothing to hear, a loud motor in a tabletop fountain can ruin its calm vibes. The water lily fountain by Bits and Pieces is a great piece, as it comes with a virtually silent motor. So, it won't be annoying to the inhabitants.
Measuring only 8 x 10-inches, this water fountain has been designed for use indoors. Its size is just perfect and it comes with a strong submersible pump that can push water up the main stem, flowing down to other flowers.
While the rocks are not included in the package, they can be added to the bowl to change its appearance and sound as per your liking. Since this fountain is easy to set up, you can assemble it on your own. Moreover, its water level can be maintained and adjusted as per your liking. Hence, it's a relaxing, soothing, and stunning decor piece for any interior style – be it modern or traditional.
10. Faux Stone 10″ High LED Table Fountain with Crystal Accent
The faux stone LED table fountain with crystal accent by John Timberland is lightweight and compact (as it measures 10 x 8-inches). The water flows down the four levels, the highest of which boasts a floating crystal ball to emit a soft warm glow through an LED light.
When the water begins to flow, the ball spins for a soothing and relaxing vibe. Its motor is quiet, so it won't disturb you when water rushes down the four levels.
So, these are some of the beautiful and relaxing tabletop water fountains that you must consider including in your interior. You can choose anyone, two, or more of these to make the interior stylish yet calming.