10 Thanksgiving DIY Decorations To Brighten Your Celebrations
The whole focus of Thanksgiving is on a delicious meal with family and friends. But you can always keep some time for little crafty things to make aesthetic Thanksgiving DIY decorations. These DIY crafts may be small but make a big impact on adding a special touch to the festive occasion. So, in this post, we'll share with you the 10 easy but amazing DIY decoration ideas to try this year.
Without further ado, here we present you with a collection of our easy Thanksgiving DIY decorations that won't take up too much time and effort. From centerpieces made of natural elements to fabric pumpkins, these DIY crafts are perfect to add a welcoming touch to your home.
1. Natural Table Centerpiece – Thanksgiving DIY Decorations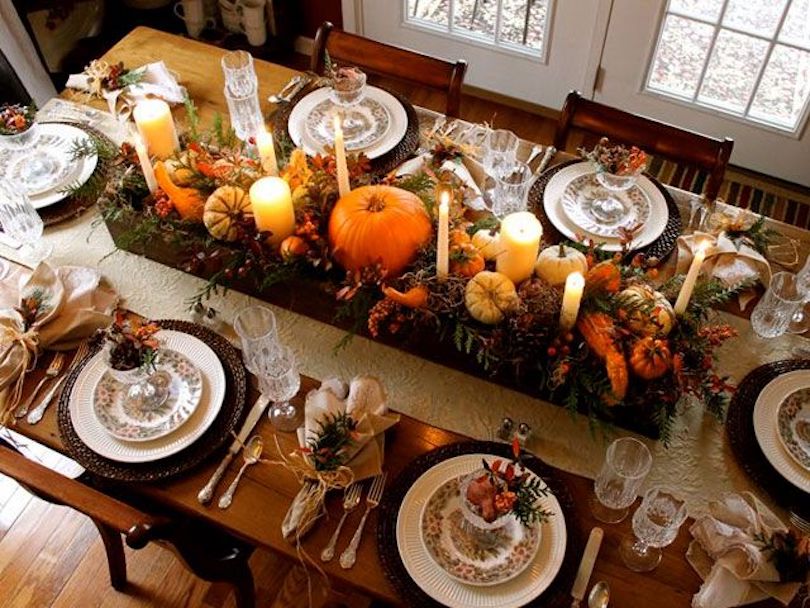 Beginning with the list of Thanksgiving DIY decorations here is our easy to arrange Thanksgiving table centerpiece. This arrangement consists of all things you can imagine for decorating this holiday – from autumn colors to natural supplies.
For making this table centerpiece, you need supplies, such as fall flowers, leaves, pumpkins, pinecones, and candles. If you want to add some shiny touch to your centerpiece, you can use a paintbrush to paint the pumpkins and oak leaves golden or silver. But if you like things natural, just leave them as it is.
The next part is where you put together all the different elements. You need a long wooden block to arrange these natural elements in order. Begin with arranging leaves in the log's base and further add a layer of pinecones, pumpkins, and other natural elements to those leaves. Also, place huge candles in between these natural elements to light up the centerpiece.
The best part is when you light up the candles during dinner time, all the fall colors will come to life. Meanwhile, your home will get a nice autumnal touch with this easy to create but visually-appealing table centerpiece.
If you like things more modern, it's best to place some white mini pumpkins on the leaves. Or you may consider arranging votives with some gap between each pumpkin to enhance its appearance.
2. DIY Fabric Pumpkins For Thanksgiving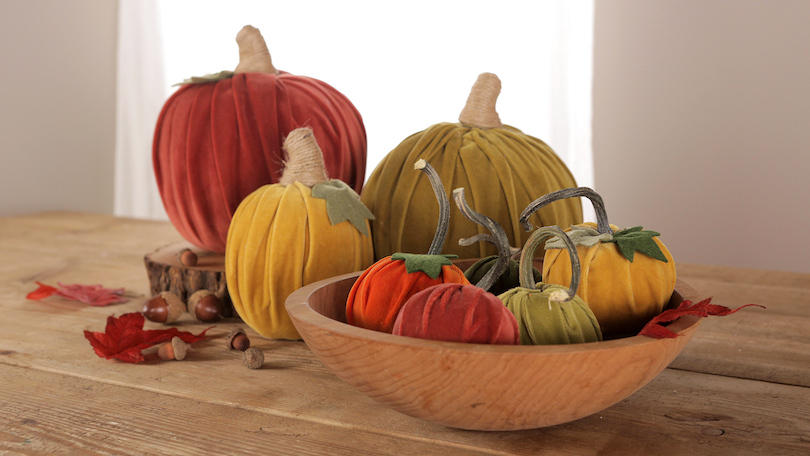 When it comes to house decorations, one important thing that many people look for is its versatility. This means they wish to create something easy to use around any area of your house. That's exactly what these DIY fabric pumpkins offer.
It is one of the best Thanksgiving DIY decorations that you may place anywhere. Be it your thanksgiving table, fireplace mantle, end table, coffee table, windowsills, or any other area, these are likely to add a festive vibe for sure. The best part is that you can fix them even in places where you cannot place your regular pumpkins.
For making these adorable fabric pumpkins, you require some fabric of any desired pattern. You also need some supplies, like a needle, empty paper towel rolls, some raffia, a hot glue gun, and some batting.
Start with cutting your fabric in the shape of a pumpkin and fix batting inside each piece using hot glue. This will help these fabric pumpkins to stay in shape after you begin stuffing them using raffia or cotton. Once your fabric pumpkins are ready, you can place them anywhere you need to the festive vibe.
3. Corn Husk Wreath – Thanksgiving DIY Decorations
For those who are shucking corn these days, keep aside a few husks for this project. If you don't have a husk, you can get it online or head to your nearby market for purchase.
To make this wreath, you need to arrange the corn husk around a circular ring or wire. Make sure it's arranged to look fuller in a simple but aesthetic way. Further, you can use satin or silky fabric to hang it. Or, consider using pinecones or leaves to make it pop.
4. Personalize Al Fresco Pumpkins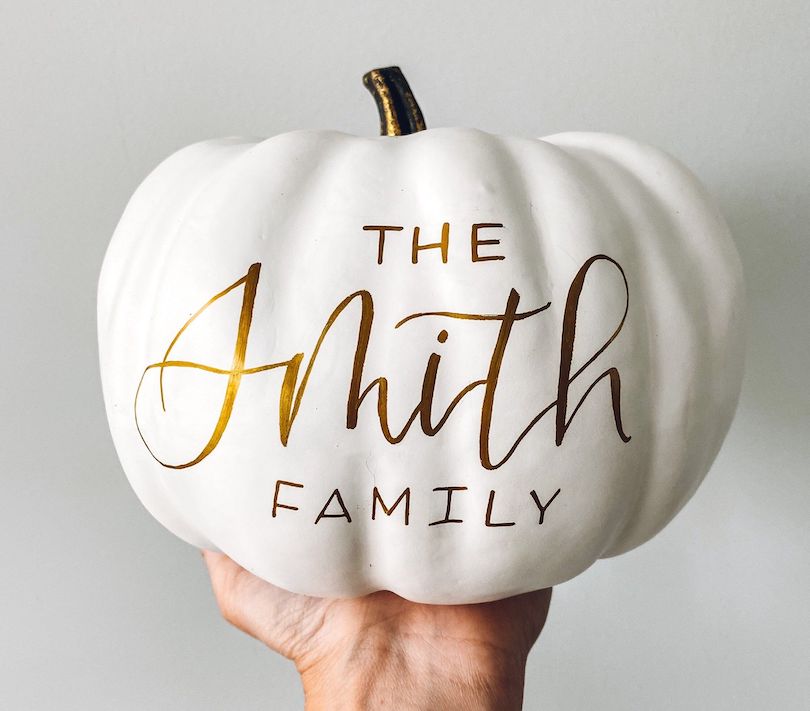 Your guests are likely to understand that they are at the right house with your personalized pumpkin decorations. All you require is simple Thanksgiving DIY decorations using pumpkins and acrylic paint. This is forgiving and lets you wipe off the imperfections to begin again.
Simply paint the pumpkins with your family name, like The Smith Family, or decorate them with pilgrim hats, leaves, or DIY turkeys. If painting yourself is tedious for you, consider using a stencil with clip art and fonts to make it easier.
5. String Up Fall Garland – Thanksgiving DIY Decorations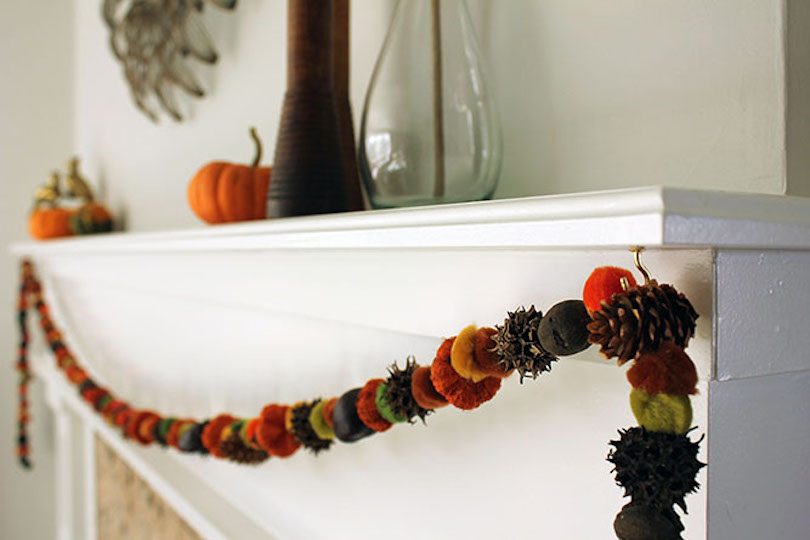 Using some felt, string, and hot glue, you can create some amazing-looking decorations. It is best to celebrate the Thanksgiving desserts with this easy-to-make garland hanging from your fireplace mantle or wall.
You can use some tiny felt pumpkins, pinecones, acorns, and flowers to prepare this fall garland for yourself. All you need to do is string these natural elements into a string and hang it somewhere you like. It can be over your door, around a window, or fireplace. These Thanksgiving DIY decorations are a treat to the eye.
6. Design Name Cards For Dinner Guests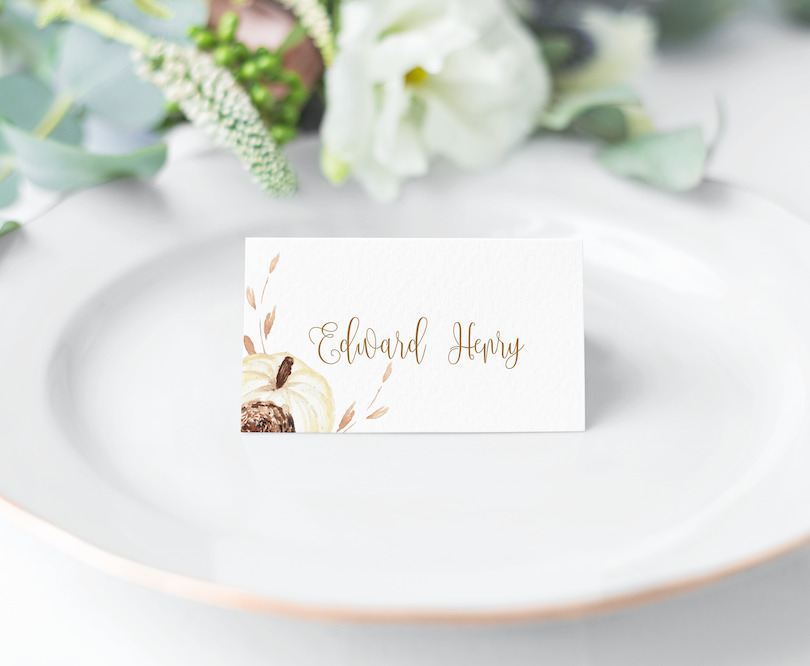 A beautiful table setting is one thing that everyone loves during Thanksgiving. You can make the most of your table setting to add something extra and make your guests feel more special. If you are not very savvy on the computer, you can use beautiful fonts and art for creating artsy design name cards or a napkin band. Add the name of your guests on these cards and napkin bands and place them on the table where you want them to sit. This will surely make your guests feel special and happy that you took the time to arrange a special place for them at your dinner table.
You can use cardboard or craft paper to make these cards and cut them in circles, rectangles, or shapes of your choice. Also, use some coordinating patterned paper and make use of double-sided tape for gluing or attaching it to a napkin, plate, or cutlery.
7. Stencil a Wood as Thanksgiving Sign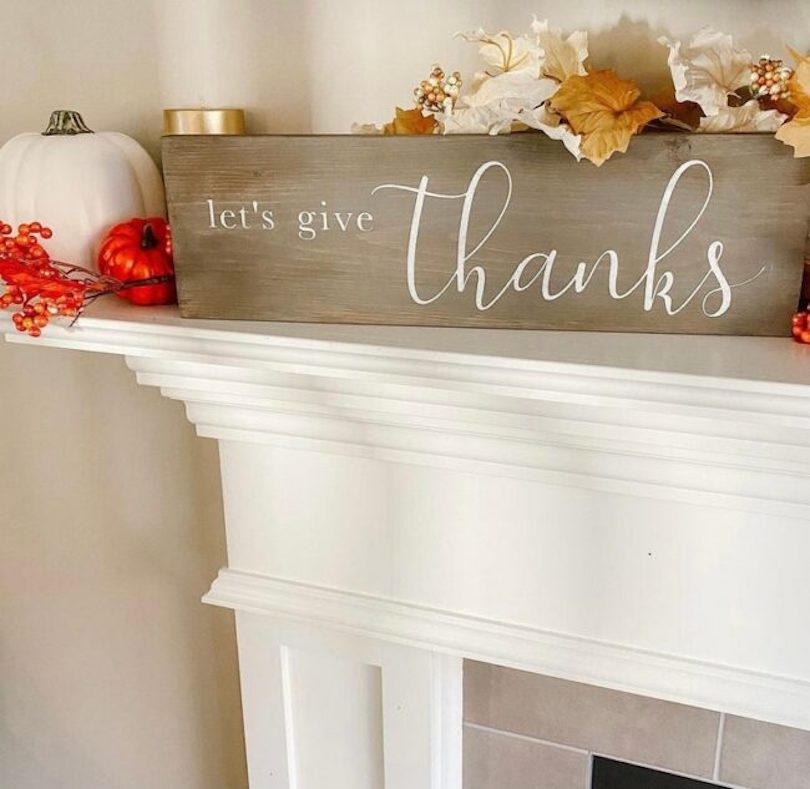 No matter you write a Thanksgiving saying or simply write 'Happy Thanksgiving,' a wooden signboard is easy to create. You can take a nice piece of wood and use a good-looking font for creating a sign that you may put year after year.
Simply paint a wood piece and let it dry before you paint it. And, write whatever you want to. But also seal protect your wooden sign to keep it safe from exposed elements. For making one for your living room, you can even use cardboard, plywood, paintbrush, clothespins, and glue.
Just take the glue and apply it to the top side of each napkin to let it stick to a mantle or dining table. This way, you will have a special Thanksgiving-inspired memory holder that you want for your festive dinner.
8. Apple Candles – Thanksgiving DIY Decorations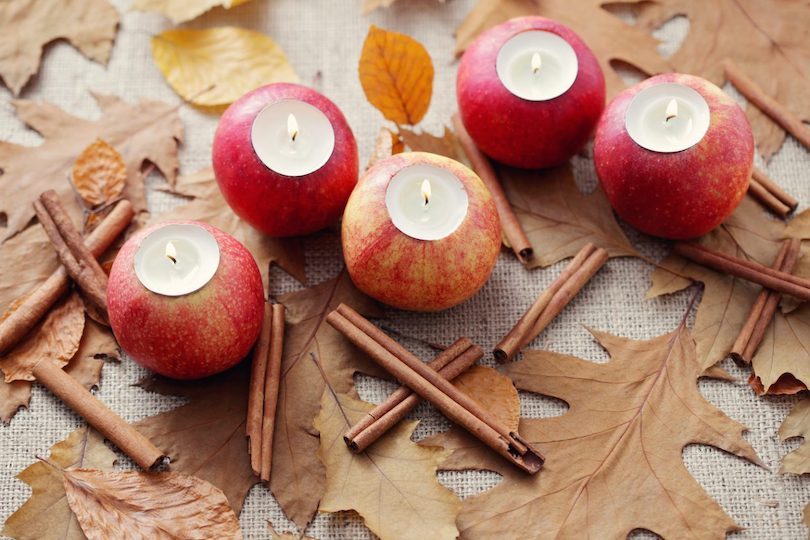 If you don't want to use a candelabra this year, it's alright. You can create a creative spark with this DIY decor idea. For this DIY project, you need to hollow out the apples for keeping a tea light, taper, or a votive light inside.
Once that's done, you need to add those mini lighting sources into the apples. And, that's how your creative DIY lights are ready to light up the space.
9. Fall Mason Jars – Thanksgiving DIY Decorations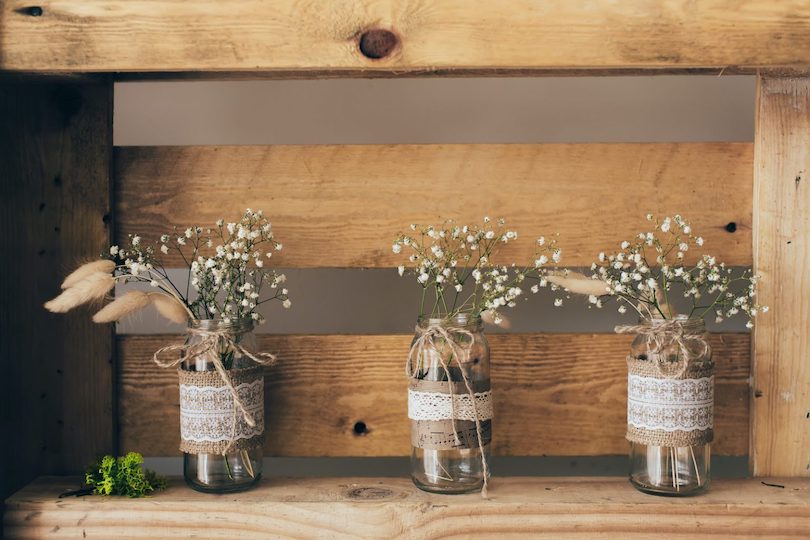 Rather than filling the glass vases with usual flowers, you can simply opt for autumnal arrangements in clear mason jars. You can collect autumn flowers, dried wheat stalks, eucalyptus stems, sprigs of rosemary, or a baby's breath and add them to these clear jars. You can even spray paint these natural elements to little bling to your autumnal decor collection.
Or simply paint the mason jars and add an autumn element into it along with a tealight. This is another great way to deck up your Thanksgiving interior with mason jars.
10. Fall Wall Floral Arrangement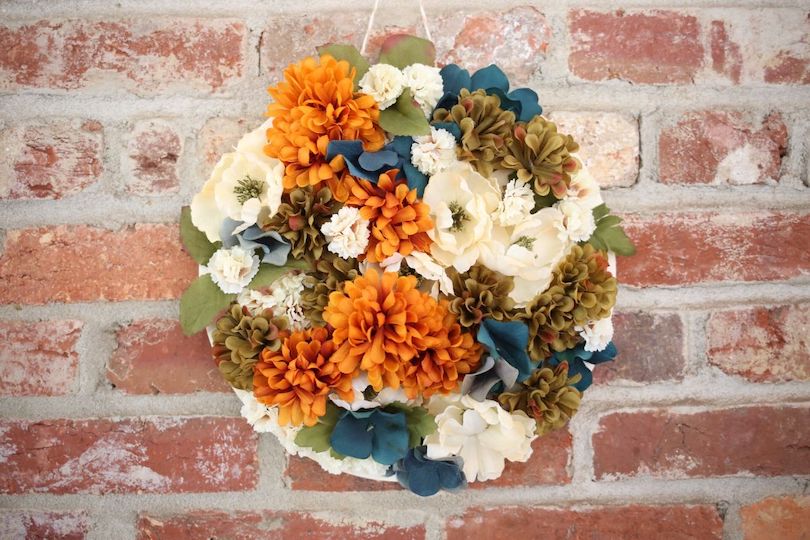 This is also a wonderful Thanksgiving DIY decorations idea to spruce up your autumnal festive vibes. You can use this to cover the outside or inside walls or front door. We recommend some of these Thanksgiving decorations for yards as well. Since these are some impressive decorations for guests, you need to consider adding them to both the indoor and outdoor decor.
To prepare this colored decoration, you require a pair of scissors, a wooden clock cut-out, string, a glue gun with enough glue, or twine. You also need some seasonal silk and fabric flowers for creating this whole decor. If the flowers are heavy, you need to twine them instead of using a string for hanging the arrangement.
Once it's done, you have to look for the right-sized wall for adding this Thanksgiving decoration on. It will appear as if it has grown from the wall itself. For instance, if your decoration is for a hallway and going all the way to the main room where you want to entertain your guests, you can put it on the walls everywhere. This will make all the areas look tied up.
These are some amazing DIY Thanksgiving decor ideas that you need to consider to beautify your home. After these decor items, you just have to wait patiently unless the guests come by and appreciate your handiwork.