5 Christmas Desserts 2021 To Impress Your Dinner Guests
Whether you like sweet treats or not, Christmas desserts are something that we all crave. That's why these delicious desserts are an important part of Christmas celebrations, bringing back all the childhood memories of enjoying sugary goodies without caring about weight gain. But if you are wondering what to prepare this year, you got to check out our list of the five special Christmas desserts 2021.
All these palatable treats are likely to add something extra to your Christmas dinner table. Keep reading to add more sweetness to your Christmas celebrations this year.
I. Christmas Tree & Santa Hat Cupcakes – Christmas Desserts 2021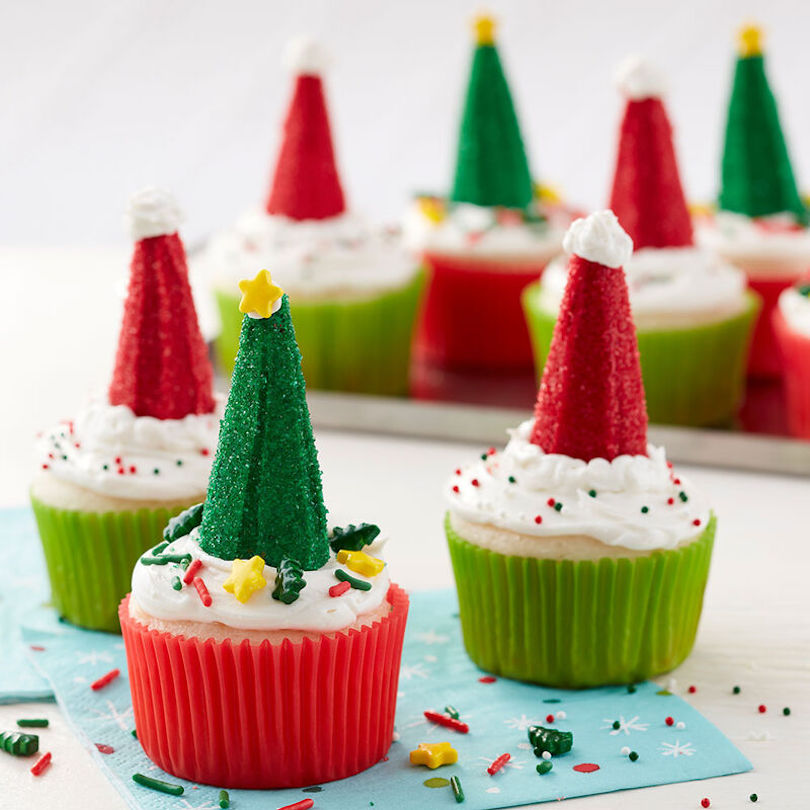 Welcome Santa with these tasty Christmas trees and Santa hat cupcakes. Prepared with sparkling sugars and sugar cones, these delicious cupcakes are going to impress your guests this year. You can use any desired cake mix or recipe for baking these cupcakes. Furthermore, decorate with Santa hats or Christmas trees for adding a festive touch.
Ingredients:
Favorite cupcake recipe mix, Vanilla decorator icing, buttercream frosting, sugar cones, assorted sugars and sprinkles, green food coloring gel, edible color marker, red food coloring gel, and red & green sanding sugar.
Instructions to prepare Christmas desserts 2021
1. Bake cupcakes by preparing cake batter as per the instructions given on the box. Further, bake them in red and green liners of cupcakes. Move the rack for cooling down before decorating it.
2. Use spatula and frost cupcakes using white buttercream. And, top it with desired sprinkles.
3. Use an edible marker to mark a line around your sugar cone at around 2-inches from its tip. Use a Repeat the process for more mini cones that resemble Santa hats and Christmas trees after decoration
4. Use green and red food colors to tint the frosting in two festive colors.
5. Now, decorate hats and tress using spatula and frosting. Cover half of the cones with green sanding sugar and also repeat the process to cover the remaining halves of the cones with red frosting and red sanding sugar.
6. Decorate the cupcakes by placing red cones on the cupcakes with green cones and green liners on cupcakes with red liners.
7. Now using the white frosting to decorate the bottom edge of red cones to form Santa clause hats.
8. For decorating trees, pipe a dot of icing on green cones' top and add a yellow star sprinkle on its top.
II. Passionfruit Curd Ripple Cheesecake – Christmas Desserts 2021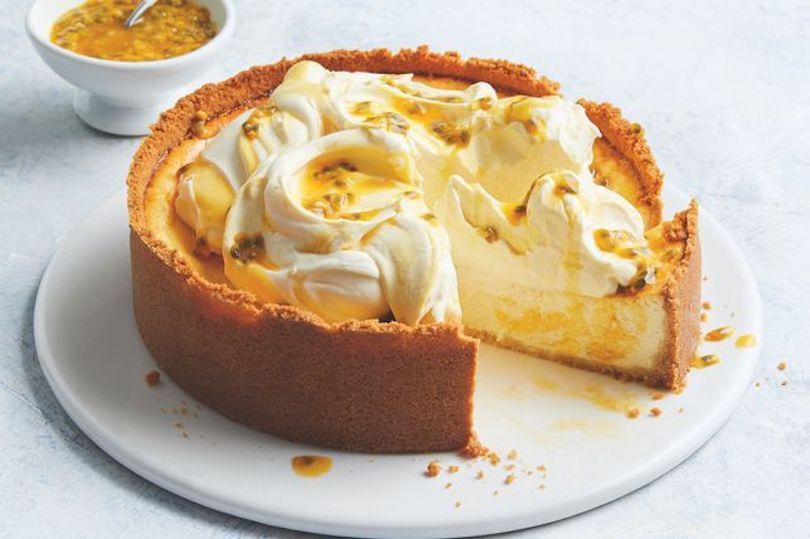 This is one of the wonderful Christmas desserts 2021 that's loved by everyone. The bright acidity of passionfruit is perfect to add a tangy flavor to rich creamy cheesecake.
Ingredients:
Passionfruit curd, 4 eggs, 125ml lemon juice, 100g caster sugar, 4-5 pulps of passionfruit, 100g butter, cheesecake, 250g packet of good biscuits, 500 g cream cheese, 140g melted butter, 300ml carton sour cream, 500ml thickened cream.
How to prepare:
1. For making the curd, blend it with the eggs. To make the curd, combine the eggs and sugar. Also, add some fresh lemon juice and passionfruit pulp. Add the melted butter and whisk it for 4 minutes until the curd thickens. Keep it aside and keep stirring occasionally for 30 minutes while it's cooling.
2.Preheat your oven to 160°C/140°C. Release its base from a 22cm springform pan and invert. Further, line the base using baking paper and let it overhang. You need to secure the base back into the pan. Line base with baking paper, allowing the paper to overhang the edge. Secure the base back into the pan.
3. Keep biscuits in a food processor crush them into fine powder. Add butter and process it until blended well. Now, transfer it to the prepared pan. You can use the back of the spoon for spreading and pressing the biscuit mix firmly on the base. Cover it with plastic wrap and keep it in the fridge for 30 minutes.
4. Add cream cheese and sugar into a food processor and mix until smooth. Add sour cream along with eggs until mixed well. You need to use a teaspoon for dolloping curd on the top. Use a skewer for swirling slightly. Repeat the process with the remaining 1.3 cups of curd and the cheesecake mix. Bake it for 1 hour until cheesecake is nicely set in the center but still wobbly slightly. Turn the oven off at this point. Leave your cheesecake in the oven itself. Keep the door slightly ajar unless the cake gets cooled completely. It prevents the cracking of the cake. After that, keep it in the fridge for four hours for chilling.
6. Use electric beaters for beating the cream in a separate bowl. Beat it until tight firm peaks form. You have to use a metal spoon for folding the rest of the curd through the cream. Top your cheesecake with cream and drizzle it with passionfruit pulp for serving.
III. Pimm's Pavlova Roll – Christmas Desserts 2021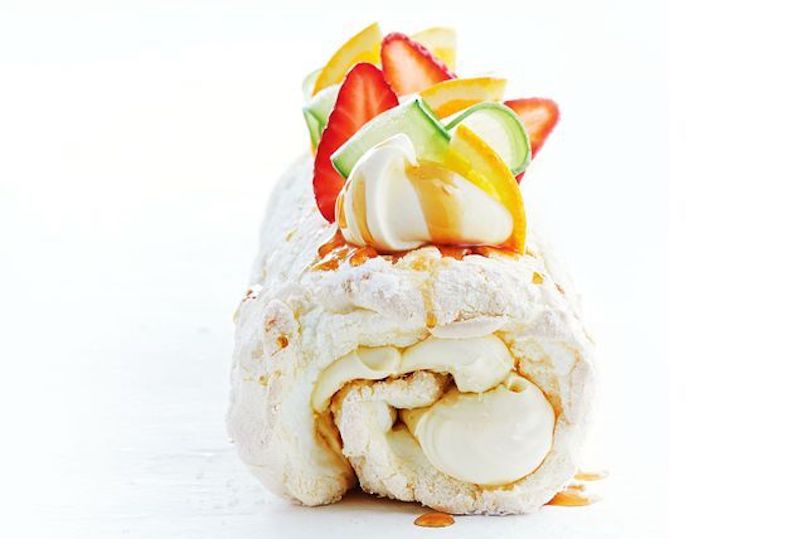 This is one of those fruity and fun Christmas Desserts 2021 that's loved by kids and grownups alike. Made using Pimm's liqueur and decked up with orange, strawberries, and cucumber, it is one yummy treat drizzled with citrus ginger syrup.
Ingredients:
4 egg whites, 2 tablespoons of cornflour, 270g caster sugar, 1 tsp white vinegar, 375ml thickened cream, 1 tbsp pure icing sugar, 1/2 tsp vanilla bean paste, 1 tbsp desiccated coconut, 1 wide lemon strip, 5 tbsp Pimm's No. 1 Cup liqueur, 2 oranges, 2cm-piece fresh ginger, 250g fresh strawberries, 1/4 cup of fresh mint leaves, and 1 Lebanese cucumber.
How to prepare:
1. Preheat your fan-forced oven to 180C/160C. Grease a Swiss roll tray and line it with baking paper. Let the paper overhand on its two long sides.
2. You have to use an electric beater for beating egg whites in a separate bowl for tightening. Add 215g of caster sugar gradually while beating the mixture well after each addition unless it becomes glossy and thick. Beat it with some vinegar and cornflour. Bake the mix for 10 minutes or until it becomes brown.
3. Lay a sheet of baking paper longer than the pan flat and sprinkle some icing sugar along with grated coconut.
4. Flip the meringue on the prepared paper. Further, peel off your paper and set aside it for 20 minutes for cooling.
5. You have to use the electric beater for beating cream and vanilla in a separate bowl. Further, beat in some 1 tbs Pimm's. Also, spread two-thirds of the mix evenly on the meringue. Beginning from one short end, carefully roll up the spread using the paper to enclose the filling. Slide the roll on a serving platter. And, keep it in the fridge for chilling.
6. Add rind, 125ml water, ginger, and remaining caster sugar along with Pimm's in one small saucepan. Stir it over low heat to get the sugar to dissolve. Increase the heat to a slightly high flame. Keep boiling it for three minutes until the sugar gets reduced slightly. Cut 1 orange in half and cut 1 half into thinner slices. And, remove its skin from the remaining oranges. Keep it in a bowl with strawberry and add some syrup. Toss the mix and set it aside for 1 hour for macerate and peel the cucumber into the ribbons.
7. Further, top the pavlova with the cream mixture that's left. And, add the rest of the macerated fruit onto it. Also, top it with unpeeled orange slices, mint, and cucumber. Also, drizzle some syrup. Do, serve it with the remaining fruit and syrup on the side.
IV. Classic Buttery Spritz Cookies – Christmas Desserts 2021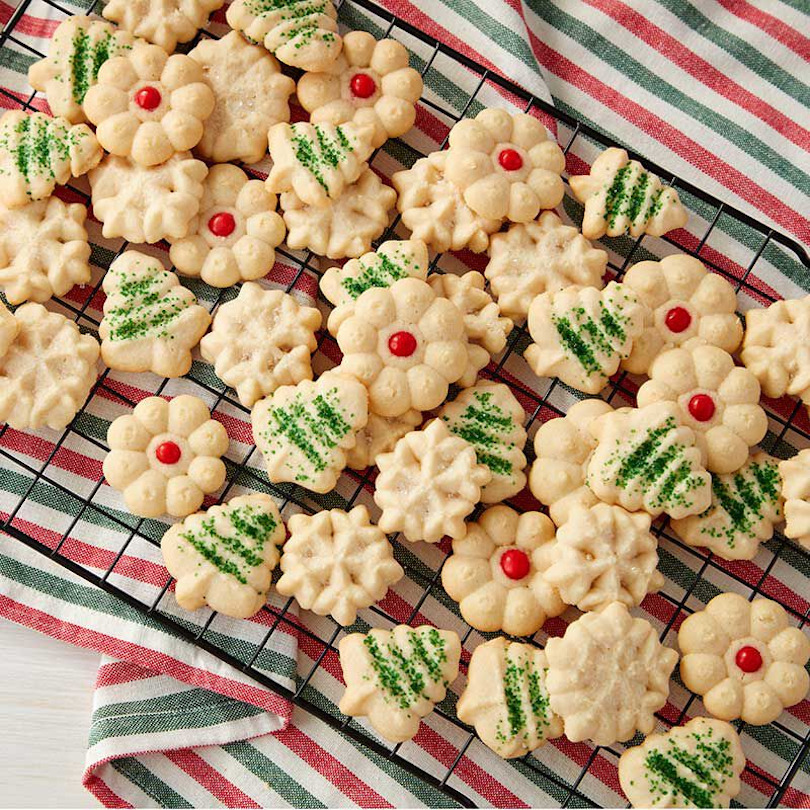 Have a look at these buttery spritz cookies that are easy to prepare using a cookie press. It means you can make them in various shapes and sizes simply by altering discs on the press. You can serve the spritz cookies plain or just sprinkle them with sugars, jimmies, or nonpareils for added color. These cookies are also great for gifting during the holiday.
Ingredients:
1 teaspoon baking powder, 3 1/2 cups all-purpose flour, 1 1/2 cups unsalted butter (3 sticks), 1 egg, 1 cup granulated sugar, 2 tablespoons milk, 1/2 teaspoon almond extract, and 1 teaspoon vanilla extract.
Instructions to prepare:
1. Preheat your oven to around 350ºF.
2. Mix flour and baking powder in a medium-sized bowl.
3. In a large bowl, add butter and sugar and beat them with an electric mixer. Blend it until it's fluffy and light. Further, add milk, egg, almond extract, and vanilla extract. Mix all the ingredients well.
4. Gradually keep adding flour mixture to the mixture of butter. Beat them together until combined well.
5. Fill your cookie press with some dough and desired disks and press the cookies onto your ungreased cookie sheet.
6. Bake it for 10 to 12 minutes until its edges become light golden brown. Let it cool for two minutes on the cookie sheet that's placed on a cooling rack. Remove it from the baking sheet and further place it on a wire rack for complete cooling.
V. Easy Christmas Tree Brownies – Christmas Desserts 2021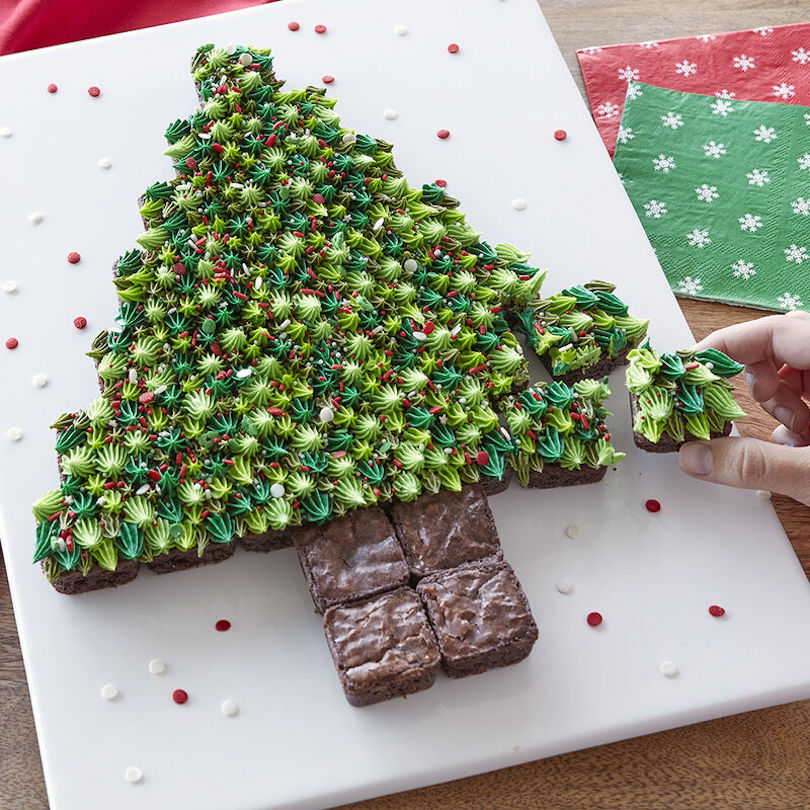 This trimming tree is perfectly made with various bite-sized brownies. Just see how wonderfully it well-decked-up Christmas tree treat looks. The best part is that these brownies are very easy to prepare and decorate with green frosting, stars, and holiday sprinkles. It is likely to put everyone in a festive mood right away.
Ingredients:
Fudgy Brownies, non-stick pan spray, non-stick pan coating, lemon yellow food coloring, leaf green food coloring, teal food coloring, moss green food coloring, decorator icing or buttercream frosting, and holiday sprinkles.
How to Prepare
Baking
1. You have to bake brownies by preheating the oven to around 350°F. You have to prepare the silicone mold using non-stick cake release spray.
2. Prepare brownies as per the brownie mix recipe instructions on the box.
3. Spoon brownie batter to fill each cavity about 3/4 of its size.
4. Place mold on a cookie sheet and further place it in the oven.
5. Bake it for around 14 to 16 minutes. Place a toothpick in its center and check if it comes out clean. If so, the brownies are ready to remove from the oven. After that, place them on a cooling grid.
6. After the first brownies batch is perfectly baked and cooled, you have to make 12 or more additional brownies to ensure you have 36 or more brownies for your guests.
Decoration
7. Now tint the frosting by dividing frosting into four separate bowls. It must be around 1/2 cup of frosting in each bowl.
8. Blend Teal and Kelly Green icing colors to prepare the dark green tint.
9. Mix the lemon and leaf green icing colors to get the perfect lime green hue.
10. Also, tint 1 cup lime green, 1 cup icing dark green, 1 cup moss green, and 1 cup leaf green.
11. Assemble brownies in form of a triangular shape and use some brownies to create a tree trunk.
12. Further, decorate your tree using frosting. You have to start at the bottom of the triangle with piping to pull-out stars. Use alternating colors as you go all the way to the top of this brownie tree.
13. Finally, add sprinkles on the top of your decorated brownie tree.
14. Also, scatter some confetti sprinkles on the tree for adding a festive touch.