5 Christmas Eve Appetizers To Make Your Holiday Time Merrier
While you are often busy wrapping gifts, trimming the tree, and decorating your house with lights and other festive decors, you got to eat too. Since Christmas is the party season, you need to feed yourself and your family with some delicious Christmas eve appetizers to get the party started. So, store-bought food is not something we'll consider for a family get-together at the festive occasion.
We believe that your Christmas appetizers must be dazzling just like your vintage lights on the gorgeous Christmas tree. With a little effort and time, we promise that you will be able to prepare some palatable appetizers for your loved ones this Christmas Day.
Here we are sharing the five amazing recipes for scrumptious Christmas eve appetizers. These recipes are not only easy to prepare but also perfect to make your celebrations merrier.
Without further ado, let's jump into finding what these festive appetizer recipes are.
I. Savory Puff Pastry Christmas Tree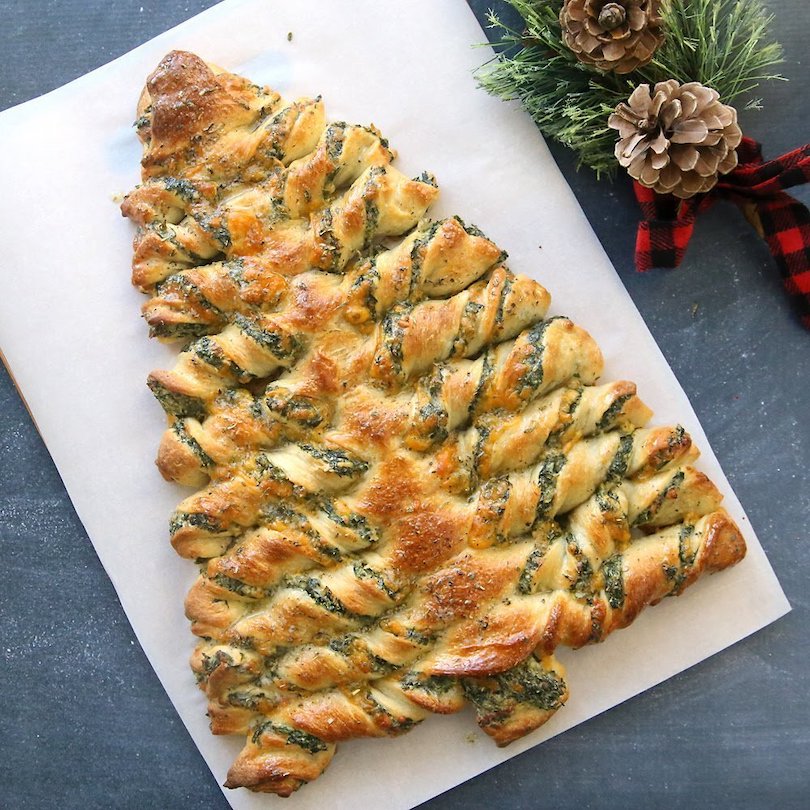 This savory puff pastry Christmas tree is an easy and fun recipe to prepare. It is often filled with a blend of sun-dried tomato pesto and creamy goat cheese. This is a perfect Christmas eve appetizer that is easier to prepare than it looks. It will give you a lot of appreciation from your guests. But make sure to serve it warm or the guests enjoy it at room temperature.
Ingredients:
2 tablespoons sun-dried tomato pesto, 2 sheets of puff pastry, 2 tablespoons soft goat cheese, 1 beaten egg, 2 tablespoons grated Pecorino-Romano cheese, and ½ teaspoon dried oregano.
Directions to Prepare:
1. Preheat your oven at 400 degrees F. Also, line a baking sheet using parchment paper.
2. Blend goat cheese and sun-dried tomato pesto in a bowl. After that, stir it well.
3. Unroll your puff pastry sheet on the baking sheet. Plus, cut away two strips at bottom of its sheet to make a tree trunk that's around 1 inch tall and wide. Diagonally cut to the top of puff pastry sheet for making triangle-shaped tree. Also, remove the excess pastry on both sides.
4. Spread a thin layer of prepared pesto mixture onto the pastry all over its sides. Sprinkle one tablespoon of cheese on the top.
5. Roll the second puff pastry sheet and add it to the triangle's tip. Unroll it carefully at its bottom. Press down lightly and cut away the sides to match the first triangle. Remove excess pastry.
6. Further, cut 2/3 thick tree branches on both sides of the triangle, leaving the gap lengthwise in its center – from trunk to tip. You have to twist its branches, at least two turns. Continue doing it as you move up the puff pastry tree. You got to twist the branches away from you while going up.
7. Further, brush the pastry tree using beaten egg. Sprinkle oregano and 1 tsp Pecorino-Romano cheese on the tip.
8. Now, bake it in preheated oven until it gets deep golden brown for up to 20 minutes. Let the dish cool on the baking sheet slightly before taking it out.
II. Crab-Stuffed Mushrooms – Perfect Christmas Eve Appetizers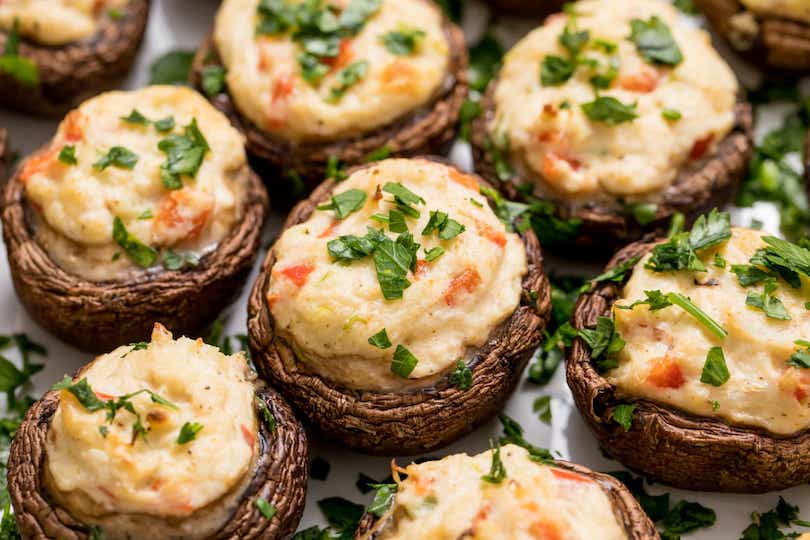 These are other amazing Christmas eve appetizers that you need to consider adding to your upcoming holiday gathering. Everyone is going to love these due to their incredible taste. We're certain that your guests won't be able to stop themselves from eating it. So, don't blame us if someone eats them all in one go! But the best part is that these are super easy to prepare.
Ingredients:
2 tablespoons minced green onion, 1 cup chopped cooked crabmeat, 2 tablespoons butter, 1 beaten egg, ½ cup dry bread crumbs, ½ cup melted butter, ¼ cup shredded Monterey Jack cheese, 1 teaspoon lemon juice, ¼ cup dry white wine, 1 ½ pound fresh button mushrooms without stems, and ½ teaspoon dried dill weed.
How to Make:
1. Preheat your oven to around 400 degrees F.
Melt two tablespoons of butter in a pan or skillet; cook green onions for 2 minutes while occasional stirring until it softens. Further, transfer green onion into a bowl. Now, stir in crabmeat, lemon juice, 1/4 cup Monterey Jack cheese, bread crumbs, and dill weed. Keep stirring until it mixes well.
3. Pour around 1/2 cup melted butter into a baking dish and turn mushroom caps into butter for coating. You need to fill these mushroom caps with crab mixture and further sprinkle it with around 1/2 cup Monterey Jack cheese. Also, add white wine to your baking dish.
4. Bake it in your preheated oven until the cheese melts and it gets light brown. It will usually take 15 to 20 minutes to prepare this recipe.
III. Sausage Balls – Christmas Eve Appetizers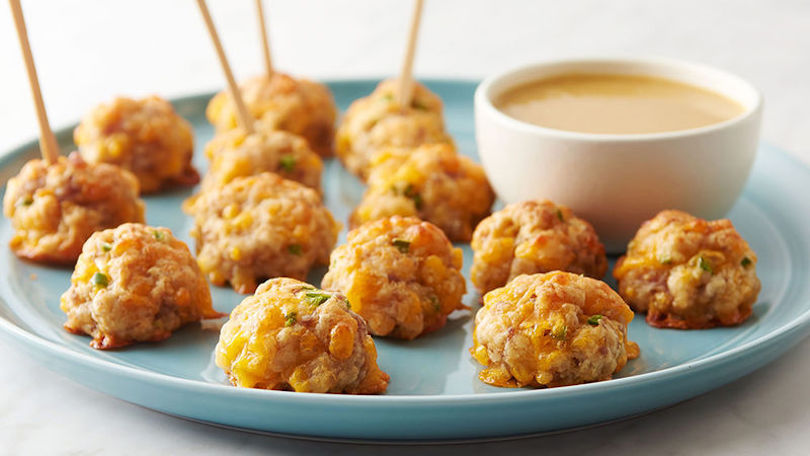 These are other yummy Christmas eve appetizers to make your holiday morning more cheerful. You can even keep these pre-cooked sausage balls frozen to make them last longer. And, you can reheat them in only 10 minutes at 350 degrees whenever you want to feel like munching them. Also, consider adding them to your celebration this year.
Ingredients:
2 cups of biscuit baking mix, 1 pound ground pork sausage, and 1 pound shredded Cheddar cheese.
Preparation:
1. You have to preheat your oven to 350 degrees F.
2. Combine sausage, cheese, and biscuit baking mix in a big bowl. And, make walnut size balls and keep them on baking sheets.
3. Bake them in preheated oven for 20 to 25 minutes until they become golden brown.
4. Enjoy with your preferred dip.
IV. Cranberry Cream Cheese Dip – Christmas Eve Appetizers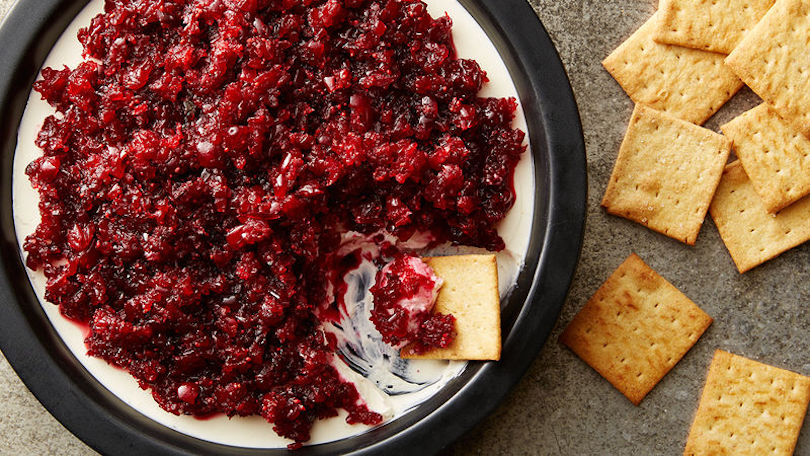 This is one of those wonderful Christmas eve appetizers that are always a hit at all sorts of get-togethers. Using fresh cranberries and mixing them with sugar, green onions, jalapenos, and cilantro prepare amazing salsa. You can further add cream cheese and enjoy it with your favorite dip.
Ingredients:
1 package of fresh cranberries, ¼ cup chopped green onion, 1 ¼ cups white sugar, ¼ cup chopped fresh cilantro, 2 tablespoons lemon juice, 1 pinch salt, 1 small minced jalapeno pepper, ¼ teaspoon ground cumin, 2 packages of cream cheese.
How to Prepare:
1. Nicely chop the cranberries in a food processor or by hand. And, then transfer them into a bowl.
2. Now you have to add green onion, sugar, jalapeno pepper, cumin, lemon juice, and salt to cranberries. And, mix all ingredients well. Further, cover it and store it in a refrigerator until cranberries lose some bitterness. Probably for around 4 hours.
3. Keep cream cheese bricks onto a plate and further pour the mixture of cranberry on top of these bricks. And, serve immediately.
V. Smoked Sausage Pretzel Bites – Christmas Eve Appetizers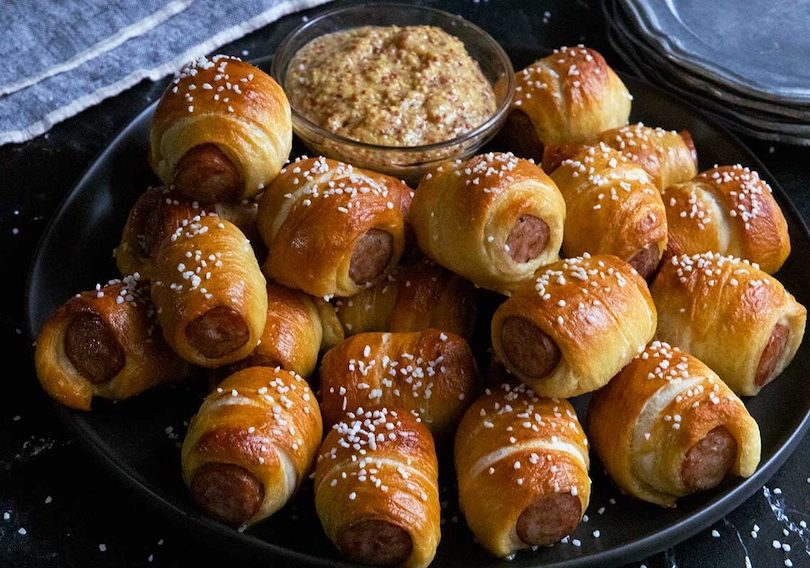 These tasty bite-sized pretzels are also a great appetizer. These smoked sausage-filled munchies are usually made with pizza dough. It is best to choose a sausage that's full of flavor. This will make the dish a lot more delicious. Also, cut them in the perfect size while chopping them into pieces. These pretzel bites are great for any festive event or your next holiday gathering or tailgate party.
Ingredients:
2 pounds of spicy smoked sausage, 1/2 cup baking soda, 1 pound freshly prepared pizza dough, 1 large lightly beaten egg, all-purpose flour to make surface, 1/2 cup Creole mustard, pretzel salt or coarse sea salt, 3 tablespoons mayonnaise, 1 tablespoon chopped flat-leaf parsley, and 1 tablespoon honey.
Directions To Pepare These Christmas Eve Appetizers:
1. Preheat your oven for 450°F. Now, cut the sausage into 32 straight pieces and cut curved pieces for later use. Roll the dough on a lightly floured surface to form a rectangle. Also, cut half of the dough crosswise to make strips. Preparing 1 dough strip at one time, stretch the strip to around 12 inches. Now, wrap 1 stretched dough strip around a piece of 1 sausage. You have to start on one side and further overlap it slightly in a spiral motion. Also, press it to seal while leaving the ends exposed. You have to repeat the same with the remaining sausage and dough.
2. Add baking soda to around 10 cups of water and let it boil. Now, boil wrapped sausage bites ( in small batches) until it gets puffy. Use a slotted spoon to remove bites and place them 1 inch apart. Keep the seam side down on the lightly greased baking sheet that's lined with parchment paper. Now, lightly brush with egg and sprinkle some coarse sea salt. After that, bake it in preheated oven until it gets deep golden brown color. It will take 8 to 12 minutes to prepare them.
3. Stir together parsley, Creole mustard, honey, and mayonnaise for the dip. Serve the dip with the yummy pretzel bites.
These are the five amazing Christmas appetizers that you need to add to your menu this Christmas. We hope you'll impress your guests with these palatable treats at the big holiday celebration.