10 Indoor Christmas Decoration Ideas That Are Seasonal & Stylish
After the COVID-19 pandemic, we have learned the importance of family quality time more than anything else. And, Christmas is that special time of the year when we look forward to having a joyful time in the comfort of our homes. So, you got to be a little more creative with indoor Christmas decoration and adding seasonal cheer to the living space.
You can choose from festive metallic ornamentation to colorful Christmas trees for decking up your home this festive season. Here we share with you 10 stunning indoor Christmas decoration ideas to leave your home Instagram-worthy.
1. Metallic Ornaments For Indoor Christmas Decoration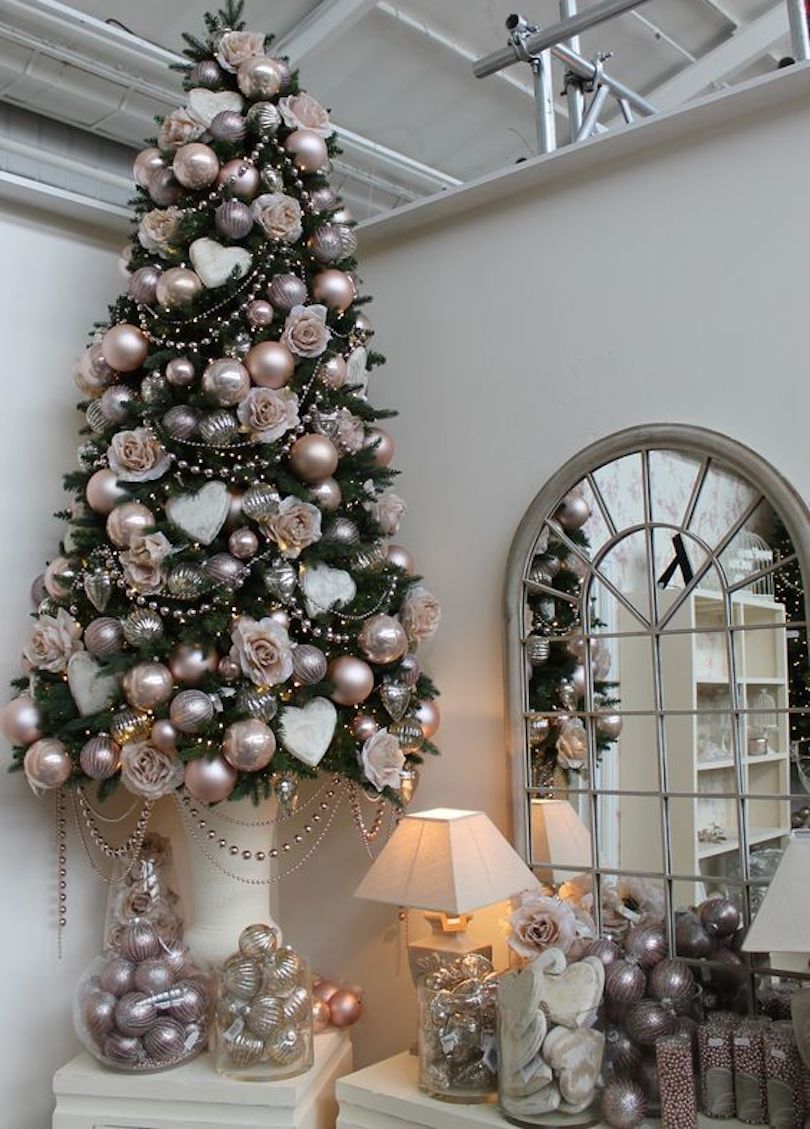 If you are so tired of the same old red and green indoor Christmas decoration, you need to pick this metallic decoration theme. You can consider adding shiny, glittery metallic ornaments to create this unique tree.
White and gold may also be a great choice not just for Christmas but almost any time of the year. Therefore, you can add a charming composition of the metallic tree with candle holders, reindeer, and other ornamental wreaths to create this stunning decor.
This will bathe your indoor space with the cool-toned metallic shine. If you don't want to buy new metallic ornamentation, you can consider spray painting the old ones in silver and gold for the festive cheer.
2. Sparkly Trinkets for Indoor Christmas Decoration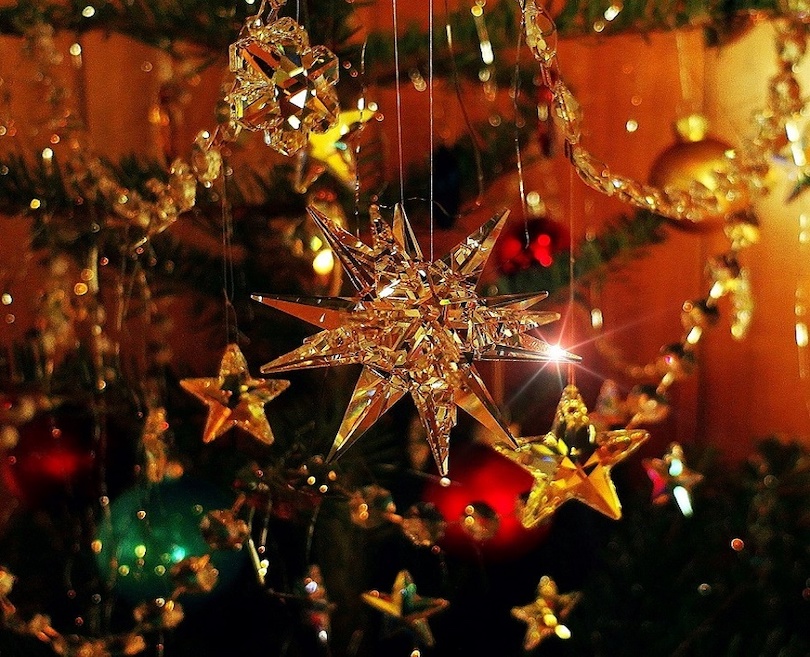 When it comes to decorating your home for Christmas, sparkly trinkets are a good choice. You can interlock them with streamers in gold and silver for perfect indoor decor. With these sparkly trinkets, you can make a spellbinding tree that can light up your evening during a joyful time.
Another wonderful way to bring a Christmas tree to life is by adding baubles to the chandelier. Just suspend a bunch of decorations at different heights onto the chandelier. This will add an interesting touch and striking visual appeal to the overall interior decor. If you don't want a Christmas tree this year, you can add these trinkets to a small ladder to hold pretty candles, lights, and ornaments. Simply place it near a staircase or foyer to add an exquisite touch to the interior. You may even go for the vintage feel with pastel metallic colors with a little glittery touch.
3. Snowman Sticker on the Door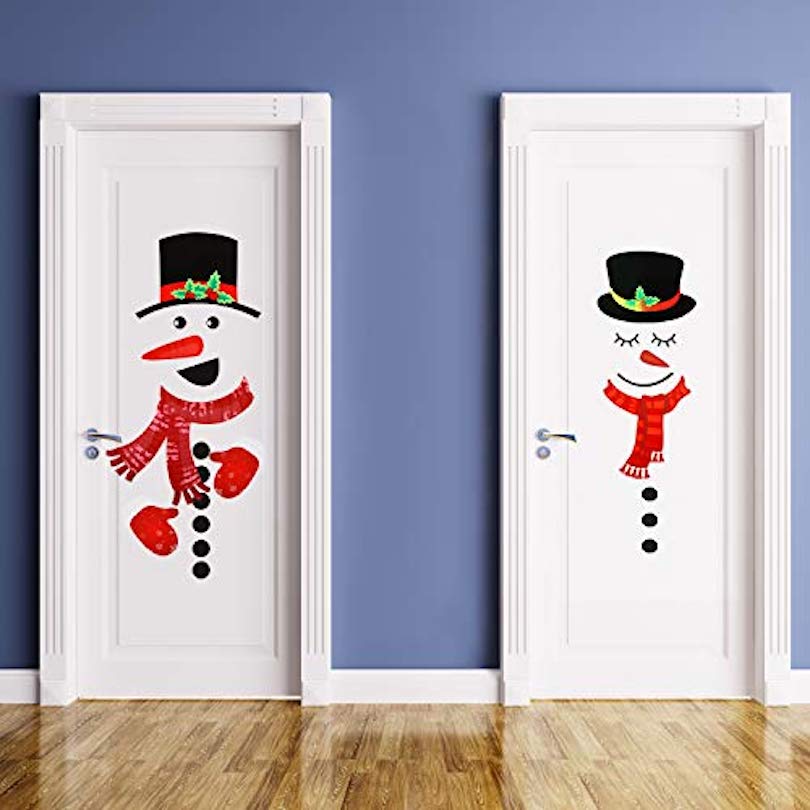 If you are in the mood for a very simple indoor Christmas decoration, this snowman sticker is a great idea. This snowman sticker is perfect to make your interior space appear like a winter wonderland. You can buy it online or create at home with a few construction papers. Black paper is perfect for creating eyes, buttons, and mouth. And, use orange paper for creating a snowman's nose.
Furthermore, use colored pieces of construction paper for creating a scarf. This decoration idea with a string of lights and garlands is perfect for positioning on any door of your choice.
4. Garland for the Dining Table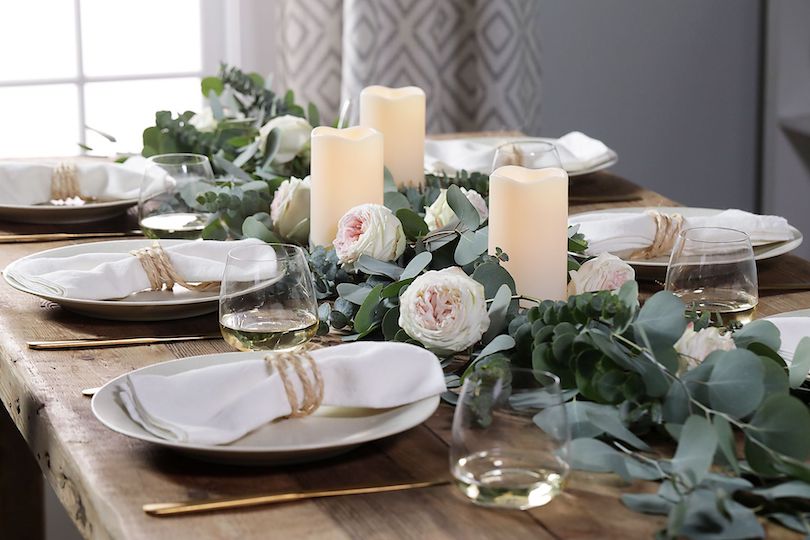 Are you looking for a creative way for making your DIY indoor Christmas decoration? If so, this garland for the dining room is a great idea. For evergreen trees around you, you can pull off a few trimmings to create this festive decor for your dining table. It will be a perfect centerpiece for your table along with a few fresh flowers and candles.
It is a great festive indoor decor for those who don't like the cliched red and green decorations for Christmas. In addition, this decoration is great for creating an ideal wintery atmosphere.
5. Pine Cone Arrangements For Indoor Christmas Decoration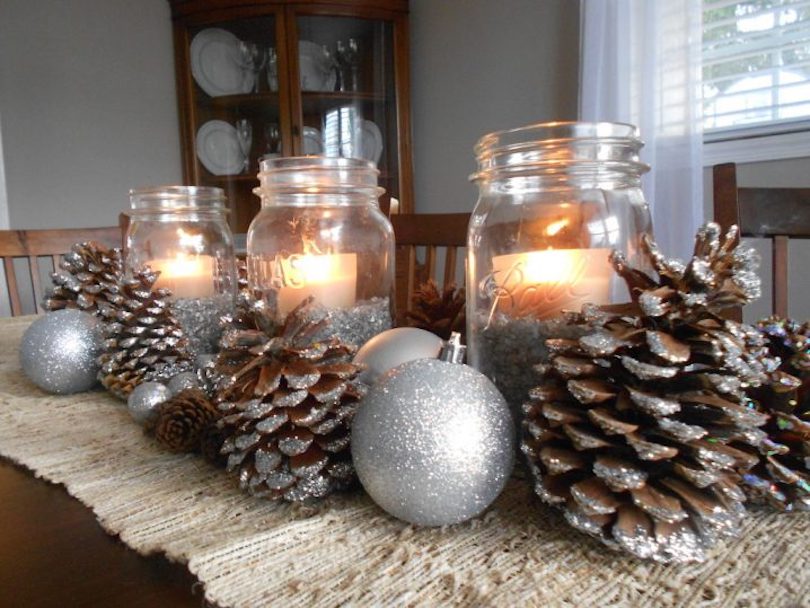 Glitter up the pine cones for another wonderful indoor Christmas decoration idea. These sparkling pine cones may appear amazing when decorated around candles or stored in a mason jar. Or, you can suspend these glittery pine cones from a ceiling using a thread.
When arranged together, these pine cones make a perfect centerpiece for your coffee table, end table, or dining table setting. With this simple and unique decoration idea, you can enhance even a confined space in your home. You can even deck up your kitchen interior with this decor idea.
6. Branch Christmas Decor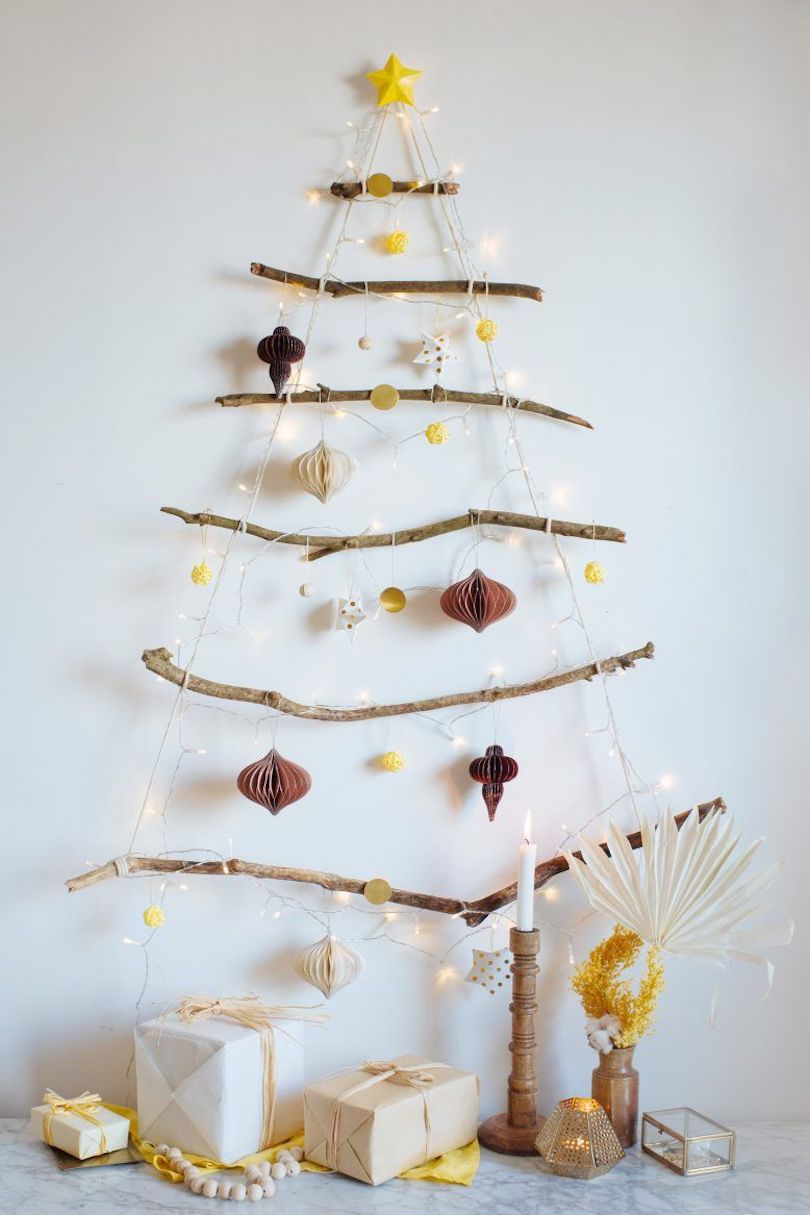 Another atypical Christmas decor idea to try this festive season is this wall Christmas tree using a few fallen branches. It is easy to DIY alone or with the help of your kids. You have to arrange tree branches from small to elongated ones in the shape of a pine tree, as shown in the image. To hold all of them together, use a thread. Furthermore, add string lights and a few Christmas ornaments to complete the look.
Don't forget to keep a few gifts candles and other decor elements beneath this tree. This will remind you of the authentic Christmas tree. But this one is not your typical festive tree. However, it still manages to infuse the Christmas spirit into your living space. If you create this DIY Christmas tree near a staircase, you can add decorative stockings, fairy lights, or Christmas garlands to the staircase. This will help you create a merrier aesthetic appeal.
7. Hassle Free Christmas Tree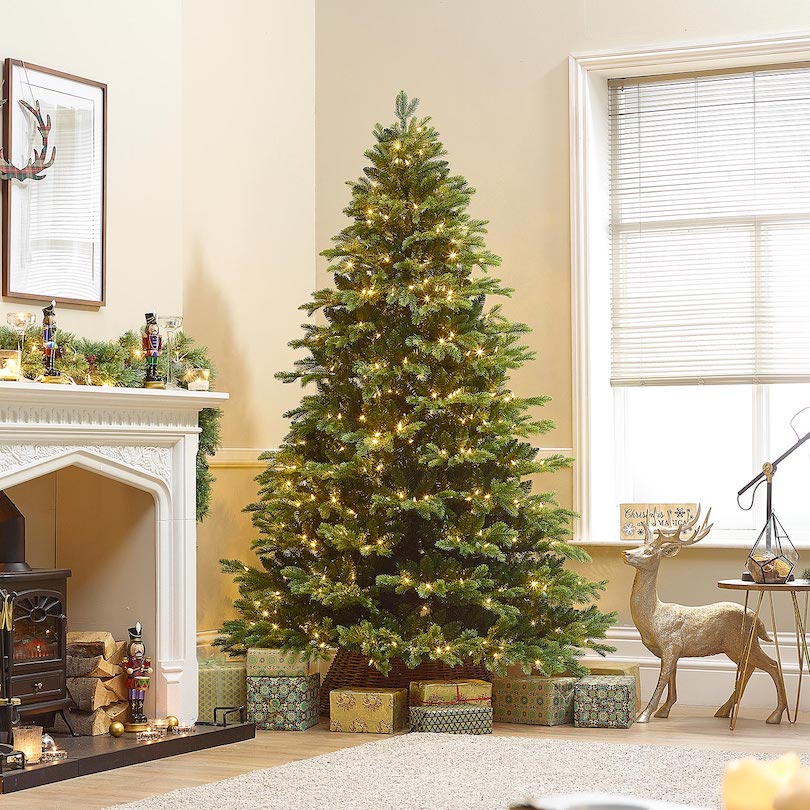 You may even consider adding a fiber optic artificial Christmas tree to your indoor decoration. It is the most hassle-free Christmas tree idea. This is because it comes pre-arranged and pre-lit with LEDs and decorative ornaments. So, you don't have to spend hours untangling different lights. You can also add more decoration items to these trees to add desired Christmas charm. Adding more ornaments and baubles are perfect to get your hassle-free Christmas tree just the right look.
You can get these hassle-free Christmas trees in stores near you or online. These come with an instruction manual to help you arrange them as per the look you want to create. Trust us, it will be ready in a few minutes. Hence, it's a great decor idea for busy homeowners.
8. Evergreen Mantle and Fireplace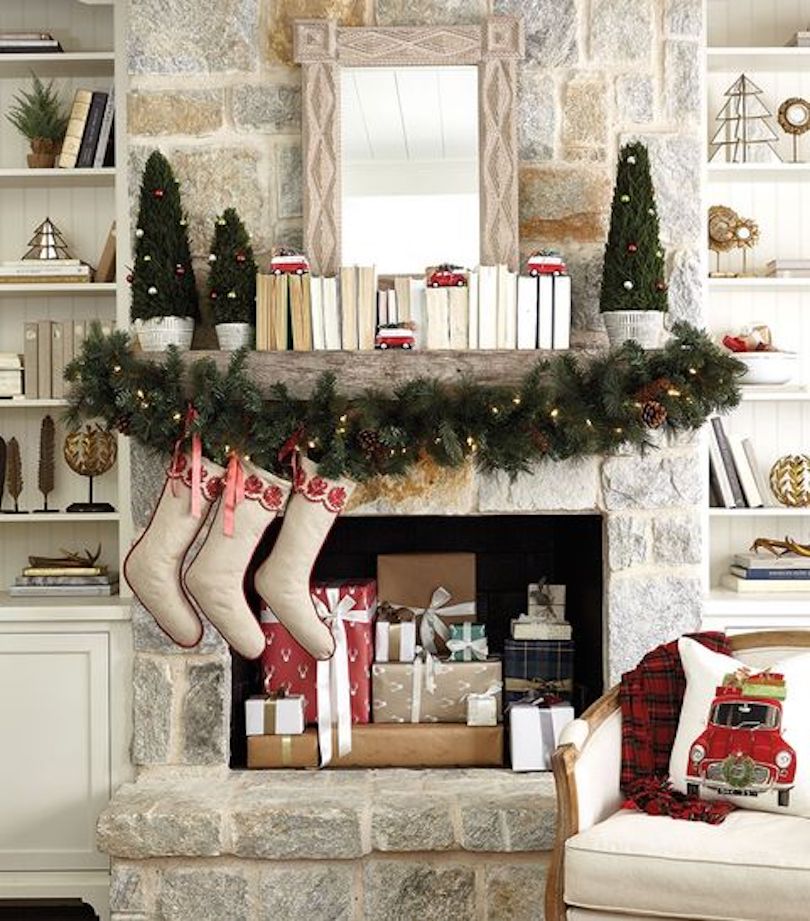 If your home has a fireplace with a mantle, it's an added advantage for your indoor Christmas decoration ideas. The area in the mantle's front side is easy to decorate using pieces of logs and green branches for perfect forest-like decor. You can use a wooden boxy for holding all the Christmas decorations together. It will be a great place for keeping your pinecones and Christmas ornaments.
You can also consider adding stockings onto the evergreen fireplace mantle or wrapping a string of light to add a glowing effect to the room decor. Also, keep your gifts under the fireplace mantle to create a perfect Christmas cheer.
9. DIY Christmas Snow Globes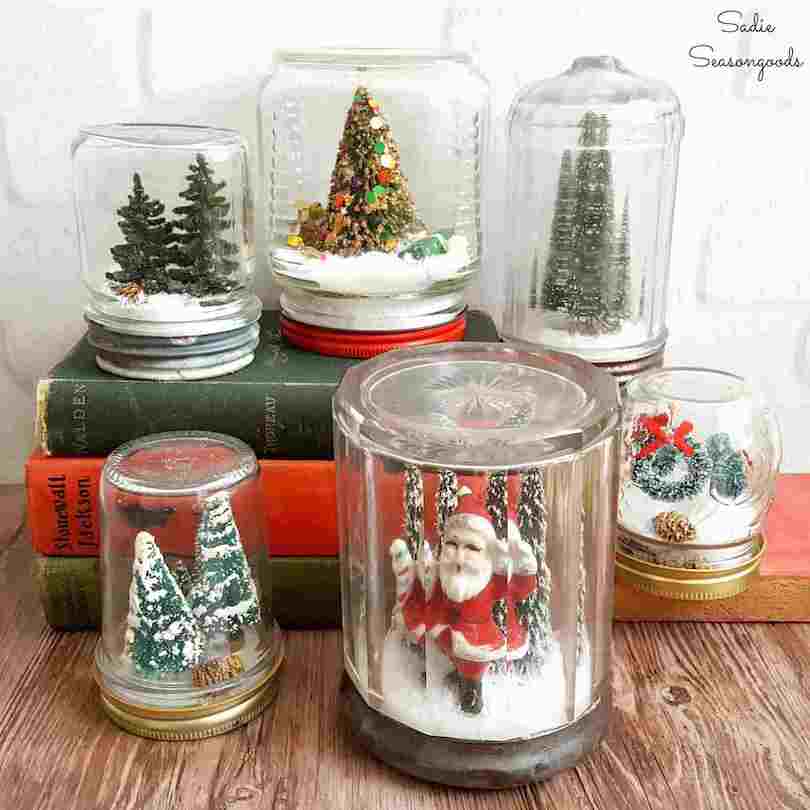 Looking for other decoration ideas for kitchen, bedroom, or living room end tables? You can consider creating DIY snow globes using a few items that are already present in your home. Using a few old Christmas decor items, you can consider making DIY snow globes. These are perfect to decorate indoor areas in your living space. Plus, it's great for decking up even the small corners in your house.
Begin with a mason jar, which you can fill with cotton or white powder to act as snow. After that place a small evergreen branch, tiny Santa Claus, or any other decor item of your choice along with a few trinkets and branches with the white snowy touch. Now, close the lid carefully and your perfect snow globes are ready using a few old decor items.
If you want to decorate your house that doesn't need the traditional red and green hue of the season, this craft creation is perfect. This will add a unique festive touch to your chic apartment. It is also a good gifting item for kids or those who love to collect such festive Christmas decor items for the holidays.
10. Colorful Christmas Tree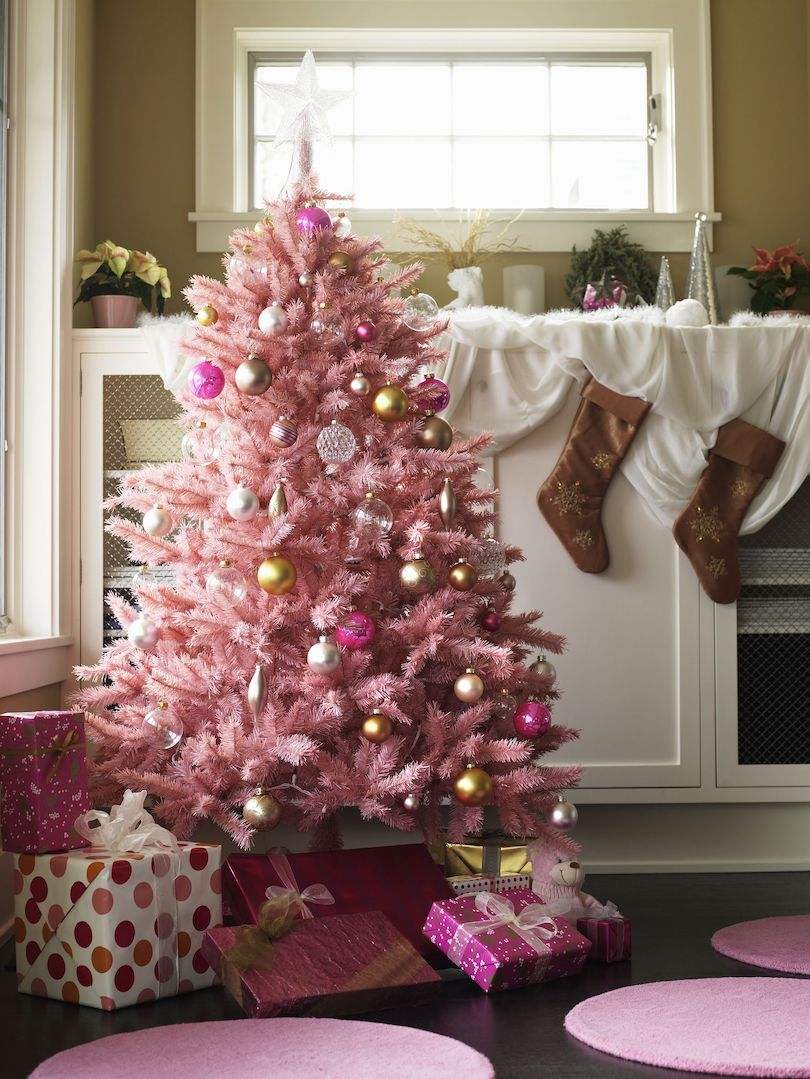 If you feel the typical Christmas tree looks quite outdated or tacky, you can consider creating one in bold colors. The colorful Christmas tree ideas have become a big interior trend on Instagram from the past few years.
There is no need to stay limited to a strict color scheme for this, as it is quite overrated. We like the idea of the looser palette for decorating the interior in such a colorful scheme. This will not only make your tree appear more eclectic but also gives you the freedom to add colorful baubles to this bold Christmas tree.
This is how you can create tiny little tweaks and touches to spruce up your home for an ideal Christmas setting. After all, this holiday is all about family and your choice of creating the right festive ambiance. As December starts approaches, start considering such amazing Christmas decor ideas to amp up your home interior. Not, just Christmas, but these decor ideas are also great for sprucing up your home till New Year.