10 Useful Things You Need For Bedroom Organization
A bedroom is your ultimate haven, where your day begins and ends. So, you must keep it as relaxing, stylish, and organized as possible. However, bedroom organization tips are easier said than done. It's because your bedroom usually becomes a catch-all for your essentials or things that you cannot find a place in already full closets and dressers.
That's when you need certain things to add a stylish touch to your bedroom while keeping it organized. For making the most of your bedroom space, you need to include every inch of the room – from walls to corners and under the bed area.
Here we have shared the 10 useful things that you need to own to cut clutter while organizing your small bedroom space. What's best about these essentials is that you can include these things in bedrooms of all sizes.
1. Underbed Storage Box with Wheels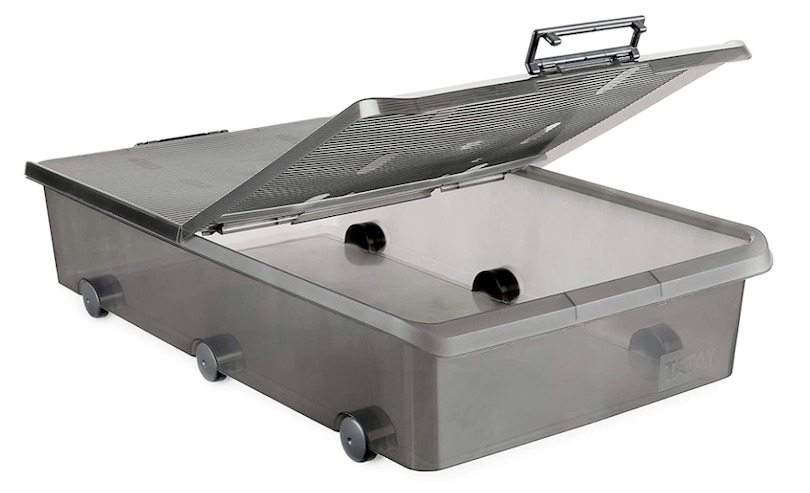 Under the bed storage is an ideal option, as it's not visible to the visitors. But it's easily accessible to whom the bedroom belongs. You can keep your various accessories in the under-the-bed storage box. You can add a few items, like extra bed sheets, gift wrap, hair styling tools, etc. in it. Buying this rolling storage container with wheels helps keep things organized under your bed. It also helps you free up the bedroom space.
This storage box consists of high-quality polypropylene for the shockproof body with secure handles. It is also resistant to impact all thanks to the thickness of its walls. It has a wide range for fulfilling your storage requirements – be it small or large objects.
2. Place Pillows in Baskets For Bedroom Organization
Throw pillows are great for making a bed comfortable. These are also great for enhancing your bed's aesthetics. But where to put them when it's time to use your bed at night. For this, you need to use the wicker basket containing decorative pillows.
You can consider having this tall woven basket that's handmade using water hyacinth wicker. It also consists of a metal frame for offering better support to hold pillows, blankets, toys, or other accessories. The contoured and stylish rim of this basket boasts a wide-open top for easier access. What's best is that it's available in various colors and sizes. So, you can choose the one as per your interior for uplifting the aesthetic appeal.
3. Over-the-Door Hanging Shoe Organizer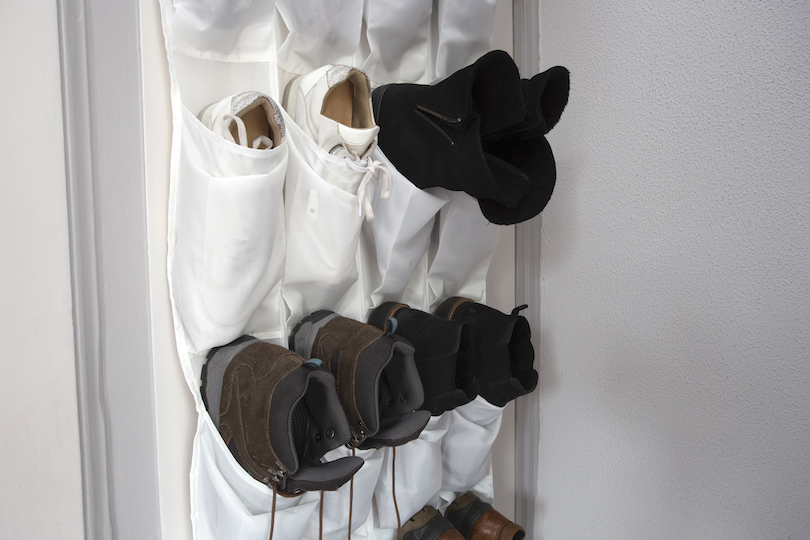 While these are known as shoe holders, you can also use these pocket-style organizers for sorting anything that fits in its pockets. You can fill these pockets with socks, scarves, belts, or other accessories. Or use them to store your skincare or makeup products. And, of course, your shoes can find a good space in them.
You can store around 10 pairs of your shoes or up to 20 pairs of sandals without taking any floor space. Plus, its fabric pockets let the shoes breathe. Its pockets are around 10-inch tall and 4.5-inch wide. It also comes with three metal hooks for hanging them onto any residential door, especially behind your bedroom door or inside a closet.
4. Corner Floating Shelf For Bedroom Organization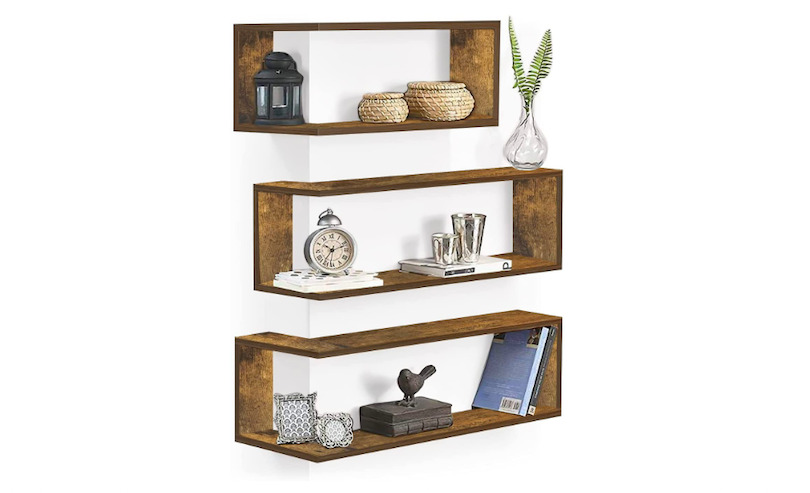 Make the most of every corner in your bedroom with these corner storage shelves. These are ideal for organizing books or home decor pieces in your bedroom. The designer corner shelves are easy to assemble and organize different things.
This waterproof wall shelf is lightweight but sturdy. Hence, it will last a long time. It boasts carbonized dark texture that's amazing to complement the rustic wall decor in your bedroom. Plus, you can easily install them with a few hardware items and the instruction manual that comes with them. We recommend keeping aesthetic and minimal objects on these corner shelves for maximum aesthetic appeal.
5. Ottoman With Storage For Bedroom Organization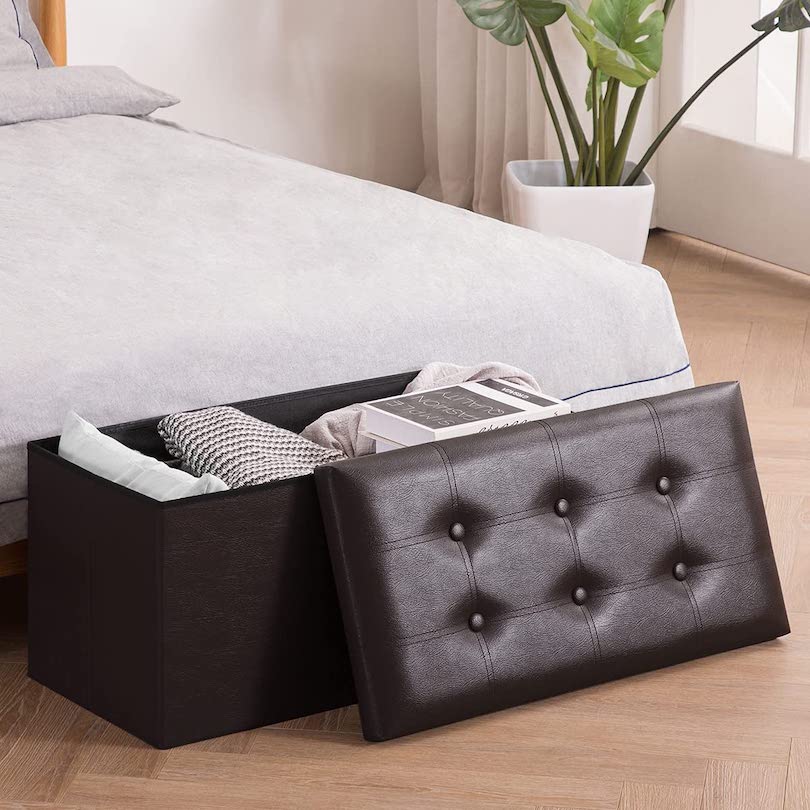 This ottoman not only serves as additional seating in your bedroom but also meets different types of storage requirements. You can use it to store pillows, books, or toys. Besides that, it's also useful as a footrest. So, you can keep it in your bedroom, living room, or entryway wherever you feel it's needed.
It is very easy to assemble this storage bench within a few seconds. It comes with a stable structure and amazing bearing capacity. Since it's made with a premium quality faux leather surface, you can easily wipe it with a damp cloth. Furthermore, its double stitch buttons enhance its texture and aesthetic appeal.
6. Storage Dresser Organizer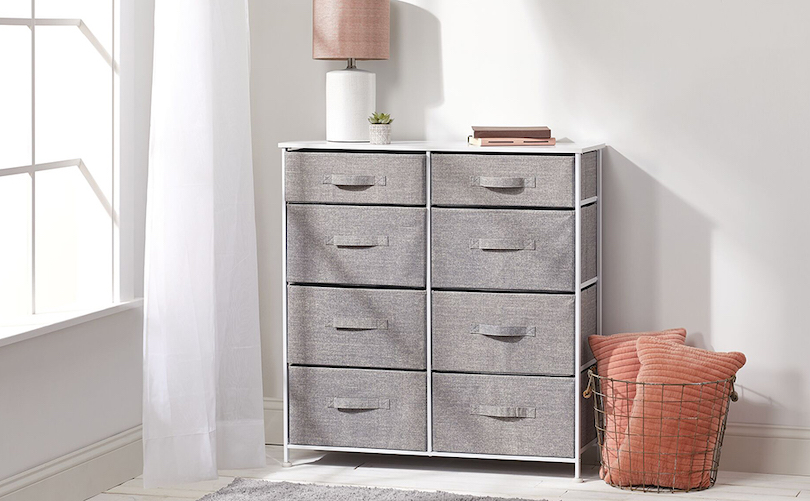 This storage dresser comes with eight drawers to keep the mess under control. You can store your things in this dresser to keep clothing and accessories conveniently. It is good for storing your leggings, workout gear, linens, sweaters, yoga pants, and more. The dresser has a vertical design that fits easily in different places.
It comes with generously sized drawers that can be removed with an easy pull handle for making opening/closing simple. Plus, it has plastic feet so that the flooring doesn't get scratched and you can even adjust them on uneven surfaces.
7. Storage Baskets with Labels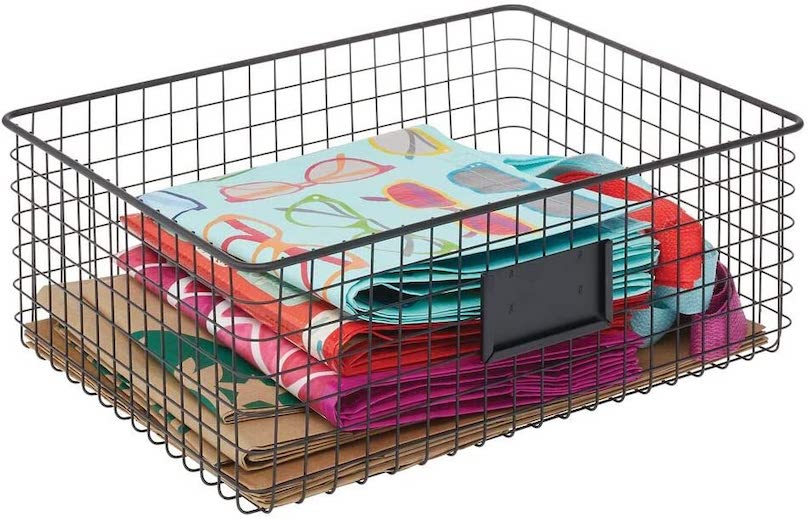 The storage baskets with wire design make it a perfect item to transport goods. These baskets even come with labels so that you can store your items and find them easily. You can use these baskets to store socks, scarves, tops, jeans, and other accessories.
Besides bedroom storage, these baskets are even good for storage in bathrooms, laundry rooms, craft rooms, offices, playrooms, mudrooms, and garages.
8. PegBoard Cups with Hooks – Bedroom Organization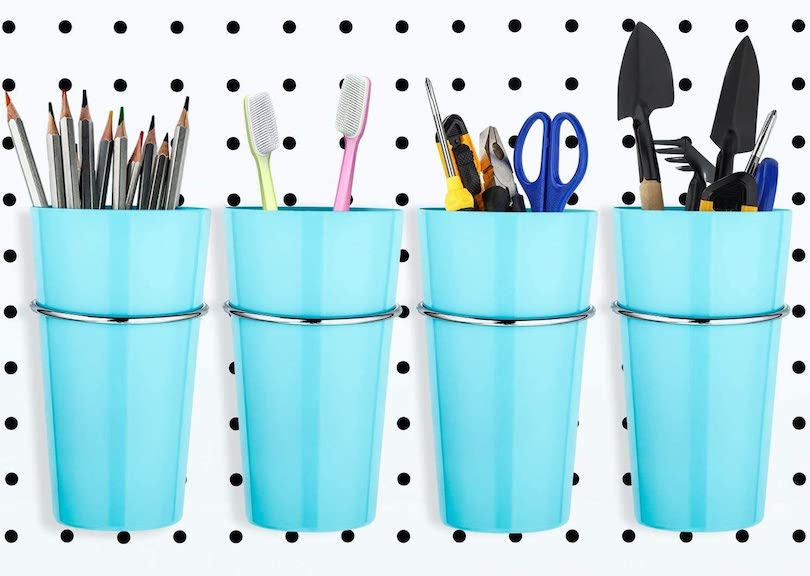 You can even consider these pegboard hooks and mugs to access its back. These accessories with angled hooks come with stable locks that fit into pegboard holes. So, these won't fall out during usage. These bins, cups, and trays are also made with high-density plastic, hoops, and hooks made with premium quality thick steel. It even has an anti-rust plated finish.
You can arrange these multipurpose storage holders in compact style and attain space-saving demand. It will give you access to a variety of small hardware and things that you keep in it. You can store your makeup brushes, pens, and other accessories.
9. Deer Antlers Wall Hooks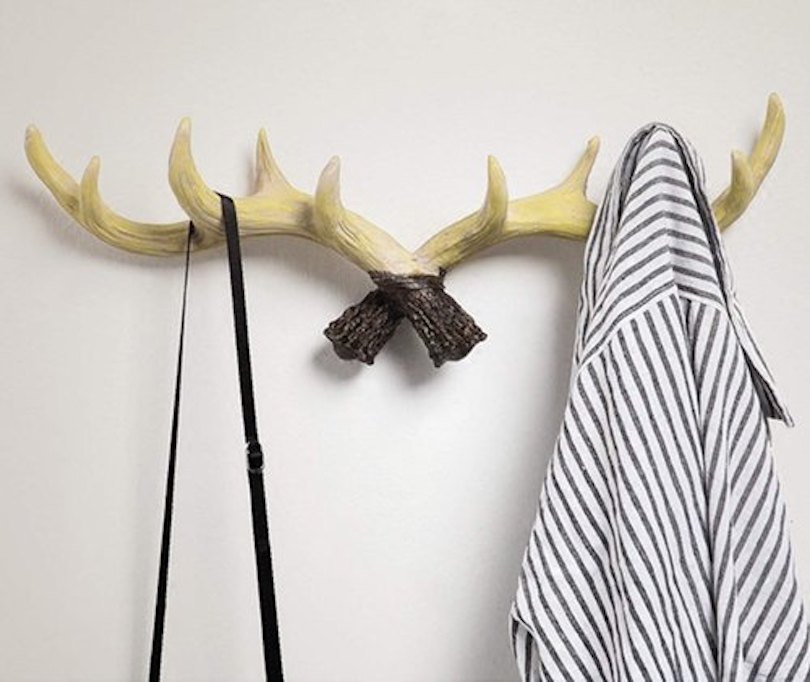 This is another beautiful home decor piece and also a wall hanger. You can use it for hanging your scarf, coat, bag, hat, key, and other accessories. Hence, it makes your room appear beautiful and tidy. No matter which wall you install it, this piece will be an amazing piece to make the space look more attractive.
This is a vintage-style piece with a total of 10 hooks to hang different items. You can install it with keyholes hangers on its back. It's also a great gifting piece for hunting enthusiasts.
10. Rolling Storage Cart For Bedroom Organization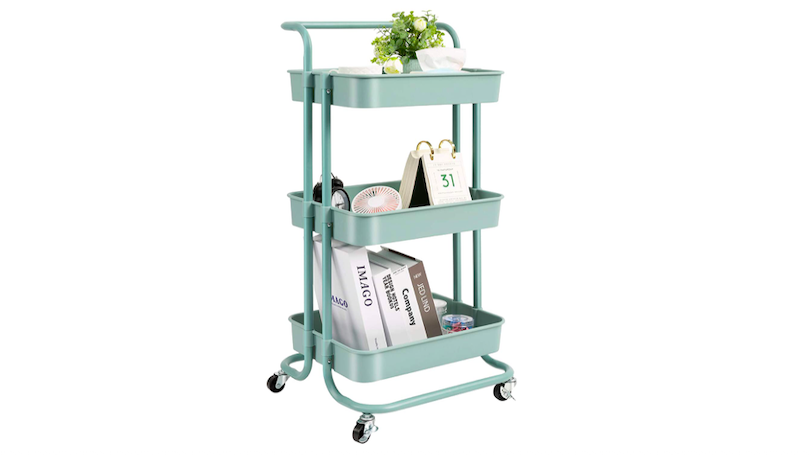 Have a look at this stunning rolling storage cart. It will be an amazing storage unit for your bedroom. It comes with three tiers of basket shelves and lets you put your remote control, water jar, and other things that you require beside you in your bedroom. This unit is ideal to save the ground space for optimizing the given space well. It even helps you organize things while getting rid of the clutter in your bedroom.
This bedroom organization cart comes equipped with four 360-degrees freely rotating pulley wheels and a convenient handle design. It is also made of wear-resistant rubber that's more stable and durable. You can wheel this utility craft cart organizer for any area you require it.
These are some of our favorite picks for clever bedroom organization. With these essentials, you can make your bedroom appear more organized and tidy without taking up much floor space.