10 Multipurpose Furniture To Buy from Amazon For Small Apartments
Do you reside in a dense metropolitan city? If so, there are chances that you might be living in a small apartment with limited space. Small living spaces of one of the downsides of living in a hustling-bustling city. But it should not allow you to feel cramped in your living space. All thanks to clever multipurpose furniture, you can mitigate the potential problems of tiny homes, such as little storage or the need for extra seating or a sleeping area.
Amazon is one good online platform to choose the best multipurpose furniture for your small home. No matter how little square footage you have to work with, there are clever pieces of furniture to make the most of the available space. With these functional gems, you are sure to make your apartment feel larger than it really is.
Ahead, have a look at the 10 convertible furniture pieces that people living in small apartments need to own. All the pieces shared here are efficient, stylish, and reasonably priced.
1. Convertible 4-in-1 Multipurpose Furniture, Sofa Bed, Ottoman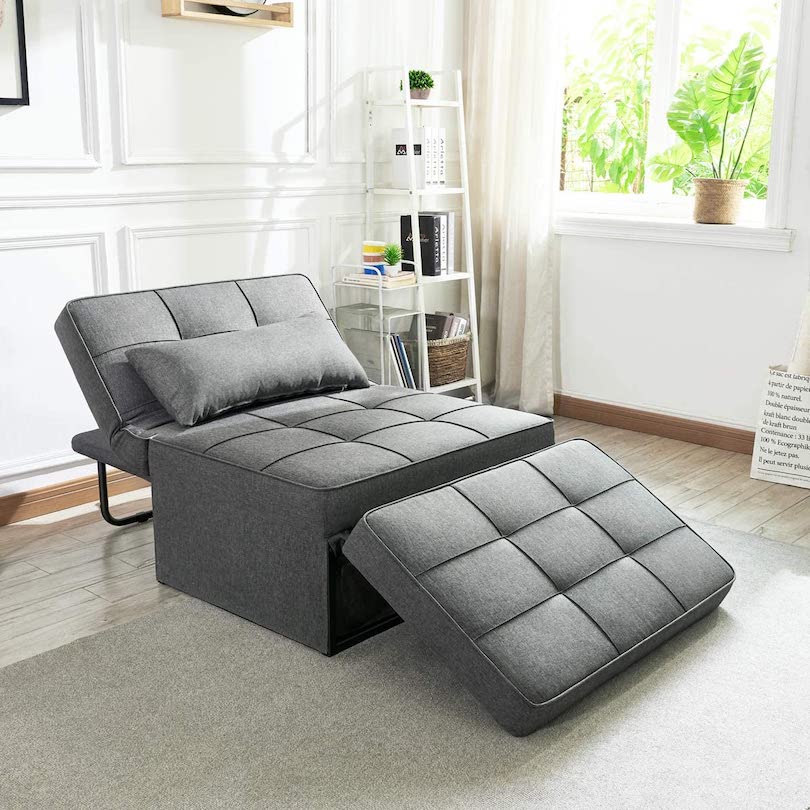 Have a look at this convertible sofa bed. You can use it as an ottoman or convert it into a sofa, lounger, or bed. With each conversion, this 4-in-1 furniture unit is going to meet your distinct needs. So, you don't have to worry about unexpected guests in your house.
This multipurpose furniture consists of high-quality metals and materials. Its sturdy construction makes it durable and strong to withstand 440lbs – without even the risk of injury. The furniture piece comes covered in breathable linen fabric with a high-density sponge. This offers the user utmost comfort and supports whether they are lying down or sitting on this sofa bed with an adjustable (5-level) backrest.
This simple and stylish sleeper boasts a unique folding design that takes up less space. Furthermore, it is easier to clean and maintain this unit. Hence, it is an ideal choice for small dorms, apartments, rooms, offices, or studios.
2. Entryway Coat Rack Shoe Bench With Storage Shelves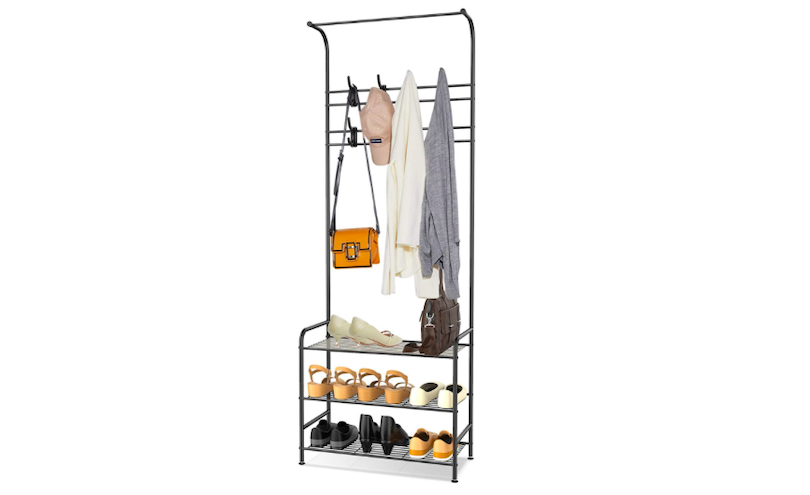 Here's another multipurpose piece of furniture made of high-quality iron for a sturdy structure. Its construction is highly load-bearing and stable for holding up to 66 lbs. And, each shelf can hold up to 22 lbs.
This is a 3-in-1 organizer with a combination of a coat rack, shelving, and shoe storage bench. You can easily hang your bags, clothes, and umbrellas on it. Also, store your shoes or handbags in storage boxes. It's surprising how many things it can hold in a limited space.
The unit comes with 16 removable hooks, as per your requirement. And, all these hooks have rounded edges for preventing any damage to your garments. You can easily assemble and disassemble this free-standing unit, due to its simple construction. All you need is the help of the given instruction manual and a few tools to assemble/disassemble this unit.
What's best about this furniture unit is that it's carefully crafted to fit any hallway, entryway, foyer, bedroom, office, or mudroom.
3. Livinia Sliding Extension Dining Table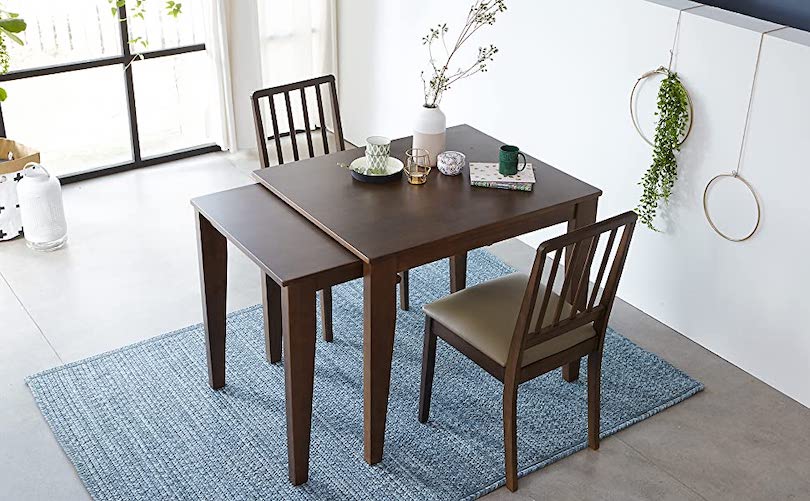 Here is one sliding dining table that can easily expand from 35.4-inches to 59.1-inches. It is great for saving space due to its compact and modern design. Made with high-quality solid hardwood, the frames of the dining table come with MDF top. Hence, it is a durable and stable furniture unit with extending design.
You can pair this furniture unit with matching benches and chairs to bring home an elegant dining table. We are sure it will complement almost all interior styles – be it contemporary, rustic, traditional, or modern.
4. Lift Top Storage Ottoman Bench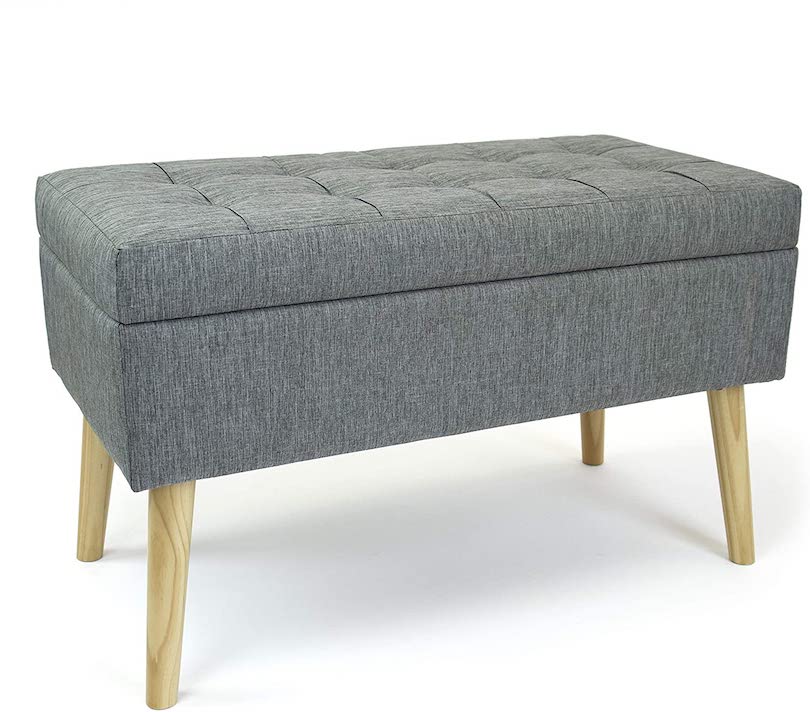 Another amazing furniture unit to make the most of your living space is this lift-top ottoman. It is a rectangular piece of furniture that boasts a hinged tufted cushion around its surface. It's further supported by solid wood tapered legs that stunningly keep all your essentials out of sight. Its plush padded cushion on the top provides maximum support and comfort to the users.
The contemporary tufted grey upholstery combined with wood finish evokes a sophisticated and inviting elegance. Hence, it is likely to uplift the interior of any bedroom, living room, dorm room, or entryway.
This furniture unit also doubles as a bench for offering additional seating areas in your apartment or home. Besides that, you can also use it as a cocktail ottoman, coffee table, footrest, show bench, or entryway storage bench.
5. Multipurpose Furniture – Storage TV Stand Organizer Unit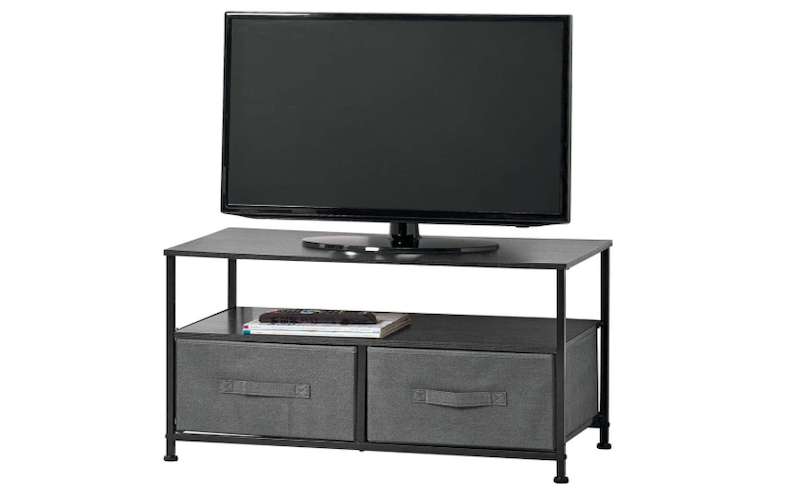 This storage TV organizer cabinet features two removable drawers to keep clutter away. You can use it in your living room, playroom, or bedroom to store all your entertainment accessories in just one place.
It enables you to store and arrange your toys, consoles, remote controls, and other electronic components. Boasting a horizontal design, this unit can fit in as many locations as possible in your home. After all, this storage organizer has endless organizational possibilities.
This is a slim and lightweight multipurpose furniture stand for smaller spaces. The wood top of this unit has a hard surface for keeping TV, gaming consoles, DVD players, decor items, speakers, and more. Its generously sized drawers have easy to pull handle for easy opening/closing. Plus, the plastic feet of the unit ensure there are no scratches on the floor. With this one unit, you can create a perfect organizational space in your home without much effort.
6. LED Light Mirrored Jewelry Cabinet – Multipurpose Furniture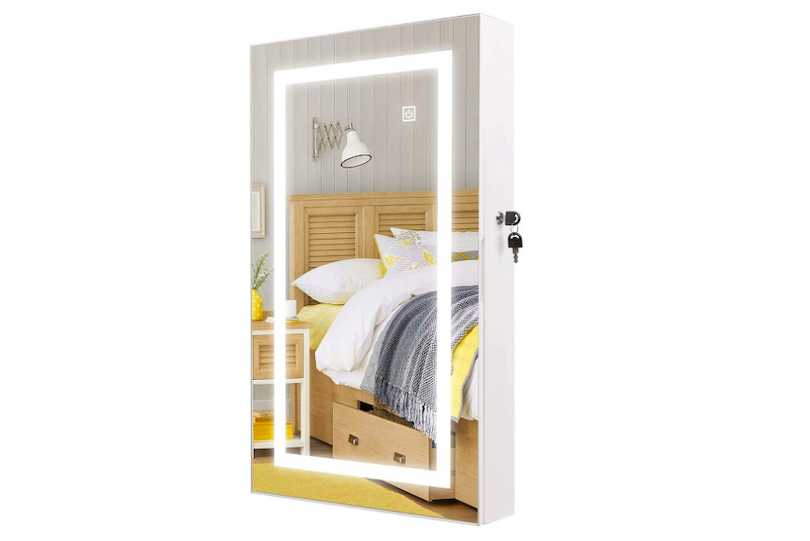 This is a multifunctional jewelry cabinet with LED light on the mirror. It's made with durable MFD material for a sturdy construction. You can easily mount it on the wall using screws. This is a spacious storage unit with three lines for earrings or finger rings. There are 33 earring holes, 52 earring slots, and 18 hooks for bracelets and necklaces. The two storage shelves are also present within this mirrored cabinet.
We're certain it will be a convenient addition to any area where you want to organize your jewelry without compromising the space. This cabinet comes already assembled. All you need to do is install it on a wall using two anchoring screws.
7. Portable Kitchen Island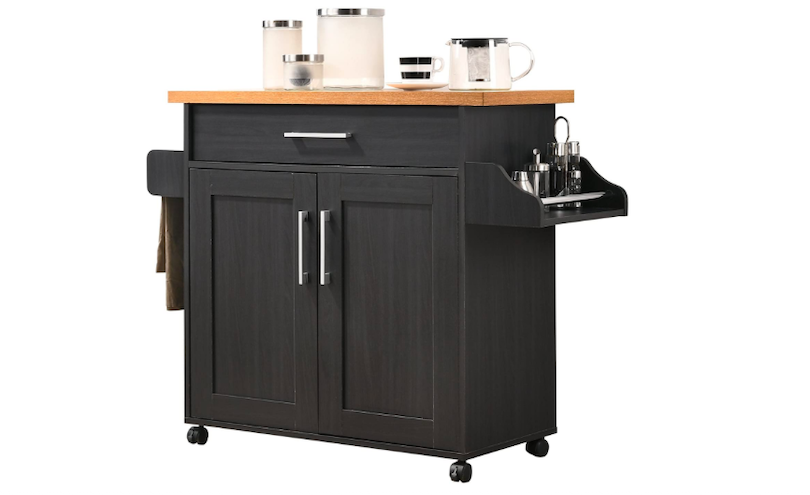 This is a stylish portable yet functional kitchen island for any home. It boasts a versatile design that's suitable for homes with both cottage or traditional interiors. The kitchen island boasts a spice rack, towel rack, enclosed cabinet space with a shelf, and one spacious drawer.
It comes in multiple finishes that you can choose as per the existing interior of your cooking space. There is also an elegant wood top on this unit for enhancing its features and the overall aesthetic appeal. Made of durable wood, this unit is long-lasting for many years to come.
Furthermore, it includes drawers to store dinnerware and utensils. The unit is even accessible and convenient to display your toaster, microwave, and other small appliances. It comes with wheels to enable the users to move it around the kitchen. These wheels also come with locking casters to fix them in a specific position.
8. Side Table With Storage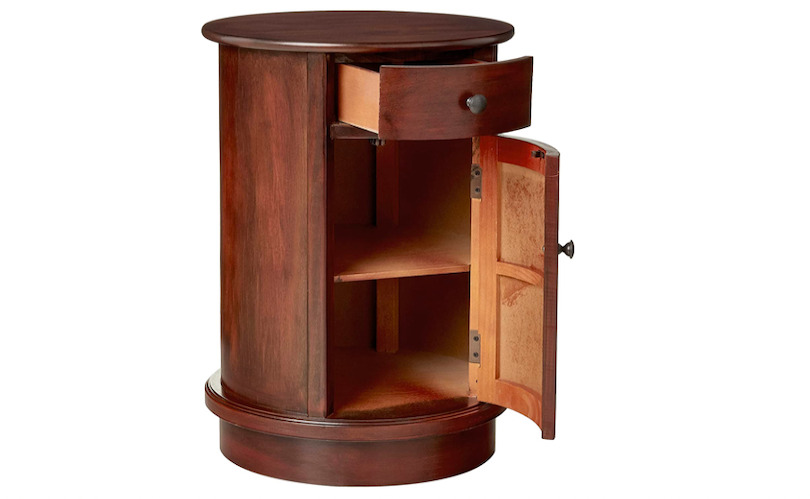 Add elegance, functionality, and warmth to your living room or entertainment room with this well-crafted round storage side table. This barrel-style side table has one storage drawer and one door for keeping all your belongings away from sight. However, all the things are still easily accessible.
Made with Chinese oak and veneers, it has a durable and traditional design. Plus, its classic round shape adds a charming touch to any interior. You can further adorn it with an elegant table lamp and small home decor piece for making it a statement piece.
9. Multipurpose Furniture – Platform Bed With Storage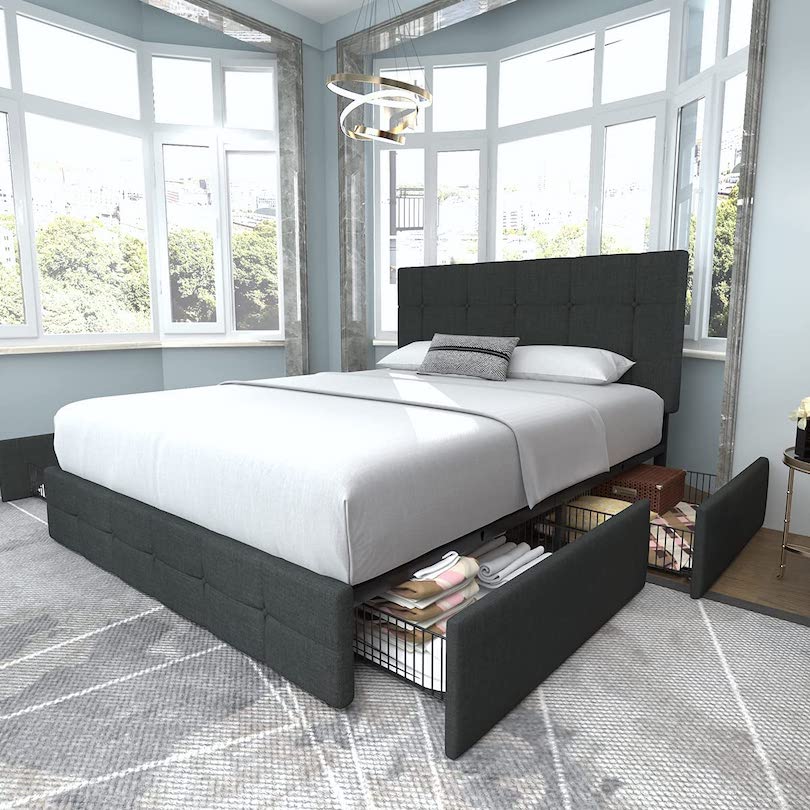 Here's another multipurpose piece of furniture that you need for your small bedroom. It is this elegant platform bed with four secret storage drawers that can hold shoes, clothes, bedding linens, and other items that you want to keep out of sight.
This bed frame boasts a classic style with a tufted headboard and solid foundation. According to the reviews of many Amazon buyers, it is a great bed for small spaces. This deluxe platform bed boasts elegant upholstery in linen fabric along with a button-tufted and stitched surface. Hence, it adds sophisticated style to any bedroom interior.
10. Wall-Mounted Folding Convertible Storage Desk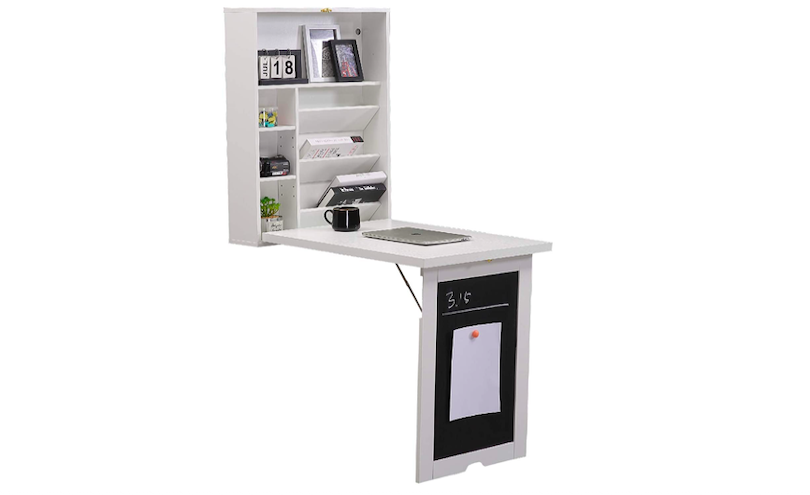 It is another multipurpose piece of furniture for people living in studio apartments or tiny homes. This is a wall-mounted folding convertible desk that's made of premium melamine board. It has a sturdy and multipurpose storage compartment with a fold-out table. On this table, you can put your books, laptop, and other work-related accessories. Even with the shelves, you can meet various storage needs.
When not in use, you can fold it to keep the desk area out of sight. You can use this space-saving solution as a computer desk when expanded. Or use it as a cabinet when it's folded. This furniture unit is ideal for a living room, bedroom, study room, or office cabin.