10 Home Bar Cabinet Styles To Purchase From Amazon
If you are someone who has an amazing collection of wine or liquor bottles lying in your cupboard, it's time to find them a new home. With the winter season about to knock on our doors, you have to consider storing your liquor bottles in a stylish home bar cabinet. A bar cabinet is a perfect furniture piece to store your all libation-related goods. It also acts as a perfect decorative element to spruce up your home interior.
But when it comes to choosing the right home bar cabinet, there are abundant choices both offline and online. However, if you are looking for the right bar cabinet for your home online, Amazon is a great place to find the desired unit. On this online platform, you can find a lot of amazing bar cabinet styles – from modern to rustic. Plus, these cabinets are available in a variety of sizes and shapes to easily fit the available space.
However, to help you make your shopping journey easy, we have curated a list of our favorite home bar cabinets on Amazon. We are sure these bar cabinets will take your at-home bar game to another level.
1. Grey Corner Home Bar Cabinet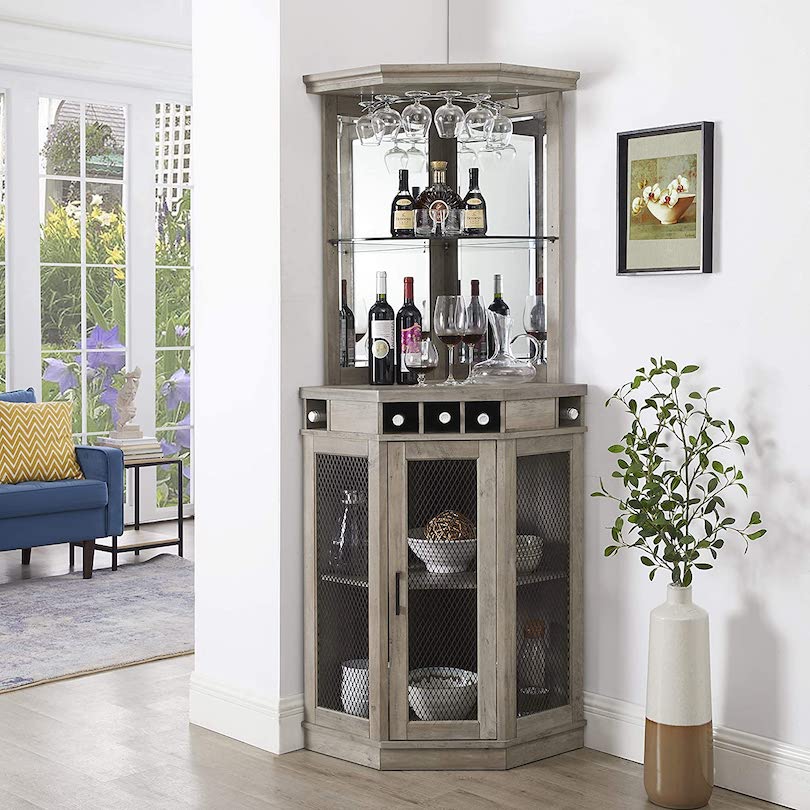 If you're seeking a home bar cabinet with a distinctive look and sophisticated design, this bar cabinet is a perfect choice. It is ideal for storing your liquor bottles and glassware to serve your favorite drinks. Since it is a compact and elongated bar cabinet, it is easier to place in any corner of a room and store your wines and liquor bottles.
It also includes space to hang and display your best wine glasses. In the middle section of this unite, there is a stylish glass shelf for showcasing your beverage collection. There is also ample cabinet space for keeping bottle openers, plates, glasses, or china.
2. Home Bar Cabinet with Rattan Decorated Doors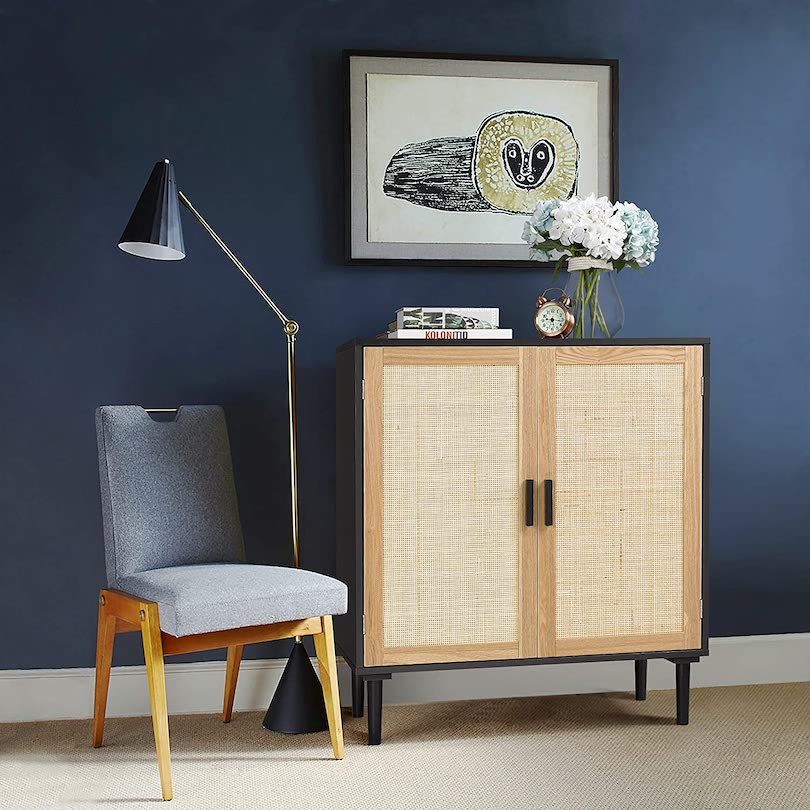 Have a look at this simple yet stylish home bar cabinet with rattan-decorated doors. This particular piece combines aesthetic beauty with practicality. It uses natural rattan with handmade weaving techniques for amazing visual effects. Another benefit of using rattan is that it absorbs heat and moisture while maintaining optimal temperature to store the bottles.
Measuring 31.5 x 15.75 x 34.65-inches, this storage cabinet is perfect to install in any spacious area in your living room. It has a large storage area with an adjustable shelf and a big desktop. The cabinet is perfectly made with high-end MDF (P2 grade) and its solid wood leg offers high durability. Furthermore, it has an environmentally-friendly lacquered surface to prevent odor and harm to the unit.
The best part is that it is a multi-purpose cabinet to meet your different storage needs. Besides acting as a perfect bar cabinet to store liquor bottles, it can also store your kitchen or living room essentials. All thanks to the rattan's ability to absorb moisture, it is perfect to use in a bathroom for storing bathroom accessories.
3. Elegant Wooden Wine Bar Cabinet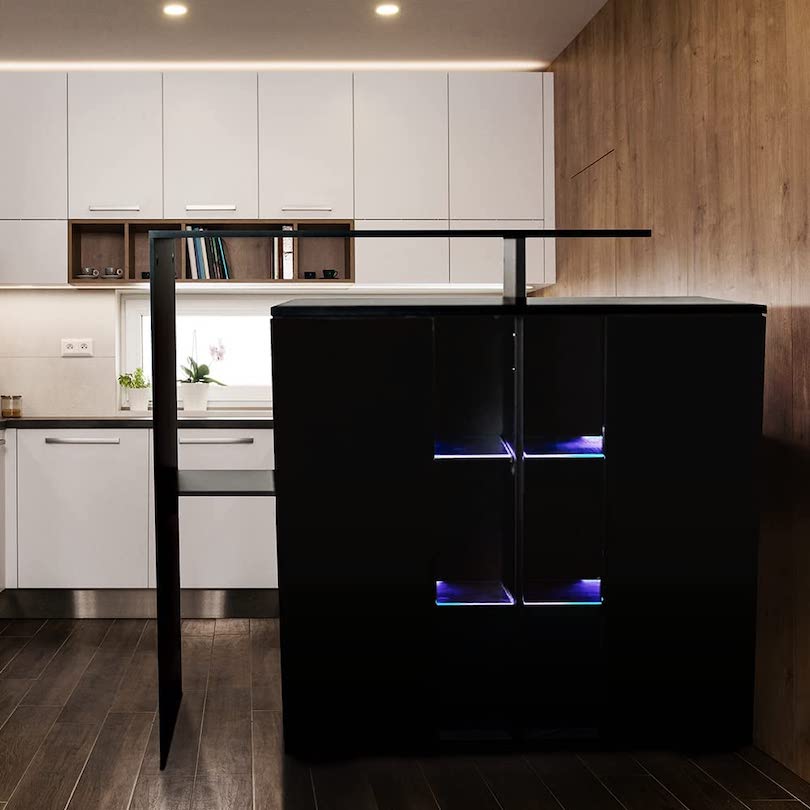 Made with acrylic doors, this home bar cabinet offers a classic and exquisite style to the interior. It has both aesthetic and practical design that's suitable for all types of rooms and decor styles. You can use it as a wine cabinet, cupboard table, or console table.
All thanks to its two cabinets, this unit has ample storage space to keep your liquor collection. It comes disassembled in a well-protected package. Using the specific assembly manual, you can easily assemble it at home.
Made of highly durable materials, this multi-functional acrylic wine bar cabinet can last a long duration. The best part is that its inner shelves are well-lit. So, you can easily see which wine or liquor bottle you've stored in which particular section.
4. Nathan James Enloe Modern Storage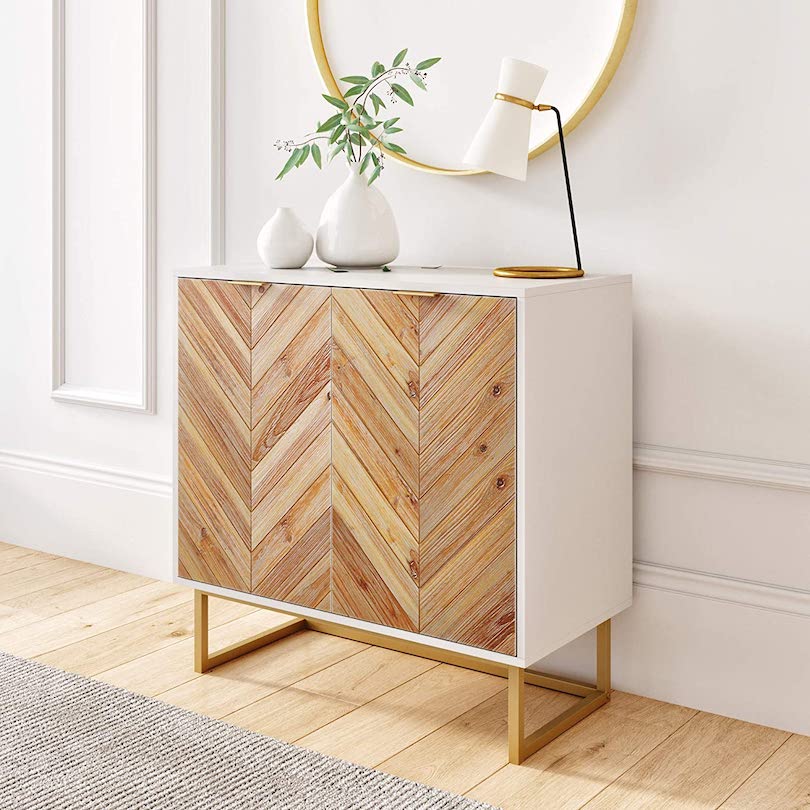 Enloe home bar cabinet comes in a two-tone design. It is painted with a white exterior with rustic solid wood doors. These doors are elegantly designed in exquisite herringbone style. These are also finished at the base with a gold-accented metal foundation.
It comes with adjustable and removable shelves in the cabinet. This enables you to use the interior space as you like while organizing things as per your desire. Hence, it serves as a stylish, free-standing unit.
This unit has a sleek and space-saving design. It means you can use it anywhere you have space for your home bar. Besides being a bar unit, it also serves as entryway storage, hallway cabinet, or any other type of storage unit.
Boasting modern and rustic style, this accent cabinet is perfect to add unique character and style to any room interior
5. Bestier Farmhouse Home Bar Cabinet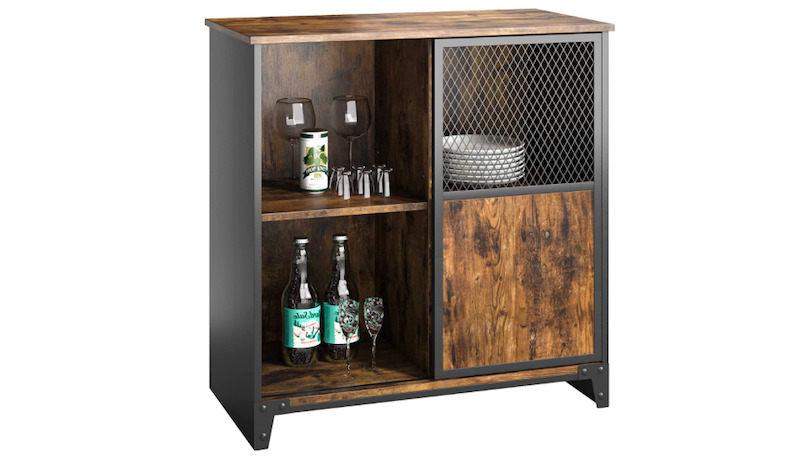 Looking for a farmhouse-style home bar cabinet for your contemporary or traditional interior? Have a look at this stylish cabinet. It comes with adjustable interior shelves for customizable organization. It serves as a buffet table and also to display your liquor or wine bottles, dishes, and small appliances. Hence, it is a great cabinet for your family room, home office, living room, entertainment room, study room, dorm rooms, apartments, etc.
Made from scratch-resistant, water-resistant, and heat-resistant MDF laminate and steel, this console is durable enough to last many years. Plus, its rustic style is likely to fit within any farmhouse-style room. We're sure your guests cannot neglect the rustic charm of this stylish cabinet. Hence, it would act as a good conversation starter too.
6. Walker Edison Saxon Mid Century Modern 1 Door Accent Cabinet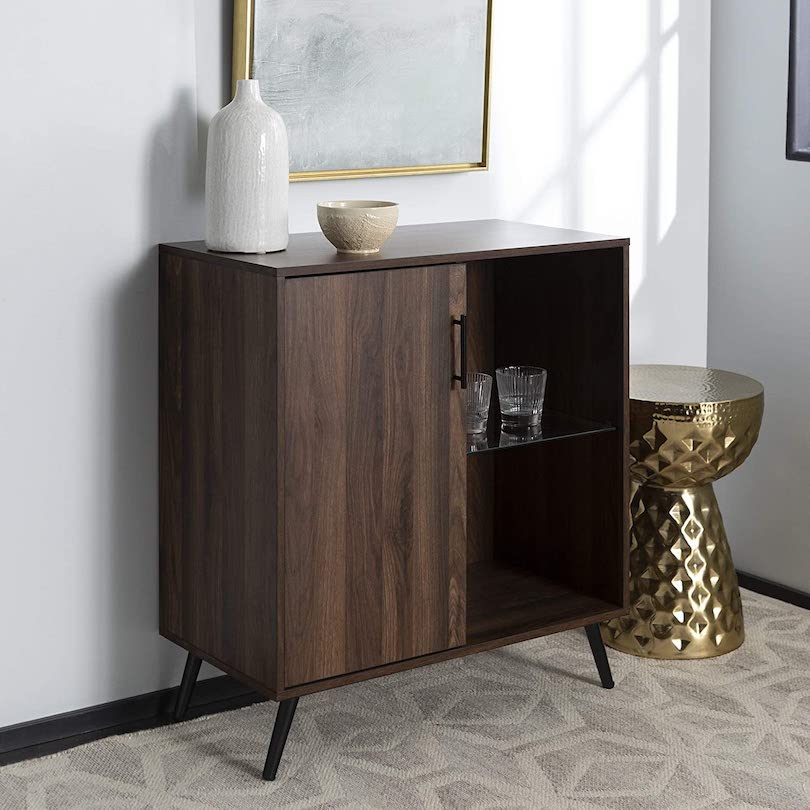 While some people believe that mid-century furniture's trend is gone, many still like to incorporate it in their homes. If you also like the timelessness of such streamlined furniture, this is a perfect furniture unit for your contemporary interior decor.
This 30-inch mid-century style cabinet is perfect to give your home an elegant bar unit. Boasting metal angled legs, the cabinet has a tempered glass shelf inside and a side cabinet. It has both open and closed storage space. So, you can choose to display your liquor bottles on the open side. And, store the glassware and plates in the closed storage side.
Even its top can be used to display your liquor collection along with some amazing home decor pieces.
7. Walker Edison Blue Home Bar Cabinet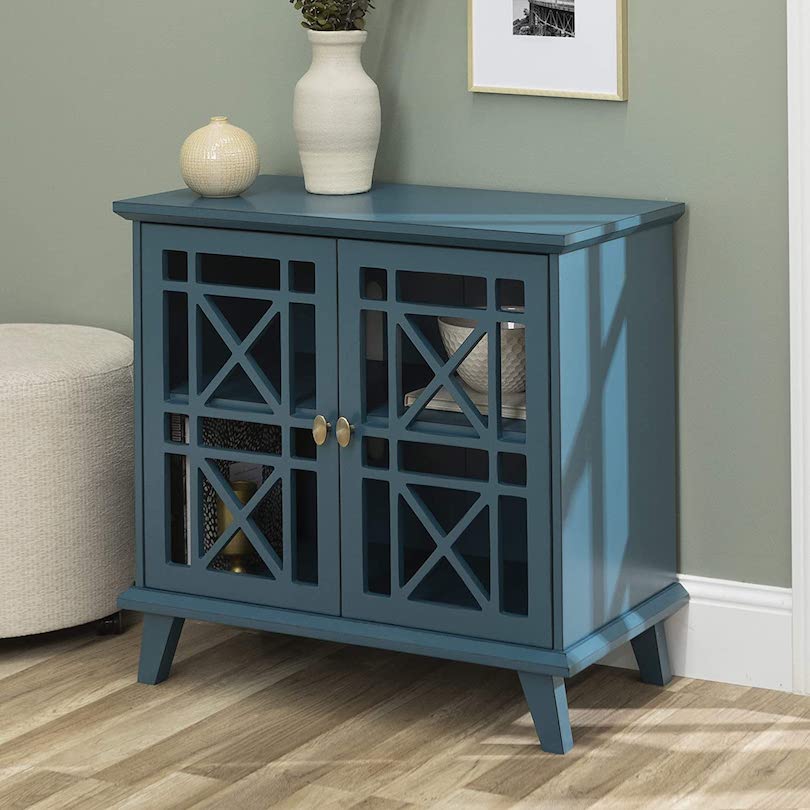 Here's another stylish home bar cabinet by Walker Edison. You can highlight your living space with its decorative accent cabinet in a stylish blue hue. It features fretwork doors to add an interesting style to your interior.
Made of high-grade MFD and solid wood veneer, this cabinet is further painted in blue for a classic appearance. It also comes with an adjustable shelf for storing your decor pieces and accessories.
This unit is a perfect blend of the ornamental and practical console that would complement any dining room, living room, or entertainment room. It has a decent size to make any small interior space your favorite bar area.
8. NSdirect Home Bar Cabinet With Sliding Barn Door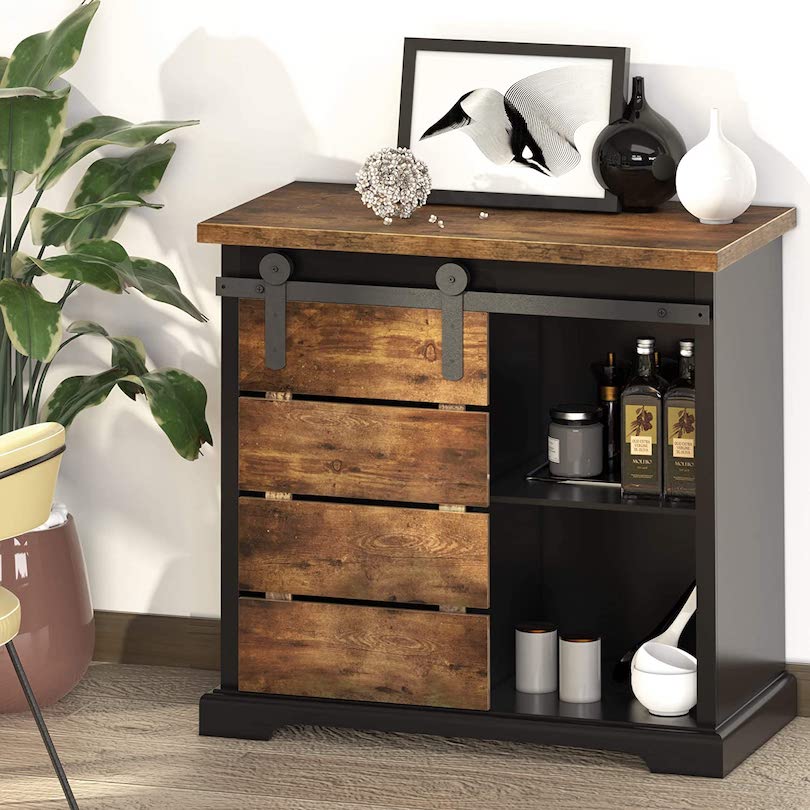 Made with MDF material and sturdy construction, this solid and stable bar cabinet boasts a sliding barn door. It has an inner adjustable shelf for easy storage. This buffet sideboard also withstands a maximum capacity of around 300 lbs.
Due to its unique barn door with sliding ability, this is a perfect piece to add a refreshing touch to your living space. Meanwhile, it will help you display your wine bottles. Another good thing about this bar cabinet is that it is easy to assemble yourself. Plus, its wooden smooth surface is waterproof. So, you can easily clean it with a damp cloth.
9. Barndoor Bartender Cabinet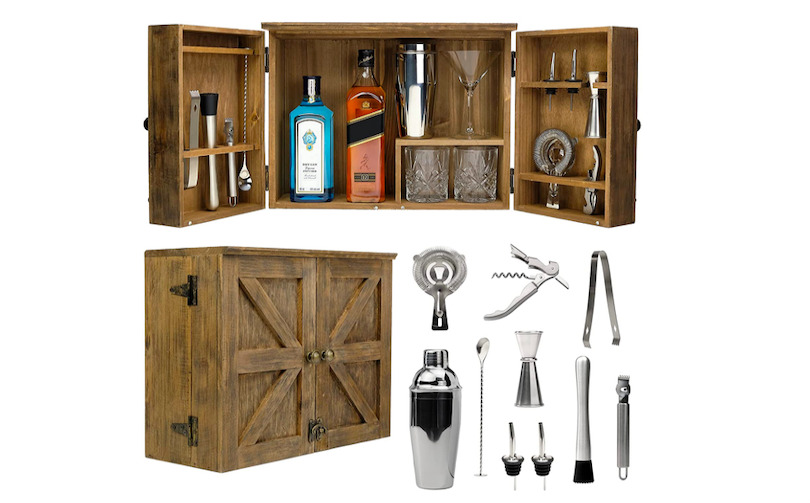 Check out this Barndoor Bar Cabinet that you can hang on your wall. It is a 12-piece bartending kit that comes with a 24 oz cocktail shaker, mixing spoon, mojito muddler, double-sided jigger, 2 easy pour caps, Hawthorne strainer, double level corkscrew, ice thongs, and zester. But the bottles and glasses are not included, of course.
Measuring 13.5 x 7 x 17-inches, this wall-mounted bar cabinet includes space for two liquor bottles. Plus, the rest of the space has an additional shelf for storing glassware. With its pre-drilled mounting holes, this home bar cabinet is easy to install anywhere.
So, add a rustic appearance to any interior space with this rustic-looking bar cabinet. To enhance its visual appeal, the stained wood unit is further accented with a brass-finished latch, hinges, and knobs.
10. Vintiquewise Lockable Bar Cabinet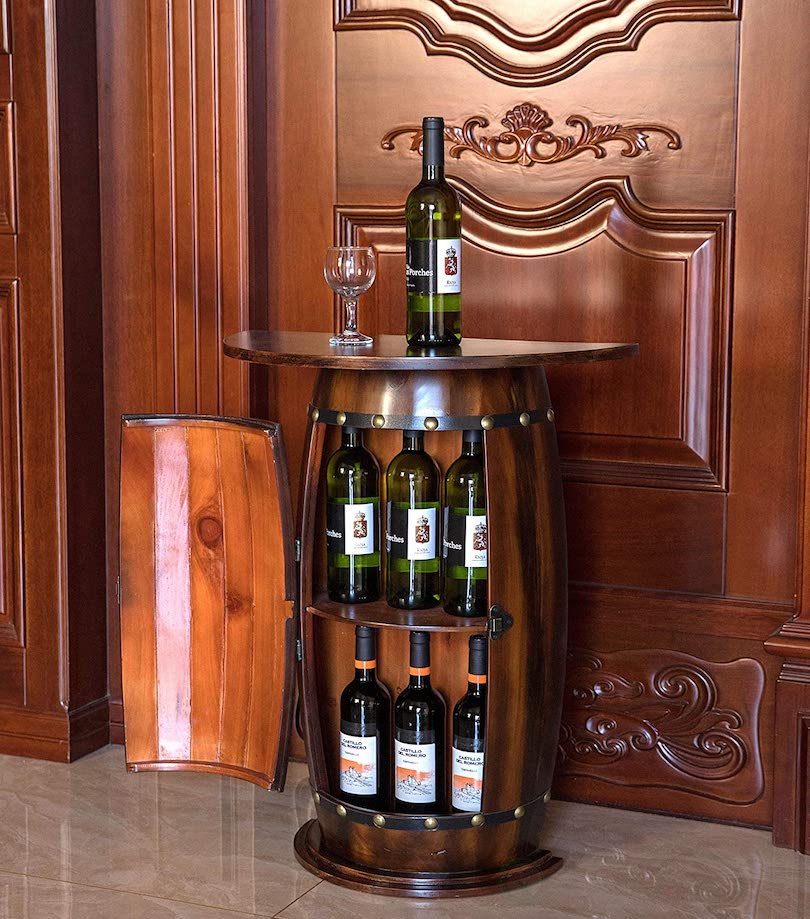 This is one of our favorite bar cabinets on this list. It is a wooden barrel-shaped liquor or wine cabinet and end table. The cabinet is perfect to use in your living room or entertainment room. It offers convenient and functional storage, as well as timeless style to your interior.
Its freestanding design is perfect for making this bar table steady for keeping the wine collection safe and secure. You can use it for storing liquors or wines or display glassware on the top. For added protection, the cabinet comes with a secured lockable latch.