10 Home Decor Items You Need To Uplift Your Living Room
Are you a social butterfly who likes to entertain guests at home? If so, you must look for the right home decor items to make your living room fun and aesthetic for your visitors. You can make it chic or rustic, depending on your preference. If your living room has a neutral background, you can consider enhancing it with some bold accessories, like colored throw pillows or rugs.
If your living room is small, you may consider adding an accent mirror to make it appear a little more spacious than its actual size. You need to consider your home decor like artwork. So, visualize its ultimate image and then consider finding the right home decor items to match your imagination.
After all, living room decor is all about some finishing touches to the sitting area, lounging space, or any other section where you love to relax or entertain. However, it can be a daunting task to choose the right accessories to uplift your home interior.
When decorating your room, whether you're considering adding an area rug, changing curtains, or hanging something on your walls, choosing items that complement your room's style is important. For instance, if you're aiming for a rustic look, explore the collection of Brazilian cowhide rugs over here rather than deciding between cotton or loft rugs.
On the other hand, if your room has a simple and minimalist design, you may opt for seamless curtains and understated decor. Take advantage of the vast resources available on the internet by browsing interior design pages and blogs to gain inspiration and help you make informed decisions about your decor choices.
But to make things easier for you, we have created a list of the top 10 home decor pieces that can instantly amp up the look of your living room.
1. Wool Velvet Decorative Throw Pillow Covers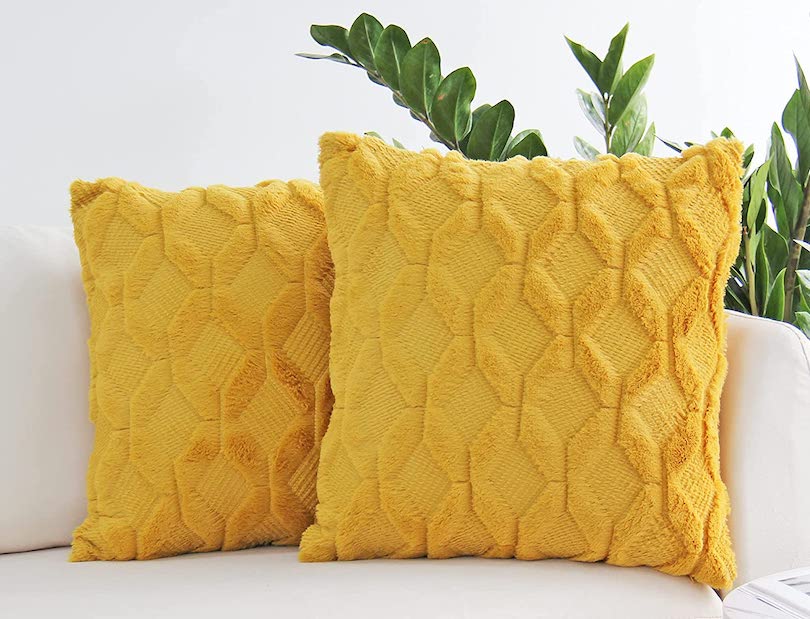 Probably, it is one of the most comfortable home decor items. Not only a throw pillow can add a cozy feel to your living room, but it also enhances its visual appeal when chosen in bright and decorative patterns.
For instance, the throw pillow cover shown in the image comes in soft fur/wool fabric with 3D embroidered pattern. It also includes a premium quality invisible zipper for easily inserting the pillows. Plus, the right zigzag over-locked stitches ensure that the fabric doesn't rip or fray.
It is both a pretty and practical decorative throw pillow cover for couches and chairs. We're sure these will add an instant pop of color to an otherwise neutral living room interior.
2. Mini Artificial Plants – Home Decor Items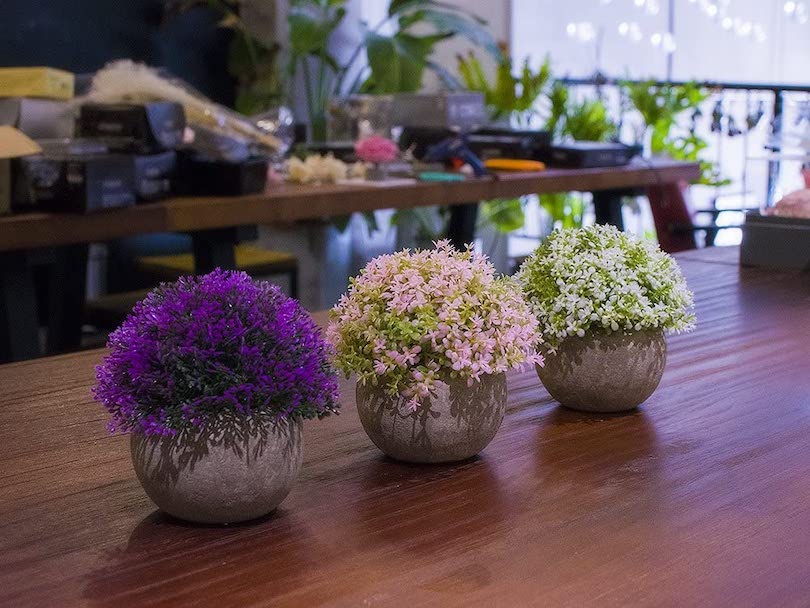 It goes without any doubt that indoor plants are one of the best additions to any abode. But if you cannot manage the care and time that living plants need, it is best to go for artificial plants. These are also colorful and lively additions to any interior. Plus, these are soothing to the eyes.
While there are many artificial plant options available in the market, we suggest you go for this combination of three mini artificial plants. These faux flowers come in a rugged concrete planter, which is a neutral addition to any living space. These artificial plants with neutral pots are compact to fit even in small areas of your living room. For instance, you can keep them on your end table, side table, window panes, or bookshelves.
3. Abstract Modern Area Rug – Home Decor Items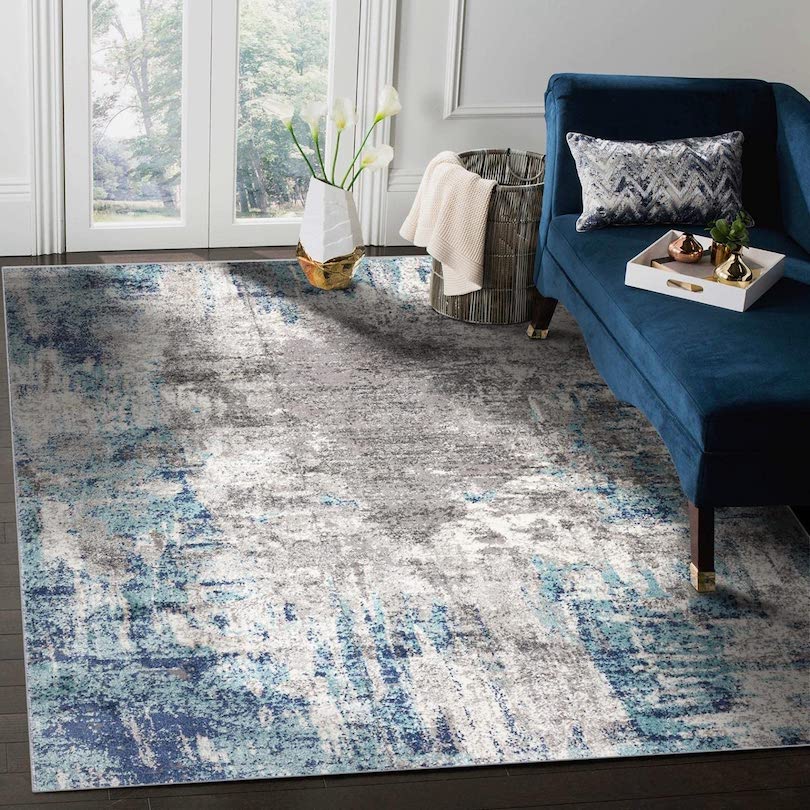 A living room decor feels incomplete without a proper rug. Therefore, a rug is one of the important home decor items to add a layer to your home's interior. It is best to pick a rug as per the size and available space in your living room. You can look for various inspiring designs on the internet.
For instance, have a look at this abstract modern area rug. Produced in Turkey, this premium area rug adds value to the interior and adds glamour to any neutral-themed room. Made from 100-percent polypropylene with fine craftsmanship, it is an elegant piece for sure. Therefore, you don't have to worry about its wear and tear any time soon.
Furthermore, its abstract design boasts an impeccable mix of conventional oriental rug and modern rug styles. Hence, it is perfect to make a bold statement in every flooring it covers. So, go grab it if you want to have an interior with a soothing ambiance.
4. Decorative Display Tray – Home Decor Items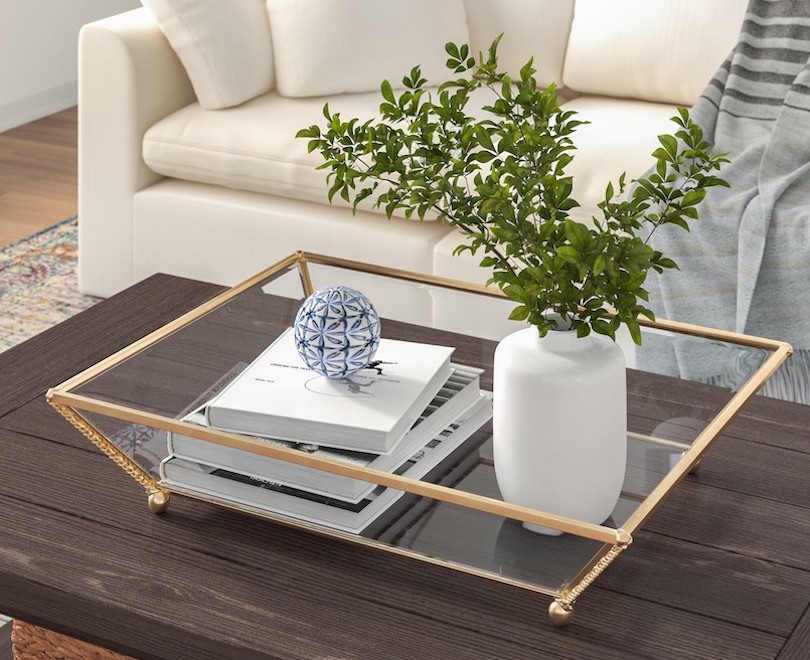 A decorative display tray is another aesthetic yet functional addition to this list of useful home decor items. Here is a beautiful vanity gold tray to glam up your coffee table. Made from polished metal and further finished in the aesthetic mirrored glass surface, this tray is sturdy than plastic. Hence, a durable option for your living space. Since it is designed carefully in geometric shape, it is perfect to show off the displayed items from all angles.
You can use it to keep magazines, a small vase, or a bowl of munchies. Or you can use this elegant tray to hold remotes of your TV or music system. You can choose this stunning gold-accented tray or any other as per the size of your coffee table. But never choose a too big display tray that takes up maximum coffee table space. It also should not be too small that it's of no use.
5. Wall Art To Decorate Your Living Room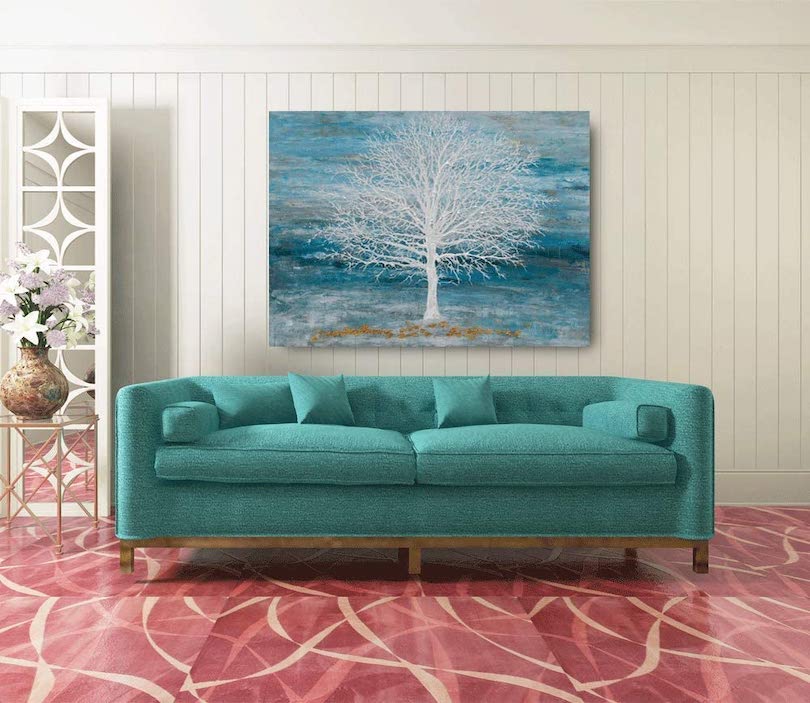 There is something stylish and special about a wall painting in our living room. Knowing the meaning behind that art piece adds more interest to the story of your home. Just have a look at this creative blue wall art. It seems that some nature lover has made this image in the wilderness.
It is a creation of a professional artist who printed the tree figure on a good-quality linen canvas. After that, it's handpainted with embellishments and oil paint. This painting is gallery wrapped in 1.2-inch thick stretcher-bar. Even hooks are on the rear of the art piece, making it easier to hang on any desired wall.
While we recommend you to add this art piece in your living room above your sofa, you can also install it on a wall in your bedroom, bathroom, dining room, meeting room, hallway, guest room, coffee bar, home bar, corridor, college dormitory, spa, lounge, office, etc.
6. Pendant Chandelier – Home Decor Items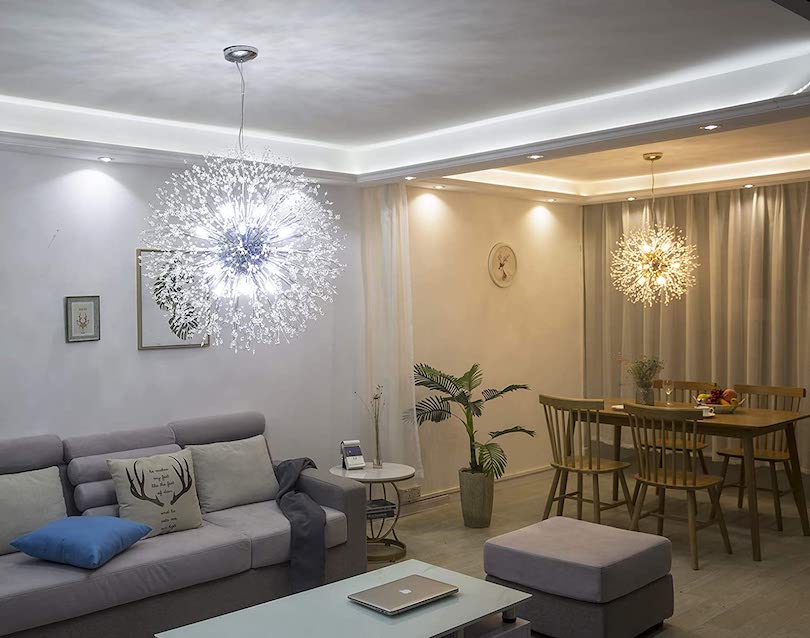 The lights are another essential home decor item to spruce up your living space. You can choose from many amazing bright LED lights to decorative chandeliers that are stylish and functional at the same time. You may even choose lights for adding exquisite accents to your abode by installing lights along the perimeter of your ceiling.
However, for decorative purposes, we suggest you opt for a gorgeous pendant chandelier. This firework pendant chandelier (shown in the image above) is a great statement piece. It is an elegant and modern design for uplifting the look of your living room.
It consists of clear crystals that are gorgeous and appear very expensive and chic. It measures 15.8 x 59 x 4.72-inches, so a great addition to a contemporary style living room.
7. Golden Vase – Home Decor Items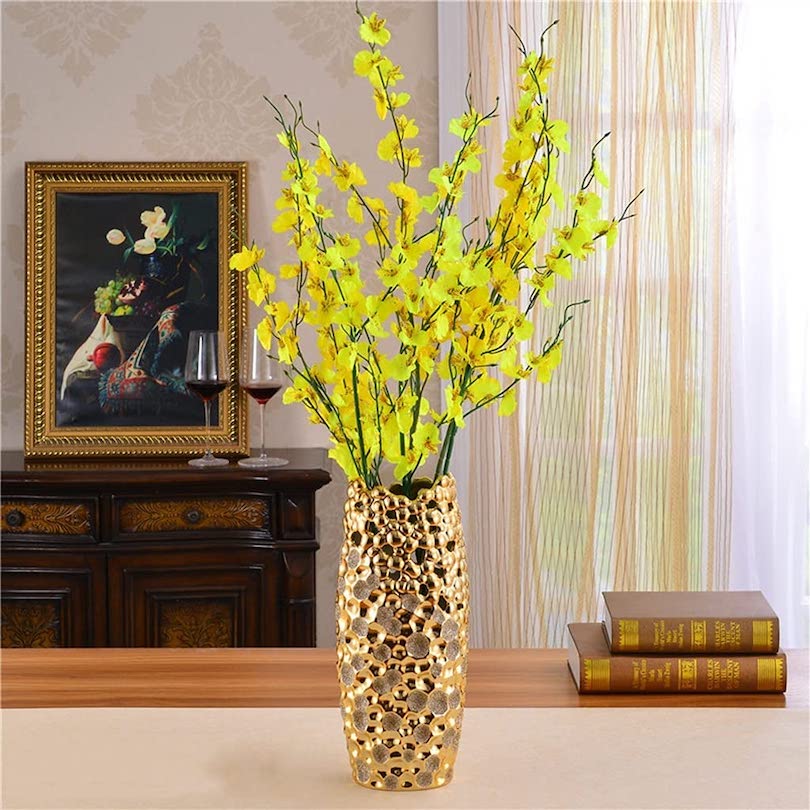 Here is a golden vase that's made of durable ceramics and further boasts a mini hammer design with a golden finish. This stylish vase with a glazed surface is ideal to add a unique style to a modern-themed living room. It will also look amazing with different retro-themed home decor pieces.
You can keep it on shelves, end tables, or side tables to hold living, artificial, or dried flowers. Hence, it will add an elegant and romantic feel to the given space. It is a great gifting item during Christmas, holidays, birthdays, weddings, Thanksgiving, and anniversaries.
8. Sunburst Accent Mirror – Home Decor Items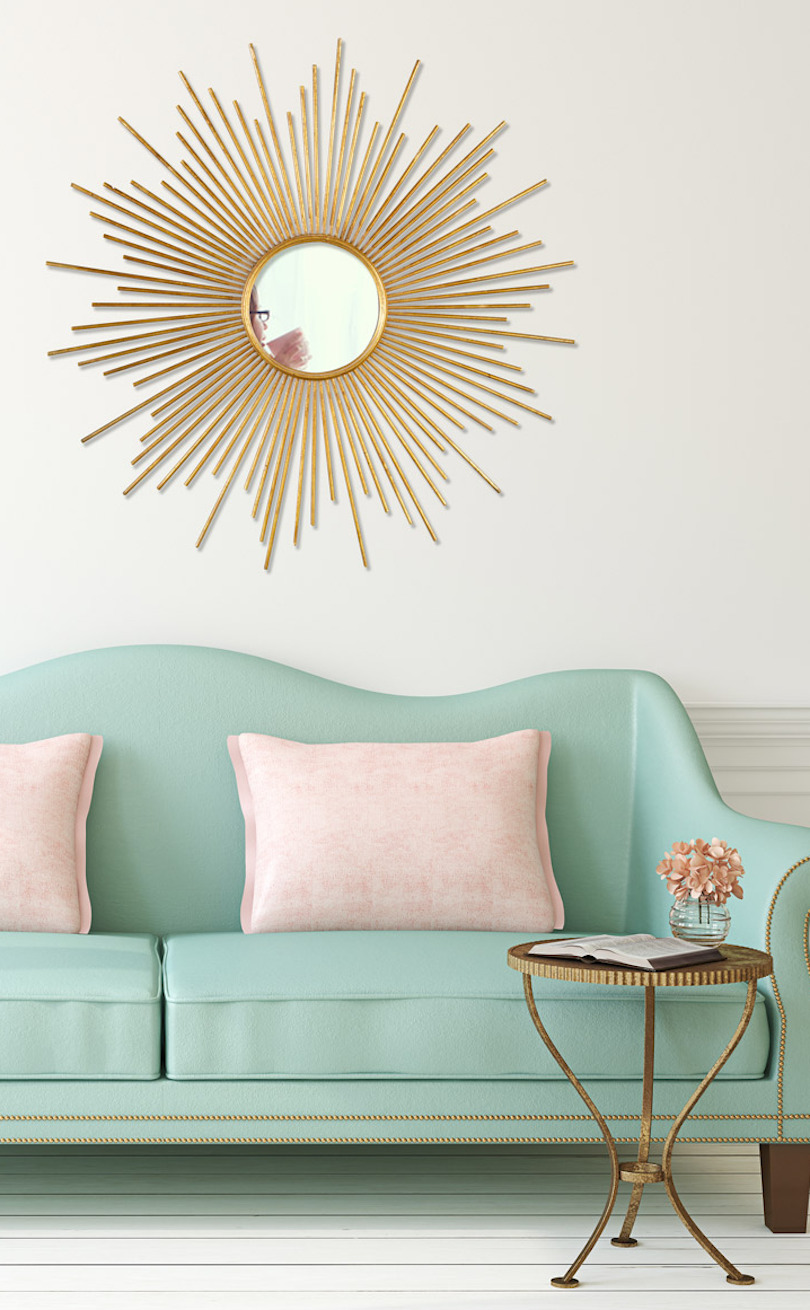 Let light bounce around your living room and create an illusion of more space with this stylish accent mirror. Designed in the shape of shining sun, this mirror is likely to draw the attention of the visitors.
Measuring at a 24-inch diameter of the gold frame and 8. 7-inch diameter for the mirror, this is one of the best home decor items for an instant glam effect. This stylish and eye-catching decor item also comes with a keyhole mounting bracket. So, you can easily mount it on the wall using a screw. Besides your living room, you can even consider adding it to your bathroom, entryway, and office space.
9. Gold Metal Photo Frame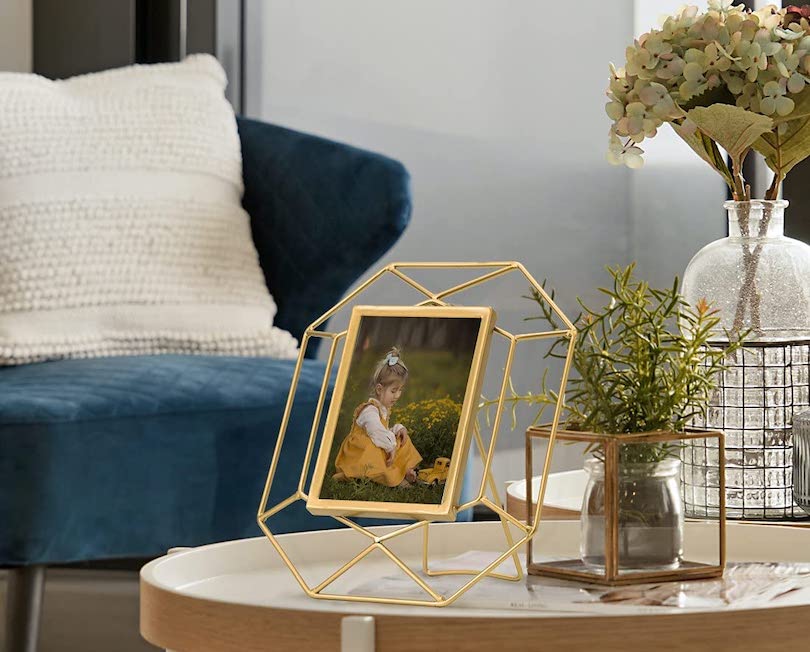 Framing images in a beautiful photo frame adds character to your interior. This is a simple way to put the happiest memories on display. But there is also the art of doing it without being over the top.
For instance, you can choose this golden photo frame for displaying your picture. This will make your favorite memory an impressive and eye-catching artwork. The metal picture frame measures 8.2 x 4.7 x10-inches. It is a decent size to display on your dresser, tabletop, desktop, or end table.
The frame is made from sturdy iron wire that's coated with brass. Its picture area is covered in high-quality glass. Hence, the frame has a stable placement while offering strong protection to the displayed picture.
10. Succulent-Shaped Porcelain Diffuser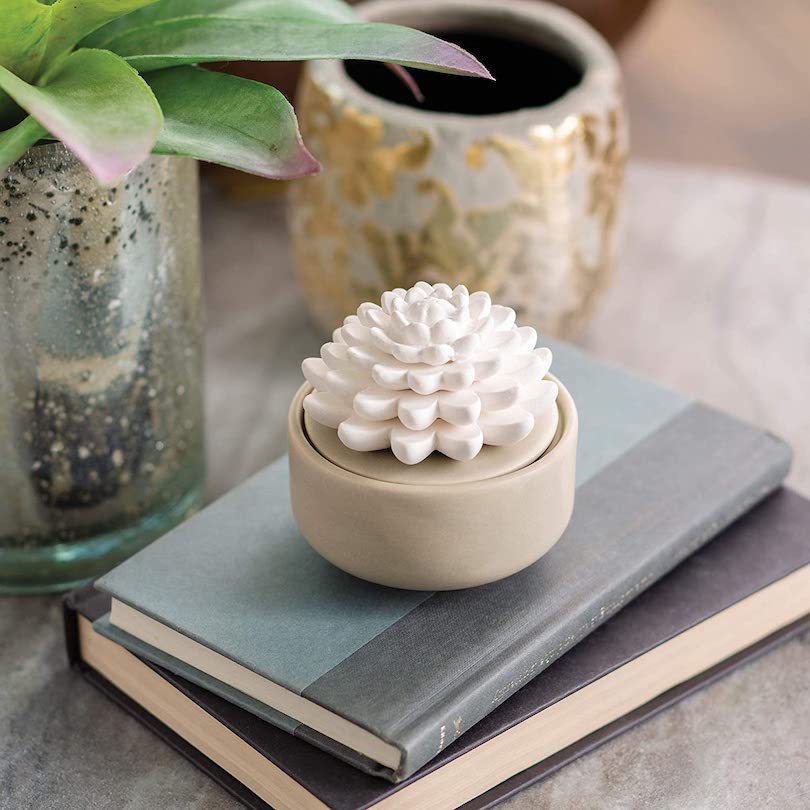 Do fragrances have a good impact on your mood? If so, consider aromatherapy for yourself. But for that, you don't have to buy dull-looking aroma diffusers. Just consider a sculptural design, like this succulent-shaped porcelain diffuser in while. This is elegant to look at and can diffuse the amazing scents of your favorite essential oils, like lavender, geranium, chamomile, etc.
This porcelain succulent is of decent size and easy to help you reap the benefits of aromatherapy. It comes in three pieces, vessel lid, porcelain botanical with rope, and vessel. All you need to do is fill the vessel with your desired essential oil and close the lid. Turn it on and let the diffuse spread amazing fragrance for up to two weeks.
We hope this guide is helpful for you to decide what all home decor items you need to include in your living space for better aesthetic appeal. These items may be small or big, but their impact is visible clearly.