Christmas Gift Guide 2021 For Home Decor Lovers
Wondering what to gift everyone this Christmas? You're not alone! After a stressful COVID-19 pandemic period, where many of us spent more time at home, what could be more appreciated than the gifts for homes? In this article, we have created the latest Christmas gift guide for home decor lovers.
After all, there's no other safe gifting option than home decor pieces. You can gift such items to anyone who likes to revamp their living space every now or then. Such home decor gifts are also suitable for those who like to match their decor pieces with their interior. So, gifting them matching throw pillows or vases is a good option.
If you feel Christmas is not complete without candles, consider gifting your loved ones with scented candles. These candles not only enhance the home decor but also uplifts one's mood. Whether you keep them as bedside ornaments or table accessories, scented candles are lit gift options this year. Likewise, you can consider various other gifting options as per the liking of your family members or friends.
Here are some of our top home decor picks to present to your loved ones this Christmas:
1. Wall Art – Christmas Gift Guide 2021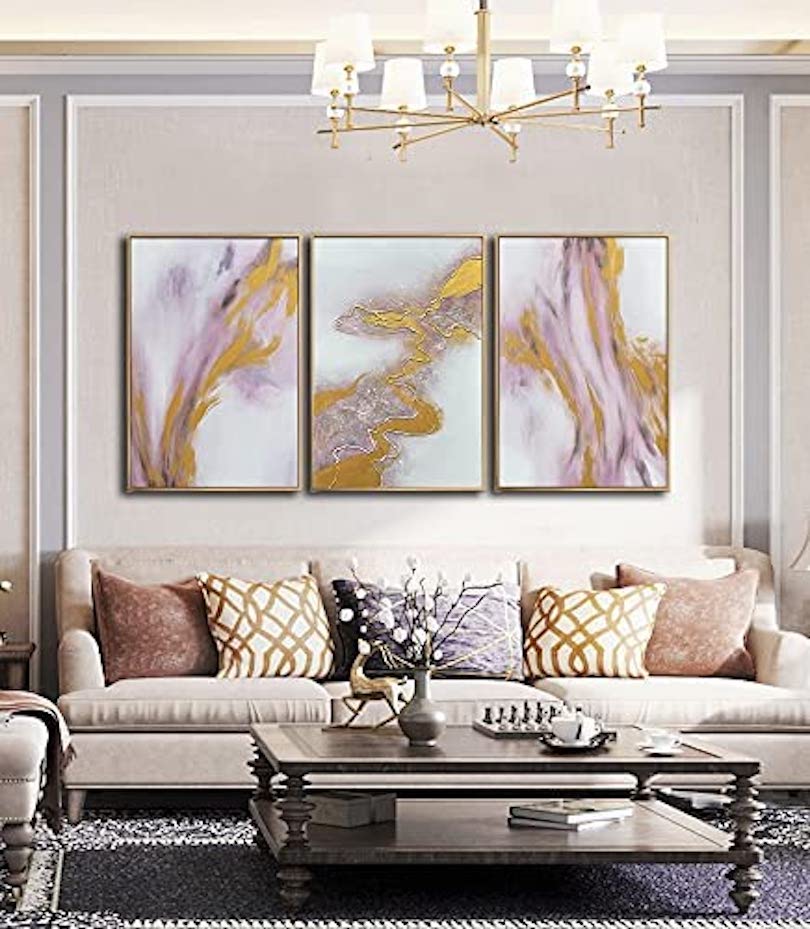 Help your loved one add life into their living room with this visually appealing wall art. This modern wall art is chic with its colorful art. Hence, it will give a unique touch to any wall where you install it. If someone on your friend list is searching for perfect wall art for their living room, it is a great piece to gift them.
Since it is a three-piece wall art piece, these are perfect to deck up any neutral wall. It would look the best hanging over a couch or any other area where your friend likes it. However, do take a look into your friend's home before buying a wall decor for him/her. This way you can figure out the right piece to coordinate with the design and colors of their abode. You can even combine your wall art with various home decor items to enhance the aesthetics of the given space.
2. Throw Pillows – Christmas Gift Guide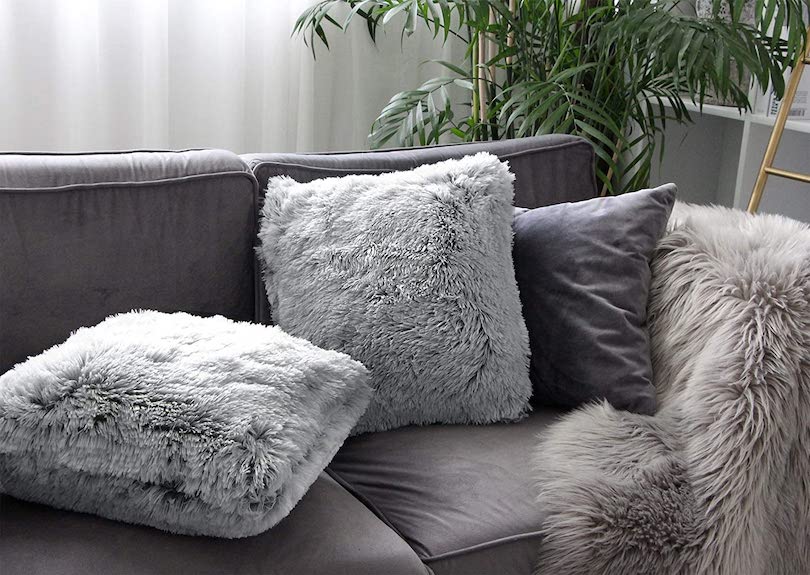 This is one of the most comfortable gifts in this Christmas gift guide. Throw pillows are perfect to complement any couch, as they easily transform a living room into a comfy hideaway. The best part is that these throw pillows are not expensive, so you can get as many as you want. This way, you can add seasonal texture with festive touch into your living space. That too without breaking a bank.
Such high-quality fabrics are perfect to bring in plush and help you add warmth to your retreat. This throw pillow can also useful for seating in your patio or garden area. We are sure your friend will thank you every time they cuddle this throw pillow in the sweater weather.
3. Scented Candles For Christmas Decor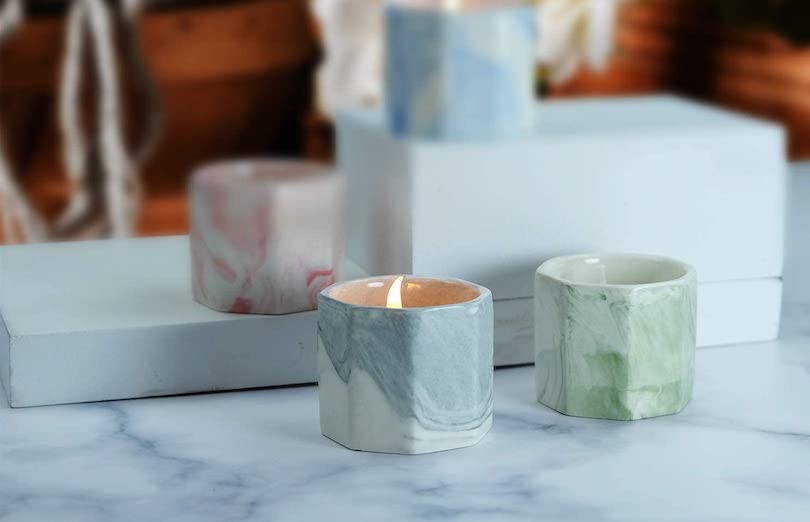 Another amazing Christmas gift guide option to make your festivities lit is these scented candles. These candles are available in various styles to create a welcoming and warm environment. Plus, these can last a long time. These candles will make a great table centerpiece and add festive cheer to your interior.
Cinnamon and pine are some soothing aromas to consider for holidays. These are perfect to destress your giftee. Besides that, you can opt for any other aroma of their choice to help them celebrate the day joyously. You can even choose the candles in subtle colors as shown in the image above. This will help your friend add a timeless and sophisticated look to their living space.
4. Photo Frames For Christmas Decor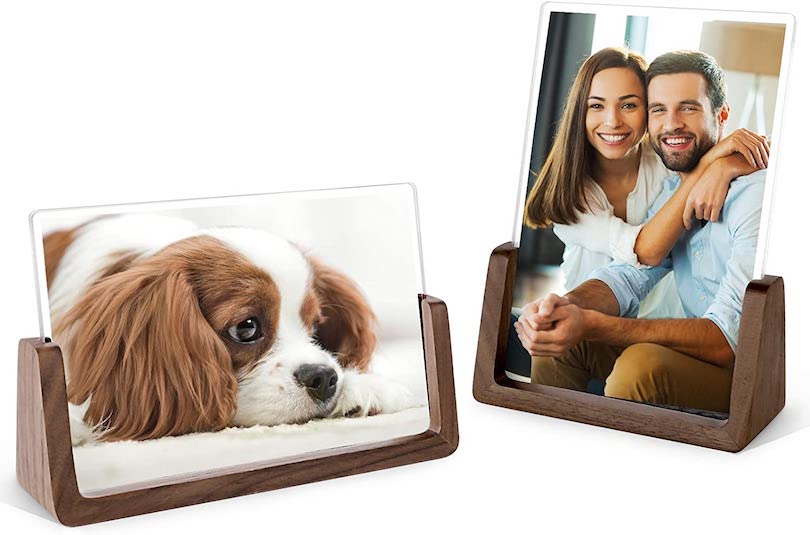 Photo frames are an excellent Christmas gift guide for home decor lovers. These are perfect for a quick upgrade to any space with a lively family photo. You can hang it anywhere or placed on a side table or end table to add sentimental value to a room. The given table frames are sized for 8×10 and smaller, which makes them perfect for shelves, desks, bookcases, and mantels. It is a great gift that they would keep even after the Christmas season is over.
5. Christmas Ornaments For Decor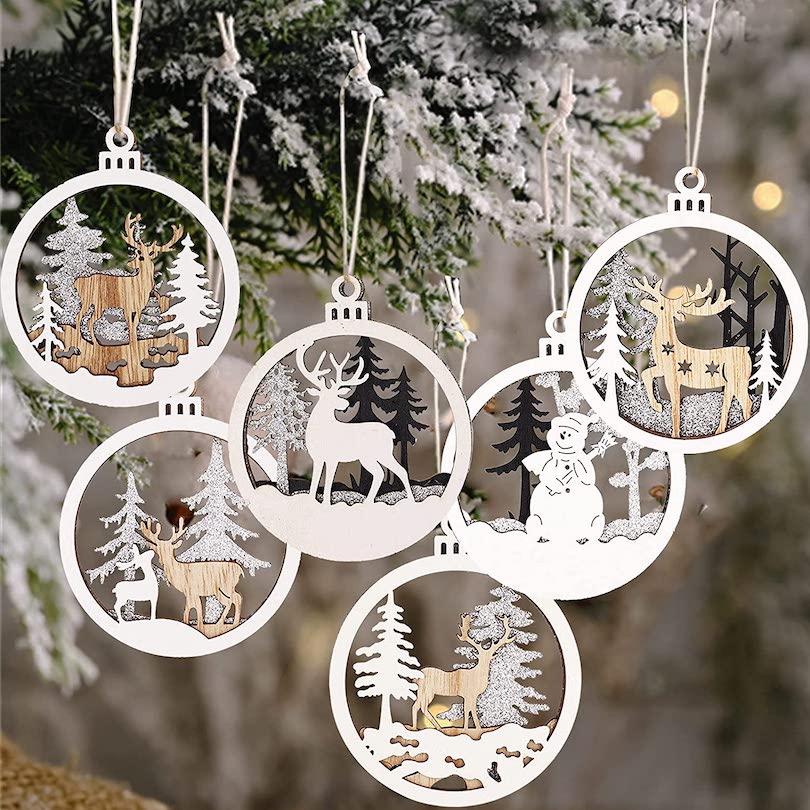 One simple Christmas gift guide home decor item to consider this season is festive ornaments. Such ornaments can easily spark your favorite memory during the holiday flair. You can buy an ornament that says Christmas. Further, get it personalized with the date that reminds the giftee of a special day or occasion. The Christmas ornaments are ideal for decorating the trees year after year. Hence, these are great to evoke special memories whenever your friend will redecorate the Christmas tree next year.
For instance, these finished wood ornaments are attached to twine rope and easy-to-use. These are great gifts for family and friends. Such winter hangings are not just for the Christmas tree, but also a fireplace, gift tags, door handle, etc.
6. Serving Trays For Christmas Gift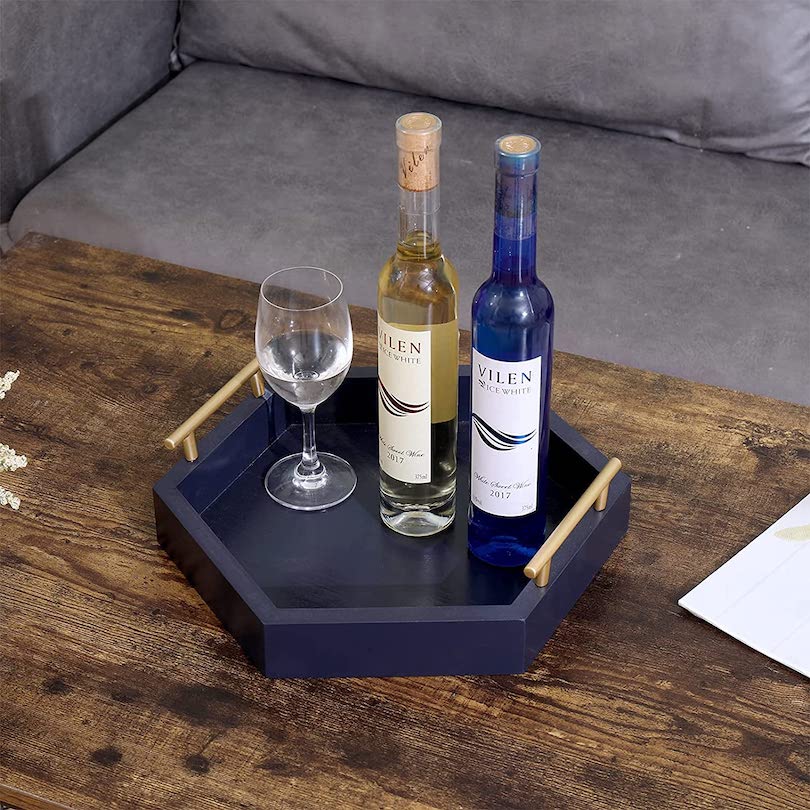 The serving trays are one of the best Christmas gifts to make your life hassle-free. For the person who loves to entertain and socialize with people, serving trays is a great option. It will help them serve their best puddings, fruitcakes, tea, coffee, etc. to their guests with ease.
The trays are perfect for use around the ottoman, entryway table, vanity, or for serving drinks. These make a great holiday gift option. These are aslo helpful for organizing things on a center table. For example, a giftee may use their serving tray on a table for holding items like books, flowers, and remotes. The trays are also functional in bathrooms for keeping toiletries and towels.
7. Coasters – Christmas Gift Guide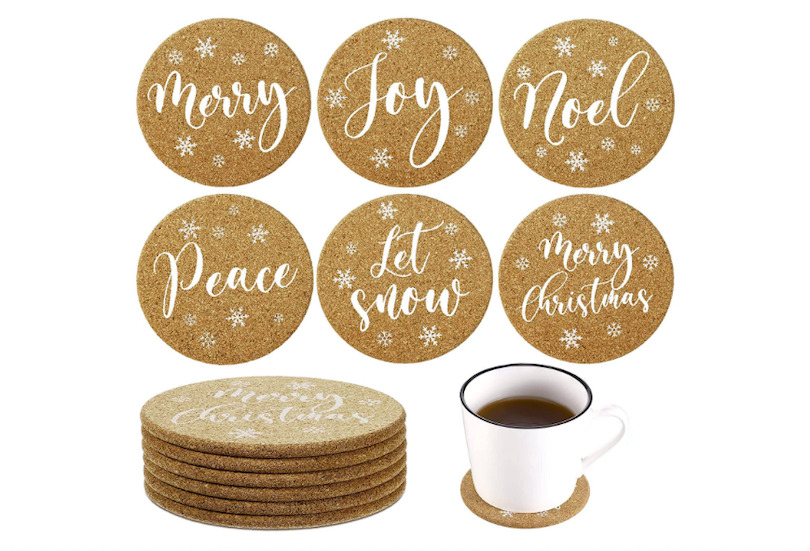 Buy: $9
With extra guests for holidays, tea coasters are practical and thoughtful decorative home decor gifts. Coasters help keep tables and other furniture surfaces free from stains and scratches. So, no more tea or coffee rings on the table. You can choose from classic designs, like leather or conversation-starting coasters that contain artwork, quotes, or funny messages.
Or can choose this pack of 6 natural cork coasters. Their quality is good enough to bear daily wear and tear. Meanwhile, its Christmas theme design makes it ideal for the festive season. Each piece of the coaster will remind the guests of the happening festive season. These are great for keeping in your dining room, kitchen, bar, living room, bedroom, and other places.
8. Vases For Christmas Gifts 2021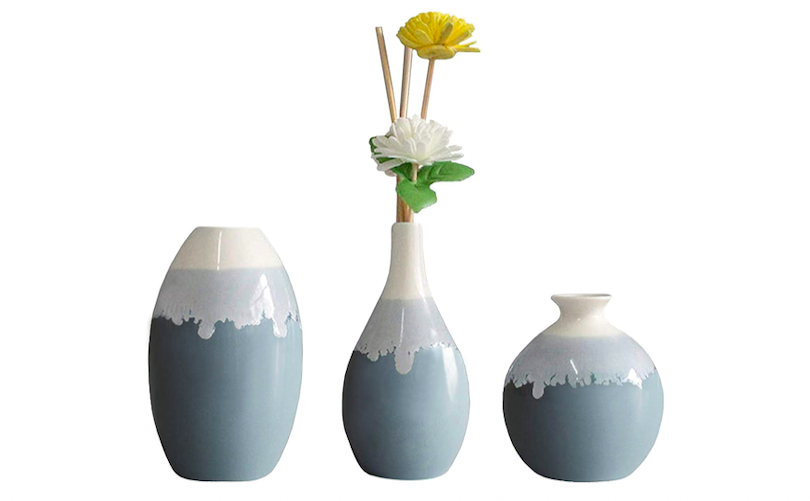 Another wonderful Christmas gift guide item for home decor is a vase. The vases are great for holding fresh or dried flowers. And, they always add a unique pop of hue or texture to any home interior. Have a look at these ceramic vases. These are perfect to add decorative holiday cheer to a home. These can also be decorated with holiday elements, like pinecones or berries. Or simply place candles around it for more elegant decor. A small vase is perfect to add to any shelving, bookcase, or end table. It will draw the eye of the viewers when its grouped with smaller accents in a centerpiece.
This set of three different size vases can be used together or separately. The oval one measures 6.3 x 1.6-inches, the narrow vase is around 5.5 x 2-inches, and the round one is 4 x 4-inches. So, decorate them around your house as per the available space on your tables or shelving units.
9. Marquees – Christmas Gift Guide 2021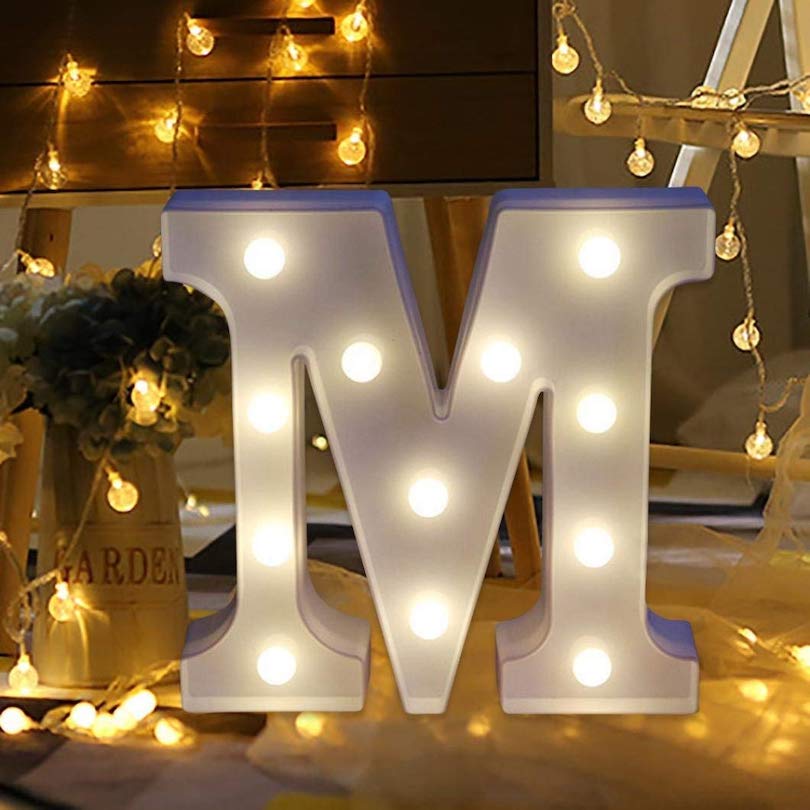 Buy: $7
These glitzy, fun accessories are also great Christmas gifting options for those who love the glamorous aesthetic. You can choose them in any size or color for adding stunning visual appeal to your shelf or wall. It can instantly brighten up your friend's gloomy winter days. You can choose it in a single letter or choose the letters to make a special word, like "Christmas," "Love," etc. There are various ways to use these letters to form words in Christmas decorations.
If you want the marquee, shown in this image, it is available on Amazon. It is made using environmental ABS + PP material and needs two AA batteries to operate. You can hang it on the walls, fireplace, or place it on the dining table during your celebration. Simply light up your favorite letter or words to make the occasion even more evident or special.
10. Bookends – Christmas Gift Guide 2021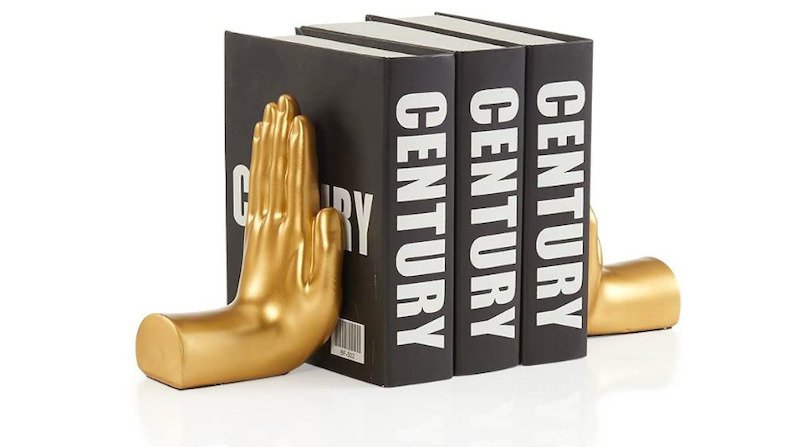 Gifting a set of bookends is also an amazing option for Christmas. It is a great gift for avid book collectors, home decor lovers, or home organizers. Your favorite bookworm would love this thoughtful selection that seems to bring a unique touch to the media display, like music notes, favorite books, etc.
Adding decorative bookends to your shelves is a great way for bringing personality and style to any side table or bookshelf. And the giftee will smile every time looking at this special gift.
You can choose the pictured golden hands bookend for your book lover friend or colleague. This bookend with a golden finish is perfect to add character and exquisite style to your living space.
These are some amazing gifting options to help your friend, relative, or colleague spruce up their living space. Which one out of these do you like the most? Share your views with us in the comment section below.