Sofa Designs 2021 – Be On Trend With These Lounging Pieces
A stylish sofa can completely change the overall appearance of your living room. With the right sofa in your home, your interior appears so much warm and inviting. In this article, we have discussed a few amazing sofa designs 2021. So, you can take your pick and decide which one goes well with your home interior and lifestyle.
Generally, home interior designs, colors, and trends keep changing year after year. But one thing that often remains the same or consistent for a long time is a sofa. Choosing the perfect piece out of several sofa designs 2021 is not an easy task. Well, the most important things you need to focus on are functionality and style. These are the vital elements that you need to infuse into a living room. After that, decide that else you want in the given space so that everything fits in effortlessly.
According to design experts, one simple way to refurbish your living room without tearing down the walls is by adding a trendy sofa. But before you start choosing the right sofa design for your home, you need to know its significance and the right ways to select it.
Why Sofa Set Design Is Vital in a Living Room?
A living room is one area where you spend the most amount of time with all your family members, as well as friends. So, a sofa set is significant in setting the overall tone of the interior. With the right sofa design, you need to display your taste for style, color, and aesthetics in a living room.
Whether you are renovating your old space or moving into a new house, picking an ideal sofa set can make a big difference. So, simply go through our trendy sofa list and then choose the one that suits your living room.
How To Pick The Best One Out Of Many Sofa Designs 2021 For Living Room?
The sofa selection depends a lot on various factors, like the color palette of the interior, available space, and the time you spend in that area.
Sofas are usually found in a combination of 3+2 or 3+1 sets. The focal piece is always the three-seater and single-seaters on either side of your centerpiece. There are also various materials for making sofas, like leather, linen, velvet, etc. You also need to select that based on your budget and how often you plan to use, as well as maintain it.
10 Stunning Sofa Designs 2021 For Living Room
Now, that you're aware of the importance of a sofa set in your living space, you can easily choose the right one out of abundant design options. Check out our list of 10 spectacular sofa designs 2021 to finally make your decision:
1. Mix of Geometric Lines For Sofa Designs 2021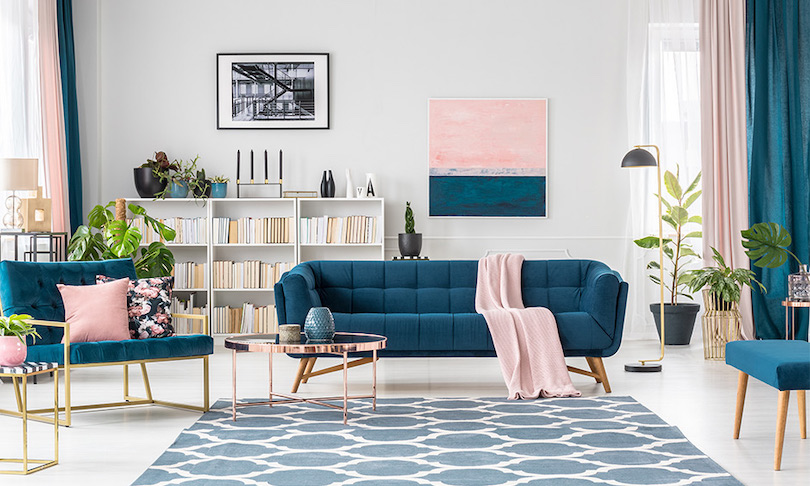 Do you simply love decor items or furniture pieces with sharp geometric lines, here's a great style tip for your drawing room. In the previous decades, you may have seen a few couches and chair designs with a mix of different materials and sleek lines.
In this living room, the teal geometric sofa design with sleek wooden legs is the centerpiece of the interior. You can see how the rest of the theme of this room revolves around this particular piece. So, look for such particular geometric lines of a sofa with a mix of sleekness or different designs in terms of fabric or other textures. It will help you highlight the overall interior seamlessly.
2. L-Shaped Tan Sofa Designs 2021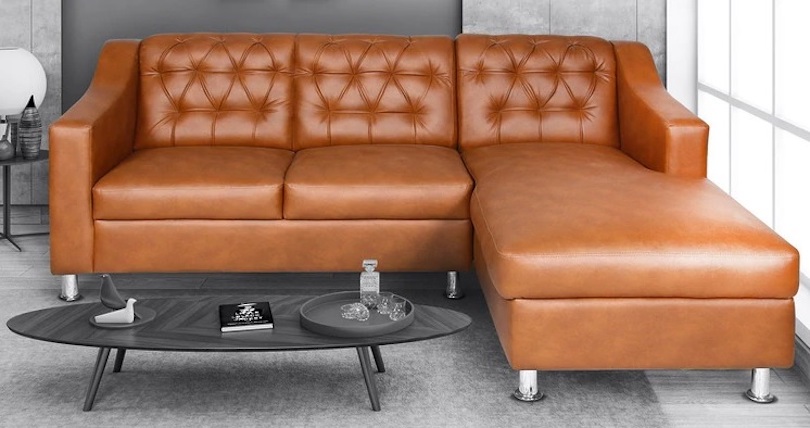 Just look at the given L-shaped tan sofa design that gives you enough space for multipurpose use. You can use it a two-seater or five-seater piece. Plus, there is also a perfect area for another person to relax while laying down.
Made from resin-like material and using firm steel rods for support on all sides, this sofa is a perfect fit at any corner in your living room. Hence, it is one of the best sofa designs 2021 to fit into any living room.
3. Sectional Sofa Design For Contemporary Home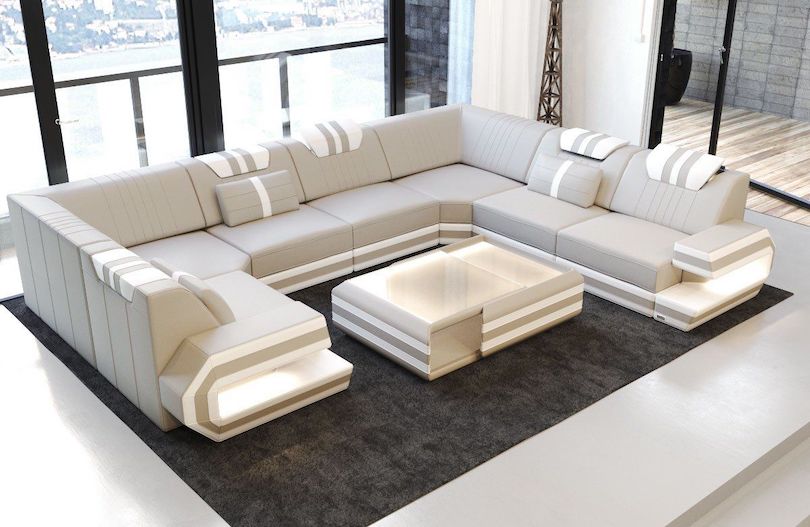 Nowadays, most homeowners prefer one solution for all their requirements. And, this goes into all our living habits, even the furniture. With furniture pieces that are great for multitasking to catering many purposes (like storage underneath, room divider, etc.), modern sofa design is not far behind. Even modern sofa design 2021 intends to do more than just offering you a perfect place to relax and kick back.
A sectional sofa design is perfect for handling everything thrown at it. This design is great for a contemporary living room, as it's best to take away all the hassle of several furniture pieces. Meanwhile, it keeps a particular section of a room dedicated for seating. It is a clever idea, indeed, to open plan houses that need furniture pieces to make sections. Meanwhile, it dictates proper usage of each room.
4. Color Blocking Sofa Design 2021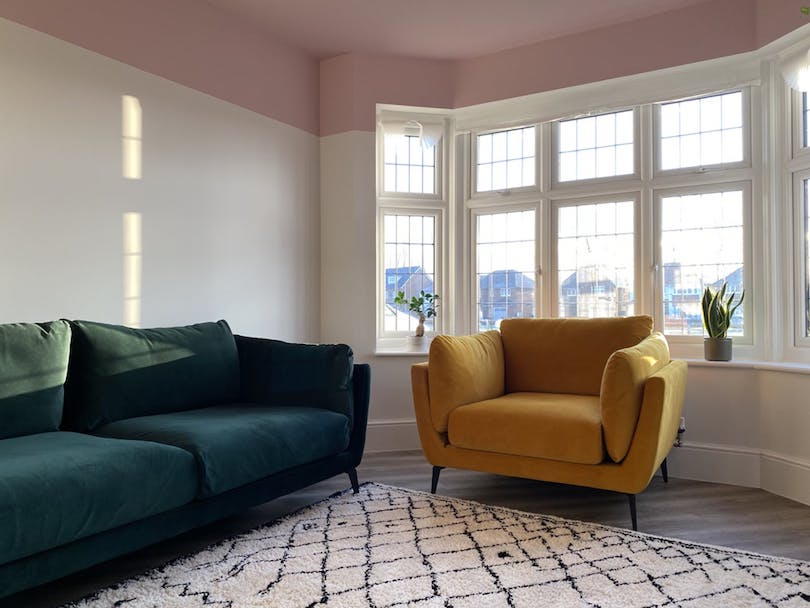 While a major section of homeowners inclines toward minimalism and sophisticated designs for a sofa, others like to go all out. If you fall in the latter category, this room is an inspiration for you. What we adore the most about this particular design is the eclectic color blocking and pairing of bright hues and bold prints.
Although this idea may be too colorful for some, when you look at the modern sitting room, the whole area seems to tie together very neatly. So, if you are someone who loves such style but doesn't want to commit to it 100-percent in your living room, you can simply break the monotony by adding details of color or some prints in the living space. The easiest way to do so is by adding furnishing that speaks for itself in volumes.
5. Sofa Designs 2021 For Small Living Room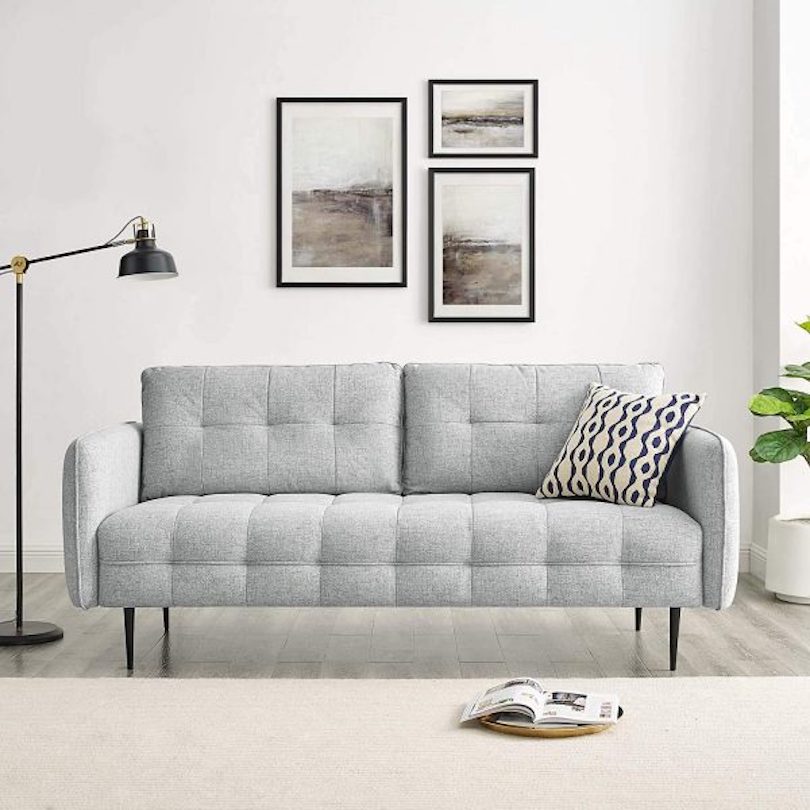 If you have a company living room in your apartment, you need to look for such sofa designs 2021 that occupy less space. This way, you will still have more room left in your living room. A grey two or three-seater sofa along with single-seaters are perfect for simple decor.
Since such a sofa does not take up too much space, you get ample space for other things in your living room. So, do consider this sofa design for your small drawing-room.
6. Ikea Living Room Sofa Designs 2021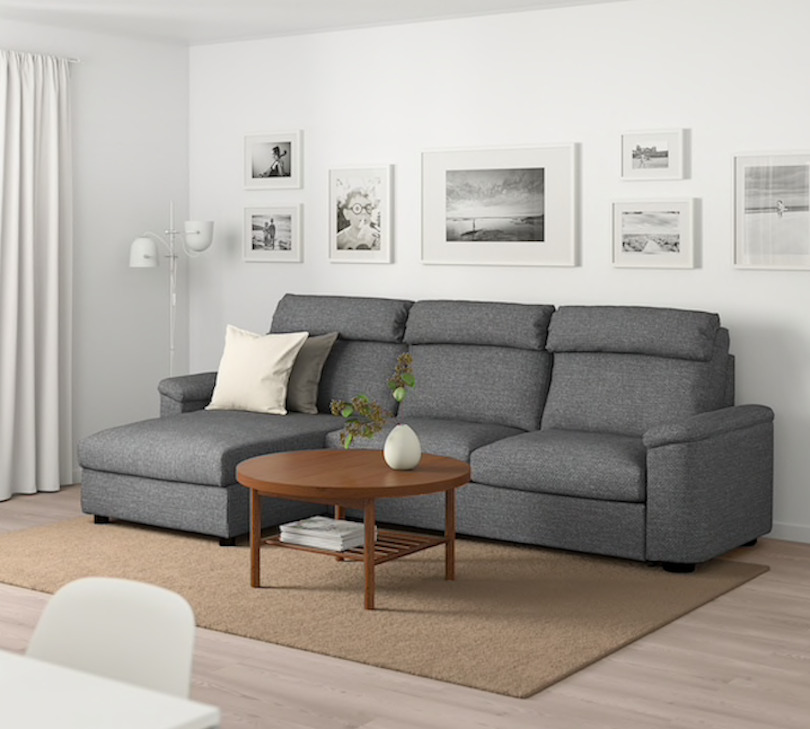 In an all-white or a neutral-themed interior, a gray sofa set looks absolutely amazing. Not just this, but IKEA offers so many amazing sofa designs 2021 to meet everyone's style requirements. Whether your choice is for a two-seater, three-seater, or more seater sofa design, just make sure it complements your interior.
Just have a look at the given living room design. A dark-gray sofa is perfectly placed on a beige rug and wooden center table. On the other hand, everything around is while for a subtle contrast.
7. Living Room Corner Sofa Design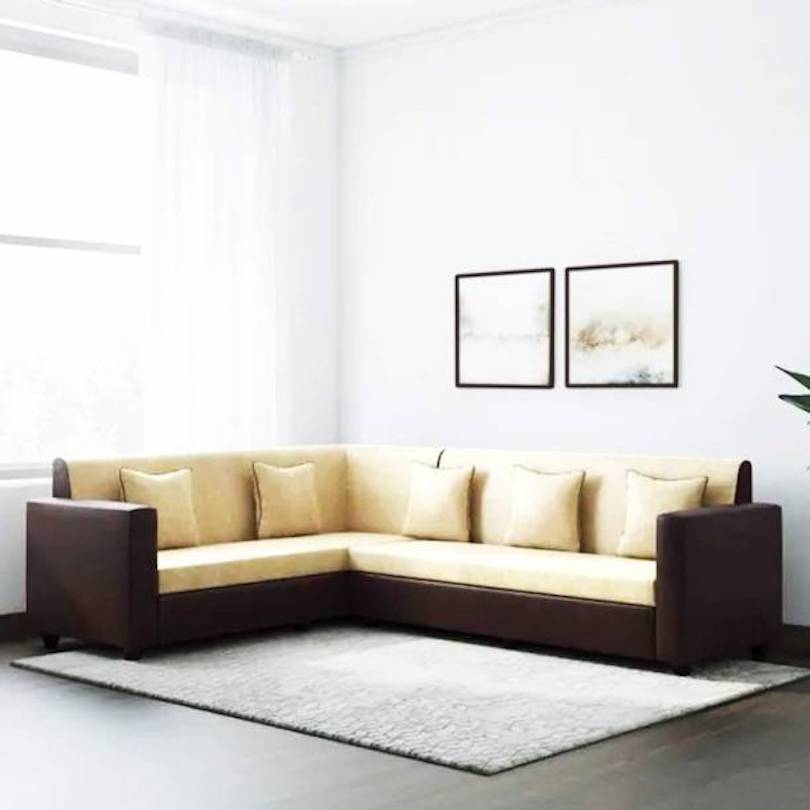 Usually, corners get wasted in many living rooms. But here is a great sofa set design that solves this issue. It is a perfect L-shaped sofa covering the edge of the living space effectively. The outer layer of his sofa has brown leather and the seats are in beige.
This is an elegant sofa design for a contemporary home. Furthermore, you can deck up the rest of the space with a few simple furnishing items.
8. Sofa Cum Bed For Living Room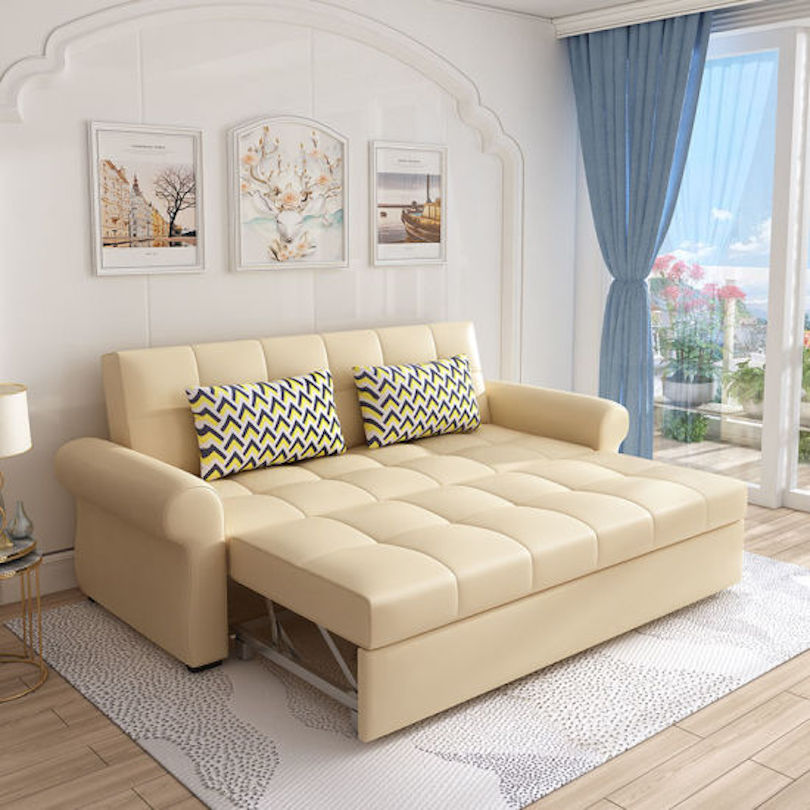 Another great sofa design for a modern living room is the dual-purpose sofa-cum-bed. As the name indicates, this furniture piece becomes a sofa set during the daytime and after a few changes, it can becomes a comfy bed.
This particular sofa design is suitable for a bachelor pad or someone who loves to have multipurpose furniture pieces. The cream sofa cum bed comes with an easy-to-pull mechanism that quickly switches between bed and couch, as per your requirement. It also enables you to make the most of any available space in your home.
The deep seats and smooth silhouettes make perfect curves for relaxing and stretching out with your family or friends. This contemporary modular sofa also lets you choose the perfect configuration to suit your lifestyle and room.
9. Sofa With Luxe Quilting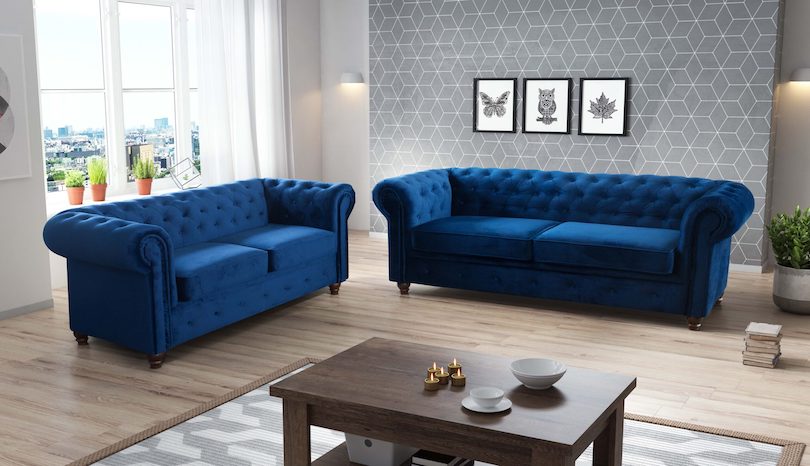 According to design experts, a sofa with chunky quilting and magnificent construction is one of the trending sofa designs 2021. It not only appears super luxe but also helps you create a private space to relax and escape the world.
Just have a look at this royal sofa with a quilted design and feather-filled duvet topping. Plus, its fabric is super cushy and comfortable with velvet cushions that appear very elegant and neatly tailored.
10. Curved Sofa For Living Room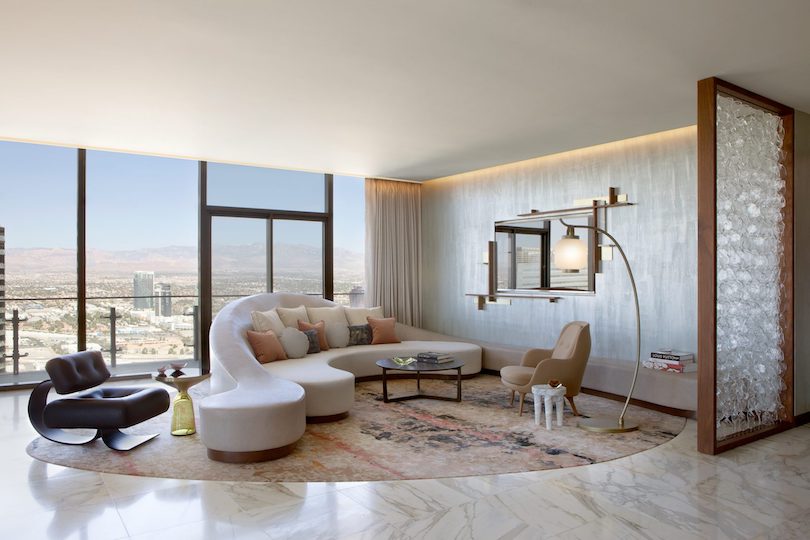 Want to add an exquisite touch to your living space while making the most of the given space? If so, consider adding a curved sofa design in your living room. Such curved corner units, centerpieces, and cozy loveseats work well for a snug and small living rooms.
Moreover, their curvature is quite produced ethical designs with a durable, beautiful, and timeless. It is a perfect option for offer people who are very particular about design aesthetics.
Which couch did you love the most out of these amazing sofa designs? Do share your views in the comments below.