10 Spectacular Ideas For Halloween Decorations in 2021
Since Halloween (the most fun festival of the year) is approaching soon, there is already so much rush in both online and offline stores for decorations. This spooky holiday is our favorite time of the year. It is because there are so many choices – from silly and gory to the fun. But if you like to be somewhere in the middle, you have to check out the list given below for the spooky yet creative ideas for Halloween decorations.
Some people only like a few changes here in there and just a few additions into their house to get them into the scary mood. But others like to go all out and love to celebrate this scary festival in the crazy traditional way. No matter what Halloween decorations you prefer, we have got something for everyone.
As the day passed on to the night, light up the spooky lanterns or eerie candles for the spine-chilling glow throughout your abode. That's exactly the time when fierce silhouettes over these lighting objects emerge and dance on the walls. If you want to create a similar spooky effect in your house or just want to keep things simple and sophisticated, we have got to covered!
But before we taking about the Halloween decorations, let's discuss a little about how to throw a Halloween party.
How to throw a Halloween party?
If it's the first time or you have moved into a new house and wondering where to start, we are here to help you. Before starting the planning for Halloween decorations, you need to consider the age group you'll be hosting the party for. For instance, the Halloween decorations for adults are more sophisticated and intense. On the other hand, Halloween party decor for kids is more fun – not too scary.
For a successful Halloween party, you need to ensure that it doesn't upset anyone while maintaining its scary theme. So, you need to find a perfect balance of spooky and fun for this scary party of the year.
If your guest list includes youngsters, don't be afraid to go all out in your scary theme. But if your guest list also has some elderly people and a few kids, you can tone down things a little with more sophisticated fall decor. Plus, you have to consider adding not-so-scary decor items to your decorations list.
Once you have figured out the right time, level of scariness, and duration of the Halloween bash, it is best to choose the decorations, entertainment and invites to match the theme.
10 Spectacular Ideas For Halloween Decorations in 2021
Have a look at these stunning Halloween decorations ideas. We are sure these are likely to keep your guests entertained and impressed at the same time.
1. Add Halloween Touch To Couches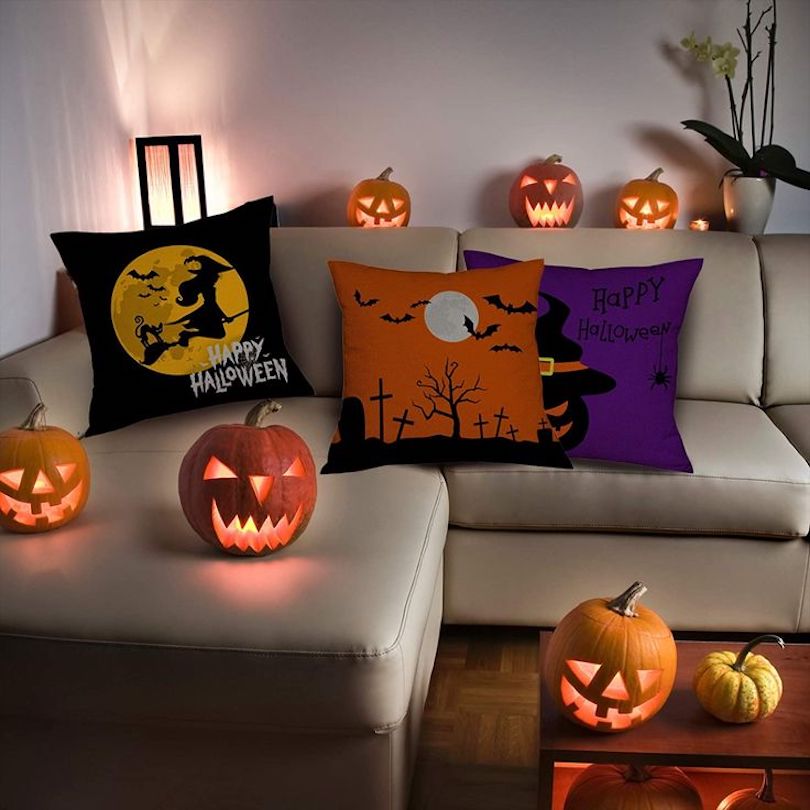 Besides making sure it's super comfy and relaxing, you need to ensure to add Halloween decorations to your throw pillows and cushions on couches. It can be anything from a scary character to fall-themed color for the pillows. You must try to be as evident as possible. Not just the living room, you can even consider adding similar touch to your bedroom.
Or add a Halloween-themed cushion to your comfy armchair along with a few pumpkin decor pieces around the seating area. This way, you can easily add a perfect Halloween vibe to your interior without making the area appear too boring. For a more literal touch, add LED lights into the pumpkin carvings. And, it will create a perfect glowing Halloween decor for your interior.
2. Sophisticated Pumpkin Display For Halloween Decorations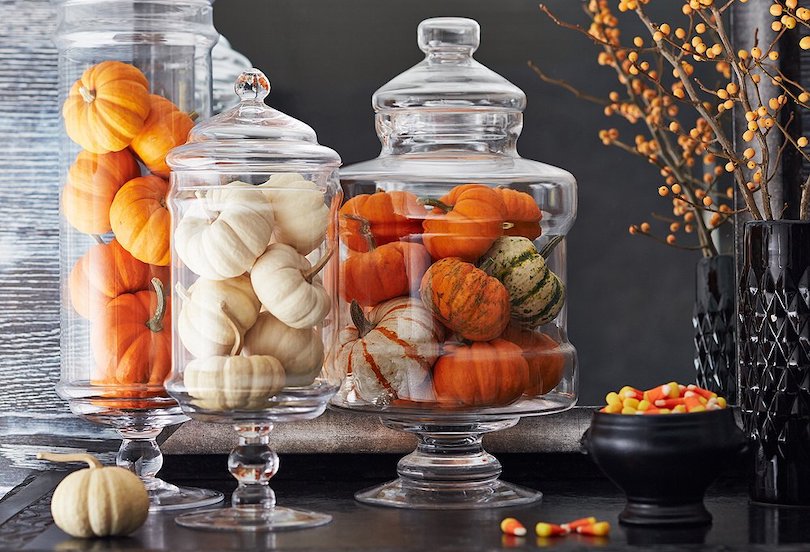 For those who like things minimal yet sophisticated, a pumpkin display like this is perfect. What you need to do is clear a canister, like an apothecary jar, and add pumpkins to it for instant Halloween decorations.
Since pumpkins are naturally available in a range of different colors, it means it perfectly suits any style. For an understated look, you must opt for white pumpkins. And, opt for the orange ones, if you prefer the classic fall theme. If you love to mix things a little, you can keep all colors in the jars for an interesting visual appeal.
3. Macabre Mantel For Halloween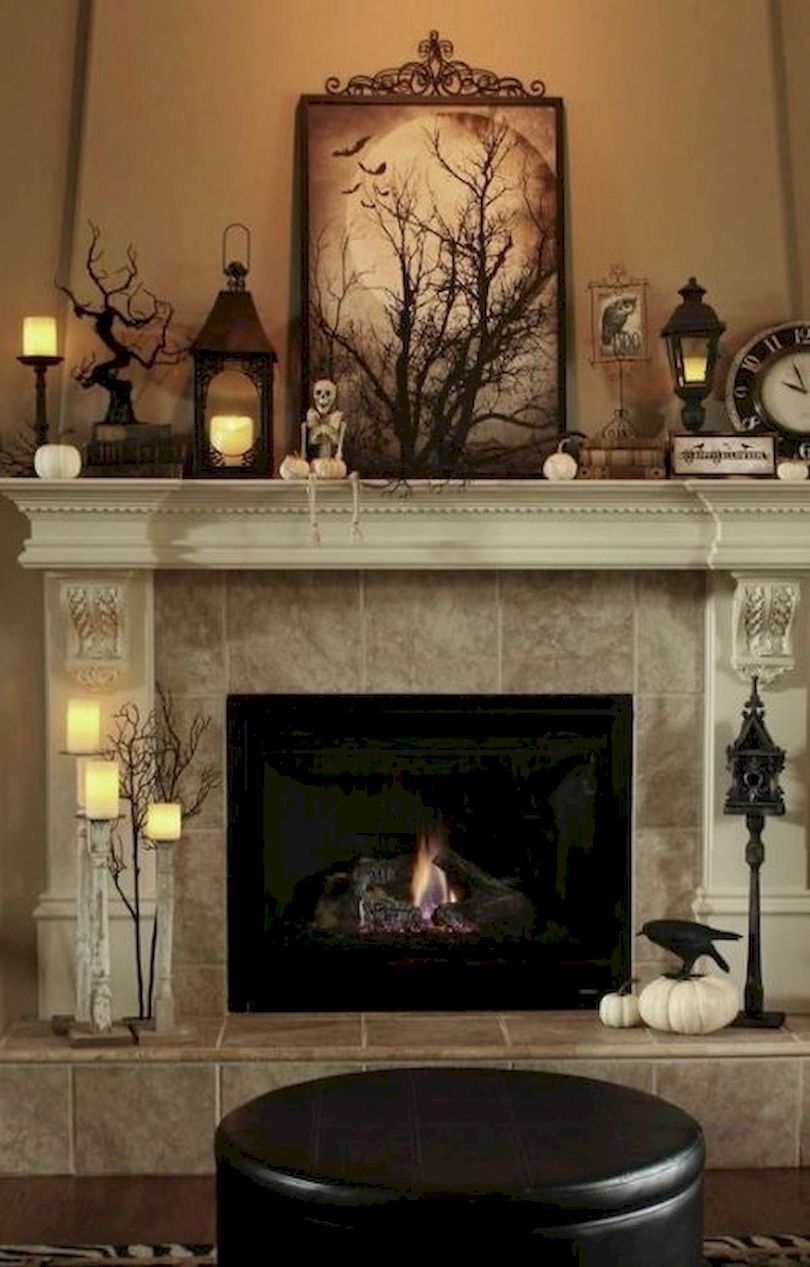 Club all-black decor accessories, like a skeleton, lanterns, pumpkins, raven, etc., to keep things festive yet frightening. Once you group all of them, you will have a perfect haunted mansion – all thanks to a mix of different items for your Halloween decorations.
If you have a dark-themed painting, you can put it on the mantel for adding up with the overall theme. When the fireplace will ignite at night and you turn on the lanterns, a perfect setup for Halloween will come to life instantly.
4. Complete Pumpkin Patch at Home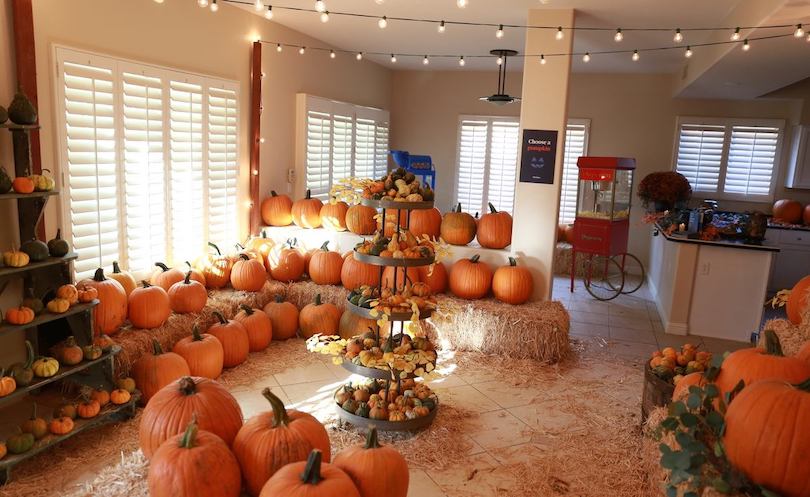 Another great idea for Halloween decorations is to create a complete pumpkin patch at home. For this decor, you need to add a lot of pumpkins into your living space. Also, all a lot of hay for the authentic feel of a farm.
You can also consider adding string lights on the ceiling to make the entire interior light up in the seasonal theme. The entire setup screams fall with an illusion of a huge stack. It's very simple to create. But will turn out to be a major seasonal showstopper for the interior.
5. Spooky Yet Sophisticated Cloche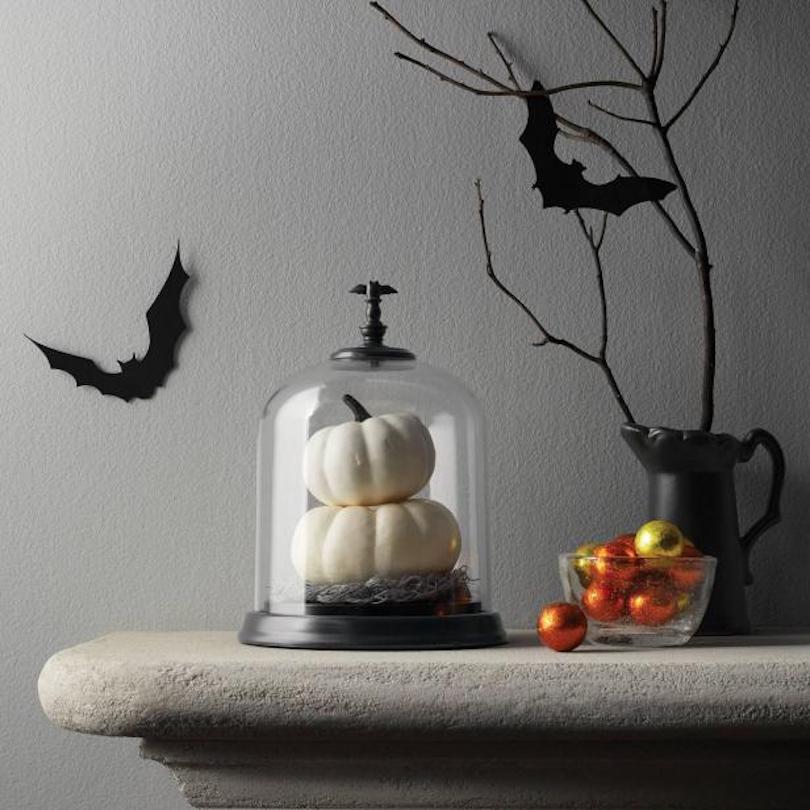 Cloches can be another element of interest to add a spooky yet sophisticated feel to your interior. In the image, you can see how white pumpkins are lying in a cloche, giving perfect fall vibe. And for spooky Halloween decorations, you can add a black vase, bats on the wall, and a few decorative pieces in a glass jar. Place it on an entryway, a mantel, or a side table to celebrate the season in a chic way.
Encased within the confines of a cloche, anything feels rarefied, even a miniature pumpkin. Look for an extra-special specimen, and add a mossy bed to give the display a terrarium feel. Place it on an entryway table or a mantel for a touch that celebrates the season in an oh-so-chic way.
6. Halloween Decorations For Entryway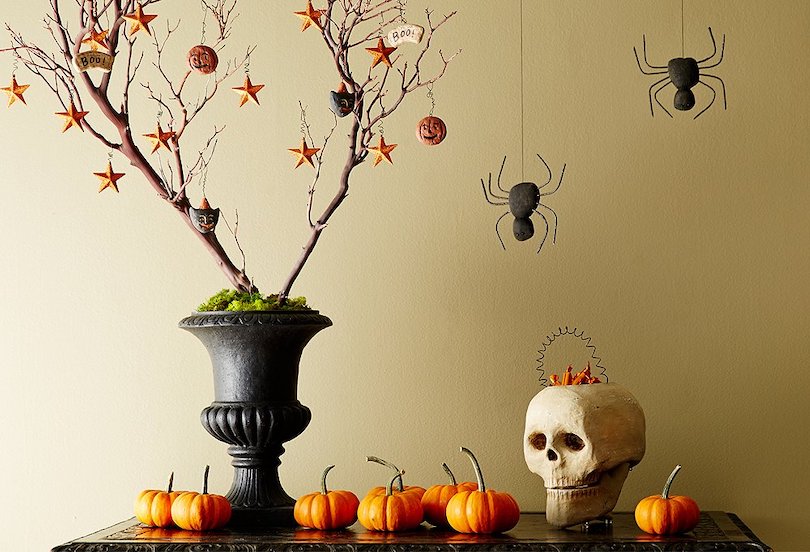 Why not focus on adding Halloween decorations on the entryway when planning for a spooky night? This area is great for adding an inviting feel while making your guests impressed with your decor straight away. You can look for some bare-branched in a floral supply store or get them from your garden for the haunted forest feel. Add these branches in a black plant pot along with a few star and pumpkin hangings.
Also, hanging some spiders around it for the eerie effect caused by the creepy crawlies. To accompany the black vase, add a skull on the table along with mini pumpkins to set up the full festive feel.
7. Simple Halloween Decorations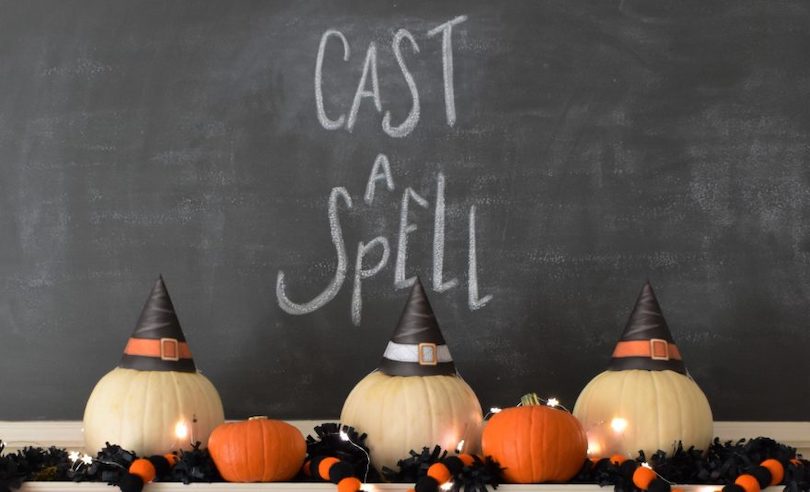 If you don't have much time to spend on decorating a full-blown set up for Halloween, go for a simple theme. Just pick a few white and orange pumpkins, place them next to each other, and put paper witch hats on each. Also, add string lights and other decor items around the pumpkins for a magical touch. If your mantel or side table is against a chalkboard, don't forget to write "cast a spell" to remind everyone of Halloween.
8. Halloween Chandelier For Decorations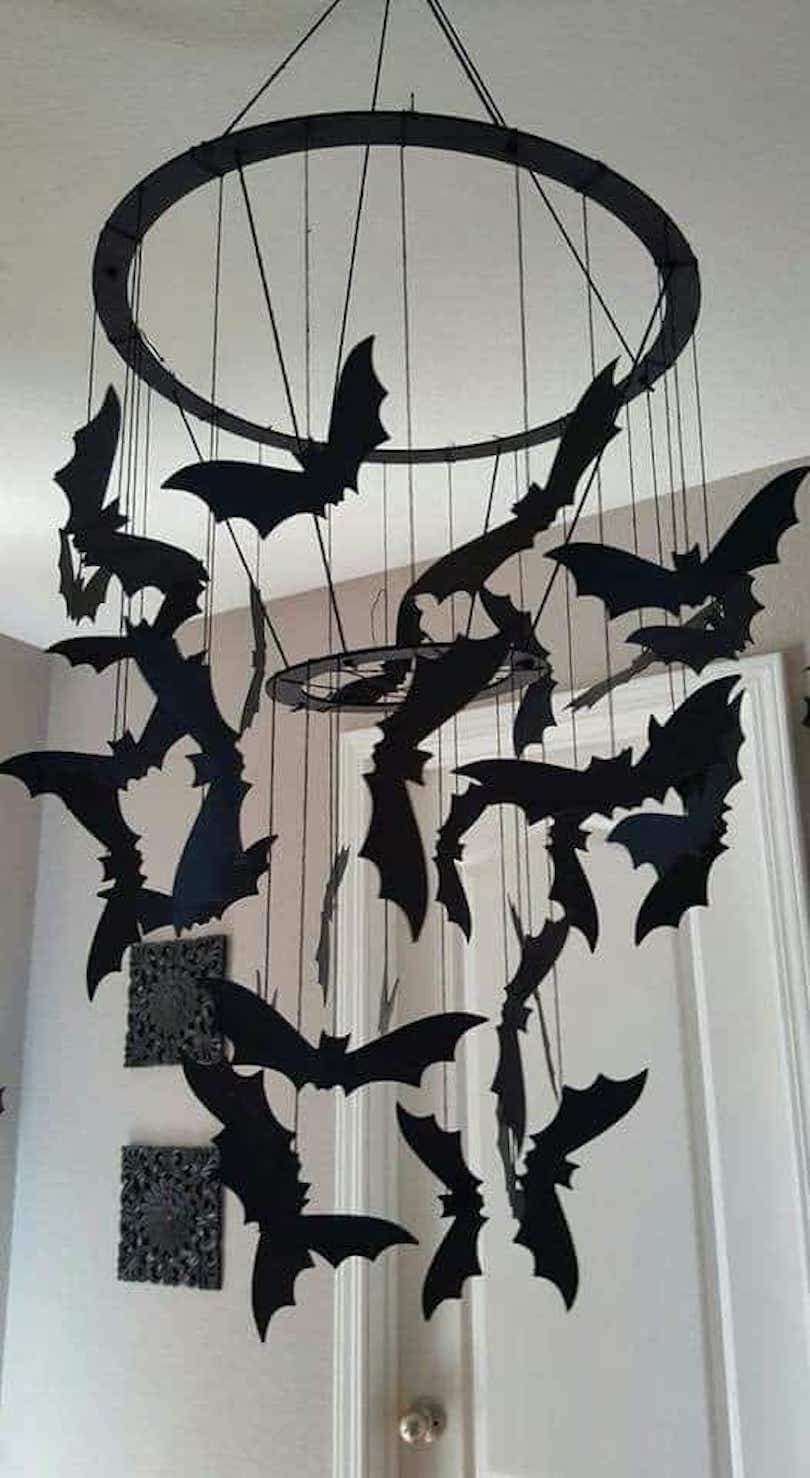 One more way to decorate for Halloween is to create a black chandelier with hanging bats. You can find rings and cover them in a black thread or simply paint them black. After that, hang them on top of one another along with bats.
It seems that bats are enjoying their own Halloween party while hanging on this simple chandelier. You can also use buttons, ribbons, lace, etc. on this decor piece to make it appear fancier.
9. Witchcore Halloween Decorations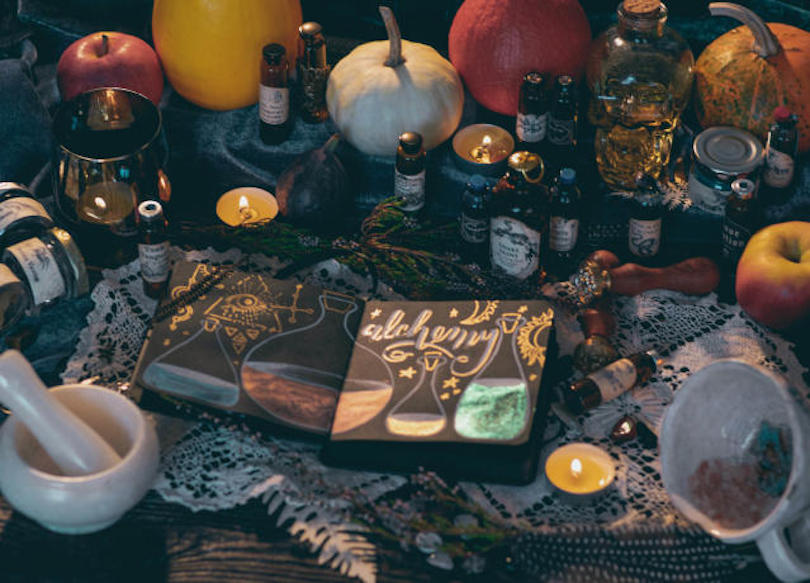 Witchcore is more than just a holiday aesthetic. But it still is a great inspiration for making your house feel more Halloween appropriate on All Hallows Eve. This particular decor takes its cue from the witchcraft. And, also includes motifs of an owl, frog, bat, crystal, and more.
For Halloween decorations, you may consider adding darker hues and celestial designs using rich velvet and dark lace. Even matte black accents and apothecary jars are part of this decor theme. Do give it a try!
10. Larger-Than-Life Halloween Decorations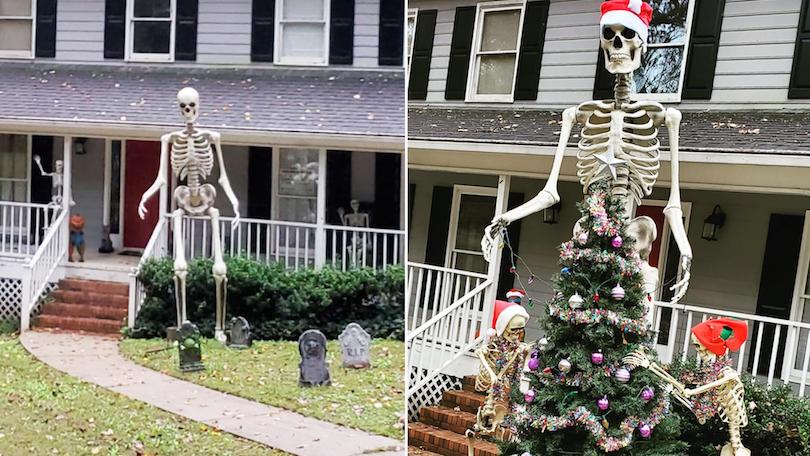 If you want to go all out, you can consider adding larger-than-life decor elements for your Halloween party. However, for such huge decor elements, outdoor areas are the best place to display your love for this spooky festival.
Not just your guests, even your neighbors, and passersby will notice your excitement for Halloween. One easy way to put up such a huge outdoor display is to get a large skeleton and put it on the lawn or garden. Also, put little graveyards or decorative items around it for the festive touch.
These are some amazing Halloween decorations ideas to consider for the upcoming spooky fest in 2021. We're certain your guests will appreciate all these decor ideas. But which one you liked more? Tell us in the comments below!