Halloween Dining Table Decor Ideas For Spooky Dinner Party
If you're hosting a Halloween party, you may be concentrating on festive cocktails and creepy yummy snacks, but don't forget to show your table some love. Because you know what's even better than a typical Halloween celebration? A fancy Halloween dinner party for adults (casual buffets are great, too, of course). We've got lots of Halloween dining table decor ideas for you for inspiration.
And, most of it can be done on the cheap (and on the fly!). These elevated yet on-theme Halloween table decorations and centerpieces will make it an unforgettable evening. Plus, the unique color combinations and witchy plating add more to the frightful surprises
What does Halloween mean?
Halloween, often known as Hallowe'en, is a Christian term that dates back to around 1745. The term "Halloween" means "holy evening" or "hallowed evening." It comes from a Scottish term for All Hallows' Eve (the evening before All Hallows' Day). Even is the Scots word for "eve," which now uses e'en or een. Halloween evolved from Hallow Eve over time. Even though the word "All Hallows'" is present in Old English (ealra halgena mssedg, all saints mass-day), "All Hallows' Eve" does not appear until 1556.
With this knowledge in mind, we've put together a list of amazing Halloween dining table decor ideas on how to dress up your meal table for the holidays! If you've seen our fall collection, you'll see that the patterns are very similar, with the exception that this one is creepier and features more spider web, skulls, and candles.
20 Halloween Dining Table Decor Ideas For Spooky Dinner Party
Here are the 20 amazing Halloween dining table decor ideas to consider for a spooky dinner party:
1. Eerie Elegance For Halloween Dining Table Decor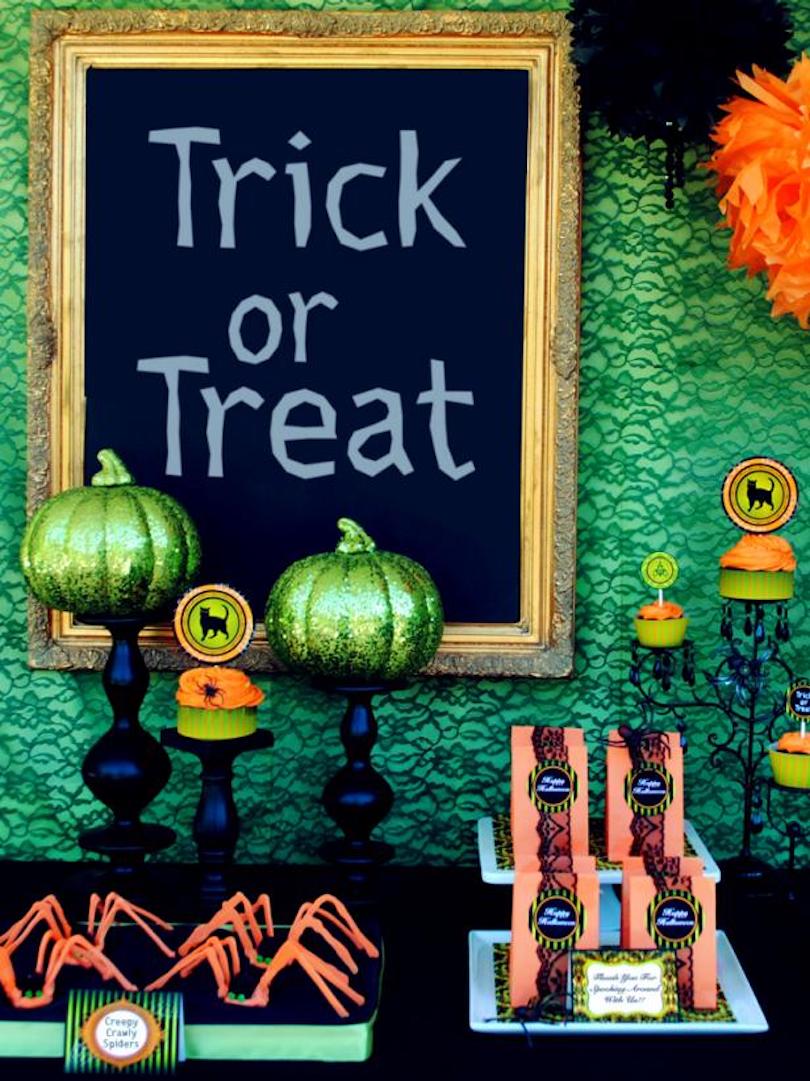 Bright green and lace accents put a new spin on typical Halloween colors. For an extravagant backdrop, attach inexpensive lace to the wall and write Halloween greetings on a framed chalkboard. The picture here shows how to add a touch of elegance to the table by arranging cupcakes atop black candelabras and sprinkling green sequin pumpkins. Fill a bright orange bag with Halloween candy and decorate it with lace, a plastic spider, and a sticker for a cheap and easy party treat.
2. A Succulent Dinner Party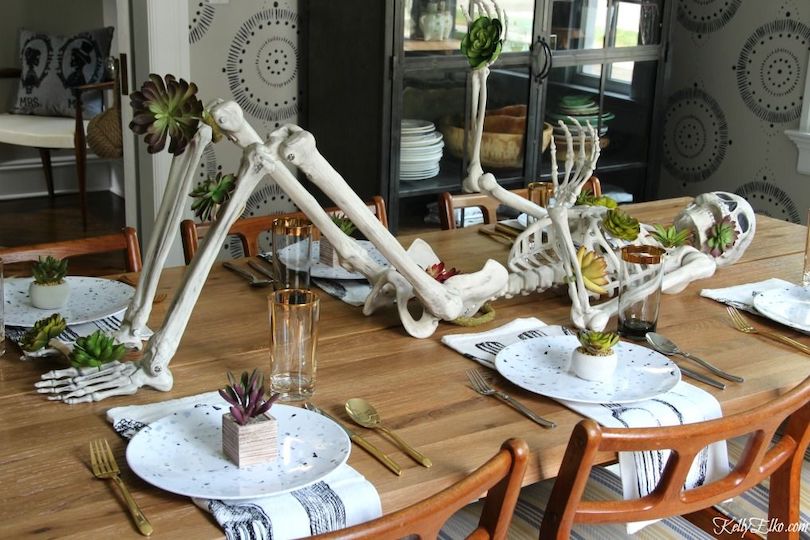 Host a lavish vampire-themed dinner party with a scary touch with a skeleton. Place a skeleton on the dining table with different succulents adorning the skeleton for the spooky dinner party. Rest keep everything simple and minimal, as the skeleton with succulents will be the highlight of your dinner party. Put simple tablecloths under the white plates that also contain a tiny succulent on them. For more elegance, you can even place a few candleholders to light up the table. Or simply keep it like that, as it already reflects enough spookiness.
3. The Dark Black Raven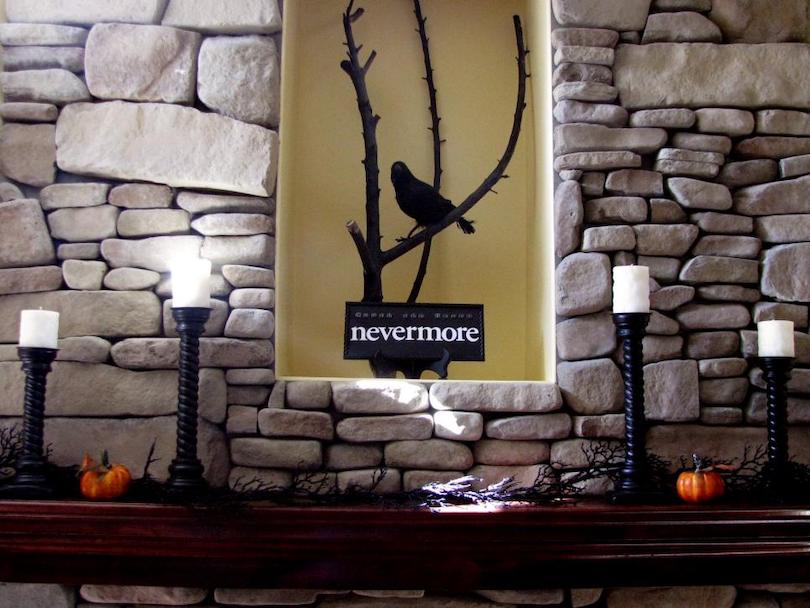 You can also amp up the scary Halloween dining table decor with a black raven and spray-painted tree branches on or around the table. You can even place it on the center of her fireplace mantel for a menacing impression. The "nevermore" sign in fashionable vinyl lettering, and the black candleholders and miniature pumpkins add to the ominous atmosphere.
4. Skull Decor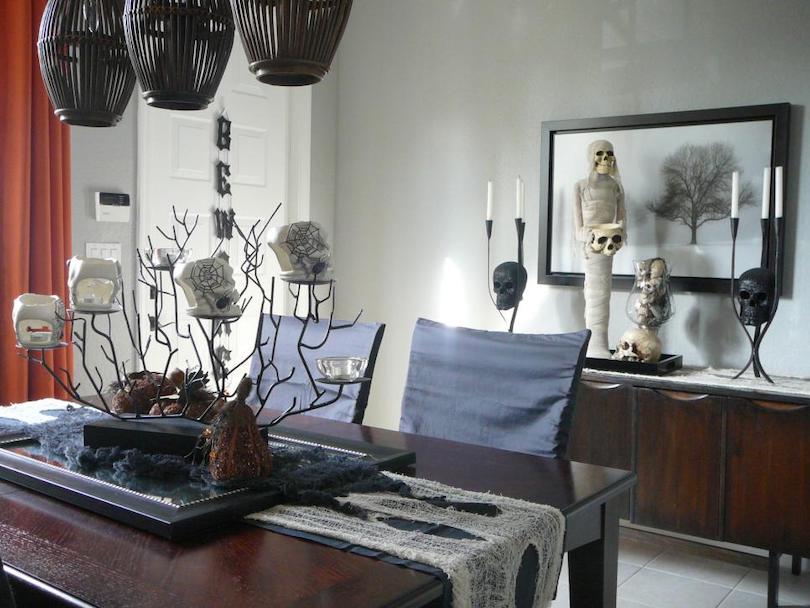 Skulls adorn this eerie dining room. Plus, the beautiful black-and-white theme adds more charm to the interior. A beautiful branch centerpiece with skull tea lights is on top of a gauze table runner. The buffet table features black candelabras and a mummified skeleton, continuing the skull theme. The bright orange window panels are the only splash of color in the room, giving it a dramatic feel.
5. Pumpkin Carving Party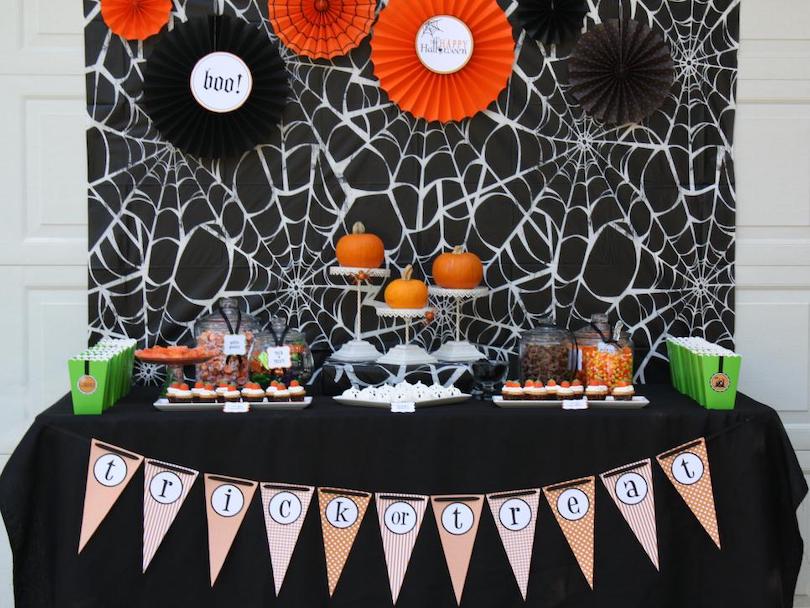 One of the most interactive Halloween pastimes is carving pumpkins, so host your party with tasty treats and unique decor. In the image, you can see how a fun spider web tablecloth caters as the backdrop. The backdrop further complements the affordable paper Halloween decorations. All of the goodies are available at a local supermarket. You may even personalize them using party printables. Place the pumpkins on cake stands to make them the table's main point. It is a beautiful and reasonable Halloween dining table decor idea for this year's spooky festival.
6. Orange and Black Halloween Dining Room Decor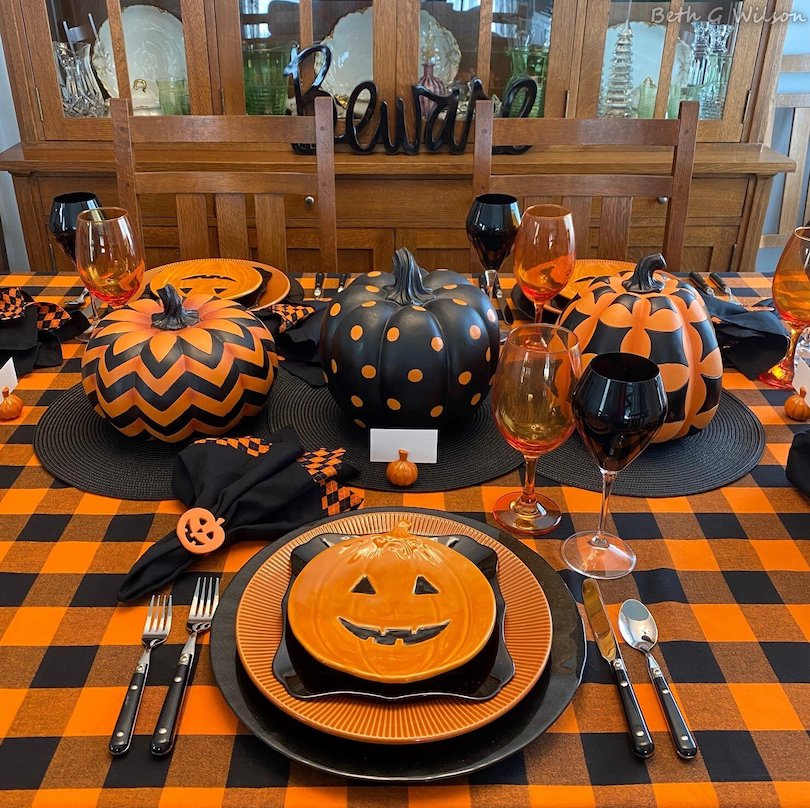 Use orange and black tablecloths, goblets, ghosts, tombstones, tiny mummies and goblins, a skull tree, orange napkins in a ghost napkin ring, and Halloween dishes to create your own Halloween table. Even use similar themed black and orange pumpkins for decorating the table. This color scheme itself screams Halloween. So, it's enough to bring the eerie feeling among your guests on October 31, 2021.
7. Mini Pumpkin and Nut Topiaries Centerpiece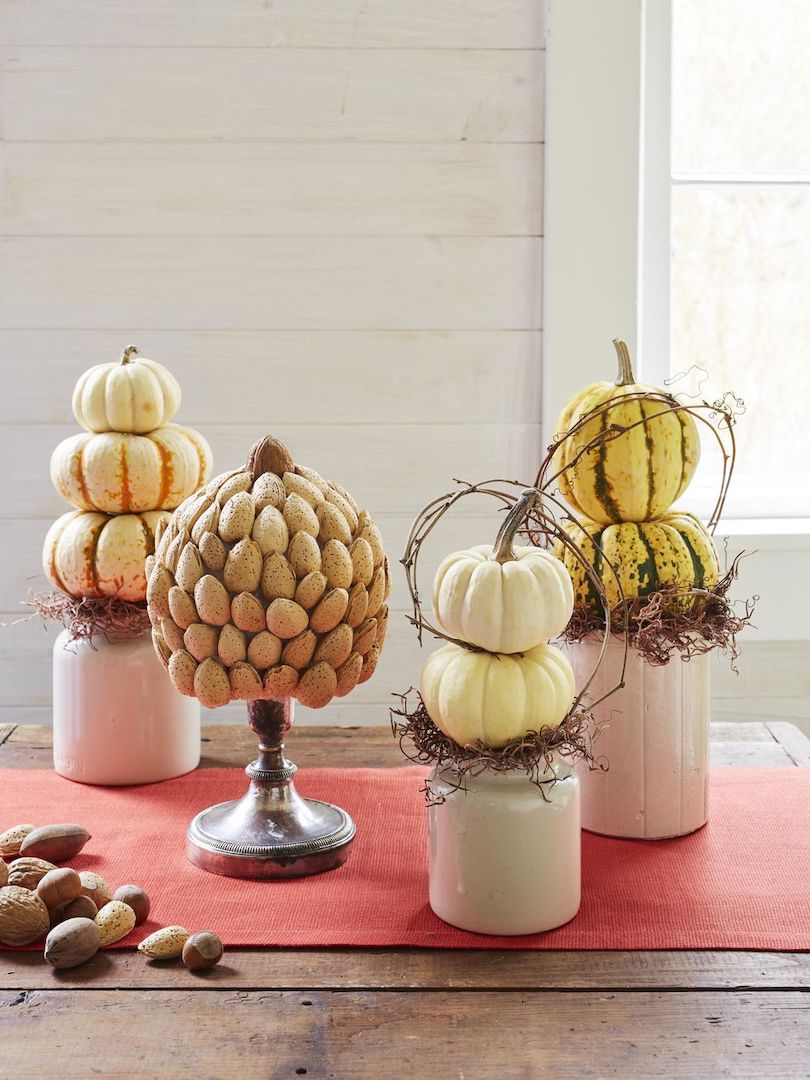 Arrange these tabletop topiaries in a row down the center of the table or on a buffet.
Lightly spray styrofoam craft balls with brown paint to produce the nut topiaries. Hot glue nuts on styrofoam balls in an organized arrangement once they've dried, as illustrated. Start with a center equator row for the walnut topiary and work your way up and down from there. Fill up any gaps with hazelnuts. Start at the top and work your way down with the raw almond topiary, gluing horizontal rows around the border and overlapping slightly for maximum coverage. Allow space at the bottom for candlestick bases to rest on. As needed, secure with hot glue.
Remove the stems from the pumpkin and squash topiaries except for the top portions. Stack two pumpkins and fasten with toothpicks or little wooden skewers. Skewer the bottom piece and place it in floral foam-filled crocks. Finish with grapevine accents and Spanish moss on the foam.
8. Fabric Pumpkin Centerpiece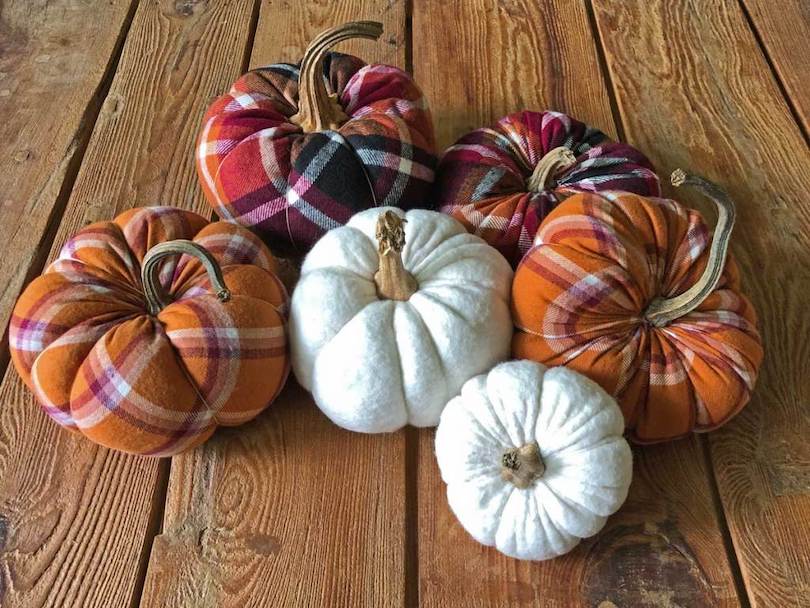 Using old quilts and fabric scraps, make your unique pumpkin patch. Begin by gathering a round piece of cloth and a batting ball (about the size you want your finished pumpkin to be). Gather the fabric around the batting and secure it in the center with hot glue. For a more realistic look, collect dried stems or buy artificial stems and put them on with hot glue. Place a runner down the center of a long farmhouse table, then pile on your crafts and other seasonal foliage. These would also make a lovely addition to a mantel or buffet.
9. Orange Candles in Wine Bottles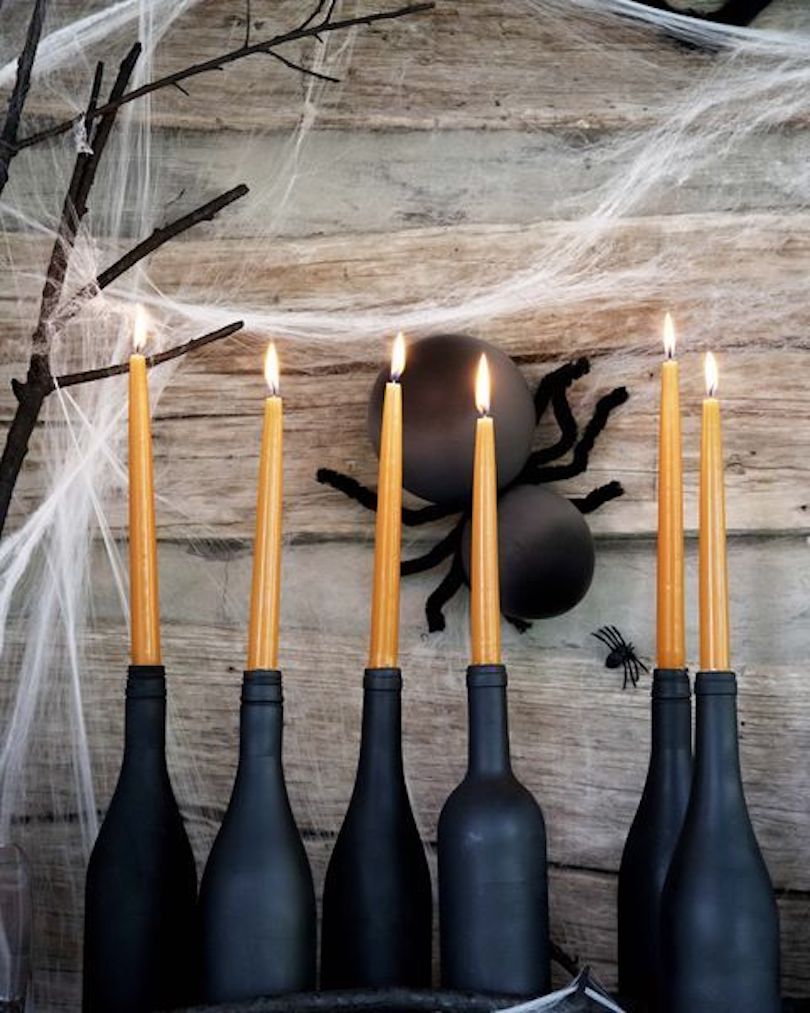 Set a spooky scene by lining out a set of eerie candles down the table. Matte black spray paint is perfect for painting wine bottles. Place an orange taper candle in each opening once it has dried. (Keep candles away from anything flammable, and never leave them burning unattended.) The orange and black theme of the candle Halloween dining table decor reflects the fall season elegantly.
10. Crow Vase Centerpiece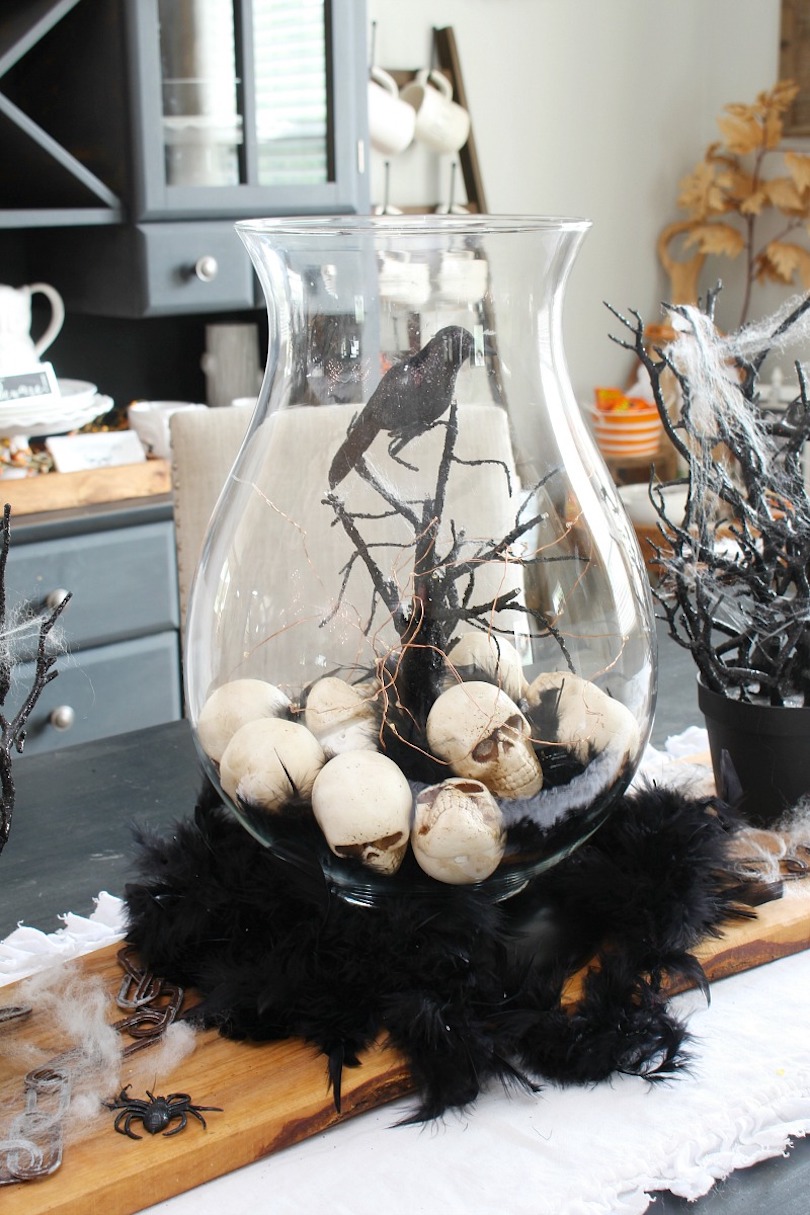 Oh, the crows, the skulls, and the moss! Make this moody centerpiece in no time using a leftover vase, and make several—the more frightening crows around the house, the scarier. It is a simple yet effectively scary Halloween decor to consider for your dining table.
11. A Witch Gathering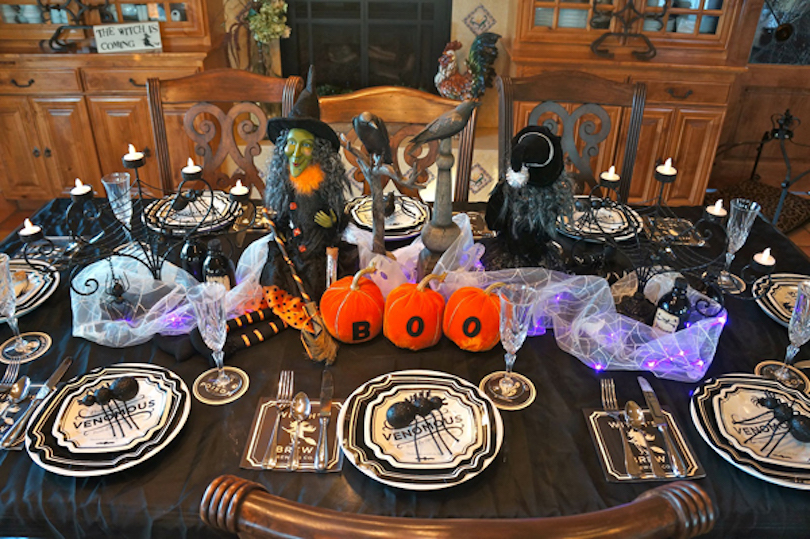 We love these miniature pumpkins with "B-O-O" written on them. And, of course, the "witch!"
Furthermore, you can fill a three-tier cake stand with varied Halloween accessories to make a tall, ominous centerpiece. For instance, you can consider adding sparkling skulls, bones, spray-painted Christmas ornaments, and a silver witch's hat to the centerpiece. You can also place little skulls on the plates and set the table with crystal candlesticks and wine glasses. It will give a more eerie feel to the entire setup.
12. White Pumpkin Halloween Dining Table Decor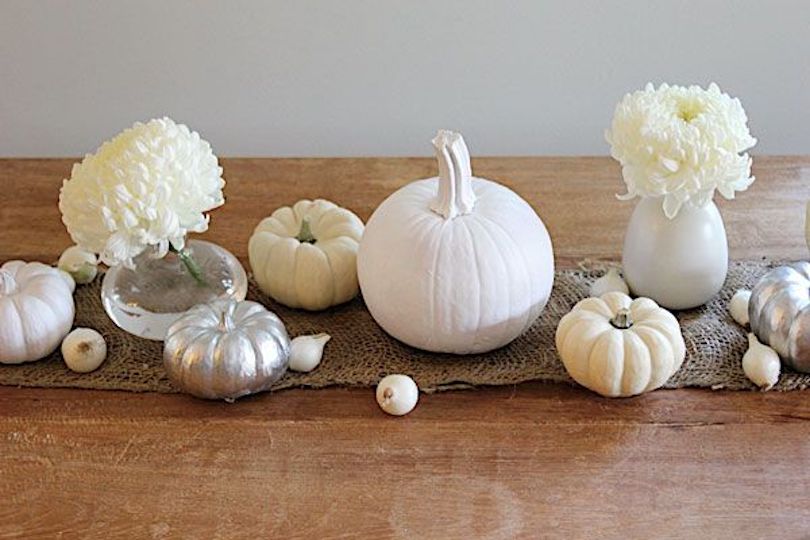 You're not a fan of orange and black? Forget about them! If you want a more beautiful look, use white pumpkins instead of orange ones. Simply paint them with a can of spray paint! Add a splash of color, such as light greens or even purples, if you dare. Don't forget to layer it up with knits and pampas grass to provide textural warmth. Do you have an old scrabble game lying around? Now is the time to put it to good use!
13. Bring Nature Inside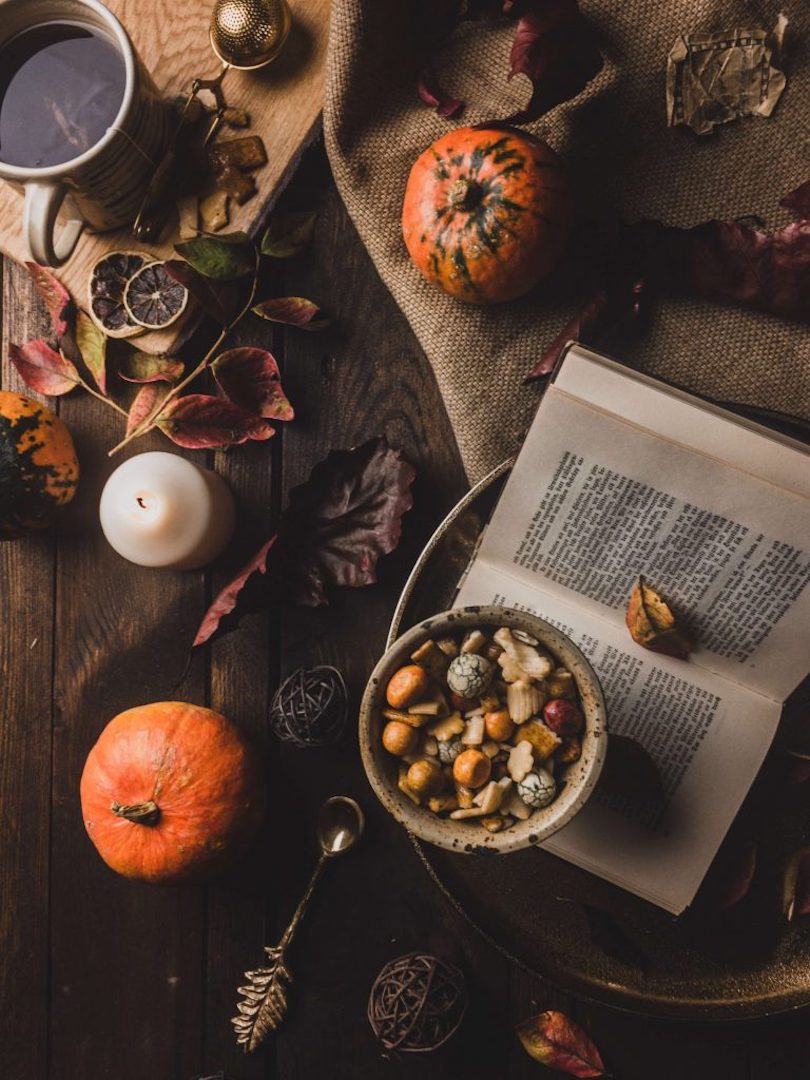 Fruits and vegetables that go well with the Halloween color scheme include figs, squashes, blackberries, and dried fruits like oranges and lemons. Combine them with a rustic tablecloth, such as hessian, and muted gold or brass accents, such as spoons, napkins, and glasses, for an effortless effect.
14. Center Table Wreath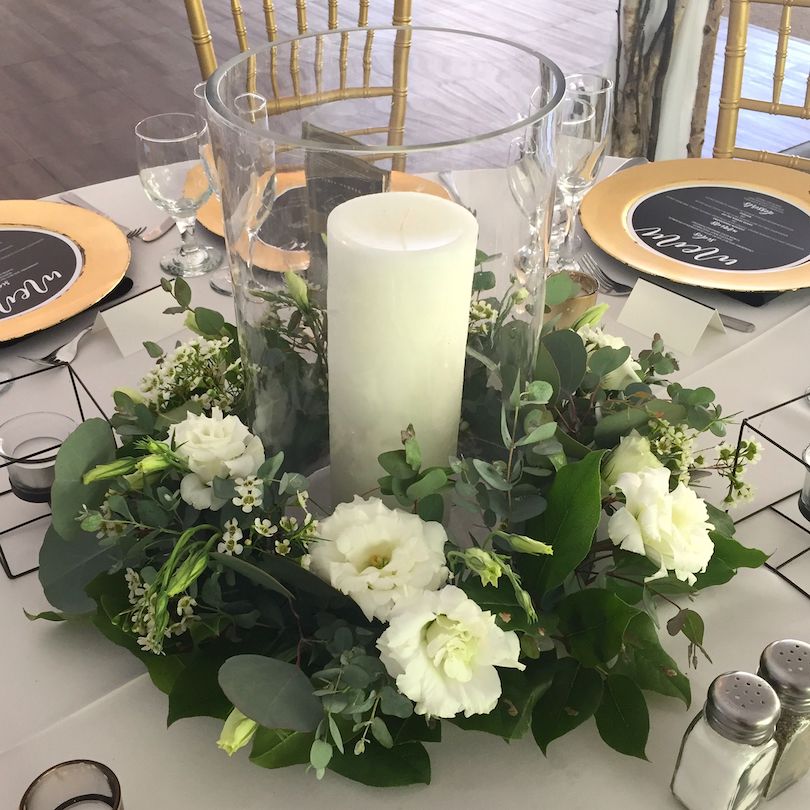 Have a good time and make a rustic wreath for the center of your table. In the wreath, you can use, dark fruits and berries, as well as foliage and tiny pumpkins or squashes. It is not necessary to tie it to anything; simply arrange them. To achieve a simple, classy effect, place a huge glass lantern in the center of the circle with a pillar candle.
15. Pumpkin Tissue Honeycomb Balls Centerpiece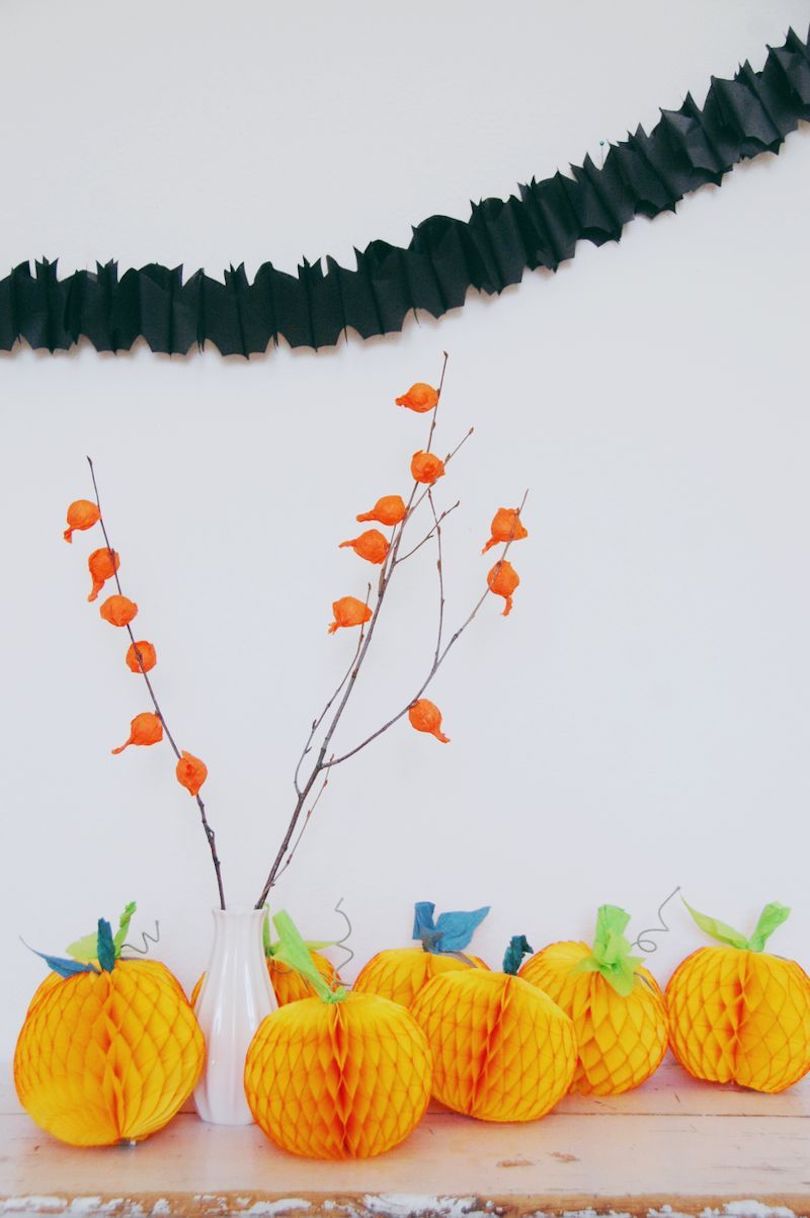 Get your tissue paper pumpkins in a row—they'll look just as gourdy as the real thing and double as a fun Halloween activity. Seriously, they're incredibly simple to make for your holiday centerpiece. It is an interesting DIY to try this fall with your kids and take your Halloween decor to another level.
16. Wood Pumpkin Centerpiece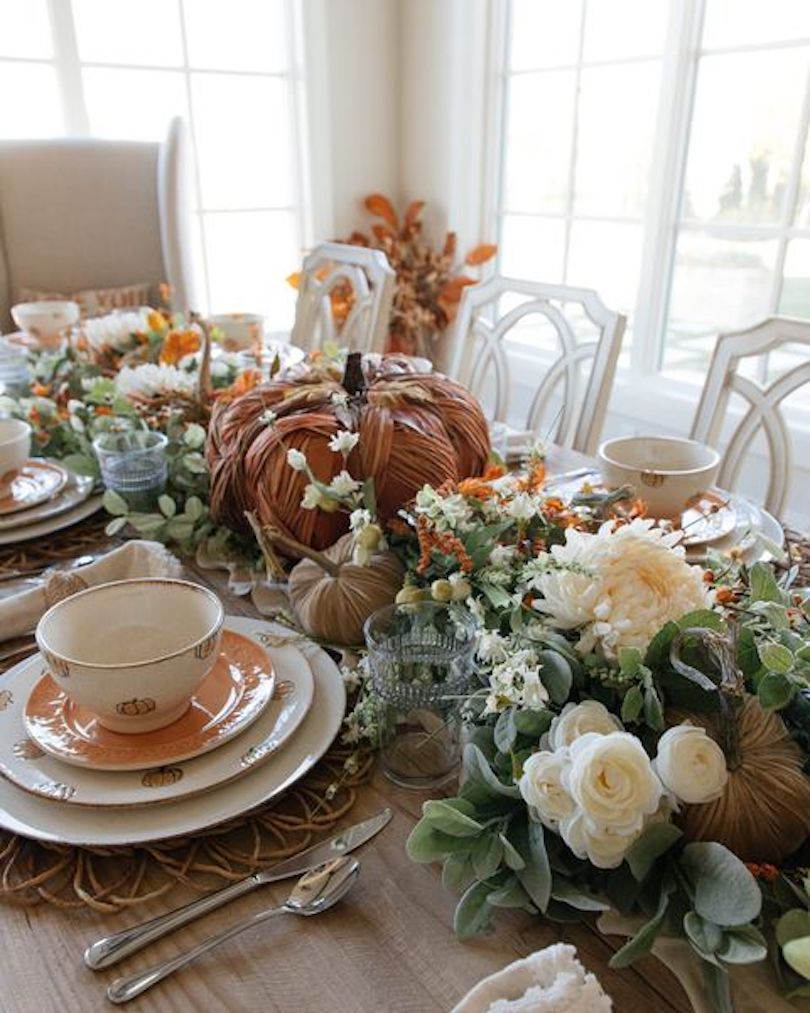 Not in the mood for Halloween this year? This entire table setup screams Halloween elegance, with colorful plates, fall florals, and a wood pumpkin front and center. It will give a subtle Halloween vibe without going overboard. This Halloween dining table decor is perfect for those who love the minimalist decor.
17. Black Flower Pumpkin Centerpiece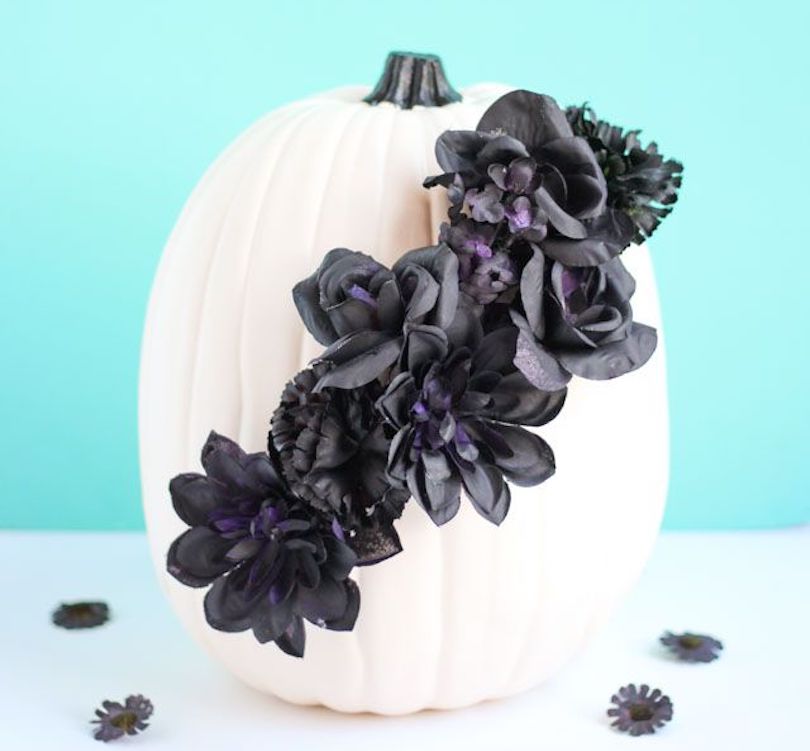 What's all black and white and wickedly stylish? This lovely pumpkin centerpiece will be the focus of attention on your dining room table. This decor for a dining table is apt for a minimal but stylish Halloween dinner.
18. Fall Foliage Halloween Centerpiece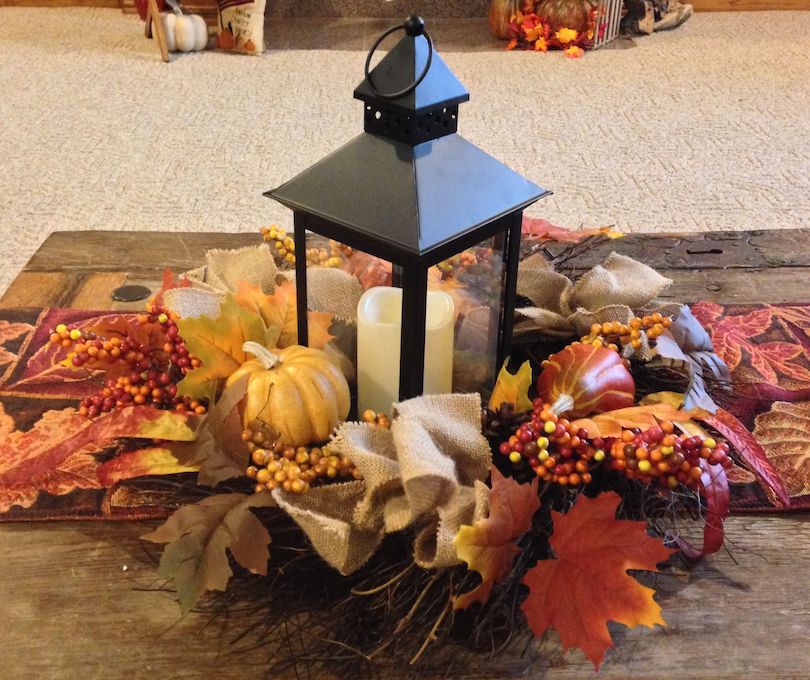 Try a more classic approach with clusters of gourds, pumpkins, and fall flowers for a centerpiece that effortlessly transitions between Halloween and Thanksgiving. Hence, it will kill two birds with one stone!
19. Decoupage Pumpkin Centerpiece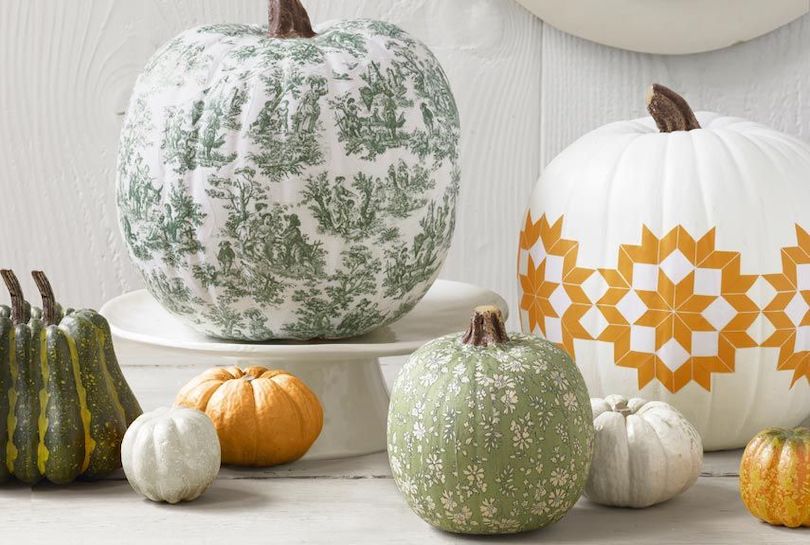 Decoupage simple pumpkins with paper napkins to give them a new look. This transferware print variation in blue and white is a country staple. You can choose any design for a paper napkin that you'll wrap around your pumpkin centerpiece.
20. Monochromatic Pumpkins Centerpiece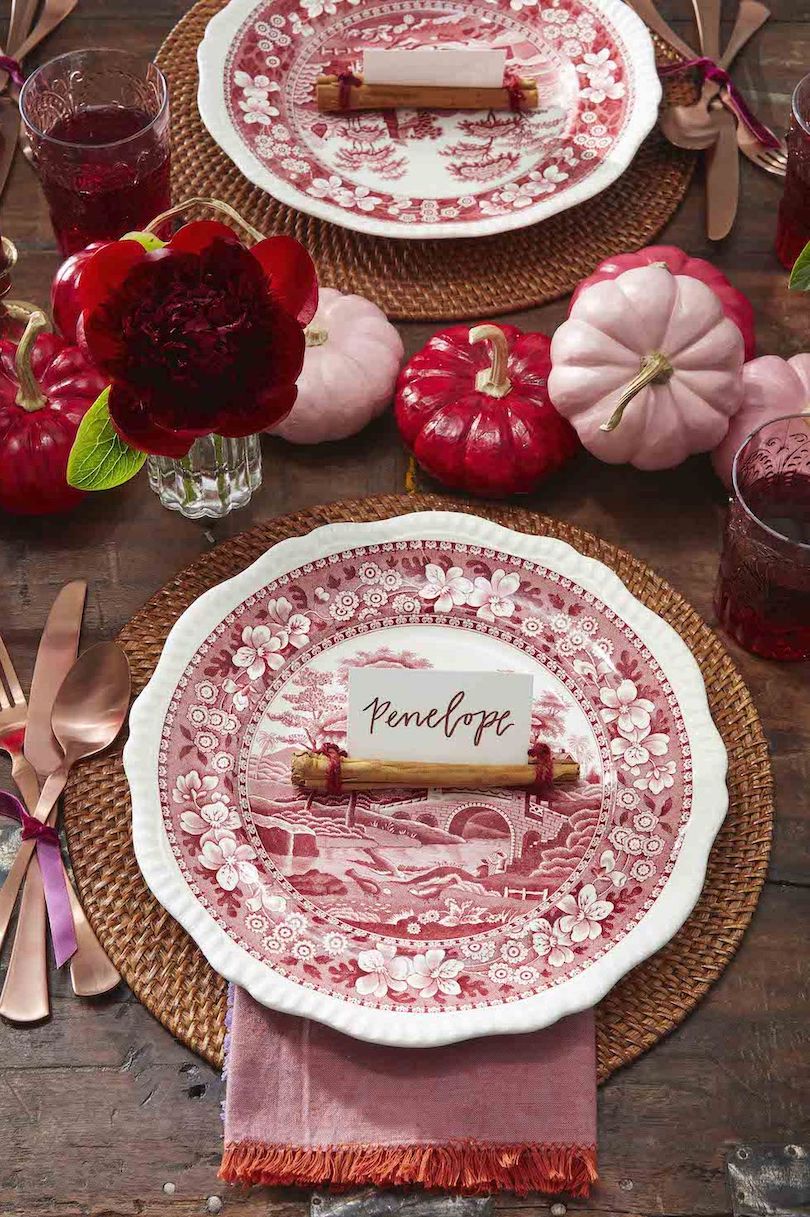 With painted pumpkins that match your dinnerware and table linens, you may create an unexpected color narrative. This color combination of magenta, crimson, and pink exudes a very feminine fall atmosphere.
Move over, bats and scary crawlies, because more subtle items are becoming a seasonal staple. Create a graceful swarm (two words I never thought I'd use together) along a prominent wall, perhaps around portraits or billowing out of a fireplace or mantle, using these 3D silhouettes. We're sure you'd love these enthralling decor ideas for your Halloween dining table. If you have any other idea or theme in mind, do share with us.