Ideas To Design And Decorate Your Dining Room
The dining room is always where you gather with family and friends for meals or to simply talk. As a result, you must plan the dining room properly. The dining room's location, colors, and architecture will be determined by the available space. The room's lighting and flooring must also be complementary. Here are some of the best dining room styles to consider.
How to modernize the dining room?
Many homes have abandoned the conventional dining room in favor of an open-plan design to accommodate a more casual way of life. Other smaller spaces lack the required square footage for a dedicated dining area. However, it is still possible to build a wow-factor dining space that functions as a competitive zone inside a larger scheme.
Many contemporary schemes now eschew the conventional dining room in favor of a more casual area that blends in seamlessly with the kitchen and living space. This works equally well for formal and casual dining in a large enough room. The trick is to draw a line in the sand. A large rug on which the dining table and chairs are placed is a perfect way to do this, and large pendant lights hanging overhead help to better define the zone.
Combine modern and rustic furniture, such as modern dining chairs with a farmhouse table, and keep the look cohesive by sticking to one or two colors in the room. Another important thing to consider is the location. A dining table should be positioned near patio doors, and if space allows, an informal seating area, maybe based around a wood-burning stove, could be considered. A separate utility room where white goods can be stowed away from view is also a smart idea.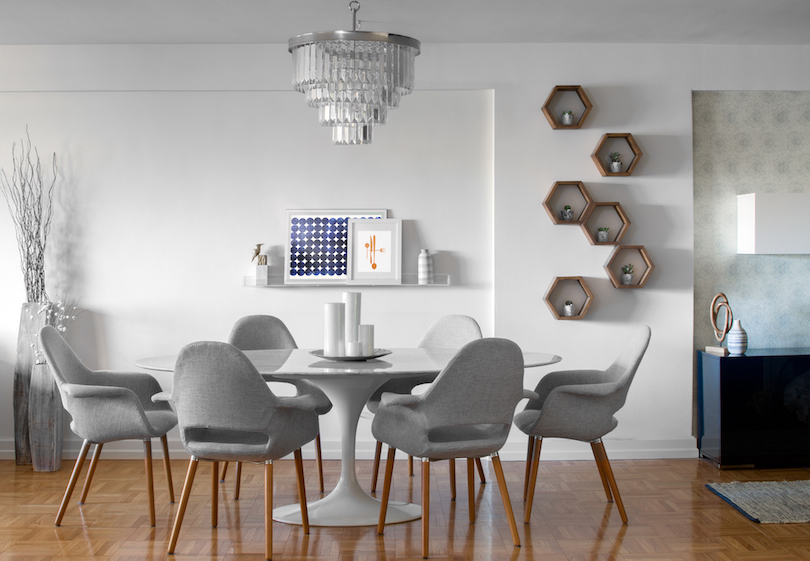 How to decorate a small dining room?
A dining area can also be accommodated in even the tiniest of spaces. In a small kitchen, consider installing banquette seating in a corner or on one side of an island to create a cozy dining area, while in a living room, make imaginative use of the space: window seating can be combined with a table for impromptu dining, and extendable tables can provide multifunctional space. Dining areas can be found in hallways and studies. Consider a round table in a wide space, or a study or book-filled library with a table in the center for a unique dining experience.
Lighting can be used to create zones quickly and effectively. It's yet another method that divides the space's various functions. 'Consider using soft but efficient under lighting in the dining room,' suggests Julie Paul, OKA's Head of Interior Design, 'which allows enough light to put the finishing touches on one's food but is discreet enough not to dominate.' 'Assemble a set of eye-catching pendant lights, trendy floor lamps, and vibrant table lights.'
Ideas To Design And Decorate Your Dining Room
Color, pattern and beautiful furniture and accessories can be used to add character and appeal to contemporary dining rooms that are otherwise cold. These are some of our favorite spaces.
1. Keep it minimalist and pure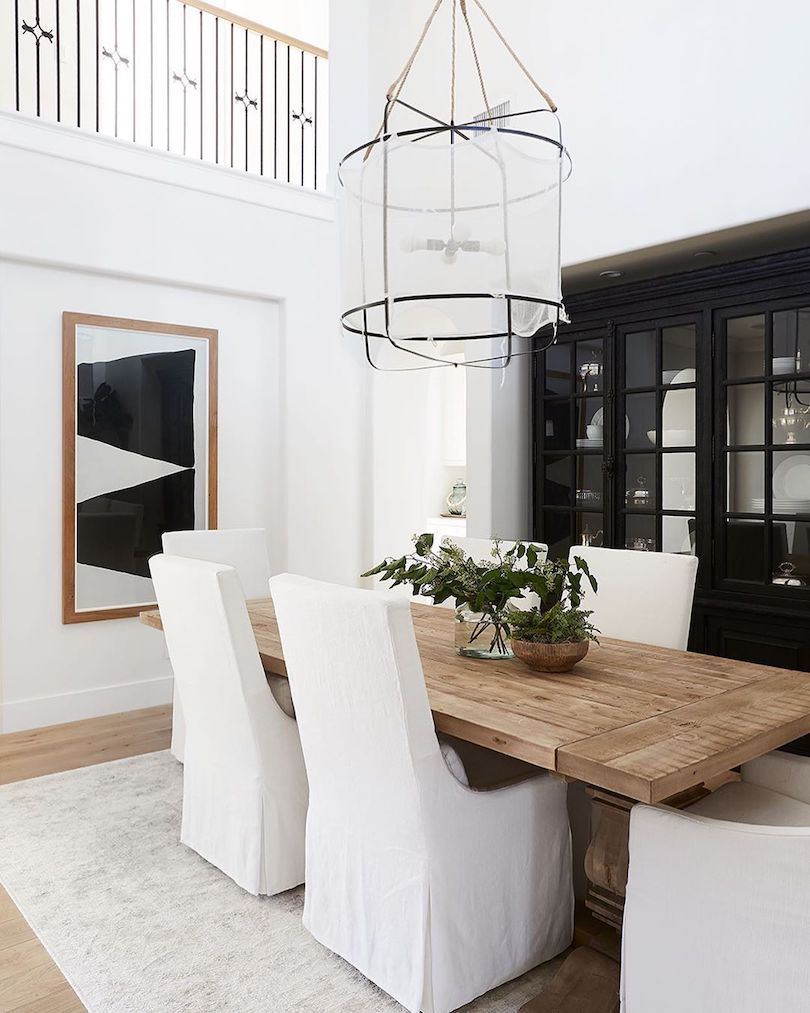 Instead of a flood of color, opt for a quieter tale with thoughtful, understated forms and textures. To build a scheme that is timeless and elegant, look beyond seasonal fads. Accents in jet black often add texture and type. For a new and contemporary look, they're combined with the softening touch of a silver birch-inspired wallpaper.
2. Add creative pattern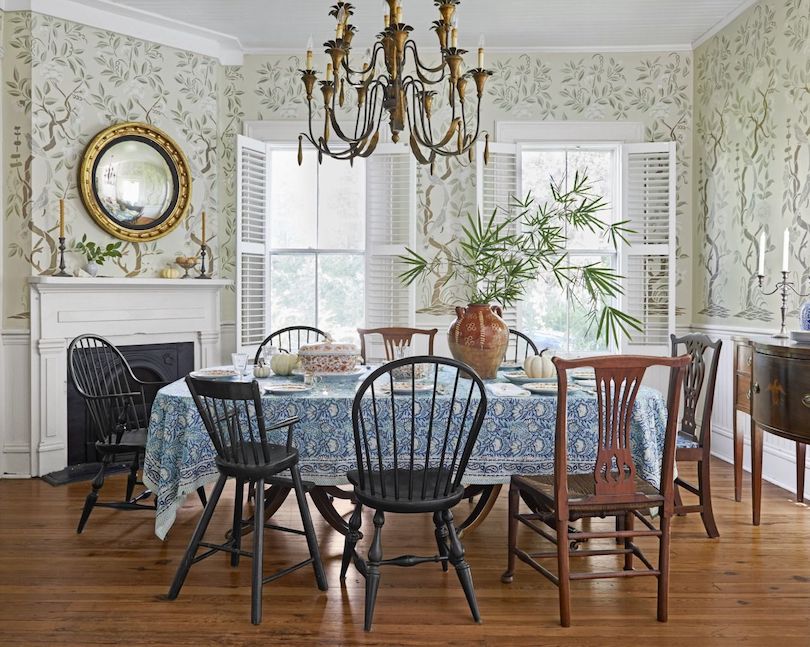 The new trend in modern dining rooms is for bright colors and geometric patterns to take center stage. Carpet tiles aren't the most obvious option for home interiors, but they work beautifully in this dining room. The shades are repeated in the curtains and upholstery, but the rest of the scheme is white for a calm, modern vibe.
3. Create a modern coastal scheme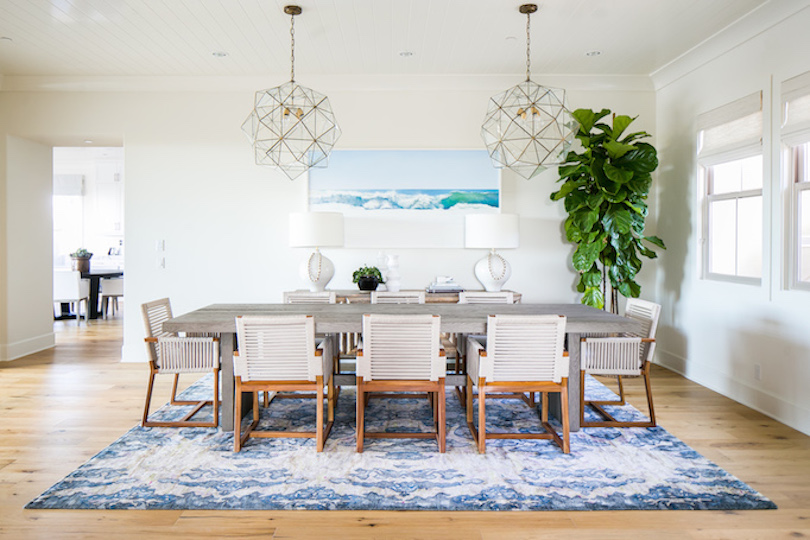 A breezy palette of blues, from light shades of the pale sky to denim, teal, and Breton navy, all complemented by bursts of bright red, breathes new life into a classic coastal look. To balance the more vibrant reds, hints of ice blue in the seating and window frame are all that is needed.
4. Add dramatic florals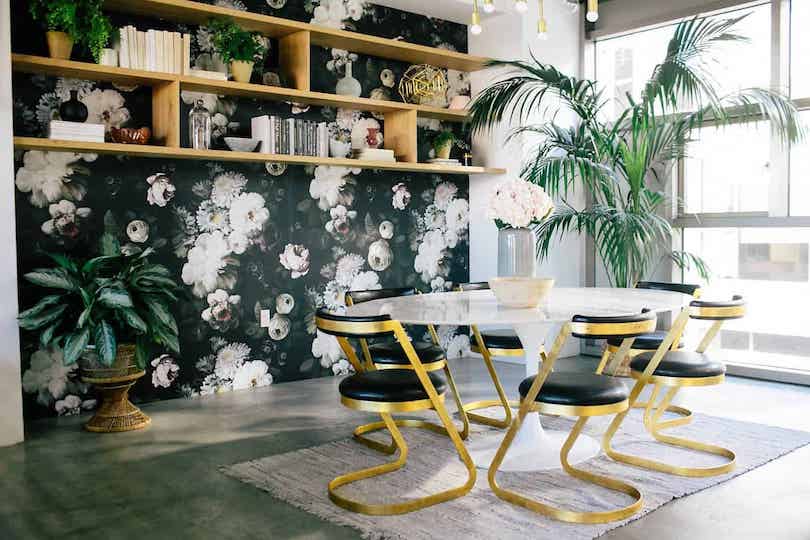 Show off the revival of rich, bold prints in a neutral, pared-back environment for a look that's easy to live with. Adding bold florals to your decorating scheme can be intimidating, but modesty is the secret to showcasing them to their full advantage. Against a backdrop of carefully coordinated plains, a large floral print on the dining chairs makes a striking statement.
5. Creating bright feature wall to match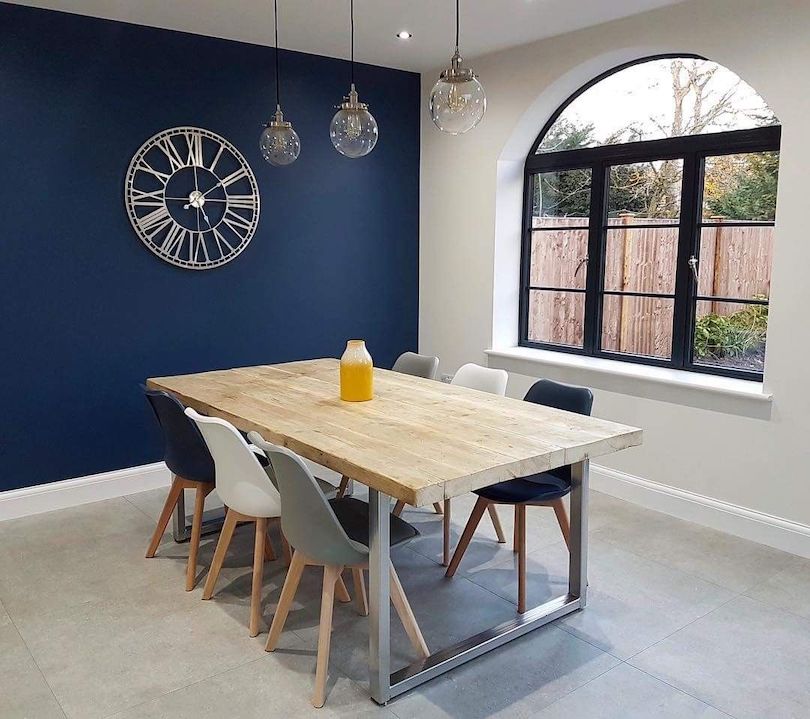 A primary color palette is a simple way to introduce a modern aspect to a dining room. The use of bold primary shades on the walls, floor, and furniture honors Hockney's cheerful optimism in color in this vibrant dining room. Painterly brushstrokes on delicate ceramics round out the look.
6. Add murals to create a unique view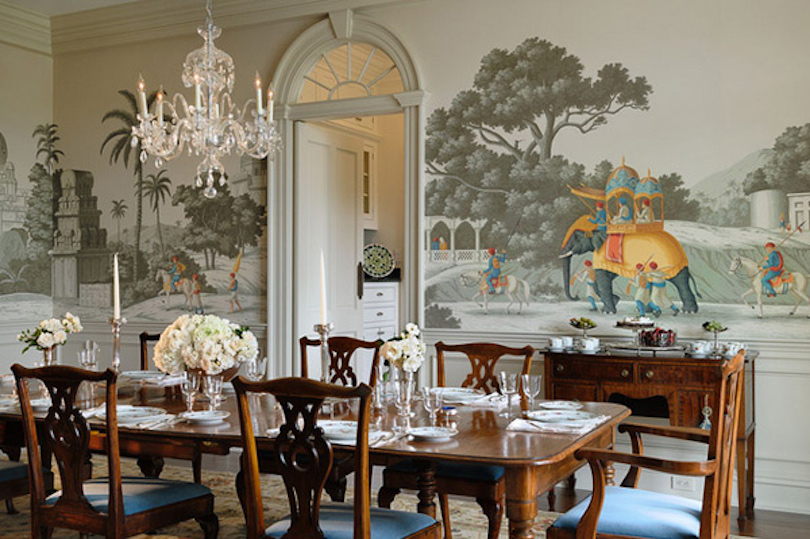 With a statement wallcovering, you can celebrate the exuberant beauty of murals. Fantastical scenes, stylized inky imagery, and fine architectural sketches may be used to decorate. Around all four walls, an enchanting hidden garden scene blooms, creating an intimate space for entertaining.
The whimsical feel is offset by simple curtains and furniture in modern forms, while the framed prints continue the theme as companions to the birds fluttering around the mural.
7. Take the earthy approach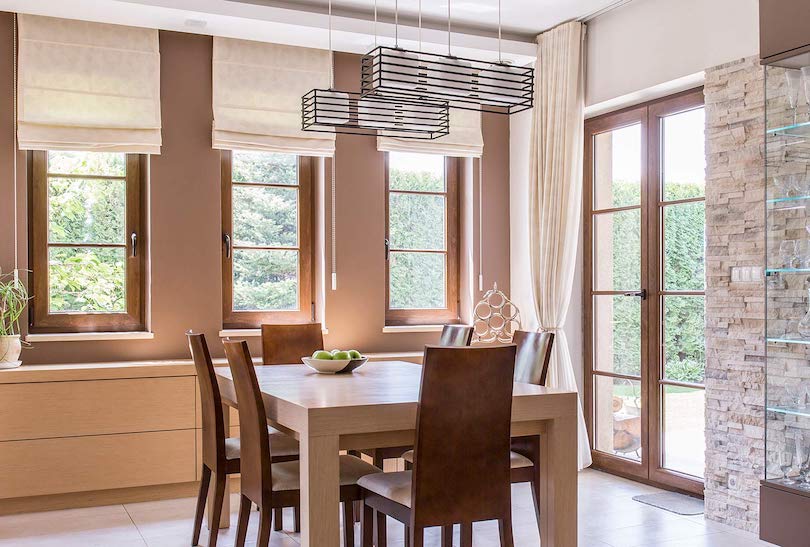 Decorate with an autumnal palette of chestnut and terracotta to be influenced by nature. Invest in wood furniture and accessories with textural weaves and chic leather details. In this dining room, a dark wood-paneled wall creates an intimate atmosphere, while a trio of mismatched glass pendants adds sculptural appeal. The black-and-white rug adds a punch of pattern as well as a clean, modern touch to the room.
8. Define the dining room with an area rug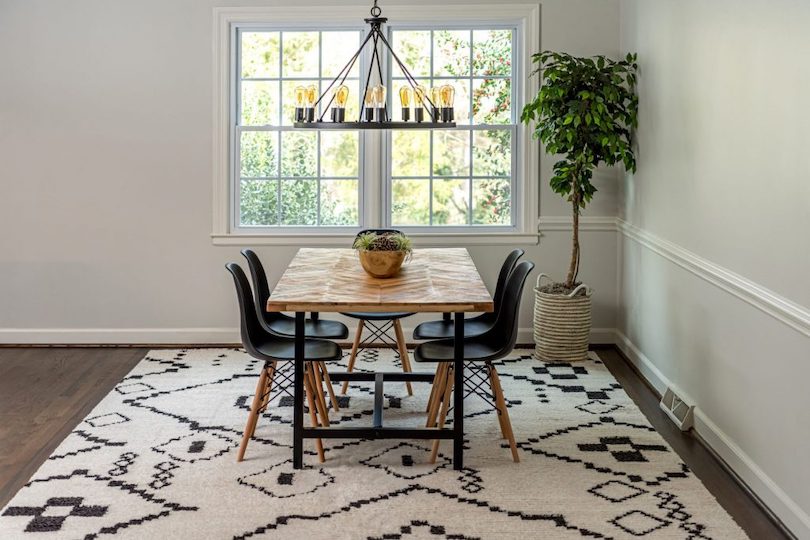 The revival of all types of weaving, from plain, sculptural baskets to seventies-inspired wicker, macrame, and rattan, has been sparked by the new focus on furniture and textiles that lend texture to a scheme. The dining area of this open-plan living space is defined by a big woven rug, while the unique lampshade, reminiscent of a straw hat, adds a touch of whimsy to the scheme.
9. Add accents of warm color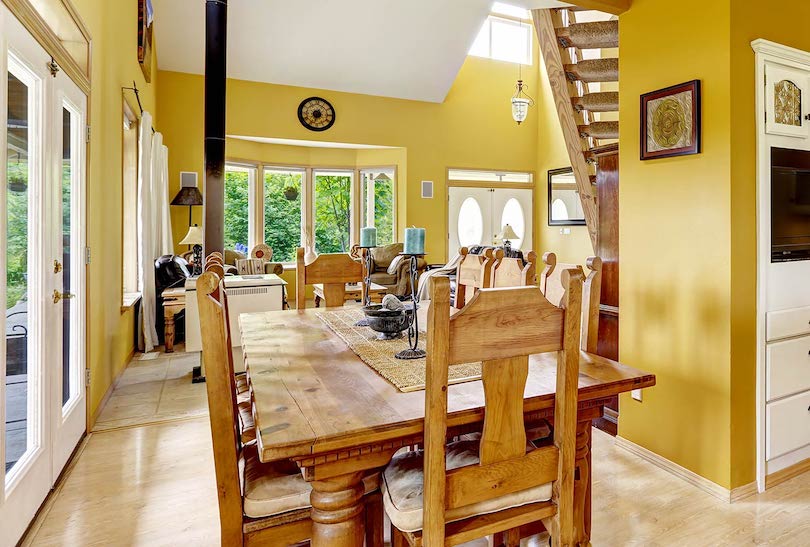 Red is experiencing a renaissance and is an excellent option for contemporary dining room schemes. This vibrant color is often seen as a risky choice for interiors, but when used creatively, it can add a welcome burst of vigor and flamboyance.
The rich grey interior is punctuated by bright red accents on the seats, console, and framed antique prints. The room's grand proportions make this striking mix work beautifully.
10. Dress up with pink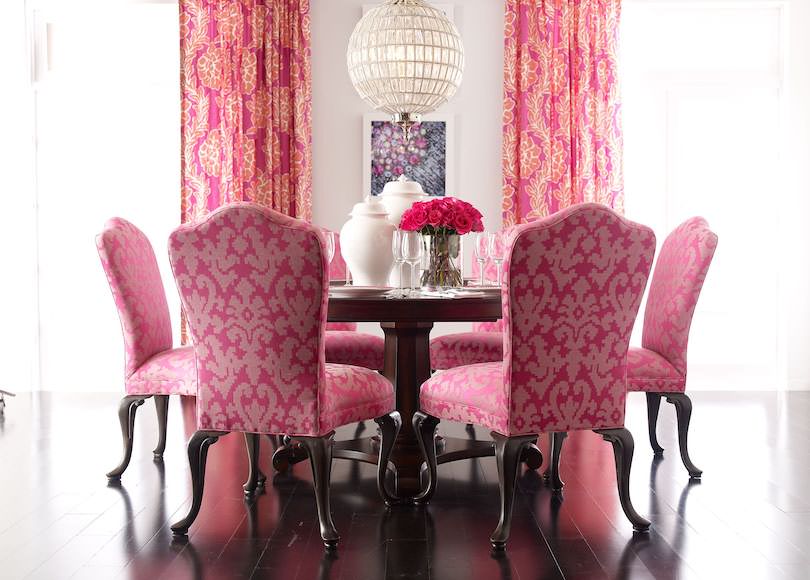 To build a sense of romance, elegance, and fun, use upbeat corals and rich tones of raspberry and fuchsia in your dining room. By day, bold pink and statement pieces in a dining room look vibrant and modern, and by night, they look atmospheric with candlelight. Gold accents add another dimension to the room, providing a glamorous contrast to the dark wood.
11. Spruce up your modern dining room with the lighting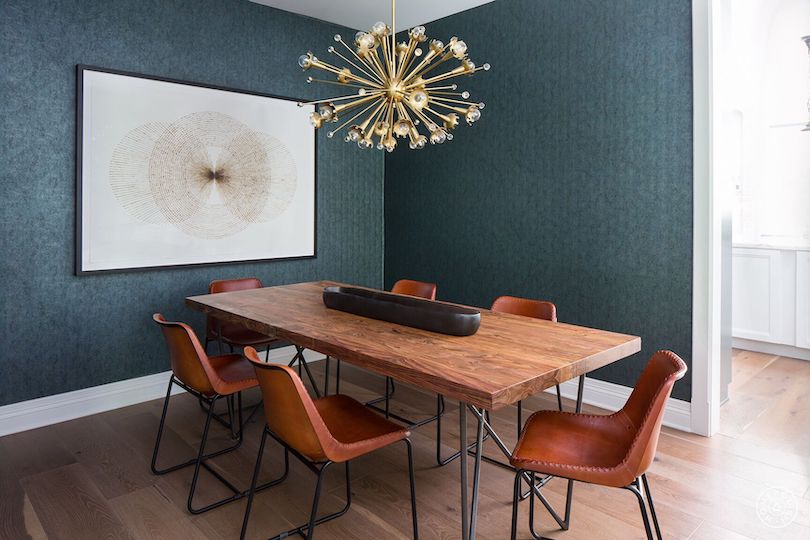 An eye-catching pendant light fixture will give your space a sculptural appearance. A modern dining room must have both functional and attractive lighting. Modern pendant lighting is very common right now, and there are plenty of affordable and stylish options available. From contemporary copper to antique enamel, there is a range of types, sizes, and finishes to choose from.
Pendant lights are a perfect way to add color or enhance a decorating theme, whether you want to install a single light or make a statement by hanging a group. You can create a focal point by hanging pendants over a dining table or breakfast bar, and you can regulate the mood with a dimmer switch.
12. Create a vintage appeal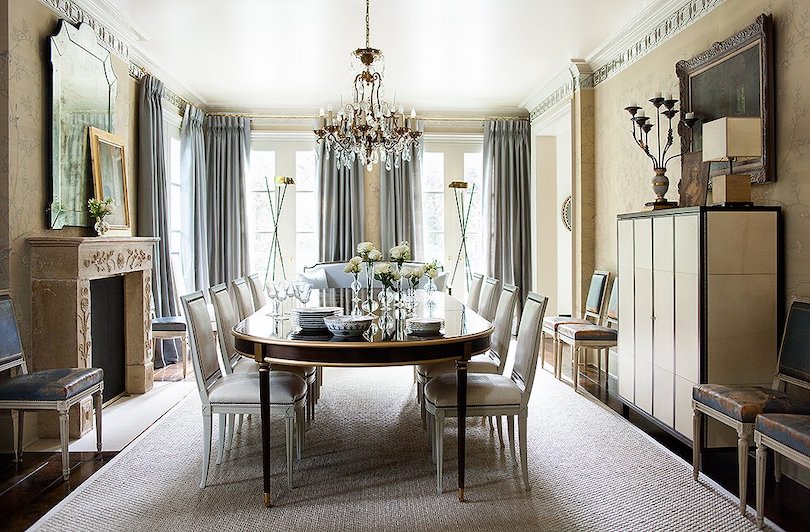 A traditional style is brought up to date by combining a plain modern table with classic dining chairs. Placing the furniture by a window highlights the silhouettes beautifully. An industrial-style pendant light, marble vase, and glassware add drama and intrigue.
With these interesting dining room decoration ideas, you can add a stunning charm to your interior without spending a lot of money. You can pick any one of these amazing dining room decoration ideas to give a stunning make-over to this room, where you enjoy delicious meals with your family and friends.